If you're visiting New England, you absolutely can't miss out on the beaches in Newport RI. There aren't many directly in the town, but there are many right in Newport County. Each of the beaches in this area is breathtaking and is beautiful any time of year, but especially in summer.
Throughout this post, you will learn all about the best beaches in the area in no particular order. Every beach, while there is water, has its own unique element that makes it different from the others, so even if you visit one beach on this list, it will be way different than others.
Keep reading to learn more about the best beaches in Newport RI.
Fort Adams State Beach
First off is one of the most popular beaches in Newport RI, Fort Adams State Beach, which is part of Fort Adams State Park. It's located right on Newport Harbor and offers some of the area's best views.
The amenities at this beach are truly what make it so great. There are no parking fees which is a huge plus, but in addition, there are also lifeguards on duty, restrooms, showers, concession stands, and picnic tables. Pretty much everything you need can be found at this fantastic beach!
In addition to there being no parking fees, admission is also free. Those who love history should also explore more of the historic fort; sometimes, there are even reenactments of history that are exciting and educational to watch.
Easton's Beach
Next, is Easton's Beach which is also sometimes called First Beach. This is the biggest beach in Newport, right near The Cliff Walk, one of the most popular things to do in Newport. Because this is the biggest beach, there's also way more to do here compared to other beaches on this list.
There's often free live music throughout the year, fun-themed nights that are perfect for families in the area, and more. It is a beach more popular among families visiting Rhode Island. Even though it is always crowded, it's worth experiencing at least once while in Rhode Island.
Like Fort Adams State Beach, there are many amenities here, like a playground, snack bar, and more. There is a small parking fee to park your car near the beach. It's worth noting that it is more expensive to park here on the weekend, so plan your trip wisely.
Third Beach
Another of the great beaches in Newport RI is Third Beach which is technically in Middletown. This beautiful beach is a bit more peaceful than some of the other beaches you may find in the area that are worth visiting.
There are many great amenities at the beach, including picnic tables, restrooms, and lifeguards on duty during certain times of the year. There's also about a half-mile of shoreline; it can easily be explored by taking a beachside walk.
In addition to swimming, the most popular thing to do at this beach is to go out on a boat or kayak. The water here is extremely calm, which is why it's another beach popularly visited by families who may want to avoid the crowds at other beaches in the area.
Sachuest Beach
Sachuest Beach, often commonly referred to as Second Beach, is an absolute must-visit for those visiting Newport. It's exceptionally long at one and a half miles of sand and is popular among the locals.
The most popular part of the beach is a place called Surfers End, where of course, many people go surfing. Because of the wind here, this is also a possible popular spot to find kites and people on boats. The amenities are great and include a concession stand, showers, a picnic area, and even surfing lessons if you want to try the beauty of Surfers End for yourself.
King Park Beach
King Park Beach is technically a beach in Newport, Rhode Island, but it also doubles as a park. It's located right along Newport Harbor and also has quite a few amenities, including restrooms, a playground, and of course, picnic tables. This is also a great place to go if you're looking for fishing in Rhode Island.
This is more of a beach to relax near and just watch the boats for the most part. There's free street parking nearby depending on the time of year that you're visiting, and also quite a few historic memorials worth seeing.
Collins Beach
Collins Beach in Newport is one of the beaches in the area. You won't hear much about it, and that's because it's a hidden gem often just visited by locals in the area. However, a little-known fact is that it is the best spot in Newport to watch the sunset!
It's located near the Castle Hill Lighthouse, so if you happen to be staying at the nearby Castle Hill Inn, you'll already have a fantastic view of the beach. No matter where you are, as long as you're near Collins Beach, you will get a great view of the sun setting over the boats in the water!
Fogland Beach
Fogland Beach is technically located in Tiverton, Rhode Island, which is in the Newport area. You may hear people also refer to it as Tiverton Town Beach. It's one of the more unique beaches in the area as it is a black stone beach and is popular among those who love water sports!
Of course, amenities are abundant, including showers, picnic spots, bathrooms with changing rooms, and even a playground for children. There are also many trails in the area if you want to escape from the beach for a little bit. There is a very small parking fee as well, but it is worth it to experience the beauty of Fogland Beach.
Sandy Point Beach
Sandy Point Beach is one of the best beaches in Newport RI. It's located in Portsmouth, but it is not far from Newport at all, making it a short day trip if you happen to be visiting Newport. It is a popular beach among the families visiting the area, and lifeguards are usually on duty, making it one of the safer ones to visit!
Is a more shallow beach with great amenities, including restrooms and picnic spots. This is also a handicap-accessible beach. Check online to see when exactly the beach is open, as sometimes hours vary due to lifeguard availability. The beach is still open when lifeguards aren't on duty, but it becomes "swim at your own risk."
Gooseberry Beach
In Newport, Rhode Island, Gooseberry Beach is an absolute must-visit. Because it's technically a private beach, most people overlook visiting here, but it is open to the public and is located near Hazard Beach as well.
Because this beach is in a cove, the water is exceptionally calm. It's located along Ocean Drive, but you should know that you cannot just walk onto the beach like you might do at others in the area. Instead, you must purchase a daily pass and arrive by vehicle, including on a bike or in a car. You can purchase your pass online in advance on their website.
Because it is a private beach, there are great, well-taken-care-of amenities, including a snack bar and lifeguards during the day.
Brenton Point State Park
Another of the great beaches in Newport RI located within a state park, is at Brenton Point. It's more of a rocky beach, perfect for those in the area who would rather take in the view than go swimming. However, there are small title pools that are fun for the kids.
While there, be sure also to explore the rest of the park as it's one of the best state parks in Rhode Island. One of the must-see spots here is the Portuguese Discovery Monument, which was built back in the 1980s. It was recently replaced in 2014 with a more expanded monument. The views at this beach are also impeccable compared to others in the area, so you won't want to miss it!
Bristol Town Beach
Bristol Town Beach is an excellent beach near Newport, but it is technically located in Bristol. It's located right by Colt State Park and is known for its giant grassy areas, which is perfect for families visiting Rhode Island. There's also an abundance of picnic tables and a playground that could keep kids busy for hours.
In addition to this being a great place to swim, many people visit Bristol Town Beach just to experience the incredible sports facilities. There are basketball courts, a skatepark, an arena, and more. Plus, there is a concession stand and restrooms, among other amenities.
Grinnell's Beach
Grinnell's Beach is definitely one of the most family-friendly beaches in Newport RI. It's located along a river and is somewhat similar to Fogland Beach. Dogs are allowed on the area if they are on a leash, and there's also a space for children to play.
There are some great amenities at this beach, including showers, a pavilion where you can relax, and of course, a playground area. Plus, it's located right near the pier, and there are lifeguards on duty during the day, depending on the time of year.
This post was all about the best beaches in Newport RI. Hopefully, you found a new one to visit during your next trip there. Honestly, no matter which beach you visit in the area, you're in for a real treat. These beaches are absolutely unmatched compared to other beaches in New England!
Don't forget to save this post and share it for later! Enjoy your trip to Newport.
---
You might also like: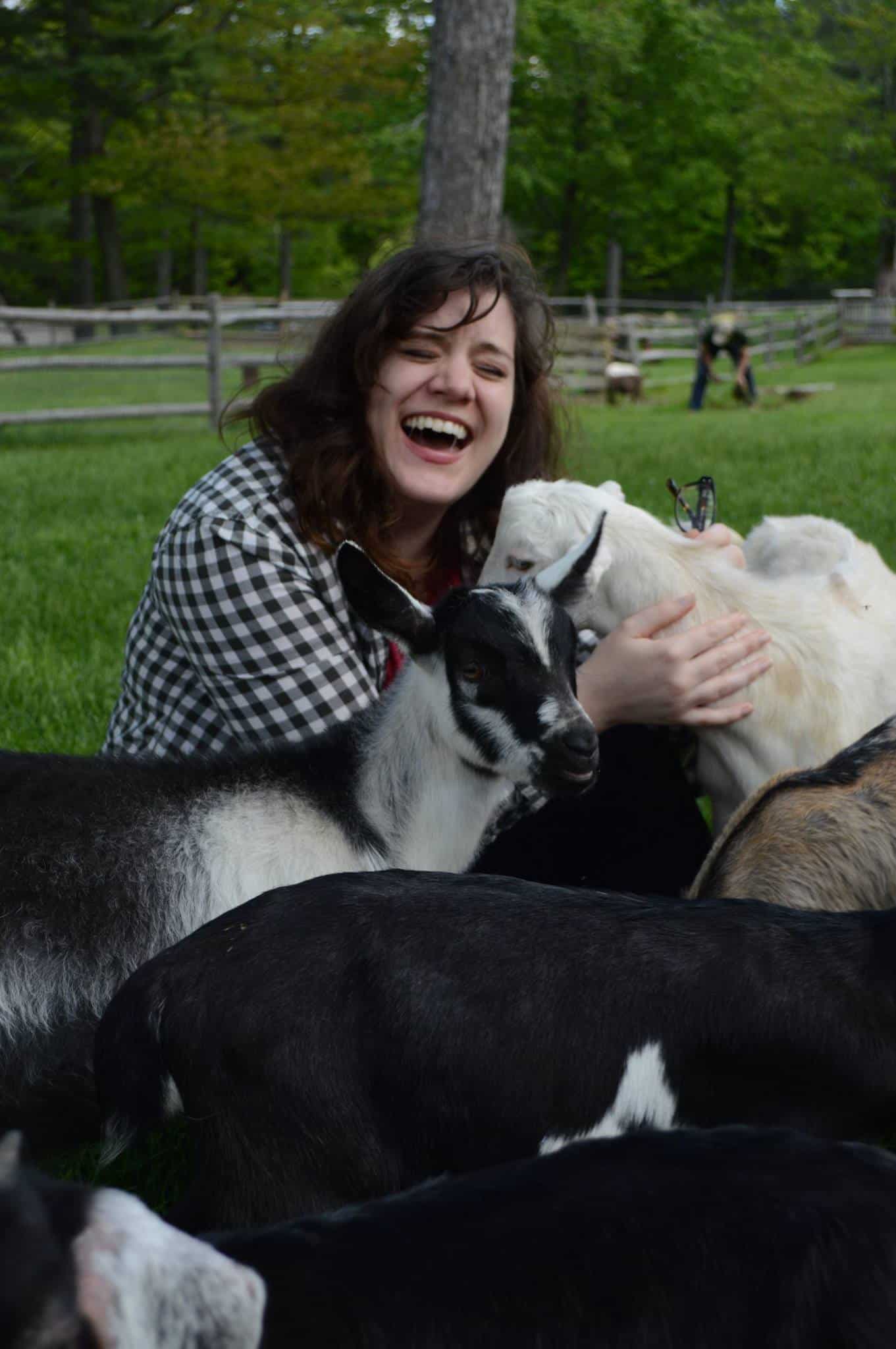 Amy Hartle is the founder and Editor-in-Chief of New England With Love, a comprehensive resource for travel in the New England region. Amy has been exploring New England since 2001. She lived in Vermont for many years and is a graduate of Plymouth State University in New Hampshire. Amy has been writing about travel for over a decade. On this site, Amy aims to share her love of New England and help you to have the best possible adventures!
Amy has been a full time blogger since 2012, and is also the publisher of Two Drifters, where she writes about couples travel and relationships, as well as Let's Adventure Baby, a family travel site. When not traveling the world or creating epic blog content, Amy can be found cuddling with her husband, son, and cats, & drinking a maple latte.