*This site uses affiliate links; if you make a purchase through these, I may receive a small commission at no cost to you.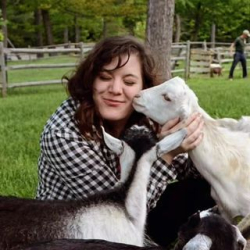 Latest posts by Amy Hartle
(see all)
Are you wondering where to get the best breakfast in Newport RI? Well, you're in luck!
We've rounded up all the best breakfast restaurants throughout Newport, Rhode Island, based solely on the highest reviews (plus we added in a few hidden gems) to save you time combing through Google searches on your own. By the end of this article, you'll know exactly where to go and eat, and we promise that there's a breakfast spot perfect for you.
Keep reading to learn all about where to get breakfast in Newport RI!
Best Breakfast in Newport RI
The Hungry Monkey
First on our list is none other than The Hungry Monkey, a popular breakfast restaurant that serves up dishes with monkey-inspired names. How fun is that? They open bright and early, around 7 a.m., so if you're an early bird (or monkey), this is a great spot for you.
While their menu boasts lots of fun dishes, the French toast is a fan favorite. The eggs benedict is also loved by breakfast-goers at this restaurant. Depending on the time of year you visit, you may also find house specials like pumpkin spice pancakes or even apple pie pancakes (YUM).
While the food is great, the service is also incredibly welcoming with friendly staff, according to multiple reviews online. The atmosphere inside is also quite lively, with bright red walls filled with photos and other decor.
Atlantic Grille
Next is another of the best brunch places in Newport RI, the Atlantic Grille. This casual restaurant will remind you that you're right by the water, with surfboards and other fun decor hanging on the walls. It's technically located in Middletown but isn't that far from Newport at all.
As one of the most-reviewed breakfast spots in the town, it's easy to see why it deserves a spot on this list. The eggs benedict is one of the tastiest items on the menu, and they have a few different varieties that will knock your socks off. Plus, the portions are a pretty decent size for the price.
Corner Café
Situated in Newport's historic area, the Corner Café is coffee shop you won't want to miss out on. It's a highly-rated Newport breakfast spot with a lively interior. It's always bustling though, especially for breakfast, so be sure to get there right when they open.
They have a long list of fun specialties they serve, including a signature Cowboy Scrmabler which is an egg scramble featuring ham, jalapeno peppers, bacon, pepper jack cheese, onions, sour cream, and salsa on top of sourdough. How tasty is that?
Pair your entree with one of their unique coffees, ranging from Hazelnut Turtle Lattes (with mocha, hazelnut, and caramel) to a Nutty Mint Mocha (featuring mocha, hazelnut, and mint) for an extra special breakfast.
Annie's
Annie's is a fave breakfast spot among locals located on Bellevue Avenue, the historic district of Newport. This traditional brunch restaurant is very laidback and relaxed, which is definitely the vibe for early breakfast since they open at 7 a.m.
One of the best things about Annie's is that they have breakfast all day until 4:30 p.m., and they even have a $4.50 special on weekdays where you can get 2 eggs, toast, home fries, and a coffee! (This is easily one of the best breakfast deals in Newport.)
The menu is fairly traditional, which a wide range of eggs benedict to omelets and, of course, pancakes and waffles. However, they do have some pretty unique options, like strawberry French toast and an eggs fatulli benedict with lobster meat!
CRU Café
Right near the International Tennis Hall of Fame is CRU, a quaint little cafe with some rave reviews. This casual eatery serves breakfast all day long, along with tasty baked goods and coffee.
While they have tons of dishes on their menu, they are pretty well known for their avocado toast. They have a few options, ranging from traditional (with a fried egg and tomato) to a unique twisted avocado toast (featuring salmon, an egg, tomato, capers, and onions).
If you're more in a "brunch" mood, don't worry because they have burgers, grilled cheeses, salads, and more. Most menu items are around $15 or less, depending on what you order.
Kaffeology
Kaffeology is the new kid on the block when it comes to Newport breakfast, but you really can't go wrong by stopping here. It's currently loved by locals, but we know it will get even more popular in no time.
One of the things that makes this spot a standout is how cozy it is indoors. White walls covered in shelves and eclectic decor mixed with plants throughout make for a really comfortable ambiance.
They have a lot of tasty dishes on the menu, but their avocado toast and signature breakfast sandwich are definitely their most popular. For a unique option, try The Hangover Cure, which is a chive scrambled egg with arugula, bacon, ham, cheddar, tomato, and sriracha aioli altogether on a brioche bun. What could be better?
Belle's Café
Belle's Café serves up breakfast and lunch everyday between 7:30 a.m. and 2:30 p.m. dockside! Many locals say that this is one of the best hidden gems for breakfast in Newport, so run, don't walk, to eat here.
They have traditional breakfasts like benedicts, eggs, sandwiches, pancakes, and waffles, all for around $15 or less. They also have heartier meals if you're in the mood for brunch, with sandwiches and salads also on the menu.
Overall, Belle's Cafe is most well-loved for its lobster rolls. If you're visiting New England, you absolutely can not leave without trying a lobster roll, so you can easily do that while you're here grabbing breakfast.
Lucy's Cafe & Bakery
While Lucy's Cafe & Bakery doesn't have a whole lot of reviews online, it's the place to go if you want a homestyle breakfast. This quaint cafe has a vibrant interior, and you're immediately welcomed with a chalkboard menu, a surefire way to know the food is going to be good at a New England cafe.
The menu features classics like avocado toast, egg and cheese bagels, acai bowls, and muffins. However, many say that their donuts are really where it's at and that they're some of the best donuts you'll ever have. Be sure to try one of those!
As a cafe, you can also rest assured that they have some of the tastiest and most unique coffee and tea drinks. For instance, they have some specialty protein lattes made with whey protein (choose between mocha or vanilla). There's even whipped matcha made with hot or iced milk. To try something local to New England, try the traditional cafe mocha made with Taza Chocolate, made nearby in Somerville, MA.
Drift Cafe
If you want a healthy breakfast, then Drift Cafe is the spot for you. Situated on Thames Street, this "boutique cafe" serves up delectable breakfasts. The smoothie bowls are the hottest item on the menu, and they have a wide selection of those, ranging from ones made with dragon fruit to bananas and everything in between.
If you'd rather have something hearty, they have dishes for you, too. For instance, the Farmers Scramlet features eggs, chicken sausage, tomato, onion, cheddar, and red pepper with the bread of your choice.
Mel's Cafenio
Mel's Cafenio is an old favorite, dating back to 1982! In fact, it's the oldest diner on Broadway, so it's worth stopping there if you want something traditional for breakfast. From the outside, you'll immediately feel welcomed in by the royal blue accents.
They have lots of amazing dishes on the menu, like chocolate chip pancakes and classic eggs. No matter what you choose, you'll absolutely love dining at this hole-in-the-wall restaurant. You can usually expect to be served rather quickly here too, depending on the time of year.
MainSail
MainSail is a breakfast eatery that's actually situated inside the Newport Marriott. This American restaurant has beautiful views of the harbor and serves up traditional New England dishes, so what's not to love?
Their breakfast is a bit on the pricier side compared to other restaurants, with most meals costing around $20. For a tasty breakfast, try their classic All American, which is two eggs with home fries, ham, sausage, bacon, Canadian bacon, and your choice of bread.
The Nitro Bar
One of the newer breakfast spots is The Nitro Bar, and it's quickly becoming the favorite of many locals in the area. They have two locations in Newport, as well as one in nearby Little Compton and Providence.
If you want an Instagrammable spot in Newport, this is surely it. They have solid coffee along with options like caramel lattes and cold brew that is said to have chocolate notes! Plus, there are, of course, favorites like matcha lattes.
They also have some small bites to eat, like chorizo wraps. However, the real star of the show here is definitely their coffee, so if you're a coffee connoisseur, this is the place for you.
Franklin Spa
Last but certainly not least is the well-known Franklin Spa on Spring Street. This breakfast restaurant is easy to miss if you're not looking for it, but once inside, you'll see why so many people love this breakfast joint.
They have a menu with lots of classics, like eggs benedict, breakfast sandwiches, and even eggs with pulled pork. However, their most famous dish is definitely the blueberry stuffed french toast… yes, you read that right! Talk about a tasty meal for breakfast.
In addition to their meals, Franklin Spa is known for serving guests rather quickly, and their service is top-notch. Families visiting Newport will absolutely love dining at this breakfast joint.
Well, there you have it! Hopefully, this post has introduced you where to go for the best breakfast in Newport RI. No matter where you choose to have your cup of Joe, we know you'll enjoy exploring this amazing coastal town.
---
Read these next:
12 Stunning Luxury Hotels in Newport RI
12 Great Beaches in Newport RI (and Nearby!)