What it lacks in size, Rhode Island truly makes up for in beauty. You'd be wrong if you thought the smallest state in the USA didn't have a lot to offer; it has EVERYTHING to offer.
From the breathtaking sunsets, charming coastline, and incredible beaches, you name it, the Ocean State has it. It doesn't stop there. Rhode Island is made up of many small, quaint, scenic towns that are the backbone and true hidden gems of the state.
I've made a list of my top 10 cutest small towns in Rhode Island that you should definitely put some time aside to visit, and included some insider's tips on what to see and do!

Cutest Small Towns in Rhode Island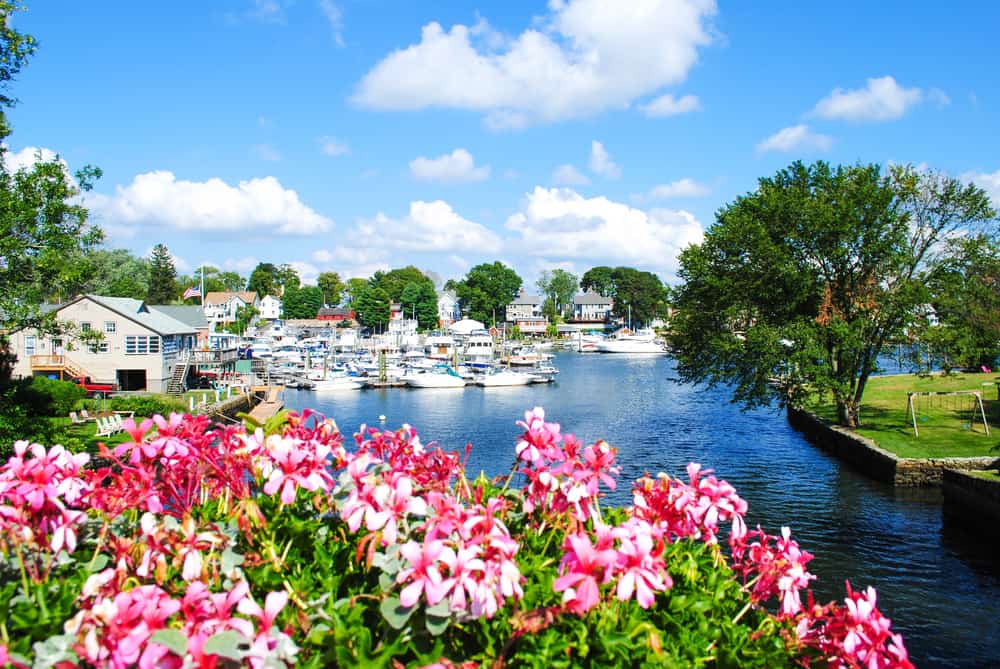 Westerly
I know I'm biased, but my hometown of Westerly truly is wonderful. I love it. The people are nice, the atmosphere is relaxed and I challenge you to find a better caramel iced latte than the one you will get from the guys at my local cafe – Junk n Java! The town has enough to see and do to keep you busy but without the overpowering sense of tourism you can often get from other seaside towns.
Main Street has a variety of shops, cafes and breweries. My recommendations would be to head to 'Christina's' for some keepsake gifts from your visit to Rhode Island, followed by one or two of the ever so famous martini's at Perks & Corks across the road!
Wilcox Park is the heart of Westerly, located in the centre of downtown. Grab a blanket and a picnic and head here to enjoy an afternoon in the sun or a morning sledding during the winter months. Every year the park also hosts the 'Summer of Pops – Chorus of Westerly', bringing everyone together for a fun evening of music and community spirit.
Did I mention it has its own beach too? Head over to Westerly Town Beach for sunbathing and water sports. Don't forget your popcorn too, as in the evening you can catch a movie from the nearby 'Drive In Theater' at Misquamicut.
Narragansett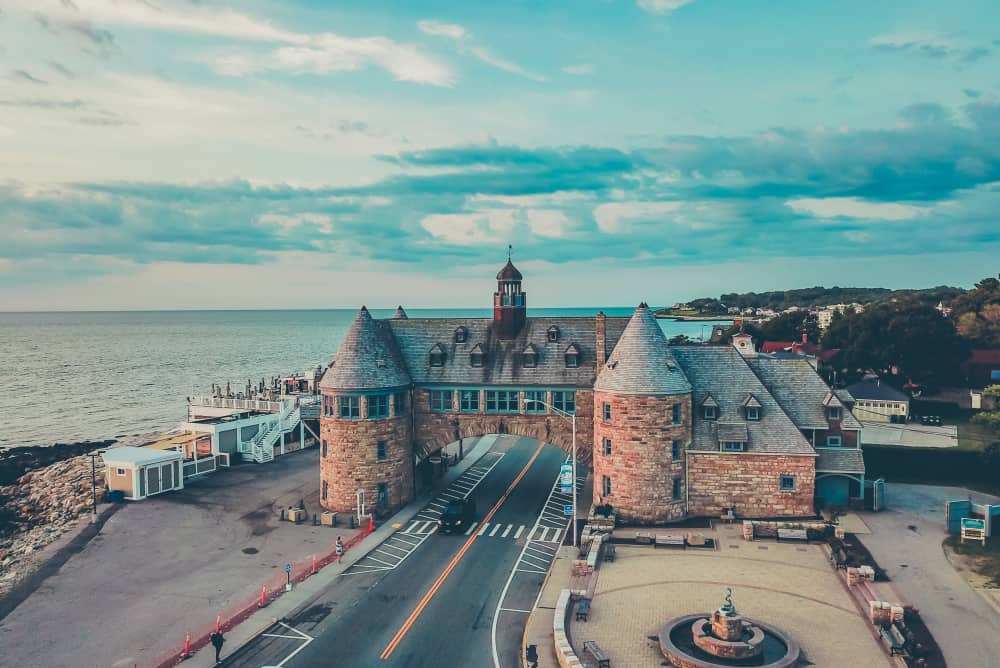 Can you see two large towers in the distance getting closer and closer? Yep, you've reached Narragansett! They are two of the most iconic landmarks in the area, part of the original Pier Casino and are often used for a variety of social events. This historic seaside town comes to life in the summer, attracting visitors from all over for sun, sea, and sand!
The Narragansett Town Beach is extremely popular as well as Roger Wheeler State Beach and Scarborough State Beaches, all offering a relaxed, friendly atmosphere making you never want to leave! Grab a beer or cocktail afterward at The Coast Guard House and indulge in seafood from their tasty menu with an impressive view of the Bay.
If you're after more of an active day and feel up for a hike, check out the Black Point Trail and Whale Rock Trail which are both under 5 miles when combined! If you fancy a bike ride, head along the South County Bike Path which is approximately 14 miles out and back that begins in Narragansett!
Watch Hill
Who doesn't want to visit the very same town that Taylor Swift has a house in!? Every time we drive through the Watch Hill neighborhood I can't help but marvel at all the magnificent mansions leading up to the beaches – they are insane.
My all-time favorite beach for watching the sunset is Watch Hill beach, located by the ever-so-famous flying horse carousel (if you catch the ring you get a free ride!) The beach is beautiful for a relaxed family, fun day. Don't forget your picnic!
Dotted along the main road by the waterfront are a number of boutique shops and cute cafes for all to enjoy. Make sure you visit St Clare Annex for delicious ice cream too!
An alternative beach you can also try nearby is East Beach. You'll find a path that comes off Bluff Avenue to the right which leads you down a narrow pathway opening up onto the sandy beach. There are fewer crowds here than at Watch Hill beach, too. The back of Taylor Swift's summer house looks out over this beach so you may even spot her from a distance if you're lucky!
If you're feeling extravagant, wander over to the luxurious Ocean House Hotel & Resort. Whether it's a cocktail overlooking the lawn or a reservation for their Sunday Jazz brunch, you will never be disappointed. Last year I went for both the Jazz Brunch and their Gondola Village where I got to dine outdoors in a beautiful vintage Alpine-inspired ski gondola – highly recommend!
Jamestown
Any keen sailors out there? Join everyone else who flocks to the quintessential town of Jamestown for the annual Conanicut Sailing Around The World Competition. My partner's a keen sailor and we had so much fun watching the boats sail round the designated route. For some of the best views, head to the hill near Beavertail Lighthouse with a picnic! You won't be disappointed.
Talking about lighthouses… take a drive to Beavertail State Park for amazing views of the rocky coastline. There are four overlooks and you can drive or walk along the different trails. The lighthouse is spectacular and marks the entrance to Narragansett Bay.
If you're itching for another hike, you have to check out Fort Wetherill State Park and walk the 1.2 mile trail around this old artillery fort which now also serves as a bit of a graffiti canvas!
If you fancy some food, take a walk down Main Street, exploring the many local shops and art galleries before heading to East Ferry Deli for a sandwich. The views of Newport Bridge from outside here are beautiful and there are lots of benches you can sit along too if you want to admire the Bay!
Bristol
You won't find anywhere as patriotic as Bristol. If you're free for Independence weekend, make sure you head here where the town hosts the oldest, continuously held Fourth of July celebration full of parades, fireworks, and community spirit. Lined with boutique shops and cute cafes, this town is a true RI hidden gem!
A great choice for a family day out here is Colt State Park, one of the best in the Ocean State to visit with over 464 acres to explore! Bring a picnic with friends or hike the 3.9 mile loop round the park for superb views overlooking the coastline.
Located just next door is Bristol town beach, perfect for a summer's day sunbathing and swimming. If you want to spot some wildlife, head over to Audubon Society Nature Centre & Aquarium for their interactive exhibits and a stroll along their nature boardwalk.
Running 14.5 miles between Bristol and Providence is the East Bay Bike Path – one of the most popular bike paths in the state – which is a former railroad. It's a great option for some exercise and scenic views. It's mainly flat (bonus!) and the path is paved too. It can get quite busy so watch out for other cyclists!
My all-time favorite thing to do is people watch, and there's no better place than a visit to Beehive Cafe downtown. Its cute decor and friendly atmosphere instantly draw you in. There is indoor and outdoor seating available with blankets during the colder months. Try the honey pot espresso – delicious!
Wickford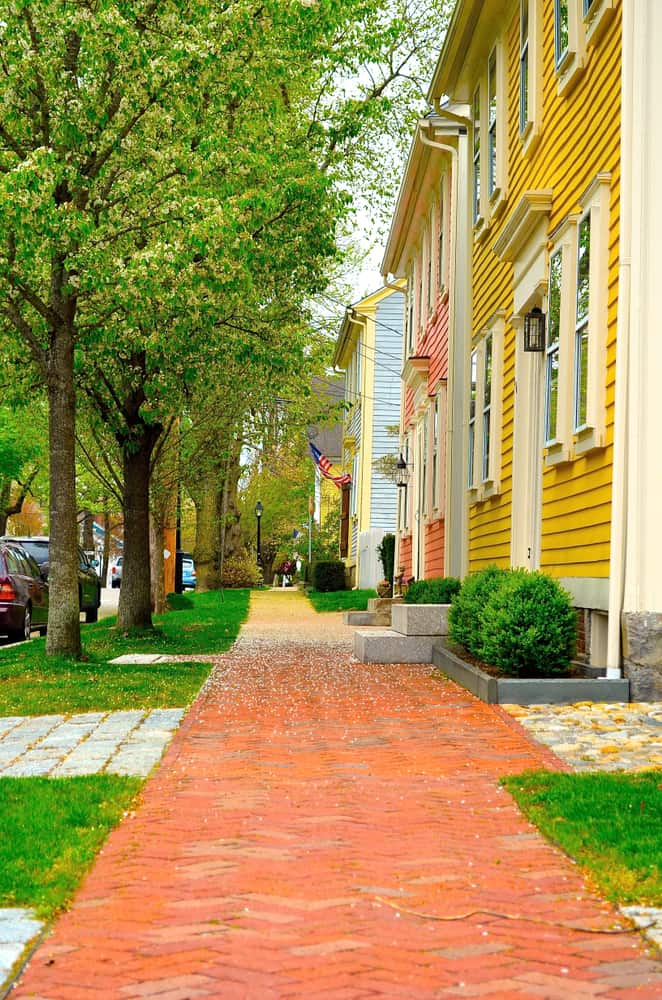 Escape the hustle and bustle of the Capital and head to the ever-so-charming town of Wickford. Rich in history, you'll see many of these historic buildings were from the late 17th/early 18th century. Spend an afternoon strolling downtown, exploring the many art galleries, bookstores, and local clothing boutique shops.
For the best sandwich you will ever eat, head to Shayna's Place. This family-owned, quaint cafe sets your taste buds tingling with a great selection of sandwiches, salads, smoothies and so much more! Afterward, head to the town beach. It costs slightly more for non-residents but it's a beautiful beach to visit and relax by the ocean!
This seaside town also hosts an annual Art Festival every summer so if you can tie in your trip here for that, even better. Surrounded by a lovely harbor, there are plenty of spectacular seafood restaurant choices too such as Gardner's Wharf and Tavern By The Sea. You're spoilt for choice!
Tiverton
One of Rhode Island's best-kept secrets! Located near the Massachusetts border, Tiverton stretches alongside the Sakonnet River offering picturesque views for miles. This cute Rhode Island town is home to a number of historic buildings, quaint cafes, delicious ice cream, and intriguing art galleries.
Why not head to the small family-run Sakonnet Farm for a wander round their grounds and an enchanting overnight stop in their renovated 1800's 'Old Tiverton Four Corners Schoolhouse'!
Or perhaps grab your hiking boots and head out to Weetamoo Woods and Audubon Emilie Ruecker Wildlife Refuge for some fresh air and nature trails. My favorite is the 4.7 mile loop through Weetamoo Woods which features beautiful wildflowers and is great for all skill levels. There are other trails you can follow too if you want to make your hike a little longer or shorter!
After any hike, I'm sure you'll be hungry and thirsty. Coastal Roasters offers an excellent caffeine fix and if you can bag an Adirondack chair outside towards the end of the day, you'll be in for a treat for those sunset colours!
For food, make sure you check out the Boathouse Waterfront Dining for fresh seafood, mouth-watering cocktails and killer bayside views. For a less formal setting, head over to Evelyn's Drive-In for delicious seafood and a hoppy beer to end the day. Listed on Yankee's '10 Best Clam Shacks in New England' list, you will not be disappointed!
Dessert? Get yourself to Gray's Ice Cream for an amazing selection of sundaes, cookie sandwiches and ice cream! My favorite is the peanut butter sundae!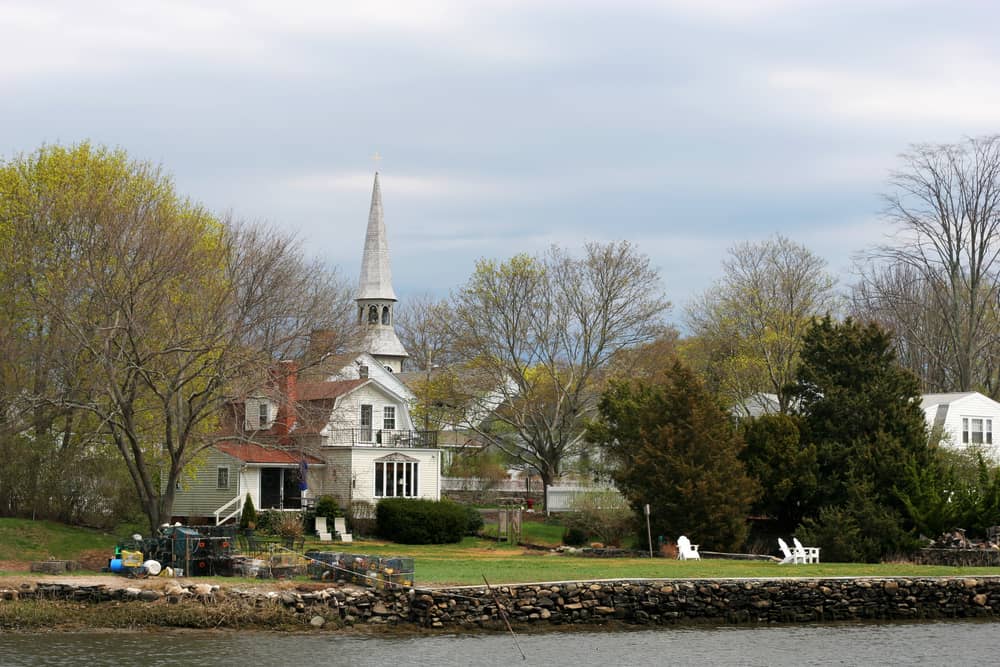 New Shoreham
Also known as Block Island, and my favorite place to head in the summer for a day trip with friends to beach hop! There are a number of ferry options but the most popular are from New London in Connecticut and Point Judith in Rhode Island.
The best way to see the island in my opinion is by bike, you can either bring your own or hire one once you arrive. The same goes for a motor vehicle.
You are spoilt for choice when it comes to their beautiful sandy beaches. I recommend Mohegan Bluffs, Ballard's Beach, Mansion Beach, Crescent Beach, Fred Benson Town Beach and Charlestown Beach.
There are two stunning lighthouses you can head to as well for some spectacular views overlooking Block Island Sound. These are South East Lighthouse and North Lighthouse.
We often break up our day with food and drink stops. Although extremely popular, 'The Oar' serves fantastic food in a relaxed, friendly environment (make sure you order their famous 'Mudslide' cocktail!). Other great alternatives are Dead Eye Dicks, The Surf Shack, Ballard's Restaurant, Harbour Grill, and Three Sisters!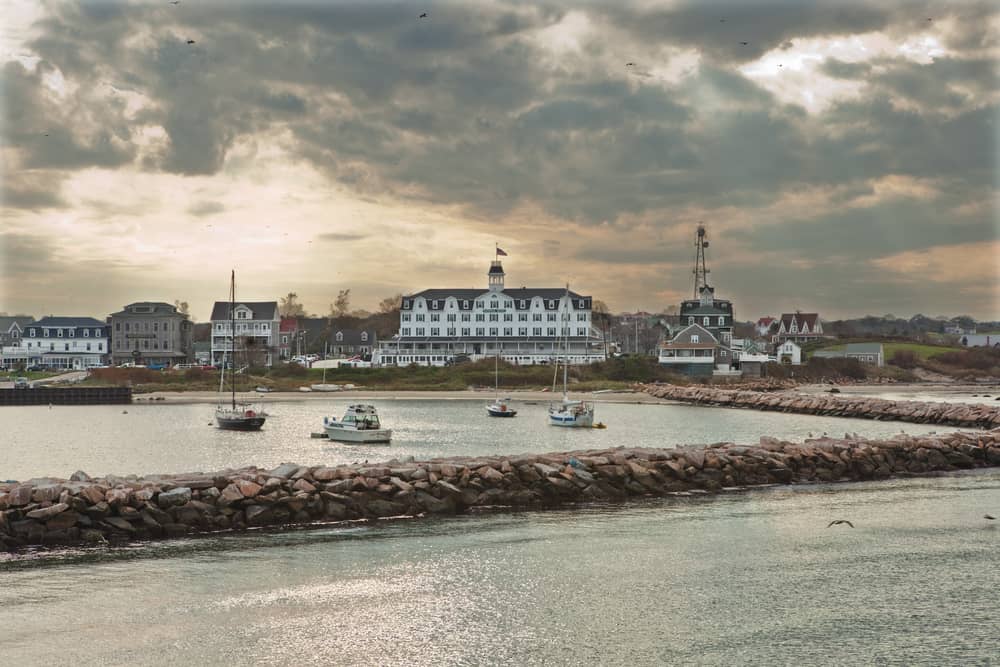 Little Compton
Be transported back in time to the cute, peaceful, seaside town of Little Compton. The natural beauty in this peninsula is breathtaking. There's not a Walmart or stop sign in sight here, the community has done its best to keep the area non-commercialised which I absolutely love!
Head to the Village Green for a relaxing stroll, stopping at the Commons Lunch Restaurant for some tasty food (famous for its johnnycakes!). If you're a fan of fine art, you will love the Art Cafe, where you can ponder over the work of local artists whilst enjoying your morning coffee. Check out the Wilbor House too, if you have time, which is where Little Compton Historical Society resides. There is an exhibit here and museum shop you can explore!
Being surrounded by water, Little Compton has two great beach spots for the summer – South Shore Beach and the Goosewing Beach Preserve. Bring a picnic and spend the day relaxing, sunbathing and swimming here. Not too far away is the Sakonnet Lighthouse if you fancied a drive to see this popular town landmark too.
All this exploring no doubt makes you tired. Grab your designated driver and go to Carolyn's Sakonnet Vineyards for award-winning wines, daily tours, and wine tastings. Relax outdoors within their 150 acres with a glass (or bottle!) of exquisite wine.
East Greenwich
Located in Kent Country, East Greenwich is one of the Ocean State's wealthiest communities. From casual shopping, waterfront restaurants, quaint art galleries, and educational exhibits, this Rhode Island gem has so much to offer for both locals and visitors!
For a bit of a history lesson, make sure you head to the Varnum Armory Museum for a look at the vast collection of military artifacts and the New England Wireless & Steam Museum for a better understanding of the history of radio and steam power. You will learn so much!
Main Street is home to some delicious food and drink options. If you're all about a big hearty breakfast, check out the ever so popular old-school Jigger's Diner for good quality food, or Dante's Kitchen for their famous southern specialty of chicken and waffles. For your caffeine fix, head to Main Street Coffee or Silver Spoon Bakery for a great selection of coffee and cakes. Grab a takeout and then have a wander through Frenchtown Park & Frye Nature Preserve for some wildlife spotting.
If you're in desperate need of some local live music, make a reservation at BLU on the Water or The Trap Brew Pub & Grill, who regularly host local musicians for live acoustic nights! If you fancy a crafty cocktail beforehand, Besos Kitchen & Cocktails is the place to be, especially if you can get a seat on the patio! For those up for a challenge with family and friends, save 60 minutes in your itinerary for The RI Riddle Room and one of their many mysterious escape rooms – think fast!
Editor's Pick: Charlestown
One of the cutest beach towns in Rhode Island, Charlestown is a whole vibe. Not only are there beautiful beaches and wildlife refuges to get out and enjoy coastal RI scenery, but the town itself has some pretty fantastic offerings.
Swing by The Fantastic Umbrella Factory for a wide variety of shopping experiences, including The Purple Shell, an "authentic Eastern Native trading post featuring Wampum, native crafted jewelry" and other hand crafted items, a Henna artist, nontoxic soy candle shop, and more. Oh, and there are emu's running around on the grounds, too… because, why not?
Another Charlestown treasure is the Frosty Drew Observatory which opens its doors every Friday night to the public – free of charge! – to come see what they can see with their high powered telescopes. If you're up for it, Charlestown is also home to Rhythm & Roots, the annual Labor Day weekend music festival that brings all the hippies to the yard, er the park, rather.
Charlestown is a laid back, fun small town in Rhode Island, and it definitely should be on your list of places to visit in the Ocean State! Don't forget to grab a bite to eat at the Nordic, everyone's favorite seafood restaurant, while you're in town.
---
Read Next:
---
Hello! I'm Hannah and I currently live in the smallest state in the US – Rhode Island! I moved here in June 2019 with work from the North West of England near the Lake District and I've absolutely loved exploring this beautiful country so far, especially New England! I hope you enjoy my articles and they help inspire you to #travelmoore! Please check out my travel blog, Travel Moore, and Instagram to follow my adventures!