*This site uses affiliate links; if you make a purchase through these, I may receive a small commission at no cost to you.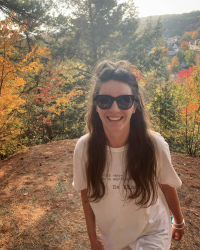 Latest posts by Hannah Moore
(see all)
Patriotic, peaceful, and perfectly quaint are the words that spring to mind when I think about my visits to this Ocean State gem. If you're after New England charm, look no further than Bristol RI. Escape the hustle and bustle of the capital for enchanting scenery, rich history, a lovely downtown, and so many fun things to do in Bristol Rhode Island!

Full of passion and community spirit, Bristol is known as one of America's most patriotic towns. Since 1785, the town has played host to the oldest continuously held Fourth of July celebration. If you can plan your visit to Bristol RI for Independence Day, you're in for a treat! Expect joyous crowds, a spectacular parade and dazzling fireworks to illuminate your time spent here in this beautiful coastal town. Not sure where to head first? Just follow the waving flags and the red, white and blue traffic lines that adorn the middle of the road through downtown!
Oh, and if you're looking for things to do in Bristol Rhode Island this weekend or what to do in Bristol RI today, be sure to check this local events calendar to see all the current happenings in Bristol.
I've brought together the top things to do in Bristol Rhode Island I'd recommend for your visit – enjoy!
Things to Do in Bristol Rhode Island
Explore Colt State Park
Route 114, Bristol, RI, 02809
With 464 acres, you are spoilt for choice when it comes to exploring this beautiful state park. Whether it's sunbathing on the grass, taking a hike, gathering friends for a picnic by the shoreline, or taking your bike for a ride, there's enough here to keep you occupied for a full day outdoors. It can get crowded on a weekend so make sure you get here early to really maximize your time spent here!
My favorite hike is the 3.9 mile loop around the park. You can find all the details on the All Trails app! Grab a sandwich from downtown, scout out an empty bench overlooking the majestic coastline and relax amidst the faint waterfront breeze at this gorgeous Bristol RI place. Don't forget to leave no trace and follow the 'carry in carry out' policy when visiting. It's so important to keep our state parks clean!
Hop Aboard The Prudence Island Ferry
147 Thames Street, Bristol, RI, 02809
It might not necessarily be attached to Bristol, but the ferry departs from there so I think it still counts! If you get seasick, don't worry, the crossing is only 25 minutes and you can occupy your time by taking in the beautiful harbor views and surrounding shorelines.
On the island itself, expect to see an abundance of wildlife from deer to a variety of bird species. For the best sightings, head to the Narragansett Bay National Estuarine Research Reserve where you can take a stroll along the many different nature trials. If you have time, make sure you head to Prudence Island Lighthouse for sunset!
Whether it's by foot, bike or car, you can catch the ferry from Bristol Ferry Terminal. The full schedule details can be found online! There is a grocery store on the island, but I'd suggest bringing a picnic with you instead.
Tour Blithewold Mansion, Gardens & Arboretum
101 Ferry Road, Bristol, RI, 02809
Rich in history and oozing in natural beauty, Blithewold Mansion, Garden and Arboretum is set on 33 magnificent acres that overlooks Narragansett Bay. This historic estate boasts 45 rooms and is occupied by an impressive display of ornaments and family artifacts dating back to the late 19th century.
This is the perfect place to escape to, especially in spring when the beautiful flowers are all in bloom. After reading up on the history and architecture of the mansion, head outdoors and explore the 10 acre Great Lawn and Rose Garden, making sure you snap a picture under the aesthetically pleasing Moongate! If you're there for sunset, those colors will be hard to beat anywhere else in the Ocean State.
Head to their website for the Blithewold Grounds map which I found incredibly useful during my visit here. There is a wealth of information online too about the various programs and events visitors can take part in. If you're looking for a romantic setting for your nuptials…look no further!
Take A Break At The Beehive Cafe
10 Franklin Street, Bristol, RI, 02809
All this exploring makes you hungry, right?! One of my favorite places to stop by in Bristol is the Beehive Cafe. Whether it's pastries, cookies, sandwiches or breakfast items, there's plenty of choice available here. Even better, the menu is updated seasonally and it's one of the best Bristol restaurants!
I recently had the Goat Cheese Salad with one of their new Honey Pot Espressos, although I've heard great things about the pancakes and pork sandwich too (not together!). It's quite small inside so if you can grab a free table upstairs that'd be ideal. If not, they have a lovely little outdoor seating area with blankets during the colder weather!
Learn To Sail At Herreshoff Marine Museum
1 Burnside Street, Bristol, RI, 02809
Any sailing fans out there? This maritime museum in Bristol RI remembers the legacy left by the Herreshoff Manufacturing company, as well as displaying an impressive array of boats including the symbolic 75' DEFIANT used in the 1992 America's Cup Sailing Competition! There are a number of exhibits displaying historic artefacts underpinned by a wealth of maritime related facts and stories for visitors to educate themselves on.
The museum also boasts a competitive and enjoyable sailing school program for both adults and children led by experienced and knowledgeable sailing instructors. You'll find it hard to beat the sterling reputation the Herreshoff Marine Museum has built up.
Enjoy A Ride Along East Bay Bike Path
Providence to Bristol
Grab your bike for a scenic 14.5 mile ride between Bristol & Providence. If you start at Providence, you'll begin at India Point State Park and if you start in Bristol, you'll need to head to Independence Park first. The path is paved, and follows what was the former railroad between the two places.
You should find the journey mainly flat except for one hill that pops up along the way so make sure you take plenty of water to stay hydrated. Don't forget to stop off at the many viewpoints and local parks you'll pass by too! It can get busy on the path as you are cycling along one of the most popular bike trails in the state, so watch out for others! This is a great outdoor activity in Bristol Rhode Island.

Educate Yourself At Bristol Historical & Preservation Society
48 Court Street, Bristol, RI, 02809
Focusing strongly on the historical preservation of Bristol, this 1828 jailhouse is used as a library and museum that showcases a variety of exhibitions to engage others and promote historic interest. You can spend an afternoon getting lost in the history engulfed within the library which has over 1800 books and documents relating to a wealth of significant artifacts.
If reading doesn't tickle your fancy, you can always opt for one of their fantastic guided walking tours that are led by a Bristol Historical & Preservation Society historian. Another option if you want to explore the history of downtown yourself is the self-guided walking tour. The map is downloadable on their website!
Wander Round Linden Place Mansion
500 Hope Street, Bristol, RI, 02809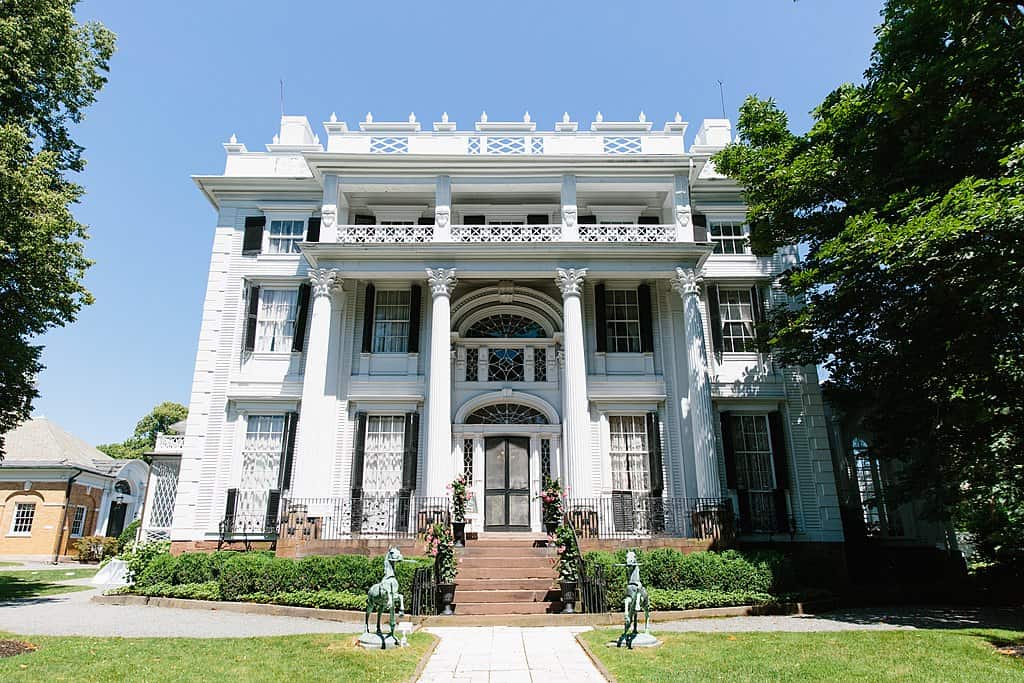 Named after the beautiful Linden trees that bloom each spring, Linden Place Mansion is a special gem of Bristol built in 1810. Forget Newport Mansions! Head to this historic landmark instead and be transported back in time. Rich in history, explore the well preserved rooms, decor and grounds, and learn all about why the owners had to flee Bristol! This magnificent mansion has also featured as a backdrop in the 1974 Great Gatsby film, so it's a very cool Bristol attraction to say you've seen.

Self-guided tours are available, although it's recommended to book in advance. Educate yourself on the DeWolf family, their ties to slave trading and their monetary downfall and make sure you head outdoors afterwards to explore the gardens and sculptures. Ps. how cool is it that four US presidents have also been here!?
365 Hope Street, Bristol, RI, 02809
Looking for an authentic Italian dining experience? Look no further! Located in downtown Bristol, Leo's doors are always open for great food in a fun and friendly atmosphere. This place is popular, especially in the summer, so don't forget to make a reservation! They have seating outdoors too which is perfect for people watching on a lovely warm day with a glass of Pinot Grigio. Ps. Leo's lasagna is sensational!
Stroll Through Independence Park
419-459 Thames Street, Bristol, RI, 02809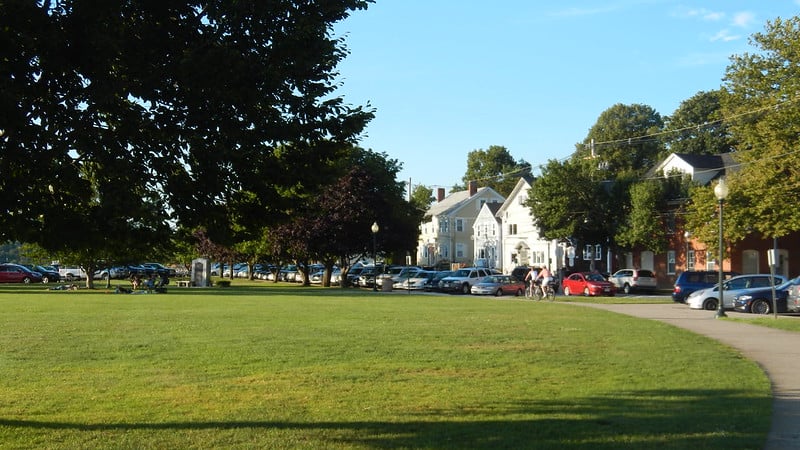 This four acre park in Bristol offers the perfect escape from the hustle and bustle of the busy cities. With beautiful views of Bristol Harbor and wonderful sunset colors, you can see why people flock here. There is a boat ramp here too for anyone who fancies getting out on the water! You can start here for the East Bay Bike Path that will take you through to Providence or if you don't fancy exercising, bring a picnic and blanket along for dining al fresco!
Become a Farmer At Coggeshall Farm Museum
1 Colt Drive, Bristol, RI, 02809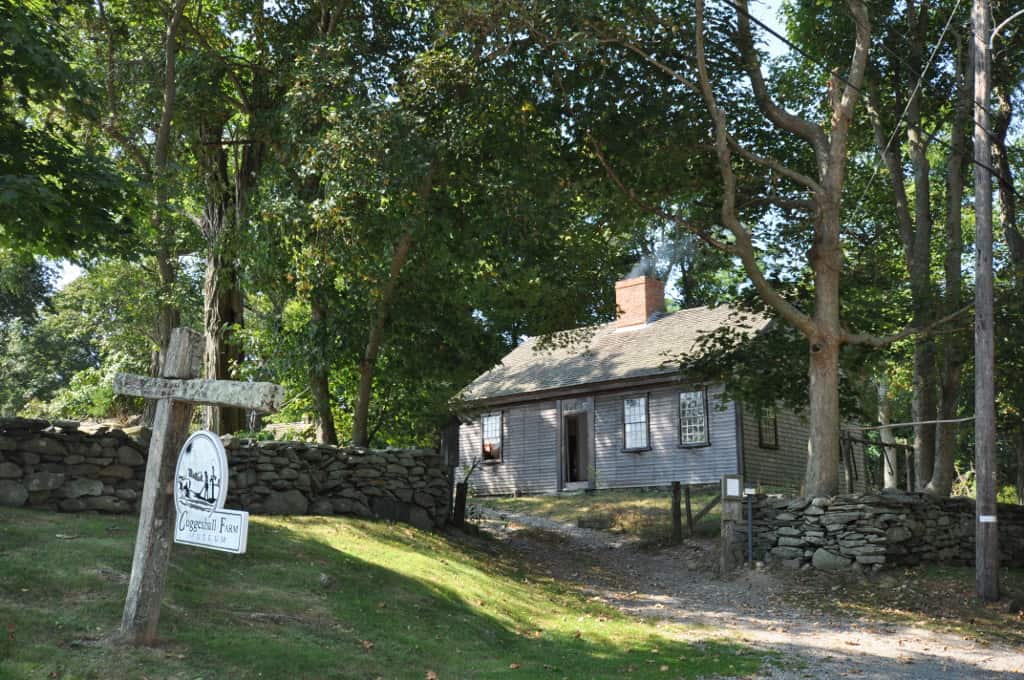 Ever wanted to know what it was like to be a farmer in the 18th century? A visit to Coggeshall Farm Museum helps you to learn about and experience the authenticity of what life was like back then across over 48 acres of farmland. Also, if you love animals, you'll be pleased to hear they have cats, chickens and pigs! Buildings that can be explored include the animal barn, wood shop, cheese house, plus more.
Coggeshall Farm Museum is conveniently located in Colt State Park too making them both great places to visit in one go!
Get Weird At Musee Patamecanique
Location: It's a secret!
Weird, wonderful and wacky. There's not too much more I can say without spoiling the mystery, but if you want to be immersed in a world of curiosity and bizarreness, look no further than Musee Patamecanique. The reviews online speak for themselves. Don't be fooled though, you can't just turn up, the tours are arranged by appointment only and will rarely begin in the same spot twice…
"It is a strange place; a fusion of funhouse, fable, museum and nightmare"…
Relax At Bristol Town Beach
50 Asylum Road, Bristol, RI, 02809
Located right next door to Colt State Park, Bristol Town Beach is a popular retreat for locals and tourists. It can be quite pebbly but that doesn't mean it's not enjoyable! With stunning views of Narragansett Bay, it provides beautiful sunsets and fun activities such as basketball courts, baseball fields and a skate park! There is also a roofed pavilion in case of a rainy day so it doesn't spoil your plans!
Lifeguards are on duty throughout the summer for peace of mind when swimming, there are plenty of picnic tables to utilise and there are restrooms available too. Ps. Del's lemonade always makes an appearance in the summer, so don't miss out while visiting this beautiful Bristol RI beach!

60 1/2 Oliver St, Bristol, RI 02809
Popular international artists Valerie Bretl and Antonio Silveira boast an impressive gallery full of exquisite, modern mosaic artwork which you can catch a glimpse of in their studio on Oliver Street! Using bold colors and shapes, the creative mosaic artwork in the window display will instantly draw you in for a look around.
Ranging in prices, their magnificent artwork has been selected multiple times for the annual Mosaics Arts International Exhibition, showing just how impressive their skills are. There is a full gallery of their artwork on their website if you fancy taking a look before your visit!
Protect Wildlife At Audubon Society Nature Centre & Aquarium
1401 Hope Street, Bristol, RI, 02809
Protecting nearly 10,000 acres of wildlife, the Audubon Society is the perfect place to educate yourself on local habitats, conservation and what we can all do to help protect the Ocean State against this environmental threat. There are a variety of interactive exhibits within the museum and aquarium offering a fun way to learn all about nature.
Located on the Claire D, McIntosh Wildlife Refuge, there is also an abundance of walking trails available allowing you to stroll along the boardwalk and observe the wildlife in person through the fresh and saltwater marshes at this beautiful Bristol RI place. If you have a bike, don't forget that the East Bay Bike Path passes by here too.
Stay at Lovely William's Grant Inn
154 High Street, Bristol, RI 02809
If you're looking for where to stay in Bristol RI, consider William's Grant Inn. This lovely and historic Bristol Bed and Breakfast offers a quaint and comfortable stay with fantastic features like fireplaces in rooms, and the convenient downtown Bristol location can hardly be beat! Add in a gourmet breakfast to the mix, and this is one of the best places to stay in Bristol Rhode Island.
Click Here to Check Prices & Book!
Whatever you end up putting on your list of things to do in Bristol Rhode Island, you're sure to enjoy your time in this gorgeous coastal gem.
---
Read these next:
---
Pin to your favorite Pinterest board for future travel planning!