*This site uses affiliate links; if you make a purchase through these, I may receive a small commission at no cost to you.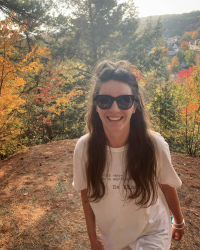 Latest posts by Hannah Moore
(see all)
You won't find any Scrooges in Little Rhody!
Every year, Christmas in Rhode Island transforms into a winter wonderland. Thick, warm scarfs and gloves become your everyday essentials, roaring fires keep you cozy and relaxed, and it's obviously acceptable to drink hot chocolate, with all the added extras, at any time of the day!
There is SO much to do here at Christmas in Rhode Island, so I've tried to compile my most favorite things to do over the Christmas Holidays – enjoy!
Christmas in Rhode Island
Ice Skating
Grab your skates! I really don't have a good track record with ice skating – I'm like Bambi on ice! It never stops me from heading to the ice rink every winter though and giving it my best shot.
I literally can't last longer than 30 seconds on my feet, I've been plucked up several times by staff members after falling and I'm constantly in awe of all the kids pirouetting around me whilst I have to use the penguin training support…
I have a couple of favorite spots in Rhode Island, all of which are extremely family friendly and a great addition to your Christmas holiday itinerary! First off, my hometown Westerly! Nestled in the very far southwest corner of Rhode Island, on the border with Connecticut, Westerly has been my home for nearly 18 months now.
Starting from Thanksgiving weekend, the Washington Trust Community Skating Center will be open for the season in downtown Westerly.
They offer a mixture of public skating, private rentals, school rentals, group skating lessons, hockey lessons, curling and even sledge hockey! Check out their website online for the ice rink schedule so you can plan your visit perfectly.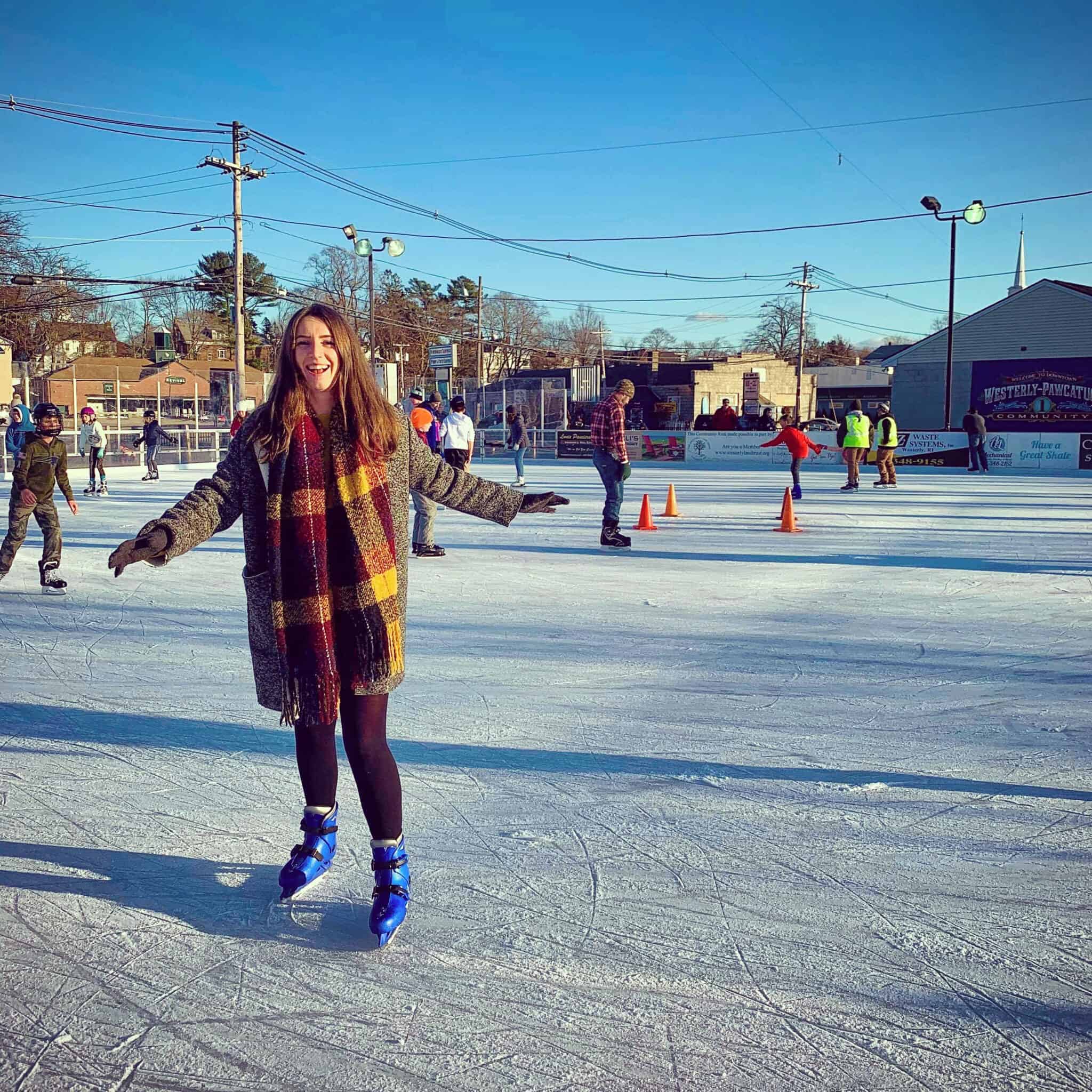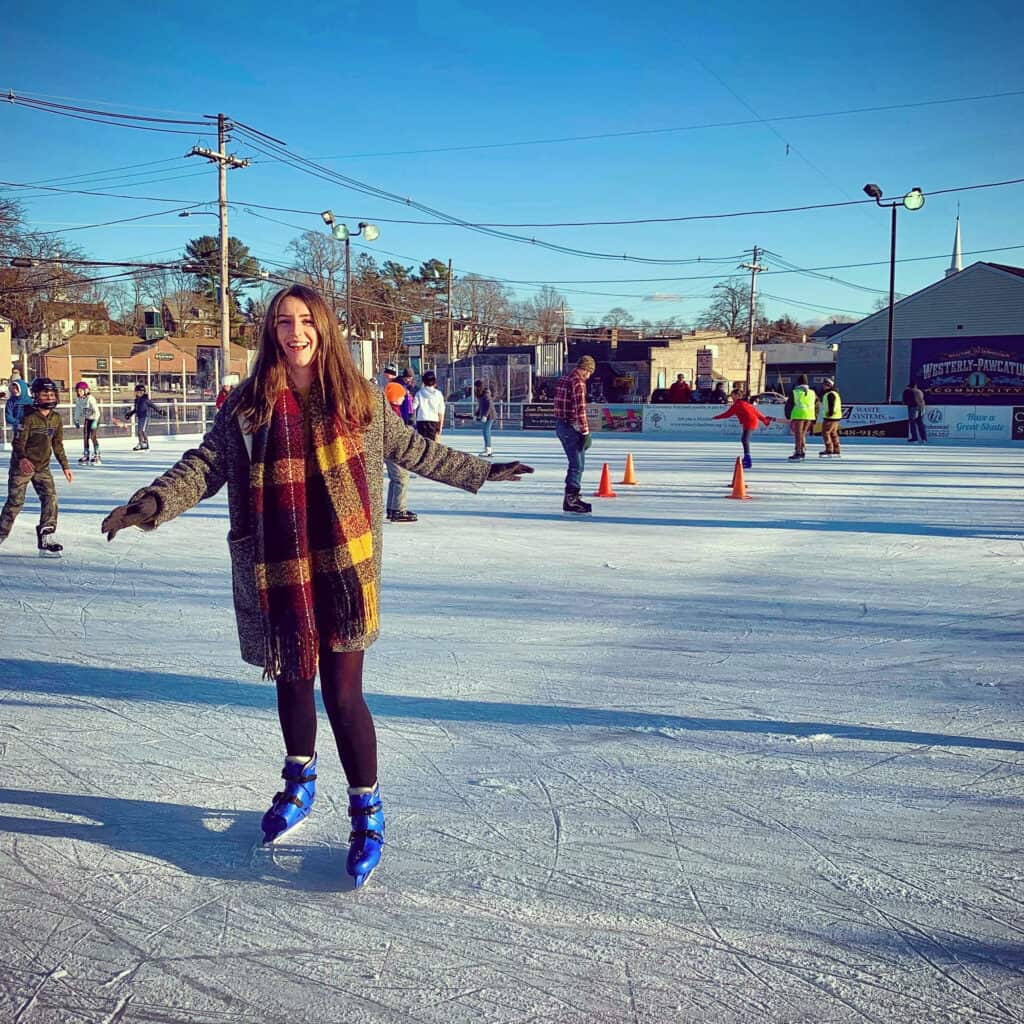 I can't move on though without mentioning where you should go afterward to warm up…about a five-minute walk away is Perks & Corks, a local, cozy, hangout spot that serves the biggest and the best martinis you will ever taste, E-V-E-R. The menu is huge; so many different flavours.
Wrap your cold hands around a 'Hot Claus', a signature special on their 'Christmas Cocktail' list with a spiked peppermint twist and toasted marshmallows (which they toast right in front of you!).
Another ice skating alternative is the rink at Newport Harbor Island Resort. At the back of the hotel a Winter Wonderland awaits. As you skate you have clear views of Newport Harbour, Goat Island Lighthouse and the stunning Newport Bridge.

If you fancy a trip to the city, the capital of Rhode Island, Providence, also offers ice skating – Bank Newport City Center. This outdoor rink attracts the crowds but it's bigger than the other two I have mentioned.

You can even get a season pass here if you live nearby and it's the perfect place to come if you are visiting the city for a day trip – what better activity to get everyone into the Rhode Island Christmas spirit!
Skiing, Snowboarding & Tubing
It's common knowledge the East Coast is home to some of the best and most thrilling ski and snowboard resorts.

Whilst most people will head to the likes of Vermont and New Hampshire for fun-filled days of winter sports and après ski shenanigans, Rhode Island happens to also be home to its very own resort – Yawgoo Valley Ski Area & Water Park located in Exeter, south of Providence!
As well as offering skiing, snowboarding and snow tubing December through to March, you can also enjoy this great place every summer too in their very own water park!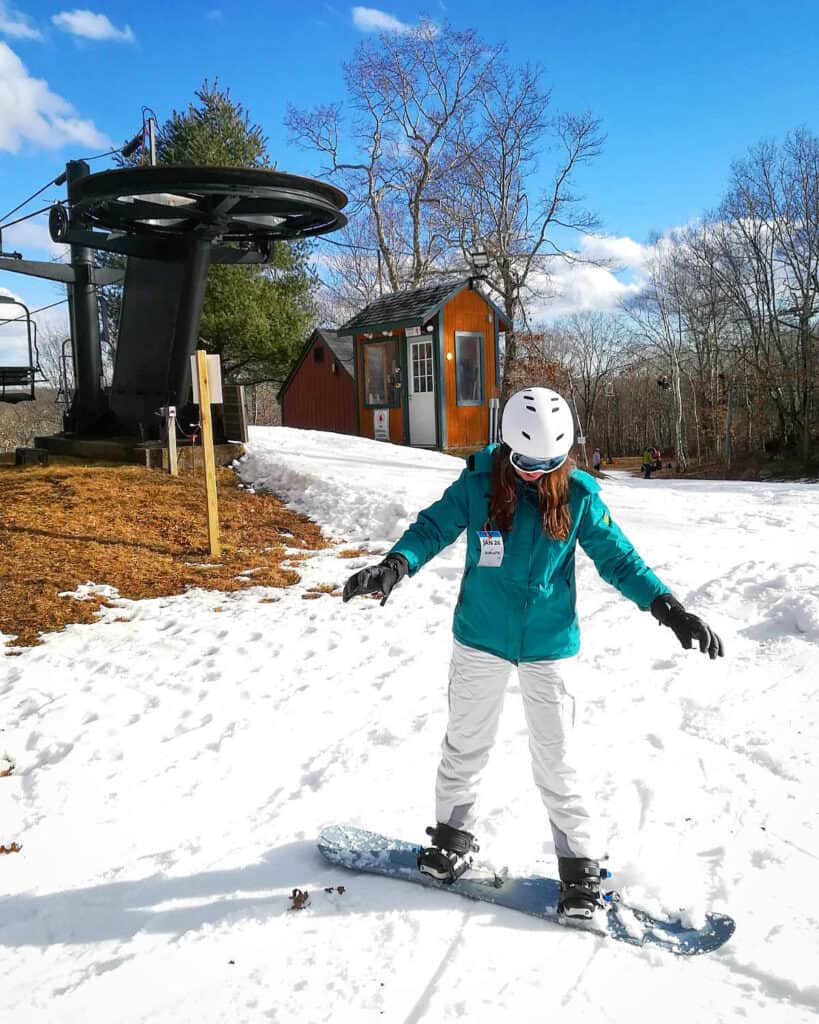 Before I moved to the US, I'd never done any form of winter sports (shocking I know). I've overheard many heated discussions so far around skiing vs snowboarding but my partner is a really good snowboarder so he convinced me to give it a go!
I went to Yawgoo a few times and it was a great confidence booster. Whilst it's nowhere near as big as others in New England, it's a fantastic place to visit to learn or even just to brush up on your skills at the beginning of the season!
Rates haven't been released yet for this year but keep an eye out on their website as you can also view their live camera footage to keep updated on the daily snow conditions!
Christmas Wining & Dining
It's the most wine-derful time of the year! Nothing says Christmas like some fine wine and dining. There isn't anything better than looking forward to a romantic evening with your partner or a joyous get-together with your family and friends as the Christmas holidays get into full swing.
If there's one place you must pay a visit to, it's Ocean House. This magnificent hotel in Watch Hill oozes in history and elegance and this Christmas they have outdone themselves again with the return of the fantastic Gondola Village.
This private dining for 4-6 guests in beautiful restored vintage ski gondolas screams Alpine luxury. Their winter après ski menu consists of four courses and a selection of the finest champagne!
It's on the pricier side but what do you expect when you also have your very own server and an evening of unforgettable memories?
I'm not missing out on this extra special Christmas treat so I've already booked a gondola for the beginning of December and I cannot wait to get dressed up and have a wonderful evening with my partner and friends!
My friends and I are going to make sure we head here after ice skating!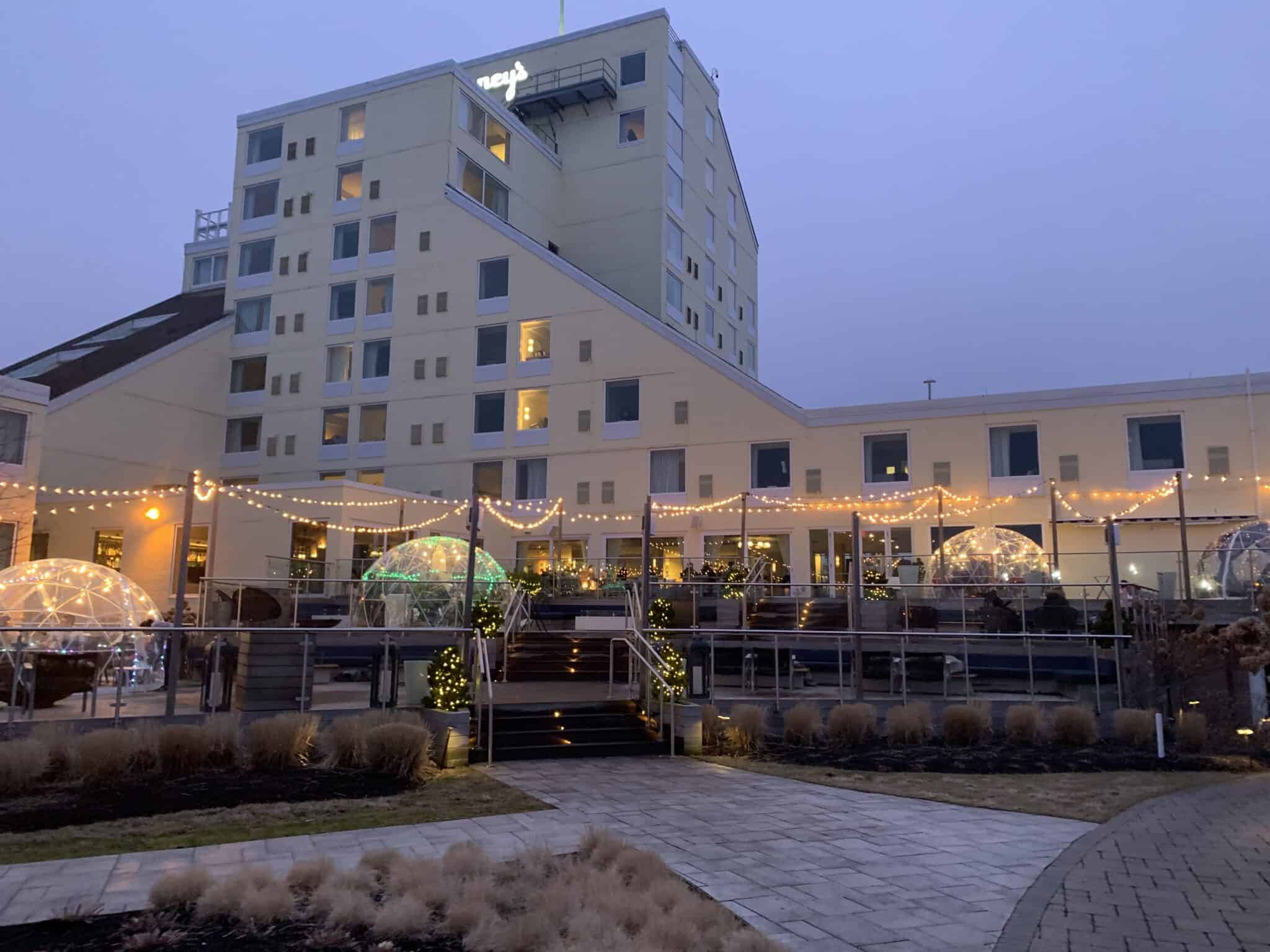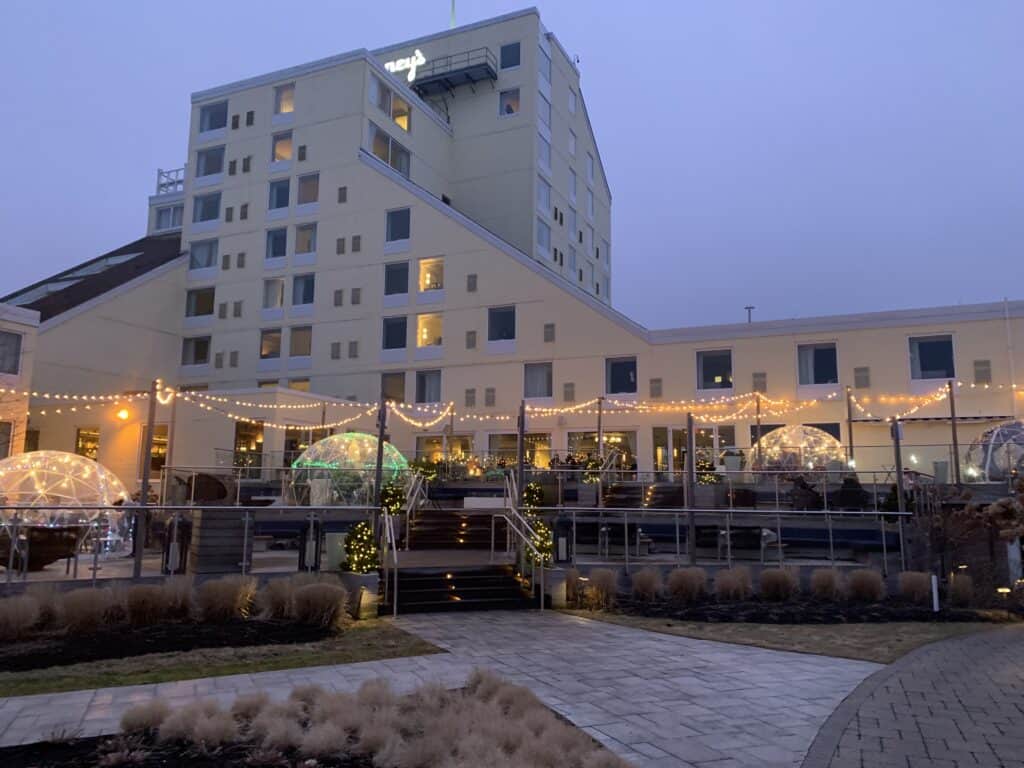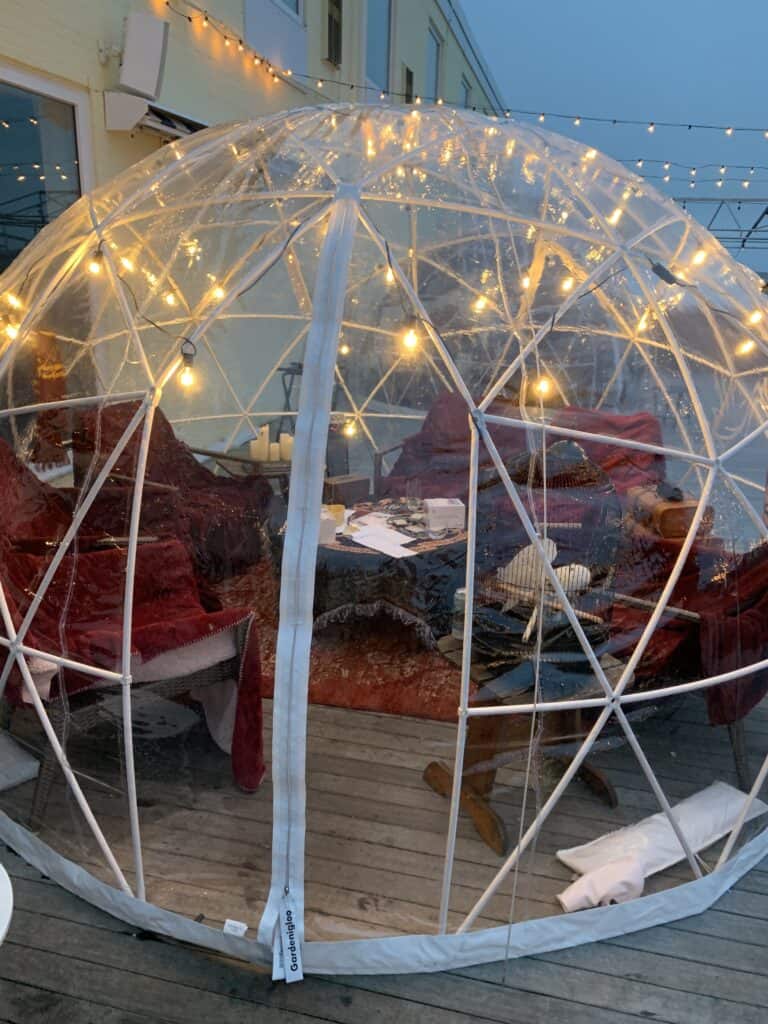 If you are in the city, check out 'Rooftop At The Providence' in the center of downtown where you can enjoy the city lights, with a bite to eat and a cocktail or three in front of their roaring fire pits! I've heard their seafood is incredible!
Christmas Mansions
The magnificent mansions at Newport are the perfect place to visit during the Christmas holidays as they are transformed into a winter wonderland!
The 15ft tall tree will be back where it belongs in the Great Hall at The Breakers mansion and this year introduces its new outdoor experience – 'Sparking Lights at the Breakers: An Outdoor Magical Wonderland'.
Hundreds and thousands of festive lights will illuminate the exterior of the mansion, offering guests the chance to wander around the spectacular grounds and truly get into the Christmas spirit!
Head over to their website now to purchase your tickets. I'm really looking forward to adding this to my Christmas holiday itinerary!
Another less popular but equally great option is to experience Christmas at Blithewold Mansion in Bristol, where all rooms are magically decorated to bring the magic of Christmas alive! Each year brings a new theme to the 33-acre estate and its transformation is all down to the incredible volunteer decorators!
Christmas Tree Farms
There is no better start to the Holidays than a family-filled day to pick out your perfect Christmas tree, spending the evening decorating it and belting out your favorite Christmas hits!

Last year we went on the very first day in December and it even snowed – such a magical day! Some of my favorites combined with other great recommendations from friends include:
Bedrock Tree Farm (Wakefield) – Get your handsaw ready to explore the thirteen acres of trees! Opening day is the day after Thanksgiving this year. Afterwards, head inside their farm house to scout out some lovely Christmas gifts!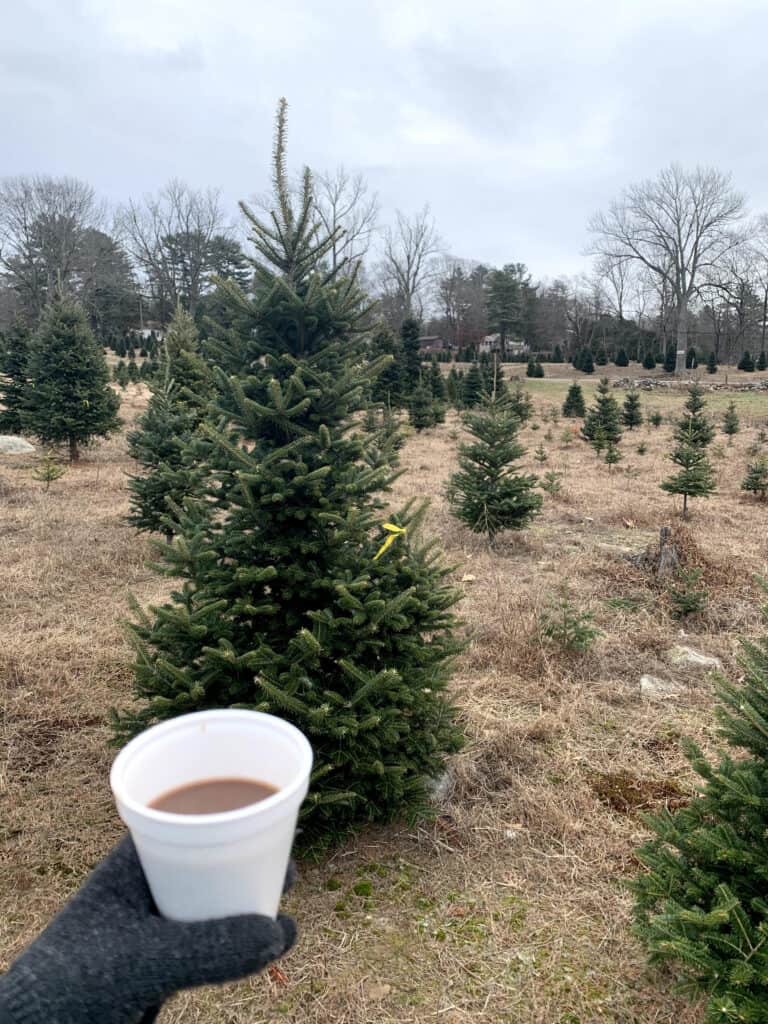 Big John Leydens (West Greenwich) – With over 100,000 trees and ten different types, you could easily spend all day wandering around this impressive Christmas Tree Farm. What makes it particularly special though is the heart-warming background story behind the family and their introduction to selling Christmas Trees which you can read all about on their website!
Riverside Christmas Tree Farm (Charlestown) – As well as beautiful Christmas Trees, you can also purchase decorative wreaths and garland! The 'Choose & Cut' season begins Thanksgiving weekend – get yourself there!
Henry's Tree Farm (Hope) – Dubbed as one of the most picturesque Christmas Tree Farms in Rhode Island, you can't go wrong here exploring the 130 acres! Also available to wander into is their lovely gift ship which is home to one of the largest ornament selections in the state!
Fraser Orchard & Tree Farm (Coventry) – Eleven tree species are up for grabs here and Christmas tree tagging has begun! Don't forget your cash though, as they don't take credit card!
Christmas Tree Lightings
Of course, can't forget about these fun Christmas events that happen all around the Ocean State!
These are some of the most popular Christmas tree lightings in Rhode Island, but you can find these charming events in every corner of the state.
Newport Illuminated Boat Parade
The annual Newport Boat Parade is back! Line up along the harbour to watch the dazzling lights illuminate the waterfront.

This year the event will be held November 26, 2023. Free of charge, this is a great event for the family to enjoy in Rhode Island at Christmas. Look out for who you think should win the prize for the best decorated sailboat!
Holiday Light Show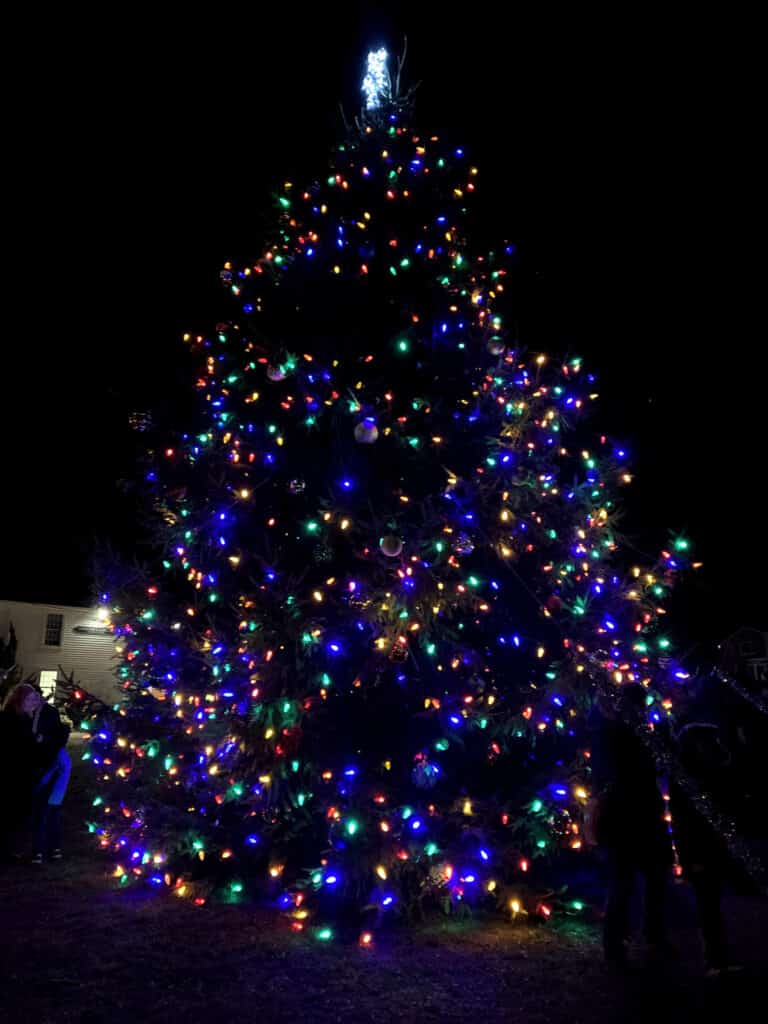 Cozy up in your car with some snacks and hot chocolate and slowly drive the one mile route and be amazed by the impressive display of Christmas lights in Rhode Island!

You can also tune in your radio for Christmas music to accompany this festive RI Christmas event. The Holiday Light Show will last approximately 20-25 minutes.

Whilst a ticket is valid for a single car admission, it can be used on ANY day the show is open which makes this fun Christmas activity super flexible for families! Don't miss out – I've already bought my ticket and I can't wait to pop by there one evening!
Christmas Ballet Performance
Head to the capital to catch the spectacular ballet performance of The Nutcracker at the Performing Arts Center, it's been a tradition for many years to bring the spellbinding story to life!
Another alternative is The Nutcracker presented by Heritage Ballet at the Stadium Theatre & Conservatory for the Performing Arts. Christmas ballet performances are always lovely!
Polar Express – Search for Santa!
Looking for a specific experience for the kids this Christmas? Look no further! Board the Blackstone Valley Polar Express, a 90-minute ride to view the North Pole and 'Search for Santa'!

You'll take part in a scavenger hunt to see if you can spot some very special Christmas characters along the riverbank whilst filling in the activity sheets. How cute of a Rhode Island Christmas activity for kids is this?

2023 Rhode Island Christmas Wrap-Up
There are so many great ways to enjoy winter in Rhode Island! As a bonus, sometimes you can find off-season discounts. How's that for a great RI Christmas gift?
---
Read these next:
---