Where should you go snow tubing in Rhode Island? Though it's a small state, we've rounded up some of the best places in and around RI for some amazing winter fun.
You may be wondering, what makes snow tubing so fun? Well, it's one of those outdoor activities that actually requires no prior experience at all. Seriously, you can just pick up a tube after never having gone tubing before and have the best time. Plus, it's great for all ages as long as your little ones meet the height and age requirements!
So, what are you waiting for? Here is where to go snow tubing in Rhode Island and nearby.
Yawgoo Valley Snow Tubing Park, Exeter
The main place to enjoy snow tubing in this state is in Exeter at Yawgoo Valley Snow Tubing Park. Tubing here is usually available until the end of March and opens either mid-December or the beginning of January, depending on the weather each year.
Park hours for snow tubing are on Friday evenings and then all day Saturday and Sunday. Ticket rates start at $30 for a 90-minute session, and guests can enjoy unlimited rides during that time period. A snow tube as well as the lift to get back to the top of the hill is included in the ticket price. Group rates are also available for those coming in bigger groups! (Just imagine having a birthday party here… amazing!)
The park itself has seven different lanes that are always smooth to ensure the best ride possible. Once you get to the bottom, enjoy a tow rope that will bring you back up to the top. Riders must be at least 42″ tall in order to enjoy riding here, and there are no double riders, just like at most other snow tubing parks.
Sledding Hills, Misc. Towns
Another option for snow tubing, if you have your own tube, is to hit up some of the sledding hills throughout the state of Rhode Island. These can normally be found in smaller towns rather than the cities, but they can still be a really fun way to enjoy some tubing.
Be sure to practice safety precautions and watch out for those that are sledding, especially if you're on a tube. You'll also want to be careful because sledding hills are not always as well kept as an actual snow tubing facility like Yawgoo.
Snow Tubing Near Rhode Island
Because there aren't many places to snow tube right in Rhode Island, we've also rounded up some of the closest places outside of the state to enjoy snow tubing. Find them below!
Ski Ward Ski Area, Shrewsbury, MA
Not too far from Rhode Island is the Ski Ward Ski Area in Shrewsbury, which opened back in the 1930s and is one of the older winter recreational areas in the country because it's continually operated. With 12 lanes, it's easy to see why this is such a fun place to enjoy this activity.
Riders must be at least six years old and 42″ tall to ride, and opening hours are the evenings, Wednesday through Friday, and then all day on weekends. They are also open for specific holidays and local school winter vacations. Prices for tickets are charged by the hour, but two-hour packages can be purchased for a discount.
Nashoba Valley Ski Area, Westford, MA
Westford's Nashoba Valley Ski Area is another amazing spot to enjoy this winter activity near Rhode island. Dating back to 1964, this ski area has quickly become popular for winter adventures like snowboarding, skiing, and of course, snow tubing.
Their snow tubing park has 16 lanes, and tickets are sold the week before, so reservations are necessary, and they do tend to sell out. In order to enjoy this activity, riders must be 42″ tall and at least six years of age. The lanes are open from Wednesday through Sunday, and they will also open for local school vacation weeks and hours as well.
Powder Ridge Mountain Park & Resort, Middlefield, CT
In neighboring Connecticut, you can enjoy snow tubing at Powder Ridge Mountain Park & Resort. Reservations should be made online in advance, and it should also be known that they do get super busy throughout their winter season. Regular sessions are an hour and forty-five minutes, and ticket prices include a helmet and tube.
For a real fun time, enjoy their "Interstellar Nights," where you can take your tube out in the dark surrounded by neon lights. That's one truly memorable experience for all, especially any little ones that you go tubing with! Who doesn't want to tube under the stars?
Mohawk Mountain Ski Area, Cornwall, CT
Another great place for snow tubing is the Mohawk Mountain Ski Area in Cornwall, which isn't very long of a drive from Rhode Island. They have a variety of lanes, and their sessions are about an hour and forty-five minutes long between Friday and Sunday. They'll also open up for local winter break.
The ski area has its own magic carpet, so you can make the most of the amount of time that you have. That way, you won't have to worry about bringing the tube back up the hill after the exhilarating thrill of riding it down!
Butternut Ski Area and Tubing Center, Great Barrington, MA
Often just referred to as Ski Butternut for short, Butternut Ski Area and Tubing Center in Great Barrington is a lovely place to enjoy snow tubing. Riders must be five years old, and there are two-hour time slots available. Tickets do sell out here!
There are 11 lanes at this park, and have a Magic Carpet lift that will bring riders back up to the top. Hours are normally Friday through Sunday, and they do have special holiday hours. They will also open for local school vacation hours too, especially during the holidays and Christmas week.
One of the things that make Ski Butternut so great is that they make their own snow, so even if Great Barrington isn't snowy, the activity can still be enjoyed. Plus, there are many other fun outdoor activities to be enjoyed at Ski Butternut too.
Thanks so much for reading this post about snow tubing in Rhode Island! Now, what are you waiting for? Get out there and enjoy the great outdoors and this fun winter activity. Make some memories!
---
You might also like: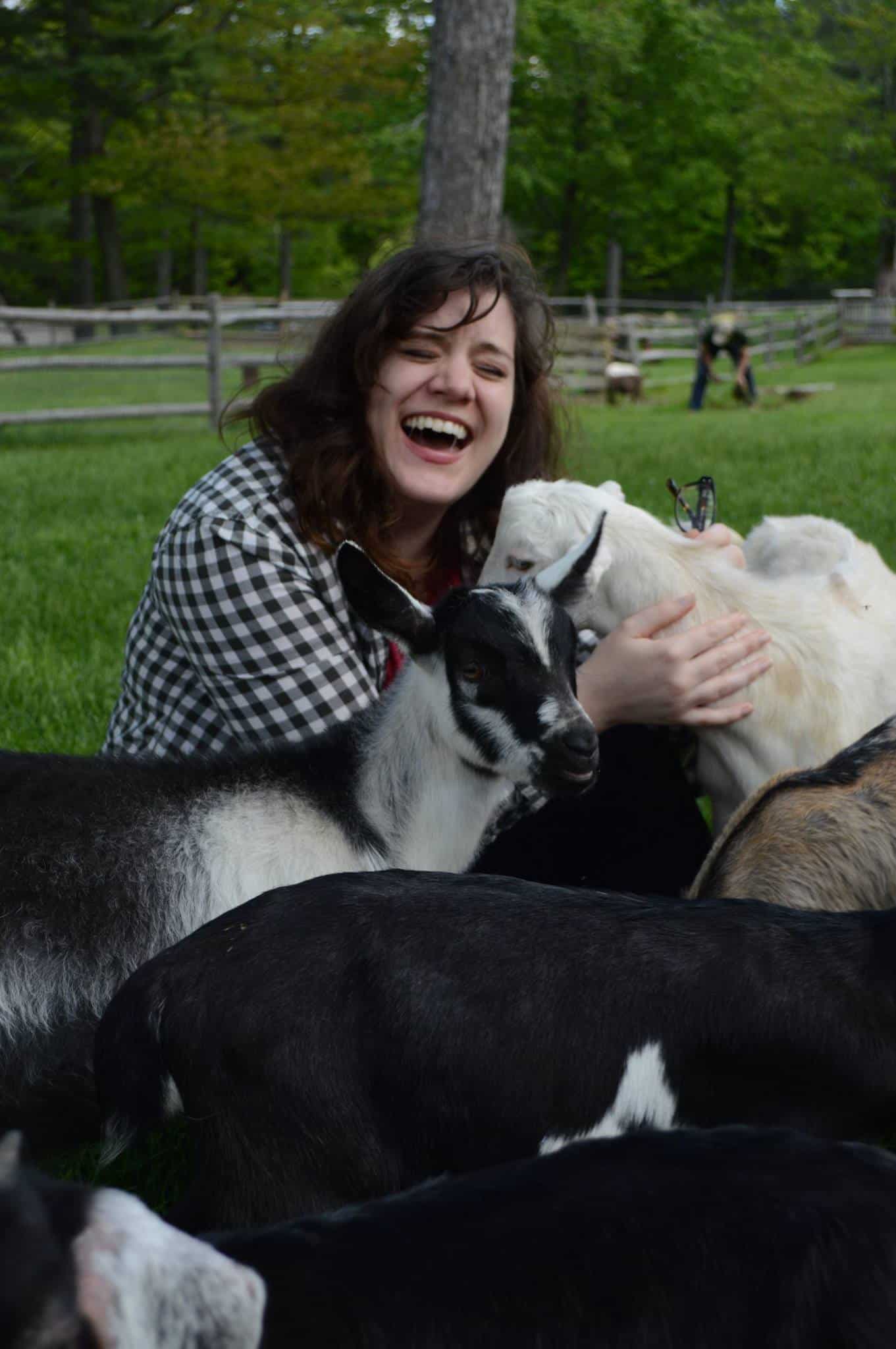 Amy Hartle is the founder and Editor-in-Chief of New England With Love, a comprehensive resource for travel in the New England region. Amy has been exploring New England since 2001. She lived in Vermont for many years and is a graduate of Plymouth State University in New Hampshire. On this site, Amy aims to share her love of New England and help you to have the best possible adventures!
Amy has been writing about travel for over a decade, and is a full time blogger, publishing both Two Drifters and Let's Adventure Baby. When not traveling the world or creating epic blog content, Amy can be found cuddling with her husband, son, and cats, & drinking a maple latte.