*This site uses affiliate links; if you make a purchase through these, I may receive a small commission at no cost to you.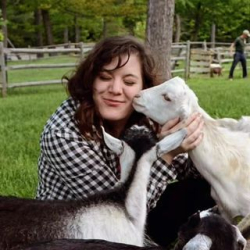 Latest posts by Amy Hartle
(see all)
Are you dreaming of those magical New England Christmas towns, just like the ones in a Hallmark Christmas movie?
Look no further, you've found them! If you're searching for small-town sweetness coupled with big Christmas charm, you'll find it here on my list of the best New England Christmas towns that are straight out of a Hallmark holiday movie…and some of them actually are in Christmas Hallmark movies!
This list of Christmas towns in New England has 25 destinations: one for every day in December counting down to Christmas!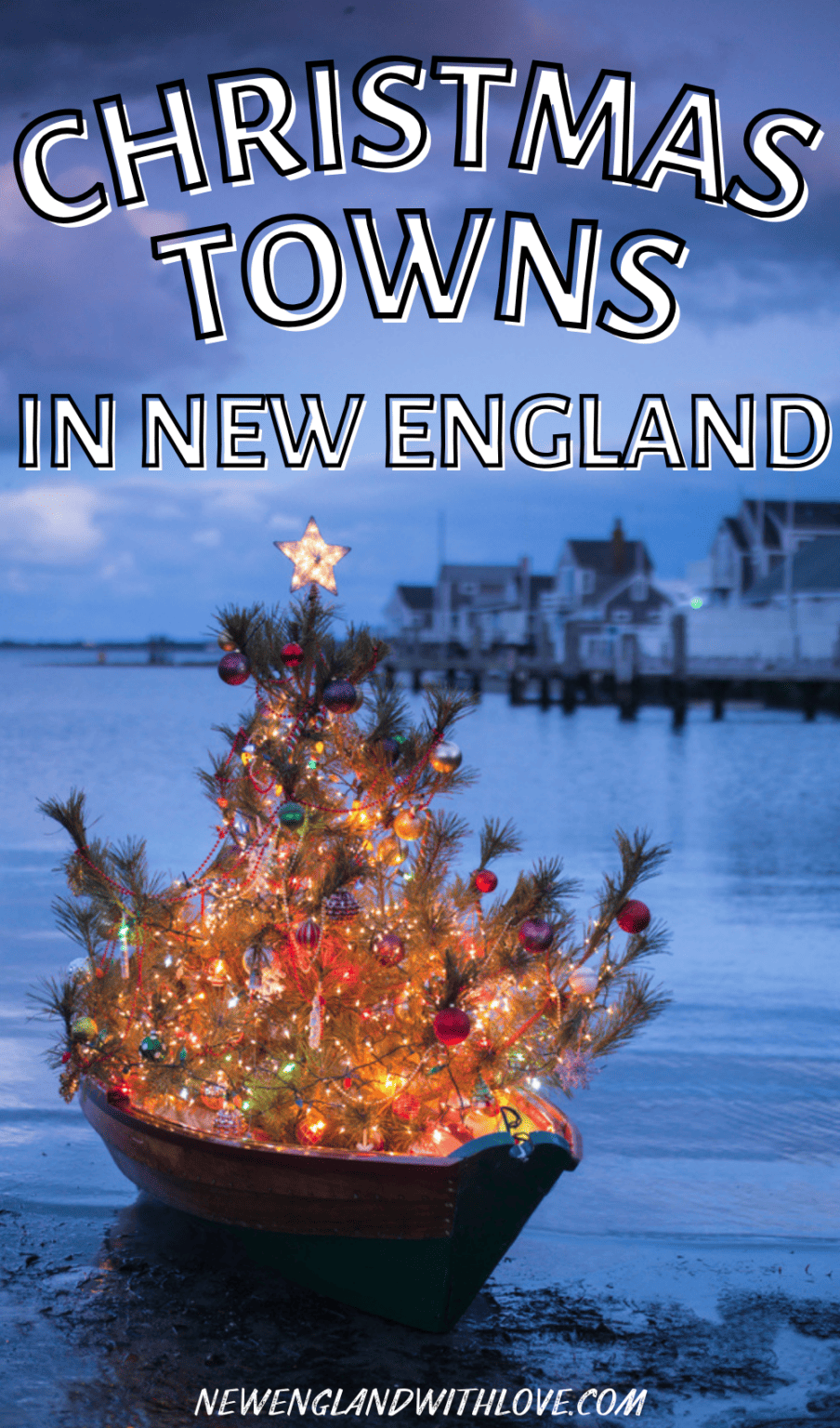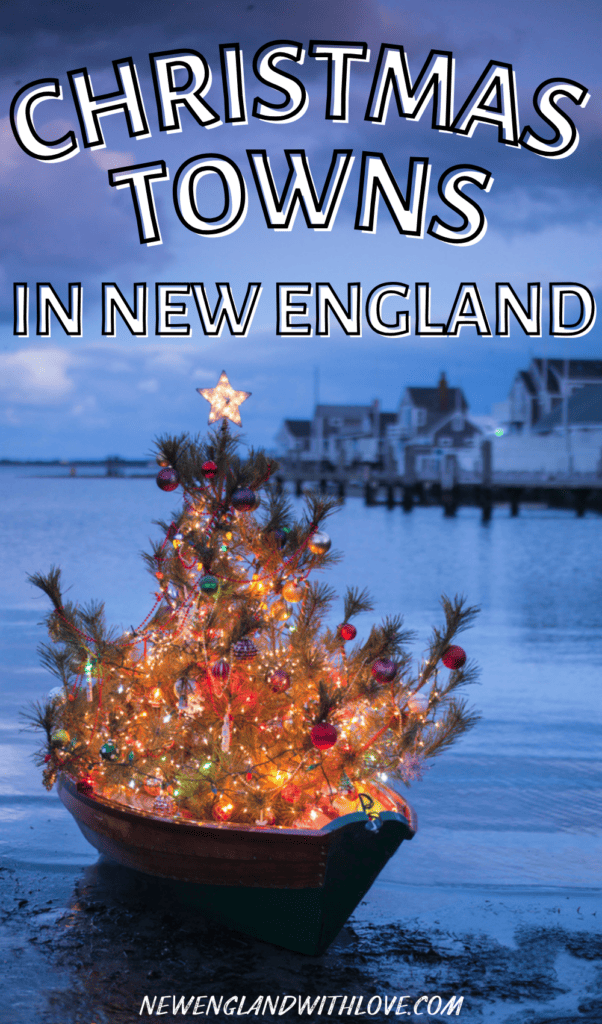 Best New England Christmas Towns to Visit (2023)
New Hampshire Christmas Towns
When it comes to New England Christmas towns, you can't go wrong with New Hampshire. This state is perfect for a Christmas day trip or a longer New England winter getaway. From the White Mountains to the charming, historic coast, the holiday season is front and center in the Granite State!
Portsmouth, New Hampshire
Without a doubt, Portsmouth, New Hampshire is one of the best Christmas towns in New England. In fact, Travel & Leisure has named it among the best Christmas towns in all of America!
Beautiful Portsmouth has so many great things to do all year round, but come Christmas, this cute coastal community puts on one of New England's best Christmas events: Vintage Christmas in Portsmouth. This celebration is an entire month of fabulous holiday festivities! There are performances, a gingerbread house contest, a scavenger hunt downtown, and beautiful Puddle Dock Pond becomes an outdoor ice-skating wonderland!
Join The Candlelight Stroll at Strawbery Banke Museum, where role-players in period holiday dress walk among the guests that come to see the historic holiday décor of handmade wreaths and candle lanterns. With so many great places to eat and stay in Portsmouth, it would be easy to plan a long, holiday visit to this lovely coastal community!
North Conway, New Hampshire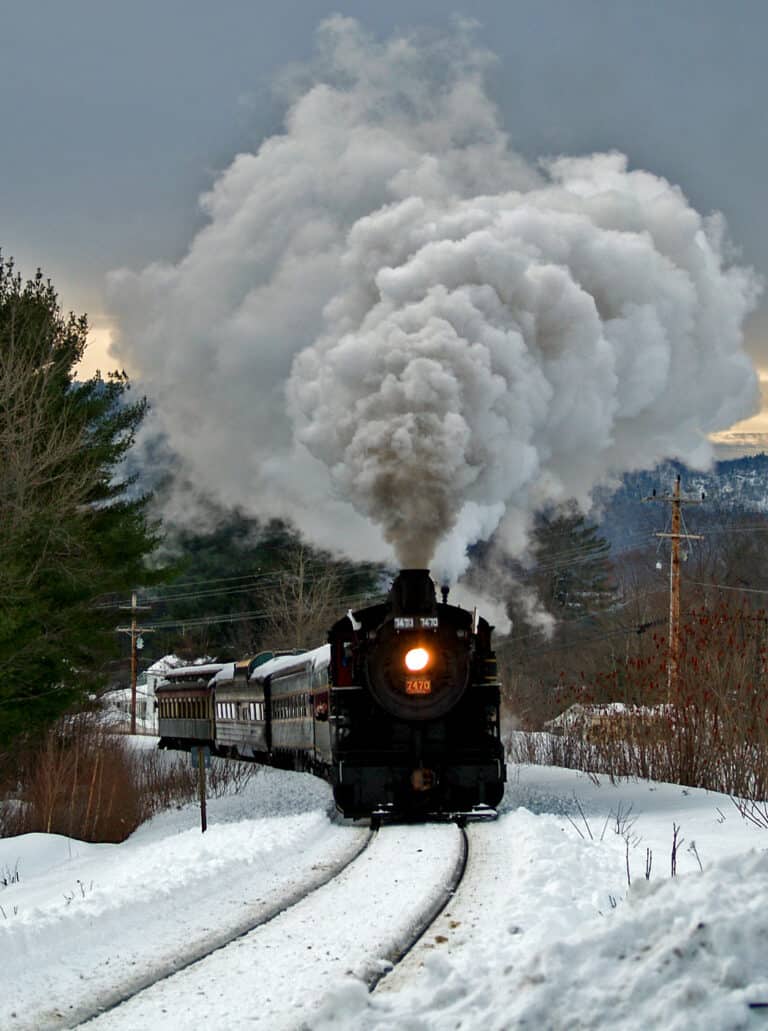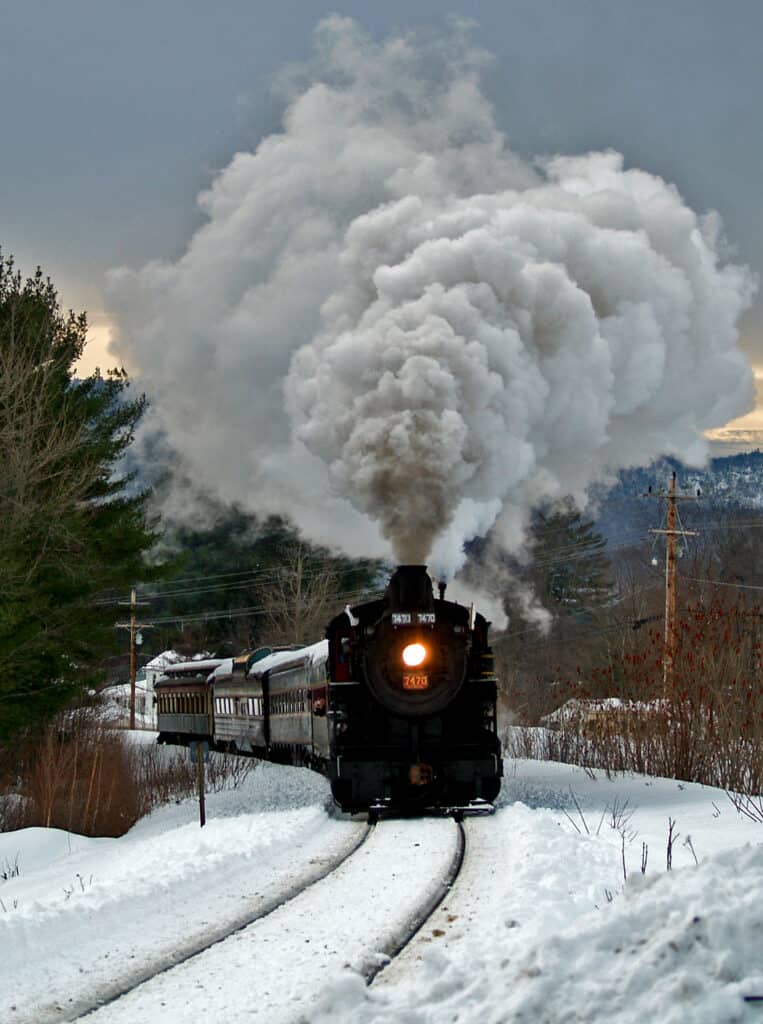 North Conway's adorable downtown becomes an irresistible holiday destination once the magic of the season takes over, with twinkle lights and wreaths adorning every storefront. North Conway has so many great things to do (including one of the best indoor water parks in New England), and stores like the one-of-a-kind Christmas Loft are a part of its holiday charm.
Take a ride on Santa's Holiday Express at the Conway Scenic Railroad (pictured above!), and if you're looking for where to stay, look no further than Christmas Farm Inn & Spa up the road in Jackson, one of the best spa getaways in New England. Plus, Jackson hosts a Jingle Bell Chocolate Tour on the weekends throughout December, and yes, Christmas Farm Inn does participate!
Heads up, Hallmark lovers: keep your eyes peeled for the Jackson Covered Bridge, the covered bridge seen in Hallmark's It's Beginning to Look A Lot Like Christmas!
Peterborough, New Hampshire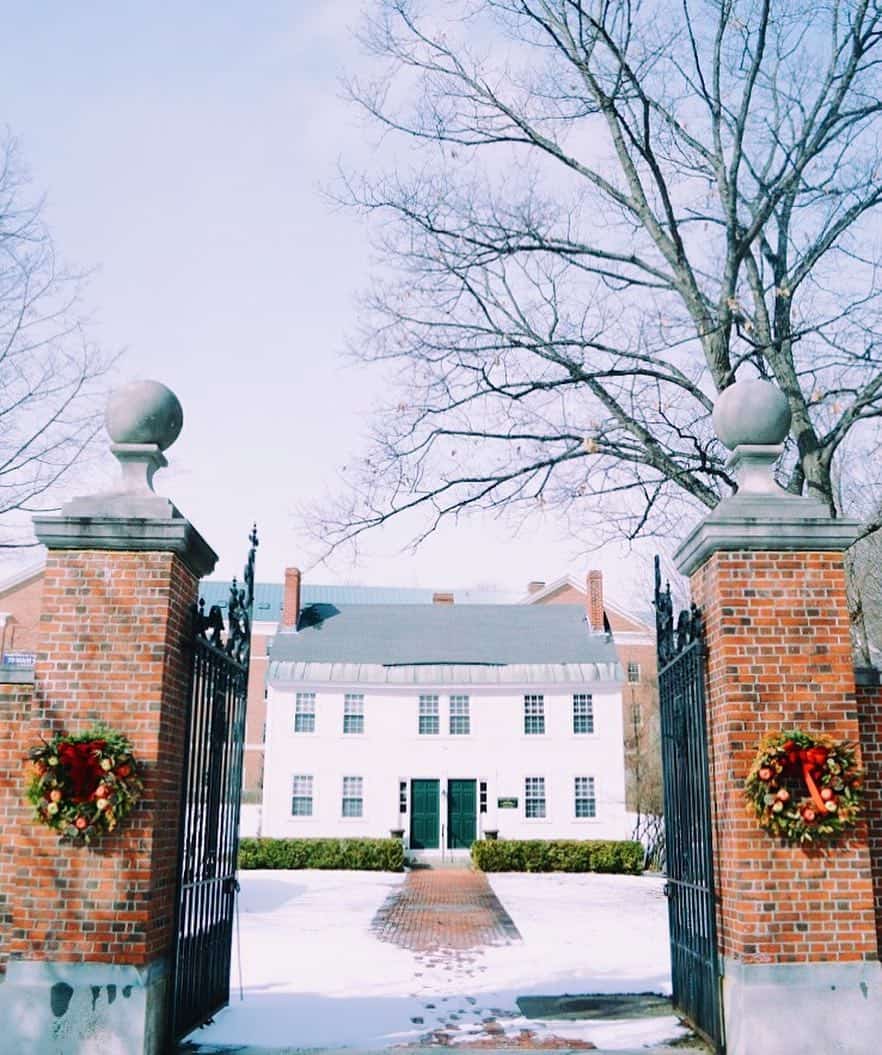 Peterborough, New Hampshire, emerges as a storybook Christmas village each winter, its picturesque beauty enhanced by a gentle blanket of snow. It's a place where the holiday spirit is not just seen but felt, earning its reputation as a beloved Christmas enclave in New England. I lived for a couple years in nearby Jaffrey, New Hampshire, and my husband and I loved going into Peterborough. It's very charming and has lots of great coffee shops.
The town's much-anticipated Holiday Stroll (November 18th, 2023 will be its 29th year!) lights up the streets with festive brilliance, inviting all to partake in the merriment. Carolers' melodies dance through the air, mingling with the laughter and excitement of visitors anticipating a glimpse of Santa Claus, who never misses this joyous occasion.
Amidst the holiday hustle, Twelve Pine offers a reprieve with its reputation for the finest coffee and a delightful lunch menu. Locals and travelers alike gather here for a warm cup and a bite to eat, savoring the flavors of the season in a convivial setting that feels like coming home.
For those in search of the perfect gift or a memorable keepsake, the Toadstool Bookshop awaits. This literary haven is a treasure trove for book lovers, with stacks of books just waiting to be explored. It's not just a place to shop; it's an experience, one that encapsulates the charm of Peterborough.
Concord, New Hampshire
If you're a fan of Christmas parades, like I am, Concord kicks off their holiday fun with a Christmas parade the weekend before Thanksgiving! This annual event gives everyone a nice early jump on the Merry & Bright sentiments of the season, and the official Christmas Tree Lighting includes music, games, hot chocolate, cider, and Santa, ending with a spectacular fireworks show.
Be sure not to miss Midnight Merriment, a festive night of shopping, dining, and entertainment in Concord's lovely downtown that ends at midnight on the first Friday of December. Decorated to the nines with holiday décor, you will be doing your holiday shopping in style. Cute Concord is a great place to visit all year, but Christmas in Concord is an absolute delight!
More to read on Christmas towns in New Hampshire:

🎄Christmas in New Hampshire
🎄Winter in New Hampshire
🎄Cozy Cabins in the White Mountains
🎄Christmas Tree Farms in New Hampshire
Rhode Island Christmas Towns
Searching for where to travel in New England in December? Rhode Island is home to several of the cutest Christmas towns in New England. Combining coastal charm with village vibes, you can't go wrong choosing one of these destinations for a festive weekend getaway.
Newport, Rhode Island
At any time of year, Newport's Gilded Age mansions are a sight to behold, but at Christmas, they become a glamorously gorgeous spot of Christmas cheer. You'll find towering trees dressed and decorated in a variety of themes, hundreds of stunning poinsettias in crimson bloom, and grand displays of fresh-cut evergreen garlands; the already grand and glittering mansions lend themselves very, very well to fine and festive Christmas decorations!
There are so many great things to do in Newport, but the holiday season is full of fabulous festivities like Christmas concerts, candlelit house tours, a Dickens Christmas Dinner Theater, a Newport Harbor Illuminated Boat Parade, and more throughout December. Newport is also home to wonderful restaurants, hotels, and Airbnbs, so plan on spending a few days in town enjoying the Newport Christmas cheer!
🎄Read my entire guide to Christmas in Newport, Rhode Island!
Bristol, Rhode Island
A town that is charming at any time of year, Bristol shines during the holidays—literally!
The Grand Illumination marks the start of Bristol's festive celebrations. Expect a night filled with joyful singing, Santa's grand entrance, and the town's Christmas tree and Hope Street lighting up to signal the season's start. It's magical and not to be missed.
Following this, the Bristol Christmas Festival takes over for two days packed with live entertainment, caroling, and festive stalls offering unique treats and holiday goods. Inside, you'll find crafters, wreath-making sessions, and activities for kids. Santa is around too, ready for photos and fun.
Don't miss nearby Blithewold Mansion, either, as this historic building looks brilliant all decked out for Christmas.
Come to Bristol. Experience a true Christmas town, and make lasting memories under the bright lights of Hope Street.
North Kingstown, Rhode Island
North Kingstown is home to the village of Wickford, known for its holiday transformation into a scene straight out of Dickens! The Wickford Village Festival of Lights begins the first weekend in December, and the village becoming a winter delight of twinkle lights and Christmas greenery. Santa leads the way when he arrives by boat behind his team of kayaking "reindeer" to kick off the celebration.
Carolers in period costumes make their way around the village spreading Christmas cheer, and the beautifully decorated businesses open their doors for holiday shopping. Christmas at the Castle features mulled-cider and fresh-baked treats for all to savor while enjoying wholesome fun and entertainment like cookie decorating, traditional music, and crafts. For a wholesome and historical New England Christmas experience, Wickford Village is it!
Providence, Rhode Island
Christmas in Providence is its own kind of magic! There are so many things to see and do in Providence, and downtown Providence is a sight to see lavishly decorated with Christmas lights, colorful baubles, and fresh garlands.
You'll have great fun ice skating and playing ice bumper cars at the ice rink, but the ultimate in Christmas festivities in Providence is WaterFire's lighting of the basins. This unique and immersive art experience is always a treat to witness, but the Christmas WaterFire Lighting is a part of what makes Providence so very Merry and Bright for the season—and what earns this a spot on my list of New England Christmas towns!
More to read on Christmas towns in Rhode Island:

🎄Christmas in Rhode Island
🎄Winter in Rhode Island
🎄Christmas Tree Farms in RI
Massachusetts Christmas Towns
Massachusetts is home to many of the cutest Christmas villages in New England, but it's also home to some big-city holiday charm as well. If you're considering a New England Christmas trip, Massachusetts might be an excellent choice. With Boston as your starting point, you can head out for a Christmas day trip to several other amazing little towns, plus experience the best of the holidays in the city.
Stockbridge, Massachusetts
Have you ever wanted to step into a Norman Rockwell painting? In Stockbridge at Christmas, you can! The town was made famous by the painter's work called "Home for Christmas (Stockbridge Main Street at Christmas)," featuring the charming town's Main Street at Christmas.
The first weekend of December, the city recreates the piece with their Main Street at Christmas celebration, with vintage cars parked along the street, carolers singing from beautifully decorated store-fronts, and horse-drawn carriage rides with Santa. Stockbridge is one of the most charming small towns in all of New England; add in a little Christmas magic, and it's hard to think of a better place to go for small town Christmas charm!
🎄 Read all about Christmas in Stockbridge MA, here!
Newburyport, Massachusetts
Newburyport is an absolutely darling beach town with so many great things to do; come Christmas time, this coastal cutie becomes a place of pure holiday enchantment! Santa arrives on a US Coast Guard boat to lead the town's Annual Santa Parade on the first Sunday following Thanksgiving, with caroling and a tree lighting to begin the holiday fun.
Newburyport Invitation Nights take place on the first three Fridays of December, with live entertainment and holiday festivities in Newburyport's lovely downtown to accompany shoppers. With so many unique and interesting shops along the Newburyport waterfront, you are sure to find the perfect gifts for everyone on your list!
Taunton, Massachusetts
With a nickname like "The Christmas City," you know that Taunton is one of the best spots in New England for Christmas magic! Taunton's Lighting of the Green & Lights On Festival is a marvelous kick off to the holiday season, with a generous display of twinkle lights, games and activities, live entertainment, and even a fireworks show to really get into the spirit of things.
The gorgeous Christmas decorations all throughout Taunton's sweet little downtown will remind you of every Hallmark Christmas movie you've ever seen, but head to the city green for the immersive holiday displays that will give you all of the sparkling, twinkling, joyous Christmas feels that a person could want!
Boston, Massachusetts
There is something about a big city at Christmastime that has a unique holiday charm. One of my favorite places to go at Christmastime is Boston. While I know New England's largest city may not qualify as a "town," stay with me! Boston is magical and bursting at the seams with festive activities, so it deserves a spot on the list of top New England Christmas towns.
There is no denying that Boston in the winter is pretty darn cold. But the city knows how to keep you warm with a huge calendar of events, holiday concerts, Christmas lights, holiday markets, and classic activities like ice skating at the Frog Pond on Boston Common.
Even if you simply take a walk around the city of Boston listening to Christmas carols on your headphones, you'll feel the holiday spirit grow within as you see the city decked out in its holiday finery!
You should especially not miss the quaint Beacon Hill neighborhoods; spots like the iconic Acorn Street and surrounding lanes offer extreme charm. While you're there pop into Tatte Bakery for pastries and a latte, or head to Beacon Hill Books & Cafe, the coziest little bookshop I've ever visited.
🎄 Read all about the best things to do for Christmas in Boston here!
Nantucket, Massachusetts
While you might not automatically think of coastal destinations as being "Christmassy," this is not the case here in New England! Somehow, the seaside villages dotting our coastline become even more charming during the holiday season. And, really, could there be anything more iconic New England than a lighthouse decorated with a big holiday wreath? (Brant Point Lighthouse).
Nantucket is one such Christmas spot. The famous Nantucket Christmas Stroll is in its 49th year in 2023, and this year will be held December 1-3. The stroll, typically held the first weekend in December, has evolved to include tons of festive events. Not only does Santa make an appearance, arriving by boat and announced by the Nantucket Town Crier, no less, but there's also live entertainment, tree and storefront decorating contests, and a downtown marketplace with food, drinks, and crafts.
And the entire downtown area is decked out as well, with the crowning glory a massive 20-foot tree at the top of Main Street.
Do you love Christmas trees? Head over to the Whaling Museum all December long for Festival of Trees, where you can admire a beautiful collection of holiday trees decorated by local businesses, schools, and more.
More to read on Christmas towns in Massachusetts:

🎄Christmas in Massachusetts
🎄Christmas Tree Farms in Massachusetts
🎄Massachusetts in the Winter
Vermont Christmas Towns
As someone who lived in Vermont for years (and still loves it dearly) I can't help but declare that Vermont is home to the best Christmas towns in New England! While I am of course a bit biased, the picture-perfect landscape of a snowy Vermont Christmas truly can't be beat. Come see for yourself!
Woodstock, Vermont
When it comes to New England Christmas towns, Woodstock leads the way.

Woodstock is the picture of small-town charm in every season, but come winter, it is easily one of the most idyllic Christmas destinations in the entire country! There are many great ways to celebrate Christmas in Vermont, but Woodstock's Wassail Weekend tops the list with festivities like bonfires, snowshoeing, gingerbread ornament making, hot wassail and other tasty holiday treats, and so much more!
A parade led by Santa ends with a "yule log" lighting, and special luminaries are lit along the walkways in remembrance of those we've lost. With so many great things to see and do in Woodstock, Woodstock makes for the perfect Vermont weekend getaway, so plan to spend a little time exploring this sweet little area. Just a few minutes outside of town, you can even stay in a cabin at the ultra-adorable Fat Sheep Farm and get a generous helping of farm-life, Vermont style!
🎄 Here's everything you need to know about Christmas in Woodstock, Vermont!
Manchester, Vermont
Manchester is one of the best places to visit in Vermont any time of year, but come Christmas, this lovely little town becomes the perfect embodiment of small-town holiday enchantment with its twinkle lights, freshly crafted wreaths, and gorgeous Christmas tree that is lit in a Community Tree Lighting Ceremony on the Factory Point Town Green.
Tour historic Hildene, the Lincoln Family Home and Museum, traditionally decorated for a 1912 Christmas with all the traditions of the day, and then hop on the Elf Express, the decorated holiday train that takes guests on a one-hour tour through the Green Mountains with music, entertainment, and treats by the "elves" who host! There are lots of great things to do in Manchester (and great eats, too!), and it is an excellent Vermont winter getaway spot.
Waitsfield, Vermont
There are so many gorgeous small towns throughout Vermont, it's honestly hard to find one that is NOT a New England Christmas village! One that sometimes gets overlooked but deserves a spot on this list is Waitsfield, Vermont, as well as the surrounding Mad River Valley.
Anchored by Bridge Street, the downtown area of this quaint hamlet is agleam in holiday lights. The shop windows have greenery and bows in abundance, and if that isn't enough, there's a store here that got started more than 50 years ago selling handmade Christmas ornaments. That mean's there is Christmas magic year round at All Things Bright and Beautiful.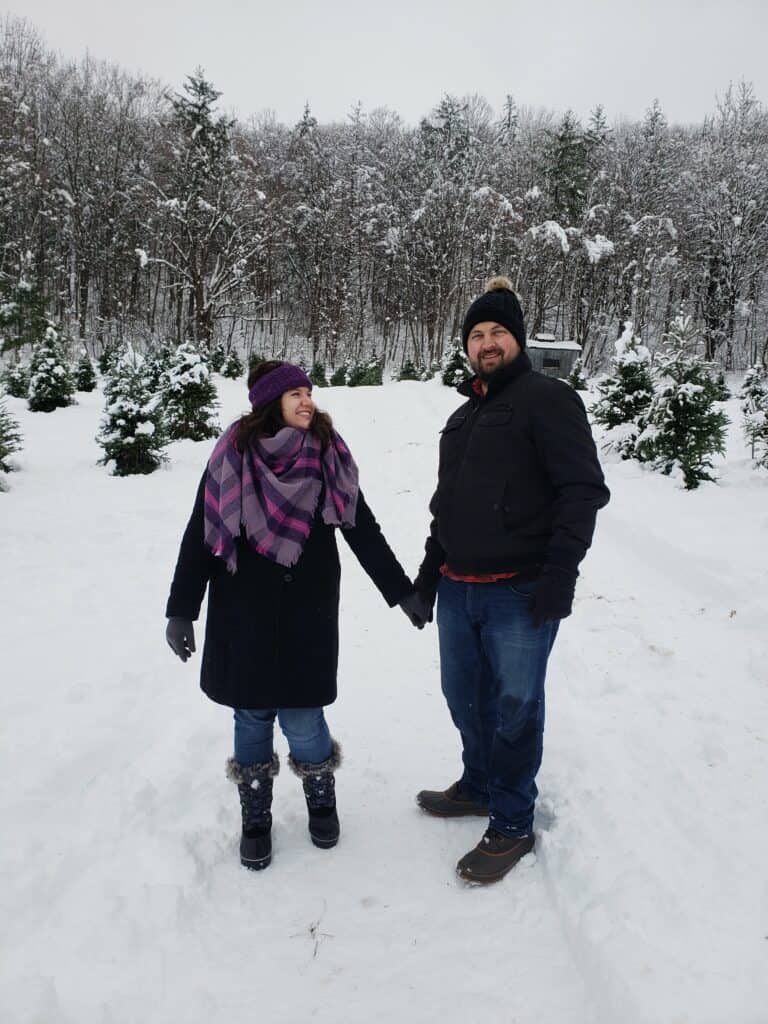 If you pay a visit to this area in December, don't miss an amazing Christmas tree farm in Starksboro, VT, a 30-minute drive away. Russell Christmas Tree Farm is an experience! Ride a horse drawn sleigh through a winter landscape filled with pine trees, out to the Christmas tree forest where you can cut down your own chosen fir. Afterwards, they'll tote your tree back to your car, while you warm up inside a cabin with delicious hot cocoa. It's the stuff New England Christmas dreams are made of.
Stowe, Vermont
Stowe is about as picturesque a spot as Vermont has to offer, with so many fun things to see and do, whether those sleigh bells are ringing or not! Come Christmas time, Stowe's Traditional Christmas celebrations turn the entire town into the perfect holiday destination with wagon rides with Santa, parades, tree lightings, and real, live reindeer!
You'll find wreath making demonstrations, cookie decorating, yummy treats, ice skating and more during Stowe's Traditional Christmas, and with storybook places to stay like the Trapp Family Lodge offering Christmas charm on top of the mega-dose of charm they embody year-round, you have the perfect recipe for that Hallmark-movie Christmas magic!
P.S. Stowe actually serves as the setting of Hallmark movie Always and Forever Christmas, but the movie was not actually filmed there.
More to read on Christmas towns in Vermont:

🎄Christmas in Vermont
🎄Coziest Cabins in Vermont
🎄Christmas Tree Farms in Vermont
🎄Vermont in the Winter
Maine Christmas Towns
I just love Maine, and at the holidays, it's even better. With a nickname like Vacationland, it's not a surprise that there are so many fantastic destinations in this state. Here are some of the best Christmas towns in Maine to visit:
Kennebunkport, Maine
What better way to kick off Christmas festivities than to enjoy a full week of seasonal activities like a Cookie Crawl, a "Pooch Parade," ginger-bread house making, Christmas caroling, and more? This is Kennebunkport's Christmas Prelude, and when Santa arrives by lobster boat, you'll be feeling the Christmas spirit in this coastal community!
There are many fun things to do in Kennebunkport, and after the official Christmas tree lighting ceremony, a fireworks show lights up the sky as bright as the twinkling lights below. Coastal Christmas charm in Maine is a whole other level of Christmas magic!
Freeport, Maine
When Martha Stewart's website refers to you as one of the "Most Charming Small Towns to Visit during the Christmas Season," you know you've made it! Not only is the entire town of Freeport decked out for the season, but the Sparkle Celebration brings people in from all around who come to have fun in Freeport for Christmas.
Visit the Talking Christmas Tree that leads festive sing-a-longs, then check out the Northern Lights celebration at the L.L. Bean campus and walk through the twinkle light tunnel while enjoying the entertainment provided. Don't forget to take a picture with the giant boot while you're there, and if you're getting a little chilly, take advantage of the heated benches to get comfy and cozy again!
Boothbay Harbor, Maine
Boothbay Harbor is one of the best places to visit in Maine, and each winter this lovely coastal community transforms into a magical holiday vacation destination! Boothbay Lights sees this mid-coast town become a sparkling scene of twinkle lights, and the already adorable downtown is now a twinkling shopping adventure!
There are so many great things to do in Boothbay Harbor, but the Coastal Maine Botanical Gardens Aglow event is an absolute must-see during your Christmas visit to Boothbay Harbor. Running from late November to early January, this immersive, drive-through light show is all that is Merry and Bright for the season. Gardens Aglow is one of many reasons why a Maine Christmas is simply the best!
Ogunquit, Maine
Nestled along the rocky Maine coast, Ogunquit beams with holiday charm, making it a celebrated Christmas town in New England. Known for its picturesque seaside landscape, Ogunquit transforms into a festive paradise during the holiday season, where the scent of the ocean mingles with the crisp winter air.
The town's annual Christmas by the Sea event is a highlight, and Ogunquit becomes a bustling hub of activity with carolers, holiday markets, and parades. There's even a candlelight walk and bell choir concert to round out the celebration in a beautiful way.
This is a perfect place for some holiday window shopping (and some real shopping!) and you will absolutely want to take home so many gorgeous Maine goods that I suggest you bring an extra suitcase on your trip!
Finally, you have to see the lobster trap Christmas tree set along Marginal Way. There may be no better symbol of a Maine Christmas than this.
More to read on Christmas towns in Maine:

🎄Christmas in Maine
🎄Christmas Tree Farms in Maine
🎄Cozy Cabins in Maine
Connecticut Christmas Towns
Connecticut might surprise you with the level of its charm. For a very tiny state, CT packs a holiday punch! There are many Christmas towns in Connecticut worth visiting, and these few I've recommended below are only scratching the surface!
Litchfield, Connecticut (& the surrounding Litchfield Hills towns)
The lovely Litchfield Hills region is a great vacation destination anytime of year, but if you're looking for small town Christmas magic, Litchfield Hills has heaps and heaps of it! All around Litchfield Hills, picturesque Connecticut's small towns go out of their way to deck their halls, storefronts, and Main Streets. There is much twinkle light eye candy to be found just driving from town to town!
During your tour, visit the Christmas Village in Torrington, where Santa and his elves greet visitors with steaming cups of hot chocolate. Then on to adorable Kent for their Annual Holiday Champagne Stroll for boutique shopping while enjoying a little bubbly. Follow the star to the little town of Bethlehem (dubbed the Christmas town of Connecticut) on the first weekend of December when they hold their Christmas Town Festival with train rides, hayrides, live entertainment, and of course, Santa! Speaking of Santa, don't miss the opportunity to send him a letter or send holiday greetings from the Bethlehem post office, where a special Christmas cachet makes each card a cherished keepsake. Litchfield Hills is chock-full of small-town sweetness.
Mystic, Connecticut
Mystic is another of New England's holiday towns that is straight out of a Hallmark movie. In fact, Mystic has actually been the filming location for a couple of recent Hallmark Christmas movies, including A Very Nutty Christmas and Holiday for Heroes. But Hallmark's most recent addition, Mystic Christmas, was both filmed in Mystic AND takes place there!
According to Heavy.com, scenes from Mystic Christmas and another recent one, Where Are You Christmas? were filmed at a variety of locations in Mystic, Connecticut, including Olde Mistick Village, The Seaport Museum, and Mango's Pizza.
Mystic is so full of Christmas charm, in fact, that that they currently have a Christmas Cam live-streaming from downtown Mystic. Talk about festive!
So what makes Mystic one of the top Christmas towns in New England? The waterfront town is one of Connecticut's best travel spots year-round, but Christmas brings the region a special glow. The festivities begin with Mystic's Lighted Boat Parade, where Santa Claus arrive by tugboat! (Where else but New England!?)

Once Santa is in town, the season is in full force with events galore. There is a lovely holiday stroll in downtown Mystic and Lantern Light Village at historic Olde Mistick Village, alongside much more.
Mystic has so much happening during the holidays, be sure to follow their calendar of events for details on where and when. Be on the lookout for the Community Carol Sing-A-Long, and the Ghosts of Christmas Past Strolls in downtown Mystic, too. There are lots of great things to see and do in Mystic during your Christmas vacation.
PS: There is a gorgeous lobster trap tree in the nearby town of Stonington, CT! Definitely worth a visit.
Wethersfield, Connecticut
The sweet little town of Wethersfield is small in size but big on charm, and Christmas time is no exception! Wethersfield's Annual Holidays on Main Celebration features a tree lighting event, fire jugglers, silent auctions, carolers, a craft beer garden, horse and wagon rides, and of course, Santa!
Wethersfield doesn't just look like the kind of place you see in a Hallmark movie, it is the kind of place you see in a Hallmark movie! Check out Hallmark's "Rediscovering Christmas" and "Christmas on Honeysuckle Lane," and you can even stay at Silas Robbins Bed and Breakfast where "Christmas on Honeysuckle Lane" was shot! It so happens to be one of the dreamiest B&Bs in the state, it's no wonder Hallmark chose it.
Essex, Connecticut
Essex is one Connecticut small town that could be a stand in for the Gilmore Girls home of Stars Hollow. It is just so perfect! And like many others on this list, Essex truly is a Hallmark Christmas movie town; the movie Christmas at Pemberley Manor was filmed here!
Essex is located up the river from Mystic and there you will find the village's Main Street where you can explore inviting shops, dine at the beloved Griswold Inn, and enjoy the spirit of the holidays. There are lights and decorations everywhere, making the downtown even more adorable than you thought possible.
What about Christmas events? The Essex Steam Train's North Pole Express is one holiday event in the area not to be missed! It looks like it's already sold out for 2023, so it's clear this is a popular attraction.
If you find yourself in Essex at the end of November, you should attend The Trees in the Rigging Community Carol Sing and Parade, the annual kick-off to the holiday season. The Connecticut River Museum and Essex Historical Society combine to present this annual event that includes a lantern-lit carol stroll down Main Street, "boat floats," and the Sailing Masters of 1812 Fife and Drum Corps.
More to read on Christmas towns in Connecticut:

🎄Christmas in Connecticut
🎄Christmas Tree Farms in Connecticut
🎄Cozy Cabins in Connecticut
🎄Winter in Connecticut
What is your favorite of these New England Christmas getaways?
---
Explore more of the best Christmas towns in New England & beyond:
---