---
Traveling in 2021? Please check with each state/destination for its current COVID-19 guidelines, as these are constantly changing and the most accurate, up-to-date information may not be reflected here.

*Links in this article may be affiliate links, from which we may earn commission. See our Privacy Policy for full details.
---
Are you dreaming of a magical Christmas destination? We've found it! These five New England Christmas towns are something straight out of a Hallmark Christmas movie!
If you are in search of that quintessential New England Christmas village, you don't have to look any longer. Each year, these towns transform into winter wonderlands. They not only possess that perfect Christmas "look," but in each of these locations, you'll also find a full schedule of festive events.
Truly, if you're looking to celebrate Christmas in New England, you can't do better than these 5 destinations.
PS: Connecticut is also an excellent holiday destination; it was even the film location for a recent 2020 Hallmark Christmas movie!
Portsmouth, New Hampshire
Perhaps of all the Christmas things to do in New England, a visit to the coastal city of Portsmouth tops the list.
In historic Portsmouth, NH, Christmas has become legendary. Each year, there are many festive events throughout the town. Perhaps the main event is Vintage Christmas, which is largely centered around the Candelight Christmas Stroll. This year, the 40th Candelight Stroll will take place, guiding visitors through the living history Strawbery Banke Museum with carols, costumed period entertainers, and decorated historic homes.
There are also performances throughout December, from theatre to symphony, comedy and more. A Christmas kickoff party, parade, ice skating, and gingerbread house competition round out the magic of Christmas in Portsmouth.
Newport, Rhode Island
At any time of year, the Gilded Age mansions of Newport, RI are a sight to behold. But at Christmas, they are transformed with festive decorations. With impressive trees, hundreds of poinsettias, and a grand display of evergreen, you'll definitely feel that Christmas spirit at these elegant homes.
Aside from the mansions, Newport has a full roster of Christmas activities to enjoy.
The official Christmas in Newport is now in its 50th year, and consists of events such as concerts, candelit house tours, and more throughout the month of December.
Read Next: Christmas in Rhode Island: The Best Activities, Events, and Sites
Stockbridge, Massachusetts
Have you ever wanted to step into a Norman Rockwell painting? Here in Stockbridge at Christmas, you can!
The town was made famous by the painter himself when he created a work called Stockbridge Main Street at Christmas that featured the charming town's Main Street in the holiday season.
Now, each year, the city celebrates this fame by recreating the idyllic scene. Vintage cars are parked in front the of storefronts, serving to truly bring the mid-century painting to life.
In conjunction with this recreation is a host of many events, all designed to bring about the magic of an old-fashioned Christmas. This year's events include a children's holiday sing-a-long, a library event called "Readings around the Hearth," and a caroling and luminary walk.
Woodstock, Vermont
Woodstock, VT is probably the #1 spot for New England Christmas getaways, and definitely one of my top picks for where to spend Christmas in Vermont. Not only is this a fabulous holiday town, but it's a beautiful destination in its own right.
Woodstock looks amazing in the winter. As a Vermont town surrounded by mountains, it's completely scenic and Christmas almost always finds the town covered in a blanket of white.
There is a small, walkable downtown area that boasts local shops, a historic general store, and nice eateries. You can have a cozy walk in this area and pop into the various shops to keep warm.
Around the holidays, Woodstock's main event is the Wassail Weekend, which brings all the festivity of a 19th-century Christmas to the streets of the town.
Horse-drawn carriages manned by folks in period dress (and complete with sleigh bells) transport visitors back in time during the Wassail Parade. Kids can enjoy breakfast with Santa at the nearby Billings Farm. In the evening, make a reservation at the Woodstock Inn for their 4-course Wassail Feast.
PS: Check out this amazing Vermont farm stay just outside of Woodstock.
Kennebunkport, Maine
Another coastal location holds one of the most beloved Christmas towns in New England, and that is Kennebunkport, ME. This popular destination is known for its yearly Christmas Prelude.
This year (2019) is Kennebunkport's 38th Christmas Prelude, and wow, does it look terrific! The calendar of events is bursting. Visitors will find events like a holiday chocolate and wine pairing, Christmas house tours, trolley rides, craft fairs and outdoor markets, the classic tree lighting celebration, and a unique coastal Maine tradition: the lighting of the Lobster Trap Tree.
What is your favorite of New England's Christmas destinations?
---
You might also like:
---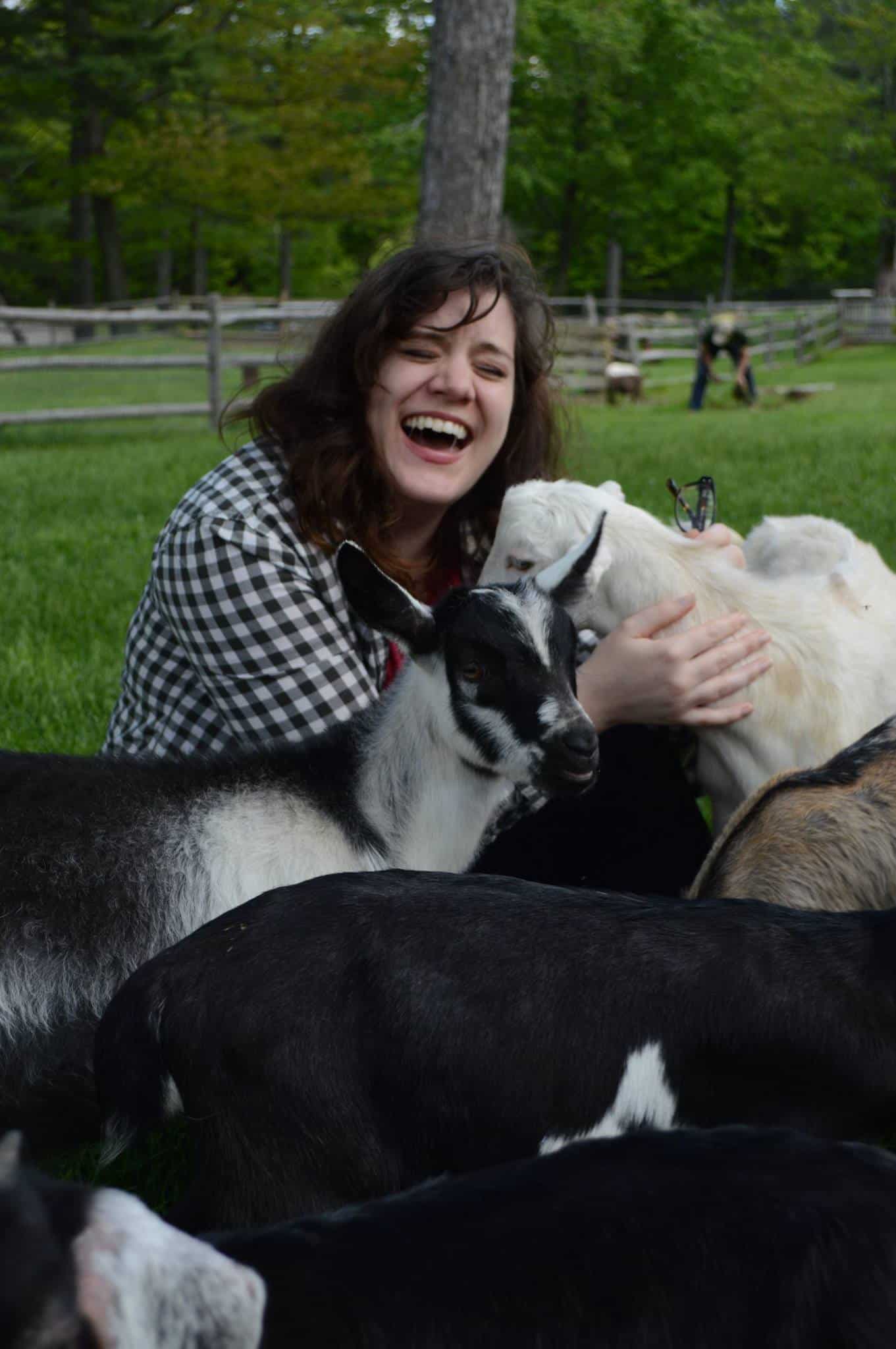 Amy is the founder of New England with love. A proud Vermonter, she hopes to share her love of New England and help you find the best adventures in the region. Amy is also blogger/founder at Two Drifters, where she writes alongside her husband about romantic and couples travel, relationships, honeymoons, and more. When not working on websites, Amy is probably reading, cuddling with her husband and cats, & drinking a maple latte.