---
*Links in this article may be affiliate links, from which we may earn commission. See our
Privacy Policy
for full details.
---
Outside, the air grows ever colder and frost covers the ground each morning. Inside homes and community spaces, festive decorations are going up to brighten our nights as the days grow shorter.
The holidays are upon us and it is time to start looking for Christmas tree farms in Massachusetts!

Holiday decorating is a fun and festive tradition that you would have to be a literal Scrooge to not enjoy; get yourself in the holiday spirit by heading out and looking for a Christmas tree from one of the best Christmas tree farms in Massachusetts.
Christmas Tree Farms in Massachusetts
Sleighbell Farm, Sutton MA

If you're looking for an idyllic, storybook setting to search for your perfect Christmas tree in, Sleighbell Farm in Sutton is the perfect MA tree farm for you! Sleighbell Farm is a 10+ acre farm that grows 7 different varieties of Christmas trees for you to choose from; you can cut your own or select a pre-cut option.
Sleighbell Farm goes above and beyond to provide a merry and bright holiday experience, with hot cocoa, a fire pit, hay wagon rides, and a "Santa Express" train running for the kiddos. They also have a holiday prop area for you to take fun and festive photos with; props include an antique sleigh, a giant holiday wreath, and cartoon cutouts.
Sleighbell Farm also sells handmade wreaths, garlands, and a wide selection of holiday handcrafted gifts and décor in the Gift Barn, so be sure to stop in there too for everything you need to deck your halls!
Chestnut Mountain Christmas Tree Farm, Hatfield MA

Located in Hatfield, MA, Chestnut Mountain Christmas Tree Farm is a 130-acre farm that prioritizes sustainability in their farming and forestry production practices, planting 3,000 new trees every single year to offset the hundreds of trees that are cut down and sold. You can cut your own if you'd like or choose from one of their pre-cut trees, but be sure to check out their handmade wreaths and other goodies available in the "workshop."
Yummy and warm complimentary cider and cookies are available while you wait for your tree to be properly baled for you, and you can even go on a lovely horse-drawn hayride if you end up doing your tree-hunting on the weekend!
Paul Bunyan's Farm & Nursery, Chicopee MA

With over 40 years in the Christmas tree business, Paul Bunyan's Farm & Nursery in Chicopee knows a thing or two about Christmas trees! You'll find a variety of Christmas tree options to choose from, including their "Paul Bunyan Size" trees that are between 9' and 14' tall! Cut your own tree or have them cut for you, but then be sure to go check out The Barn & Greenhouse, where you will find some of the most interesting holiday arrangements you have ever seen. The folks at Paul Bunyan's love to create unique, one-of-a-kind pieces utilizing objects that are not traditionally thought of, such as pots & pans, coffee cups, skates, and even a golf bag at one time!
Traditional handmade wreaths, kissing balls, and garlands are also available, in addition to a great selection of Christmas ornaments, décor, and gift ideas. Enjoy your time at this Massachusetts Christmas tree farm and get everything you need to make your holiday season merry and bright!
The Christmas Tree Farm, Pembroke MA
With a name like The Christmas Tree Farm, you can bet this place knows a thing or two about Christmas trees! This family run MA Christmas tree farm offers pre cut and cut your own trees in addition to a variety of other Christmas goodies like handcrafted wreaths and swags, and holiday gifts, decorations, and homemade items in their darling Christmas shop.
Mistletoe Acres Tree Farm, East Bridgewater MA

Are you looking for quaint, cute, and Christmassy? Then you need to head on out to Mistletoe Acres Tree Farm in East Bridgewater, MA! This family-owned tree farm offers pre-cut or cut-your-own trees and a great selection of beautiful handmade Christmas garlands, wreaths, centerpieces, and ornaments.
To fully immerse yourself in the holiday spirit for your Christmas tree search, stop by the holiday shop for complimentary cocoa, cider, and fresh-baked cookies and warm up a bit by the antique wood-burning stove. You never know, you might just get a glimpse of the Big Man in Red himself!
Radebaugh's Christmas Tree Farm, Belchertown MA
With over 50 years selling beautiful MA Christmas trees, Radebaugh's Christmas Tree Farm has more than enough experience to help you pick your perfect tree this holiday season! There are thousands of cut your own trees to choose from, including Fraser Fir, Blue Spruce, and more.
Emerson Family Tree Farm, Greenfield MA
Emerson Family Tree Farm in Greenfield offers the quintessential experience of going to Christmas tree farms in Massachusetts! Choose between the pre cut selection or the traditional cut your own experience, but you'll find plenty of MA Christmas spirit on this great tree farm.
You can also pick up handcrafted wreaths, garlands, kissing balls, window boxes and more, and if you swing by the Christmas store, you'll find a ton of unique Christmas gift options, too.
Riverwind Tree Farm, Lancaster MA
Riverwind Tree Farm in Lancaster has a very diverse selection of cut your own trees, including the usual native species like Balsam Fir and Fraser Fir, and also an extensive selection of exotic firs, including Meyer Spruce, Siberian Fir, Noble Fir, Grand Fir, Korean Fir, Turkish Fir, Nordmann Fir, Corkbark Fir, and a few hybrid crosses.
In addition to Christmas trees, you'll also find handcrafted wreaths available onsite, too, so be sure to pick up your Christmas wreath while there, too!
Crane Neck Christmas Tree Farm, West Newbury MA
Crane Neck Christmas Tree Farm in West Newbury offers tree seekers the opportunity to cut their own perfect MA Christmas tree or to choose from one their pre cut selection. Crane Neck Christmas Tree Farm is a great place to go in Massachusetts for a great selection of strong, healthy Christmas trees.
Smolak Farms, Andover MA

Magical Christmas memories in the making, that's what you will find at Smolak Farms in Andover during the Christmas season. Come Christmas, this full working farm offers so many fun and festive holiday activities that only a true grinch would not enjoy themselves there! For your Christmas tree hunt, cut your own or choose from their pre-cut selection of Christmas trees, and be sure to check out their handcrafted wreaths, garlands, and kissing balls, too.
But wait, there's more! In addition to their Farm Stand that is open year-round with fresh, in-house prepared meals and treats, Christmas is an extra special time of the year at Smolak Farms. Visit the Christmas Candy Bar, or preorder your holiday meal needs and let Smolak Farms prepare your turkey, pies, and appetizer platters for you! You can also visit their online store and browse to your heart's content before you head in to pick up your goodies.
In addition to delicious holiday eats, Smolak Farms offers a variety of fun and festive Christmas activities, like Wine & Wreath Making, Gingerbread House Workshops, and Cookie Decorating Classes. Don't be a grinch, let Smolak Farms be a part of a new happy holiday tradition!
Most Christmas tree farms in Massachusetts open up for business shortly after Thanksgiving, so don't wait too long to make plans for your Christmas tree search.
---
You might also like:
---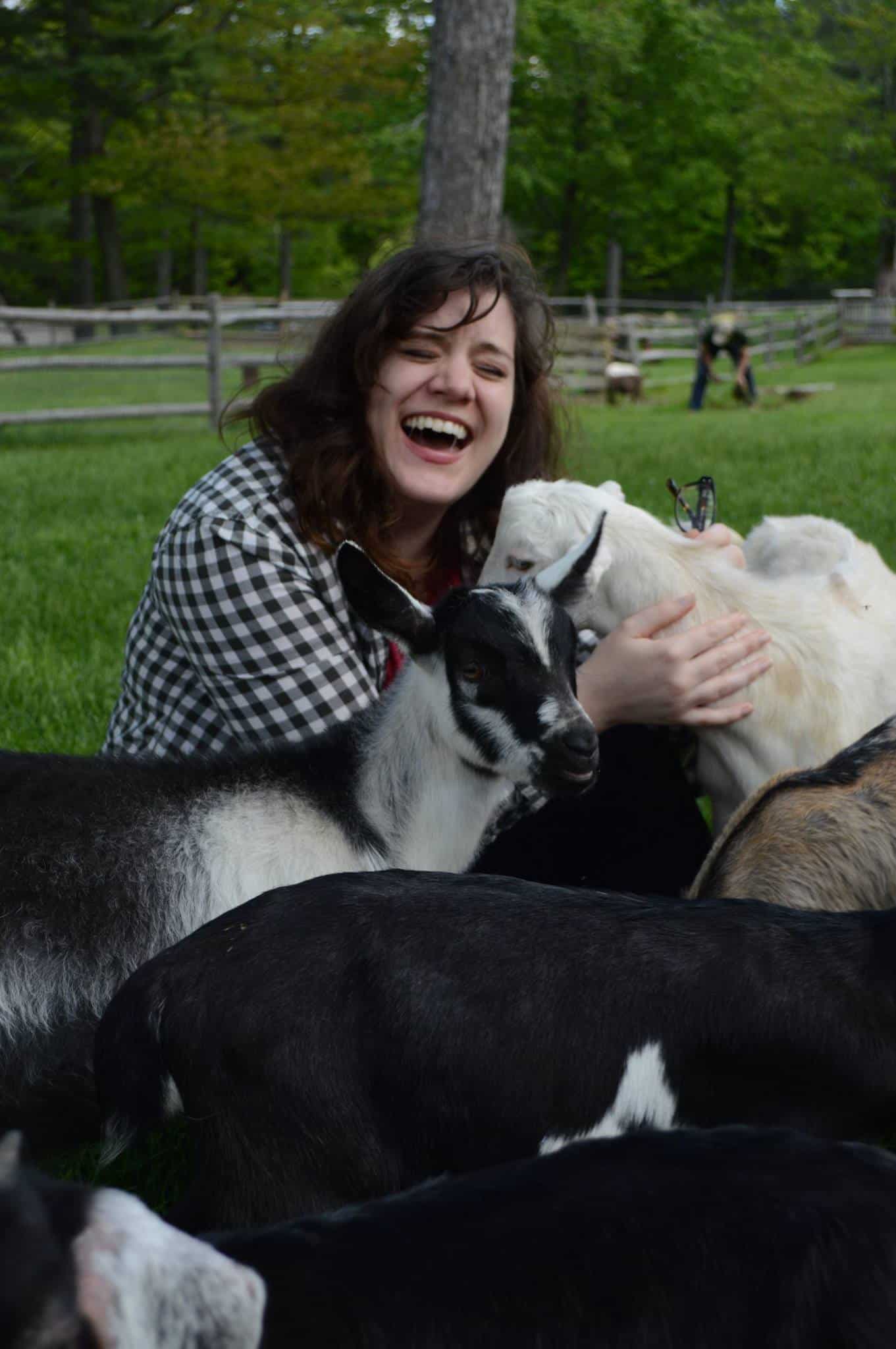 Amy is the founder of New England with love. A proud Vermonter, she hopes to share her love of New England and help you find the best adventures in the region. Amy is also blogger/founder at Two Drifters, where she writes alongside her husband about romantic and couples travel, relationships, honeymoons, and more. When not working on websites, Amy is probably reading, cuddling with her husband, son, and cats, & drinking a maple latte.