*This site uses affiliate links; if you make a purchase through these, I may receive a small commission at no cost to you.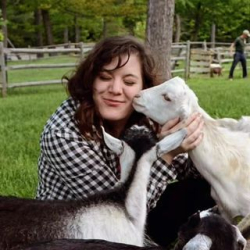 Latest posts by Amy Hartle
(see all)
Though the northeast is filled with so many great cities to visit during the winter, no place is quite as magical as Christmas in Boston. This historic city has its own charm that truly comes alive around Christmastime.
I have been exploring New England for over 20 years and have visited Boston countless times. Every visit I discover something new and special about this city, and Christmas is one of it's most epic seasons.
There are so many things to do in Boston at Christmas, including attending Christmas markets, strolling the cobblestone streets, admiring sparkling Christmas trees, watching The Nutcracker, and ice skating. All of these activities are set against the backdrop of a beautiful city, all lightly dressed with powdered snow. Boston at Christmastime always delivers!
Read on; you're about to discover why Boston is absolutely worth visiting for Christmas! In fact, it may be the best time of year to explore Boston!
PS: Also check out our list of the top things to do in Boston in winter: it contains some of these same Christmas activities plus more for the rest of the winter season!
Boston's Iconic Christmas Activities & Events
If you've only got time for a few Christmas things to do in Boston, do these:
Attend the Boston Common Tree Lighting Ceremony:
For over half a century, a heartwarming tradition has unfolded between Nova Scotia and Boston. It all dates back to a fateful day in 1917, when a munitions ship exploded in Halifax Harbor. In the wake of this disaster, Boston sprang into action, sending a train packed with supplies and emergency responders to Nova Scotia within just 24 hours. This swift and compassionate gesture has never been forgotten.
To express their enduring gratitude, each year Nova Scotia gifts a beautiful Christmas tree to the people of Boston. It's more than just a tree; it's a symbol of friendship and solidarity. This gesture marks the beginning of Boston's festive season, a time when the City of Boston's official Christmas tree, along with numerous others in Boston Common and the Public Garden, are illuminated in a dazzling display. This lighting ceremony isn't just about the lights; it's a reminder of the enduring bond between two communities, sparked by an act of kindness many years ago.
The 2023 Tree Lighting will happen on November 30 at 6pm.
Go ice skating at Boston Common Frog Pond
Boston Common is truly the site of many great Boston Christmas activities. Ice skating is one of the most epic.

There is no better way to experience the Christmas season in Boston than ice skating on Frog Pond. This skating rink pops up right in the middle of the Boston Common and is the most popular skating rink in the city. If you'd prefer to visit another skating rink that isn't as busy, check out the new skating rink at 401 Park in the Fenway area!
What makes ice skating at Frog Pond so great is that you'll be skating against the backdrop of the city downtown. Afterward, be sure to stop by one of the local cafes to grab hot cocoa to warm yourself up.
Attend a Boston Pops concert
The Boston Pops perform at Symphony Hall throughout December. They have a memorable holiday performance that absolutely can't be missed if you're a music fan. By the end, you'll truly be in the holiday spirit!
If you plan on attending a Boston Pops concert, make sure you purchase your tickets at least two weeks in advance. They're known for selling out quickly! It's a great Christmas Boston activity.
Exploring beyond Boston? Check out this guide to the best of Christmas in Massachusetts.
Holiday Lights in Boston
When you're in Boston for Christmas, one of the top things to do is to see the dazzling holidayc lights that adorn the city. It may be cold out there, but the beautiful lights make it worth stepping outside.
Let's look at some of the best places in Boston to see these festive lights.
Bright Spots in Downtown and Back Bay
During winter, Boston's downtown area becomes a glowing spectacle. Lights wrap around trees, light posts, and buildings, making nighttime walks magical. A must-visit is the Boston Common, where trees twinkle with colorful lights. Try to time your visit with the Boston Common Tree Lighting event for an extra special experience.
Just a short walk away is the Public Garden. The lights on the bridge and trees here are stunning, creating a romantic setting. Stroll along Commonwealth Avenue Mall, next to the Public Garden, and be surrounded by beautiful lights that add to the festive atmosphere.
ZooLights at Stone Zoo
For those who love animals, ZooLights at Stone Zoo in Stoneham is a great choice. This northern suburb of Boston offers a unique evening experience. You'll see fascinating animals like lions and flamingos under the glow of festive lights. If you're staying in Boston and don't have a car, consider visiting Franklin Park Zoo for a similar experience.
Christopher Columbus Park – North End
The trellis in Christopher Columbus Waterfront Park is always beautifully illuminated for the holiday season. If you are around on November 20th, 2023, you can see the first lighting of this iconic spot. This event includes holiday caroling, hot chocolate, and a visit by Santa Claus himself.
Boston Blink! at Faneuil Hall Marketplace
Boston Blink! is a free light show that occurs in Faneuil Hall. This area is generally very much in the holiday spirit, and everywhere you look is covered in bright lights. During the show, all of the lights blink to the festive holiday music!
This fun light show is held throughout December and January and happens on average about 12 times once the sun goes down. If you happen to be in this area of Boston at Christmas, it's a great way to spend 30 minutes of your time.
Editor's Note: Boston Blink! has unfortunately been canceled the past few years and there is no information about it for 2023. Hoping it returns for 2024!
Christmas in Boston: Holiday Concerts, Shows, & Performances
Nothing brings me more holiday cheer than a Christmassy performance. I've always loved The Nutcracker, A Christmas Carol, and the rest of those classic holiday tales. Luckily, you can find all of those and more in Boston during Christmas time!
Here are some holiday shows in Boston that you should definitely consider adding to your itinerary:
Boston Ballet's The Nutcracker
This classic ballet, performed by the renowned Boston Ballet at the Boston Opera House, is a staple of the holiday season. The enchanting music, stunning choreography, and lavish costumes make it a magical experience for all ages. The Nutcracker runs this year from November 24-December 31, 2023.
Holiday Pops at Symphony Hall
Enjoy the festive sounds of the season with the Boston Pops at Symphony Hall. This is one of the essential things to do in Boston for Christmas. This holiday season, they've got a great slate of concerts organized, including a special sensory-friendly concert, kids' matinees, and a one-night-only concert featuring the talented Ana Gasteyer.
Mariah Carey Christmas Concert
This year the Queen of Christmas herself will be in Boston on December 11th, 2023! She'll be performing anexclusive Christmas concert at TDGarden. Grab a ticket and sing your heart out along to ""All I Want For Christmas Is You!"
Black Nativity
Performed at the Paramount Center, Black Nativity is a powerful rendition of Langston Hughes' classic gospel play. It combines dance, gospel music, and narrative to tell the original story of the Nativity in a vibrant and soulful production that has been a holiday tradition for 53 years!
Urban Nutcracker
Created by Tony Williams, this is a modern, diverse take on the traditional Nutcracker, blending ballet, hip-hop, jazz, and more. A refreshing and inclusive interpretation of the classic, Urban Nutcracker celebrates and honors diversity as it features a backdrop of winter scenes set in present-day downtown Boston. The 2023 production is onstage December 16th-23rd at the Shubert Theatre.
Elf in Concert
If you're a fan of the beloved holiday film, come see it on the big screen again, but this time accompanied by a live orchestra! Dec. 22 & 23, 2023 at the Wang Theatre.
A Christmas Carol
The North Shore Music Theatre in Beverly is in its 32nd year of producing A Christmas Carol! This adaptation of Charles Dickens' classic tale is a must-see. Take the whole family along to see this heartwarming reminder of the true spirit of the holiday season. For the 29th year in a row, actor David Coffee will be reprising his role as the humbug himself, Ebenezer Scrooge.
Boston Christmas Tree Lightings
If you're in Boston in late November, you're just in time for the city's Christmas tree lightings. Here are a few choice ones not to miss:
Faneuil Hall Tree Lighting – November 21st, 2023
–Though there are many different tree lightings throughout Boston for Christmas, one that is extra impressive as the Faneuil Hall Tree Lighting. This iconic celebration normally happens at the very beginning of December on a weeknight. Everyone gathers in the tiny cobblestone streets around Quincy Market to brave the cold and see the tree finally light up! And this 30 foot Norway spruce is the largest decorated Christmas tree in all of New England!
This event is made even better because there are tons of fun celebratory performances from local bands and comedians up on stage. Be warned though: this event is very crowded. Try to get there earlier if you want to be closer to the tree and the entertainment. Luckily, the tree is so massive that you can see it no matter where you end up!
Copley Square Tree Lighting – November 27th, 2023
Copley Square has its own special tree lighting each year featuring appearances by Santa Claus and Rudolph! There are also musical performances by many groups including the Boston Children's Chorus and the Boston Pops Esplanade Brass Ensemble.
After the tree is lit, head inside the cozy Fairmont Copley Plaza hotel (one of my favorite places to stay in Boston) and enjoy cookies and pictures with Santa!
Boston Common Tree Lighting – November 30th, 2023
As I shared above, the Boston Common Christmas Tree Lighting is a must-do Boston holiday activity. This tree (coming all the way from Nova Scotia) is the focal point of the city of Boston's Official Tree Lighting. The tree lighting will start around 7:55 pm, followed by the illumination of nearly 80 other trees throughout the Boston Common and Public Garden. What a festive sight!
Lighting of the Ship, Martin's Park – November 25th, 2023
Get ready for a delightful children's event filled with holiday cheer! Gather around as the wooden play ship at Martin's Park shines bright, adorned with a beautiful array of blue and white lights. Warm up with delicious hot cocoa and join in the festive caroling. There's holiday fun waiting for everyone!
And guess what? This year, keep your eyes peeled because we have some very special guests! Rumor has it that Santa himself and Betty The Yeti are planning to join in on the festivities. Don't miss this magical evening that promises to be a memorable experience for all the little ones!
Winter Holiday Markets in Boston
Christmas markets aren't only found in Europe! Boston is home to several great holiday markets, too, and these are among the best holiday things to do in Boston.
Snowport
Boston transforms into a mesmerizing winter wonderland during the holiday season, and one place captures this magic perfectly: Snowport.
At the heart of Seaport, Snowport becomes a festive hub, bustling with activities. Imagine a calendar brimming with events, rooftop igloos offering a cozy escape, free curling lanes for some friendly competition, and a dazzling display of lights that brings the area to life.
But the centerpiece of it all is the Boston Winter Holiday Market at Snowport. Celebrating its 3rd year in 2023, the market is set to be more spectacular than ever. With over 120 vendors offering unique finds, the aroma of delicious food filling the air, and a new custom cocktail bar by Tuscan Kitchen adding to the cheer, it's a feast for the senses. And let's not forget the festive decor that adds an extra sparkle to the ambiance.
With all these enchanting offerings, it's no wonder that a visit to Snowport is considered one of the top things to do in Boston during the holiday season.
SoWa stands for "South of Washington" and is the artsy and trendy neighborhood located in Boston's Back Bay. It's extremely up and coming and is frequented by art lovers often.
Every Sunday is the SoWa Open Market. This market transforms for a few weeks each December into the SoWa Winter Festival, featuring hundreds of vendors, local artists, and lots of food and drink. This is the perfect place to get your holiday shopping done this year!
Harvard Square Holiday Fair
Providing "Peace, Love, & Holiday Shopping Since 1986," the Harvard Square Holiday Fair is held on weekends in December. This is another excellent spot for some Christmas shopping, especially if you love to support local artists and makers.
Family-Friendly Christmas Activities in Boston
Nearly all of the Boston Christmas events included in this guide are family-friendly, but here are a few extra ideas of things to do with the kiddos:
Go sledding in Boston Common
Believe it or not, but people do actually sled in the Boston Common! There aren't any hills here, but the second that the city sees some snow, you'll see all of the locals (including the college kids) run straight to Boston Common. You don't even need a super lovely sled – you could grab something as simple as a big trash bag to get pulled around on in the snow, and you'll have just as much fun.
Be warned that oftentimes a huge snowball fight also occurs here. You might just get caught in the thick of it if you aren't careful! However, it's a super fun time to be in the common because you feel connected with so many people just having fun out in the snow at Christmas time in Boston. The feeling is very festive!
Holiday Happenings at Suffolk Downs
Here is a terrific family-friendly Boston Christmas activity, and it is free! Holiday Happenings at Suffolk Downs in East Boston takes place Saturday November 27th, and features photos with Santa, ornament craft making, a hot cocoa bar, face painting, and more! This is also a great place to get your tree as they have fresh cut trees and wreaths available at their holiday tree market. Bring an unwrapped toy to help support local families in need.
Beacon Hill Holiday Stroll
Beacon Hill is home to some of the most beautiful and quaint buildings in all of Boston. It's often seen as one of the most picturesque parts of the city, and for good reason. Cobblestone streets in this area are lined by beautiful brownstones that Boston is most well-known for.
During the Beacon Hill Holiday Stroll, visitors are welcome to walk through the neighborhood. Children can stop by and visit Santa, while adults will enjoy the refreshments and festive snack options. There are also carriage rides available which only adds to the ambiance of Christmas in Boston!
Psst! If you're visiting Boston as a family, you might check out our great list of things to do in Boston for first timers, or our guide to things to do in Boston with kids! Both have lots of fun ideas for families visiting in every season!
Unique Things to Do in Boston at Christmas
Participate in SantaCon Crawl & Ugly Sweater Pub Crawl
One of the best things to do in Boston around the holidays is to go on a festive pub crawl. There are many different types of pub crawls during this time, but SantaCon and the Ugly Sweater crawls are the most popular. 
For SantaCon, everyone dresses up in their best Santa suits and hops from pub to pub. The Ugly Sweater crawl is precisely what it sounds like: dig out your ugliest holiday sweater and put it on while visiting many pubs throughout the day!
Watch or run with the Santas in speedos
That's right, the Santas in speedos. This annual charity run occurs at the beginning of December every year as a fundraiser for the Play Ball Foundation, a group that encourages sports participation in schools in Massachusetts. A little zany, and a whole lot of Boston Christmas fun for a good cause, the Santas in Speedos run less than a mile and running in a speedo only is not mandatory!
Enter a winter wonderland at Après…@ Deck 12
You might be surprised to find that one of Boston's "hottest" spots is on a rooftop….in winter!

Après…@ Deck 12, located at YOTEL, is opening for its second year in 2023. This heated rooftop bar reinvents the après-ski ambiance, embedding the essence of a winter retreat within Boston's vibrant cityscape. Visitors will find themselves in a space transformed into a winter resort, with heated gondolas, chair lifts, and cozy Adirondack chairs setting the scene.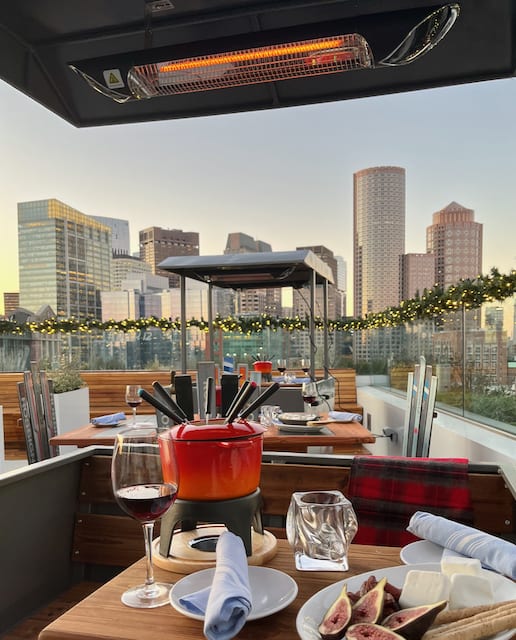 This transformation is not just in décor but extends to their winter-themed menu, offering hot cocoa, specialty cocktails, and hearty comfort foods, including chocolate fondue. All the while, guests can soak in breathtaking views of Boston's skyline and harbor, draped in a picturesque, wintery atmosphere.
Watch the Boston Bruins play at TD Garden
Boston is a major sports city, which doesn't change just because the holidays are around the corner. If you want to escape the frigidness of Boston winter, then pop on over to TD Garden (or the Warrior Ice Arena, depending on what time of winter you visit) to see the local Boston Bruins play. Seeing an ice hockey game is one of the best ways to immerse yourself in Boston's sports culture. You'll feel like a true Bostonian yelling in the stands!
See the reenactment of the Boston Tea Party
Every December 16th, a group of locals present a reenactment of the Boston Tea Party, recreating the events of the historic day in 1773. This year marks the 250th anniversary of the Boston Tea Party!

Around 100 people help to reenact the event which is often watched by locals and tourists alike. This is a great way to learn more about Boston's historical connections to America's origins. One thing to note is that this does occur no matter the weather, and at Christmas time in Boston, you're probably going to be seeing some snow!
Take a Holiday Brunch Cruise on the Boston Harbor
For a fun, festive holiday cruise on Boston Harbor, check out Northern Lights Holiday Brunch Cruise. Enjoy the warm and cozy holiday energy of the cruise as you help yourself to a piping hot cup of hot cocoa from the hot chocolate bar and sit back to watch the scenic views as your three-course brunch is served to you. Sounds like a great Boston Christmas experience to me!
Hanukkah Events & Celebrations in Boston
Coming to Boston to celebrate the festival of lights? We got you! Here are some notable Hanukah celebrations around Boston.
On Sunday December 18th, the 39th annual Menorah lighting on Boston Common will take place, with music, and visits from elected officials.
This menorah lighting at the Seaport includes an appearance by Governor Charlie Baker, plus treats, Chanukah activities, and music. December 22nd, 2023.
This big event presented by Chabad of Downtown Boston takes place Sunday December 11th, 2023 at the Revere Hotel on Boston Common. Come join in the celebration and enjoy hot latkes, a make-your-own menorah, and a whole lot more.
New Year's Eve in Boston
Boston First Night
Boston First Night is an event that happens on New Year's Eve in the city. This is essentially made up of a wide variety of different celebrations that occur in various locations! Throughout the day, you can find the city hosting a wide variety of fun activities such as performances, crafts, ice sculpture making, and more. Finish the night off with free fireworks over the water!
Where to Stay in Boston for Christmas
Boston is home to so many fantastic hotels, inns, and vacation rentals. But if you're wondering where you should stay in Boston in December, a few choice options stand out:
The Liberty Hotel
The Liberty Hotel is already super cool. It tops our list of best boutique hotels in Boston. Not only is it a beautiful hotel inside of a renovated jail (yep, that's right!) they also have one of the most unique Christmas displays in their grand lobby. Each year they display several upside down Christmas trees hanging from above. There's nothing else like it!
The Fairmont Copley Plaza
The Fairmont Copley Plaza is always one of my top recommended hotels in Boston as it has the most stunning lobby and the friendliest staff. But for Christmas, this hotel is in the center of all the holiday action. It's certainly the place to be for the Copley Square Tree Lighting!
Encore Boston Harbor
Some hotels go all out with the Christmas decorations, and the Encore Boston Harbor is one of them! If you're looking for a fun place to stay that is chock full of holiday spirit, this might be your answer!
Want to dig in further on Boston hotels? Check out our list of family-friendly Boston hotels or these suggestions on Best Airbnbs in Boston.
Travel Tips for Christmas in Boston
Visiting Boston during the holidays can be lots of fun, but there are some tips you should consider when planning your trip.
Best Times to Visit Boston During Christmas
When to visit Boston for Christmas can depend on what kind of experience you are seeking. Here are some of the best times to visit Boston during the Christmas season:
Early December: This period is perfect for those who want to enjoy the festive decorations and atmosphere without the peak holiday crowds. The city's Christmas lights and decorations are usually up, and the holiday markets are in full swing.
Mid-December: This is when Boston is at its most festive. The Boston Common and Faneuil Hall are beautifully lit, and there are plenty of holiday performances, from "The Nutcracker" by the Boston Ballet to various Christmas concerts.
Week before Christmas: This is a great time for last-minute shopping and enjoying festive activities. The city is bustling, and there's a palpable excitement in the air. However, be prepared for larger crowds and potentially higher accommodation prices.
Christmas Eve and Christmas Day: These are wonderful times to experience the quiet beauty of the city. Many businesses and attractions might be closed, but the serene and festive ambiance of the city is something special.
Between Christmas and New Year's: This period is ideal for those who want to experience the holiday spirit but with fewer crowds. Most holiday decorations and lights are still up, and you can enjoy post-Christmas sales in various shops.
Getting Around Boston during the Holidays
Unless you enjoy holiday stress, (or you're a local and already have Boston driving down to a science) I suggest not bringing a car to Boston. Instead, when traveling around Boston, use the T, the city's subway system. Grab yourself a CharlieCard or CharlieTicket and you're on your way.
Packing for Boston at Christmas
You must pack lots of layers! Boston is known for being extremely chilly during the winter. Though more recent winter seasons haven't seen as much snow during the holidays, the temperatures drop quite a bit. The average temperature around the holiday season is approximately 30°F; however, if you're going in and out of a lot of shops, you'll want to bring layers.
Don't forget your winter boots.
New Englanders love their winter boots. In fact, they can be a bit of a fashion statement and are essential to staying warm and comfortable when the ground can get quite slick. If you have a pair, be sure to pack them in your bag, because you're going to need them for Christmas in Boston.
The best place to spend the holiday season is in Boston!
Now you know all the essentials for finding Christmas magic in Boston. There are plenty of great Boston hotels and vacation rentals to check out for where to stay during your Christmas in Boston too. Hopefully, you'll add Boston to your travel list this upcoming winter; you won't regret it!
---
Even more travel guides and things to do in Boston:
---