Are you looking for boutique hotels in Boston, Massachusetts? Boutique hotels are often a little more of a unique place to stay than their conventional chain hotel counterparts.
Boutique hotels are generally a little smaller than the big chain hotels, so they tend to offer a delightful boutique experience by honing in on the details of the stay. Many of those featured below offer extra touches to make your Boston getaway even more special.
Boston is full of unique restaurants, lovely cafes, cool breweries, cool trolley rides, and great places to stay, but sometimes you want to go beyond the ordinary to a more cultivated experience… a boutique experience!
If you're looking for the best boutique hotels Boston has to offer, we've rounded up the most interesting places to stay right here!
Don't have time to read the whole post? These are our top recommendations:
Most Splurgeworthy Boston Boutique Hotel: The Colonnade Hotel
Most Unique Boutique Hotel in Boston: The Liberty
Best Budget Friendly Boutique Hotel in Boston: Staypineapple
Boutique Hotels in Boston
The Liberty
Starting this list of the best boutique hotels in Boston off strong, The Liberty is about as cool as can be, offering a luxury stay with a bit of a twist: before this posh hotel was a place people were dying to come stay at, it was a place people were dying to get out of as one of the most notorious jails in the Boston area.
Today you'll find references and allusions to its storied past throughout the hotel and its multiple onsite restaurants and bars; Clink is especially popular for brunch. Luxury finishes abound throughout this boutique hotel, and guests love the quirky allusions to its checkered past.
Address: 215 Charles Street, West End, Boston, MA 02114
Click Here to Check Prices & Book!
Revere Hotel
If you're looking for places to stay near Boston Common, Revere Hotel is one of the best. Its location is difficult to beat, within easy walking distance to many of the top Boston things to do, including popular restaurants.
Accommodations at this popular Boston boutique hotel are urban and stylish, with trendy and modern furnishings and comfy beds. Boutique offerings include seasonal use of bikes and complimentary Saturday morning yoga, a rooftop cocktail lounge, and an onsite restaurant.
Address: 200 Stuart Street, Theater District, Boston, MA 02116
Click Here to Check Prices & Book!
Hotel 1868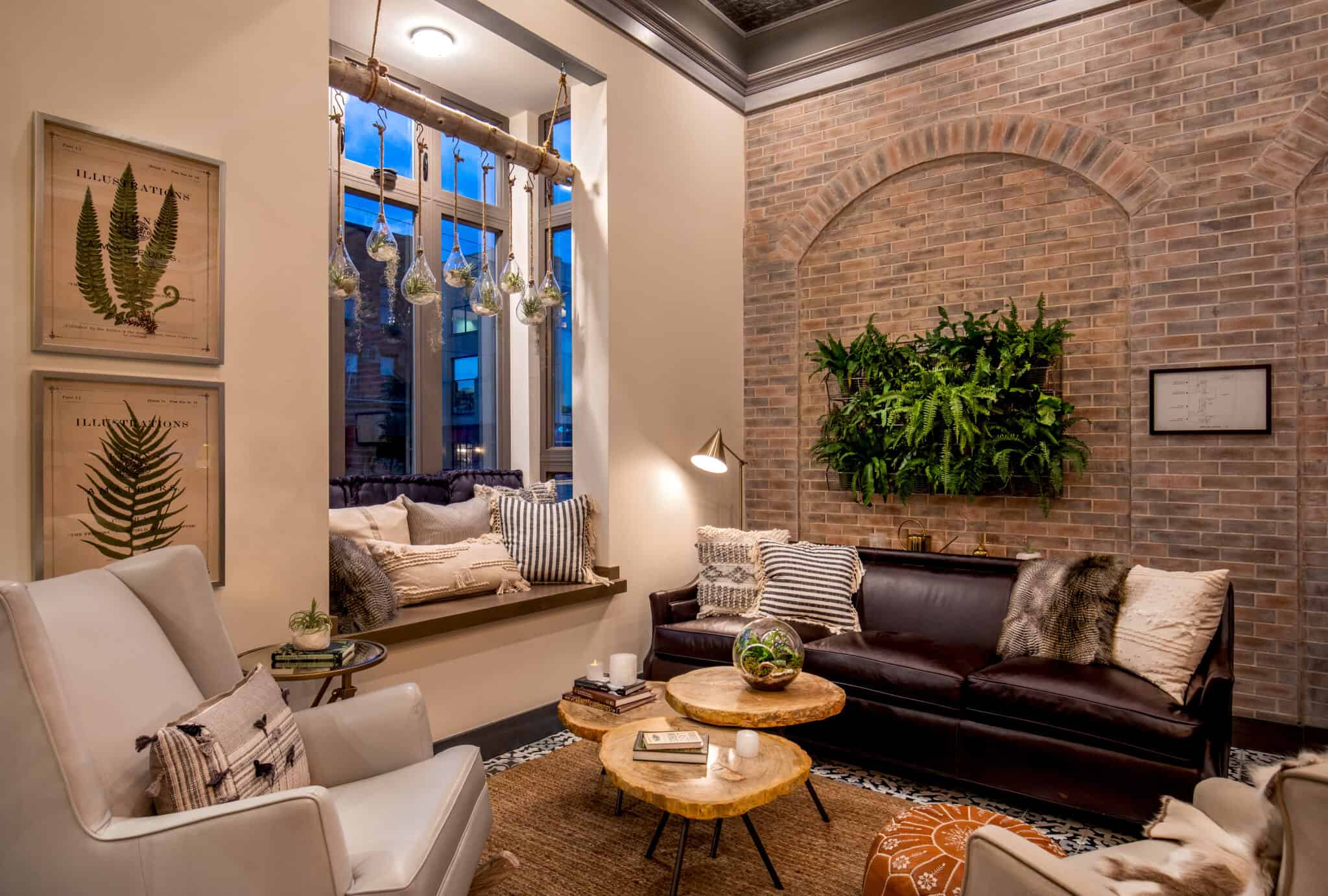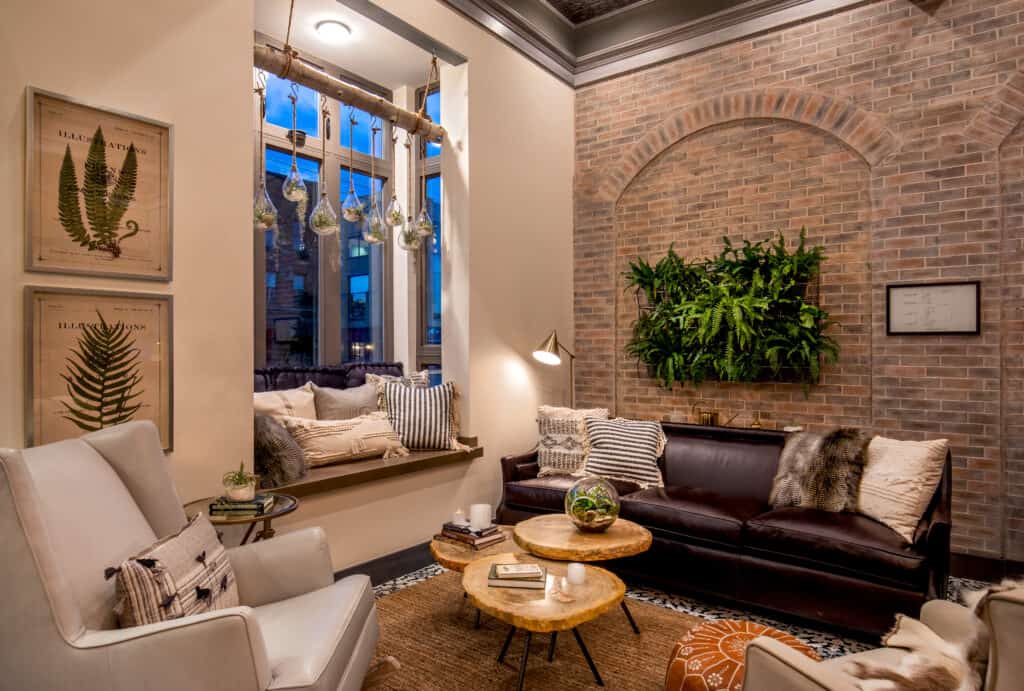 One of the newest Boston boutique hotels on the scene, Hotel 1868 is an absolutely darling place to stay in Cambridge. Contemporary, warm, and welcoming, the ambiance at this Cambridge hotel is delightful!
Rooms are comfortable and cozy, and amenities include a fitness room, valet service, and concierge services, but guests especially love the location of this Cambridge hotel to so many great local restaurants and attractions.
Address: 1868 Massachusetts Ave, Cambridge, MA 02140
Click Here to Check Prices & Book!
The Verb Hotel
Offering one of the most unique boutique hotel stays in Beyond and beyond, The Verb is a rock n roll themed hotel that takes cool to a whole other level. Located in the Fenway neighborhood, there's so much more to this cool hotel than just an awesome location.
You'll find band posters on the walls and turntables in your guest room, and the onsite amenities include a heated outdoor pool, a hip Japanese restaurant, and an absolutely sick refurbed vintage bus that makes for a perfectly instagrammable pic at this cool hotel in Boston!
Address: 1271 Boylston Street, Fenway Kenmore, Boston, MA 02215
Click Here to Check Prices & Book!
Studio Allston Hotel
Fresh and hip, Studio Allston Hotel is one of those boutique hotels that just feel like a breath of fresh air. Claiming that they are not just a hotel, but also an art gallery, you'll see exactly what they mean from the moment you walk into this visually dramatic place to stay!
Rooms at Studio Allston Hotel are furnished with trendy, modern items, but the art on the walls is vivid and eclectic, perfectly complementing each other. The onsite restaurant, Casa Cana, and outdoor bar are two of the things that guests rave about a stay at Studio Allston Hotel, but really, this is a place that's hard to find things not to love!
Address: 1234 Soldiers Field Road, Allston/Brighton, Boston, MA 02135
Click Here to Check Prices & Book!
The Collonade Hotel
One of the most gorgeous luxury hotels in Boston, The Collonade Hotel offers top of the line boutique amenities in a sophisticated, contemporary ambiance.
Rooms at The Collonade are generously appointed with amenities and upscale features such as floor-to-ceiling windows, premium linens, and more, but one of the top features of this boutique hotel that guests absolutely adore is the rooftop pool! This beautiful hotel offers luxury at luxury prices, but this is a splurgeworthy upscale boutique experience.
Address: Click Here to Check Prices & Book!
907 Main
How much more boutique Boston can it get than to stay in a gorgeous old Brownstone? Well, you can see for yourself by booking 907 Main, one of the trendiest places to stay near Boston.
With a bit of a mix between an upscale boutique hotel and an elevated vacation rental, you won't regularly find staff onsite, offering a private, luxury experience. Rooms are airy, bright, and sleek. Guests love the rooftop bar and the neighborhood, perfectly situated for anyone looking for fun in Cambridge.
Address: 907 Main Street, Central Square, Cambridge, MA 02139
Click Here to Check Prices & Book!
The Godfrey Hotel
Modern and sleek, The Godfrey Hotel offers an elevated boutique hotel vibe in Boston. Housed in a gorgeous historic building – 1908 Gothic Revival – this hotel is anything but stuffy.
Rooms are meticulously updated to be sleek and minimalist, but the real draw here at The Godfrey is the location and the amenities: steps away from some of Boston's biggest attractions, and boutique amenities like complimentary bikes give you the perfect way to explore! Guests also love the onsite restaurant.
Address: 505 Washington Street, Theater District, Boston, MA 02111
Click Here to Check Prices & Book!
Hotel Commonwealth
Offering what they've branded as spirited luxury – Boston style, Hotel Commonwealth is the perfect place to stay in Kenmore Square. With an air of modern sophistication and trendy urban luxury, there are many things that make this one of the most popular boutique hotels in Boston.
Just two blocks away from the iconic Boston House of Blues, one suite in particular pays homage to the city's eclectic musical history with the Rathskeller Suite, so if you're a music enthusiast, you've got to check it out!
Address: 500 Commonwealth Avenue, Fenway Kenmore, Boston, MA
Click Here to Check Prices & Book!
Staypineapple Boston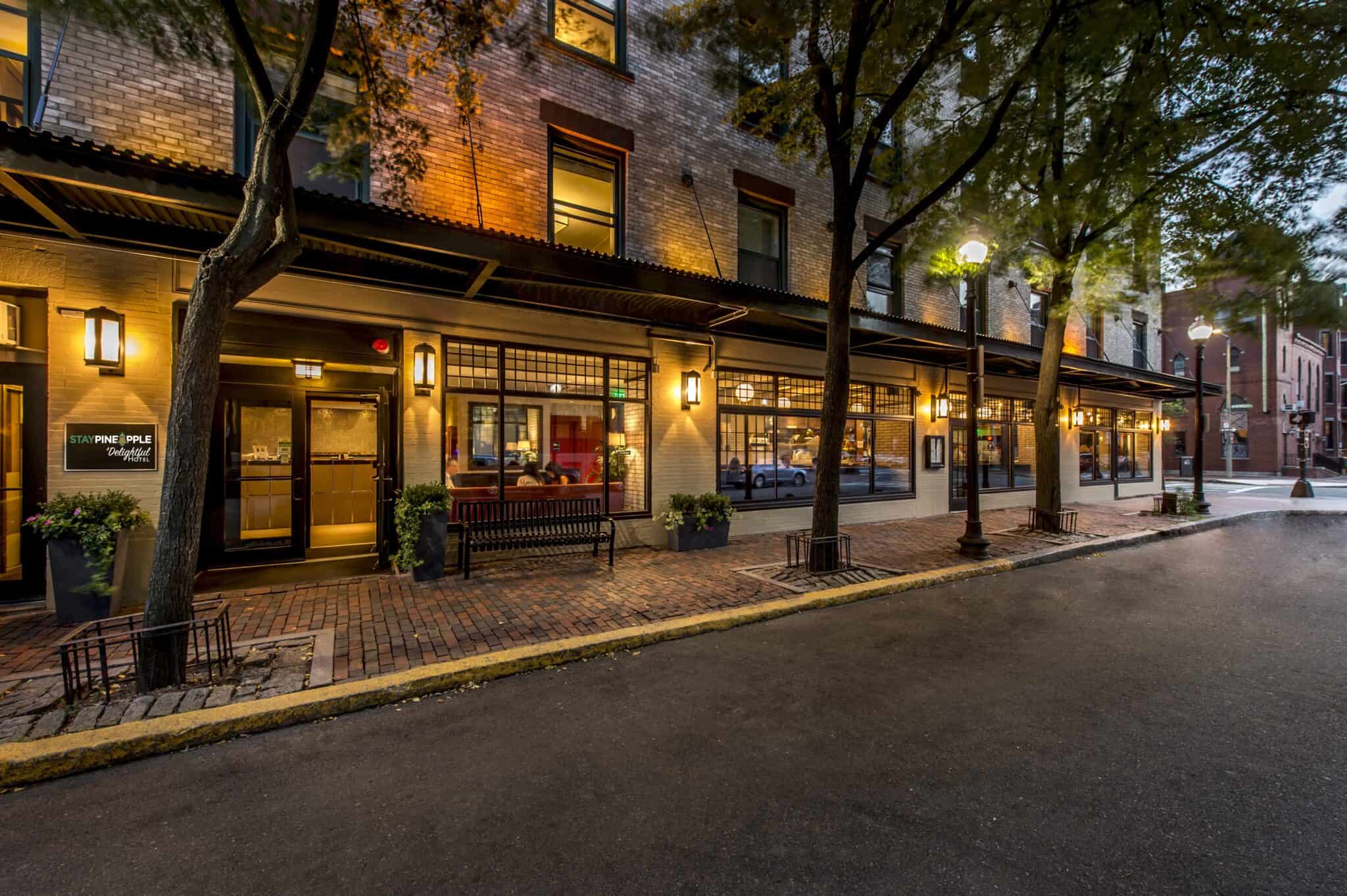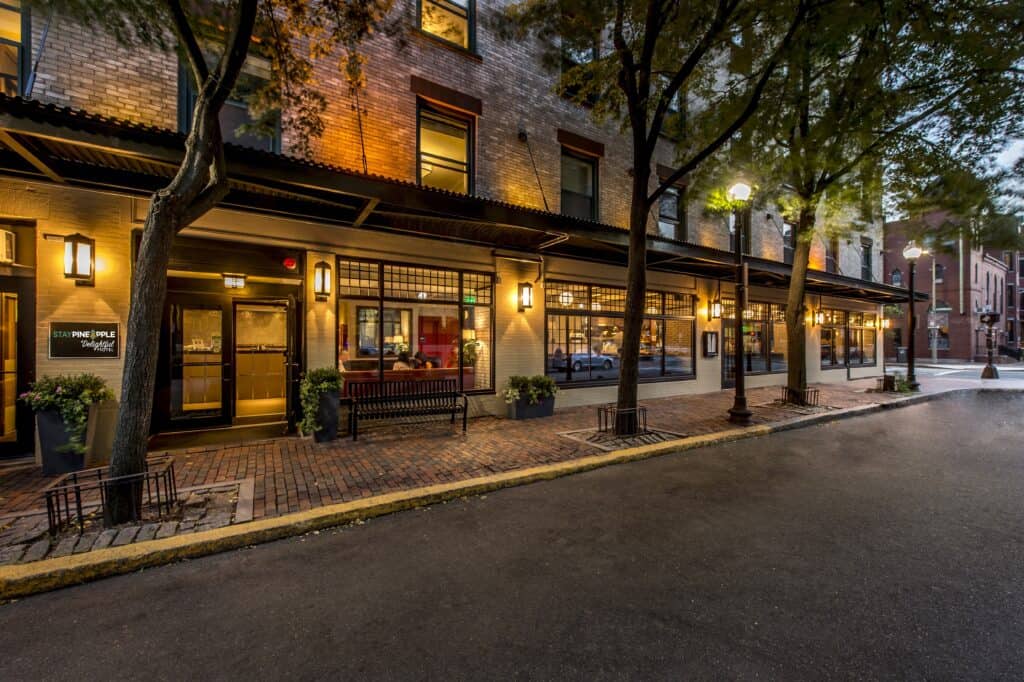 One of the best places to stay in South End, Staypineapple Boston is a gorgeous boutique hotel with a decor that is modern and hip yet refreshingly bright and sweet… kinda like a pineapple!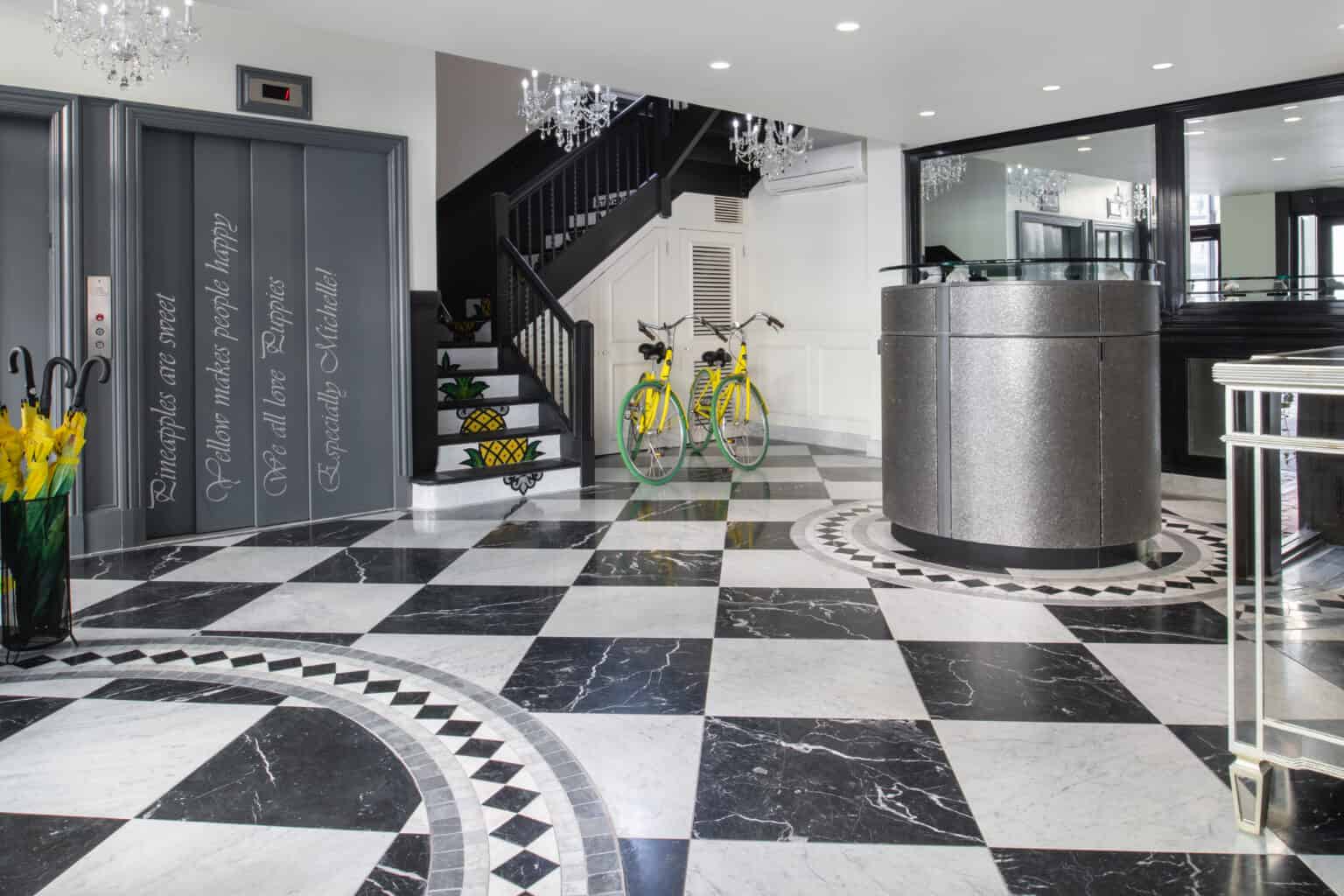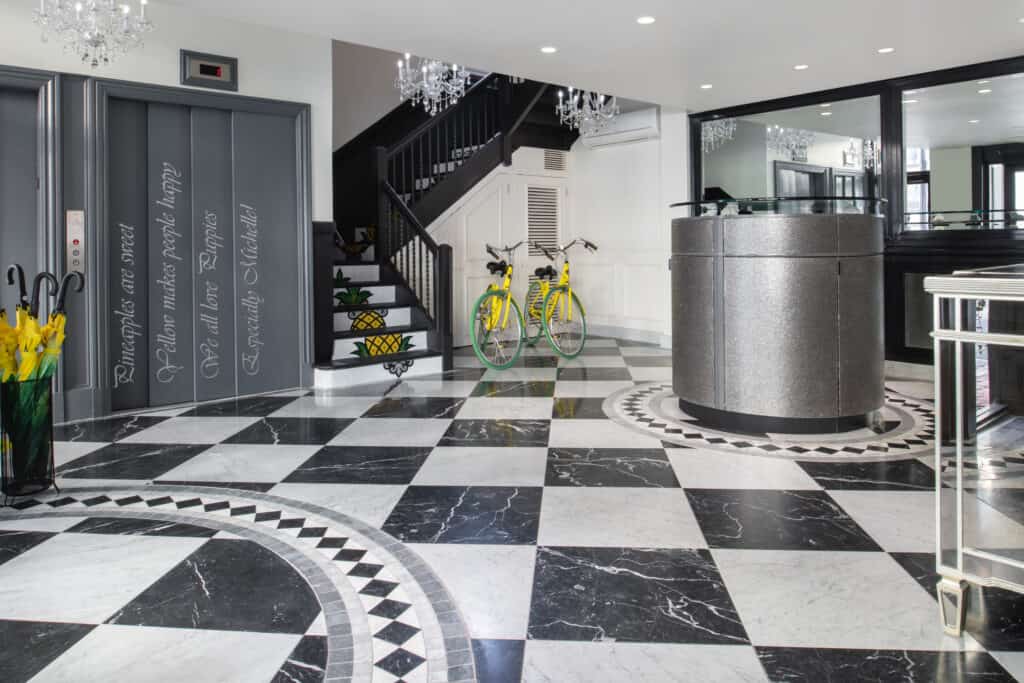 Rooms are stylish and modern, with delightful pops of color, and with boutique amenities like onsite signature treats, dining, bicycles, and more, this is one of those Boston hotels that goes all in on customer service! The bursts of yellow found throughout this hip hotel make every stay a sunny stay.
Address: 26 Chandler St, Boston, MA 02116
Click Here to Check Prices & Book!
The Eliot Hotel
One of the most elegant boutique hotels in Boston, The Eliot Hotel is all that is Old World sophistication. Located in the historic Back Bay neighborhood, this beautiful Boston hotel offers indulgent details like Italian marble and luxury linens in its gorgeous guest rooms.
The Uni is the onsite restaurant at The Eliot, and it has been recognized as one of the top restaurants in the country by Zagat, so if you can swing dinner there, you're in for an incredible treat. The Eliot offers the kind of timeless boutique hotel experience that never goes out of style.
Address: 370 Commonwealth Avenue, Back Bay, Boston, MA 02215
Click Here to Check Prices & Book!
The Boxer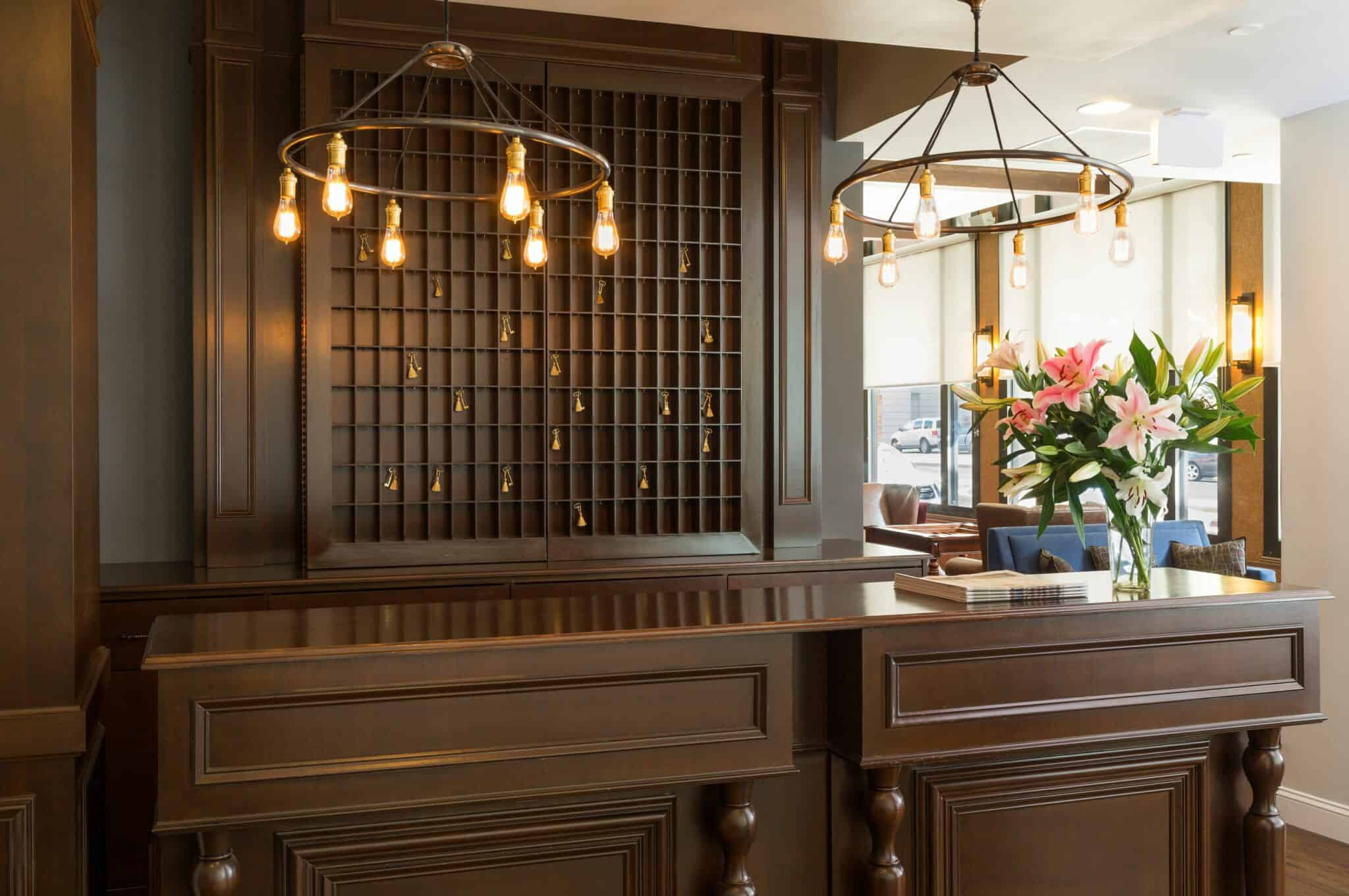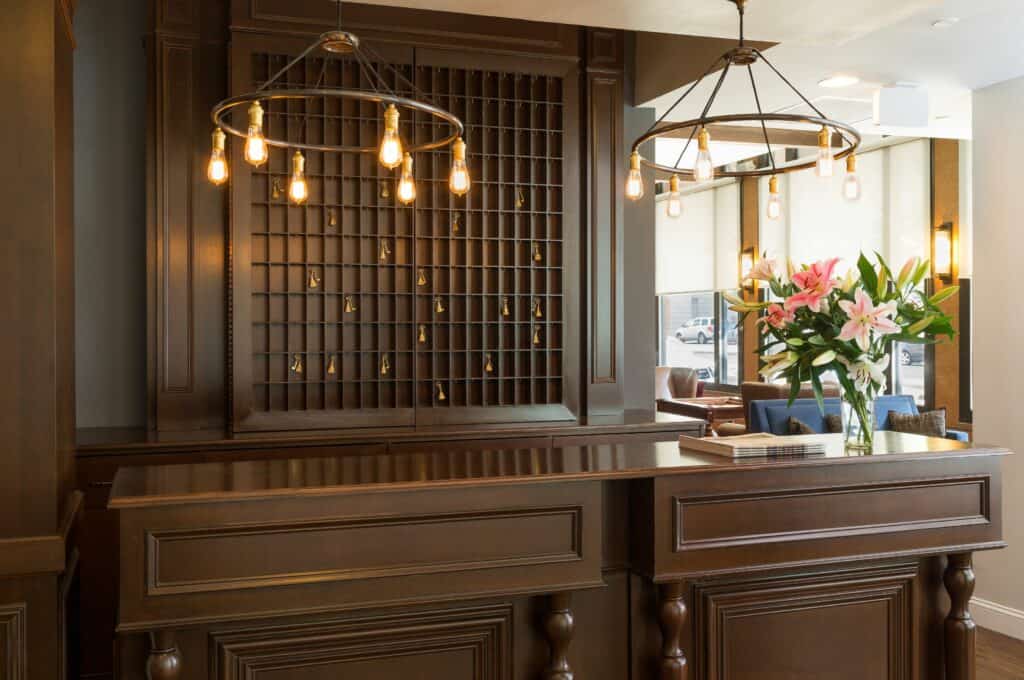 With a historic boutique feel, The Boxer is the perfect hotel to book if you're looking for places to stay near TD Garden. The building itself was built in the 1880s, but the amenities are thoroughly modern!
Rooms are classic and sophisticated, many offering beautiful city views. Guests especially love the West End location and the onsite restaurant, Bulfinch Social, perfect for grabbing a bite to eat before heading out to the Garden!
Address: 107 Merrimac Street, West End, Boston, MA 02114
Click Here to Check Prices & Book!
The Whitney
When looking for luxury boutique hotels in Boston, it's hard to imagine anything more ideal than The Whitney, offering an upscale hotel experience in the lauded Beacon Hill neighborhood since 2019.
Rooms are modern and sophisticated with touches of Old World elegance, and some offer sweeping views of the city. Boutique touches such as complimentary bicycles and special offerings from neighborhood boutiques and restaurants make guests feel quite catered to, and the onsite restaurant gets rave reviews across the board. This is a great choice for anyone looking for romantic boutique hotels in Boston.
Address: 170 Charles Street, Beacon Hill, Boston, MA 02114
Click Here to Check Prices & Book!
The Charles Hotel
Beautifully positioned right in the heart of Harvard Square, The Charles Hotel offers the perfect Cambridge place to stay when its upscale sophistication you're after.
Rooms are beautifully decorated in a distinctive New England aesthetic, both classic and sophisticated. Become relaxed and rejuvenated at the onsite full service spa before indulging yourself in the other popular onsite amenities: a restaurant, a bar, and Regatta Club, considered one of the best jazz clubs in Boston!
Address: 1 Bennett Street, Harvard Square, Cambridge, MA 02138
Click Here to Check Prices & Book!
The Revolution Hotel
One of the most interesting boutique hotels Boston has, The Revolution embodies that spirit of fierce independence that this area is historically known for. The giant murals and sculptures onsite give you your first clue that this is a hotel that does things its own way!
There are a variety of room options, but all are decorated with a trendy, urban feel, and the amenities at The Revolution include complimentary bike rentals, an onsite fitness center, lauded Mexican restaurant, and coffee shop. This is a very popular option for those looking for fresh Boston places to stay!
Address: 40 Berkeley Street, South End, Boston, MA 02116
Click Here to Check Prices & Book!
While this isn't a complete list of the best boutique hotels in Boston – that list could go on for days – this is an excellent place to start for anyone looking for unique Boston places to stay.
You might also like: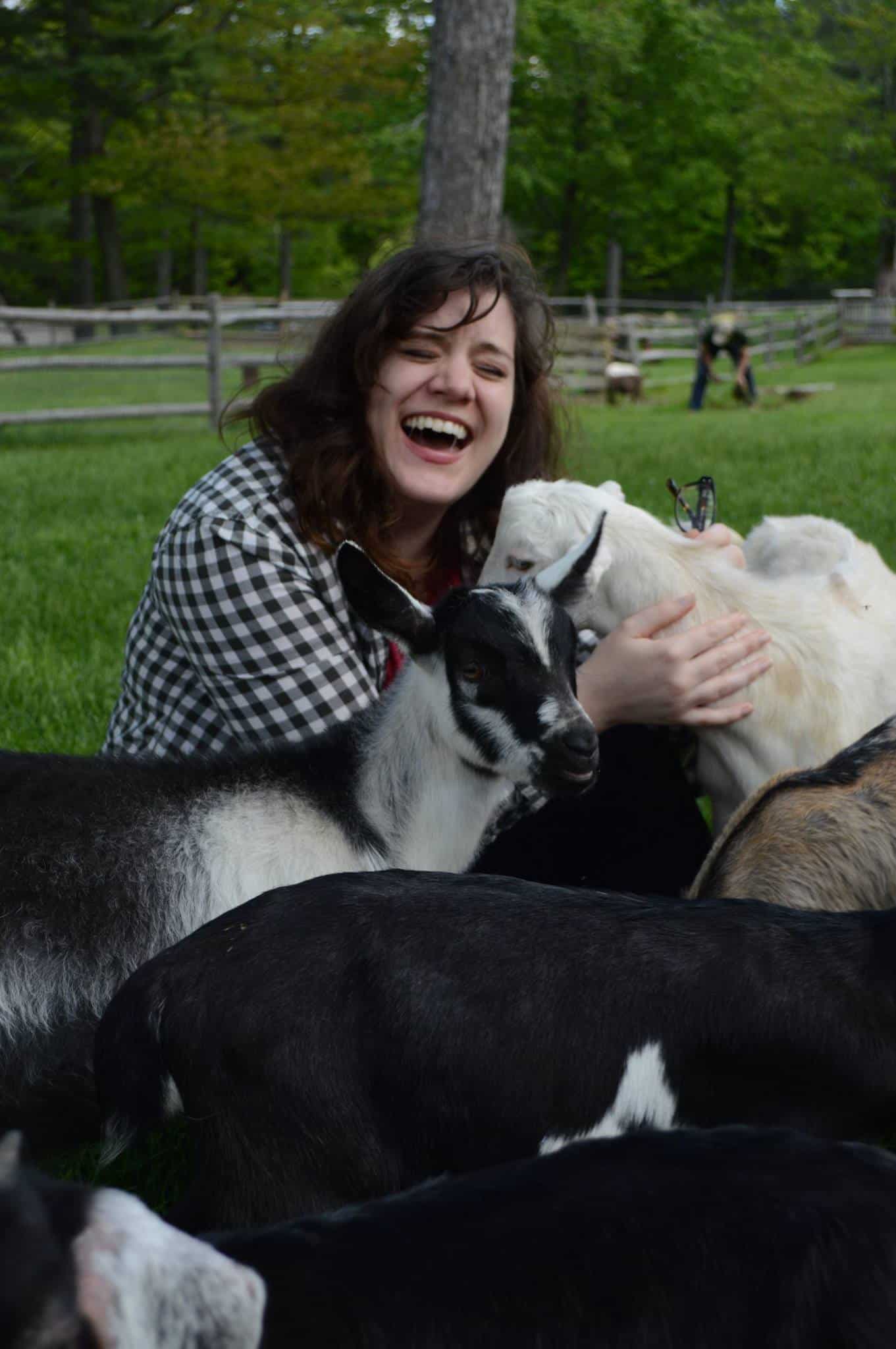 Amy Hartle is the founder and Editor-in-Chief of New England With Love, a comprehensive resource for travel in the New England region. Amy has been exploring New England since 2001. She lived in Vermont for many years and is a graduate of Plymouth State University in New Hampshire. Amy has been writing about travel for over a decade. On this site, Amy aims to share her love of New England and help you to have the best possible adventures!
Amy has been a full time blogger since 2012, and is also the publisher of Two Drifters, where she writes about couples travel and relationships, as well as Let's Adventure Baby, a family travel site. When not traveling the world or creating epic blog content, Amy can be found cuddling with her husband, son, and cats, & drinking a maple latte.