---
*Links in this article may be affiliate links, from which we may earn commission. See our
Privacy Policy
for full details.
---
With a nickname like Vacationland, it's safe to bet that you'll find plenty of incredible vacation destinations in Maine! This gorgeous state is known for its rugged and rocky coastline that is dotted with historic lighthouses, and the vast wilderness that has been dutifully conserved and has some of the most scenic drives and best hiking in the East. Any trip to the Pine Tree State will be a good time, but you can use this list for a guide to some of the best places to visit in Maine!
Stay Cool in Kennebunkport, ME
Kennebunkport is known for a few things: the water, the seafood, and the Bush family. Their Kennebunkport place has long been the favored summer home for the family and was coined as the Summer White House while the elder Bush was in office. To this day, it is still maintained as a family vacation spot, and with all the fun things to do there, it is easy to see why. There's sailing, whale-watching, kayaking, lobster tours, swimming at the soft sand beaches, and so many more ways to enjoy Maine in the summer! Downtown Kennebunkport has plenty of art galleries and cute shops to keep you happy browsing and buying unique Maine keepsakes from your visit, too.
Kennebunkport is also home to many excellent restaurants, including some stellar seafood places. Try The Clam Shack, popular for their lobster roll; it was named by Food & Wine Magazine as one of "America's Best Lobster Rolls!" There are also some incredible places to stay while in town, but if you're looking for something a little more off the beaten path, look into glamping at Sandy Pines Campground. Their glamping cabins and tents are absolutely fabulous, and the heated saltwater pool will perhaps be a bit more inviting than the chilly waters of the Atlantic!
Of course, Kennebunkport is a cool spot to visit in the winter, too; not only does this little town basically turn into one of those perfect "Hallmark Christmas Movie" towns, but their Christmas Prelude is considered one of the best Christmas celebrations in all of New England. You don't have to be a member of a political dynasty to see Kennebunkport is a perfect setting for a Maine getaway!
Retreat to Rangeley, ME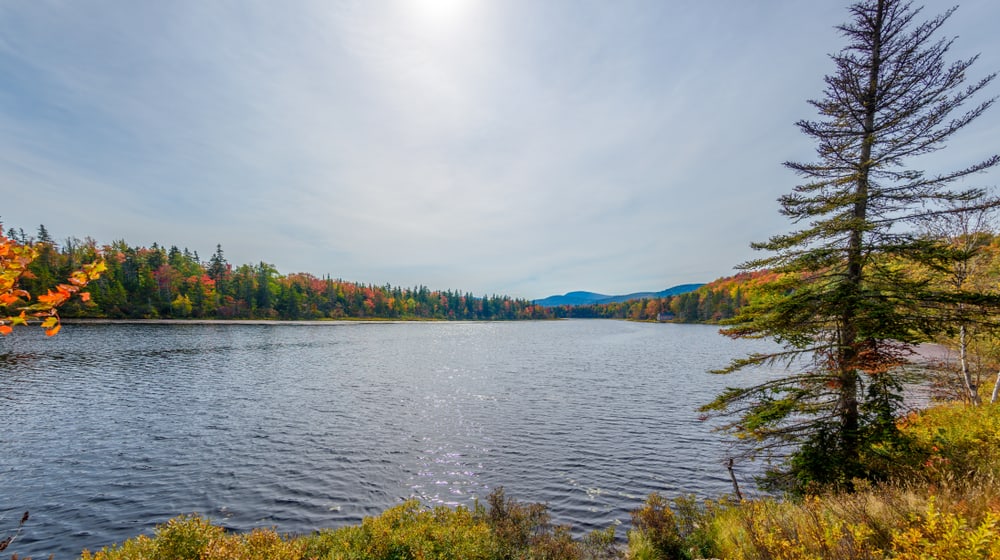 Located in the mountains of Western Maine, Rangeley is all about the great outdoors! One of several small towns nestled in amongst the Rangeley Lakes Region, Rangeley is a popular Maine vacation destination for anyone looking to retreat into the wilderness of Maine, and there is no shortage of things to do in the area: in the warm weather months, there's kayaking, canoeing, paddleboarding, fishing, hiking, boating, and swimming, and it's also one of the best places in Maine to go to see moose!
As the weather turns colder, there's the Rangeley Lakes Trail Center in town for snowshoeing, cross-country skiing, and fat biking, and for alpine skiing, just half an hour up the road is recently re-opened Saddleback Mountain, newly revamped after a 5-year hiatus, and just a bit further out is Sugarloaf, one of the most popular ski resorts in the East.
Rangeley is a pretty quiet little rural town, but there are a few spots you'll want to check out while in the area. Ecopelagicon is the general store that sells locally produced Maine staples like maple syrup and candy, blueberry jam, and skincare products from Rangeley Balsam that utilizes the ever-abundant balsam firs that surround Rangeley's many lakes and ponds. There are several dining options, but it's hard to beat a meal or a stay at The Loon Lodge Inn if you're into extra-inviting, ultra-comfortable, old-world inn vibes. One of the best places to visit in Maine in the fall, just driving the Rangeley Lakes Scenic Byway is one of those quintessential autumn experiences and is a must-do if you're visiting Maine as the leaves are changing!
Click Here to Check Prices & Book!
Play in Portland, ME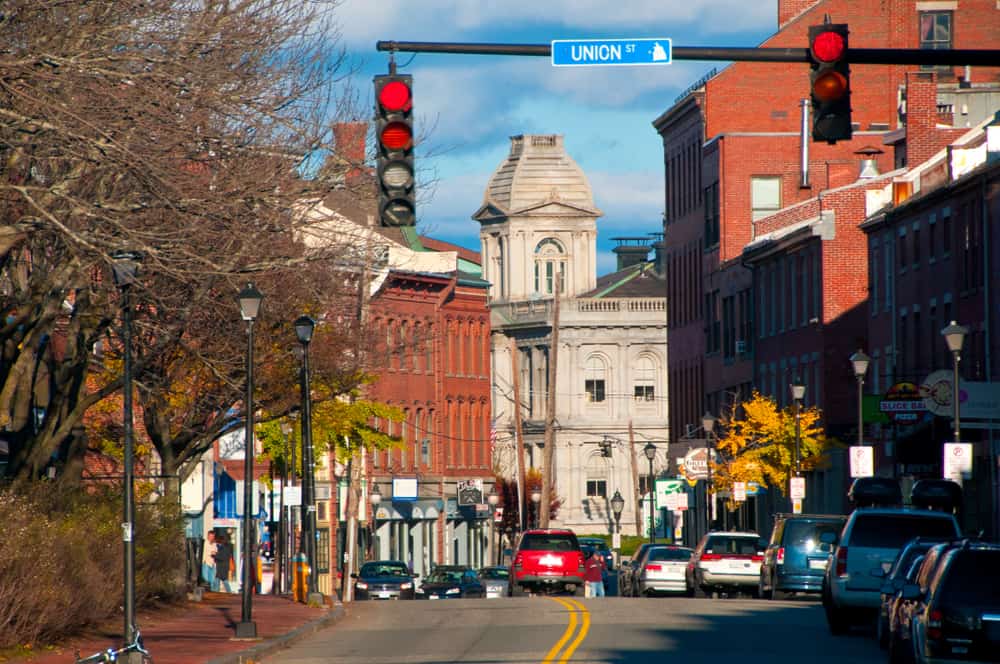 Maine's largest city (not saying a whole lot, but still!), Portland is all that is cool, creative, artsy, and innovative, and they do it all with some pretty fantastic scenery, too! There are a ton of awesome things to do in Portland (they like to say you'll "run out of time, never things to do") and you can check out How to Spend the Perfect Weekend in Portland for a loose itinerary of all of the must-visit spots. There's the Portland Museum of Art to visit, cool shopping in Old Port and South Portland, and so many fantastic ways to get out and explore beautiful Casco Bay!
Here's the other thing you have to know about Portland: Yes, it is absolutely a foodie destination and you will be in food heaven- and perhaps a bit of a food coma- while sampling the city's amazing selection of fresh-caught seafood, farm-to-table goodness, and creative fusion cuisine, but, their craft beer scene has some serious game and Portland is considered a craft beer destination, too! There are plenty of amazing breweries in the city, but if you're looking for somewhere that has a distinctly unique "Portland" flavor, head to Urban Farm Fermentory, where brewers forage for the ingredients they use to make their beer and other fermented goodies, including cider, kombucha, mead, and other unique brews. The city is also home to incredible restaurants and bakeries.
Interesting options abound for where to stay in this cool Maine city, too, including beautifully reimagined historical gems, like Blind Tiger, which began as a prohibition safehouse before becoming the gorgeous guesthouse it is today. Portland is such a cool Maine city and worth a visit, whether it's just for 1 day or 5!
Click Here to Check Prices & Book!
Reset in Rockland, ME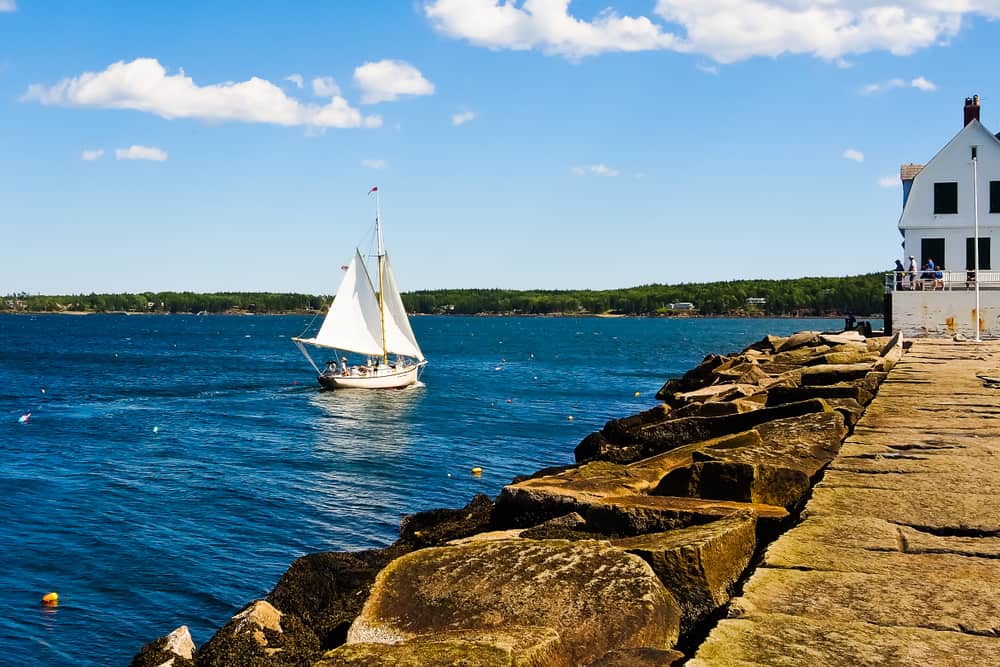 Beautiful Rockland is one of those classic coastal towns and a definite Maine must-visit spot. For one thing, it's the perfect destination for a romantic getaway, Maine-style! Even if romance isn't on your mind, what better way to experience a coastal Maine town than to get out and enjoy that coast, and you can do just that sailing on a traditional schooner via a Windjammer Cruise, making unique memories that you will be sure to remember all your life.
If sailing isn't your jam, there's plenty on land for you to do, too, like visiting Farnsworth Art Museum, The Center for Maine Contemporary Art, or any of the multiple art galleries downtown. If you're looking for breathtaking views, take a walk to the Rockland Breakwater Lighthouse, the lovely lighthouse that has been so carefully restored and is an excellent lookout point to take in the spectacular ocean sights.
There are a ton of great restaurants in Rockland for you to choose from, and several lovely options for where to stay while in Rockland, but look at Berry Manor Inn for a historic B&B stay with a fireplace in every room! Plus, their "evening sweets" they offer are the spectacular, made from scratch pies that the same "Pie Moms" who were featured on Throwdown with Bobby Flay in 2007 make daily! The pie-baking aficionados were also featured in an episode of Mike Rowe's Dirty Jobs that covered Maine's blueberry industry. The Berry Manor Inn might just be the perfect landing pad for your visit to beautiful, artsy Rockland.
Click Here to Check Prices & Book!
Come Away to Acadia National Park on Mount Desert Island, ME
A visit to Acadia National Park will have you coming away from your Maine vacation feeling like you've been on an adventure! Beautiful Acadia National Park is full of amazing outdoor things to do like fishing, biking, hiking, camping, and taking in all the spectacular sights that Acadia National Park holds, like Thunder Hole, the inlet that becomes a dramatic sight at high tide when the water that rushes through can reach heights of 40 feet! Acadia is always a beautiful sight to see, but autumn is considered to be one of the very best times to visit as the already lovely scenery becomes vibrant with fall colors.
There are so many great options for where to stay while visiting Acadia National Park, and many people opt to stay in Bar Harbor because there are so many cool things to see and do in this neat little town. Check out this 3 Day Itinerary for Acadia National Park & Bar Harbor for some great suggestions, but you honestly can't go wrong just getting out and about and exploring in Bar Harbor! Bar Harbor has a ton of awesome restaurants, but if you opt to stay at historic Bar Harbor Inn, not only will you have incredible ocean views from your room, but you'll also have easy access to their waterfront dining and gourmet, locally-inspired dishes! Acadia National Park is one of the most beautiful national parks in the US.
Click here to Check Prices & Book!
Ogle the Ocean at Old Orchard Beach, ME
Old Orchard Beach (affectionately dubbed OOB) is a seaside town that is absolutely adorable and is even considered one of Maine's cutest small towns! This cute little coastal community has another great claim to fame, too: it is home to the very last surviving beachfront amusement park in New England! Palace Playland has rides, attractions, and a 20,000 sq ft+ arcade that has both vintage and modern arcade games on offering and so much more.
Of course, there's also the 7 miles of soft, sandy beach! One of the best beaches in Maine, OOB has great amenities for beachgoers like easily accessible restrooms, lifeguards, and nearby food options. In fact, one of the major draws of Old Orchard Beach is the Old Orchard Beach Pier, the spectacular 500-foot wooden pier that features great restaurants, souvenir shops, and even a nightclub with a stunning view of the Atlantic Ocean! This cute Maine beach town has plenty of options for lodging, but Alouette Beach Resort can offer everything from comfort economy to luxury suites with outstanding ocean views, depending on what your splurge level is for your visit to OOB. Old Orchard Beach is the perfect location for a Maine beach vacation!

Click Here to Check Prices & Book!
Say Hi to Paul Bunyan in Bangor, ME
Paul Bunyan, you ask? Yup! Bangor was once known as the "lumber capital of the world," so the positively massive 31-foot-tall statue of Paul Bunyan that watches over downtown Bangor commemorates that part of the town's history and yes, basically begs you to take a selfie with it! Another claim to fame for this town that presides over the Penobscot River as the Queen City of Maine is that it is the home of legendary horror genre writer Stephen King. In fact, a visit to Bangor to take a Stephen King tour is one of the items on our Ultimate New England Bucket List!
In addition to Paul Bunyan and Stephen King, there's plenty more to explore in beautiful Bangor. The Bangor City Forest features over 680-acres of forest and wildlife habitat, including hiking trails and a fantastic boardwalk that lets visitors travel through the Orono Bog while getting an up-close look at these gorgeous wetlands. After you've worked up an appetite walking the boardwalk, head back to Bangor's downtown to check out the many excellent restaurants, inns, and hotels available in and around the heart of the city. Pro tip: If you decide to stay in the lovely Tarratine Inn, you'll be perfectly situated to explore this Maine city!

Click Here to Check Prices & Book!
Enjoy the Beauty of Boothbay Harbor, ME
Beautiful Boothbay Harbor is a great place to visit for anyone that wants to enjoy Midcoast Maine; take a tour of the Burnt Island Light House, only accessible by boat, and explore the craggy coastline of the tiny island it sits on. If you're visiting during the summer, reserve a day out at the Cabbage Island Clambake, a unique Maine vacation experience that gives visitors a chance to enjoy clambake culture with fresh-caught lobster, Maine chowder, blueberry cake, and the headliner: clams! Between the months of May and October, you can also go for a combo whale-watching/puffin cruise to see some of coastal Maine's wildlife… Maine is the only place in the country where wild puffins nest, so take advantage and see them in their natural habitat!
Boothbay Harbor has plenty to do and see, and some absolutely fantastic places to stay. For a waterfront stay, look into Harbour Towne Inn on the Waterfront. This lovely restored Victorian-era inn lands you squarely within easy walking distance to Boothbay Harbor's downtown restaurants, shops, and art galleries, and it's hard to beat that waterfront view, too. Boothbay Harbor offers a midcoast Maine experience that is sure to please!
Click Here to Check Prices & Book!
Do it up in Darling Damariscotta, ME
This lovely little town is typically a little less crowded than some of the other high-tourist spots in Midcoast Maine, but still has plenty to see and do! Referred to as the Damariscotta Region (Damariscotta is connected to a twin village, Newcastle, by a bridge over the Damariscotta River), this area celebrates its prosperous oyster industry with two fun oyster festivals each year, and the Whaleback Shell Midden State Historic Site where you can see a giant midden, or oyster shell heap, that remains from the Native people that lived on this land hundreds of years ago. Another way to explore this area's thriving oyster industry is by trying them for yourself, of course! Check out Damariscotta River Cruises, where you can indulge in an Oyster and Wine Tasting Cruise while sailing down the sparkling river at sunset.
Enjoy the quaint, coastal Maine vibe of Damariscotta's downtown by checking out shops like Sheepscot River Pottery and Maine Coast Book Shop and Café. In addition to all the cute little restaurants and lovely little inns and B&Bs that Damariscotta has to offer, you can also make a quick 10-minute drive up to the little village of Wiscasset, where you can visit Red's Eats, one of Maine's most quintessential lobster shacks. Yeah, you'll probably have to wait in line, but that lobster roll is worth it and it is definitely one of the best places to visit in Maine for lobster!

Set Up Base in Bethel, ME
Nestled in at the edge of the White Mountain National Forest, Bethel is a sweet little town on one of the most scenic driving routes in Maine. A beautiful mix of active outdoors lifestyle and calm mountain respite, this Maine village offers a little something for visitors of all persuasions. Looking for some outdoorsy fun? This is the spot, with kayaking, hiking, and fishing any time of the year, and come winter, there's plenty to do in the snow here, too, especially at Sunday River Ski Resort. You also have Grafton Notch State Park nearby for some wonderful waterfall hikes!
Bethel's aesthetic is laid-back, and you'll find plenty of options for mountain village dining, lodging, and shopping. Check out Elements Art Gallery, where you can pick up a locally-made art piece to take home with you, and Sunday River Brewing Company to pick up some artisan-fired pizza and fresh-made donuts! Bethel's location at the base of the White Mountain National Forest gives major bang for your buck when it comes to scenery, so no matter what you do in Bethel, you're sure to have a great scenic backdrop while doing it!
Yay for The Yorks in York, ME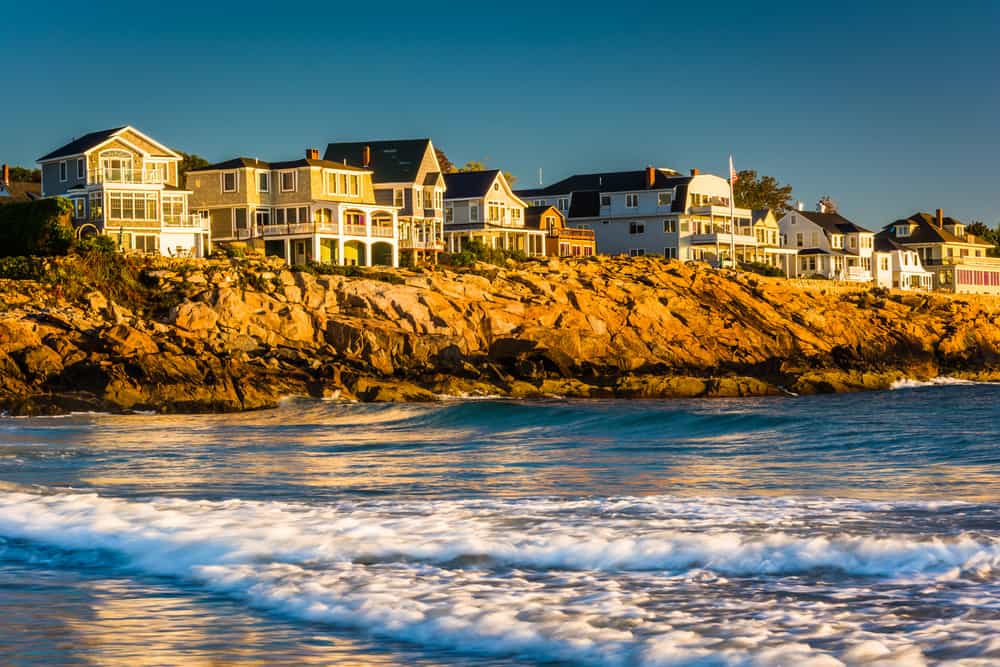 Known as "The Yorks," this area of the Southern Maine coast includes York Village, York Beach, York Harbor, and Cape Neddick, all a part of York, ME. York is the kind of place that has a little something for everyone: If you're looking for history, check out York Village, where you'll find well-preserved historical buildings like the Old Gaol, built in 1656 as Maine's first prison.
York Beaches are some of the most gorgeous beaches on the coast, with soft sand and beautiful vistas. York Harbor is home to great views along the fantastic Cliff Walk and Cape Neddick "Nubble" Lighthouse is considered to be one of the most famous lighthouses on the east coast, and while there is no public access, views of Nubble as it sits impressively perched on the rocky island are always pretty awesome!
This beautiful spot is also considered one of the best places to enjoy the sunrise in coastal Maine, so set your alarm (or stay up all night for it, we don't know your life!) to sit on the soft, sandy beach and watch as the sun slowly rises to greet you. You'll have no problems finding great little restaurants and awesome places to stay in this popular coastal destination, and the memories you'll make here in this lovely little town are sure to last a lifetime.
Play it Cool on Peaks Island, ME
A beautiful Maine island that is just a short ferry ride away from Portland, Peaks Island is a summertime getaway that will let you step out of the everyday hustle and bustle of your life. No need for cars, most people travel the island by foot, bike, or golf cart. You can rent a bike at Brad's Bike Rental and take in the ocean views as you pedal your way around this idyllic island. If you'd rather explore by sea, tour with Maine Island Kayak Co, learning all about the natural geography and manmade points of interest to be found here. Do you have an interest in the paranormal? Then head to the southeastern side of the island to the Battery Steele Military Reserve, considered one of the most haunted places in all of New England! Better bring a friend (and your courage) because people have reported some pretty intense paranormal activity while inside the tunnels.
If you'd rather have a little more lighthearted experience while on the island, check out Down Front for some delicious hand-dipped ice cream and other sweet treats that are absolutely perfect on a warm summer's day. If you're in the mood for something a little more filling than ice cream, you can find restaurants on island or hop back on the ferry to check out some of the stars of Portland's thriving restaurant scene and enjoy the rest that Portland has to offer, too!
Opt for Ocean Views in Ogunquit, ME
One of the most popular beach vacation destinations in Maine, Ogunquit's town motto is "Beautiful Place by the Sea," and you'll realize why the moment you arrive! Ogunquit is a beach town that is known both for its spectacular white soft sand beaches and adorable downtown, particularly Main Street, where you can find fresh-caught seafood, great shopping options, and fun things to do, like taking in a show at the Ogunquit Playhouse.
No visit to Ogunquit could possibly be complete without spending some time on Ogunquit's beautiful beaches. Ogunquit Beach has 3.5 miles of soft white sand and excellent beach amenities like lifeguards, public restrooms, nearby restaurants, gift shops, and plenty of paid parking for easy access! Footbridge Beach is another local favorite, with a picturesque footbridge (wonder how they got the name for the beach??) that takes you over to that section of beach. This gorgeous beach paradise has plenty of fantastic options for where to stay, but it's not so much where you stay in Ogunquit that matters, but rather how much time you spend out exploring this Beautiful Place by the Sea!
Be in Brunswick, ME
With all the cool college town vibes that a small Midcoast town can offer, Brunswick is definitely a cool place to visit in Maine! Home of Bowdoin, the first college in the state of Maine, you'll find a plethora of arts and culture associated with this notable institution, like the Museum of Art, housing multiple collections and exhibits, and the Harriet Beecher Stowe House, where she lived and wrote for two years; today it is a National Historic Landmark and a National Underground Railroad Network to Freedom Site.
Of course, a visit to this coastal Maine town also means beach time! Thomas Point Beach offers not only a well kept sandy beach for sunbathing and splashing around in, but also plenty of space for exploring, camping, and just enjoying its 84 acres of tranquil coastal Maine beauty. After a day at the beach, consider swinging by Flight Deck Brewing for a bite and a brew before retiring for the night. When it comes to where to stay in Brunswick Maine, consider a stay at Brunswick Hotel, an adorable boutique hotel that is historic, warm, and oh so welcoming!
Click Here to Check Prices & Book!
Lay Low in Lubec, ME
Lubec is the perfect place to visit in Maine if you're looking for a vacation destination that is just about as far as you can go in coastal Maine without leaving the US! Right on the border of Canada, Lubec is a very small Maine town that has over 90 miles of craggy coastline with those dramatic ocean views, and is home to the West Quoddy Lighthouse, the distinctive red and white Maine lighthouse that has graced so many Maine postcards for so many years!
Visit downtown Lubec and their small museum of the town's fishing history, and then go sample some of the goods at Lubec Brewing Company. The perfect place to stay in Lubec is the Inn on the Wharf, a restored and renovated 100+ year old sardine factory on the water that is today a cozy, welcoming inn that is not only one of the best places to stay in Lubec, but its restaurant, Fisherman's Wharf, is one of the best places to eat in Lubec, too!
Click Here to Check Prices & Book!
The rugged beauty of Maine and the plethora of outdoor activities (even in winter) mean that Maine is an excellent vacation for anyone looking to get away and unwind a bit; there's a reason we call it Vacationland, right? Maine also has some really cool cabins, lovely hotels, and neat Airbnbs that you can check out for interesting places to stay while in the state. Wherever you end up going, you're always bound to have a fantastic time on your visit to Maine!
You might also like:
---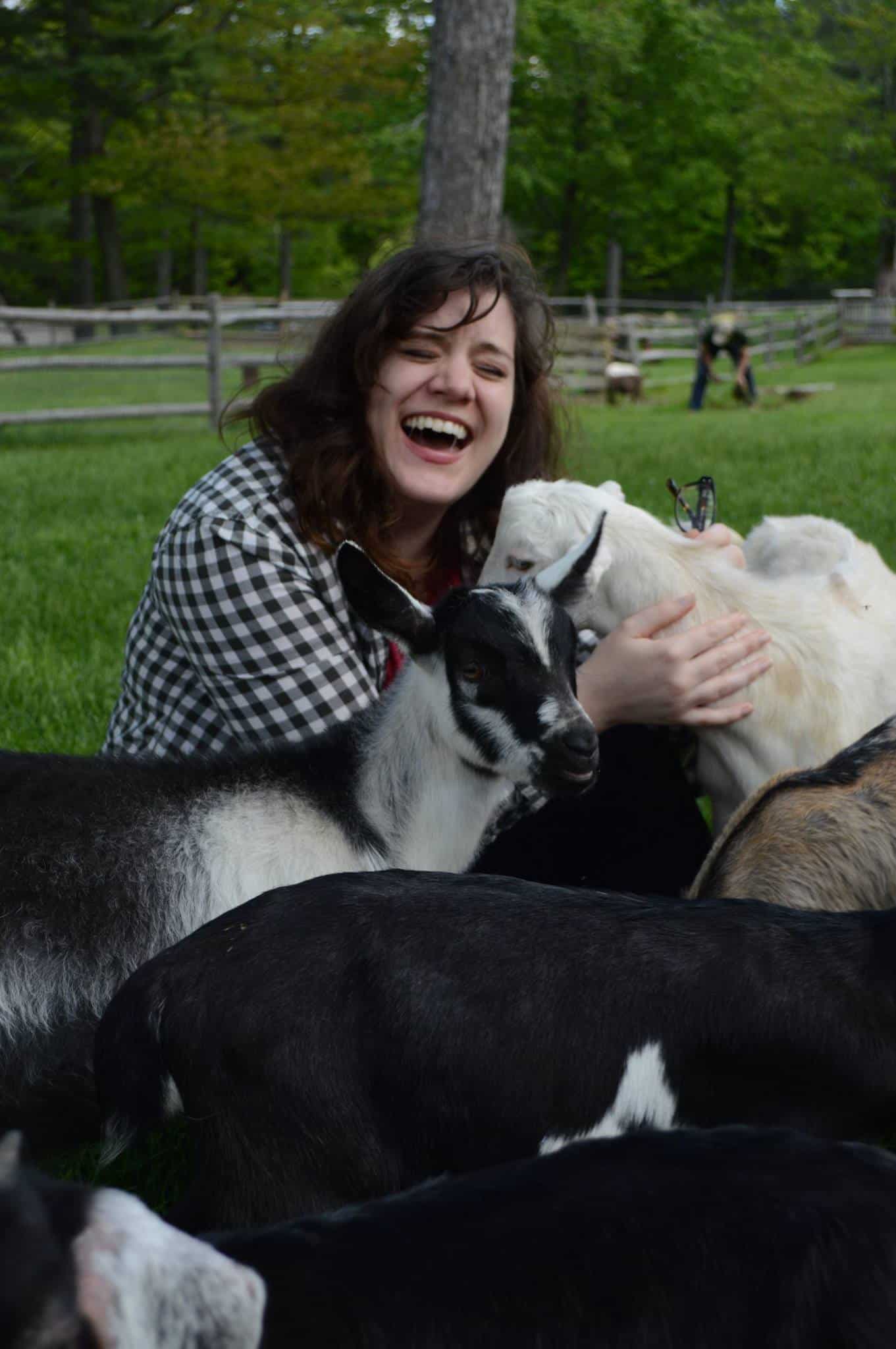 Amy is the founder of New England with love. A proud Vermonter, she hopes to share her love of New England and help you find the best adventures in the region. Amy is also blogger/founder at Two Drifters, where she writes alongside her husband about romantic and couples travel, relationships, honeymoons, and more. When not working on websites, Amy is probably reading, cuddling with her husband, son, and cats, & drinking a maple latte.