Considering sailing on a Maine windjammer cruise? There is absolutely no better way to experience the coast of Maine.
In this guide, we're going to tell you all about what to expect on this fabulous Maine sailing trip.
The best Maine windjammer cruises involve sailing on a traditional schooner out of Rockland, Maine. My first trip was with a friend, Nicki. I had little idea what to expect; I only knew I was anxious to spend a few days "at sea" on a totally different kind of journey.
When Nicki offered to bring me with her on a "Lobsters and Lighthouses" cruise, I agreed immediately. Would I like to go sailing on an authentic schooner off the coast of Maine? Absolutely.
And in 2019, I went sailing again, this time with my best first mate, Nathan!
All about the Best Maine Windjammer Cruise: The Schooner J&E Riggin
We sailed on the J&E Riggin, a 3-masted schooner built in 1927. The excitement begins even as you board the boat, because it's unlike anything you've traveled on before.
You immediately get a sense of luxury-meets-antique; while the boat is nearly a century old and boasts many original features, it's sparkling and modernized in all the right ways. The decks, especially where passengers gather, are made of a gleaming, vibrant wood.
The boat itself is dressed in red and blue—a truly classic Maine sailing vessel. And there are plenty of comforts of home, including insanely delicious meals.
On the first night, we stowed our luggage in our cabins below decks and met the captain and crew. We were briefed on our daily schedule and learned what our week aboard the Riggin would look like. We also learned a few essentials, including how to flush the toilets (very important!)
That initial evening, I felt a little nervous. I didn't know how I would feel during the trip. I'd never spent that many days on a boat. Would I be seasick? What if I didn't like the other passengers? Would my cabin feel claustrophobic?
I'll admit, the unknown can be daunting, and I'm a person who gets a little anxious. As it turns out, my fears were unfounded and my nerves quickly calmed.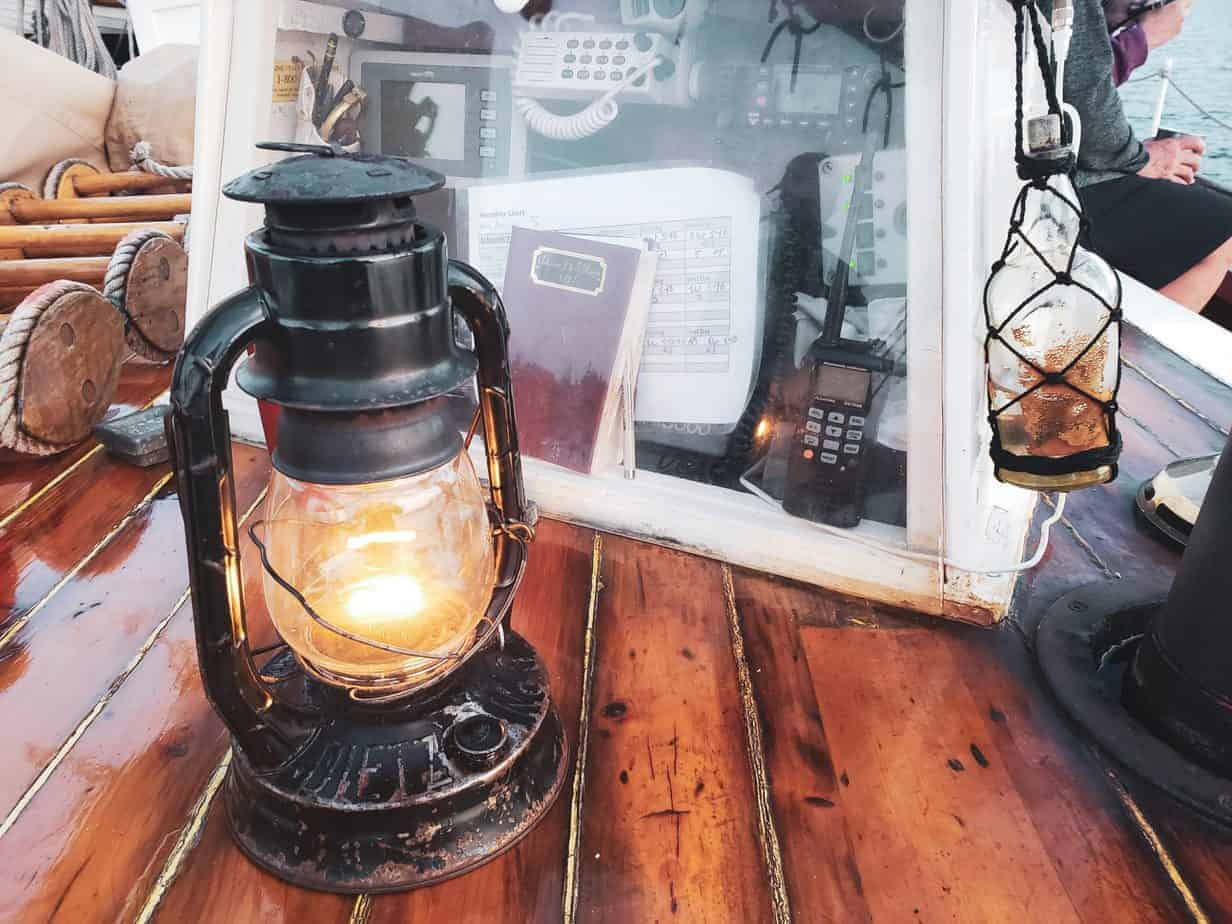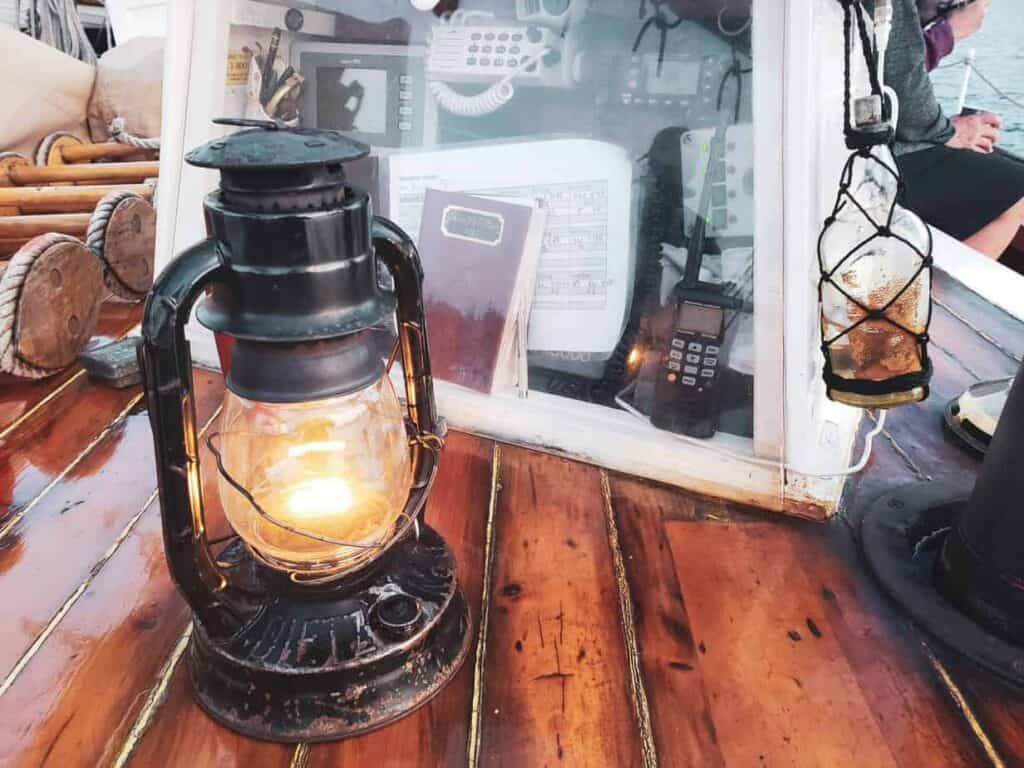 By trip's end, I could say without a doubt that the experience was fabulous, and above all, it was something really special and memorable.
But I can also surmise that all cruises offered are likely vastly different. No two journeys are the same, and that's part of what makes this so amazing. So, while your experience will doubtless be its own magical time, if you're thinking of going on a sailing cruise in Maine, I'd love to tell you just a bit of what you can expect on this adventure.
Maine is Gorgeous
First of all, if you're going on a schooner cruise in Maine, you probably already know that the Maine coast has some of the most spectacular scenery. With that, you will not be disappointed.
The Penobscot Bay, where the J&E Riggin sails, is breathtaking. During the trip we were constantly passing islands of all sizes and descriptions. Rocky coasts, pine-covered hills, and even treeless islands where the seabirds gather.
Our cruise took us past a half dozen or more lighthouses, which is definitely a highlight of traveling in Maine.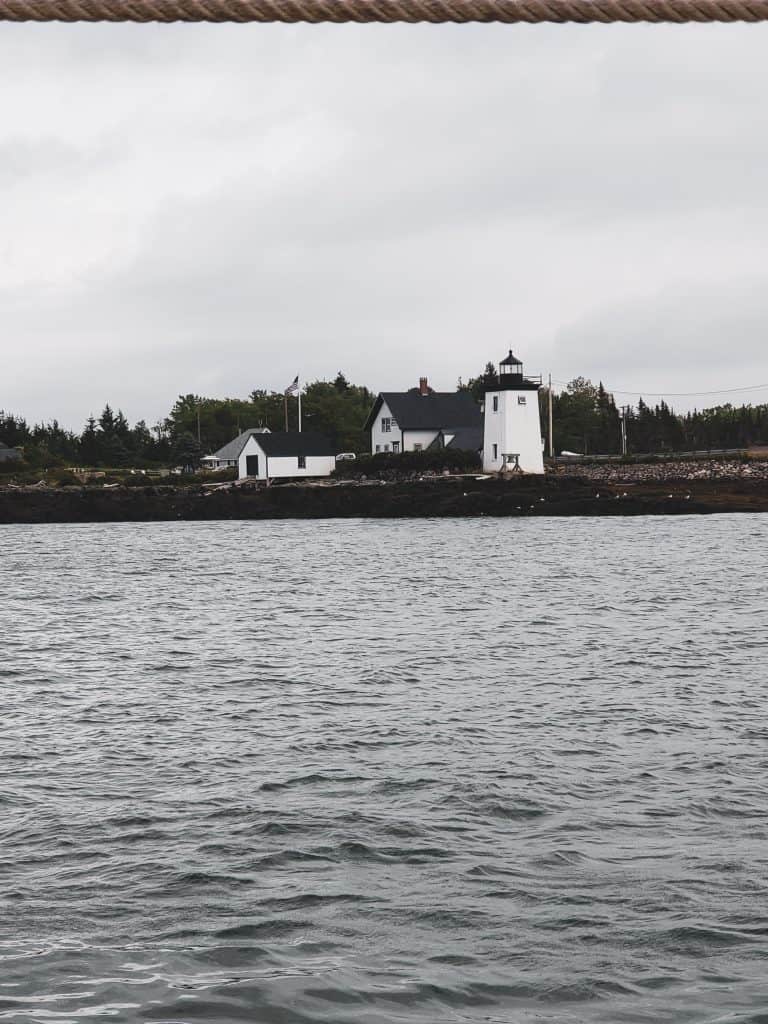 As you sail on your Maine schooner, you'll spend a lot of time gazing out at the blue waters of the Atlantic Ocean. Luckily, it's incredibly beautiful. The meeting of the sea and sky, interrupted only by the gentle waves and the occasional porpoise or seal surfacing, is a hypnotic and peaceful sight.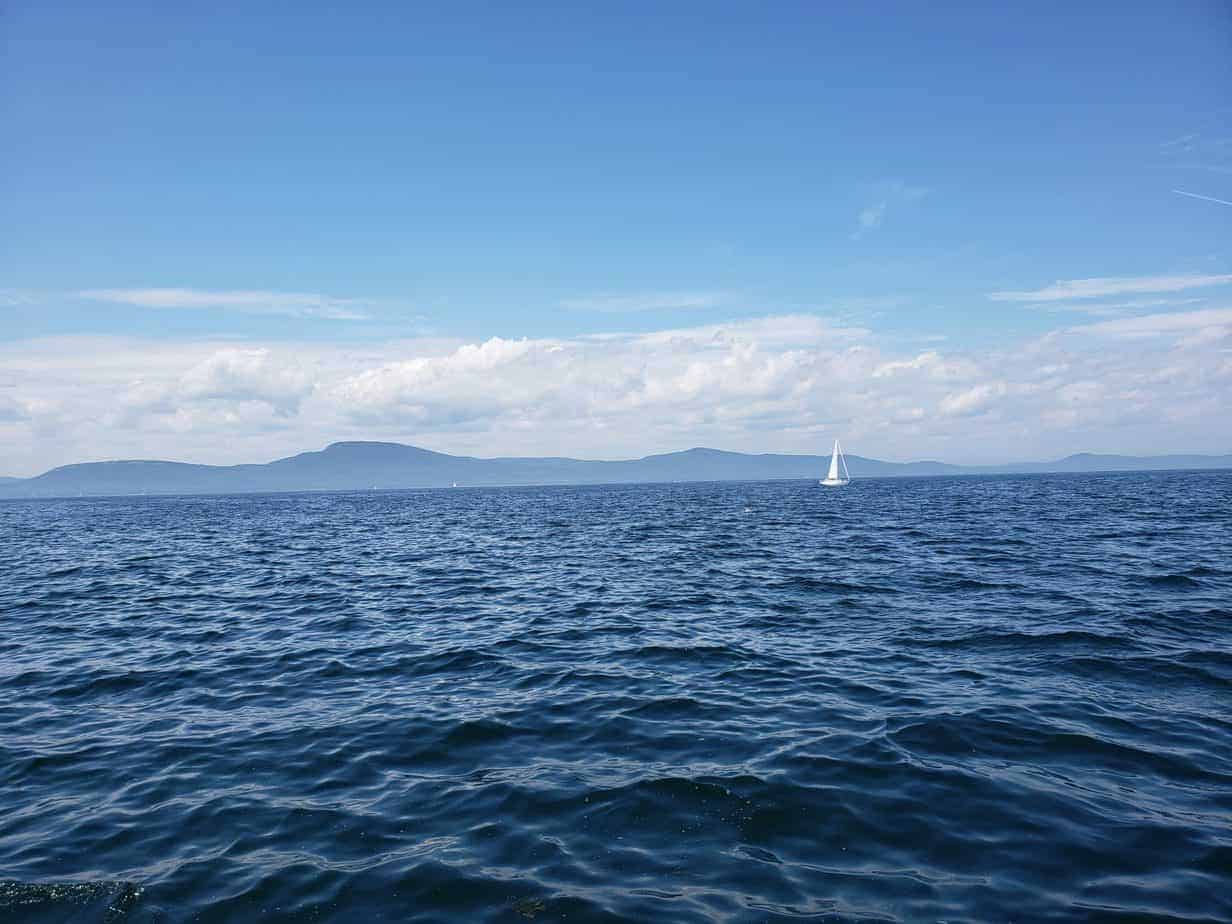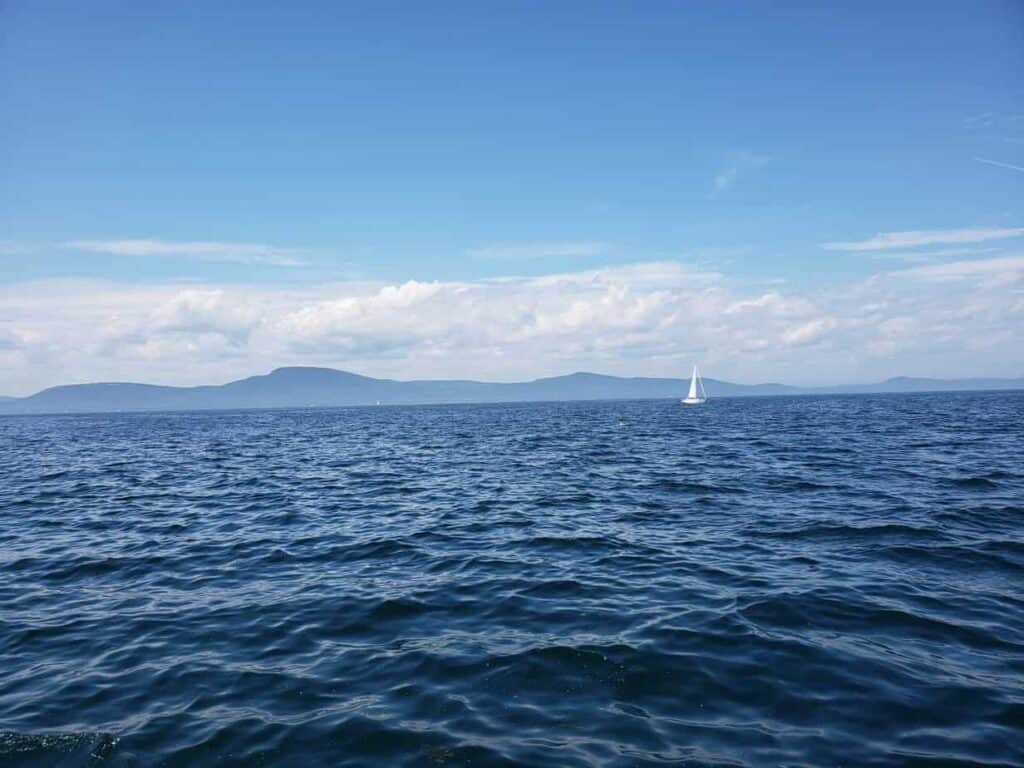 You'll Get Used to Everything Very Quickly
I have mentioned that I was slightly nervous my first night aboard the boat. My primary misgiving was the cabin. They are admittedly….a bit snug. I was sharing with Nicki and I took the top bunk. Our beds were wedged into the wall, and though we had plenty of storage space for our things, my initial reaction was that I was not looking forward to sleeping there.
But my worries quickly evaporated. It's amazing how quickly a person can adjust to a new environment and a new routine. The cabins were ultimately extremely cozy. With a comfortable bed, a warm light to keep you company while you read under the covers, and the sound of the sea outside your window, you sleep like a baby.
And you don't spend much time in your cabin anyway. Nearly all your time awake is spent up on deck relaxing, chatting, dining, and sailing.
Aside from the accommodations, there are a few other unique features of schooner life to adapt to. But again, you adjust so quickly. The bathrooms on the ship are known as "heads" and they require a system of pumping to flush them. This must be done every time you use the head.
Don't worry. It soon becomes second nature. (Now that I'm home, I find a self-flushing toilet to be a thing of WONDER).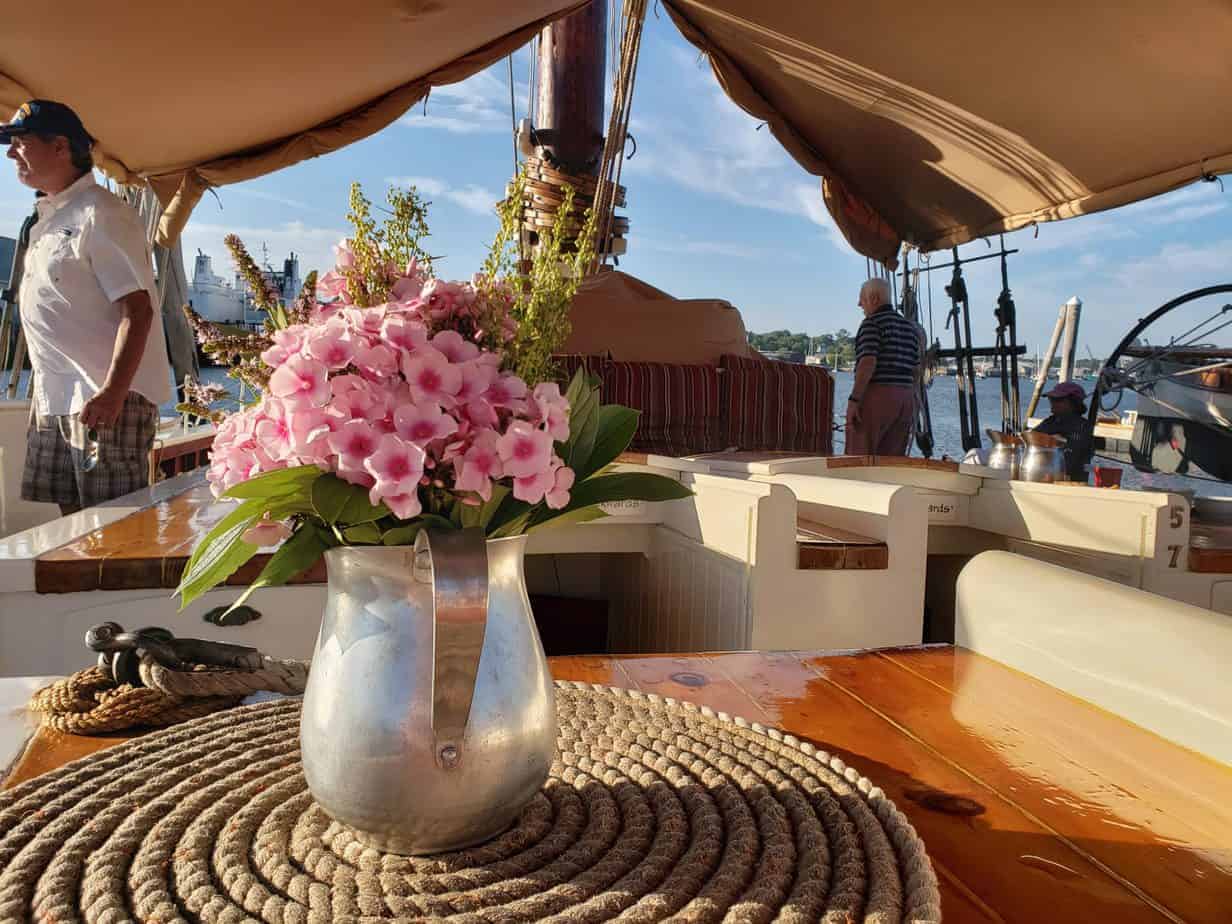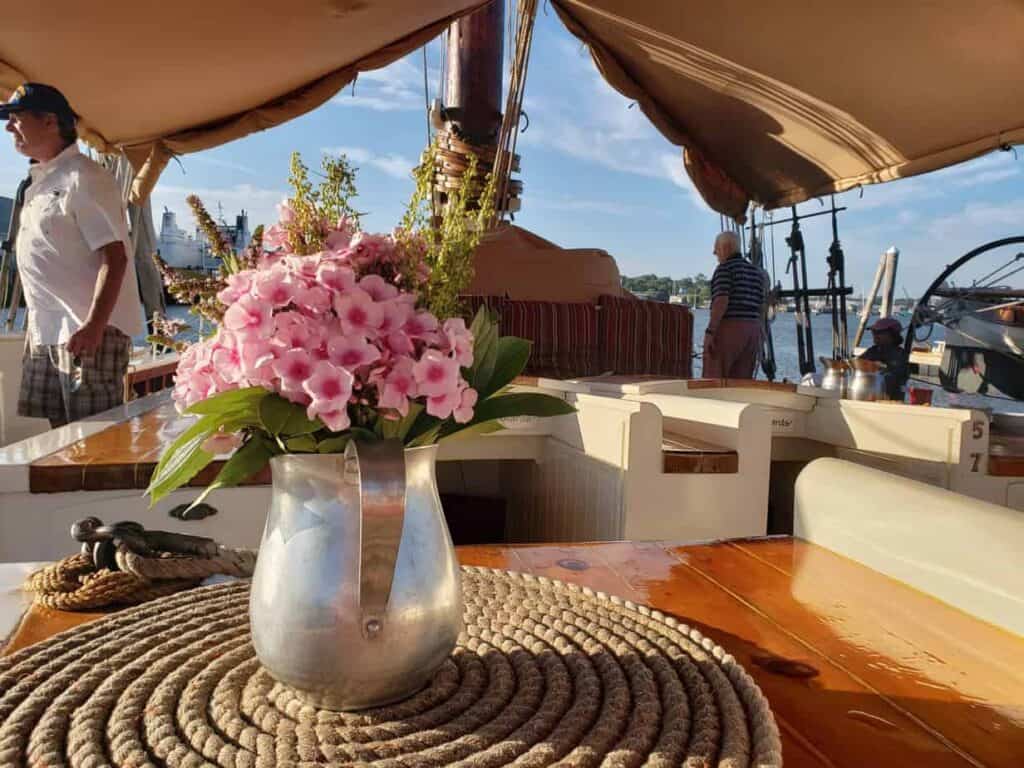 You'll also have to share a single shower with all other passengers aboard. But again, this is no problem. When you want to rinse off, the crew can turn on the hot water and you can enjoy a pleasant shower in one of the heads. Most passengers are happy to shower just once while onboard (which is what I did).
The remainder of the time, let the sea be your natural cleanser! Hop in for a refreshing swim in the saltwater. You can also pack some essentials like dry shampoo and baby wipes—more on that later.
You Can Sail a Boat
While I still think sailing seems incredibly complicated, this Maine sailing trip taught me that—if you work as a team—anyone can help sail a vessel!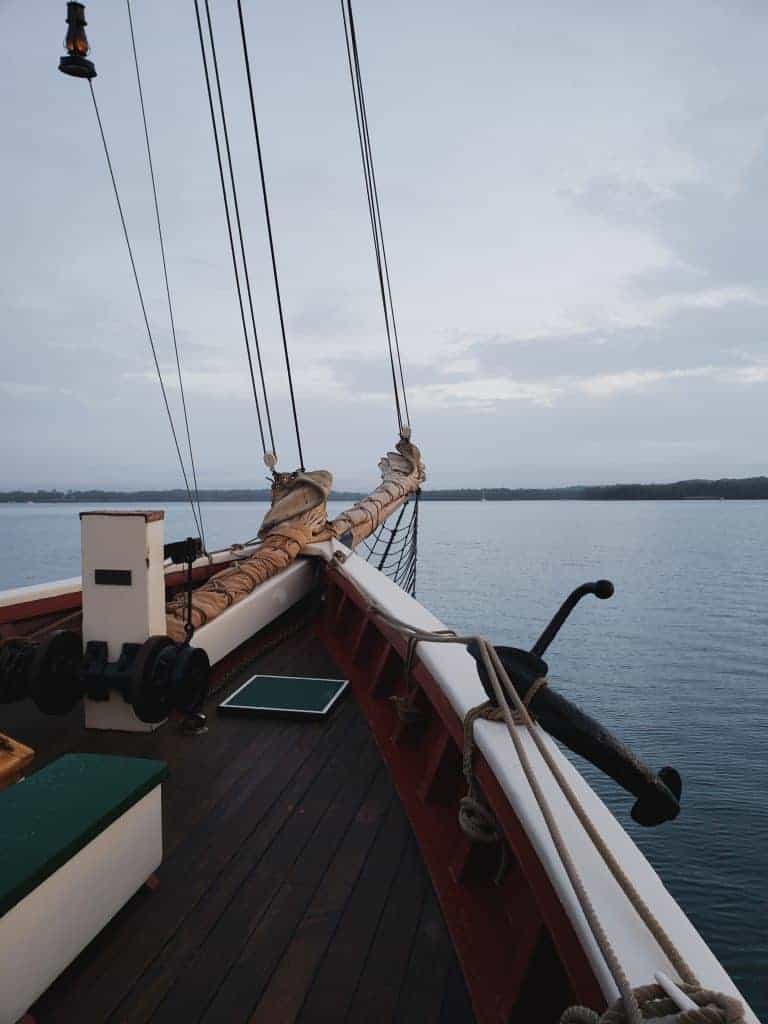 Each day, when the crew of the Riggin raised the sails or heaved the anchor, they asked for volunteers. I never volunteered for the anchor raising…grown men seemed to quiver in their boots after that arduous task. But I did help out with raising the mainsail a few times.
Together, we all stood on the port and starboard sides of the deck and pulled the ropes hand-over-hand to lift those incredible, huge sails. It was rewarding work and it really makes you appreciate just how many "hands on deck" are necessary to help keep a boat afloat.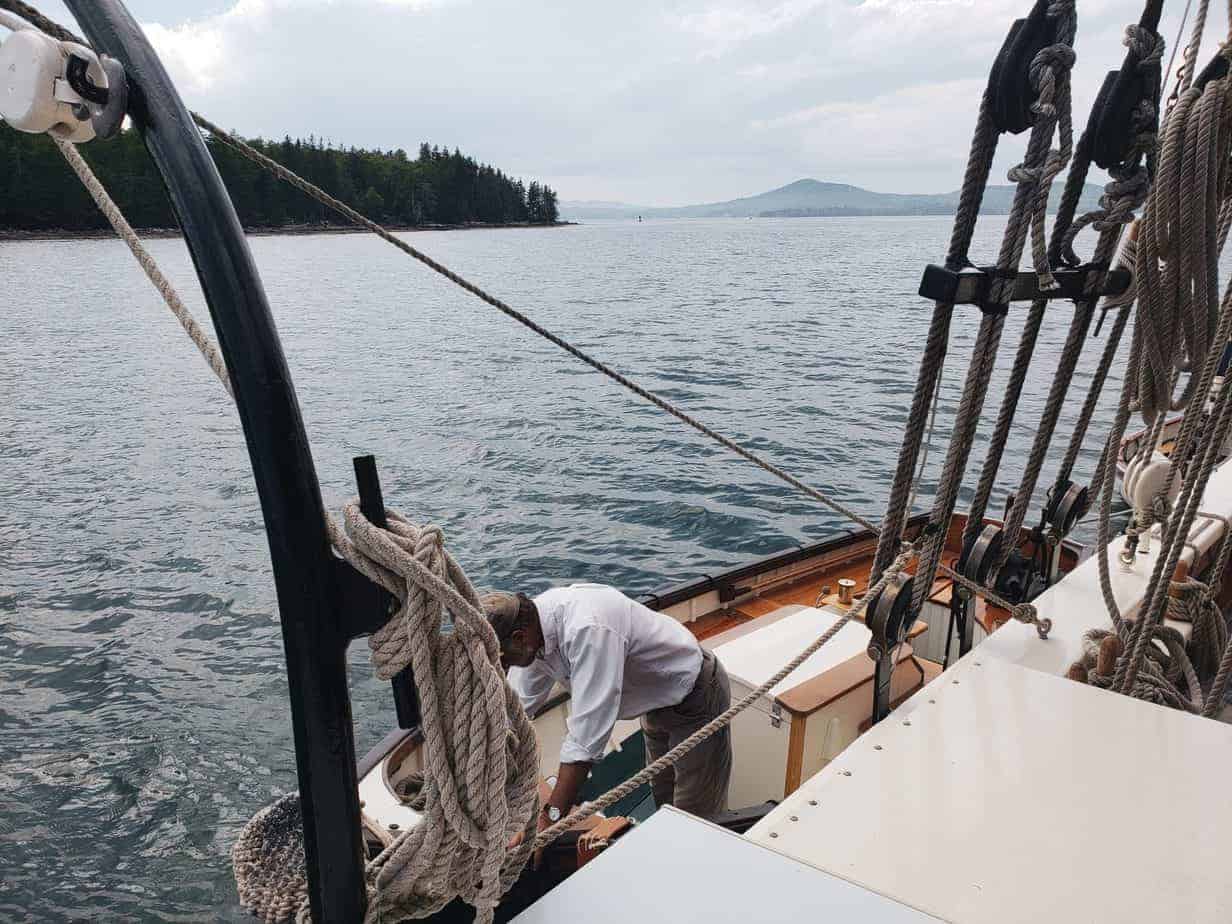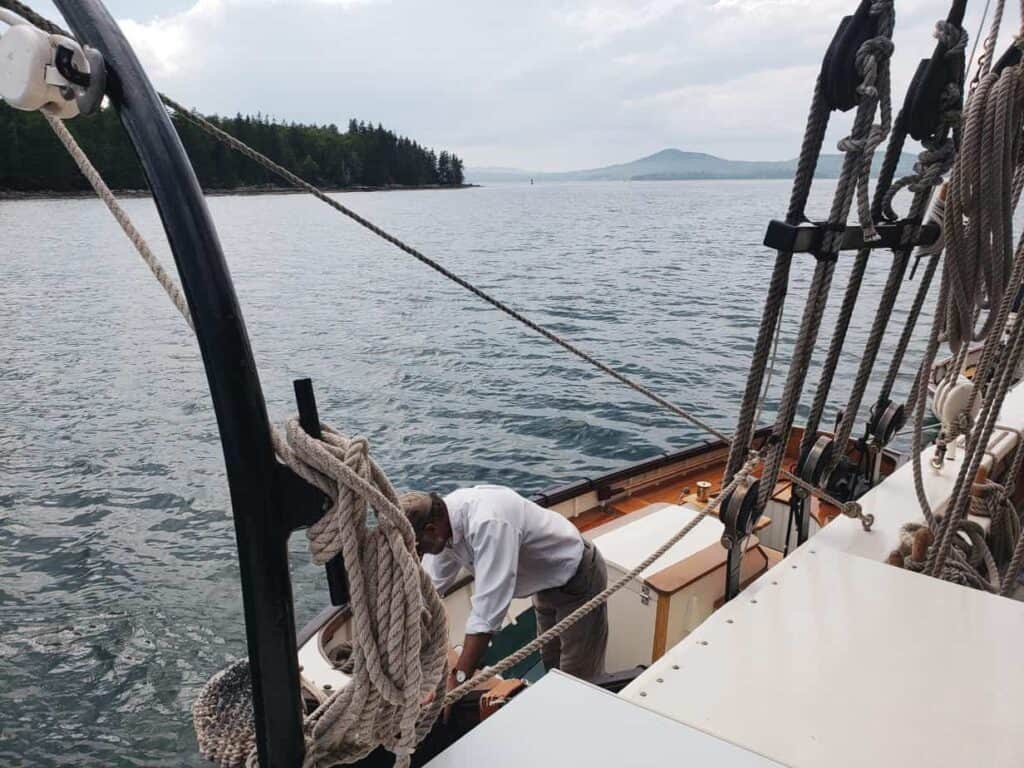 Each Day is an Adventure
Because sailing relies so much on the wind, each day dawns with a somewhat unexpected itinerary. Though Captain Jon has a plan in mind, the Riggin often ends up "where the wind takes it."
This is one of the most enjoyable aspects of the windjammer cruise. Every day will include some sailing as you make your way to your next stop.
Nearly every day gives you a chance to walk ashore, too. On our cruise, we stopped at Warren Island State Park, where we had our traditional lobster bake, as well as the town of Castine, which we were able to explore for a few hours.
You can expect to see a lot of the Maine coast and the Penobscot Bay on a schooner trip on the J&E Riggin. Wake up each day ready and hoping for an adventure and I'm pretty sure you'll get your wish.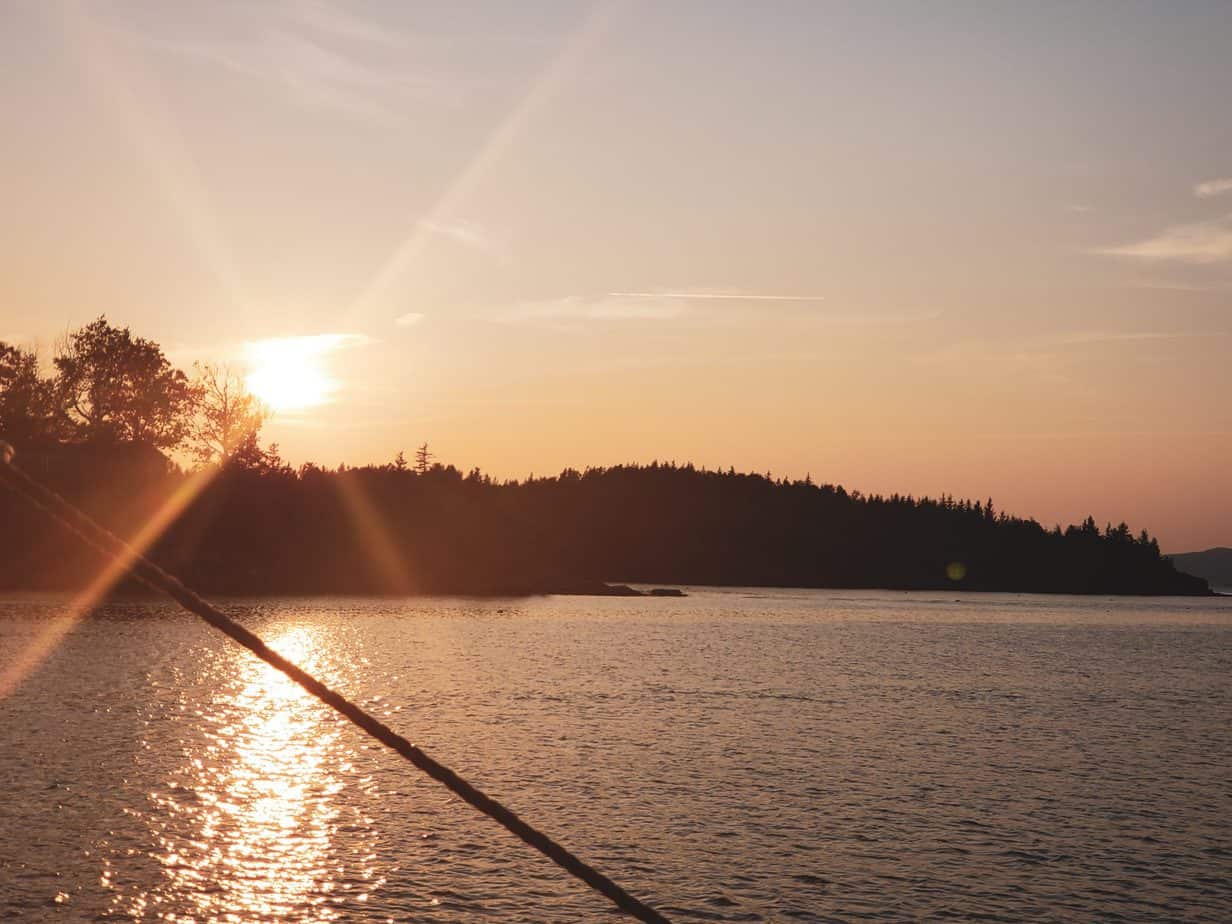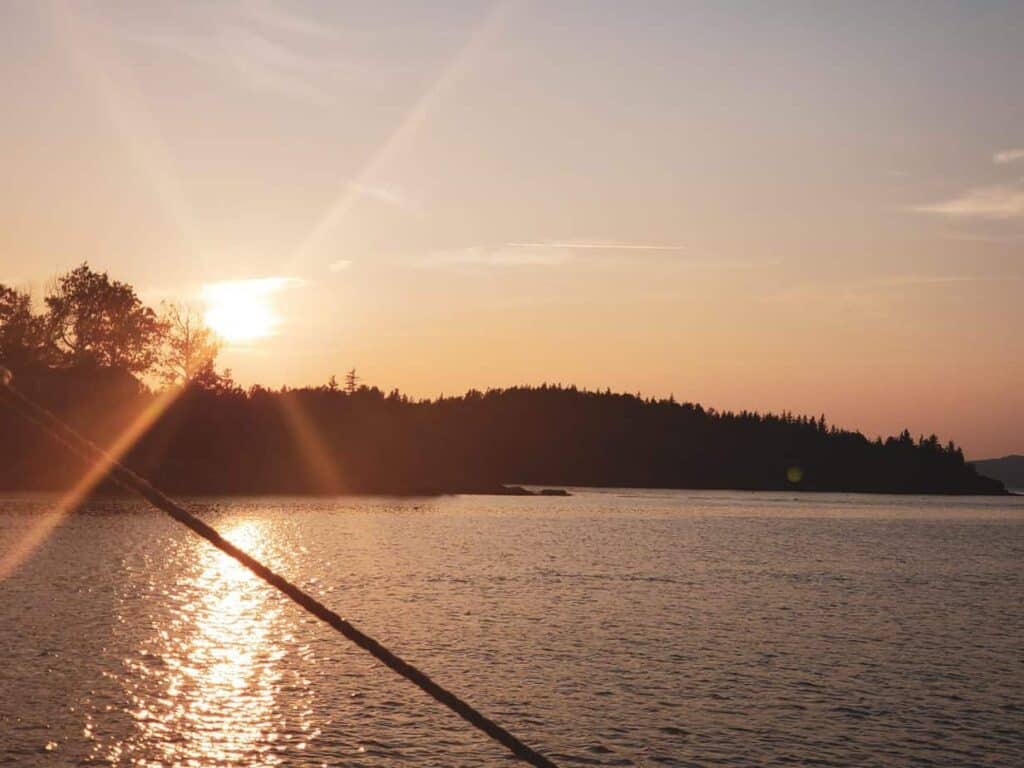 The weather can be unexpected, too. But even rainy days can turn into beautiful nights, and in any situation, the crew works hard to keep you comfortable. Honestly, having a bit of a storm at sea can be kind of fun.

Wildlife is Everywhere, Keep Your Eye Out for It
Maine is a great place to spot some of God's most amazing creatures (moose, to name just one), and the coast is no different. We saw porpoises, eagles, osprey, and my personal favorite, seals.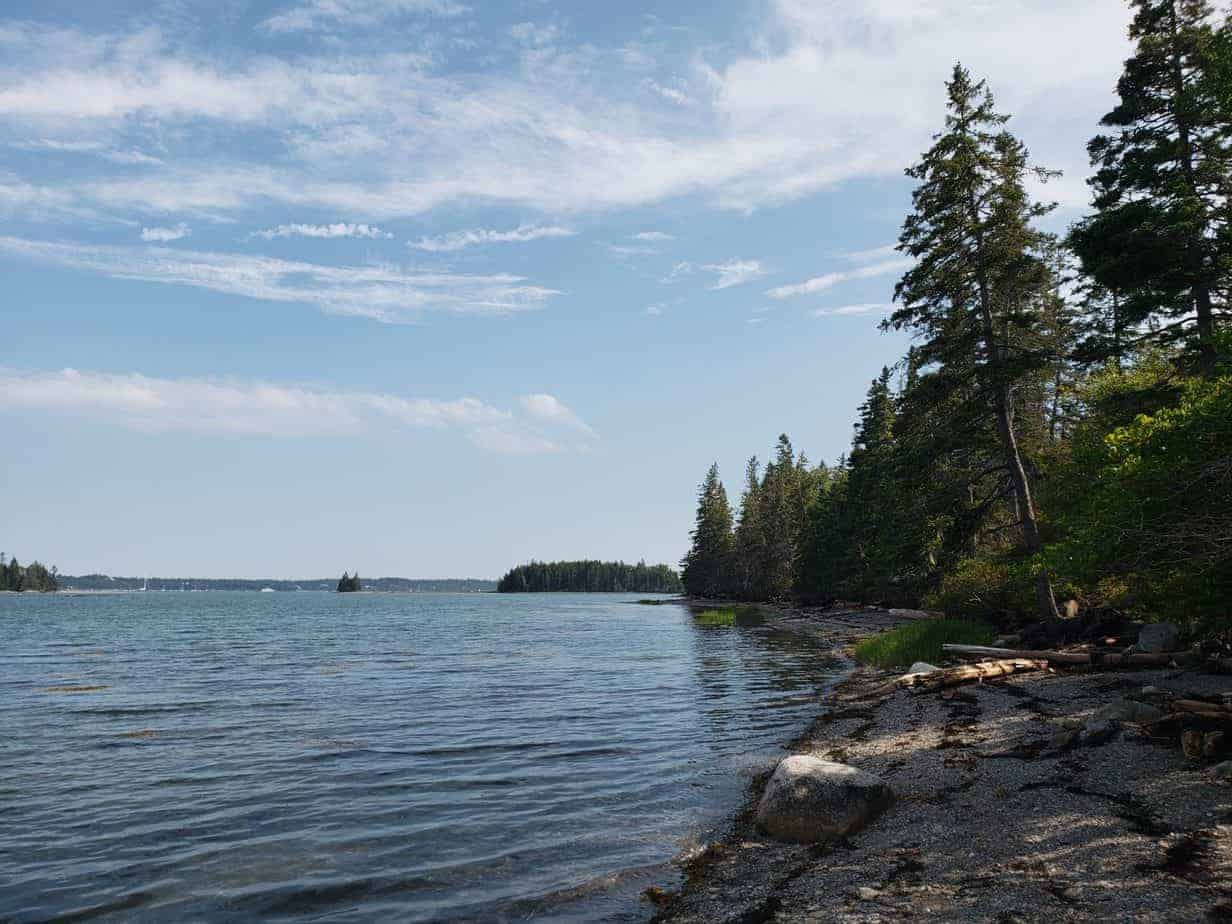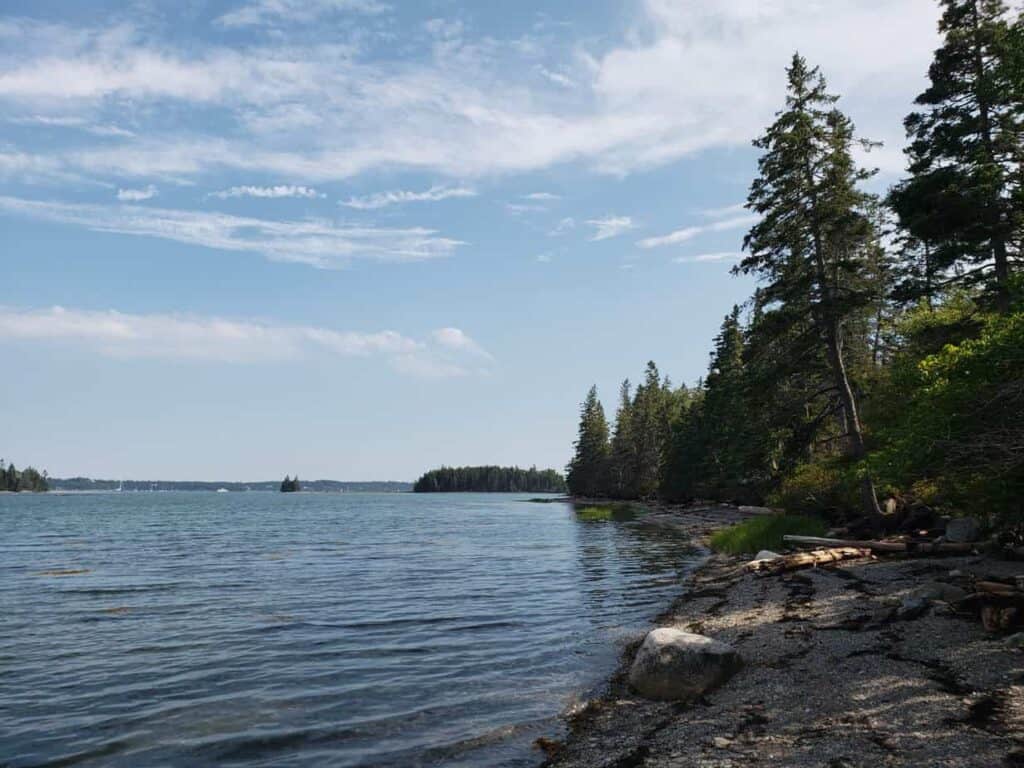 Wildlife can appear at any time, and it's usually when you least expect it. I found that just looking out at the water was the best method. Seals and porpoises are constantly popping up, sometimes fairly close to the boat. If you stay patient and keep your eyes open, you'll almost certainly be rewarded with some Maine wildlife sightings.
You Will Be Eating Like a King (or Queen)
Before departing on our Maine windjammer cruise, we heard multiple times how fantastic the food was going to be. Those were words of truth! My goodness, we ate like royalty on the J&E Riggin. Every breakfast, lunch, and dinner was out of this world.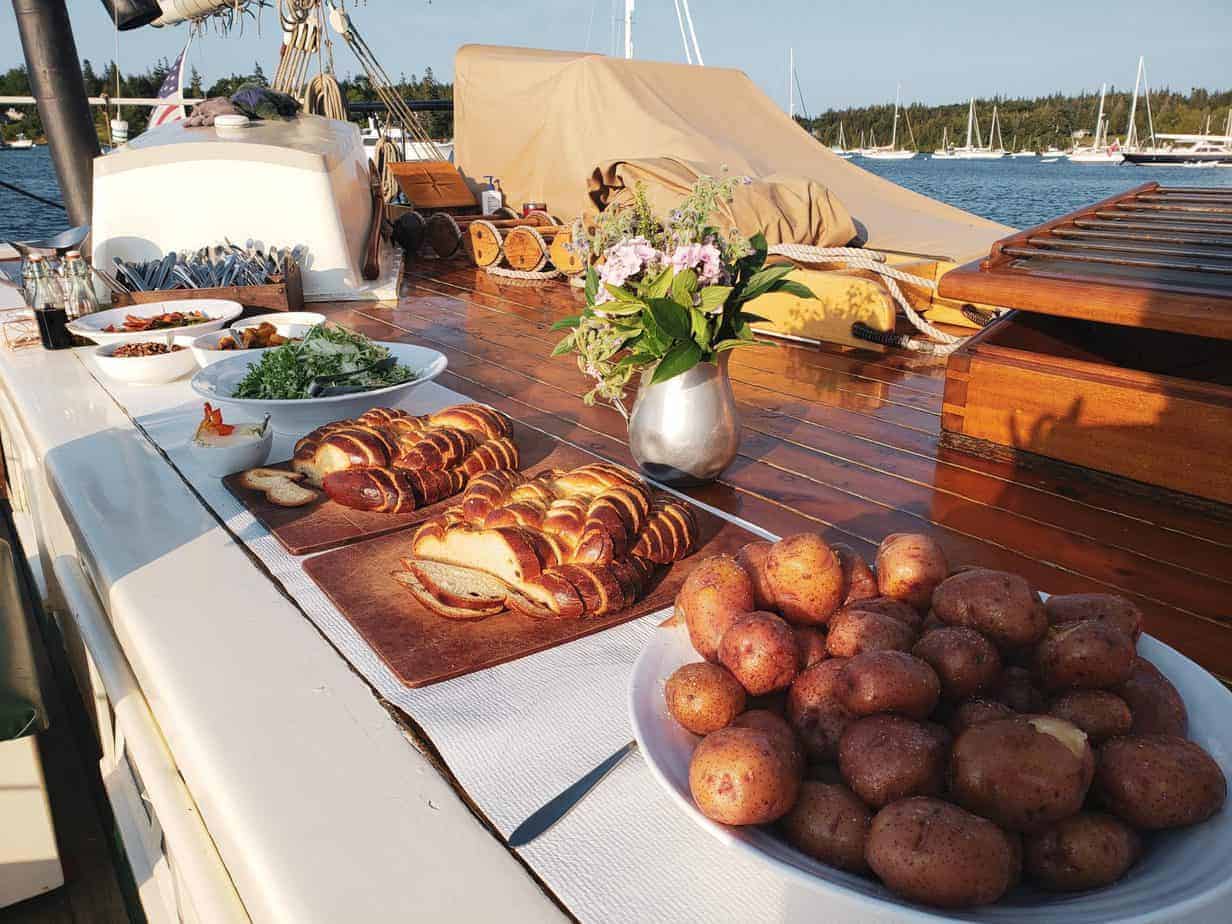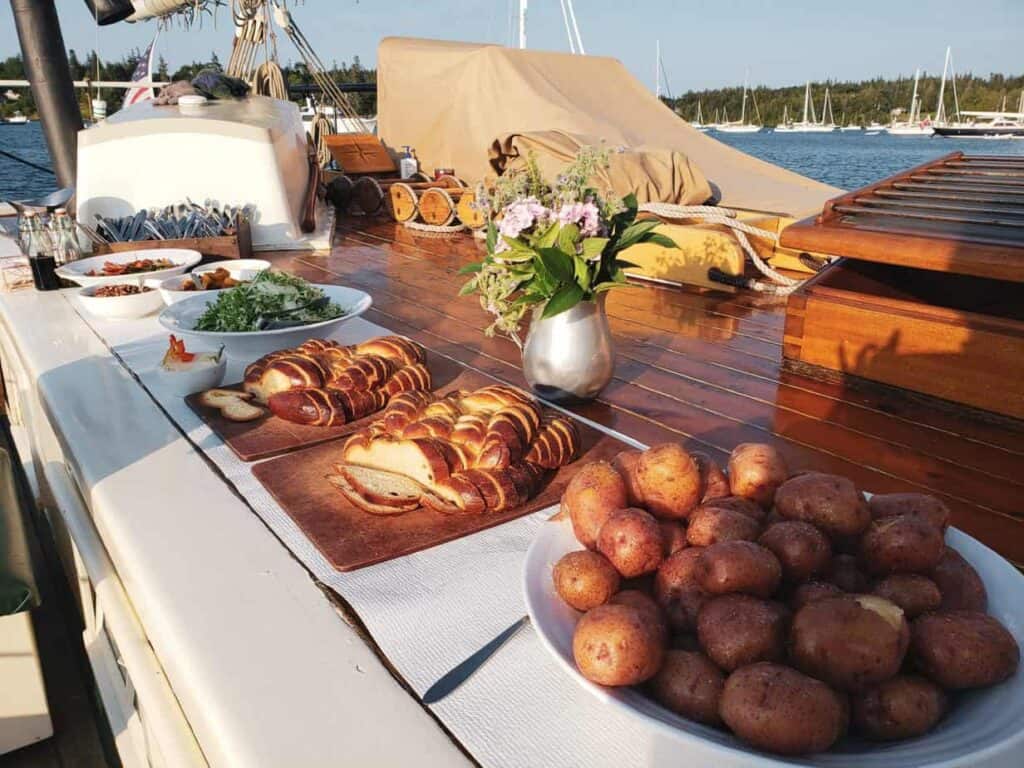 We had pastries for breakfast, homemade pancakes with a choice of three flavorful syrups (Maine blueberry available of course) and a hearty vanilla oatmeal one morning. There was fresh coffee every day. Home baked bread. Dinners ranged from Asian inspired rice bowls to hearty beef rubbed with herbs de Provence. Incredible deserts every evening, including peach cobbler, creme brulee, and a chocolate tart.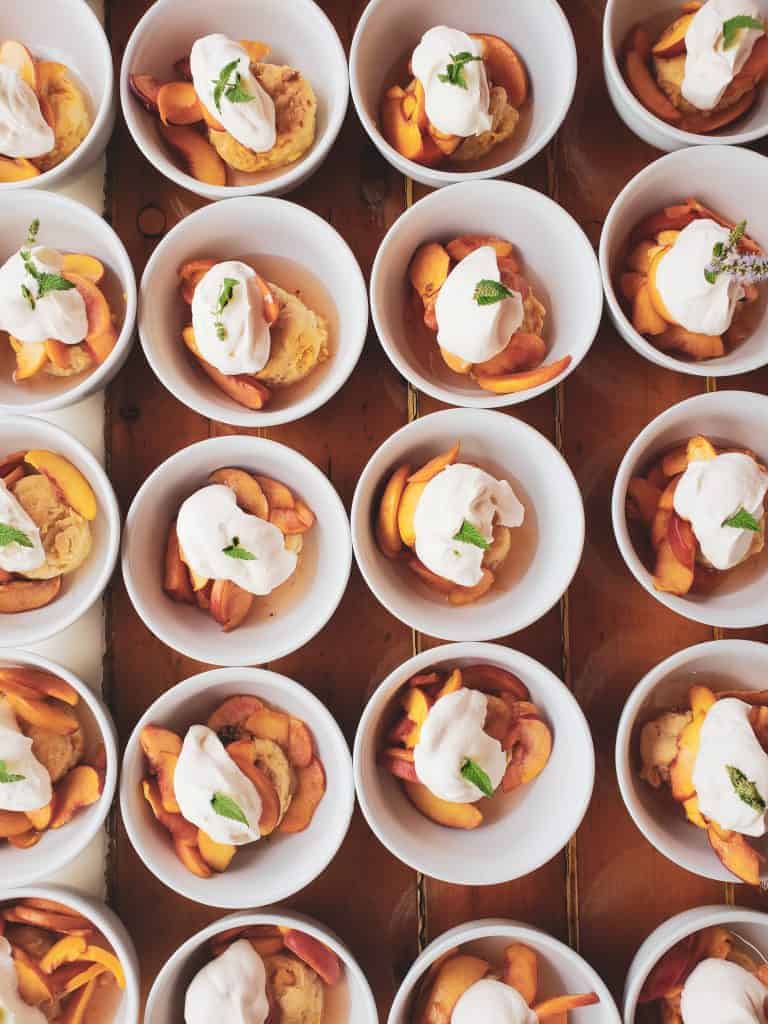 One of the highlights is the traditional lobster bake. The whole group heads ashore to cook up some fresh-as-can-be Maine lobster. The result is both delicious and visually beautiful! Along with corn on the cob, paella, fresh fruit, and s'mores for dessert, it's the perfect summer meal.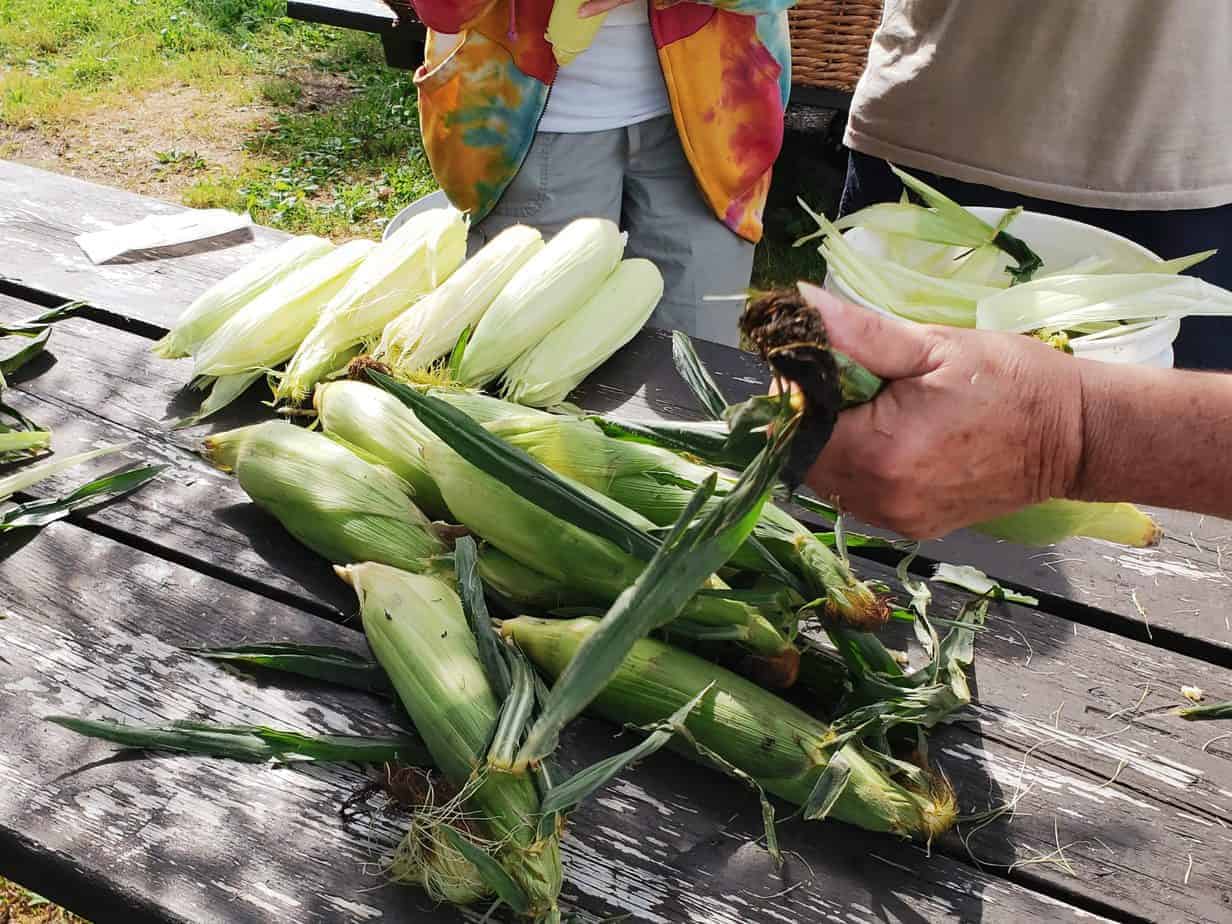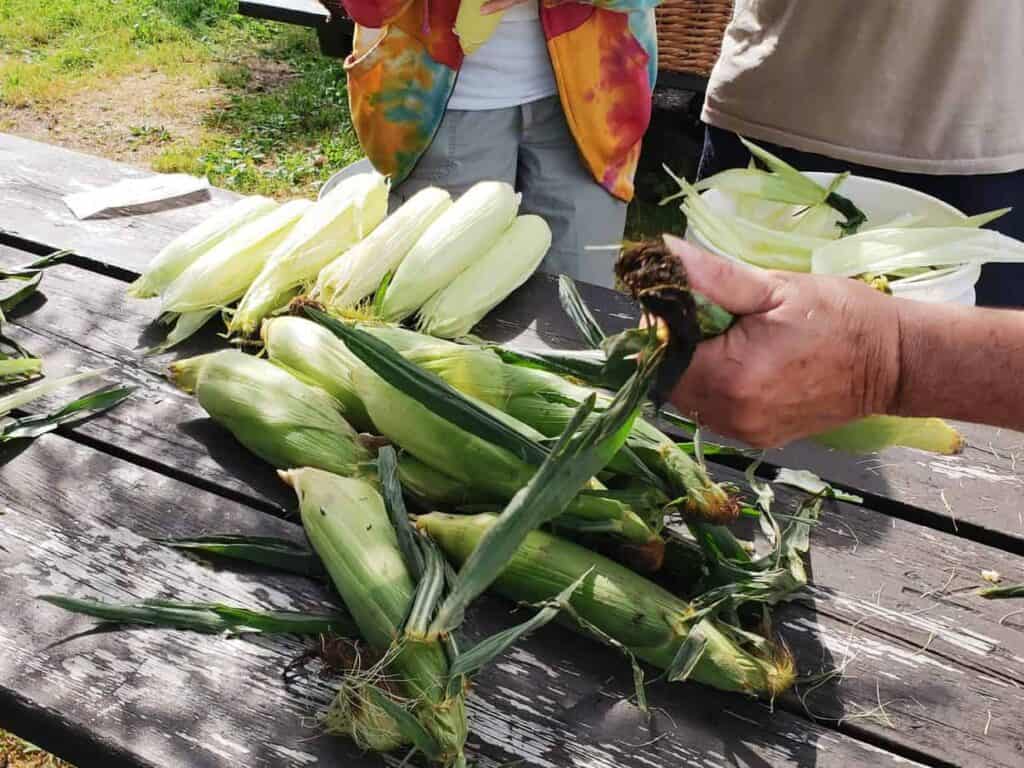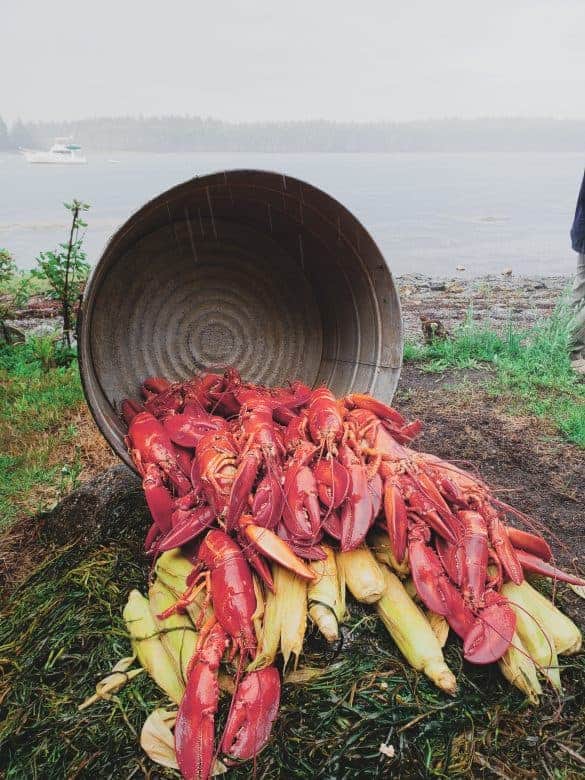 The cruise is BYOB, so bring along your favorite beverages to enjoy while onboard. There are lots of great Maine beers, ciders, and wines you could choose from if you want something local.
Your Shipmates Become a Bit Like Family
I think one of the most special things about a schooner cruise is the people you meet. There were passengers from all over the US, and it was a joy to chat with each of them.
I also really enjoyed interacting with the crew, and most of all with Captains Jon & Annie. These two are the owners of the vessel and the creators of the wonderful schooner experience aboard the Riggin. Jon is the ship's captain while his wife Annie prepares the gourmet meals down in the galley. They are both aided by a crew of young, energetic people who were such fun and kind souls.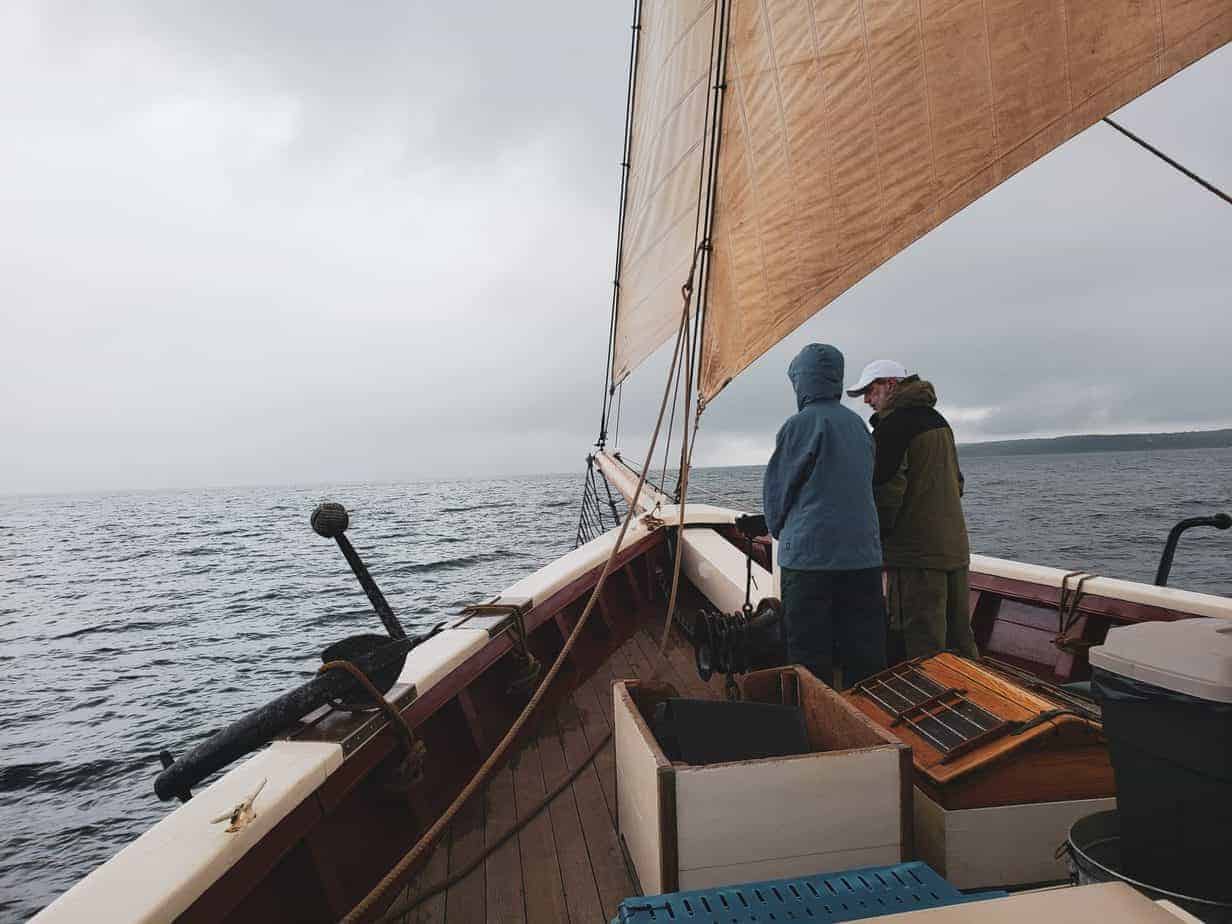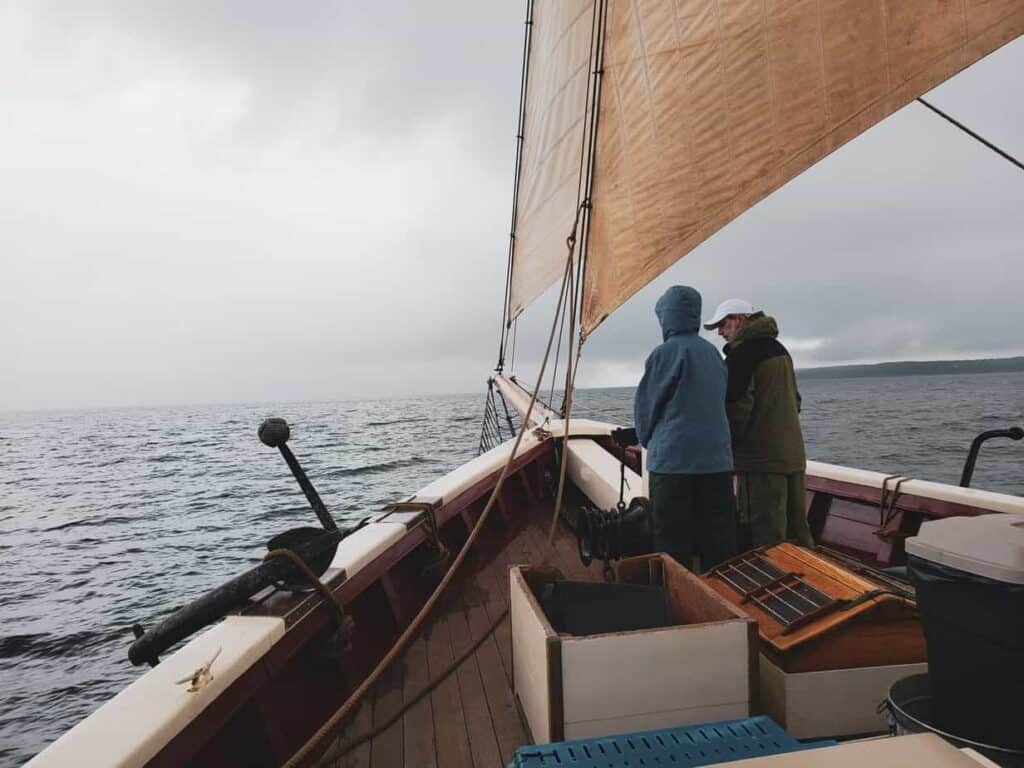 The J&E Riggin truly is a family affair. On the last night, Annie, Jon, and their daughter Ella, who was a crew member, entertained us with music and singing.
As we swayed in the falling darkness, the light of the lanterns gently illuminating our faces, we listened to the clear sounds of their voices bringing us traditional seafaring tunes. It was beautiful and sort of haunting, but I could see that every passenger relished the moment.
I can honestly say that this is one talented family, between sailing, building, cooking, music, writing, and even art. It's really special to get to know Annie, Jon, and the rest during those few days aboard the schooner. You can't help but bond with one another through the experience.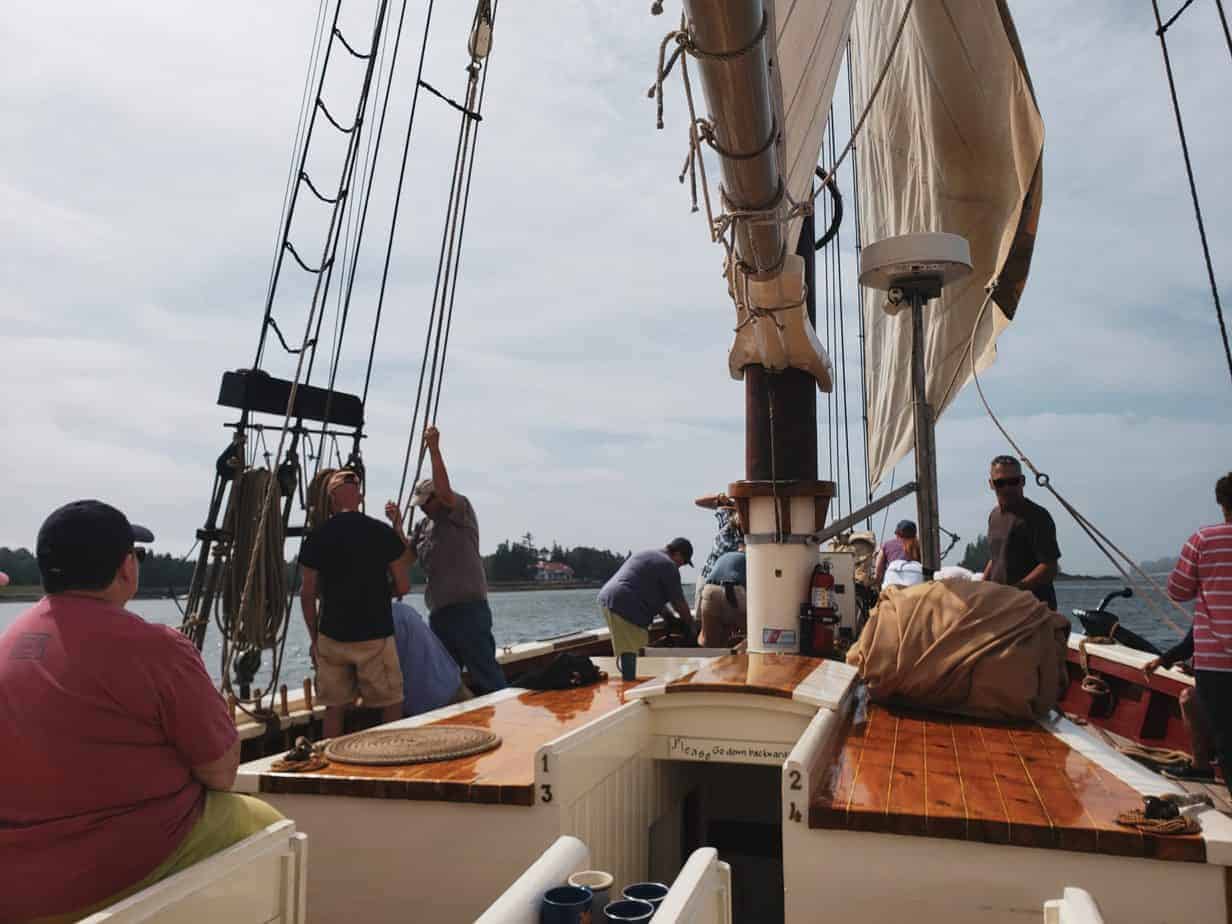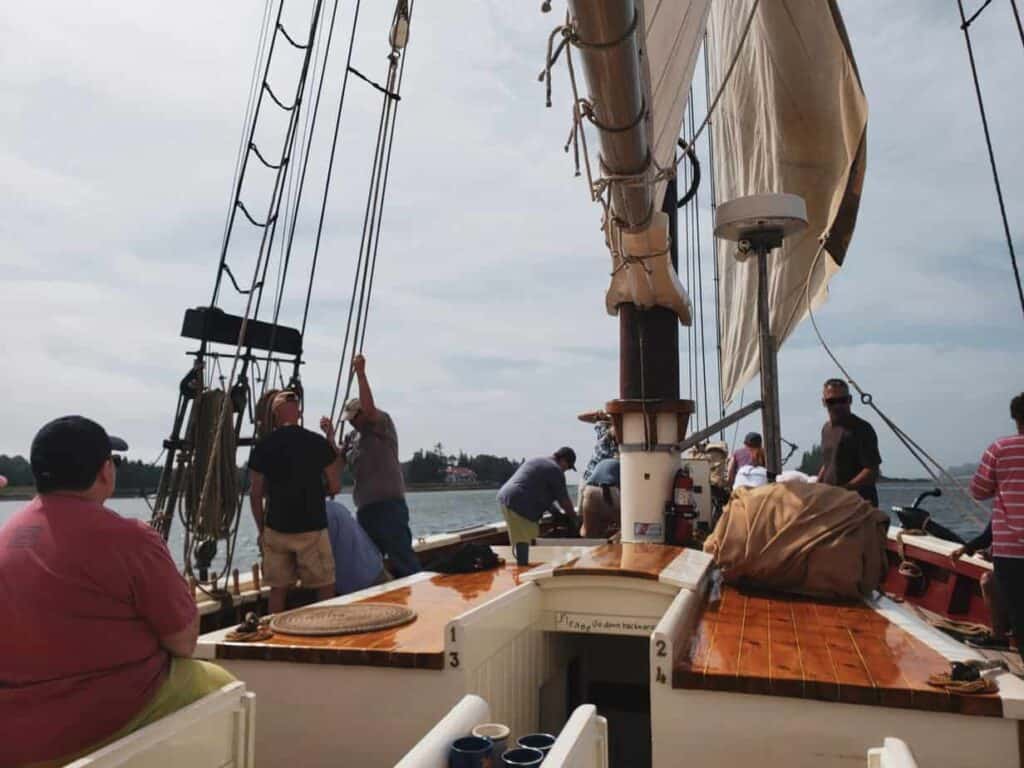 Maine Windjammer Cruise Packing List
If you're sailing in Maine, there are a few things you'll want to be sure to bring. Summer in Maine can be warm, but out on the boat, the temperatures are often 20 degrees colder than onshore. Combine that with brisk winds and nighttime temps and you're basically going to 100% need a jacket!
We went out on some super hot days and I still had to don my sweatshirt several times. I highly recommend bringing items of varying thickness so that you can layer (and un-layer) as need be. Aside from that, pack for practicality and comfort. Here's what I suggest you pack:
Functional clothes you can layer
Dramamine or other anti-seasickness medication
Cleansing wipes
Dry shampoo (this one's my fave)
Hair elastics
Binoculars (so you can spot all the wildlife)
Hat
Sweater or sweatshirt (this one is appropriate)
Waterproof jacket or windbreaker (this jacket is currently the #1 bestseller for men)
Comfortable shorts/pants
Sandals with backs or boat shoes
Personal flashlight
BYOB
Portable charger (you probably won't use a phone much on the trip, but if you're taking a lot of photos, bring a battery backup. This will come in handy on other trips, too). A solar one is a great idea!
A book to read
Sunglasses
Small container for jewelry
It's also wise to bring sunscreen and other toiletry items, but the boat also has plenty of these on board, so if you forget about an item, don't worry.
How Much Does a Maine Windjammer Cruise Cost?
There are actually several different ways you can get out on a windjammer cruise in Maine! You don't have to go on a multi day windjammer cruise to get a taste of Maine windjammer life. Check out these Maine windjammer cruises below!
Maine Windjammer Tours
This incredible Maine windjammer sunset cruise sails out of Camden Harbor, and it's a great option for those who don't want to commit to a multi day adventure at sea! This windjammer tour is about two hours long with cocktails available for purchase on board, so this would be a very cool idea for a date night at sea!
Click Here to Check Prices & Book!
This Portland Tall Ship Cruise on Casco Bay is perfect for all ages. Just two hours long, you'll sail from Portland, Maine on Casco Bay aboard one of three historic wooden windjammers. Snacks and beverages are BYOB, so come prepared!
Click Here to Check Prices & Book!
Departing from Bar Harbor, this two hour windjammer sailing trip takes you through beautiful Frenchman Bay in Maine, allowing you a chance to take in the gorgeous Acadia National Park views from the sea! There are beverages for sale onboard and if you opt for the sunset sail, there's even a live musician on board!
Click Here to Check Prices & Book!
Read Next:
---
Pin this post to save for later!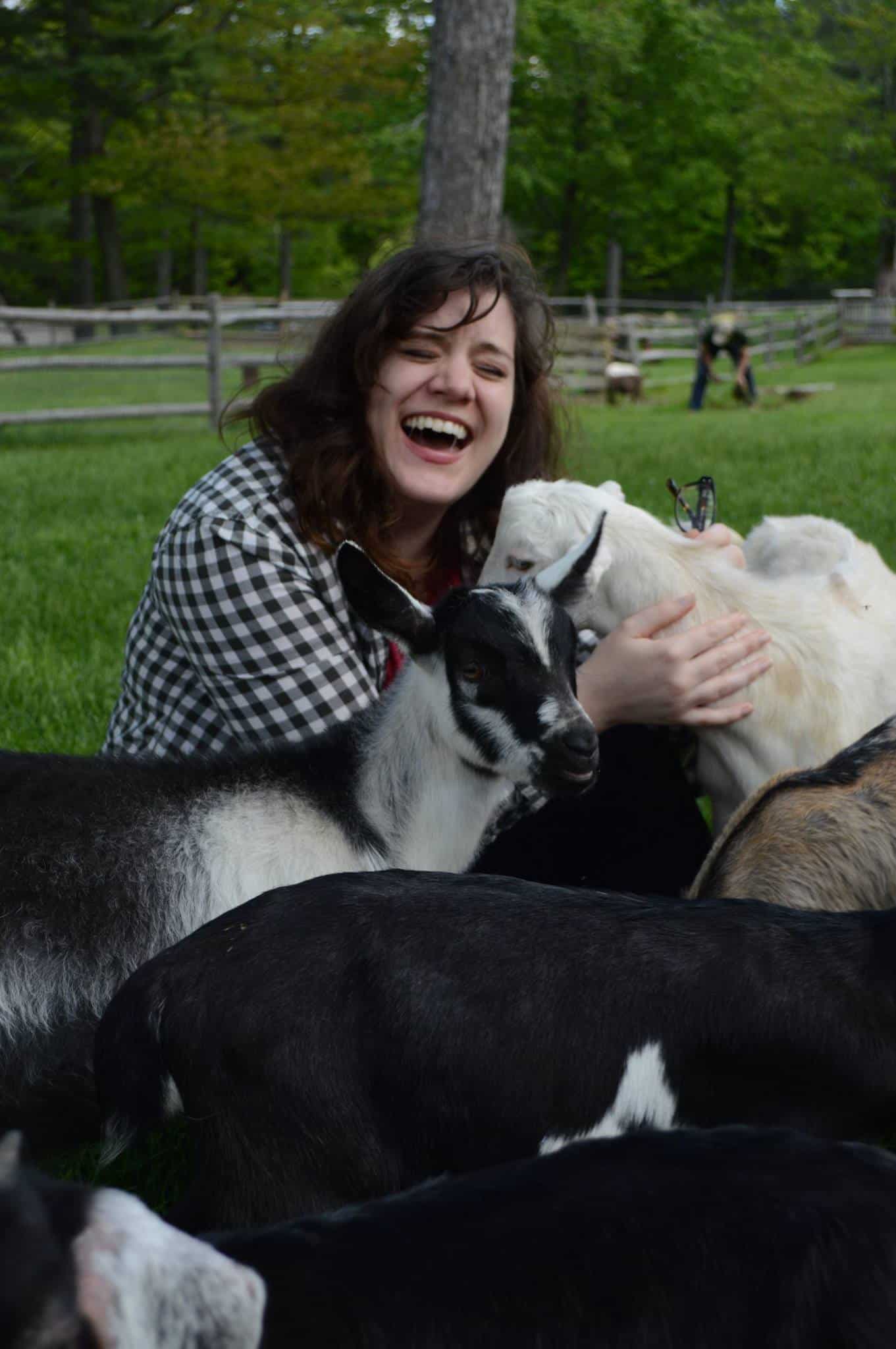 Amy Hartle is the founder and Editor-in-Chief of New England With Love, a comprehensive resource for travel in the New England region. Amy has been exploring New England since 2001. She lived in Vermont for many years and is a graduate of Plymouth State University in New Hampshire. Amy has been writing about travel for over a decade. On this site, Amy aims to share her love of New England and help you to have the best possible adventures!
Amy has been a full time blogger since 2012, and is also the publisher of Two Drifters, where she writes about couples travel and relationships, as well as Let's Adventure Baby, a family travel site. When not traveling the world or creating epic blog content, Amy can be found cuddling with her husband, son, and cats, & drinking a maple latte.