*This site uses affiliate links; if you make a purchase through these, I may receive a small commission at no cost to you.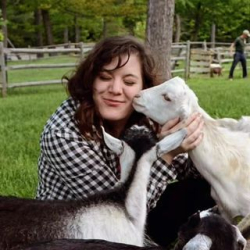 Latest posts by Amy Hartle
(see all)
Maine is one of the best destinations, no matter the time of year. However, summer in Maine is unlike any other. From spending time at the beautiful beaches to going on hikes in epic parks, the number of fun activities is endless.
Because there are so many great places to visit in the summer in Maine, it can be easy to feel overwhelmed! Don't worry, though. This post will cover all of the best Maine destinations to visit in the summer and some of the best activities in each place.
Summer in Maine
Bar Harbor
Bar Harbor is easily one of the top-visited destinations in Maine, and for good reasons. It's located right next to Mount Desert Island, the beautiful Frenchmen Bay, and is genuinely a quaint yet breathtaking and scenic location with lots of gorgeous hotels and inns.

What to Do in Bar Harbor
Easily, the top thing to do in Bar Harbor is taking a day trip to Acadia National Park, which is later on in this list too. Other great places to visit include Sand Beach, taking a boat tour of Frenchmen Bay, and visiting the Abbe Museum.
You can also head about 20 minutes from Bar Harbor to Trenton, Maine for some great waterpark fun at the Funzone at Wild Acadia Camping Resort. You can purchase a day pass or rent a space at this very cool campground!
Freeport
If shopping is something you love to do, then you'll want to visit Freeport for a great summer in Maine. This is one of the most popular destinations for people traveling in New England because of how quaint and fun it is.
What to Do in Freeport
It might sound strange, but Freeport is often visited by those who want to visit L.L. Bean. This location, in particular, has a huge Bean boot outside that you can take photos with! Other fun activities in Freeport include walking the trails in Wolfe's Neck Woods State Park, exploring the Desert of Maine, and shopping in the downtown area.
Kennebunkport
For a coastal summer in Maine, you'll want to visit Kennebunkport. The beaches here are absolutely incredible, and there are some great historical and educational attractions throughout this town. It can be an excellent location for all ages! Plus, it was the home of the Bush family, which helped to put this location on the map.
What to Do in Kennebunkport
Head to Gooch's Beach to try out surfing or even take lessons from a local. Colony Beach is a great alternative. Be sure to stop by St. Ann's by-the-Sea Episcopal Church for the incredible architecture and also take in the views from the Goat Island Lighthouse, which is still in use today.
Read More: The Best Things to Do in Kennebunkport, Maine
Ogunquit
Located in southern Maine on the coast, Ogunquit is well-known for its art culture and great beaches. Plus, the restaurants in Ogunquit are incredible. Many people argue whether Ogunquit or Kennebunkport is a better destination, but honestly, it's an even playing field.
What to Do in Ogunquit
The top-rated attraction here is Ogunquit Beach which has breathtaking views and a vast sandy area, so even at the height of the peak season, you can still find a place to relax alone. Walk along the Marginal Way for some of the best ocean views, and stop by the Ogunquit Museum of American Art to support the local art culture.
Augusta
Augusta is the capital of the state, making it an excellent destination for summer in Maine. Despite being the capital, it only has a population of about 18,000 people, so it has the feeling of a small city or a large town.
What to Do in Augusta
If you're visiting Augusta, you can't miss out on Old Fort Western, a historic outpost from colonial times that served the British. It's located right along the Kennebec River. Other attractions include the Maine State Museum (under major renovations as of this writing), the Maine State House, and the Vaughan Woods Trailhead.
Phippsburg
Home to beautiful Popham Beach State Park, Phippsburg is an excellent Maine summer trip destination. In fact, it's the busiest beach state park in Maine!
What to Do in Phippsburg
Enjoy fresh caught seafood at Spinney's Oceanfront Restaurant, explore Fort Popham State Historic Site, and have a beach day at Popham Beach. There are charcoal grills, restrooms, rinse off showers and lifeguards in the summer months.
Acadia National Park
As the biggest national park in Maine, Acadia National Park is the perfect place to visit during summer in Maine. It covers more than 45,000 acres and is known for its remarkable wildlife, hikes, beaches, and more. Most people plan on spending at least a few days in the park to see as much as possible.
What to Do in Acadia National Park
For great hiking, hike up Cadillac Mountain, which offers 360-degree views of the surrounding area. Drive part of Park Loop Road to explore the coastal regions of the park, and relax at Jordan Pond.
Read More: The Top Things to Do in Acadia National Park, Maine
Old Orchard Beach
Old Orchard Beach is not just a beach; it's actually a town! Like many other great Maine summer destinations, Old Orchard Beach is located right on the coast. Many of the fun activities here are outdoors, so this is an excellent location for those who want to get outside in the summer.
What to Do in Old Orchard Beach
Are you traveling with kids? Stop by Palace Playland. There are fun rides and places to eat here, and it's located right by the beach. For great restaurants, head to Old Orchard Beach Pier. You definitely won't want to miss out on Old Orchard Beach (which is a beach) to relax and catch some rays.
Kittery
Another top shopping destination in Maine is Kittery! In fact, if you're a budget shopper, you're going to love Kittery. People from all over New England travel here because of the abundance of outlet shops.
What to Do in Kittery
In addition to shopping at the Kittery Outlets, there are many other fun activities. The Strawbery Banke Museum just up the road is a fun living history museum that will take you back in time.

Camden
Are you a huge foodie? Add Camden to your summer in Maine travel list. In addition to being home to lots of historical attractions, the food in Camden just can't be beat compared to other places on this list. Plus, it's consistently ranked as one of the most beautiful locations in Maine.
What to Do in Camden
The most popular place to eat in Camden is The Waterfront Restaurant, which serves up the best seafood at a mid-range price. Other great restaurants include Peter Ott's on the Water and Fresh and Co. Fun outdoor attractions in Camden include Camden Hills State Park, Camden Harbor, and hiking Mount Megunticook.
Portland
Portland is one of Maine's biggest cities, so it differs in size compared to other destinations on this list. It's located right on the water and is known for its Victorian homes, exciting history, and outdoor attractions.
What to Do in Portland
If you love the outdoors, you'll want to stop by Fort Williams Park. This is one of the most photographed areas of the state and is often seen on postcards because it's home to the Portland Head Light. The Portland Museum of Art is a great place to learn more about local artistry, and you'll, of course, want to shop downtown and visit Casco Bay.
Read More: How to Spend the Perfect Weekend in Portland Maine
Bangor
Bangor, Maine, has a long history with shipbuilding and dates back to the nineteenth century. While it's not located on the coast, it still has tons of great attractions, including museums and outdoor hiking trails. Bangor was also the home of Stephen King!
What to Do in Bangor
The Stephen King House is a fun place to visit in Bangor. Other significant areas include the Hollywood Casino Hotel & Raceway, Maine Discovery Museum, and the huge Paul Bunyan Statue, which is a nod to the town's history. Visit Bangor City Forest for some great trails.
Read more: Things to Do in Bangor Maine: A Bangor City Guide
York
York is located right next to Ogunquit, so you can easily visit both of these coastal destinations on the same trip during summer in Maine. It's popular among visitors who want to stay at resorts, and the golfing here is also incredible.
What to Do in York
To get your summer relaxation in, make sure to stop by Long Sands Beach. It can get busy quickly, so try to go in the morning. A great hike can be done at Mount Agamenticus, which offers impeccable views of the surrounding area. If you're a history fan, be sure to add Old York Gaol to your itinerary.
Rockland
Rockland is located on Maine's coast and is near Rockport. It's easily a popular destination among tourists because of its incredible beauty, museums, and unique attractions. It can be a great destination if you're traveling with a family.
What to Do in Rockland
Fans of art and museums should definitely visit the Center for Maine Contemporary Art and the Farnsworth Art Museum. For epic coastal views, check out the Rockland Breakwater Lighthouse and Rockland Harbor. The downtown area of Rockland is also great and is rather historical, especially on Main Street.
Peaks Island
Peaks Island is just a quick ferry ride away from Portland, and is one of the top Maine islands to visit in the summer. It's a popular summer tourist destination that somehow still feels like a bit of a secret!
What to do on Peaks Island
Peaks Island is home to some of the best coastal trails and swimming holes in Maine! Many people bring their bikes with them on the ferry to explore the island by bike, but it's also easily walkable. Peaks Island is a fantastic summer vacation spot for those looking for a way to explore one of the most popular islands in Maine!
—
Now you know all of the best places to visit during summer in Maine! Truthfully, you can't go wrong with any of these locations, as there is so much to do in each one. Many of them are also located pretty close to one another, so you can easily visit multiple top-rated destinations within the same trip to this epic state.
---
You might also like:
---