Fresh, fragrant, and fanciful New England flower fields and farms are just one of this region's many charms! One of the rewards for making it through the often brutal New England winter is the promise of the coming blooms that paint the landscape bright and beautiful.
What says spring better than stepping into a New England flower field and taking in a deep breath of that heady floral fragrance? What speaks of those late summer days more than traipsing through a golden sunflower field at a Pick Your Own flower farm in New England?
Whether you enjoy the structured rows of a well-organized New England garden or the dramatic clusters of enticing wildflowers growing freely, there are flower fields, public gardens, and PYO flower farms aplenty to choose from!
New England flower fields and farms are waiting for you to come and get your flower fill!
Best New England Flower Fields
Wicked Tulips Flower Farm in RI & CT
With 2 locations, Wicked Tulips Flower Farm makes it easy to get that spring New England flower fix! Hosting the largest "you pick" tulip event in New England, flowers typically begin blooming late April and last until about mid-May.
Even if you don't want to pick any to take home, the acre after acre of magnificent brightly colored blooms makes for a great photo backdrop; this is one of the most popular tulip fields in New England!
Parsons Reserve Daffodil Field in Dartmouth MA
Parsons Reserve Daffodil Field is not a place to pick flowers in New England, but a sweet stroll through this woodland field of sunny daffodils is a perfect way to welcome in the spring season. Daffodils are typically in bloom from mid-April to early May, so plan your trip accordingly!
Coppal House Farm in Lee NH
Lovely Coppal House Farm is home to many great events throughout the year, but their Sunflower Festival is always a crowd pleaser!
Festival dates change to line up with the sunflower blooms, but late July and early August is a great time to visit Coppal House Farm and wander amongst the bright and cheery blooms!.
Tangerini's Farm in Millis MA
Tangerini's Farm offers a fantastic variety of "you pick" goodies throughout the year, and sunflowers and wildflowers are in bloom July and August. If you're looking for beautiful flower farms in New England, check out Tangerini's in the summer for a bloomin' good time!
Rhododendron State Park in Fitzwilliam NH
Rhododendron State Park gets its name from the 16 acres of pink rhododendron that blossom and bloom mid-July. Walk the wildflower trails that begin to bloom in spring and find yourself immersed in a rhododendron wonderland perfect for anyone that loves New England flowers!
Colby Farm in Newbury MA
One of the most popular sunflower fields in New England, Colby Farm prides itself on providing what many call a surreal experience as they make their way through row after row of golden blooms. Is there anything more magical than bright and sunny New England sunflower fields?
Sunflowers typically bloom in late August and early September; don't forget to grab some fresh baked cider donuts from their farmstand during your visit!
Lavender Pond Farm in Killingworth CT
With over 10,000 lavender plants on 25 acres, Lavender Pond Farm is the quintessential New England flower field experience! Explore the quaint white gazebo, ride the purple train, and sit awhile beside the sparkling pond after you've walked the fragrant fields of lavender.
Bloom season is June through August with several varieties having a second bloom late summer to late fall; check out the covered bridge and fairy gardens on the property, too!
Sunflower House in Woodstock VT
Located at Billings Farm & Museum, the Sunflower House is a maze that is around 20,000 sq ft, with sunflowers that can grow up to a dramatic height of 14 feet tall.
Make your way through the "hallways" of the sunflower house, enjoying the care and consideration that was put into this spectacular New England sunflower experience!
Lupine Fields in Sugar Hill NH
Sugar Hill is often referred to as New Hampshire's lupine capital, and the fields come alive with breathtaking bursts of purple, pink, white, and light blue blooms that sadly only last a few weeks after blooming early to mid-June.
Try to plan your visit to these lovely New England flowers to coincide with the Annual Sugar Hill Lupine Festival & Market.
Lyman Orchards Sunflower Maze in Middlefield CT
Lyman Orchards is a beautiful orchard and in addition to its delicious fruits on offer, their spectacular Sunflower Maze never ceases to impress! Who wouldn't want to spend a lovely late summer day twisting and turning in a field of over 350,000 golden sunflowers?
Proceeds from admission go to Connecticut Children's Hospital, so you can feel proud about your New England flower field fun!
Popular New England Flower Gardens
Editorial credit: Ctruong / Shutterstock.com
Coastal Maine Botanical Gardens in Boothbay ME
Open to the public May through October, the Coastal Maine Botanical Gardens in Boothbay has over 300 acres of gorgeous gardens and nature trails to enjoy. Walk amongst the Dahlias and Rhododendrons, visit the Meditation Garden and the Fairy House Village, and let yourself get lost for a while in this Coastal Maine botanical paradise!
Acton Arboretum in Acton MA
Open daily from sunrise to sunset and free to the public, Acton Arboretum has some truly spectacular New England flower gardens, including wildflowers, daylilies, rhododendrons, and so much more.
Walk the Bog Boardwalk and visit the Fragrance Garden to take in the New England floral aromatherapy of lilacs, peonies, hyacinths, and more!
Elizabeth Park Conservancy in Hartford CT
Perhaps most famous for their dramatic trellis rose arches, you can also find irises, dahlias, a heritage rose garden, and so much more at the Elizabeth Park Conservancy.
Open year-round from dawn to dusk and free to enter, the tulip garden is always a crowd-pleaser as the brightly colored bulbs explode to life late April to early May. This is also one of the best free things to do in Hartford!
Arnold Arboretum in Boston MA
While Arnold Arboretum is home to several flowering New England beauties like azaleas, rhododendrons, cherry trees, and more, a popular fan favorite will always be the highly fragrant lilacs.
Visit on Lilac Sunday to experience the heady fragrance of over 400 lilacs bursting into bloom all around you!
Prescott Park in Portsmouth NH
Pretty Prescott Park is a 10-acre natural space that hosts multiple garden spaces to meander through on a warm summer day and enjoy the colorful blooms of flowers like irises, hibiscus, heliopsis, and so much more.
There are three fountains in the park, and fragrant trees like magnolia and crab-apple provide both shade and aroma in this lovely garden!
Boston Public Garden
The first public botanical garden in America, Boston Public Garden remains open 365 days a year and free to the public.
Winding paths and statues accentuate the experience of seeing the stunning explosion of color that comes every spring in New England with the tulips and pansies that signal spring has officially sprung in Boston!
New England Historic Garden Estates
Editorial credit: LEE SNIDER PHOTO IMAGES / Shutterstock.com
The Newport Mansions Newport RI
The landscaping of The Newport Mansions is just as refined and detail-oriented as the construction and contents of each Gilded Age beauty.
Visit Rosecliff for its namesake historic rose gardens and The Elms for its elegant sunken garden featuring fountains, marble pavilions, and the lavish touches that befit a Gilded Age flower garden!
Hildene in Manchester VT
The gardens at Hildene, the Lincoln Family Home have been lovingly maintained over the years and have several show-stopping features, including the fantastically fragrant heirloom peonies that bloom in the Formal Garden and the Apple Tree Allee that features New England wildflowers, lupine, butterfly bushes, and more!
Blithewold in Bristol RI
This 33-acre summer estate has preserved and restored its historic gardens while infusing them with contemporary favorites, so a visit to Blithewold Gardens will delight the senses with tulips, dahlias, chrysanthemums, asters, roses, and so much more!
Naumkeag Gardens in Stockbridge MA
This historic Berkshires garden and estate host a celebration of spring flowers in New England with its annual Daffodil and Tulip Festival. Wander through the well-tended gardens that are home to over 130,000 tulip and daffodil bulbs, taking in the beauty of the Berkshires all around you!
There are many fun New England spring and summer things to do, but New England flower fields, farms, and gardens are always a pleasure to visit!
Pack a picnic and make a day out of it! Spreading out a blanket beside a field of brightly blazing New England flowers sounds about as lovely as lovely can be. There are so many gorgeous New England flower fields, farms, and gardens waiting to be enjoyed!
Read these next: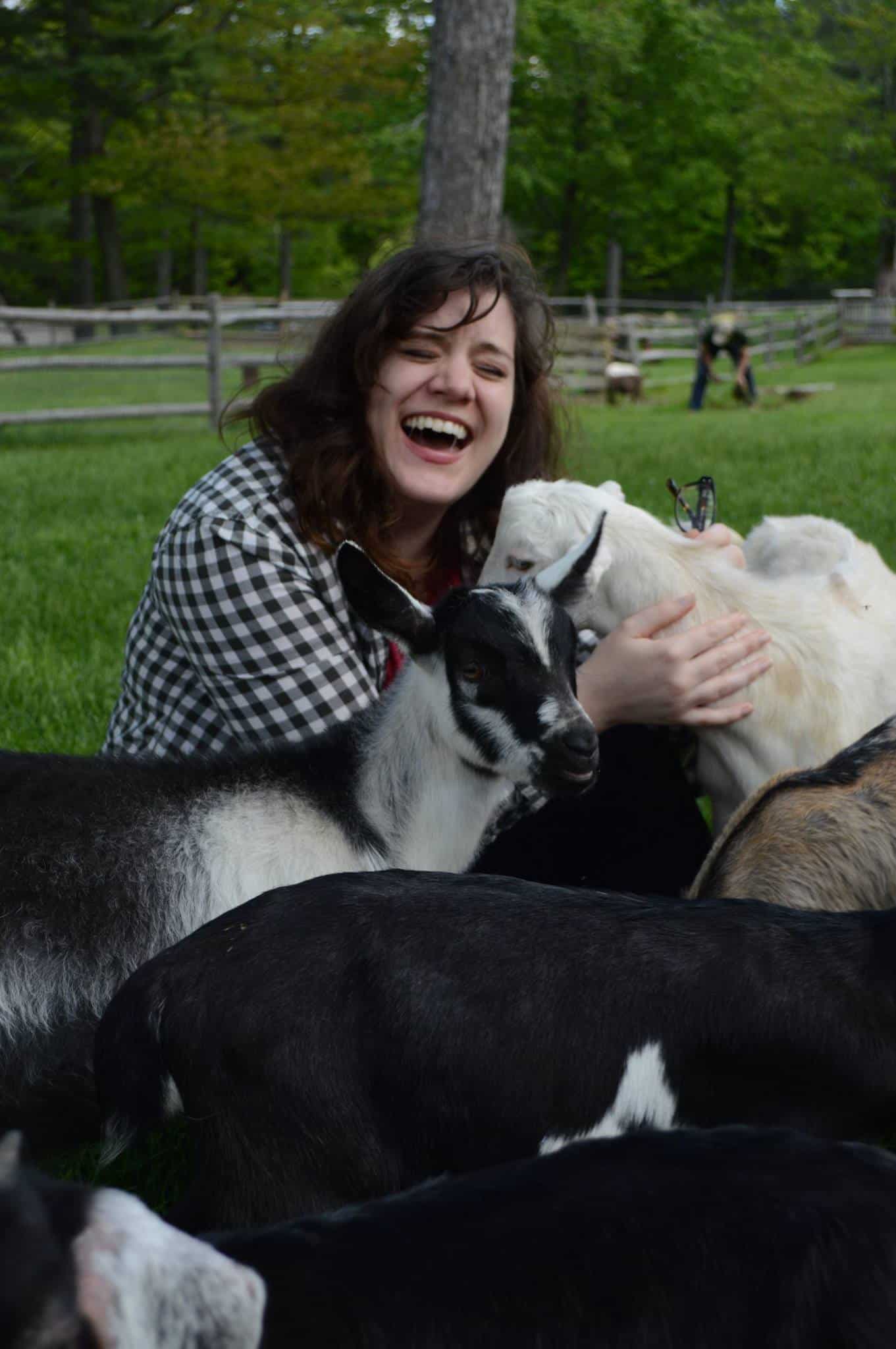 Amy Hartle is the founder and Editor-in-Chief of New England With Love, a comprehensive resource for travel in the New England region. Amy has been exploring New England since 2001. She lived in Vermont for many years and is a graduate of Plymouth State University in New Hampshire. Amy has been writing about travel for over a decade. On this site, Amy aims to share her love of New England and help you to have the best possible adventures!
Amy has been a full time blogger since 2012, and is also the publisher of Two Drifters, where she writes about couples travel and relationships, as well as Let's Adventure Baby, a family travel site. When not traveling the world or creating epic blog content, Amy can be found cuddling with her husband, son, and cats, & drinking a maple latte.