*This site uses affiliate links; if you make a purchase through these, I may receive a small commission at no cost to you.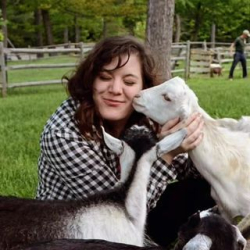 Latest posts by Amy Hartle
(see all)
When spring has officially sprung in Boston, winter gloom quickly becomes a thing of the past! There are so many great ways to enjoy spring in Boston: flowers are blooming, warmer winds are blowing, and springtime in Boston has several fun annual events that take advantage of the warming weather.
There are many fantastic things to do in spring in Boston, so pack a windbreaker and head to the City on a Hill for a fantastic spring getaway!
Visit Arnold Arboretum
Beautiful Arnold Arboretum springs alive each year with its carefully cultivated flowering trees and bushes. Visit mid to late April to experience the heady fragrance and explosion of color that the Magnolia and Lilac trees offer! Take a self-guided tour or visit on Lilac Sunday for an even deeper dive into all the interesting varieties of lilac found at Arnold Arboretum.
Walk the Esplanade
Walking the Boston Esplanade is a great way to stretch your legs and enjoy the views of the river, but mid to late April this walk transforms into something straight out of the pages of a storybook as the cherry trees bloom with beautiful light pink flowers. In fact, multiple varieties of cherry trees have been planted along the river with varying bloom times, so you can walk on a carpet of freshly fallen flowers while strolling beneath the flowering canopy; how very picturesque! Be sure to also stop by the other Boston photo spots.
Hang at Boston Public Garden
A must-visit during any trip to Boston, the Boston Public Garden is a definite sight to see April through May as the pansies and tulips burst into spring color. Perfect timing too, because the iconic swan boat rides open up again for the season in mid-April!
See Art in Bloom at the Museum of Fine Arts
Boston is home to many fantastic museums, but Art in Bloom at the Museum of Fine Arts is a definite must-visit for everyone who loves both art and flowers! Interpretative flower arrangements for artworks on display at the museum make this annual event a cool way to celebrate spring in Boston!
Tour the Fenway Victory Gardens
Walk the paths amongst these historic gardens that were first planted as Victory Gardens during WWII and marvel at how well they are kept up (and expanded!) by the private residents that continue to keep Fenway Victory Gardens alive! Spring activities that incorporate cool Boston history? Yes, please!
Stroll the Rose Kennedy Greenway
Boston's Greenway is a natural haven in the city's urban hub, and it becomes a fantastically scenic sanctuary in spring as daffodils, tulips, daylilies, rhododendrons, peonies, and more bloom mid-April through May. Plus, just off the Greenway in Columbus Park is the North End's Rose Kennedy Memorial Garden, where some of the most beautiful and fragrant roses begin to bloom in late May and early June!
Brunch and Cruise Boston Harbor
What better way to shake off the winter blues than to get out and enjoy the fresh sea breeze? Northern Light's Brunch Cruise is a fantastic way to spend a weekend day in spring. The gourmet brunch offerings are just icing on the proverbial cake of this lovely tour of some of Boston's most iconic waterfront features.
Cheer at the Boston Marathon
Editorial credit: Marcio Jose Bastos Silva / Shutterstock.com
One of the most famous marathons in the country, the Boston Marathon has become both a testament to athletic strength and endurance and also to the remarkable tenacity of the human spirit. You'll be one of hundreds of thousands of spectators so be sure to arrive plenty early to scope out the perfect spot to cheer the participants on!
Tour the Hidden Gardens of Beacon Hill
May's Hidden Gardens of Beacon Hill tour lets you explore the private gardens of one of Boston's most beautiful neighborhoods, historic Beacon Hill. Want the inside scoop? This is where it's at! Hidden Boston gardens in spring just sound so very romantic!
Celebrate Irish Heritage with St Patrick's Day Fun
With the densest Irish American population in America, you can be sure that Boston celebrates St Patrick's Day right! There are so many fun ways to participate in the St Patricks Day festivities, any spring Boston trip near March 17th is sure to be a blast; you'll certainly see plenty of green if you visit Boston in early spring!
Enjoy the Boston Skyline via Rooftop
Take advantage of the warmer temperatures to get out and enjoy the beautiful Boston skyline while hanging at one of Boston's best rooftop spots! Spring in Boston can get pretty busy; slow down a little by taking in the spectacular cityscape while you refuel. Dorchester Brewing Co is one of the best breweries in the city, and they have a neat rooftop setup! What better way to enjoy the beautiful Boston spring breeze than by rooftop?
Walk the Boston Freedom Trail
One of the most popular historic sites in Massachusetts, the Boston Freedom Trail is an excellent way to get out and enjoy the fresh Boston spring air! Not only will you get a nice little walk, but you also get to see history come alive as you visit spots like Faneuil Hall and the Paul Revere House. Plus, you'll be able to cross this one off your ultimate Boston bucket list!
Boston is a fantastic getaway all through the year: whether you're looking for romance, a family trip, fall festivities, winter fun, or Boston Christmas celebrations, there's no doubt that Boston is one of the best vacation destinations in New England!
Read these next:
11 Tastiest Vegetarian Restaurants in Boston
10 Must-Visit Restaurants for the Best Lobster Rolls in Boston
How to Spend One Day in Boston: 24 Hours of Boston Fun!
12 Best Beaches Near Boston to Get Your Vitamin C