---
*Links in this article may be affiliate links, from which we may earn commission. See our
Privacy Policy
for full details.
---
Boston has the densest Irish American population in the USA, so if you're looking for a festive and fun way to celebrate St Patrick's Day, Boston is the place to go! This guide to St Patrick's Day in Boston will show you where to go, when to go, and what to know during your St Patrick's Day festivities!
Whether you're looking for the best Irish restaurants, the best Irish music, or just looking for the best way to view Boston's iconic St Patrick's Day parade, this guide to St Patrick's Day in Boston has all the information you need to have a fantastic St Patrick's Day!
Get Down to the Dropkick Murphys
Editorial credit: MPH Photos / Shutterstock.com
One of punk rock's most famous Celtic punk groups, the Dropkick Murphys originally formed in Boston in 1996, so their return to the city every year to partake in its St Patrick's Day festivities is a homecoming that is celebrated heavily! Typically playing a 3 day run at the Boston House of Blues for the holiday, they also play shows at other local venues like Roadrunner, so if tickets have already sold out at the House of Blues, there's a chance you might catch them elsewhere!
Check Out the Boston Irish Film Festival
Boston Irish Film Festival is a 4-day festival at the Somerville Theatre in Davis Square, and typically begins on the nearest weekend to St Patrick's Day and stretches from Saturday to Tuesday. Films are often those that are made and produced in Ireland and that showcase Irish culture and history; over the course of this film festival, dozens of Irish films are shown. What a lovely way to dive into Irish culture in Boston!
Run the St Patrick's Day 5k Road Race
Editorial credit: Joseph Sohm / Shutterstock.com
Even if you decide not to run in it, the annual St Patrick's Day 5k Road Race starts and ends at 230 West 6th Street in South Boston, and is a great pre-game for the annual parade! Whether you run or not (and if you do run, register quickly before spots fill up!), be sure to wear plenty of green to this fun run fundraiser for the South Boston local Boys & Girls Club; it's St Patrick's Day in Boston, you better wear green!
Take a St Patrick's Day Brunch Cruise
Featuring courses of traditional Irish staples like Irish Bacon Rashers, Irish Soda Bread, Irish sausages with gravy, and more, Northern Light's Brunch Cruise offers fantastic fare alongside a tour of Boston Harbor's most notable sights, including the famous Boston Light and the beautiful Boston skyline. Sip on your Irish Coffee as you take in the views, and be sure to save room for dessert: Chocolate Guinness Cake with Baileys Buttercream. Yum! How's that sound for a lovely start to your Boston St Patrick's Day?
Raise a Glass at Boston's Best Irish Pubs
No trip to Boston would be complete without a visit to an Irish pub, and it would certainly be a travesty to spend St Patrick's Day in Boston without stepping foot in one! There are plenty of great Boston Irish pubs to choose from, but if you don't swing by The Black Rose on St Patrick's Day in Boston, you're missing out on mouth-watering traditional Irish staples like Guinness Beef Stew, and real, live Irish trad music! Boston has an excellent restaurant selection (including great vegetarian ones!), but The Black Rose is a must-visit on St Patrick's Day.
Stay in Style in a Boston Hotel
There are so many great options for hotels in Boston, including the luxurious Liberty Hotel, considered one of the best hotels in New England. Formerly the infamous Charles Street Jail, this luxury hotel offers great upscale amenities and fantastic views of the city. For a stay in historic downtown Boston, check out Harborside Inn. This hip boutique hotel also happens to be within easy walking distance of The Black Rose, so there's that, too! Sounds like the perfect spot to stay on St Patrick's Day in Boston, right?
Check Out St. Patrick's Day Celtic Sojourn
Editorial credit: Paul Keeling / Shutterstock.com
Located in Cambridge's Sanders Theatre, the St Patrick's Day Celtic Sojourn is a 2-day concert series, typically the day of and before St Patty's Day, that showcases traditional Irish music with musicians from far and wide. Professional dancers perform Celtic dance and the entire event is a celebration of Irish influences in song and dance around the world. Get your tickets far in advance, they sell out quickly! Enjoying traditional Irish music and Celtic dance is an excellent way to celebrate St Patrick's Day in Boston!
Sip and Savor at Harpoon Brewery's St Patrick's Day Festival
Harpoon Brewery on the beloved South Boston Waterfront hosts an annual 2-day St Patrick's Festival that features their handcrafted brews, delicious treats, and plenty of live music! Be sure to check in with Harpoon Brewery's event page for details about dates and time.
Walk the Irish Heritage Trail
Boston's Irish Heritage Trail is comprised of 20 Boston landmarks that help tell the stories of Irish immigrants in Boston. Famous Irish Boston-born historical and cultural influences such as former President John F. Kennedy are commemorated along with iconic landmarks of the city such as Faueneil Hall, an important stop on Boston's Freedom Trail. What better way to mark your St Patrick's Day visit to Boston than to walk the Irish Heritage Trail that honors the importance of Irish contribution to this beautiful city?
St Patrick's Day Parade
The St Patrick's Day Parade is the pinnacle of St Patty's Day celebrations and is held on the Sunday closest to March 17, St Patrick's Day. Crowds of a million+ gather in South Boston decked out in green to watch the festivities, floats, musicians, and performers parade along the 3.2-mile route that begins at Broadway T station (Red Line) and ends at Andrews Square (Red Line/Andrew T stop). The densest crowds typically form around the beginning and endpoint, so if you're looking for a little space, pick a spot along the route towards the middle; Boston Discovery Guide recommends arriving early and heading to East Broadway for fewer crowds.
Getting Around Boston on St Patrick's Day
One quick word about getting around Boston on St Patrick's Day: avoid driving in the city if you can! Boston is already a bit tricky to get around in by car, but on St Patrick's Day, it's even more challenging with road closures for parade and run routes and even more people coming into the city to partake in the fun! Check out MTBA's guidance about using the T on St Patrick's Day, and don't forget about ride-sharing services like Uber and Lyft. Leave the driving to someone else so you can enjoy that extra Guinness without worry!
Boston is one of the best places to visit in Massachusetts in part due to its storied history, and a part of that includes the rich contributions of its Irish American population. Visit any time of year for the great museums, neat breweries, and cute coffee shops, but if you're going to be in Boston on St Patrick's Day, you're in for a major treat!
So listen to some Irish trad music, sip on some Guinness, and be sure to wear your green on St Patrick's Day in Boston!
Read these next: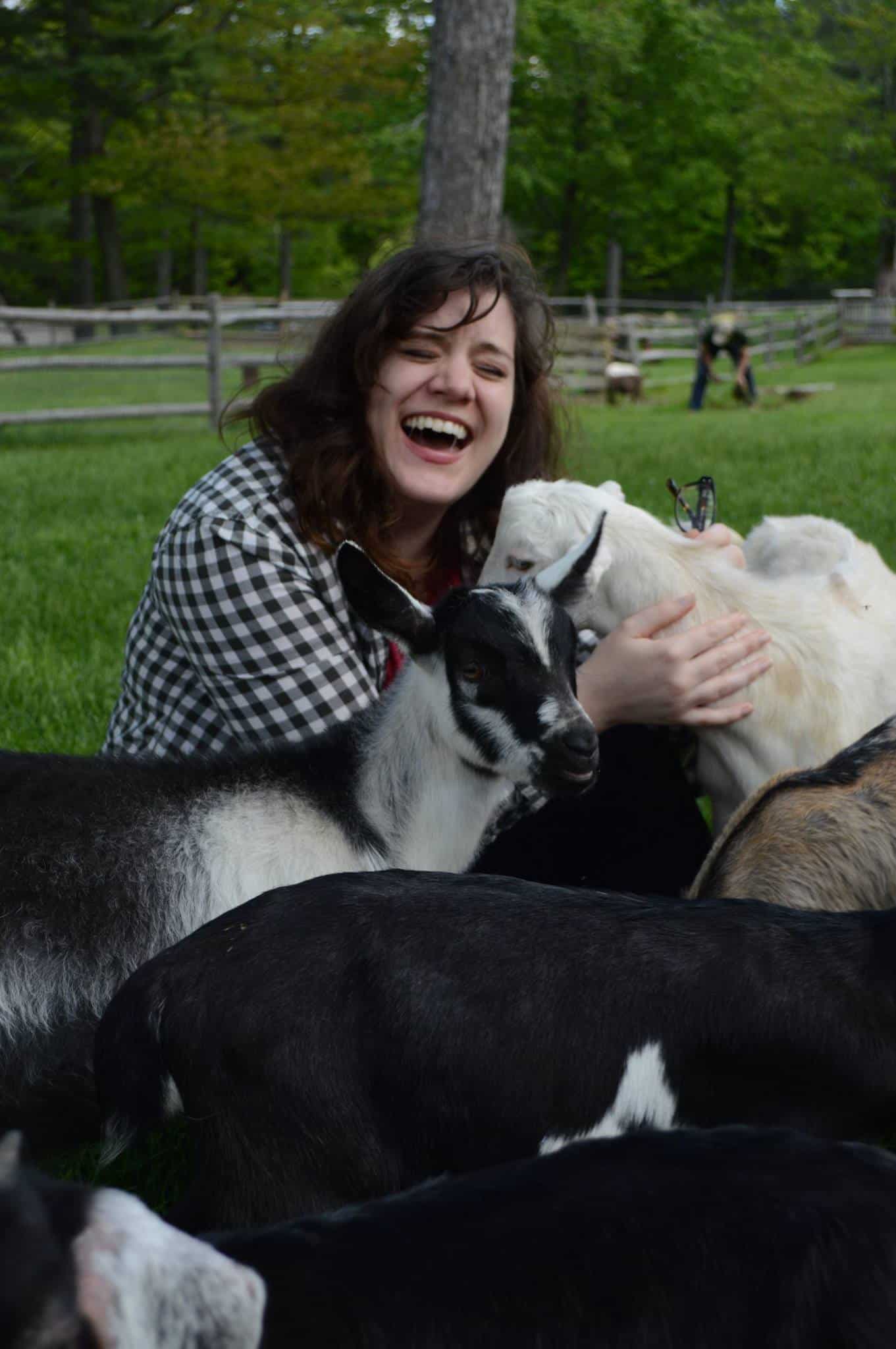 Amy is the founder of New England with love. A proud Vermonter, she hopes to share her love of New England and help you find the best adventures in the region. Amy is also blogger/founder at Two Drifters, where she writes alongside her husband about romantic and couples travel, relationships, honeymoons, and more. When not working on websites, Amy is probably reading, cuddling with her husband, son, and cats, & drinking a maple latte.