New England offers so much for those planning their perfect getaway!
Looking for a fun fall leaf-peeping adventure? Check.
Rather visit some ultra-charming New England villages and engage in a quintessentially quaint New England activity like apple-picking? Check.
In need of a romantic rendezvous to rekindle the flame? Check, for sure.
Are you more into a craft brewery road trip or a visit to one of New England's favorite wineries? Check and Check!
New England is an excellent vacation destination whether you're looking for summer fun, fall frivolity, winter wonderlands, or spring sweetness.
Whatever is on your New England bucket list and wherever you end up traveling to, we've got you covered on the where to stay bit with the following list of the best hotels in New England.
Best New England Hotels for Couples
The Wauwinet in Nantucket, MA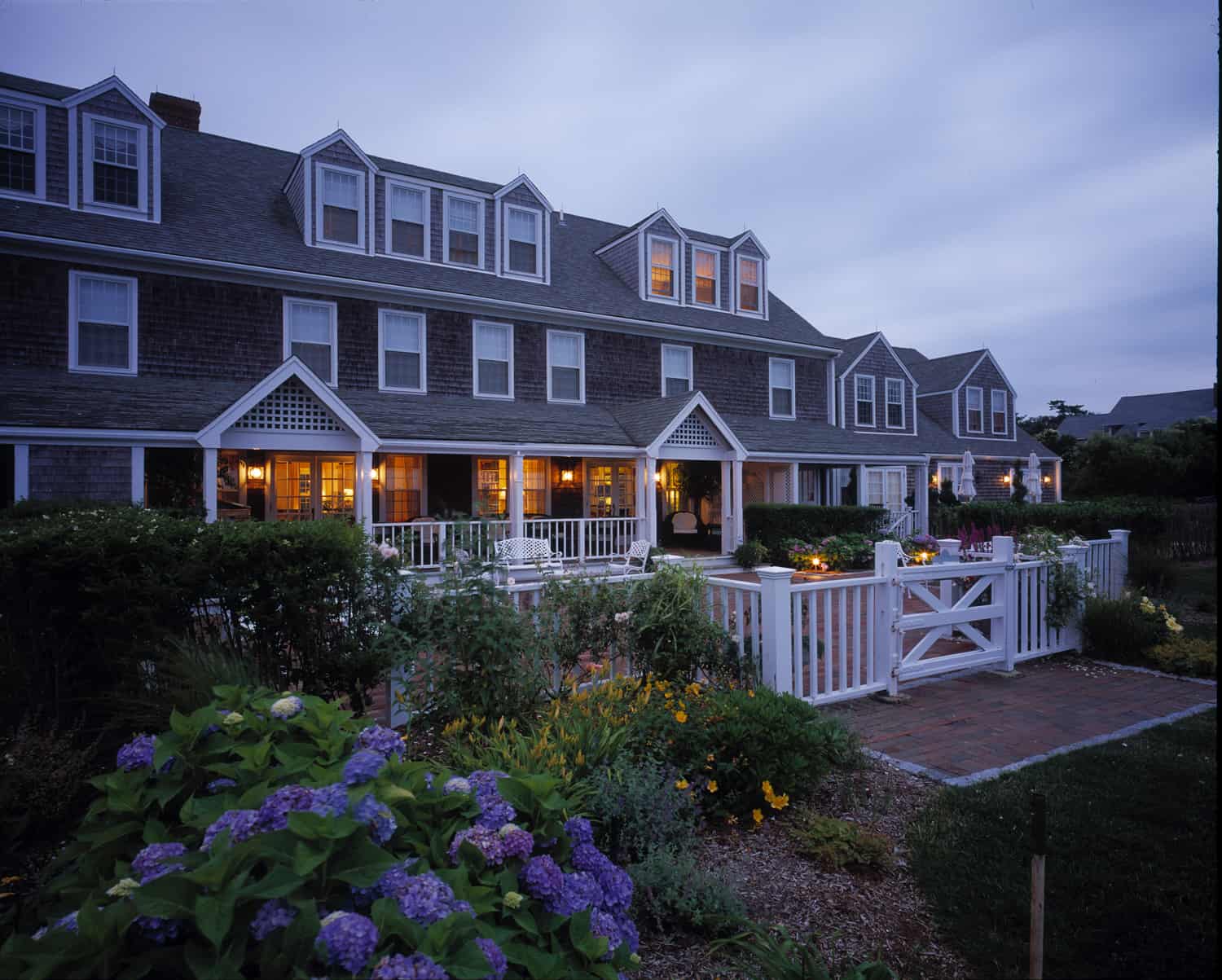 If you're looking for a completely splurge-worthy romance-filled hotel for your couples vacation, look no further than The Wauwinet!
This luxurious, adults only Relais & Chateaux hotel is the epitome of romance with in-room massages, private beach access to the Atlantic Ocean and Nantucket Bay, and spectacular ocean views.

There is plenty to do and see on this gorgeous island, but The Wauwinet offers full spa treatments at their sister site (and transportation to and from) and romance packages like the Ride & Rosé . This includes a rosé champagne picnic, two bikes, and a "custom romantic escape bike map" to put you on the path to destination romance!
There's fine dining available at the hotel's AAA Five-Diamond award-winning restaurant, but there's also room service, for those times when staying in the room might sound more fun than leaving!
Click Here to Check Prices & Book!
Read Next: 10 Best Hotels on Nantucket: Where to Stay for a Nantucket Getaway
Stoweflake Mountain Resort and Spa in Stowe, VT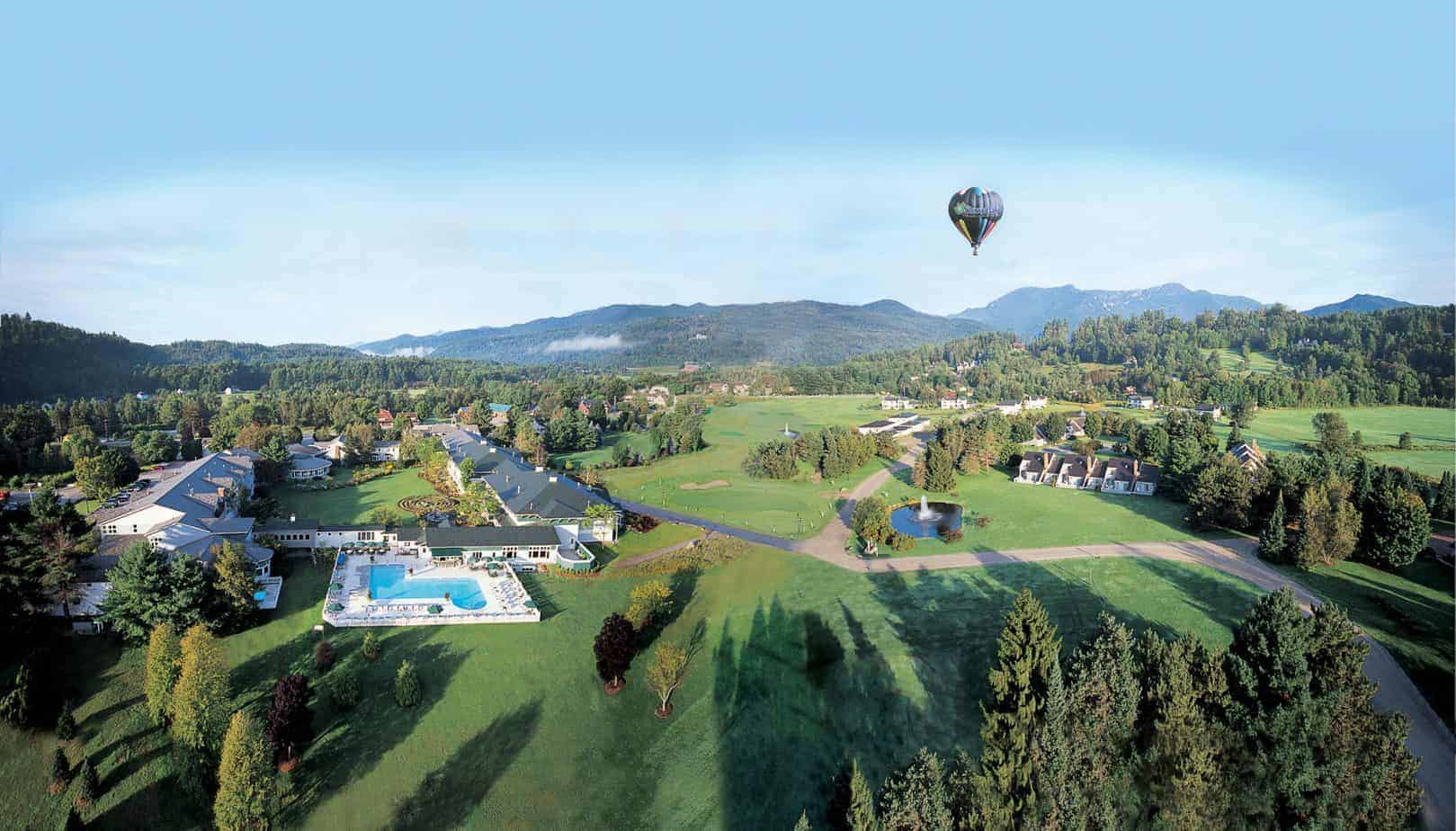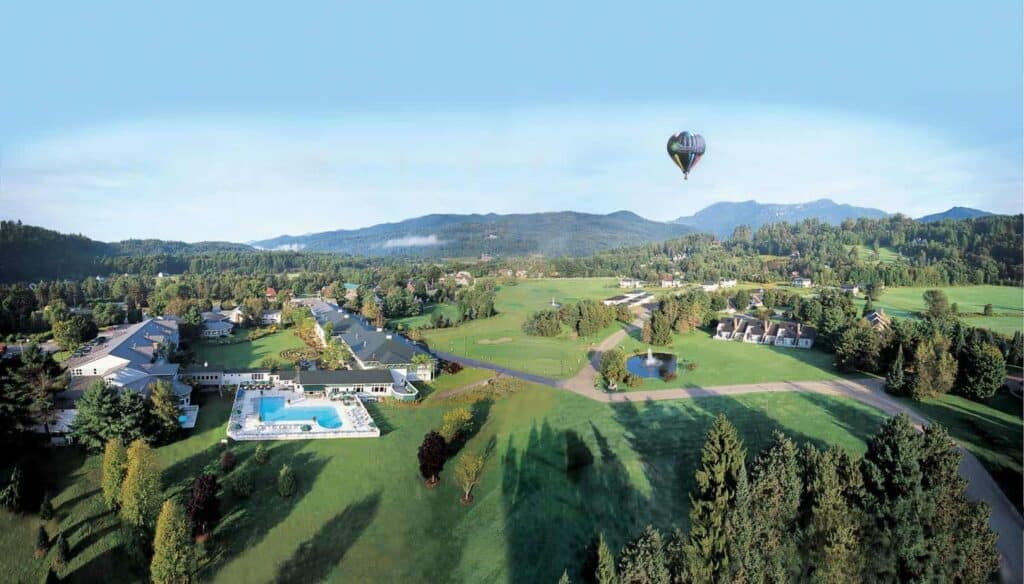 Yes, you may know Stoweflake Mountain Resort and Spa as being in the heart of one of the best ski areas in Vermont, and it definitely is, but Stoweflake is also an incredible romantic getaway spot!
Not only is there plenty to do in Stowe and at the resort any time of year, but Stowe is also home to one of the best spas in New England and they offer a variety of add on packages to up the ante on romance!
You don't have to be an adventure-seeking couple to enjoy a stay at the stunning Stoweflake Mountain Resort and Spa in Stowe, but if you are, then the Stoweflake might be your perfect romantic couples destination!
Click Here to Check Prices & Book!
The Inn at Woodstock Hill in Woodstock, CT
If you're looking for an idyllic and peaceful (yet still amenity-packed) getaway with your love, then check out The Inn at Woodstock Hill.
Woodstock is one of Connecticut's best places to visit, and this so-called "Quiet Corner" of the state is full of sweet things to do with your significant other.
One idea for a romantic day date is to tour the extraordinarily lovely Roseland Cottage and cross it off your Connecticut bucket list.
Rooms at The Inn are classically decorated and designed with your ultimate comfort in mind; be sure to ask for a room with a fireplace for added romantic ambiance.
If it's a romantic getaway away from all the big-city hustle and bustle you're after, The Inn at Woodstock Hill might be the perfect landing spot for you and yours.
Click Here to Check Prices & Book!
West Street Hotel in Bar Harbor, ME
West Street Hotel is a breathtaking boutique hotel in Bar Harbor that is an absolutely ideal choice for any couple's getaway! There's a lot to see and do in Bar Harbor, yes, but West Street Hotel has plenty to keep you satisfied onsite.
In addition to housing two of Bar Harbor's best restaurants, West Street Hotel is also home to Maine's only rooftop pool, providing a panoramic view of the bay below. Swim together while taking in the spectacular views from the rooftop pool and then follow up with restorative and rejuvenating massages and body treatments at their world-class spa.
Once you and your love are in that heady, bliss-filled couple's headspace, have the helpful staff at West Street Hotel arrange for your next activity; maybe a whale watch expedition with one of the best whale-watching guides in Maine or a tour of gorgeous Acadia National Park?
West Street Hotel earned its rep as one of the top hotels in New England by going above and beyond for their guests. Ask them what their suggestions are for their favorite romantic activities in the area!
Click Here to Check Prices & Book!
Read Next: 9 Best Restaurants in Bar Harbor Maine
The Kimpton Taconic Hotel in Manchester, VT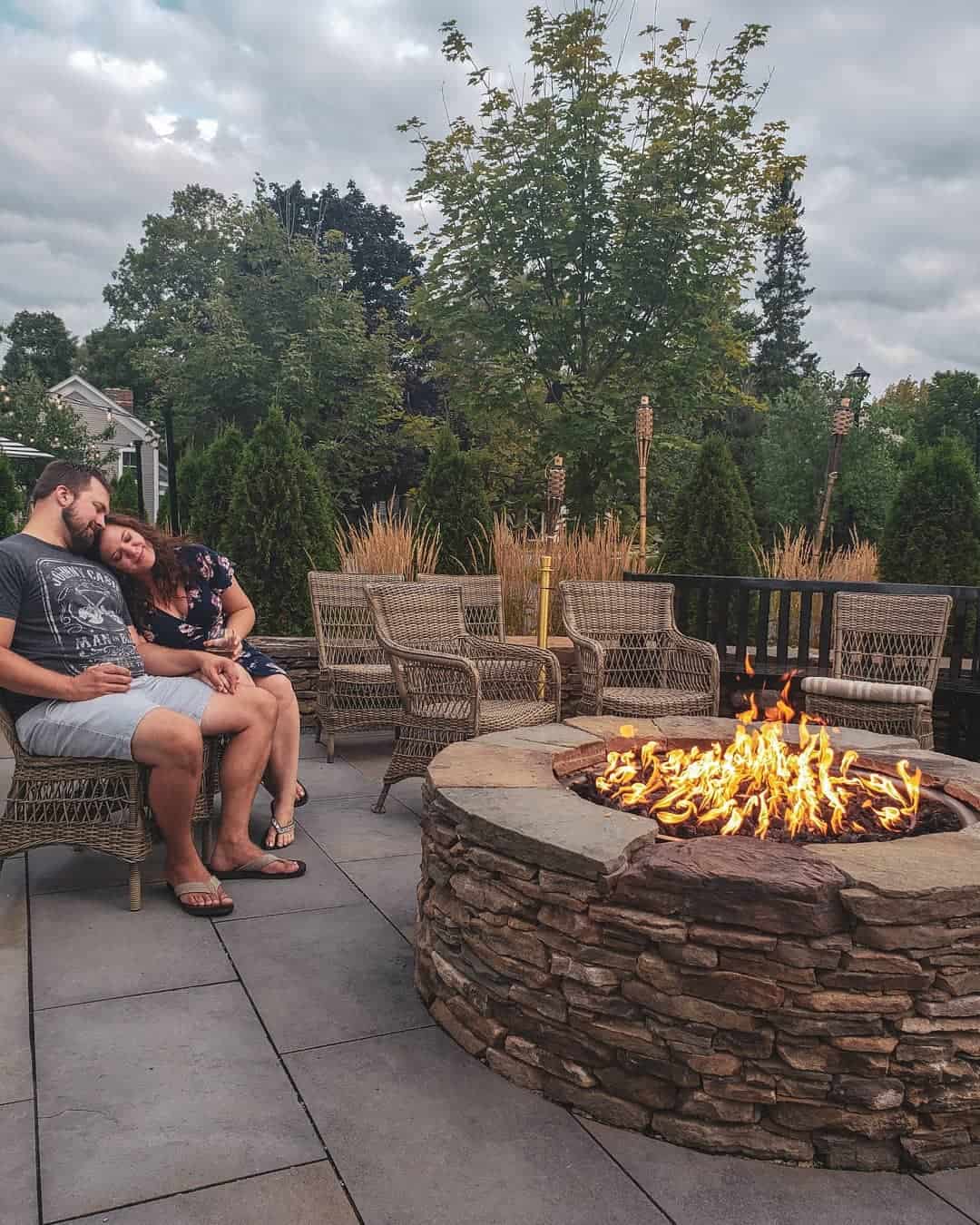 We were fortunate enough to be able to stay at this gorgeous Manchester, Vermont hotel just a few years back, and we had a fantastic couples getaway. With an elegant-meets-rustic style, the Kimpton Taconic Hotel is so comfy cozy, you might want to spend just as much time onsite as you do exploring Manchester!
The Kimpton Taconic Hotel offers rooms with mountain views, fireplaces, soaking tubs, and more, and the onsite restaurant The Copper Grouse is one of the best places to eat in town.
The Taconic provides guests with a complimentary glass of wine in the evenings. This is a lovely social hour experience and we enjoyed sitting in rocking chairs on the spacious porch and chatting together near the fire pit.
Click Here to Check Prices & Book!
The Break Hotel in Narragansett, RI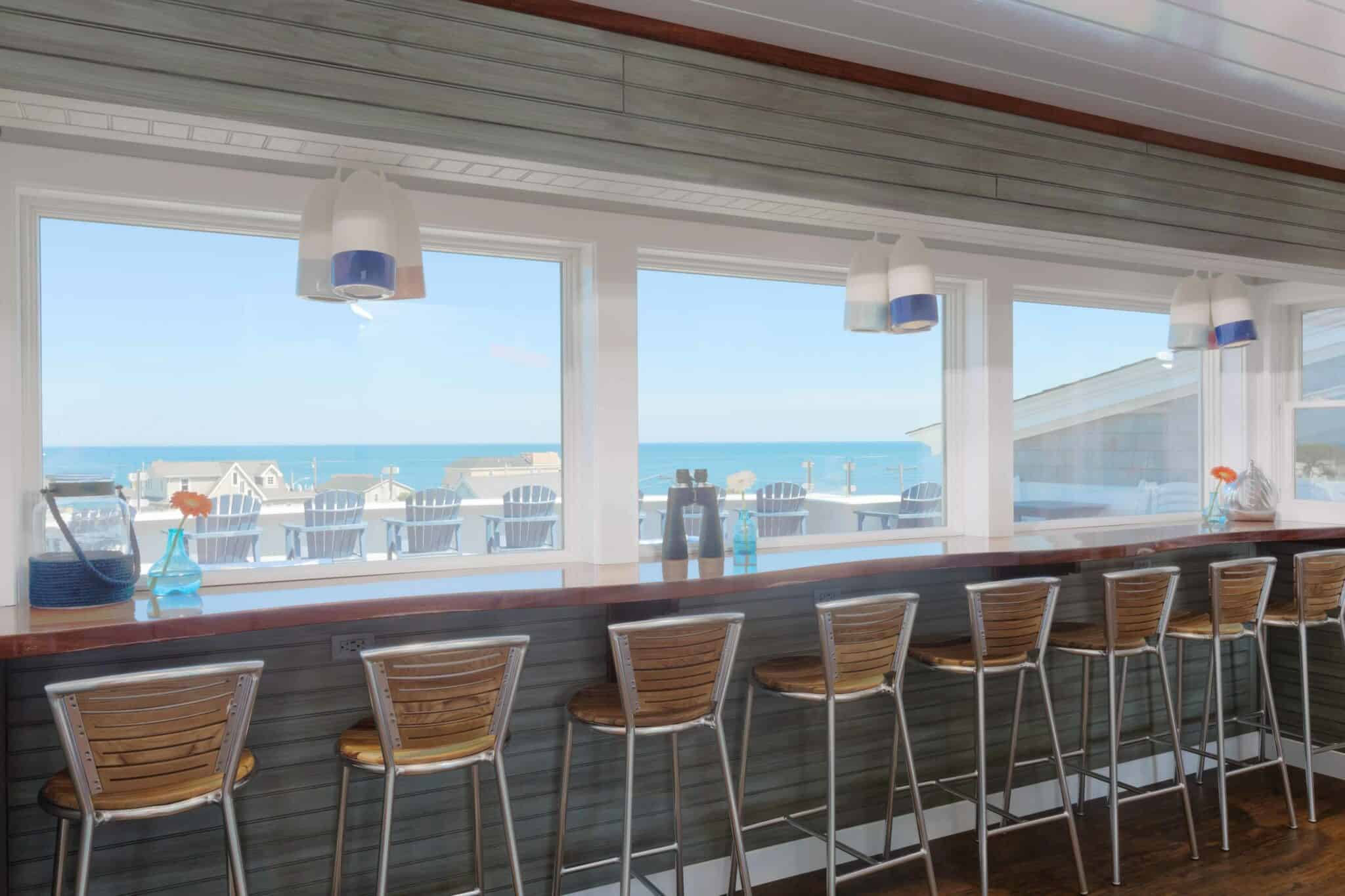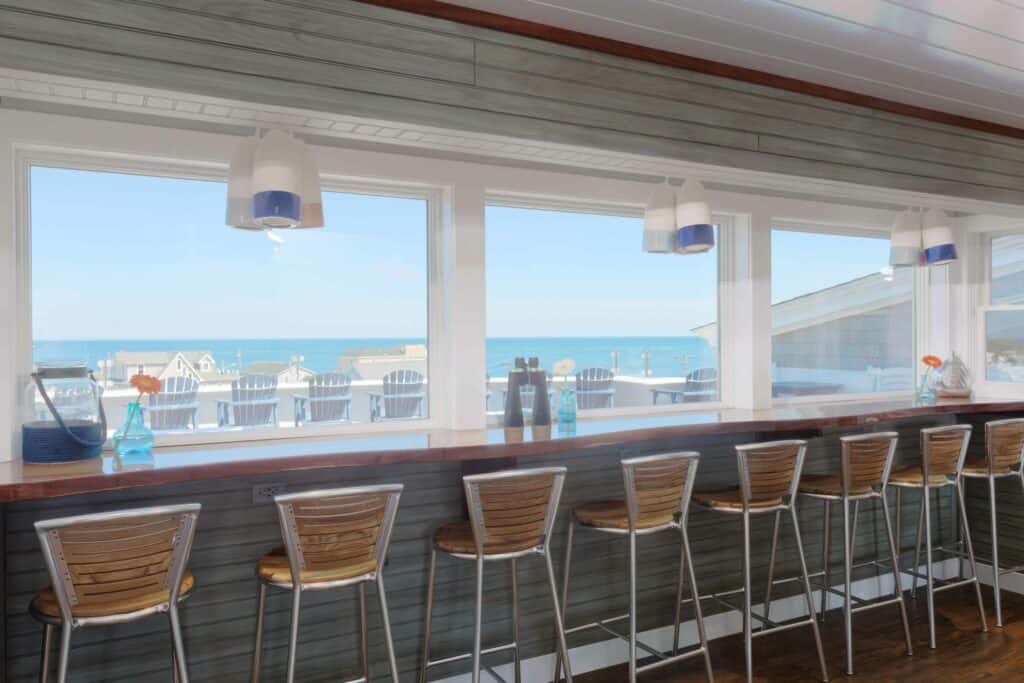 Less than an hour's drive south of Providence and Newport, The Break Hotel is on all the lists of top hotels in New England, and once you arrive, you'll understand why!
Close to one of the best beaches and loveliest lighthouses in the state, The Break Hotel is ideally situated for your perfect romantic Rhode Island getaway.
You'll find the outdoor sauna and saltwater pool are heated for year-round enjoyment (yes, year-round!) and the rooftop lounge is the go-to spot for you and yours to sip cocktails and enjoy those momentous ocean views!
With a phenomenal restaurant, fireplaces in each room, and a sweet little spa onsite, The Break Hotel pulls out all the stops to help make your couples getaway really go over the top. Plus, you and your love can explore charming Narragansett from this beautiful boutique hotel!
Click Here to Check Prices & Book!
Castle Hill Resort & Spa in Proctorsville, VT
This elegant mansion hotel is on the National Register of Historic Places, and we struggled with whether to put Castle Hill Resort & Spa under best luxury stays or best couple getaways in New England!
With the entire hotel being set up for maximum indulgent romance, we think we made the right choice.
Sophisticated and elegant, yet still so wonderfully comfortable, the décor and furniture at Castle Hill Resort & Spa are exemplary.
With a hot tub and heated pool that are both available year-round, an award-winning Aveda Concept Spa, and fine dining served in one of the most gorgeous dining rooms ever designed, Castle Hill Resort & Spa will have you and yours feeling as if you've been transported to another world/life/time of pampering and pleasure.
Plus, nearby Ludlow is home to Buttermilk Falls, a gorgeous waterfall that is a favorite swimming spot when the weather is right… swimming in a waterfall? Yup, definitely need to add that to the list of things to do during your romantic getaway!
Click Here to Check Prices & Book!
Best Hotels in New England for Families
506 on the River Inn in Woodstock, VT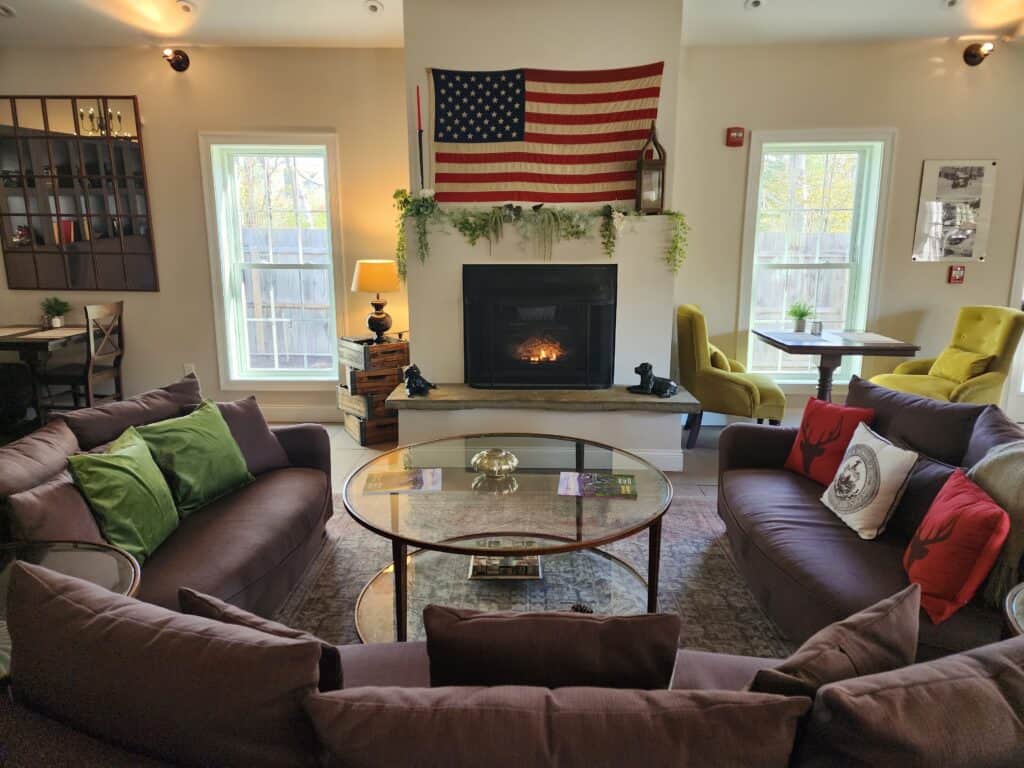 We recently had the pleasure of staying at the 506 on the River Inn with our toddler, and let me tell you, this is an excellent hotel for families in New England!
This is already one of the top places to stay in Woodstock, but we chose it for many of its family friendly features, including its picturesque, quiet location on the river, and the many kid friendly amenities onsite.
Decor is cozy, yet modern, and everything feels quite homey. There is an excellent restaurant onsite that we ate a delicious dinner at, and their complimentary continental breakfast buffet was a huge hit! Again, we were traveling with our toddler, so being able to eat a nice (free!) breakfast onsite before we headed out for the day was very convenient.
The large lawn behind the inn is the perfect place to let the kids run around and get some energy out. We enjoyed sitting by the river and taking in the view, and there is a gazebo, swing set, and a fire pit, too.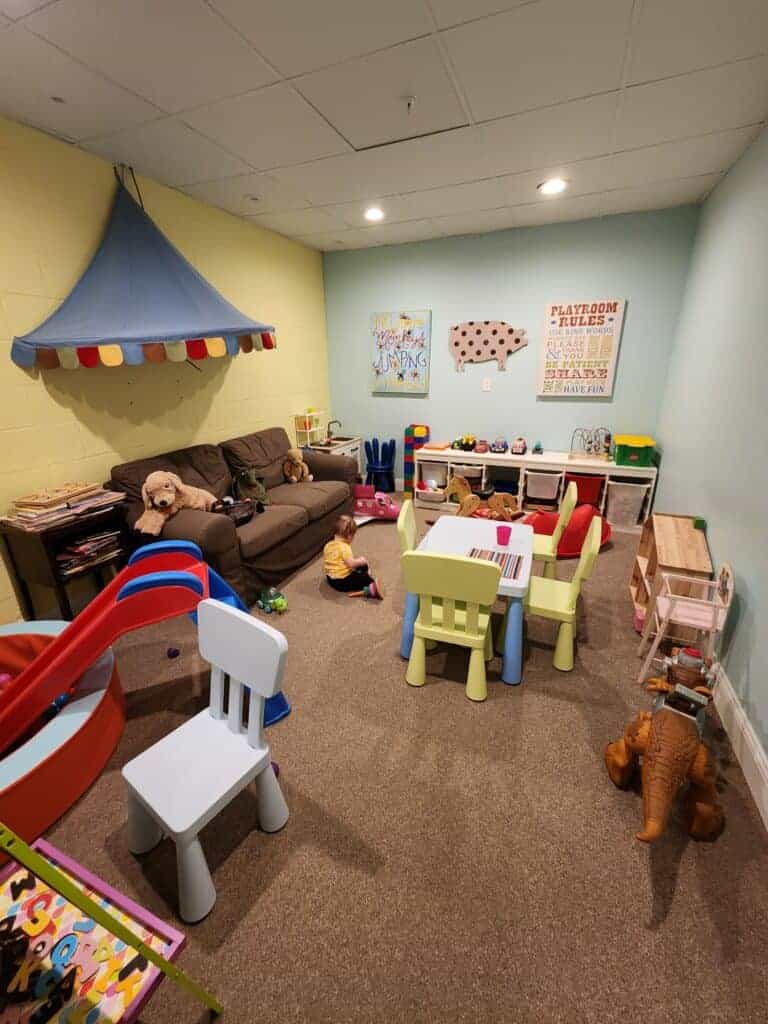 Indoors, there's an indoor pool (we didn't get to try it out this trip, bummer) and a few dedicated kid play spaces. Our son had a blast in the toddler room, and we definitely appreciated the indoor play space. This was one of our favorite kid friendly amenities at this hotel.
Click Here to Check Prices & Book!
Read More about Our Stay: 506 On the River Inn Woodstock VT Review
Mountain View Grand Resort & Spa in Whitefield, NH
Mountain View Grand Resort & Spa hits all the boxes for families in search of an epic getaway: excellent amenities and activities for the adults and the kids!
For the adults, luxurious accommodations, a world-class spa, multiple onsite dining options, and unique activities like axe throwing.
For the kids, the list goes on and on! Indoor and outdoor swimming pools, a movie theater, playground, game room, campfires and s'mores, hiking trips, and all kinds of seasonal winter fun like tubing, ice skating, cross country skiing, and even Santa's Village to visit!
There's even an onsite working farm where you and your kiddos can meet the goats, sheep, ducks, and chickens that call this place home. There's also fishing, mountain biking, disc golf, regular golf, tennis, whitewater rafting, and just SO MUCH TO DO HERE!
Nearby Lincoln, is just one of the sweet little towns within easy driving distance to the Mountain View Grand that are perfect for exploring with the fam. Babysitting services are also available upon request, so no problems arranging for everyone to have the time to do what they want to do at Mountain View Grand!
There's basically something, no scratch that, SO MANY THINGS, for every member of the family during a Mountain View Grand getaway!
Click Here to Check Prices & Book!
Trapp Family Lodge in Stowe, VT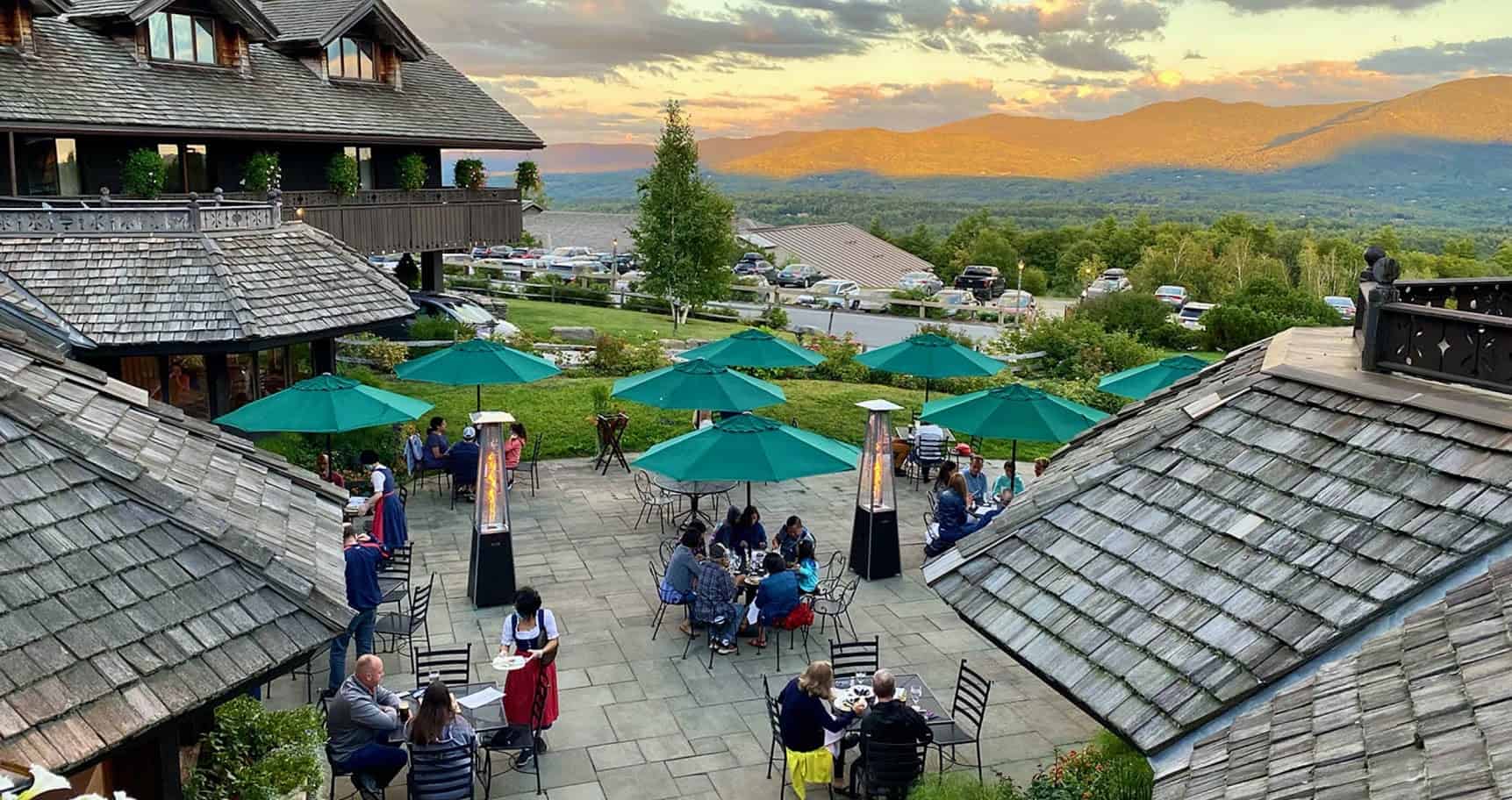 A visit to the Trapp Family Lodge, of Trapp Family/Sound of Music fame, is on the essential Vermont bucket list because of course it is!
Nestled into 2500 beautiful acres in Stowe, this gorgeous mountain resort is the perfect landing spot for your next family vacation. We stayed here recently with our toddler and it was an ideal family vacation hotel for us!

Gorgeous views, massage services, European-style accommodations, world-class dining, the von Trapp Brewery, and the Trapp Family Lodge wine cellar are for the parents, but everything else is full-on family fun!
Everyone will enjoy the hiking, the biking, the maple sugaring tours, skiing and snowshoeing in the winter, and fun extra activities like jewelry-making classes and nature walks.
Warm weather is fun, but Trapp Family Lodge is one of the best places to enjoy winter in Vermont and one of the coziest winter getaways in New England! Any time of year, the Trapp Family Lodge hosts fabulous family getaways that the entire family will enjoy.
Click Here to Check Prices & Book!
The Nonantum Resort in Kennebunkport, ME
Kennebunkport is always a fun vacation destination because there's plenty to see and do in this lovely coastal town, but The Nonantum Resort kicks it up a notch when it comes to helping you plan the perfect family vacation!
Not only is this New England resort absolutely gorgeous with luxurious accommodations and amazing onsite dining options, but there are so many activities for family bonding and togetherness!
There's swimming, guided crab trapping excursions, family fire pits with S'mores kits, campfire sing-alongs, lawn games and movie nights on the lawn, waterfront paint nights, bike rentals, and kayaking and paddle boarding, lobster boat tours, sailing tours, and fishing charters for those who are itching to get out on the water themselves.
There's also a Kid's Fun Club where kids can break away from the parental units to enjoy a little kid on kid time while parents slip away to either the onsite pub or one of the onsite restaurants for a relaxing waterfront dinner.
The Nonantum Resort will have both kids and their parents feeling like they've struck it rich!
Click Here to Check Prices & Book!
RiverWalk Resort at Loon Mountain in Lincoln, NH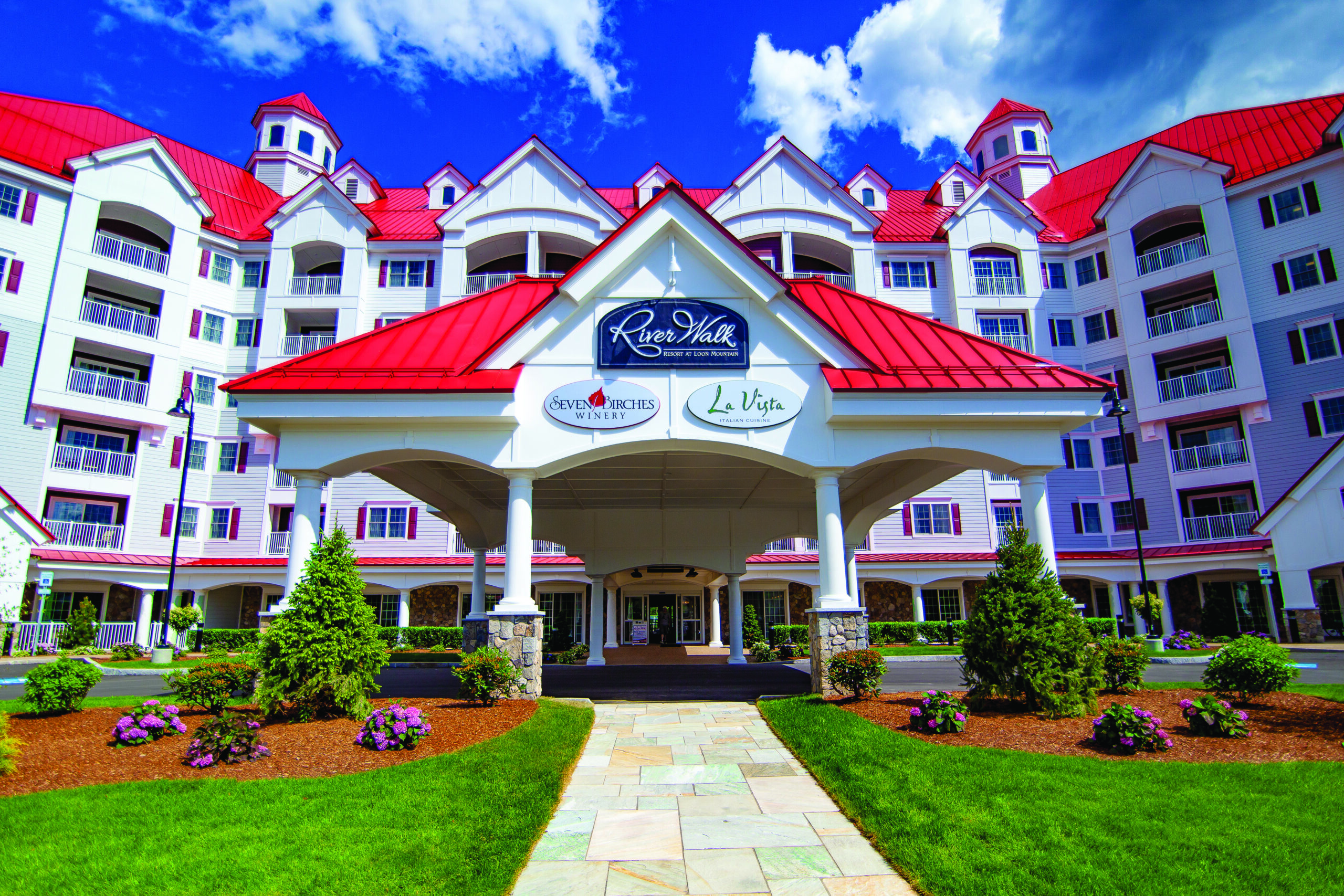 If you're looking for maximum memory-making potential for your family vacation, look no further than RiverWalk Resort at Loon Mountain!
Loon Mountain is one of the best ski resorts in New Hampshire and RiverWalk Resort puts you right in the thick of things! Of course, winter is always an excellent time to plan your family getaway to Loon Mountain, but there's plenty of fun to be had at RiverWalk Resort the rest of the year, too.
Onsite you'll find pools, hot tubs, an arcade room, hiking trails, ice skating (winter only), fire pits, Solstice North Day Spa, Seven Birches Winery, great restaurants, and gorgeous rooms to settle into during your stay.
Offsite, Lincoln is full of awesome things to do, like train rides, mini-golf, the Alpine Adventure Center, a waterpark, and just so much more!
Parents and kids will both love how much there is to do both onsite and off.
RiverWalk Resort offers enough to its guests that you don't have to go offsite for a good time if you don't want to, but there's plenty to see if you do.
Click Here to Check Prices & Book!
Rangeley Lake Resort in Rangeley, ME
An outdoor lover's paradise, Rangeley Lake Resort is where you want to take your family when everyone needs a healthy helping of the great outdoors!
Not only is Rangeley just up the road from Sugarloaf, one of the most popular ski resorts in the East, but Rangeley holds its own very well when it comes to outdoor activity.
Warmer weather offers canoeing, kayaking, paddle boarding, fishing, boating, swimming, and hiking. Colder weather means ice fishing, snowshoeing, cross-country skiing, and fat biking through the snow. It also happens to be one of the best places in Maine to see moose!
Rangeley is one of the cutest small towns in Maine, and this New England resort offers rustic décor and cozy comfort with well-equipped cabin lodgings, many with fireplaces!
Don't forget the luxurious onsite amenities like a heated swimming pool, hot tub, cedar sauna, and fitness facility. Added bonus: Rangeley Lake Resort is dog friendly so if you're looking for pet friendly hotels in New England, here ya go!
Rangeley Lake Resort is the perfect landing spot for outdoor adventures in beautiful Maine.
Click Here to Check Prices & Book!
Best Luxury Hotels in New England
Ocean House in Westerly, RI
Located in the beautiful little town of Westerly (yes, T-Swift's-Summer-Home-Westerly!), Ocean House is one of the most popular luxury getaways in all of New England.
Rooms are luxuriously appointed and thoughtful amenities throughout the resort include complimentary afternoon refreshments and activities like guided yoga, live music, and culinary classes.
Plus, there's the Forbes 5-star rated spa, Ocean & Harvest Spa. that has a menu rich in ocean-themed offerings like the Sea Foam Pedicure.
There is lovely seaside terrace dining, and Ocean House's COAST restaurant is one of CNN Traveler's World's Best Waterfront Restaurants and is both AAA and Forbes Five-Star Rated.
If you'd like to head out to see what all there is to see and do in the greater Westerly area and maybe hit some of the nearby beaches, you can make use of the Ocean House "house Mercedes-Benz" to explore.
One of the top 50 things to do in RI, a stay at Ocean House will fill your cup when it comes to indulgent luxury as you cross this one off the bucket list!
Click Here to Check Prices & Book!
Delamar in Greenwich, CT
Located in beautiful Greenwich, the Delamar is sophistication, elegance, and luxury with an Old-World feel.
Rooms infuse European stylings with Connecticut charm, with several offering private balconies overlooking the harbor. Deep soaking tubs come standard so you can luxuriate in your own private tub before heading to the gorgeous Delamar Spa, where the spa menu has a robust selection of treatments and therapies to leave you feeling refreshed and rejuvenated.
Of course, Greenwich is known for being a very affluent town, and the Delamar is no exception! Every single detail at both the hotel and the upscale French cuisine at onsite L'Escale will have you feeling like you are your own brand of royalty.
In season, you can also cruise around the harbor aboard one of Delamar's private charter boats… you'll definitely be feeling like you've got that "boat money" as you tour the Greenwich shoreline.
The Delamar offers timeless sophistication and elegance, and remains one of the best luxury hotels in New England.

Click Here to Check Prices & Book!
Blantyre Hotel in Lenox, MA (Undergoing renovations until 2024)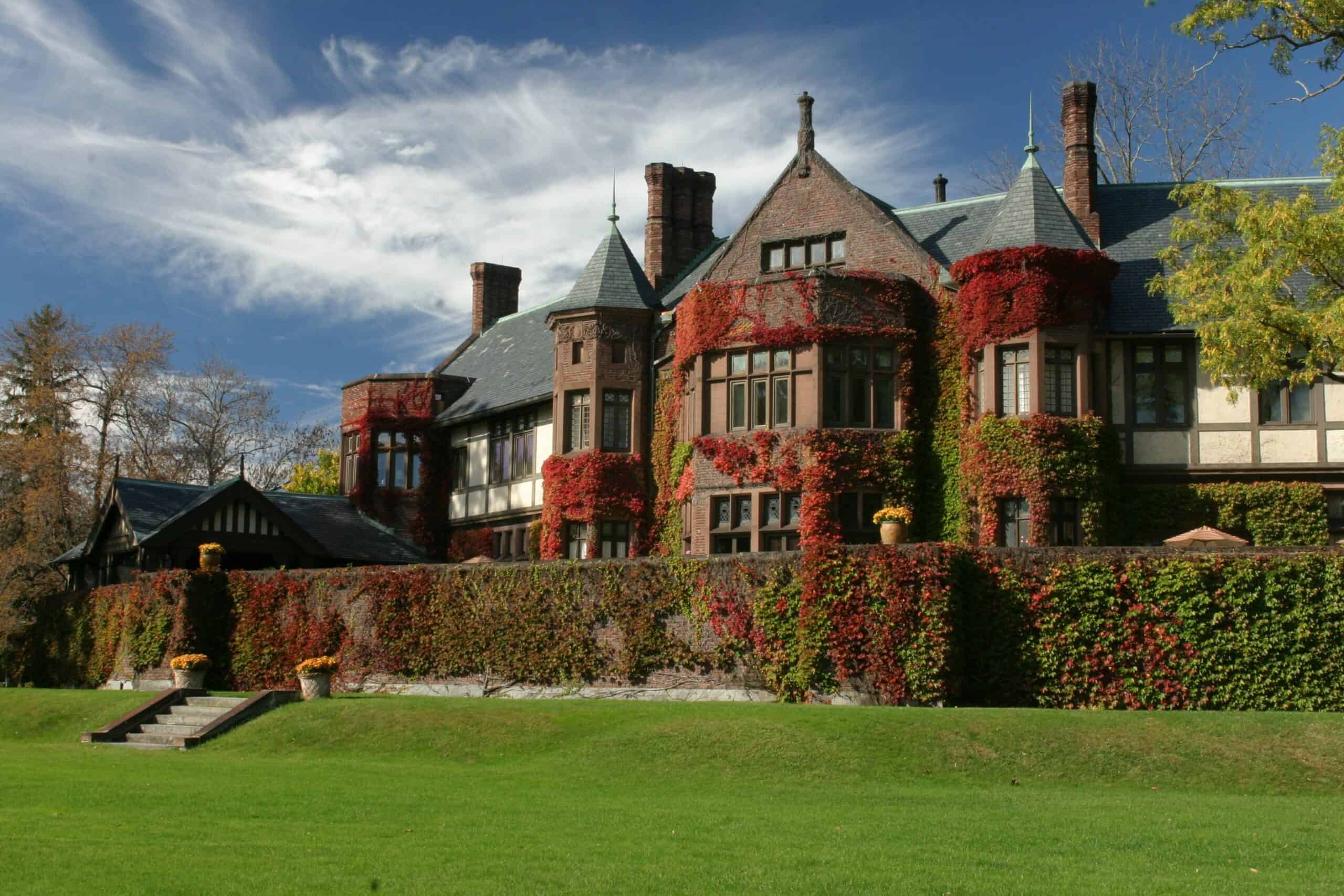 Stunning Blantyre Hotel is perfectly situated in the beautiful Berkshires and surrounded by well manicured grounds that add to the charm of this spectacular castle-esque property. Luxury touches seem to be everywhere you turn, whether you choose to stay in The Manor House, The Carriage House, or The Cottages.
The onsite Spa by Blantyre is a favorite regional destination spa, and the soothing tranquility of this space is heightened by green spaces and estate gardens that surround the spa.

Blantyre also offers guests a BMW for exploring beyond the estate grounds, and with so much to see and do in the Berkshires, you should absolutely take advantage of this!
After a lovely day exploring Lenox and beyond, what could be better than returning to one of the breathtaking Blantyre Hotel?
Click Here to Check Prices & Book!
Cliff House in Ogunquit, ME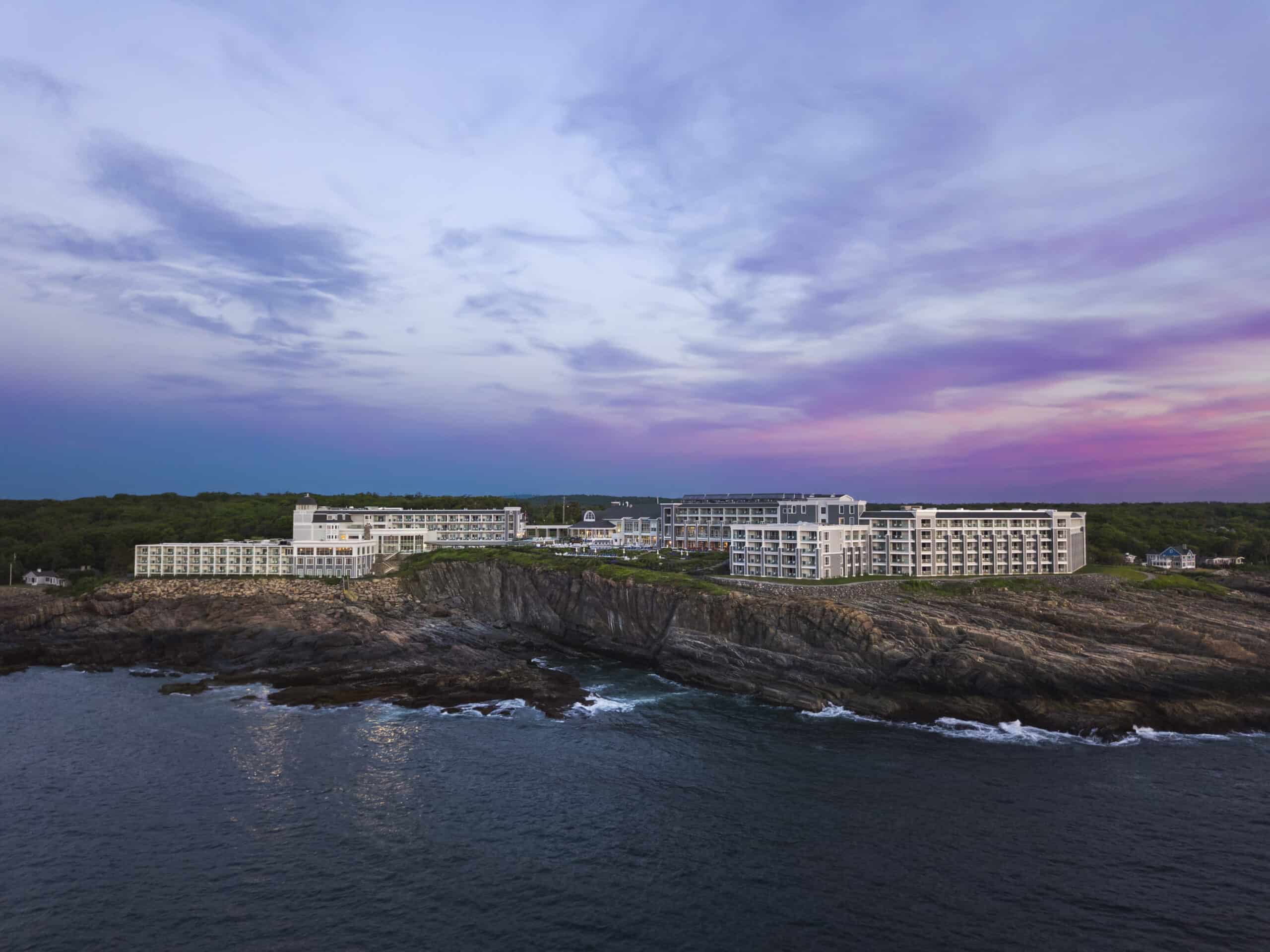 Perched dramatically atop a rugged cliff in Maine is Cliff House, one of the premier resort destinations on the East Coast and a perfect landing spot for anyone in search of a luxurious romantic Maine getaway.
Incredible views are common at this New England luxury hotel, with many of their well-appointed rooms offering sweeping views of the Atlantic from private terraces.
That's not the only way to take in the gorgeous views around the grounds. With incredible ocean views available all around the hotel in their numerous outdoor seating options, multiple pools, hot tubs, dining options, and even from the onsite spa!
The epitome of coastal cool meeting modern luxury, Cliff House features a wide range of accommodation options, onsite restaurants, and unique resort activities, like an artist in residence that offers specialty art classes for guests that would like to unleash their inner creativity on the cliff.
Going off the grounds to explore lovely Ogunquit offers even more fun to be found, but with the views that come standard at Cliff House, all you have to do is turn to the sea and this getaway is going to feel like you have really and truly gotten away from it all!
Click Here to Check Prices & Book!
Saybrook Point Resort & Marina in Old Saybrook, CT
Located along the Long Island Sound in the quaint little town of Old Saybrook is the Saybrook Point Resort & Marina, a bastion for those seeking luxury in this peaceful stretch of the Sound.
Coastal elegance awaits, with many rooms offering private balconies and fireplaces. Choose one of the main hotel rooms, the guest house rooms, or the coveted Lighthouse Suite. Swim in one of the heated pools, relax in the sauna, steam room, or hot tub, and visit the onsite spa to be pampered with massage, body treatments, and salon services.
The hotel restaurant, Fresh Salt, is a local waterfront dining favorite, or visit the Marina Bar for cocktail hour on the Sound. This lovely hotel knows how to provide the perfect amount of pampering for its guests without feeling fussy.
For a peaceful, luxurious stay on the Sound, look no further than Saybrook Point Resort and Spa.
Click Here to Check Prices & Book!
The Chanler at Cliff Walk in Newport, RI
The Gilded Age was the height of luxury for the wealthiest Americans during the late 19th century; staying at The Chanler at Cliff Walk lets you sample a little taste of that life, too!
This historic mansion is situated on one of New England's most spectacular cliff walks, allowing you to tour extravagant historic homes on one side, and the breathtaking sea on the other.
Rooms at the Chanler are ornately decorated with exquisite detail, from the woodwork of the period-style furnishings to the elaborate draperies that dress the windows.
Gas fireplaces, in-room massage, and aromatherapy bath services add to the luxury of your stay, and the Chanler even provides complimentary house car service and Tokyobikes for exploring the many things that Newport has to see and do, like touring a few ultra-opulent Newport mansions.
There are three onsite restaurants to choose from with lovely ocean views to accompany your fine dining meals. You can't go back to the Gilded Age, but you sure can catch a glimpse of it with a stay at The Chanler at Cliff Walk!
Click Here to Check Prices & Book!
Top New England Hotels for a Unique Stay
The Liberty Hotel in Boston, MA
This gorgeous old building has a bit of a checkered past, but that's a huge part of what makes The Liberty Hotel such an incredibly unique stay!
Before being one of Boston's best places to stay, it was one of Boston's worst places to stay as the infamous Charles Street Jail, in operation as a jail from 1851-1990.

Re-made and re-imagined as the beautiful boutique hotel that it is today, Liberty Hotel embraces its notorious past by retaining several of the original touches, like the catwalks that guests still use today to move around the hotel.
Playful nods to Liberty Hotel's past include Clink, the onsite restaurant that has incorporated the black bars and brick walls into its uniquely fun décor.
A stay at the Liberty is also one of the most romantic things to do in Boston, with its gorgeous accommodations that effortlessly fuse modern efficiency with sophistication, and offering views of the city for daaaaaays.
Boston has so much to see and do; add a stay at this unique boutique hotel to the list!
Click Here to Check Prices & Book!
The Press Hotel in Portland, ME
Attention all Journalism Junkies and Fans of the Written Word (this includes us here, of course!), The Press Hotel is an absolute must-visit while in the Portland area.
Vintage typewriters, quotes from Maine's finest Literati, and a coffee shop named Inkwell will all be a part of the Worship the Written Word vibe that you will find at The Press Hotel!
Rooms are sleek and modern, with vintage press details tucked in here and there for bonus charm.
The onsite restaurant, Union, uses only fresh, local ingredients in their open-concept kitchen, which is in keeping with what you would and should expect from most of the foodie favorites in Portland.
Portland has so many great things to offer tourists—and staycationers, too, whether you're looking for breweries to tour, nearby lighthouses to explore, or a full itinerary for a perfect Portland weekend! Extra, extra, read all about it!
The Press Hotel in Portland is a must-visit for those in search of unique New England hotels to experience.
Click Here to Check Prices & Book!
Winvian Farm in Litchfield Hills, CT
Okay, so Winvian Farm has cottages for rent rather than a traditional hotel/inn structure with a main building, but we had to include it because as far as unique stays go, Winvian Farm kinda takes the cake!
This 113-acre heavenly haven is nestled into the lovely Litchfield Hills region of Connecticut, with 18 resort cottages with themes that are uniquely creative.
There's the Charter Oak, which is literally built around a giant White Oak, or The Helicopter, which has a retired and restored Coast Guard chopper incorporated into the actual cottage!
In-cottage amenities include jetted soaking tubs, rainfall steam showers, fireplaces, and other little luxurious touches.
A stay at Winvian is more than just cool cottages with interesting themes, too, because Winvian Farm is a Relais & Chateaux resort with a five AAA Diamonds rated restaurant that provides fresh farm-to-table goodies for guests. The specialty breakfasts are even included in the room rate!
Add in the luxury spa with an amazing menu of services in a tranquility-inducing setting and a 40-foot pool that is surrounded by lush greenery, and you've got a little slice of heaven in Connecticut.
Winvian Farm is a must-stay location for anyone in search of a uniquely memorable stay!
Click Here to Check Prices & Book!
Graduate Providence in Providence, RI
Formerly the Providence Biltmore, the Graduate Providence is one of those classic, old world New England hotels that have been beautifully updated to feel modern and historical all at once.
However, there's a bit of a twist here at this historic New England hotel: it's potentially haunted!
With quite a bit of a checkered past (constructed by an alleged satanist who is rumored to have held rituals at the hotel) and frequented by a variety of less than savory characters in its earliest years.
Today, you wouldn't think this at all, as this is a beautiful hotel with incredible amenities (hello, onsite spa!) and one of the best hotels in Rhode Island.
There have been reports throughout the years, particularly from employees, that occasionally there are party sounds and laughter that can be heard from vacant rooms. Who really knows, but if you'd like to stay in a potentially haunted hotel in New England, book this one!
Click Here to Check Prices & Book!
Budget Friendly New England Hotels
Sleep Woodstock Motel in Woodstock, VT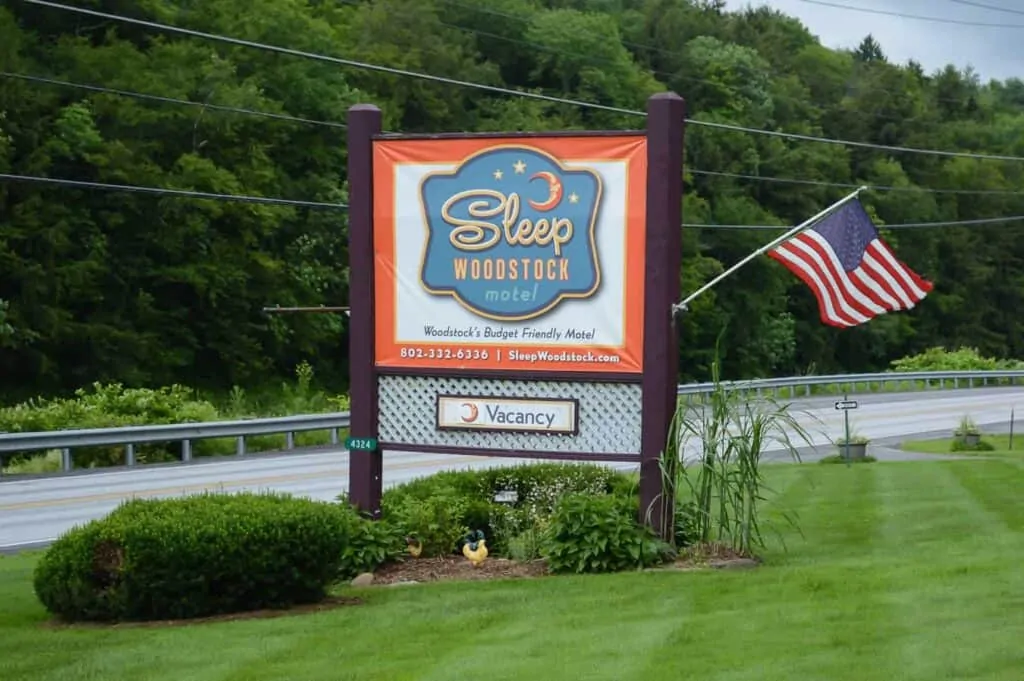 This is just one of the cutest retro style New England motels, and we absolutely loved our stay here! Yes, Sleep Woodstock Motel is a "budget option," but don't think for a moment that you'll be sacrificing comfort or safety.
This Woodstock place to stay was recently renovated when we stayed a few years back, and we definitely appreciated the 1950s motor lodge vibe with modern updates! Rooms are spacious, beds are super comfy, and it is a great budget friendly option for a Woodstock, Vermont visit.
There are pet friendly rooms at Sleep Woodstock Motel also, so you can bring your four legged friend, too!
Click Here to Check Prices & Book!
North Colony Motel & Cottages in Bartlett, NH
Looking for affordable New England hotels in the White Mountains? North Colony Motel and Cottages offers budget friendly options for visitors in search of a nice, affordable place to stay.
Rooms are comfy and spacious, and the cottage option even includes a kitchenette. Onsite you'll find a pool and playground for the kiddos, and the location is fantastic. You're just a quick drive from nearby attractions like Storyland and Settler's Green!
Click Here to Check Prices & Book!
—
During your travels, you'll have tons of options for where to stay in New England, whether it's an awesome vacation rental, a glamping excursion, a super cool treehouse rental, or one of the fabulous hotels we've detailed above.
Anywhere you lay your head, make your New England getaway the perfect getaway for you!
---
You might also like:
---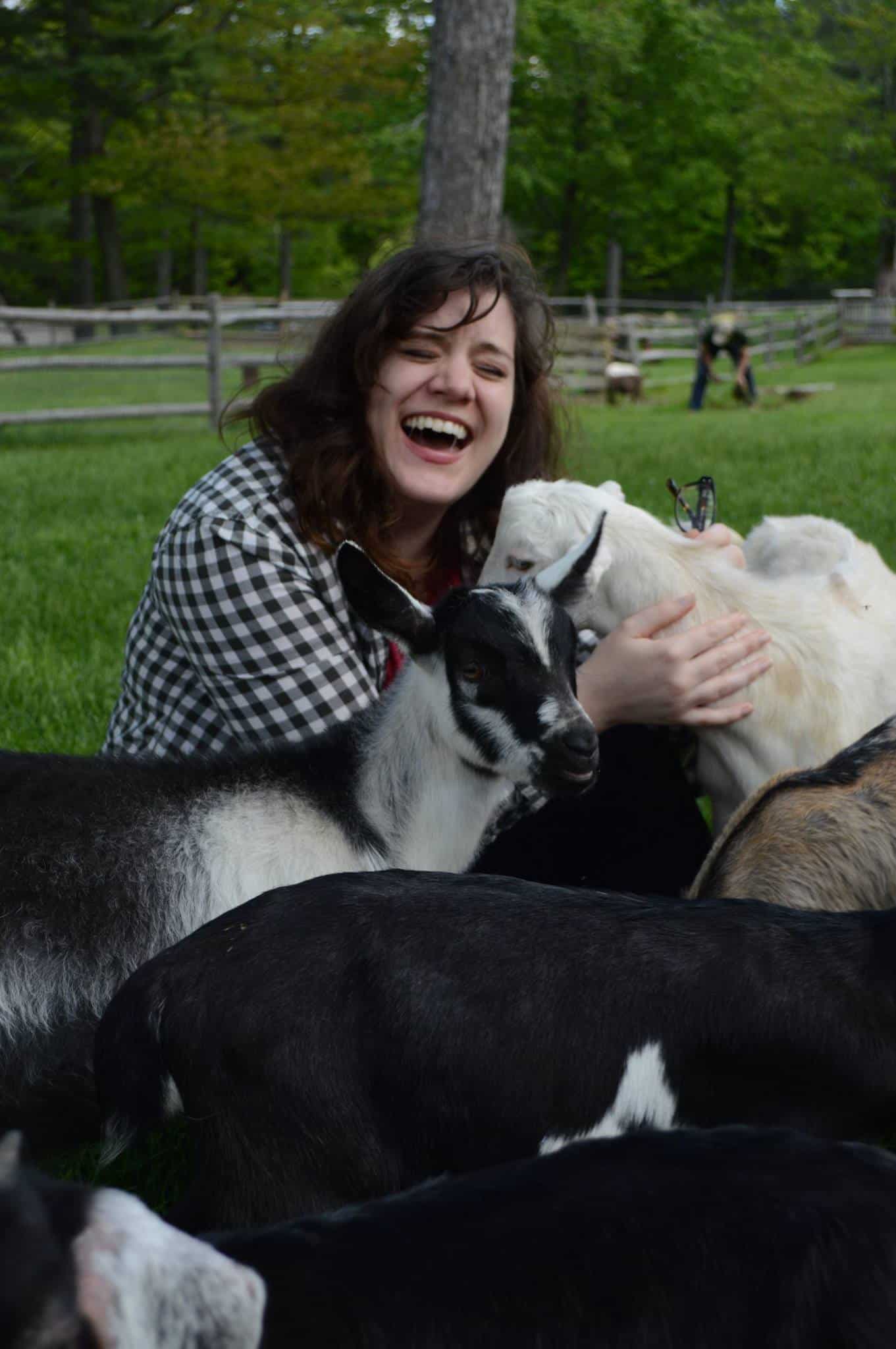 Amy Hartle is the founder and Editor-in-Chief of New England With Love, a comprehensive resource for travel in the New England region. Amy has been exploring New England since 2001. She lived in Vermont for many years and is a graduate of Plymouth State University in New Hampshire. Amy has been writing about travel for over a decade. On this site, Amy aims to share her love of New England and help you to have the best possible adventures!
Amy has been a full time blogger since 2012, and is also the publisher of Two Drifters, where she writes about couples travel and relationships, as well as Let's Adventure Baby, a family travel site. When not traveling the world or creating epic blog content, Amy can be found cuddling with her husband, son, and cats, & drinking a maple latte.