*This site uses affiliate links; if you make a purchase through these, I may receive a small commission at no cost to you.
Latest posts by Krystianna Pietrzak
(see all)
While you may think that you have to travel to Europe to explore castles, you don't! All you have to do is head to New England, where there are castles galore. Believe it or not, there are many great castles in New England, some of which have now been converted to historic sites and even top-notch bed and breakfasts.
Here are some of the must-visit castles in New England!
Hammond Castle, Massachusetts
Hammond Castle is arguably the most-visited castle in New England. It is certainly one of the most popular castles in Massachusetts.
Located in Gloucester, it was built in the 1920s for John Hays Hammond, Jr. After taking the time to explore Europe, Hammond returned home and realized he wanted his own medieval castle at home. He filled it with a lot of his most significant artworks.
Today, visitors can explore the castle for an affordable price of $18 for adults and $10 for children. It's been converted into a museum which leads you through the greatest parts of the castle. There are also guided tours available that are only offered during specific hours but will give you lots of information about the castle's history!
After exploring the castle, be sure to explore downtown Gloucester, including its great restaurants.
Gillette Castle, Connecticut
Next is Gillette Castle, which William Gillette created in 1919. This truly looks like a medieval castle, almost like it was taken right out of Scotland and placed in Connecticut! Gillette was a big part of the art world, not only in acting and directing, but he also designed the entire castle himself and the surrounding grounds.
Because Gillette was most well known for his role portraying Sherlock Holmes, the castle is sometimes called Sherlock's Castle.
The castle has been kept in excellent condition and is now a top place to visit in Connecticut! By visiting, you can see a lot of the great architectural pieces that Gillette added to the castle. Tours are available, and you can also explore the grounds.
Herreshoff Castle, Massachusetts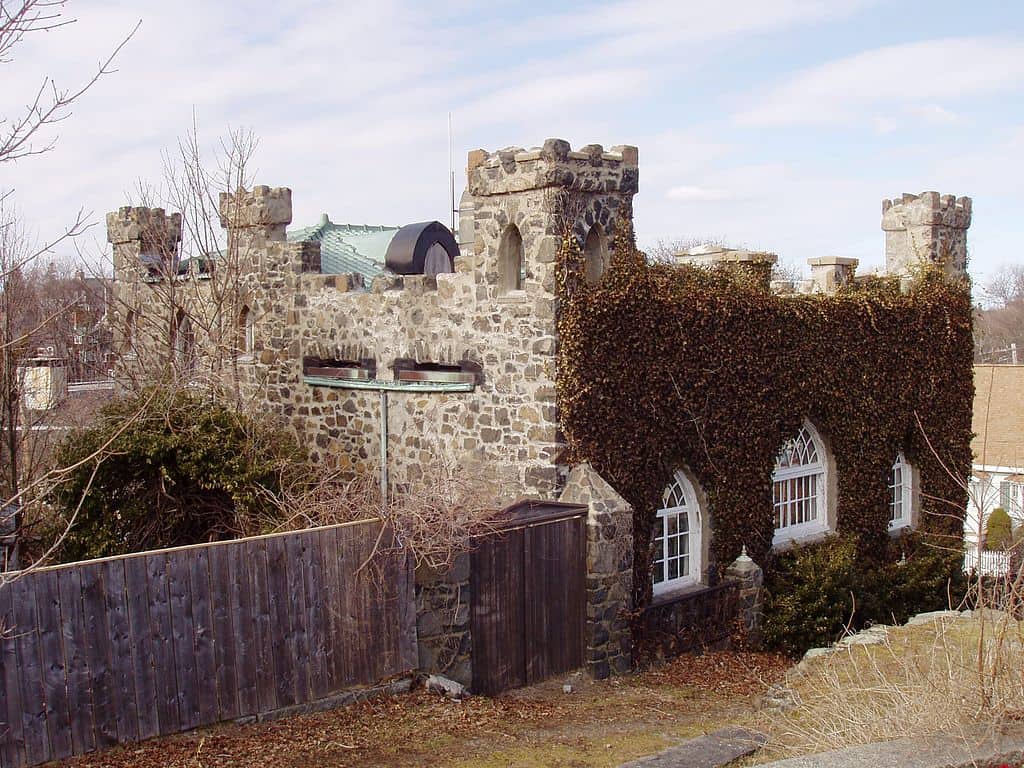 Herreshoff Castle is another castle located in Massachusetts. This castle is built in the Gothic style and was constructed in the 1920s by Waldo Ballard. A man named Francis Herreshoff ended up purchasing the castle, which is why it's named after him today.
Eventually, it was sold to another man who ended up taking the castle and making it a bed and breakfast, which is what it is today! By staying at the bed and breakfast, you can find out exactly what it's like to live inside this Gothic castle, inspired by Viking fortresses in Europe. It's located in Marblehead and is not that far from Boston.
Searles Castle, New Hampshire
Searles Castle is one of the best castles in New Hampshire to visit! This castle was built in the early 20th century under Edward Francis Searles, a famed interior designer. It served many different purposes over the years, including as a retreat house for the Sisters of Mercy.
In 2019, the castle was essentially turned into an event space and is often used for weddings! It's also used for parties, birthdays, concerts, meetings, and retreats by businesses in the area. If you happen to have a birthday during your next trip to New England, why not party in style at Searles Castle?
Castle in the Clouds, New Hampshire
The Castle in the Clouds is a 1913 mansion in Moultonborough, New Hampshire. It was built for Tom Plant and his family and is located on more than 6,000 acres of land. For the longest time, it was referred to as Lucknow Estate but soon became known as the Castle in the Clouds in the 1950s.
Today, the castle serves as a museum and event space! Inside, you can truly step back in time and explore artifacts and exhibits on what life was like back when the castle was built. Tours are also available of the basement (which is a must-do). You can also dine at the restaurant or cafe at the castle or go on a hike on one of the 28 miles of trails.
Wilson Castle, Vermont
While you won't find many castles in Vermont, it is home to the fascinating Wilson Castle! Located in Proctor, this castle was built in the 1860s. The architecture is a combination of both Dutch and Scottish, which makes for a unique castle! It's located directly in the Green Mountains, so the atmosphere is breathtaking.
Traditionally, you'd want to visit a castle to just go on a regular tour, which Wilson Castle does have. However, it also offers haunted tours. This is a fun way to experience the castle, but it isn't for those who get scared easily!
Saint Clements Castle, Connecticut
Located on 90 acres of land, Saint Clements Castle in Portland is one of the castles in Connecticut that you won't want to miss. The castle was built in 1898 by Howard Taylor and his wife, who were farmers in the area. Parts of the castle are reminiscent of castles in Europe from the 16th century.
This castle is now the top event spot in the area and is filled with tons of spots waiting to be explored. It's often used for weddings, fundraisers, meetings, theater shows, and even reunions.
Castle Craig, Connecticut
Castle Craig is a historical landmark that will make you feel like you're in Ireland! It's located in Meriden and was built by Walter Hubbard in 1900. It's technically a part of Hubbard Park and offers sweeping views of the area, no matter where you look.
To get to Castle Craig, you have to go on a scenic 3-mile hike, but it's well worth it. It's an out-and-back trail that is moderate difficulty, just because of the slight elevation gain. Once you get to the castle, be sure to take a look at the view around you! For an unbeatable experience, consider visiting in autumn during fall foliage.
Madame Sherri's Castle Ruins, New Hampshire
One of the more exciting castles in New England is Madame Sherri's Castle Ruins! Located in West Chesterfield, New Hampshire, these ruins are what's left of an old house. Today, just part of the base from the home and the stairs leading up to it are still in existence. Unfortunately, this is because the house was set on fire in the 1960s.
Many people say that Madame Sherri herself haunts the ruins. To get to the castle, you have to visit Madame Sherri Forest (yes, it's named after her!) and walk the trail. It's only about a mile or so until you reach her castle ruins.
Kimball Castle, New Hampshire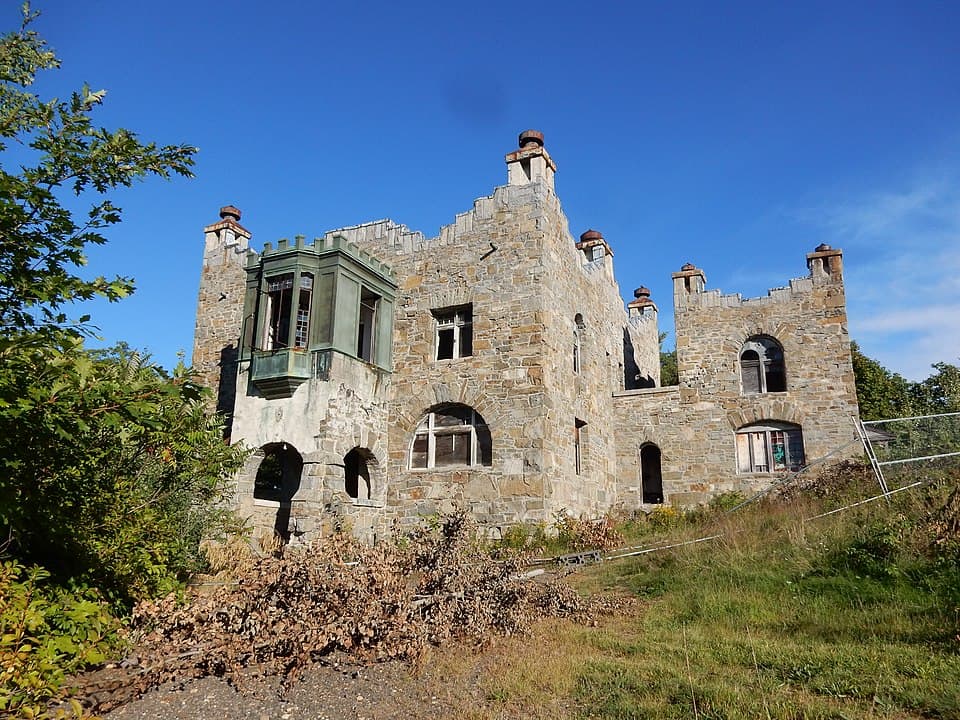 Next is Kimball Castle, which used to be one of Benjamin Ames Kimball's homes. He was an essential person in the railroad industry in the 19th century. The castle has a very long history, and its architecture is reminiscent of castles in Europe from the Middle Ages.
While Kimball Castle was recently purchased and is currently undergoing some renovations to become a new venue in the area, you can rent an Innkeeper's Cottage on Airbnb to stay there. Once it's restored, there may be more places to stay!
Blantyre Castle, Massachusetts
Blantyre Castle is located in the most beautiful part of Massachusetts: the Berkshires. More specifically, it's in Lenox! The castle was built in the early 20th century and was officially opened to the public as one of the best hotels in the entire world! It was revamped back in 2000.
Today, the castle is still serving its original purpose of being a top-rated hotel oozing elegance. You can stay in the manor house, the carriage house, or one of the cottages. It's mainly been a popular place to stay among couples visiting the area!
Sleeping Giant Castle, Connecticut
Though it's not a traditional castle, Sleeping Giant Castle in Connecticut is one of the must-visit castles in New England. It was built approximately 100 years ago and even became a state park in 1924.
To get to the castle, you do have to walk up a hill. However, it was built having ramps leading up to it instead of stairs by the original architect. From the castle, visitors can look out and get some incredible views of the area since it's located on top of a mountain. Be sure also to take the time to explore the rest of Sleeping Giant State Park when you visit!
Norumbega Castle, Maine
Another castlet-urned-hotel is Norumbega Castle in Camden, Maine. This castle was built in the 1880s for Joseph Barker Stearns and was built in the Queen Anne style. It has a traditional Old English charm that sets it apart from other castles on this list.
They have a wide variety of rooms available, all of which are named after other famous castles worldwide! For instance, you could stay in the Kensington, Versailles, Balmoral, or Windsor rooms, among others. There are also unique suites if you're heading to the castle for a wedding event or you want a romantic weekend away! There aren't many castles in Maine, so make sure to add this to your itinerary.
Harry Barber's Miniature Castles, Vermont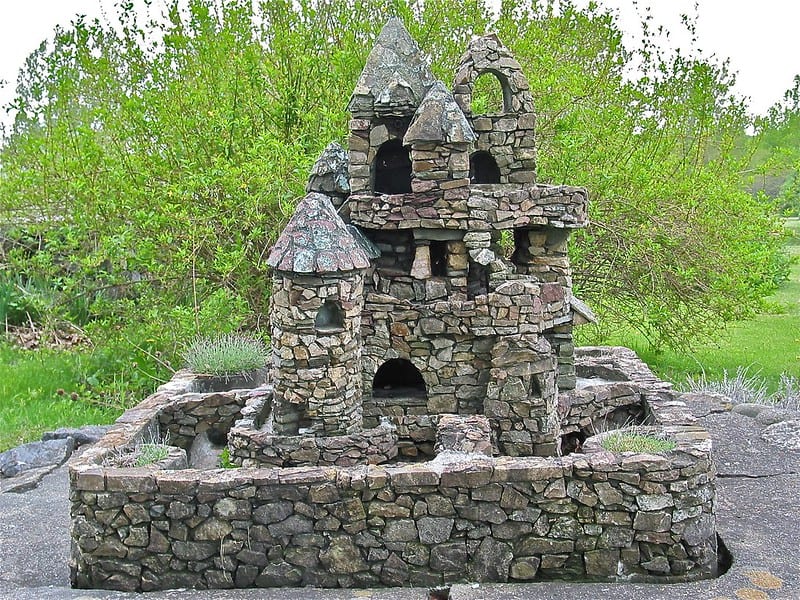 This may not be the type of castle you can walkthrough, but it's still worth seeing! Harry Barber's Miniature Castles in South Hero, Vermont, were created by Harry Barber, who moved to Vermont from Switzerland. He built the tiny castles to remind him of his home.
They are located throughout South Hero, so you have to look around a bit to find them. This is a great way to spend the day while visiting Vermont and is one of the lesser-known hidden gem activities to do when visiting the state!
Oceancliff Castle, Rhode Island
Rest assured, there are even castles in Rhode Island. Oceancliff Castle is a historical landmark turned event space and hotel! It's situated in Newport, arguably one of the most beautiful places to visit in the entire state. It was built in the 1860s as a villa for Arthur Bronson.
The castle is most often used to host weddings and other events in the area. However, you can also stay here since it's a hotel too! Plus, there's a restaurant where you can indulge while taking in some of the best views in Newport.
Winnekenni Castle, Massachusetts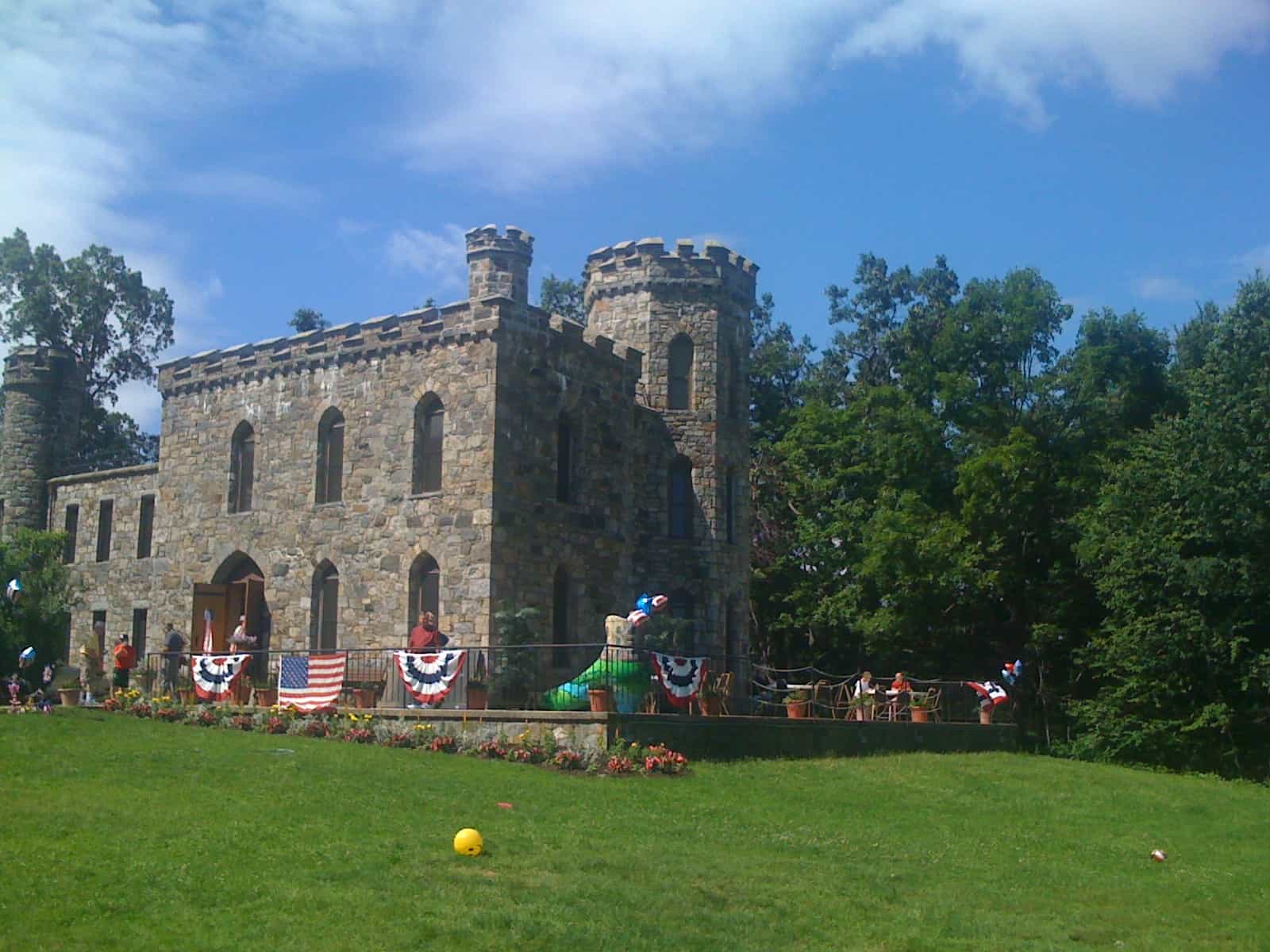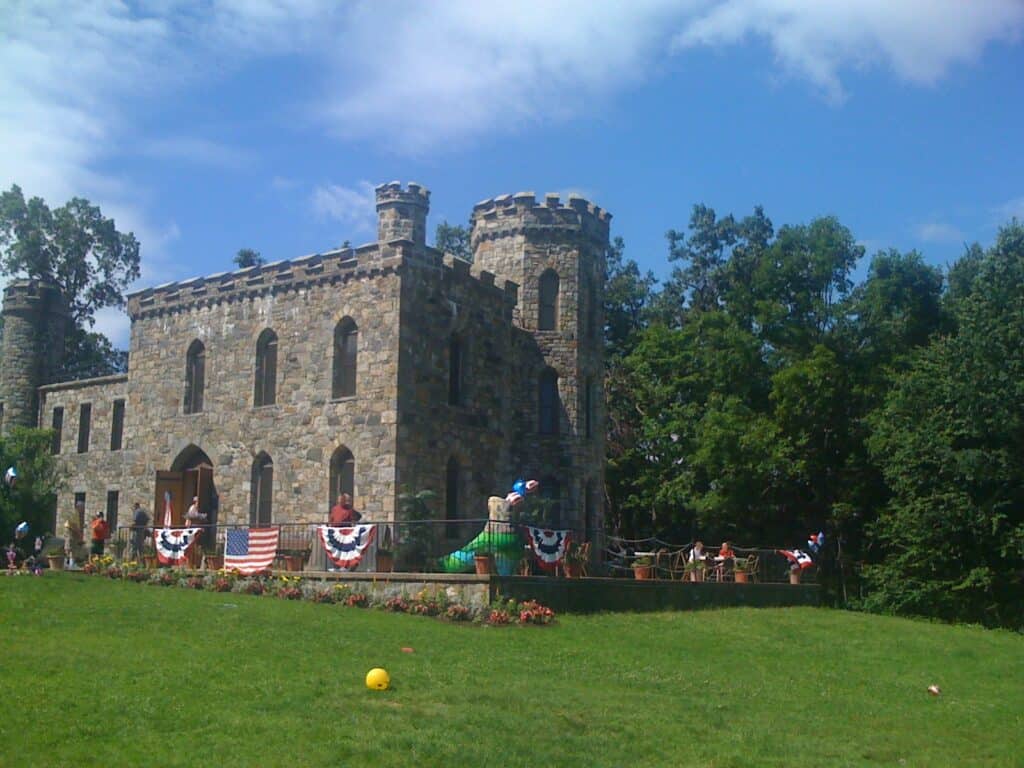 Last but not least is Winnekenni Castle in Haverhill, Massachusetts! It's located on 700 acres of land and is truly breathtaking. It was built in the 1870s by Dr. James R. Nichols, a chemist in the area. He used it just for his summer home!
Today, visitors can book the castle for an event and visit the surrounding area that it's located in. Because it's on so much land, there are many trails available for the public to visit! The trails surround the breathtaking Kenoza Lake and can be used for biking, hiking, walking, or even cross country skiing.
—
There are a multitude of impressive castles in New England! No matter where you plan on visiting in New England, there's sure to be a castle somewhere in each state. Some of these castles are a lot more popular during peak season, so if you want to visit without as many people, be sure to plan your trip wisely. Which of these New England castles do you most want to visit?
---
You might also like:
---