*This site uses affiliate links; if you make a purchase through these, I may receive a small commission at no cost to you.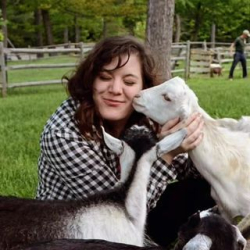 Latest posts by Amy Hartle
(see all)
I've spent over 20 years exploring and falling in love with New England. Today, I'm excited to share that passion with you through this comprehensive travel guide! From the charming villages of Vermont to the coastal beauty of Rhode Island, I've explored each of the six states in this vibrant region. In this guide, you'll find a handpicked list of over 101 activities and destinations that showcase the best things to do in New England.
Whether you're here for a quick weekend or planning an extensive New England road trip, this guide offers both a snapshot and an in-depth look at top sights, unique local cuisines, and year-round activities. Join me in discovering the adventures in this corner of the country, and start checking off your New England bucket list today!
Explore New England By State:

🌲Fantastic Things to Do in Vermont
🌲Amazing Things to Do in New Hampshire
🌲Terrific Things to Do in Connecticut
🌲Incredible Things to Do in Maine
🌲Marvelous Things to Do in Massachusetts
🌲Wonderful Things to Do in Rhode Island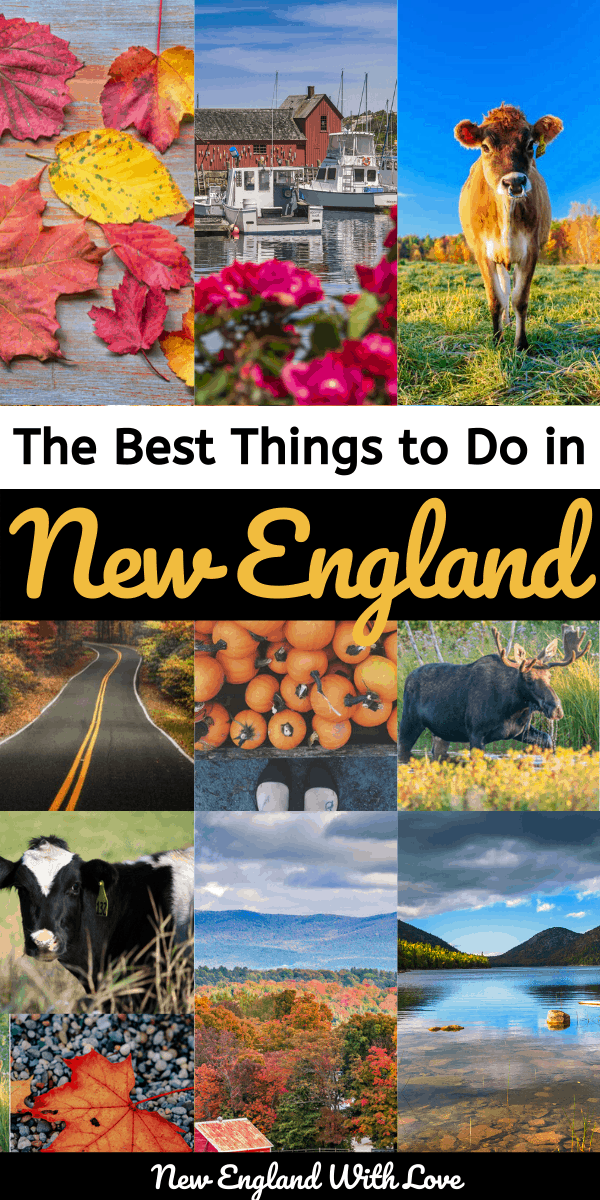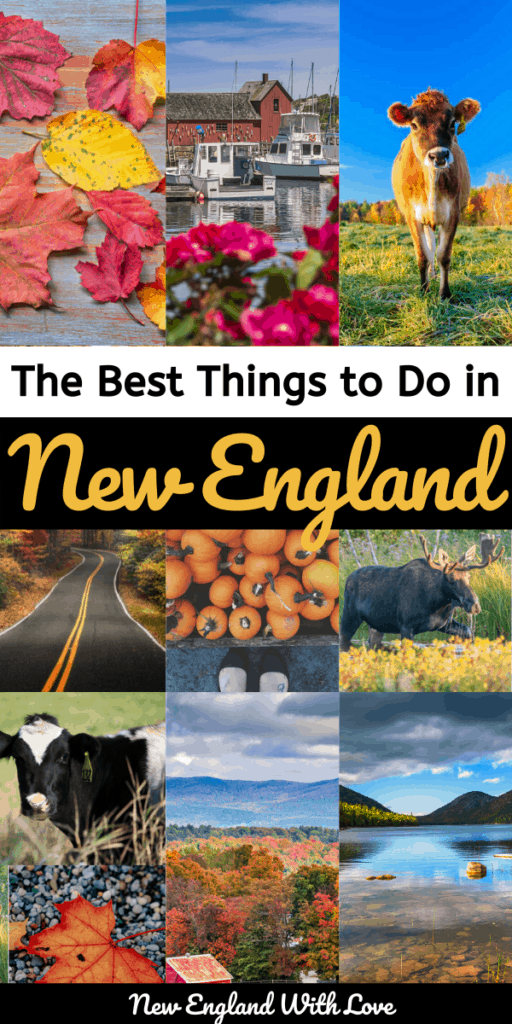 Best Things to Do in New England
New England's distinct seasons each offer unique experiences, making it a region that's wonderfully diverse all year round. To help you navigate, I've categorized the activities and destinations based on when they're best enjoyed. While New England's charm is undeniable regardless of the season, certain activities here have a special allure during specific times of the year.
To kick things off, here are the all-season highlights – those activities and sights in New England that promise a memorable experience whenever you visit. Be it under a canopy of autumn leaves, amidst winter snows, during spring blooms, or in the summer sun, these are the evergreen choices for your New England adventure.
1. Count the covered bridges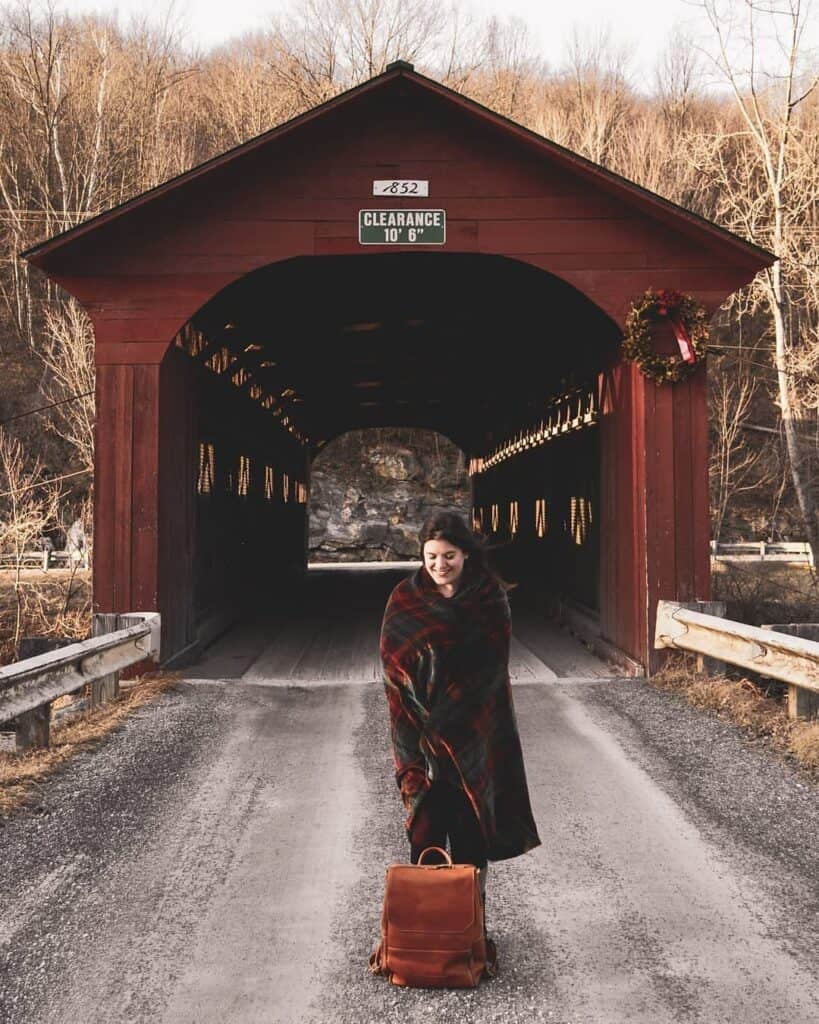 Covered bridges in New England? Absolutely a must-see—especially in Vermont, where there are over 100 of them. Visiting this bridges is like stepping into a living museum, but way cooler. These aren't just any old bridges; they're a snapshot of New England's history and craftsmanship. Think rustic charm meets engineering marvels.
New England's covered bridges are scattered across some seriously stunning landscapes, making each find a little adventure of its own. And let's be honest, they're Instagram gold. Whether you're a history geek or just love a good scenic drive, these bridges are where it's at.
So, grab your camera, hit the road, and get ready to explore the best-kept secrets of the Green Mountain State. Trust me, you won't regret adding these architectural gems to your New England bucket list.
Ready to go? Take a look at my guide to Vermont's covered bridges!
2. Walk Boston's Freedom Trail
The Freedom Trail in Boston is a straightforward, 2.5-mile path connecting key sites from America's colonial and revolutionary history. Starting from the green expanses of Boston Common, the trail leads you past landmarks like the Massachusetts State House, the Paul Revere House, and the Old North Church. Each site offers a glimpse into important historical events, including the planning of the Boston Tea Party at the Old South Meeting House.
This well-marked trail provides a practical way to explore a significant part of American history, weaving through the streets of Boston and bringing to life the stories of the city's pivotal role in the nation's early days, all the way to the first major battle at Bunker Hill.
You can walk the trail on your own or join a guided tour for a more in-depth experience.
3. Eat a fresh, delicious lobster roll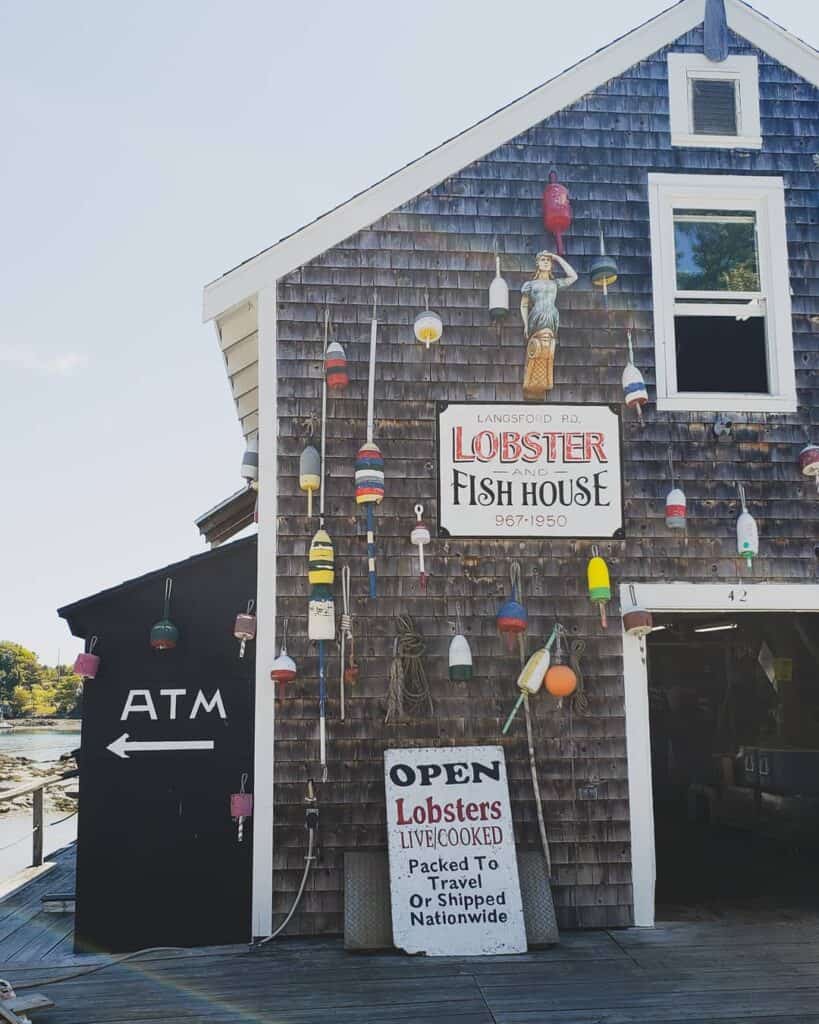 Lobster rolls in New England? Now that's an experience you can't skip. Imagine this: fresh, succulent lobster, lightly dressed, stuffed into a buttery, toasted roll. It's like the ocean decided to throw a party, and your taste buds are the guests of honor. Each bite is a mix of sweet, savory, and a hint of the sea – it's New England in a nutshell, or should I say, in a bun.
From fancy seafood joints to roadside shacks, these rolls are everywhere, and trust me, they're all worth a try.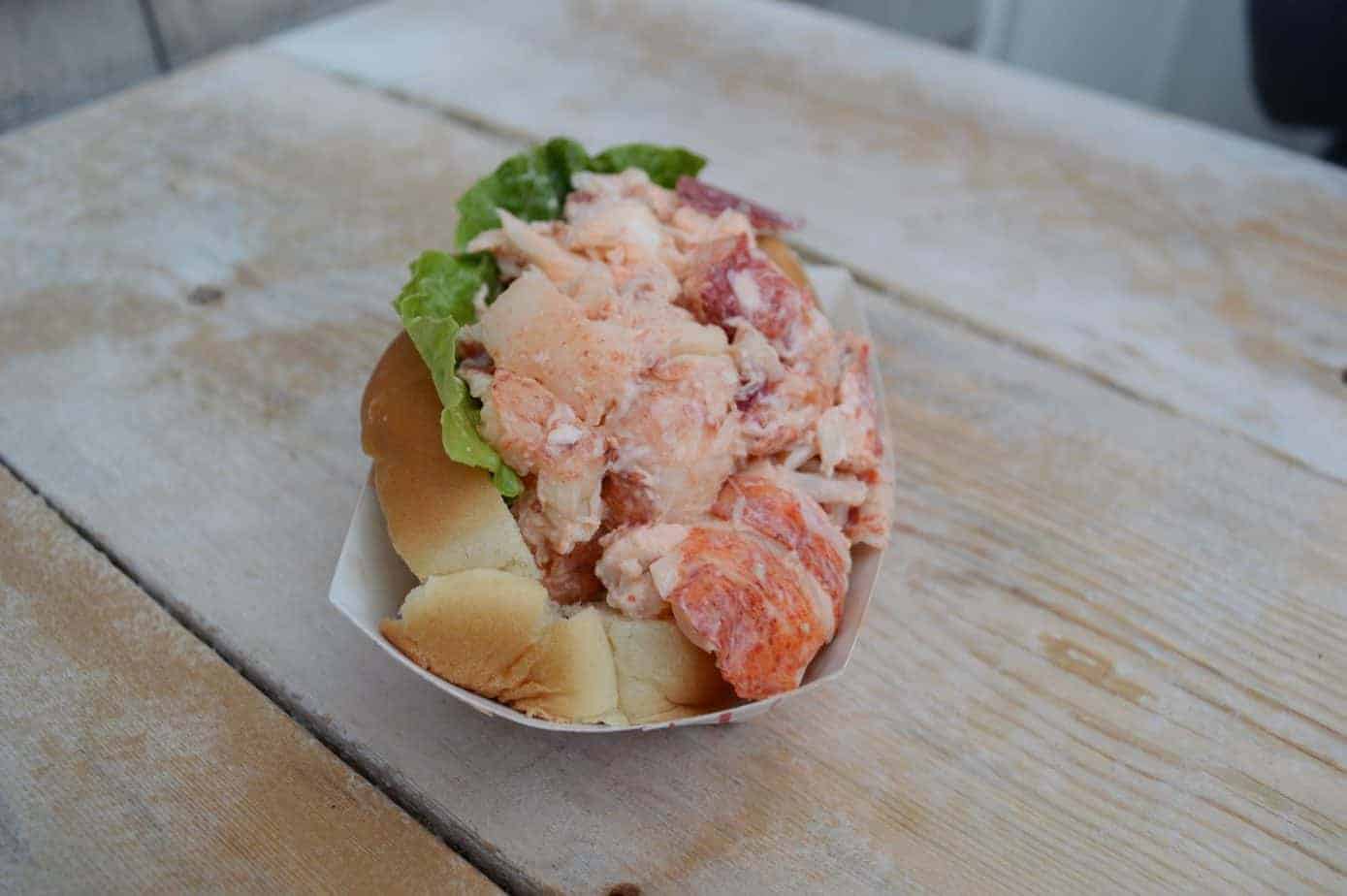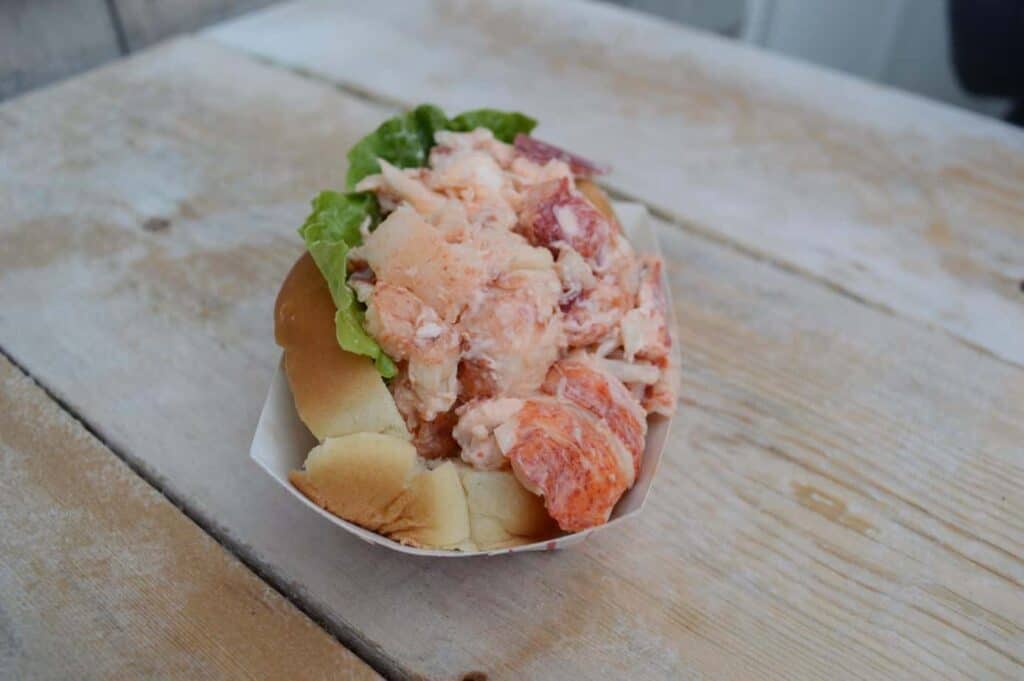 So, do yourself a favor: when you're in New England, find the nearest lobster roll, take a big bite, and savor one of the simplest, most delicious pleasures this region has to offer. You'll thank me later!
🦞Find 'em: The Best Lobster Rolls in Maine | The Best Lobster Rolls in Massachusetts
4. Stay in a charming B&B
Thinking of New England and not picturing a cozy bed & breakfast is like imagining a beach without the ocean. It's the stuff of dreams – beachside cottages with sunrise views or a Victorian mansion nestled in the mountains. Imagine this: a historic inn, a crackling fire in the main room, snowflakes dancing outside your window. This isn't just a stay; it's a page right out of a storybook. Perfect for couples, but honestly, who wouldn't want to wake up in such a fairy tale?
🍁Take a peek at my post on the best travel destinations in New England. This will help you pick where to visit for a cozy bed and breakfast!
5. Go whale watching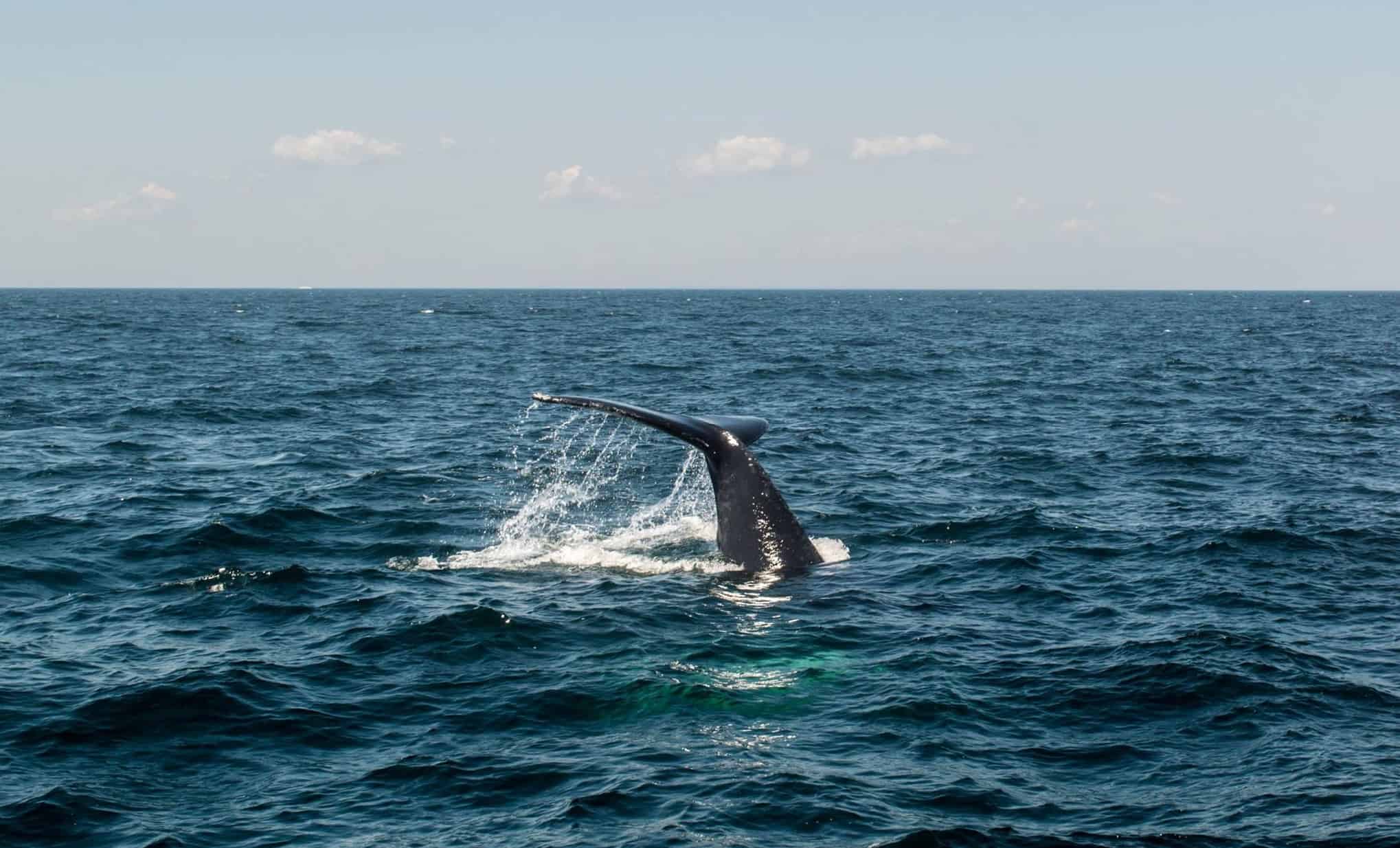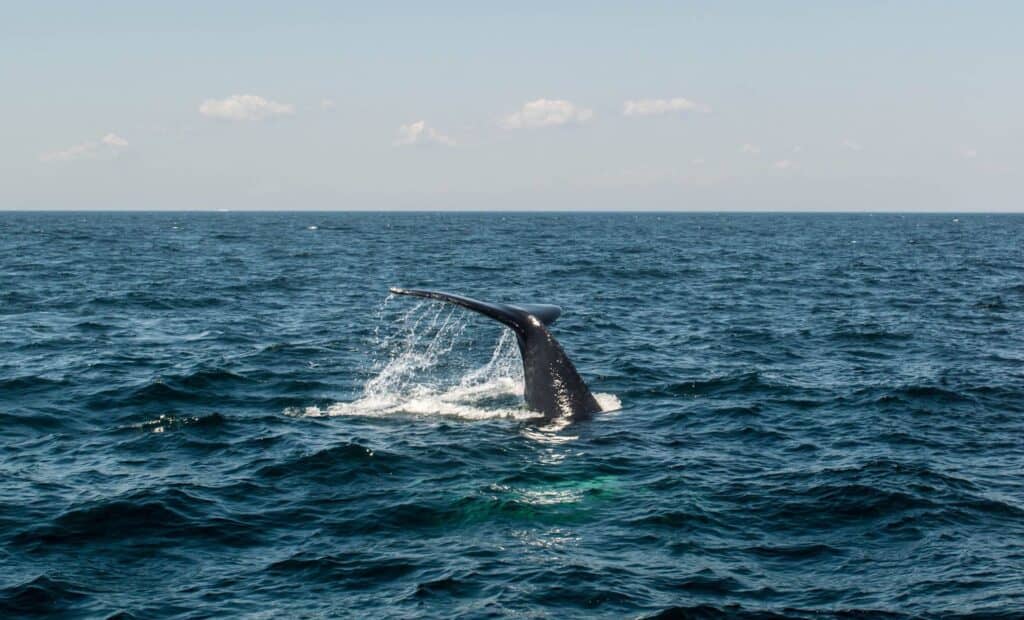 Here's an idea: swap the land for the sea for a day. Hop on a whale-watching cruise from Gloucester or Bar Harbor (among others) and get ready for a jaw-dropping show courtesy of Mother Nature. I've gone whale watching twice with Seven Seas Whale Watch out of Gloucester, and both trips were great!
Watching these giants of the ocean is not just a thrill; it's a nod to New England's rich maritime heritage. So, grab your binoculars and set sail on an adventure that's as wild as it is unforgettable.
🐳Check out my guides to some of the best places to go whale watching in New England:

Where to Go Whale Watching in Massachusetts | Where to Go Whale Watching in Maine
6. See a Red Sox game at Fenway Park
Sports in New England? It's not just a pastime; it's a religion. And the high church of this religion? Fenway Park, home of the Boston Red Sox.

If you're not into baseball, choose a different sport. But whether it's the Red Sox, Celtics, Bruins, or Patriots, catching a game in New England is a must. The energy, the crowd, the history – it's like being part of something bigger than yourself. Even if you're not a sports fan, the vibe is infectious!
⚾PS: This is both a New England bucket list item and something to check off your Boston bucket list, too!
7. Sample beer at some of New England's finest craft breweries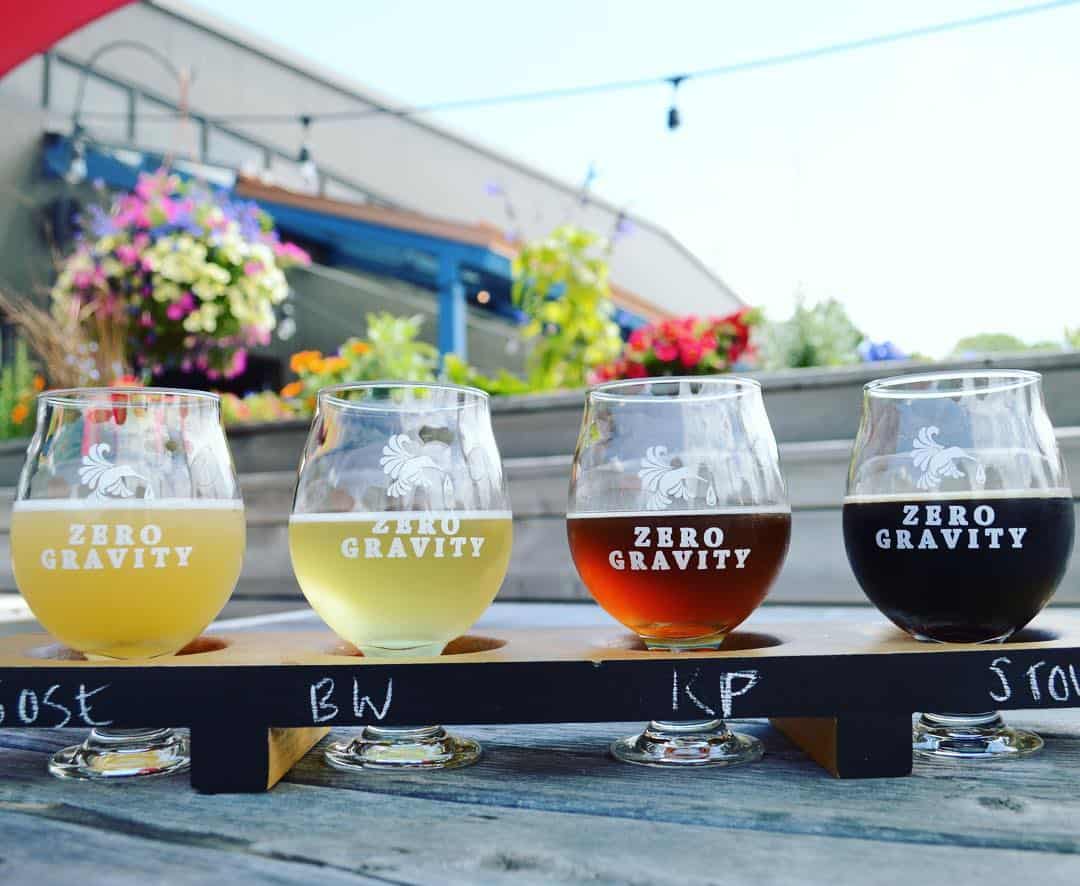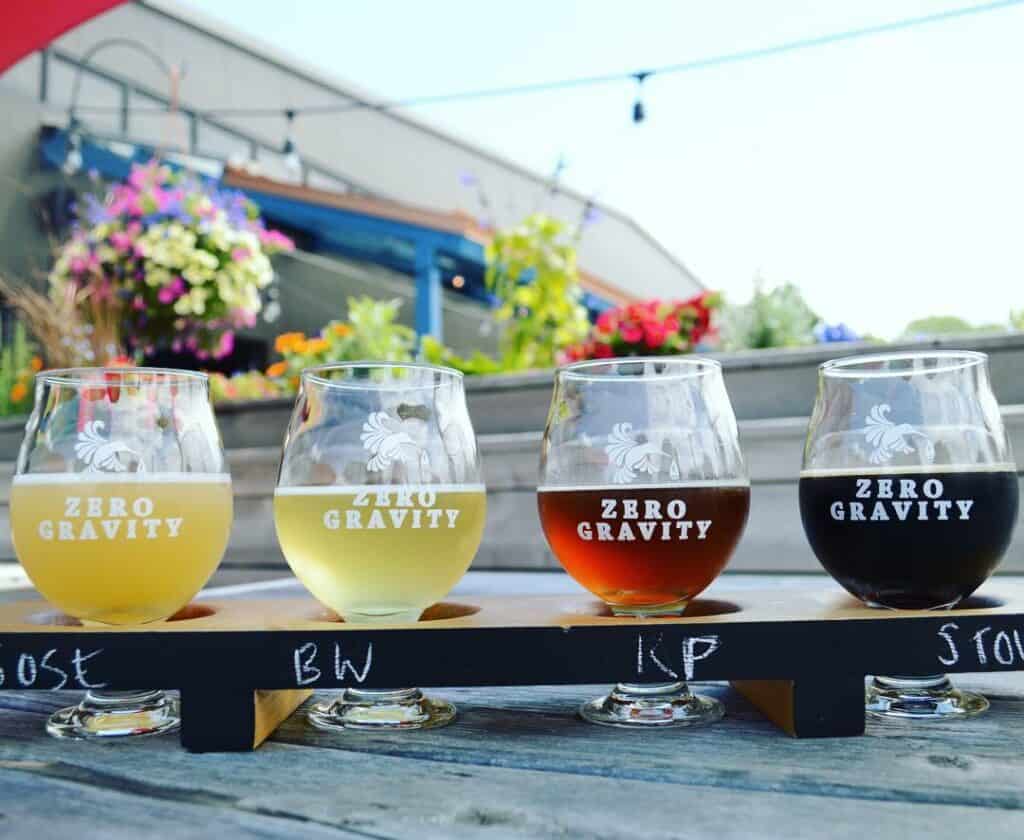 And now for the beer lovers: New England is a treasure trove of craft breweries. Each state here has its bragging rights for unique brews. Burlington, Vermont, is a beer enthusiast's paradise, but let's be real, every corner of New England has a pint that'll make you want to stay forever. So, tour these breweries, meet the locals, and sip on the flavors that make this region a hoppy heaven.
🍺Take a look at my list of awesome Burlington breweries worth visiting, and then browse my favorite things to do in Burlington. It's a wonderful city!
8. Visit New England's iconic lighthouses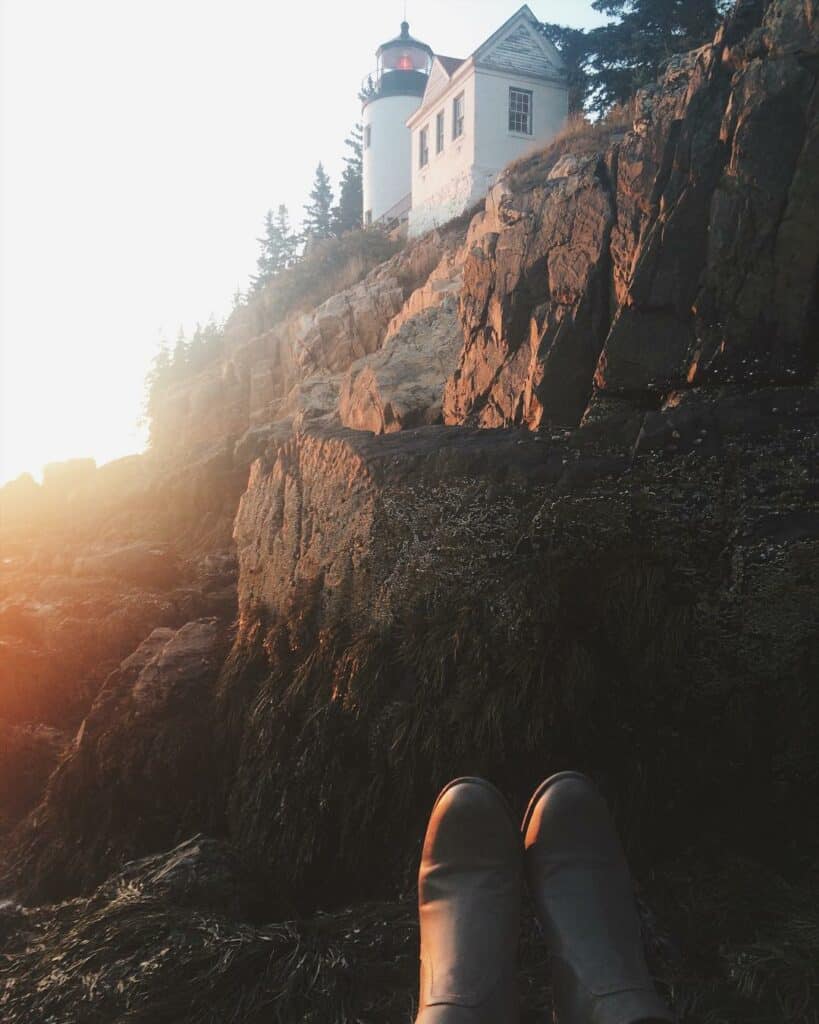 New England's coastline is home to some of the most beautiful lighthouses in the country. Start with the famous Portland Head Light in Maine, a picture of elegance against the rugged Atlantic Ocean. Then, journey to the Nubble Light in York, a quintessential Maine lighthouse perched on a rocky island, accessible via a short walk. Don't miss the Cape Neddick Lighthouse, another Maine gem, known for its stunning sunsets and postcard-worthy views.
But Maine isn't the only state with lighthouses worth visiting. In Rhode Island, the Beavertail Lighthouse in Jamestown offers breathtaking ocean vistas and a rich history, being the third-oldest lighthouse in America. And in Massachusetts, the Nauset Light in Eastham is a must-see, with its iconic red and white tower that's famously featured on the Cape Cod Potato Chips bag!
These lighthouses are not just navigation aids; they are historical landmarks, scenic wonders, and a testament to New England's vital maritime heritage. So, grab your camera, and embark on a lighthouse-hopping adventure to discover the best places that New England's shores have to offer.
⚓Explore More: Check out my guide to some of the best lighthouses in New England!
9. Tour the opulent mansions of Newport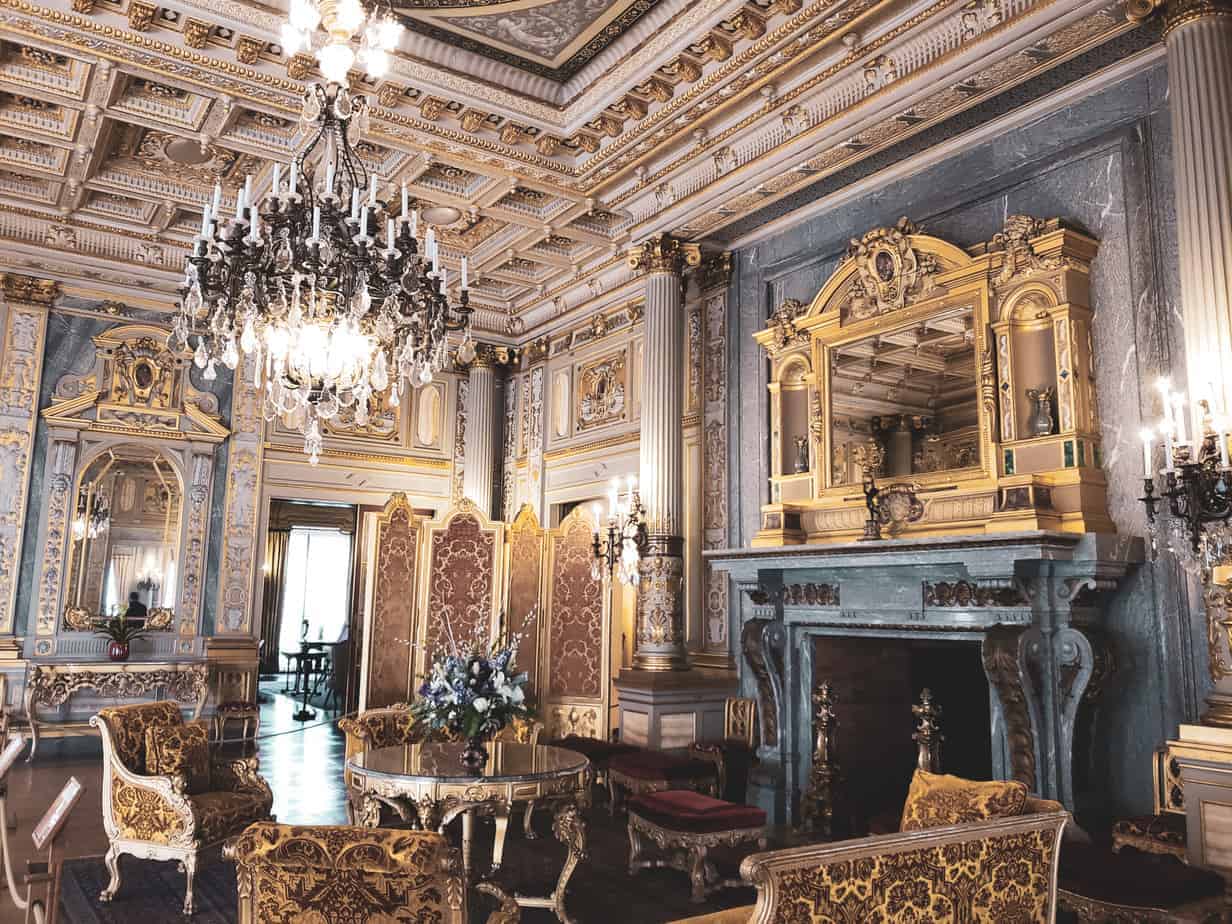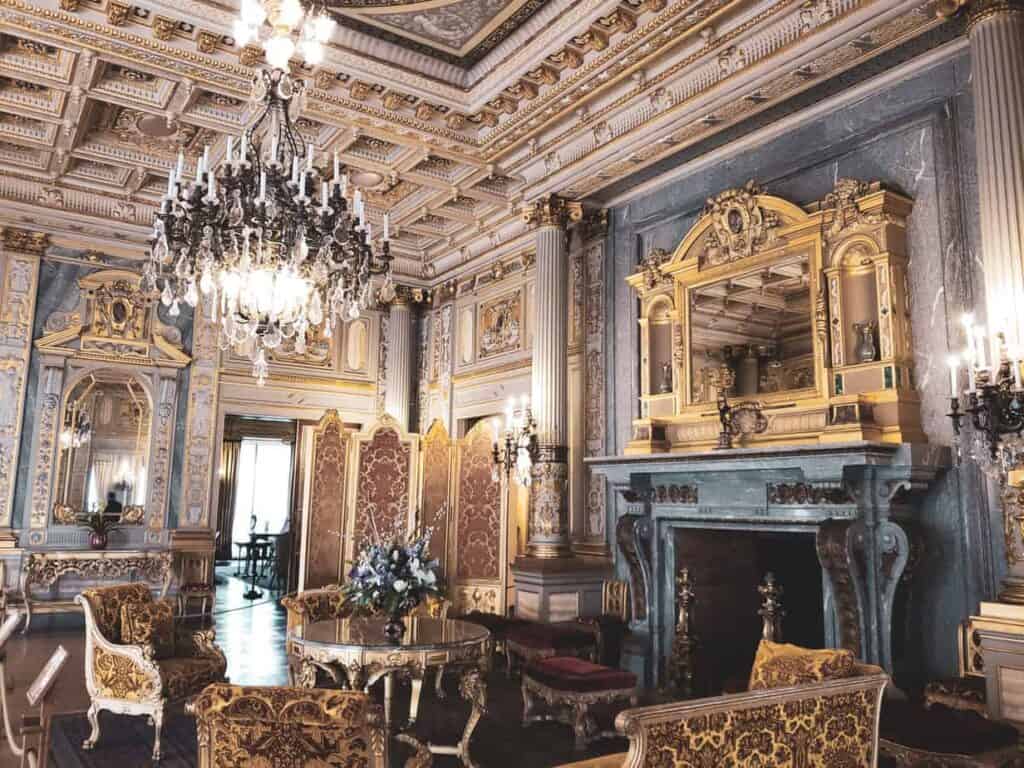 Ever dreamt of how the other half lived in the Gilded Age? Take a step back in time with a tour of Newport, Rhode Island's opulent mansions. These aren't just houses; they're palaces that once played host to some of America's wealthiest families. The Breakers, a 70-room Italian Renaissance-style villa, is the crown jewel. It was the summer home of the Vanderbilt family and boasts a facade that will leave you speechless.
Don't stop there. Wander through the Marble House, another Vanderbilt marvel, known for its lavish, gold-infused ballroom. Then there's Rosecliff, with its heart-stealing grand ballroom, where scenes from movies like 'The Great Gatsby' were filmed. And for a glimpse into the artistic, visit The Elms, with its Classical Revival architecture and stunning sunken garden.
⚓Read more on the gorgeous Newport mansions, plus the top things to do in Newport.
10. Find Stephen King's house in Maine
If your New England travels take you near Bangor, Maine, and you're a fan of the famous horror writer, why not visit his house? Stephen King's home in Maine is quite easy to find.
He lives in a cool, creepy mansion on a main street in Bangor. Grab a photo of this place (complete with spider web gates) and try not to get spooked! Take this DIY tour to find all the best Stephen King spots in Bangor.
⚓You might also like: Haunted Places in New England That are Wicked Creepy
11. Go hiking in the White Mountains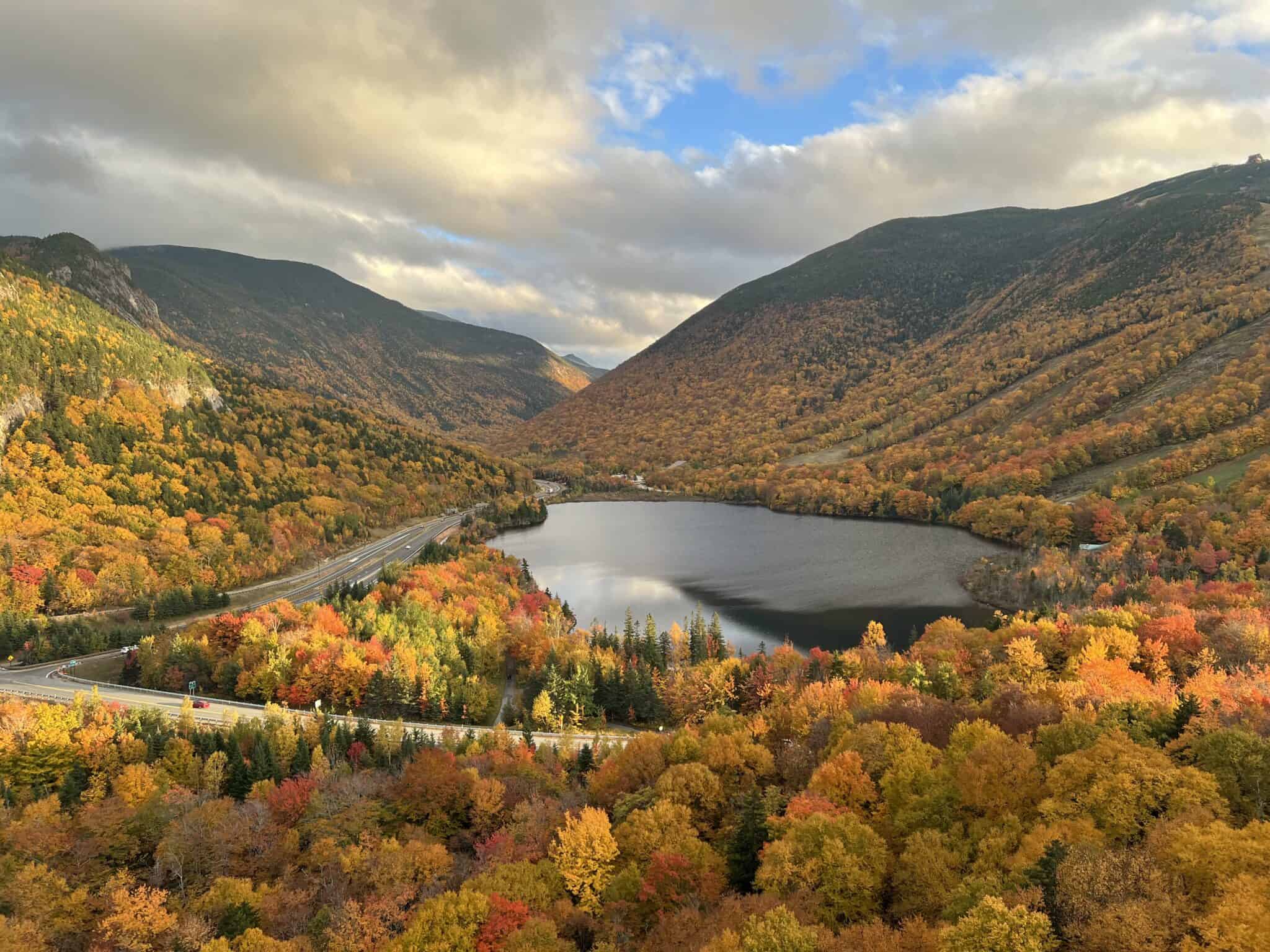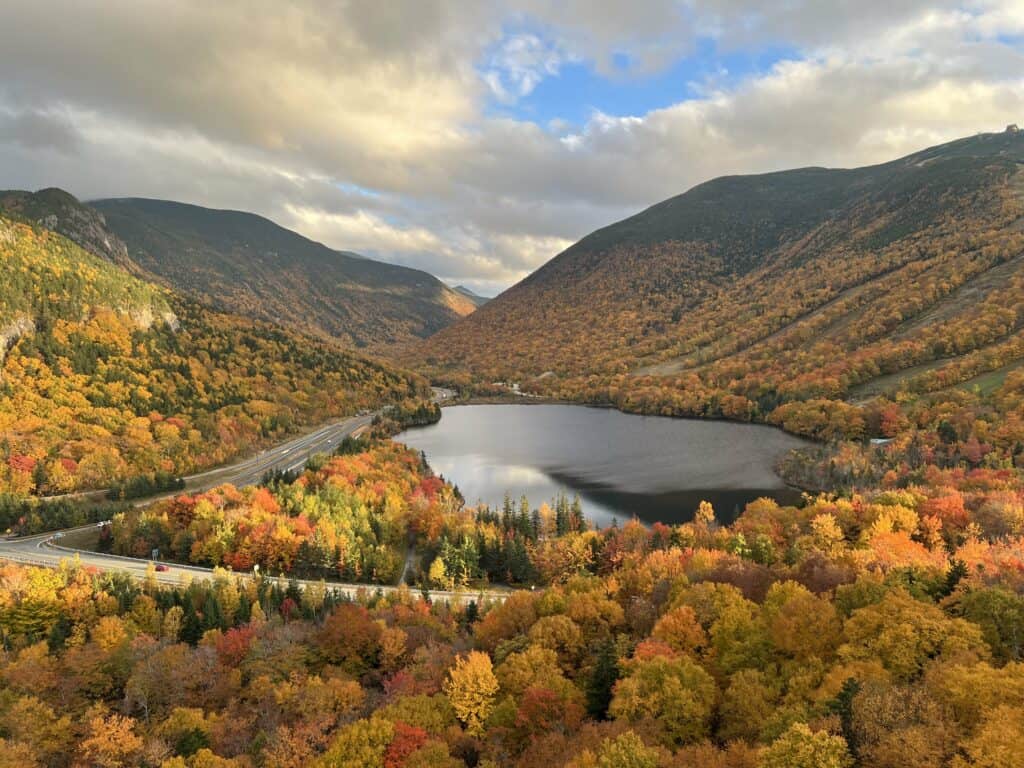 Got a thing for hitting the trails? Well, New Hampshire's White Mountains are where it's at, easily ranking as one of the best places in the country for hiking. This rugged range in the northern part of the state is a patchwork of challenging peaks, serene forests, and breathtaking views. The White Mountains are home to part of the Appalachian Trail, where you can find trails suited for both casual day hikers and serious backpackers.
For a real treat, tackle Mount Washington, the highest peak in the Northeast. It's not for the faint of heart (or the under-prepared), but the panoramic views from the top are the stuff of legends.
Don't miss out on the Franconia Ridge Loop, a favorite among locals and visitors alike, known for its stunning ridge-line hike. Then there's the Presidential Traverse, a bucket-list journey for the more experienced hikers, offering unmatched views and bragging rights. Finally, Artist's Bluff (pictured above) is a view you've no doubt seen all over Instagram. Tucked away in the White Mountains, this short hike leads you to an incredible viewpoint overlooking Echo Lake and the surrounding mountains. It's a relatively easy trek, making it perfect for a quick effort with an awesome reward.
Travel guides for some of my favorite towns in the White Mountains worth visiting:

⛰️ Things to Do in North Conway
⛰️ Things to Do in Lincoln
⛰️ Things to Do in Littleton
⛰️ Things to Do in Franconia
⛰️ Things to Do in Jackson
12. Find out what coffee milk is (Hint: Ask a Rhode Islander)
Ever heard of coffee milk? If not, it's time to head to Rhode Island and ask around. It's like chocolate milk but with coffee syrup. It's a local favorite, AND The official drink of Rhode Island.
13. Visit the Flavor Graveyard at Ben & Jerry's Ice Cream Factory
In Waterbury, Vermont, you can see where some of the tastiest ice cream in New England is produced. The Ben & Jerry's Factory offers tours of the ice cream process (plus free samples), but the highlight of your visit might be the Flavor Graveyard.
You can pay your respects to flavors of years past, which include ones that weren't so popular (Peanut Butter and Jelly) and ones dearly missed (RIP Dublin Mudslide).
14. Do some New England camping or glamping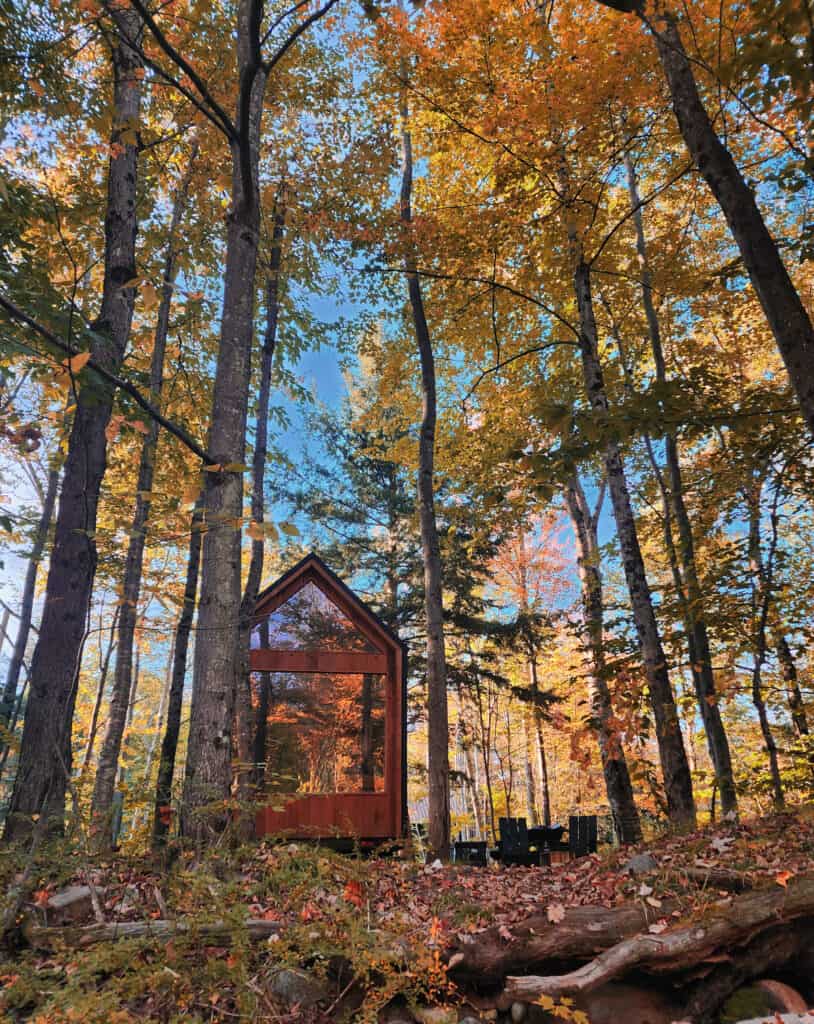 There's something special about camping in New England, where the natural beauty is as rich as the history. Whether you're pitching a tent in a secluded forest or glamping in a luxury yurt with all the modern comforts, you're in for an experience. The best part? You can find the perfect spot whether you're near the rugged coastlines of Maine or in the rolling hills of Connecticut.
✨Don't miss this guide if glamping is your style: Best Glamping Destinations in New England
15. Visit the Arctic Museum
Step into the captivating world of polar exploration at the Peary-Macmillan Arctic Museum. Located in Brunswick, Maine, this museum pays homage to Arctic explorers Robert E. Peary and Donald B. MacMillan. Through a remarkable collection of Inuit artifacts, historical photographs, and personal memorabilia from expeditions, the museum brings to life the challenges and triumphs of Arctic exploration.
16. Eat popovers at Jordan Pond House in Acadia National Park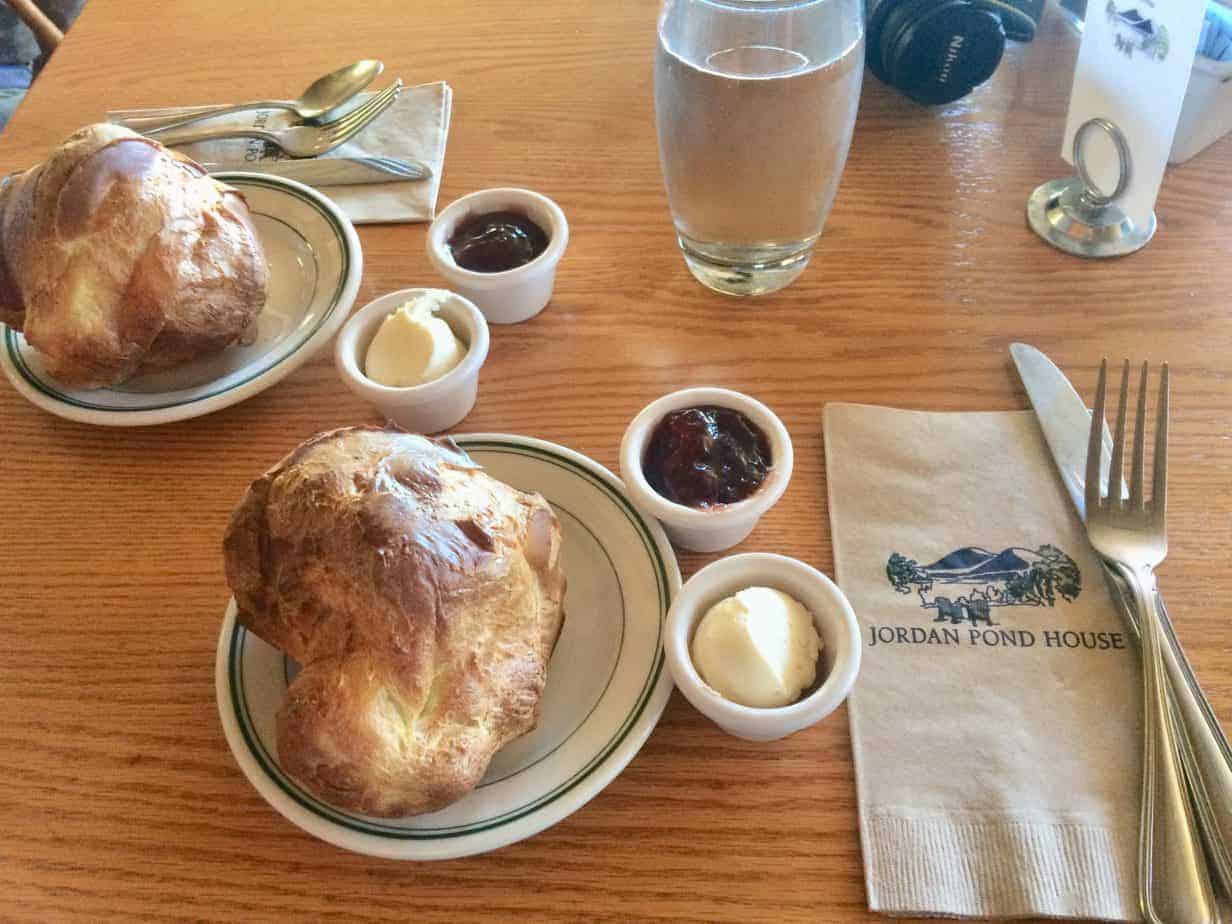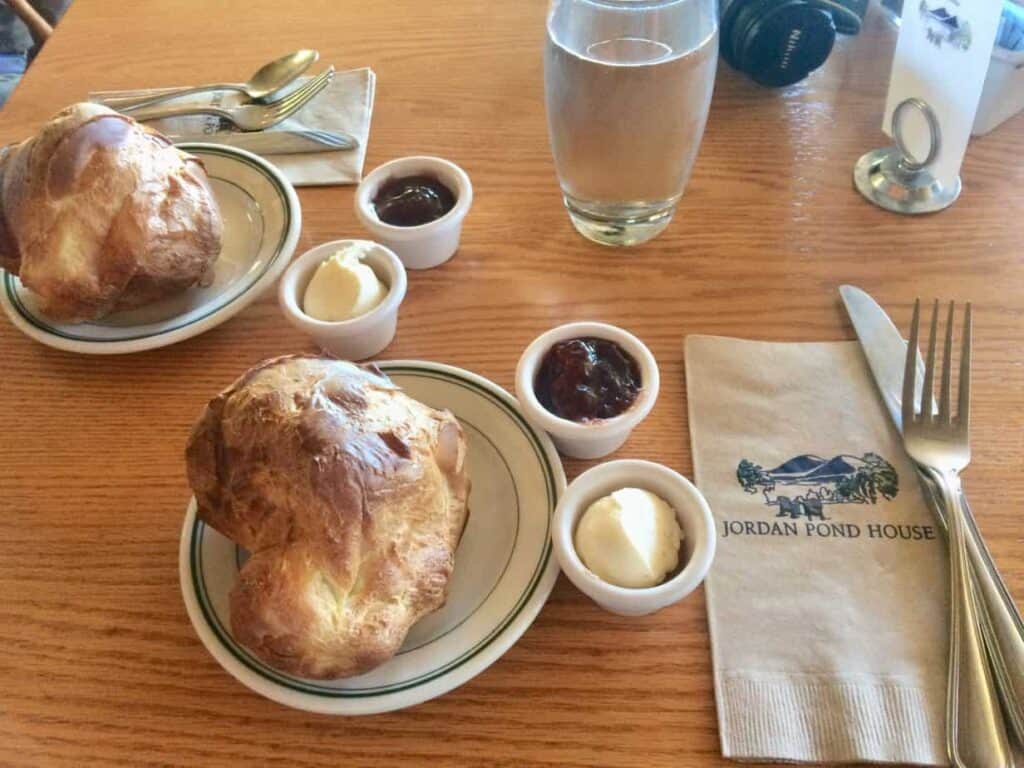 When visiting Acadia National Park, you simply must stop at Jordan Pond House.
During our first visit to Acadia, my husband and I arrived at Jordan's at 11am to find a massive line already in place. We got in fairly quickly, and then dined on 4 glorious popovers. These puffy, light pastries are beyond description. They've been making popovers here since the 1800s. Go and have them!
⛰️Acadia is amazing! Here is my 3 day itinerary, based on my own trip!
18. Go shopping on Newbury Street
Shopping on Newbury Street in Boston is an experience you can't miss. This iconic street is lined with everything from high-end boutiques to unique local shops, offering something for every shopper. As you stroll down the street, you're treated to a blend of historic charm and contemporary buzz.
Whether you're looking for the latest fashion trends, unique gifts, or just want to soak up the vibrant atmosphere, Newbury Street is the place to be. Plus, there are plenty of cafes and restaurants to refuel after a day of shopping.
19. Browse the wares in a New England general store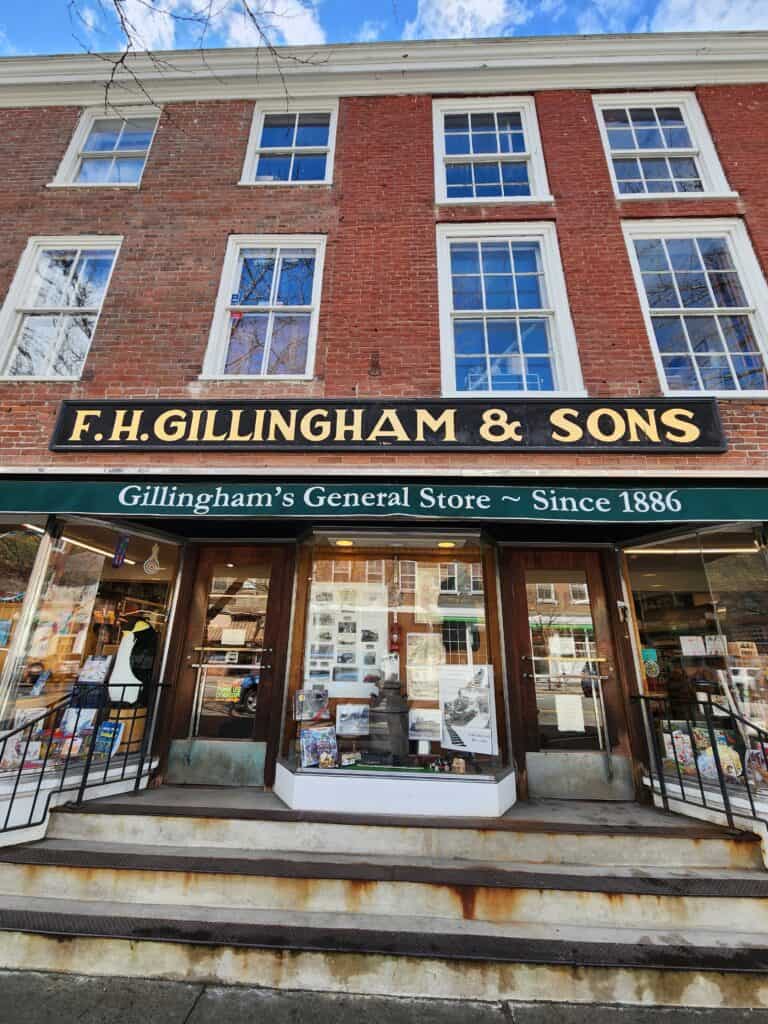 In the heart of New England's small towns, the classic country store stands as a symbol of the region's rich history and community spirit. These stores, often housed in historic buildings, offer a diverse array of goods, from local artisanal crafts to traditional New England delicacies like maple syrup and handcrafted jams. The atmosphere in these stores is warm and inviting, with a sense of nostalgia that connects visitors to a simpler time.
Some of my favorite general stores in New England include F.H. Gillingham & Sons in Woodstock, VT, Zeb's General Store in North Conway, and the tiny Wayside Store in Arlington, VT.
🌲A stop at Gillingham's is also on my list of essential things to do in Woodstock, one of Vermont's most charming towns.
20. Soak in the tower tub in New Hampshire's Mountain View Grand Resort
The Mountain View Grand Resort is quite luxe, but the luxest of the luxe is the Tower Tub. At the highest point of the hotel, this tub allows two people to soak and enjoy phenomenal views. This is a perfect choice for a romantic New England getaway for two.
PS: Even if you don't book the tub, the Tower Spa has tons of great services. (Check out all the best spa getaways in New England.)
❤️Also, check out my list of some of New England's best hotels! There are some great options in every New England state.
21. Browse art at Rockport's Bearskin Neck
Rockport, Massachusetts is well known for its history as an art colony. It's not hard to see why. This coastal village is extremely pretty, surely generating lots of inspiration. In fact, the red fishing shack 'Motif 1' located here has been called the most painted building in America!
There's also a laid-back vibe here that's hard to find elsewhere. Head to the tip of "downtown" on Bearskin Neck and you'll find an amazing array of unique galleries.
🦞Rockport is one of the best places to visit in New England, especially in the summer. You can check out my whole guide to the top things to do in Rockport.
22. Stay in America's oldest inn
For a truly unique and historical experience in New England, consider staying at America's oldest continuously operating inn. Longfellow's Wayside Inn in Sudbury, MA, has been serving guests since 1716! I'll help you do the math; that's older than America herself! Stay in one of 10 historic guest rooms or dine on traditional New England fare in the restaurant.
23. Have sunset cocktails on the rooftop deck of the Vanderbilt
Indulge in an elegant evening at the Vanderbilt Hotel's rooftop deck, one of the best places in New England for breathtaking views and hand-crafted cocktails. As the sun dips below the horizon, the rooftop comes alive with a magical ambiance, offering a panoramic vista of the surrounding area. This is also an exquisite Newport, Rhode Island boutique hotel, so you might consider staying here as well.
24. Go on an antiquing adventure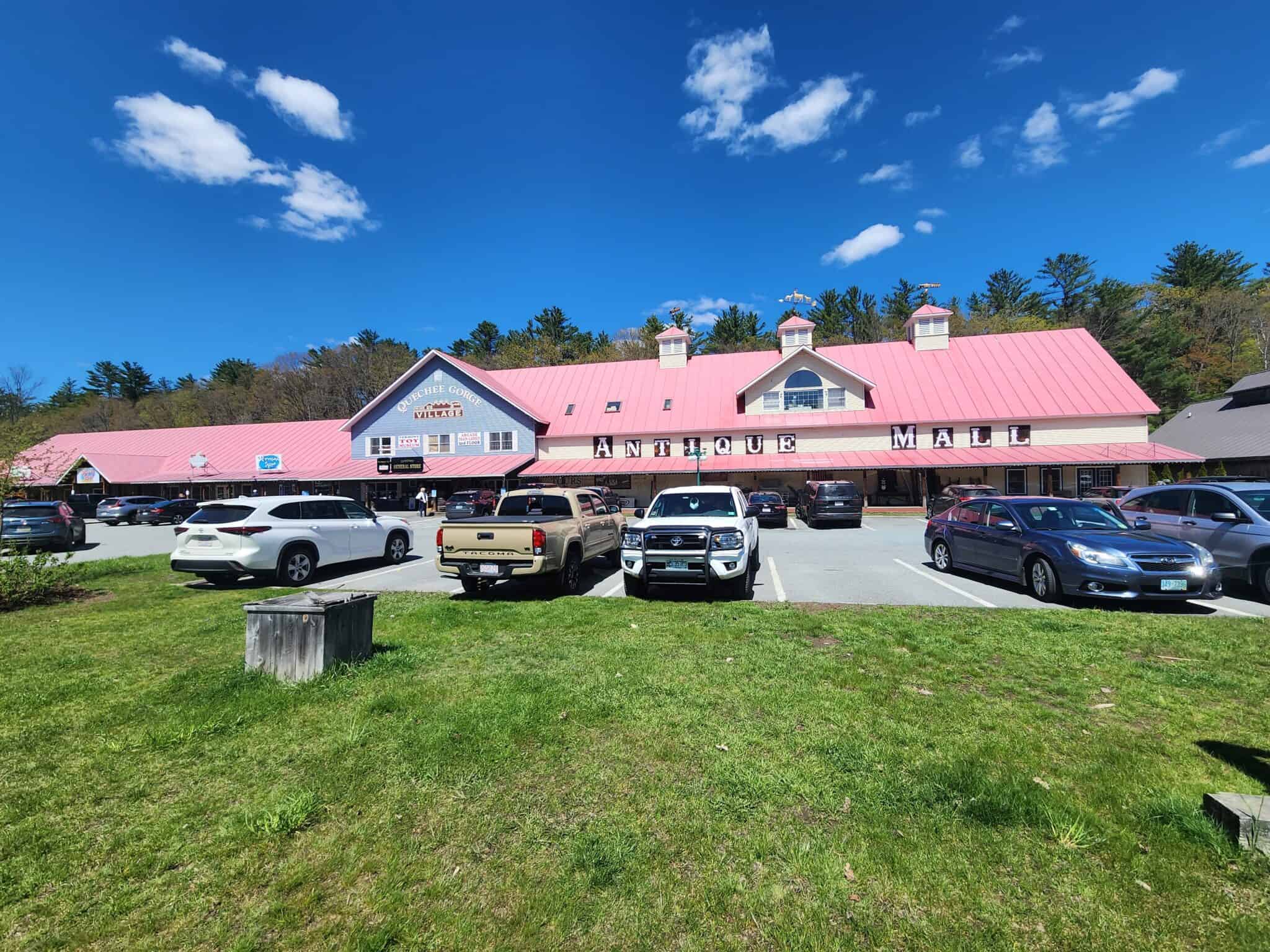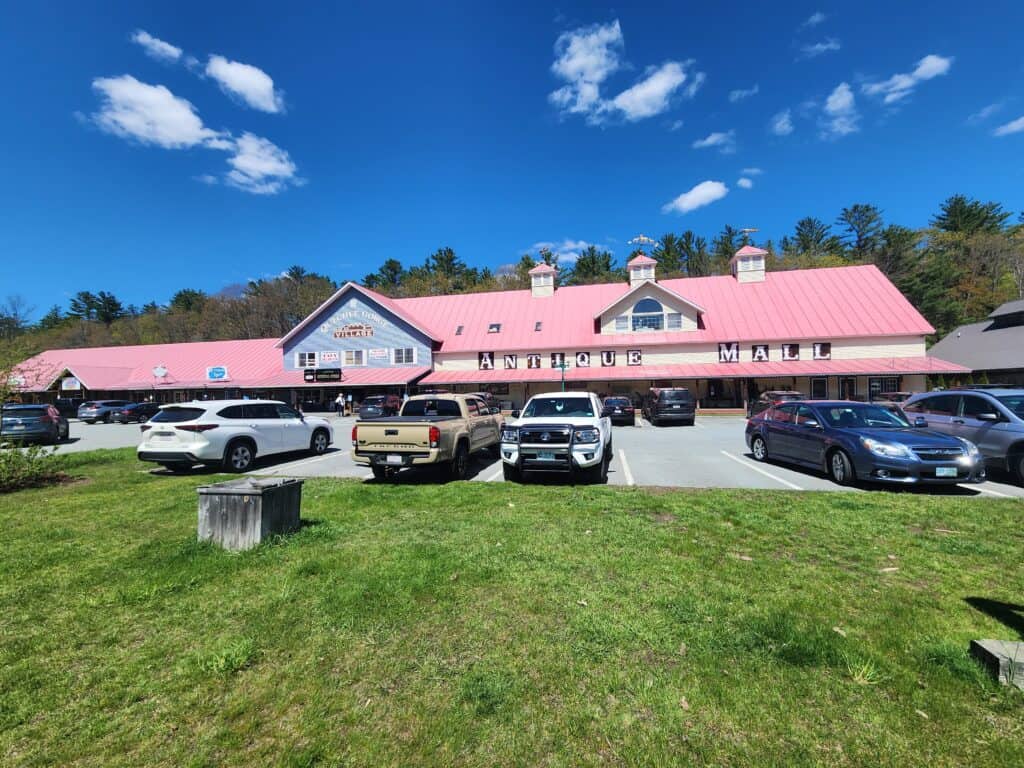 Embark on a treasure hunt through New England's charming antique shops, where history and nostalgia blend seamlessly. This is one of the best places for antique enthusiasts to explore. From quaint roadside barns to elegant boutique stores, each location offers a unique glimpse into the past. You might find a rare, hand-crafted piece of colonial furniture, a vintage nautical map, or a beautifully preserved piece of Americana.
Whether you're a seasoned collector or a curious visitor, the thrill of the hunt and the joy of discovering a hidden gem make antique hunting in New England a must-do activity.
Let's go antiquing:
25. Ride a pony on Hartford's historic Bushnell Park Carousel
Carousels are not just for kids, although if you're looking for things to do in New England with kids, this certainly fits the bill! Take a whimsical ride on Hartford's historic Bushnell Park Carousel. Dating back to 1914, this lovingly preserved carousel offers a delightful journey into the past. Each meticulously hand-carved pony is a piece of art, ready to whisk riders of all ages into a world of enchantment.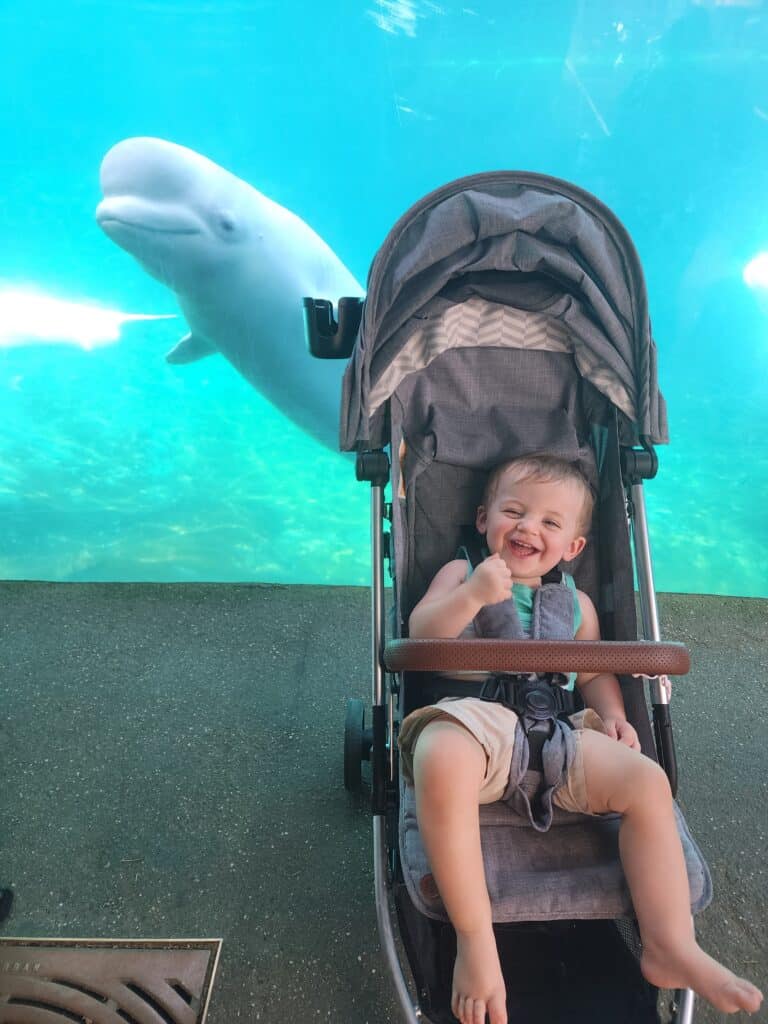 Venture to Mystic Aquarium in Connecticut for a once-in-a-lifetime opportunity to meet beluga whales, one of the most enchanting and gentle giants of the marine world. This is one of the best places in New England to witness these majestic creatures in a setting that closely mimics their natural Arctic habitat. At Mystic Aquarium, you can observe their graceful movements, listen to their unique vocalizations, and learn about their behaviors and the conservation efforts to protect them. And they are just so darn cute!!
There are honestly so many wonderful things to do in Mystic, CT. It's one of my favorite places to go in New England. A few of the Mystic bucket list things not to miss include:
Mystic Seaport Museum
S&P Oyster
The Mystic Drawbridge
The shops at Olde Mistick Village
27. Enjoy world-famous chicken tenders at this New Hampshire restaurant – popular with presidential candidates for many years
Don't miss the opportunity to savor the world-famous chicken tenders at The Puritan Backroom in Manchester, New Hampshire. This iconic eatery has a long-standing reputation for its delicious chicken tenders, and it has become a traditional stop for many politicians during the New Hampshire primary season.
28. Sign up for a glass blowing lesson
New England is a leading region for artisans. Glass blowing is one such art that you can find being done in many towns.
A lot of glassblowing centers offer demonstrations, including Burlington Vermont's Bern Gallery, where they'll help you create your own glass pipe. And then go enjoy, cause weed's legal here. Weee!
29. Stroll America's widest Main Street
Keene, New Hampshire is said to be home to the widest Main Street in America. Take a walk here and stop by shops, restaurants, a historic theatre, and some delightful coffee shops. Prime Roast is my favorite coffee shop in the area. Order the O'McGauley, and thank me later.
30. Witness Providence ablaze during the famous WaterFire event
Experiencing Providence's WaterFire event is a must when you're in New England. Picture this: as the sun sets, the heart of Providence transforms into a mesmerizing blend of flickering firelight and enchanting music. This unique art installation features over eighty bonfires that blaze just above the surface of the three rivers passing through the city center. Definitely one of the top attractions in New England.
🌆Explore More: Amazing Things to Do in Providence, Rhode Island
31. Stay in a lighthouse, boat, treehouse, or castle
You can live out your childhood dreams and cross off another bucket list item here in New England. Stay in unusual accommodation like a lighthouse, treehouse, or even a castle. Head over to my list which showcases some truly unique and in-demand AirBnbs in New England!
32. Take a day trip to Nantucket
Embarking on a day trip to Nantucket is one of those quintessential New England experiences you don't want to miss. This idyllic island, a mere ferry ride away from Cape Cod, is like stepping into a postcard of coastal charm. Its cobbled streets, lined with quaint boutiques and historic homes, lead to stunning beaches that offer a serene escape from the hustle and bustle.
In Nantucket, every corner tells a story, from the iconic Brant Point Lighthouse to the Whaling Museum, which echoes the island's long maritime history. Enjoy a leisurely bike ride along scenic paths or simply unwind on the sandy shores, letting the ocean breeze rejuvenate you.
You might think that the best time to visit Nantucket is summer, and while it is, for many reasons, you should also consider a Cape Cod fall or even a winter trip to Cape Cod. Nantucket is one of those destinations that you can have "all to yourself" in the off-season, and that is something truly special.
🚙Here are some other fun New England day trips you can take, from Boston or elsewhere!
33. Go fly fishing on the Housatonic River
Explore the Housatonic River in Connecticut, a top destination for fly fishing in New England. Renowned for its excellent trout fishing, this picturesque river offers a perfect blend of challenge and tranquility for anglers. Amidst beautiful scenery, the Housatonic provides a serene backdrop for both novice and experienced fishermen.
34. Try to grab a reservation at this extremely in-demand Maine restaurant
Think it's tough to get a dinner reservation in the big city? This rural Maine restaurant routinely sells out for months within hours.
The Lost Kitchen in Maine promises not just a meal, but a culinary adventure that epitomizes the essence of New England's farm-to-table movement. Located in a renovated mill in the small town of Freedom, this restaurant offers an unforgettable dining experience that is both intimate and immersive.
35. Sample the goods at New England Hard Cideries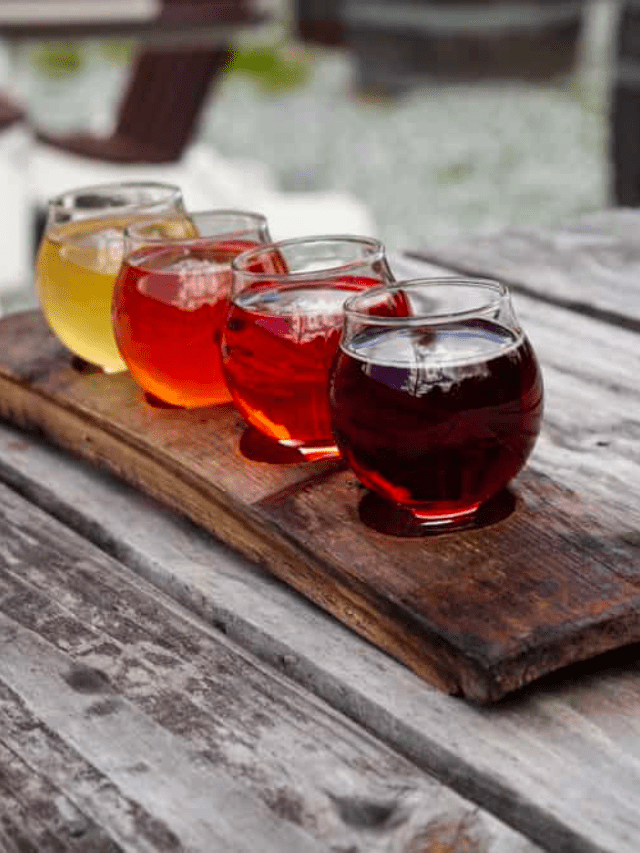 New England, with its ideal apple-growing climate, has seen a resurgence in hard cider popularity. This has led to the emergence of numerous cideries, each offering a unique twist on this traditional beverage. From crisp, dry varieties to sweeter, more complex flavors, these cideries showcase the versatility of the humble apple.
Some of the most popular New England hard cideries not to miss include:
Woodchuck Cidery in Middlebury, Vermont
Farnum Hill Ciders in Lebanon, New Hampshire
Downeast Cider House in Boston, Massachusetts
Bantam Cider Company in Somerville, Massachusett
Stowe Cider in Stowe, Vermont
Portland Cider Co. in Portland, Maine
36. Spend some time in vibrant P-Town
Provincetown, affectionately known as P-Town, is a lively and colorful destination at the tip of Cape Cod in Massachusetts. Known for its beautiful beaches, rich history, and vibrant LGBTQ+ community, Provincetown is a unique blend of historic charm and contemporary flair.
P-Town is renowned for its artistic scene. Galleries, theaters, and performance spaces dot the streets, showcasing both local and international talent.
For those seeking outdoor activities, Provincetown's beaches are a major draw. Herring Cove and Race Point Beach offer stunning landscapes, perfect for sunbathing, swimming, and beachcombing. The Province Lands Bike Trail is an exhilarating way to explore the natural beauty of the Cape Cod National Seashore, with its dunes and forests.
Provincetown is also steeped in history, known for its role in the Mayflower Pilgrims' first landing in America. The Pilgrim Monument and Provincetown Museum offer fascinating insights into this historical event and the town's maritime heritage.
⛵Read my guide to all the best things to do in Provincetown.
37. See the giant Bean Boot
A visit to New England is incomplete without seeing the iconic Giant LL Bean Boot. Positioned just outside the LL Bean flagship store, this colossal boot is a playful tribute to the outdoor lifestyle that New England is known for. It's not just a photo opportunity; it's a symbol of the rugged, adventurous spirit that LL Bean embodies. The store itself is a haven for outdoor enthusiasts, offering everything from camping gear to cozy flannels. Grab yourself some classic New England gear during your trip!
38. Attend a town meeting
These are a New England institution, and if you are a Gilmore Girls fan, you would know this. According to Wikipedia: "A town meeting is a form of direct democratic rule, used primarily in portions of the United States – principally in New England – since the 17th century, in which most or all the members of a community come together to legislate policy and budgets for local government." Perhaps you can catch one during your visit?
39. Relax with stunning coastal views at Beavertail State Park
This is a beloved spot for many. Spanning 153 acres, this Rhode Island state park is known for providing some of New England's most beautiful coastal scenery. Check out the Beavertail Lighthouse and Museum while there, too!
40. Sample fresh dairy….especially CHEESE
Did you know Vermont used to have more cows than people? While this is no longer the case, New England sure does produce some outstanding dairy products—especially CHEESE. Sample these at farm stands and shops throughout the region; check out the Vermont cheese trail!
41. Stop by 'Sherlock Holmes' Castle
Embark on a captivating journey to Gillette Castle in Connecticut, a unique gem nestled near the serene Connecticut River. This architectural wonder, built by the renowned actor William Gillette, best known for his portrayal of Sherlock Holmes in a 1916 film, stands majestically atop the Seven Sisters hills. The castle's medieval-inspired design, replete with secret passages and intricate woodwork, enthralls visitors of all ages.
This fabulous and impressive building attracts 300,000 visitors each year who come to tour the castle and grounds. Visiting a castle is definitely one of the coolest things to do in New England!
42. Visit one of the famous, beautiful New England college campuses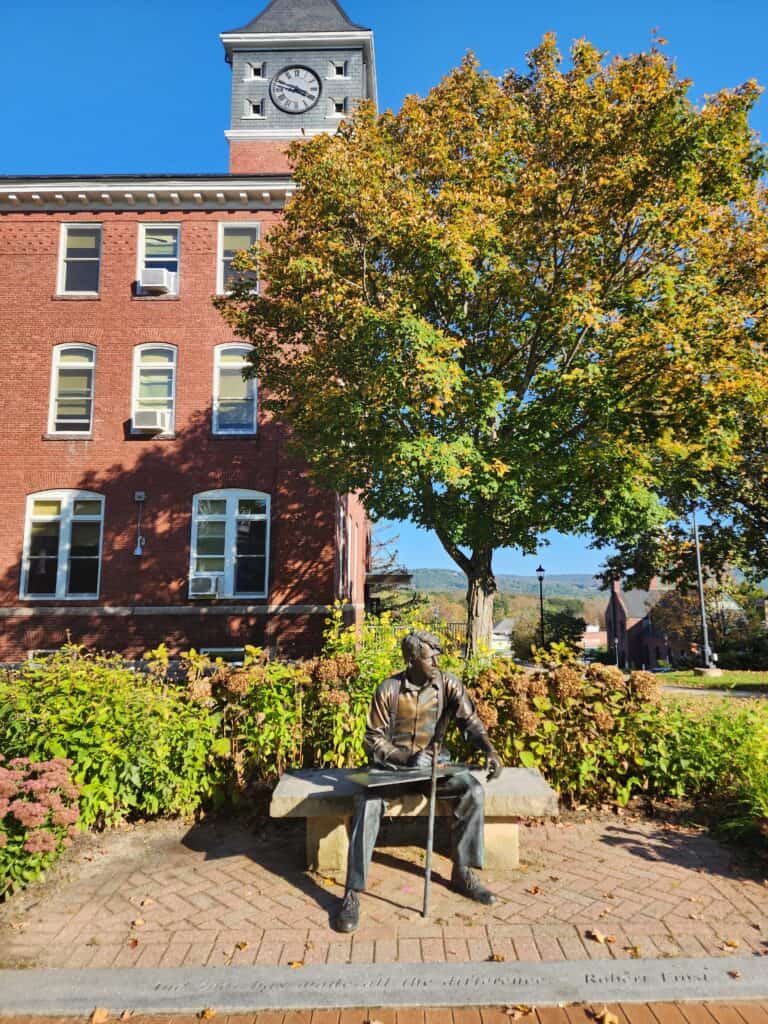 The East Coast is home to many incredible institutions of higher learning. Strolling through New England's college campuses is like walking through history and future all at once. From the Ivy League to hidden academic havens, these campuses are more than just schools. They're architectural wonders, brimming with stories and beauty. Iconic campuses like Harvard, Yale, and Dartmouth are classic stunners, but don't miss lesser known gems like Smith and Williams.
43. Hike Mt. Katahdin
Hiking is certainly one of the most fun things to do in New England, and there are hiking trails in each state. If you find yourself in Maine, consider climbing the Mount Katahdin. This is Maine's highest mountain at 5,267 feet. There are many trails up to the peak, but the Knife Edge Trail is a popular (albeit thrilling) one! 
🥾If you love hiking, please take a glance at my roundup of some of New England's best hiking trails!
44. Drive to the top of Mount Washington
Speaking of tall mountains, New Hampshire's Mt. Washington clocks in at 6,288 feet, making it the highest point in the Northeastern United States.
There are many ways to the top, (including hiking for the experienced adventurer) but The Mount Washington Auto Road remains one of the most unique. And, it's the only way to authentically rock the bumper sticker that says "this car climbed Mt. Washington!"
If you're not interested in driving your own vehicle up, consider riding on the Mt. Washington Cog Railway: one of the coolest New England activities.
45. See where Emily Dickinson lived and wrote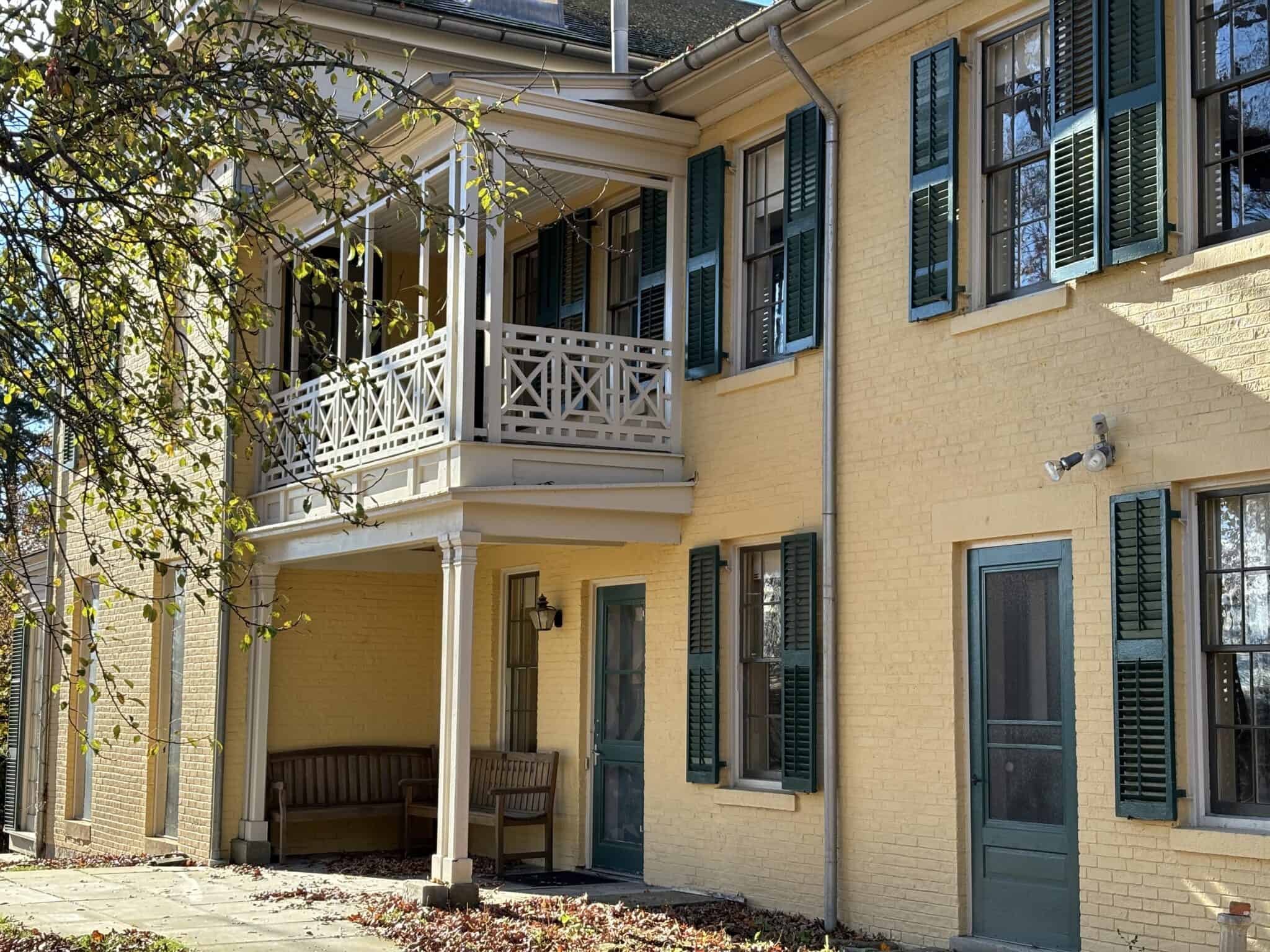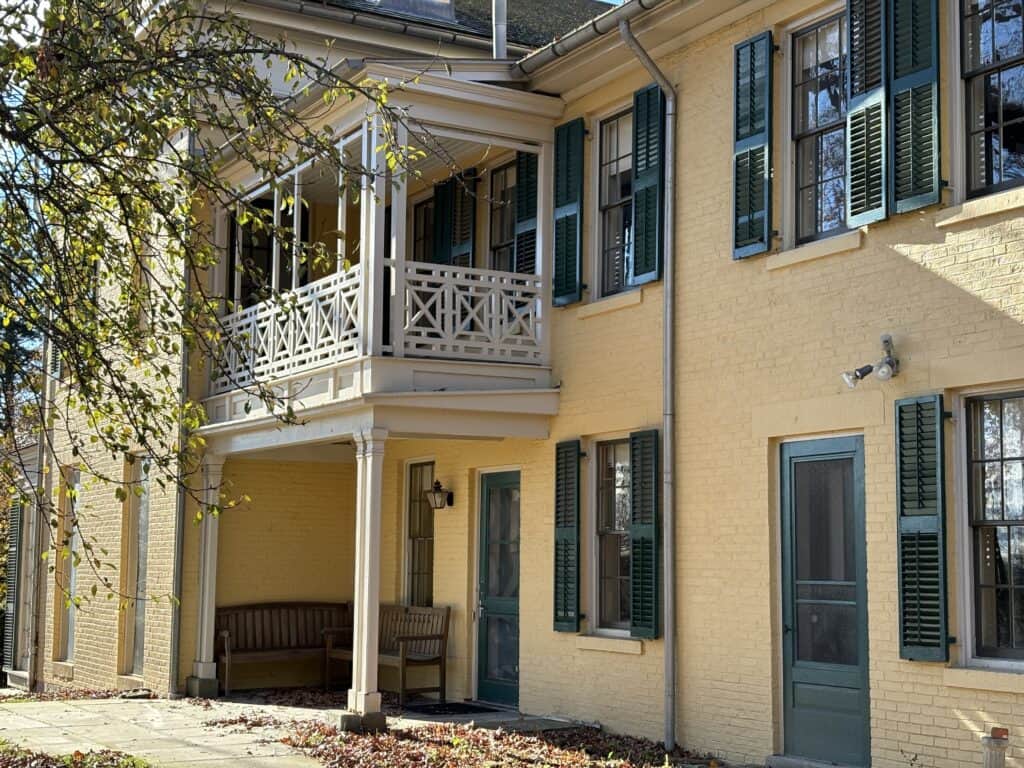 Are you a lover of literature? The famous poet Emily Dickinson lived and wrote in her Amherst, Massachusetts home, where her poems were found after her death. The site is now a museum open for tours. Pro tip: Book your visit in advance, as day-of tickets are not guaranteed.
🏠Read Next: 32 New England Historic Homes You Can Visit
46. Learn about maritime history at the New Bedford Whaling Museum
Dive deep into the fascinating world of maritime history at the New Bedford Whaling Museum in Massachusetts. This museum, located in the heart of the historic whaling city of New Bedford, offers an immersive experience into the era when whaling ships ruled the seas. Here, you'll encounter the world's largest collection of whaling artifacts, including an impressive skeleton display of a blue whale.
It was from the port of New Bedford that a man named Herman Melville set sail aboard the Acushnet in 1841. The experiences he had at sea, and in the town of New Bedford, inspired the famous tale he would eventually pen: none other than Moby Dick.
47. Explore the gorgeous Devil's Hopyard State Park
Connect with nature at its most serene and picturesque in Devil's Hopyard State Park in East Haddam, Connecticut. This hidden gem, renowned for its scenic waterfalls, deep forests, and tranquil streams, offers a peaceful retreat from the hustle and bustle of daily life.
The park's highlight, Chapman Falls, cascades over a series of steps in a beautiful, natural amphitheater of rocks. Hiking trails wind through the park, offering various levels of challenge and unique vantage points to enjoy the lush surroundings. It's an ideal spot for picnics, bird watching, or simply soaking in the beauty of New England's diverse landscape.
48. See a moose!
You may have to get up early (or go on a moose tracking tour) but if you're lucky, you may spot one of New England's finest animals: the moose. For me, this would be one of the top things to see in New England!
A guided moose tour is definitely the way to go for far better odds of a sighting. Embark on a wildlife adventure in the dense forests of Maine or New Hampshire to catch a glimpse of the majestic moose. These gentle giants are most commonly spotted in areas like Baxter State Park in Maine or the Great North Woods in New Hampshire.
🌲Intent on seeing a moose? You'll want to check out my guides on Where to See Moose in Maine and the Best Moose Tours in New Hampshire
49. Learn and discover at the Boston Science Museum
Ignite your curiosity at the Boston Science Museum, a treasure trove of innovation and discovery. This interactive museum, nestled along the Charles River, offers a plethora of exhibits that both educate and fascinate. Witness the marvels of the cosmos in the Charles Hayden Planetarium, or get hands-on with the museum's numerous interactive displays, from electricity to evolution. The museum's unique blend of education and entertainment makes it a perfect destination for learners of all ages, promising a day filled with awe and wonder in the heart of Boston.
50. Eat at a busy food stand in Faneuil Hall
A historic New England meeting hall since 1743, Boston's Faneuil Hall is now home to Quincy Market, a great spot to dine on local food staples like lobster rolls and clam chowder. In fact, Quincy Market is actually the largest and oldest food hall in the United States!
There are a number of terrific restaurants and food stalls where you can grab a snack, but my go-to is the lobster mac n' cheese at mmMac N Cheese! Divine.
51. Venture into New Hampshire's Flume Gorge
This list of things to do in New England would not be complete with including Flume Gorge in Franconia Notch State Park, New Hampshire. This stunning natural gorge extends 800 feet at the base of Mount Liberty. The 2-mile walk through the gorge is an awe-inspiring experience, with towering granite walls, covered bridges, and cascading waterfalls. In my eyes, this spot feels a lot like I imagine Tolkien's Rivendell to be.
52. Wander Boston's charming Beacon Hill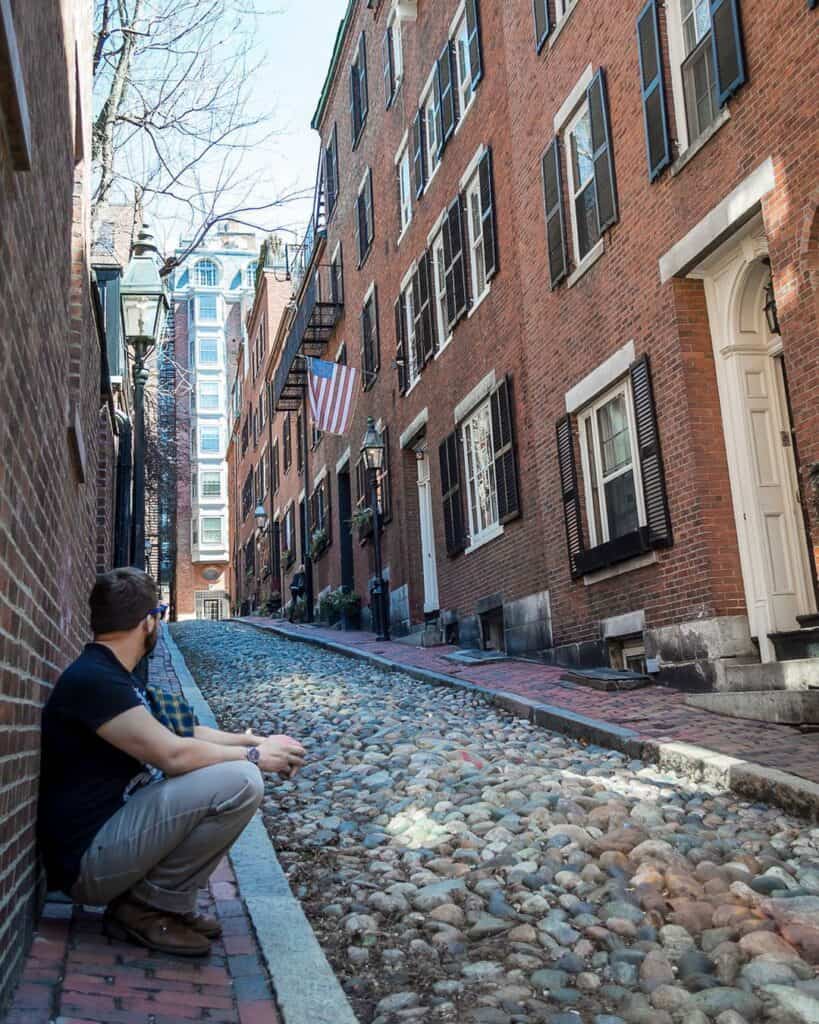 Step into a picturesque postcard as you wander through the historic streets of Beacon Hill in Boston. This neighborhood, known for its narrow, gas-lit streets and brick row houses, exudes an old-world charm that's rare in modern cities. Stroll down Acorn Street, often dubbed as the most photographed street in America, and feel the history resonating from every brick and cobblestone. And PS: if you're walking this way in the winter months, step with care; those are some serious cobbles!
53. Meet the cows at Billings Farm in Woodstock, Vermont
Experience rural New England life at Billings Farm & Museum in Woodstock, Vermont. This fully operational dairy farm offers a unique opportunity to meet and learn about Jersey cows, sheep, horses, and more.
The farm's interactive tours and exhibits provide insight into 19th-century farm life, showcasing traditional farming techniques and practices. Don't miss the chance to taste their delicious, homemade ice cream, a treat as delightful as the pastoral landscapes surrounding you.
54. Immerse yourself in American literary history in Concord
Delve into the rich tapestry of American literature in Concord, Massachusetts, a haven for history buffs and book lovers. In this quaint town, you can walk in the footsteps of America's most iconic authors, literary legends like Ralph Waldo Emerson, Louisa May Alcott, and Henry David Thoreau. Visit Orchard House, where Alcott wrote Little Women, or wander around Walden Pond, the inspirational setting for Thoreau's famous work.
📜I have a whole guide on the best things to do in Concord, MA right here!
55. Visit the Lincoln family home at Hildene
Step back in time at Hildene, the Lincoln family home in Manchester, Vermont. This stately mansion, once the summer home of President Lincoln's son, Robert Todd Lincoln, is a journey through American history. Roam its elegant rooms, explore the stunning formal gardens, and discover a bygone era's charm. You can even see one of Lincoln's iconic stovepipe hats!
🍁Check out more great things to do in Manchester. I lived in the area for years!
56. Listen to buskers on Church Street in Burlington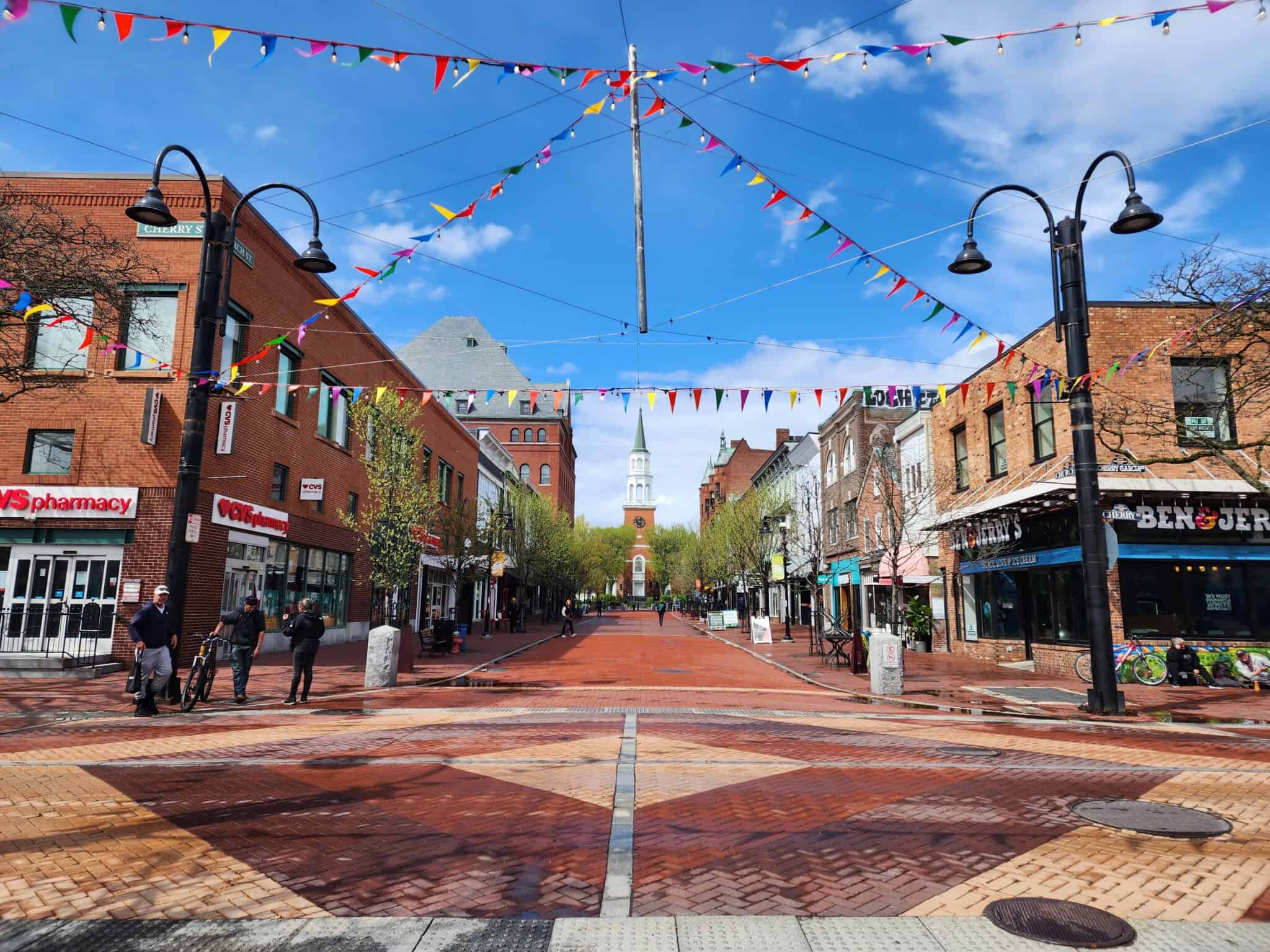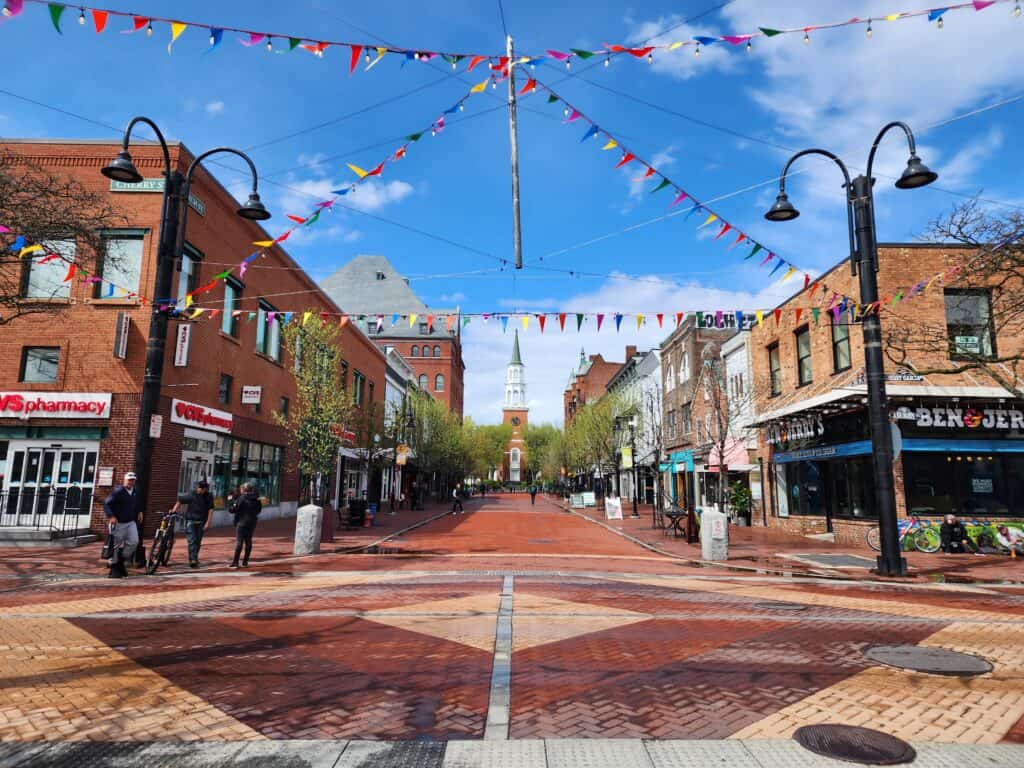 Church Street in Burlington is where the action is. This pedestrian-only thoroughfare stretches several blocks, and is lined with great shops, restaurants, and lots of street performers. It's a great place to people watch and listen to local musicians.
There are even jugglers, and who knows what else you might see on Church Street. Bernie Sanders? Noah Kahan? A random naked guy? I've seen one of these three, and I'll let you guess which one it was.
57. Have a drink at America's oldest tavern
Step into Newport's White Horse Tavern and you're stepping into history. Listed on the National Register of Historic Places, this spot isn't just old—it's the oldest operating restaurant in America, slinging pints and plates since 1673. Imagine this: its red clapboard walls and cozy fireplaces have seen everything from pirate tales to whispers of revolution. And let's talk about the food – their Bluff Hill Cove Oysters from Narragansett are legendary, and they've got a knack for serving up some seriously tasty farm and ocean-fresh eats.
58. Marvel at Bash Bish Falls, the highest waterfall in Massachusetts
Bash Bish Falls, a spectacular natural wonder in the Taconic Mountains, boasts the title of the tallest waterfall in Massachusetts. Plunging approximately 60 feet through a series of cascades into a clear, serene pool below, the falls are a breathtaking sight. The surrounding state park offers a rewarding hike that leads you through lush forests to this stunning destination.
59. Be transported to the gilded age at Ventfort Hall Mansion
Any fan of historic homes (like me) will definitely want to add this to their list of things to do in the New England region. Ventfort Hall Mansion in Lenox, Massachusetts, is a gateway to the opulence of the Gilded Age. This stunning Berkshires mansion was built in 1893 and is now open for visits and events. Stop by for a tour, attend a concert, or be a part of murder mystery dinner theater!
60. Browse the shelves of some of America's oldest and most unique independent bookstores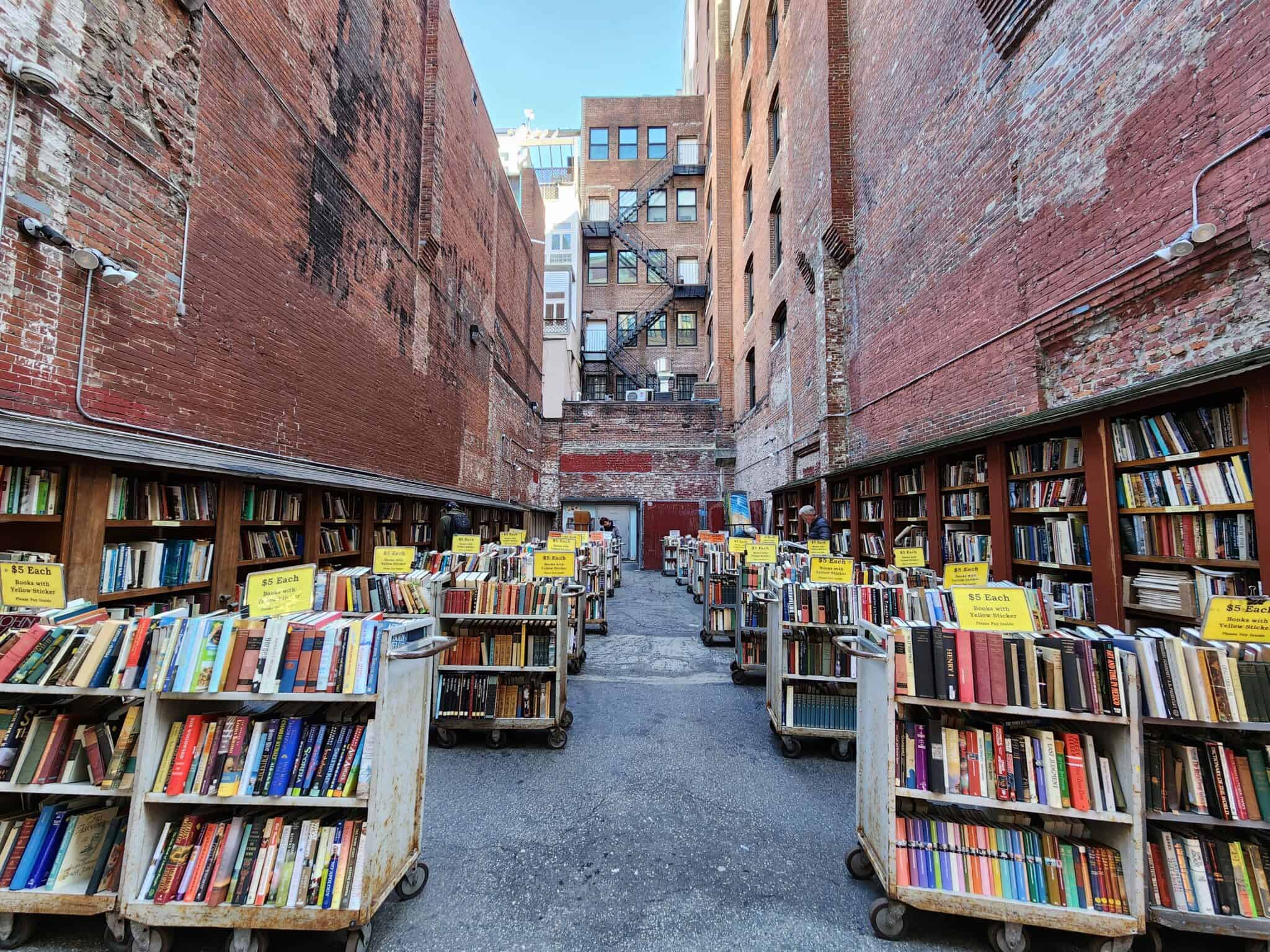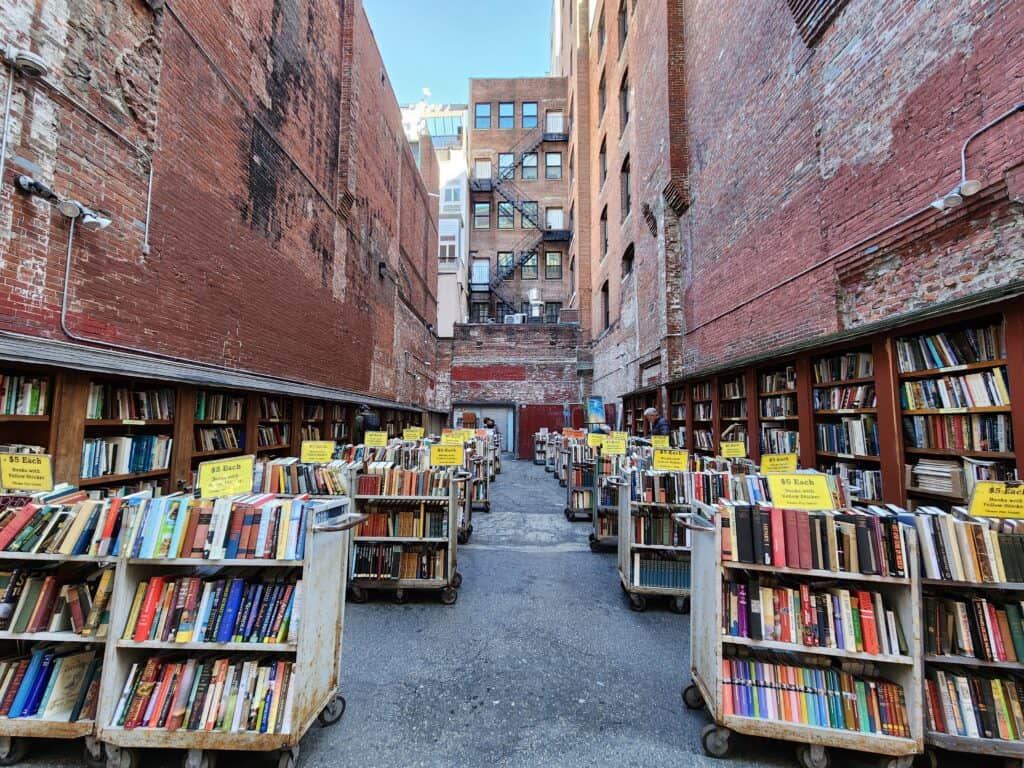 The independent bookstore is alive and well in New England. And the region is home to some of America's oldest and most enchanting shops. From the book-filled alley of Boston's Brattle Book Shop to the cozy nooks of Northshire Bookstore in Manchester, Vermont, each store is a haven for book lovers. These literary sanctuaries offer rare finds, classic tales, and a perfect escape into the world of books.
📚Read more: Best Bookstores in New England 
Things to Do in New England in the Fall
Fall is the best time of the year in New England. I know, I know, every season is great. But there is a reason New England is world famous for its fall foliage and autumn activities. There's a ton of fantastic things to do in New England in fall but here are some of the essentials.
61. Take a fall foliage road trip
The best way to see New England is on a road trip. And my favorite season to suggest for a New England driving adventure is, of course, the fall!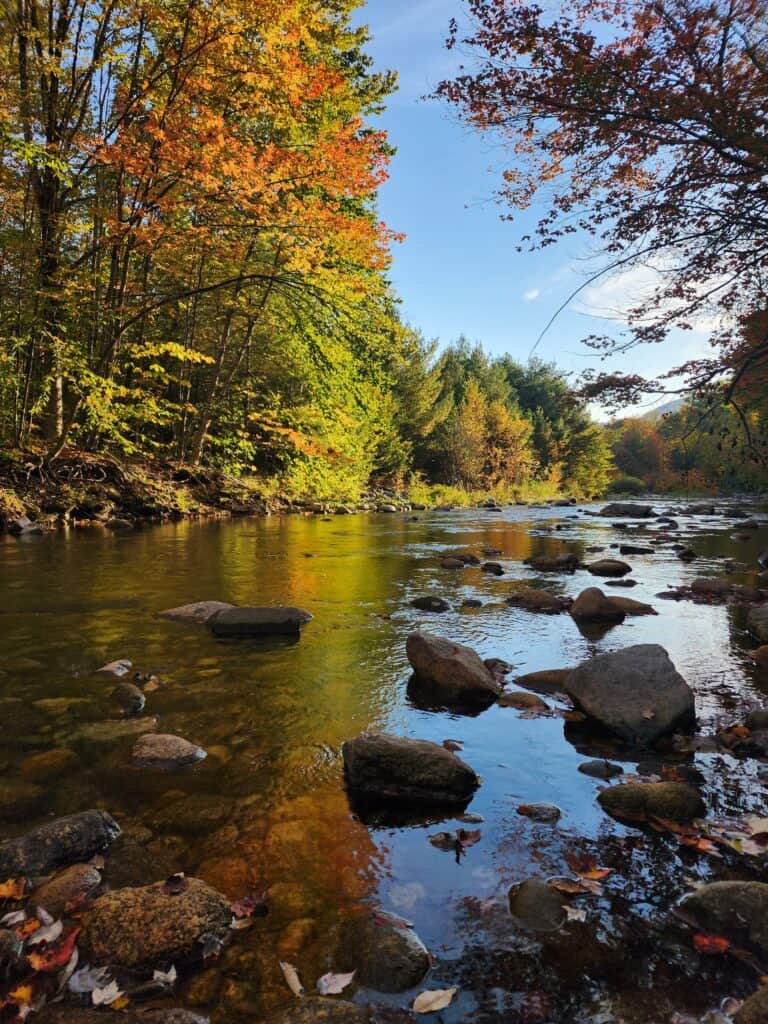 Embrace the quintessential New England experience with an epic fall foliage road trip. Witness the vibrant transformation of landscapes as leaves turn brilliant shades of red, orange, and yellow. Journey through quaint towns and along scenic byways like the Mohawk Trail or Route 100 in Vermont, where every turn presents a new, breathtaking tableau of autumn colors. It's a photographer's paradise and a nature lover's dream.
Have I got fall content for you! Check out all my New England fall travel guides here:

🍁The Ultimate Guide to Fall in New England <—-a great place to start
🍁New England Towns to Explore in the Fall
🍁Guided Fall Foliage Tours in New England
62. Drive the Kancamagus
Even if you don't have time to take off on a full fall road trip through New England, you should drive one of its most iconic scenic drives: the Kancamagus Highway/Scenic Byway.
The Kancamagus Highway, lovingly referred to as 'The Kanc,' offers one of the most stunning drives in New England, especially during fall. This 34.5-mile scenic drive cuts through the White Mountain National Forest, showcasing majestic mountains and rich forests. With numerous overlooks and hiking trails, it's a perfect way to immerse yourself in New England's famous foliage.
63. Go apple picking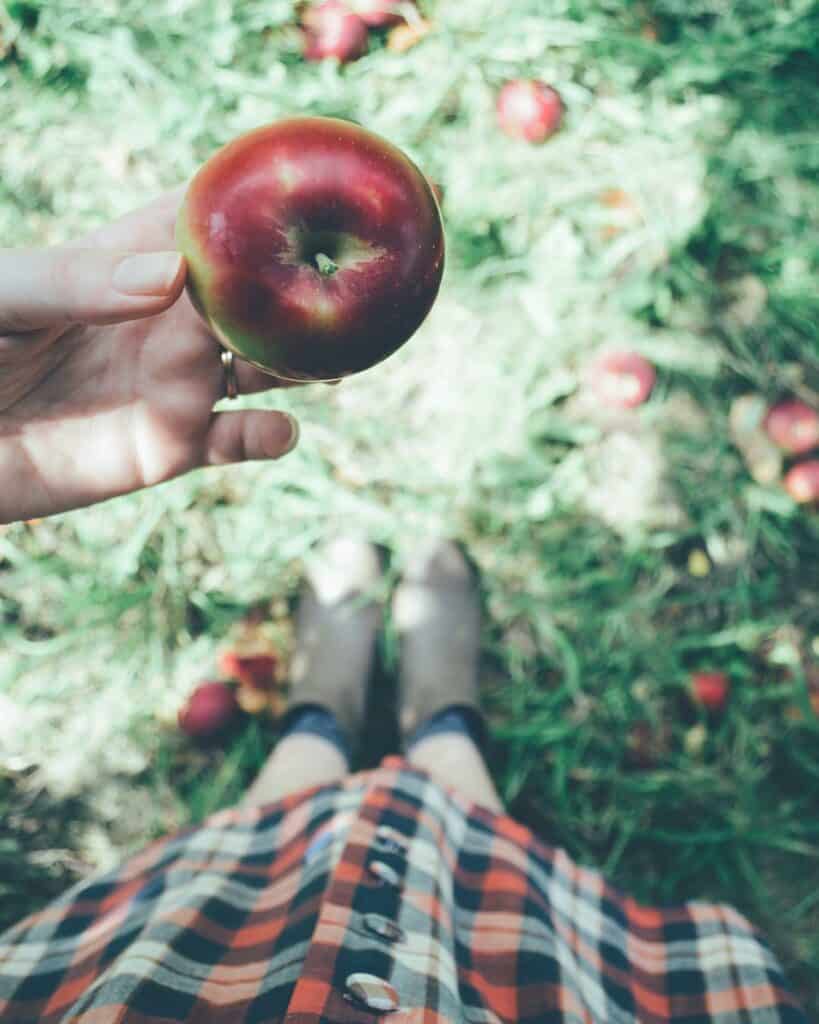 Come mid-September, the apple trees are ready for picking. There are orchards in every state, where you can pick your own apples at a great price. Check out our list here: New England Apple Picking: Top Spots in Each State.
Consider some other New England fall fun: pumpkin patches & corn mazes! A lot of these fall activities can be done at the same great New England farms, but check my guides for more details:
64. Fill up on cider donuts
I never tasted an apple cider donut before I came to New England. Now I can't get enough. These sweet treats are incredibly delicious, especially when covered in granulated sugar.
My favorites are the donuts at Equinox Valley Nursery in Manchester, Vermont, the maple glazes donuts at Moulton Farm in New Hampshire, and of course an enduring classic, cider donuts from Cold Hollow Cider Mill in Waterbury, Vermont.
65. Experience Salem Massachusetts in October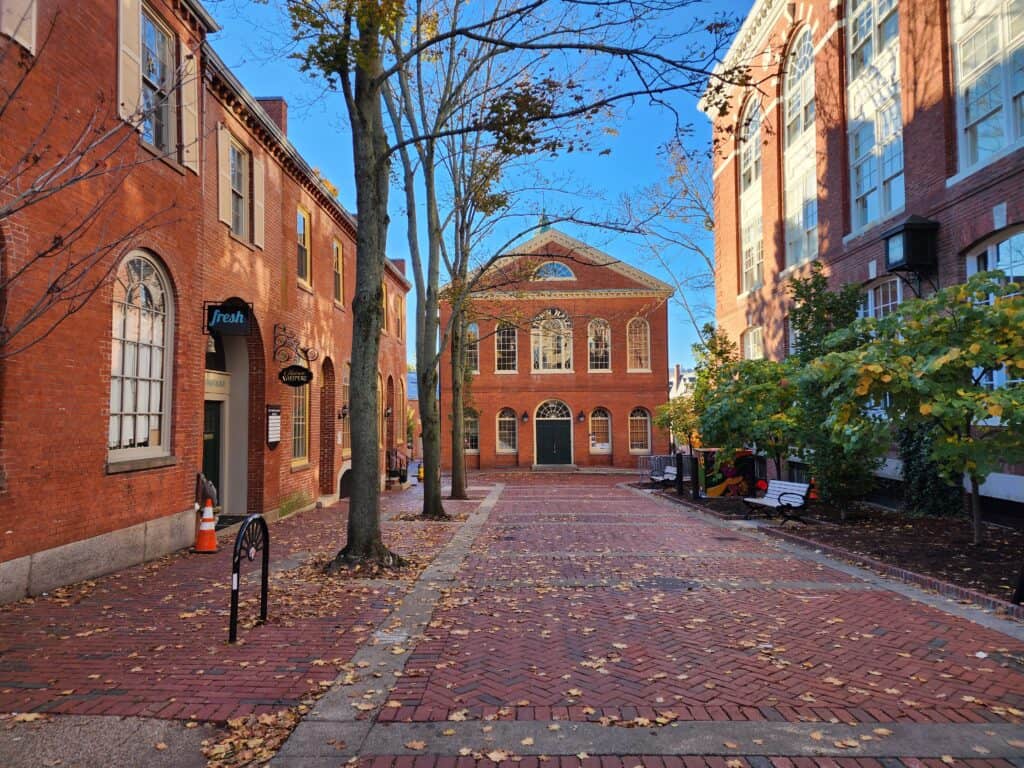 You never need a reason to visit Salem, Massachusetts, but a good reason is Halloween: this town does it right!

A visit to Salem MA in October is when the town, infamous for its 1692 witch trials, becomes the ultimate destination for all things spooky and magical. Dive into Salem's bewitching history at the Salem Witch Museum, and other historical sites. Check out some of the filming locations from the beloved Halloween film Hocus Pocus throughout Salem. Fans can see the iconic Max and Dani's house and the spellbinding Old Town Hall.

Round out your Salem adventure with ghost tours, Halloween Happenings events, browsing the witchy shops, and so much more. I promise you'll love it!
66. Ride the gondola in Stowe
Soar to new heights on the Stowe Mountain Resort gondola in Vermont. This breathtaking ride takes you to the top of Mount Mansfield, Vermont's highest peak, offering panoramic views of the surrounding landscape. In autumn, these views are particularly spectacular with the mountains dressed in fall colors.
🎿Stowe is one of New England's top destinations in every season! Browse my guide on things to do in Stowe right here.
67. Help with a cranberry harvest
Participate in a classic New England tradition by joining a cranberry harvest. Farms like the A.D. Makepeace Company in Massachusetts offer tours and the chance to see the vibrant red cranberry bogs up close. It's a unique and educational experience, showcasing an important part of New England's agricultural heritage. What a great way to have a unique experience in New England!
🍒Check out this list of cranberry bogs in Massachusetts you can visit.
Things to Do in New England in the Winter
Winter in New England transforms the region into a snowy wonderland, offering a plethora of activities for every type of traveler. From the serene beauty of snow-covered landscapes to the bustling holiday markets in charming towns, there's something undeniably magical about this season.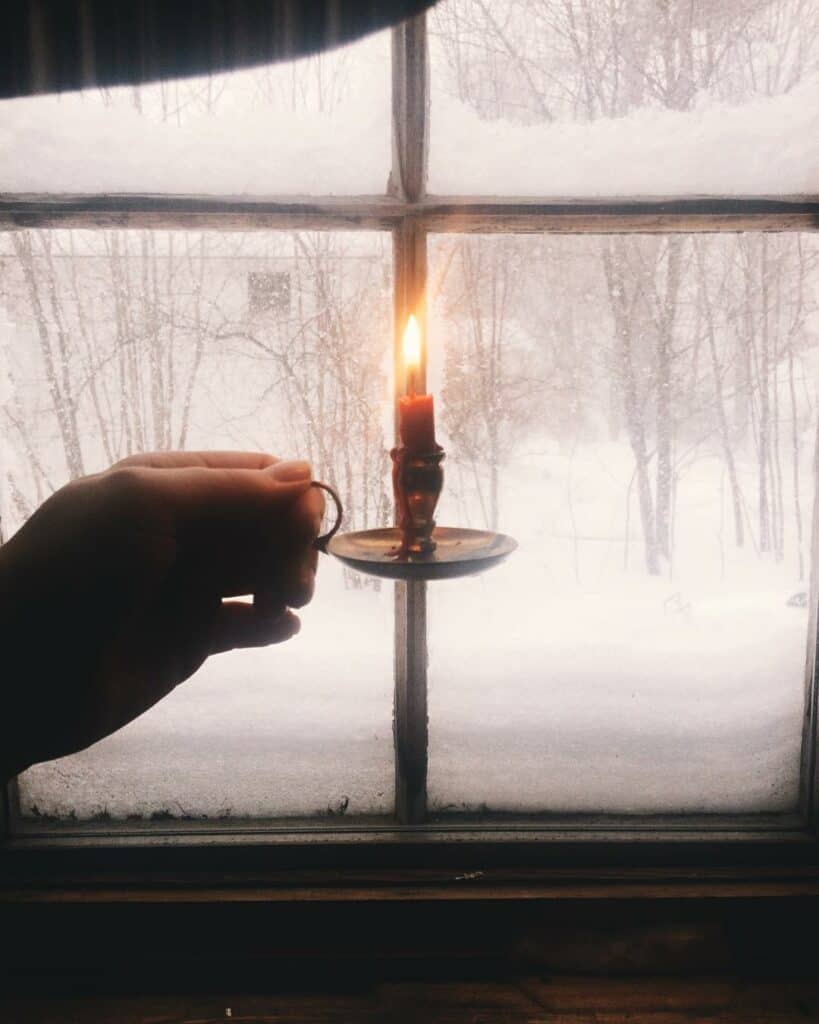 Hit the slopes for world-class skiing and snowboarding, explore the quiet trails on snowshoes, or simply cozy up in a quaint cabin with a warm drink on a New England winter getaway. Whether you're seeking thrilling outdoor adventures or peaceful moments by a crackling fire, you'll love one of these top things to do in New England in winter.
68. Visit a New England Christmas town
It's that time of year! From the smallest state to the biggest city, Christmas towns abound throughout New England. There's nothing better than these charming spots to transport you straight into your own Hallmark Christmas movie.
🎄Some of the cutest Christmas towns in New England include Kennebunkport, ME, Portsmouth, NH, and Essex, CT, all with festive decorations, holiday events, and more.
69. Go downhill or cross country skiing
Embrace the chill and hit the slopes in New England, where skiing is a way of life. Whether it's the challenging downhill runs at Stowe Mountain in Vermont or the scenic cross-country trails at Jackson Ski Touring Foundation in New Hampshire, there's a snowy adventure for every skill level. Feel the rush of fresh powder beneath your skis and the exhilarating chill of the mountain air.
70. Experience New Hampshire's ice castles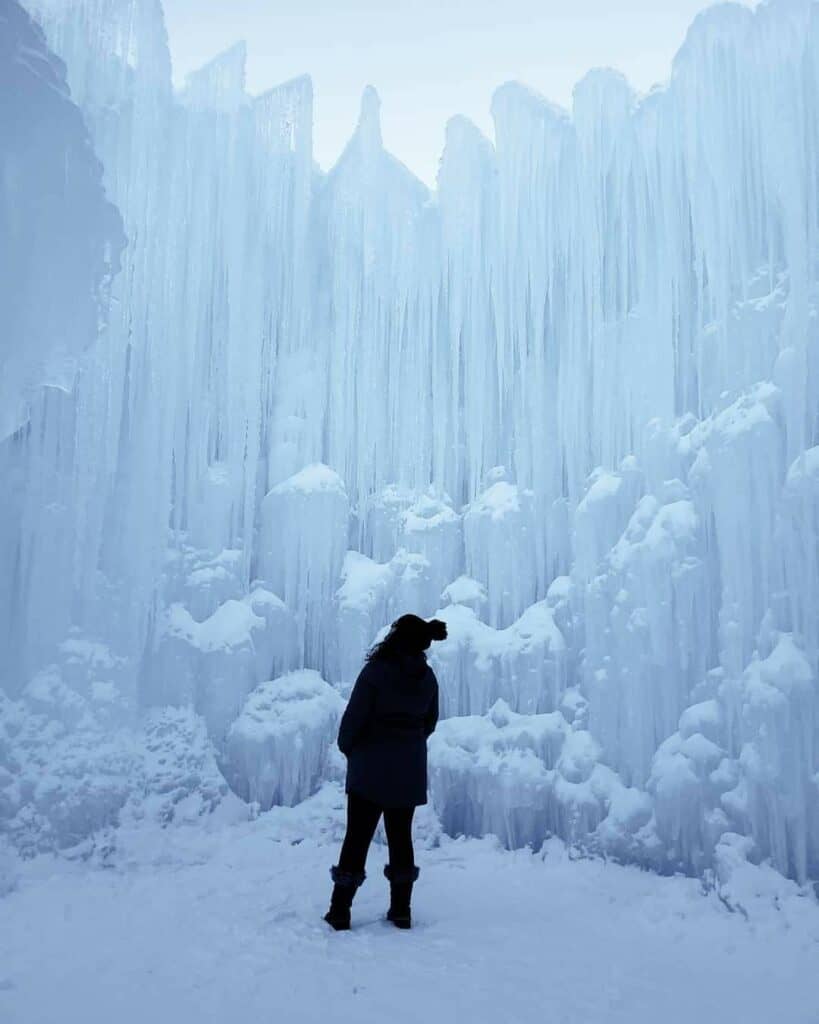 In the winter, you can have a real-life "Frozen" experience at New Hampshire's ice castles in North Woodstock. No doubt, this is one of the coolest things to do in New England (pun intended, again!)
These imposing structures are especially amazing at night when they are illuminated. Read more: 6 Tips for Visiting Ice Castles in Lincoln, New Hampshire.
71. Splash at an indoor water park
Even in the cold of winter, you can splash about in warm waters. New England has some great outdoors and indoor water parks, like Jay Peak's Pump House in Vermont, that will help you have a summertime escape—in any weather.
72. Go ice skating in Boston Common
Glide into a winter wonderland at the iconic Frog Pond in Boston Common. As the oldest public park in the U.S., it transforms into a magical outdoor skating rink each winter. Surrounded by the historic charm of Boston, this rink offers a picturesque setting for an afternoon of leisurely skating or playful twirls on the ice.
More seasonal fun: The Best of Christmas in Boston and Top Things to Do in Winter in Boston
73. Ride in a horse-drawn sleigh at Christmas time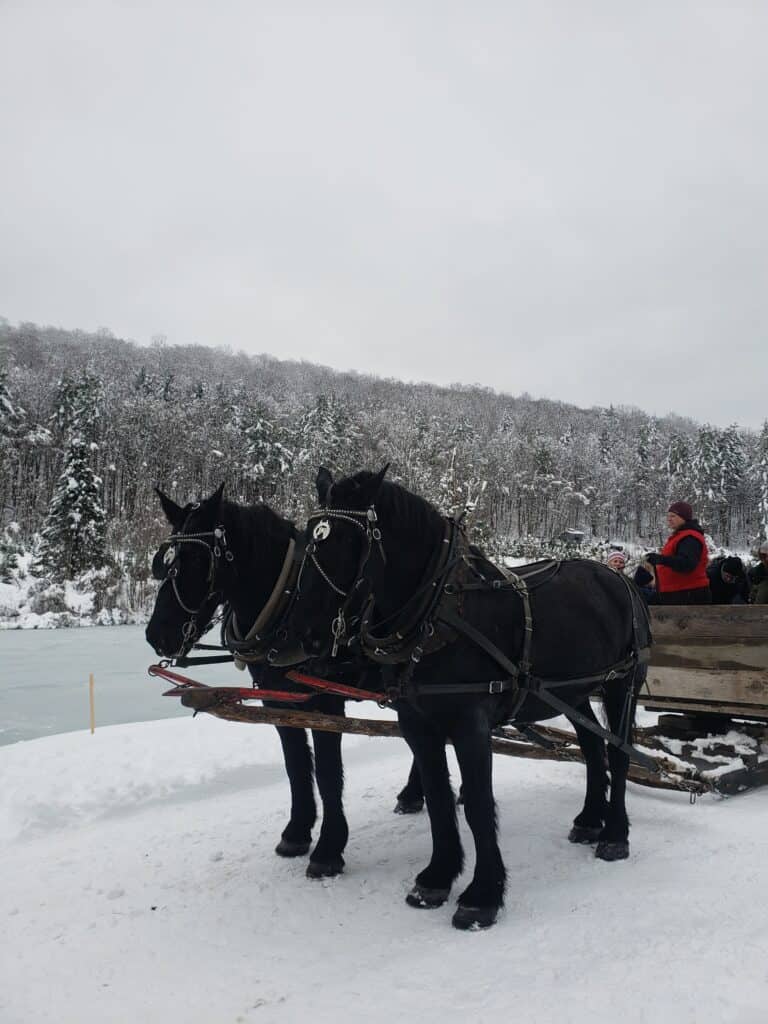 When the snow falls, get outside and play! There's really nothing like winter in New England. A horse-drawn sleigh is a romantic and exciting winter pastime. Nestlenook Farm in Jackson, NH is a choice spot to spirit through the woods.
If you want to combine your winter sleigh experience with cutting down your own Christmas tree, I know just the place! Russell Christmas Tree Farm in Starksboro, Vermont offers the most magical experience.
🌲Read next: The Best New England Christmas Tree Farms
Things to Do in New England in the Spring
Ask any New Englander: Spring can be the best or it can be the worst. It depends on the weather, and even more so, on your attitude!
Spring in New England is nothing if not unpredictable. You can have a late April snowstorm or a sudden March heatwave. This can be a season of extremes. But one thing is predictable and that is that there are plenty of fun things to do in New England in spring—no matter the weather.
But, yeah, try to avoid mud season.
74. Eat a May Breakfast in Rhode Island
Rhode Island has a unique tradition known as May Breakfast. Originally started in the 1860s, these breakfasts help raise money for local churches. At the breakfasts, you'll find staples such as Johnny cakes and clam cakes plus other items.
75. Cuddle baby goats at Friendly Farm in Dublin, NH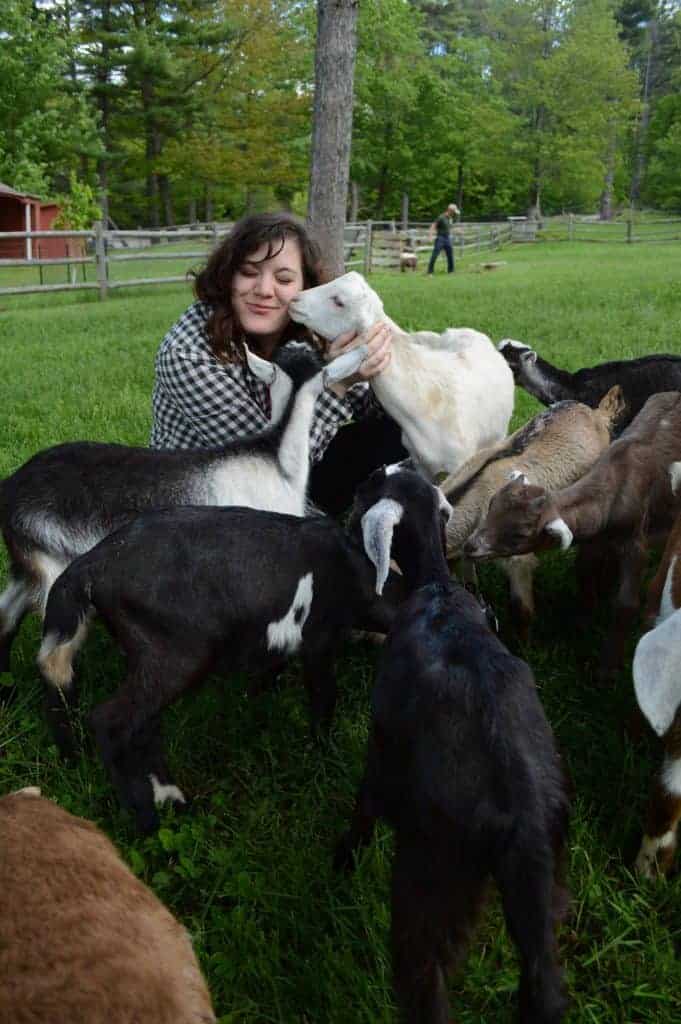 Raise your hand if you love baby animals! We certainly do, and we found a place where you can interact with them.
Dublin, New Hampshire's Friendly Farm gives you the opportunity to feed and play with goats, chickens, and sheep, plus visit with many more farm animals. This place is so great!
Pro tip: Go early in the spring when the farm first opens and the goats are quite young. Later in the summer they become much more insistent on getting food from you!
76. Attend Burlington's Mardi Gras parade
Get ready for a burst of color, music, and beads in Burlington. Their Mardi Gras parade is a lesser-known gem, making it one of the best places to experience this festive tradition without the overwhelming crowds. Picture this: vibrant floats, lively bands, and a community vibe that's just pure joy. Burlington might be far from New Orleans, but they sure know how to throw a party!
77. Sample Sugar on Snow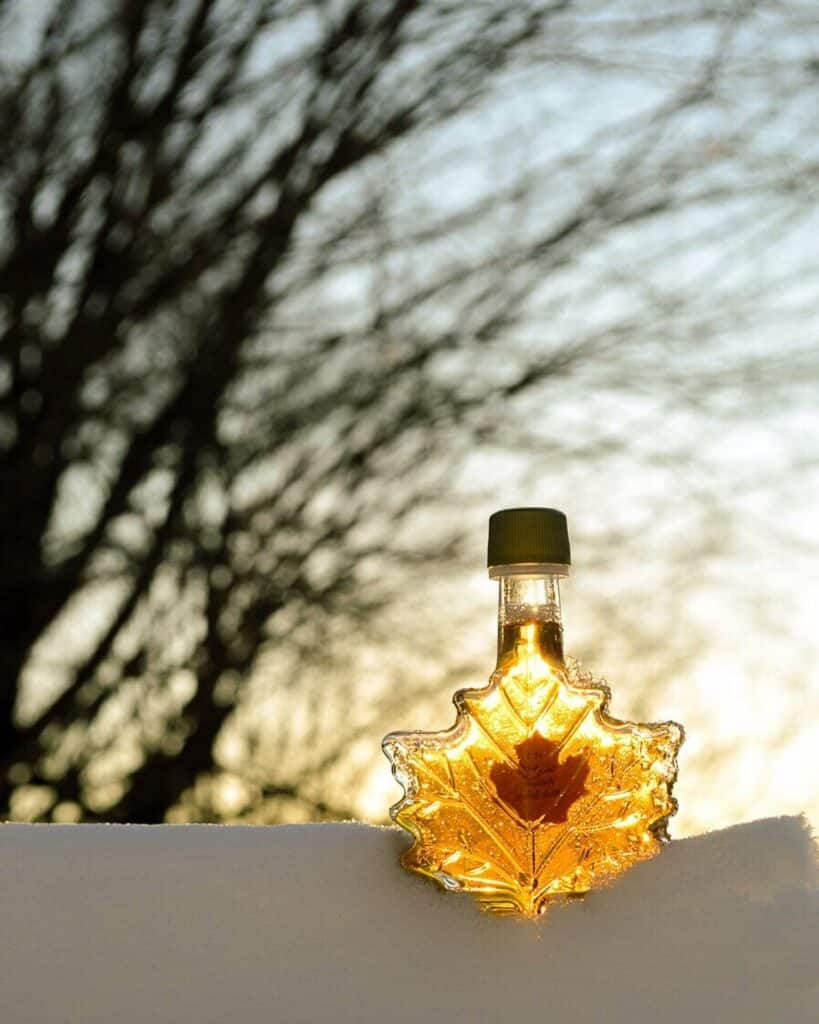 When spring rolls around, it's time for one of New England's sweetest traditions – sugar on snow. Head to a local sugarhouse, where hot maple syrup is drizzled over snow, creating a taffy-like treat. It's a unique experience, one that pairs perfectly with a pickle (yes, a pickle!) and a doughnut. For the best places to try this, Vermont's maple sugar farms and sugar shacks are your go-to.
78. Witness 'the running of the lambs' at Sturbridge Village
Old Sturbridge Village is a worthy New England attraction. This living history museum recreates daily life in the late 1700s and early 1800s.
In spring, the newborn lambs make the village extra special, and at the end of the day you can watch "the running of the lambs" as both lambs and sheep run across the common to be fed at the barn.
79. Marvel at the blooms during Nantucket's Daffodil Festival Weekend
Celebrate the arrival of spring at Nantucket's Daffodil Festival Weekend. This vibrant event in April sees the island awash with over three million golden daffodils. Enjoy parades, flower shows, and antique cars decorated with these sunny blooms, making it a colorful and cheerful escape from the last traces of winter.
80. Tip toe through the tulips at Wicked Tulips Flower Farm
Stroll through rows of dazzling colors at Wicked Tulips Flower Farm in Rhode Island. This tulip paradise boasts the largest u-pick tulip field in New England, with varieties that seem to stretch endlessly. Capture perfect photos and pick your own bouquet, creating a memorable experience surrounded by spring's most beloved flower.
🌷Read more about New England's flower farms & fields
Things to Do in New England in the Summer
Oh, my. Summer in New England is like nowhere else. It's just…classic. Vermont is as green as can be, the beach towns are bustling with vacationers, and the pleasures of summer are everywhere you look.
There are so many great things to do in New England in summer. While I've included some of my favorite summer recommendations below, nearly every activity on this entire New England bucket list is wonderful in the summer.
81. Go tubing on the Saco River
For a refreshing summer adventure, float down the Saco River on a tube. This leisurely journey takes you through the picturesque landscapes of Maine and New Hampshire. With gentle currents and sandy beaches for picnicking, it's an ideal way to unwind and soak up the sun with friends and family.
A great place to do this is in Conway, NH with Saco River Tubing Center. They drop you off and pick you up and you get to enjoy the lazy river life in between.
82. Go sailing on Lake Champlain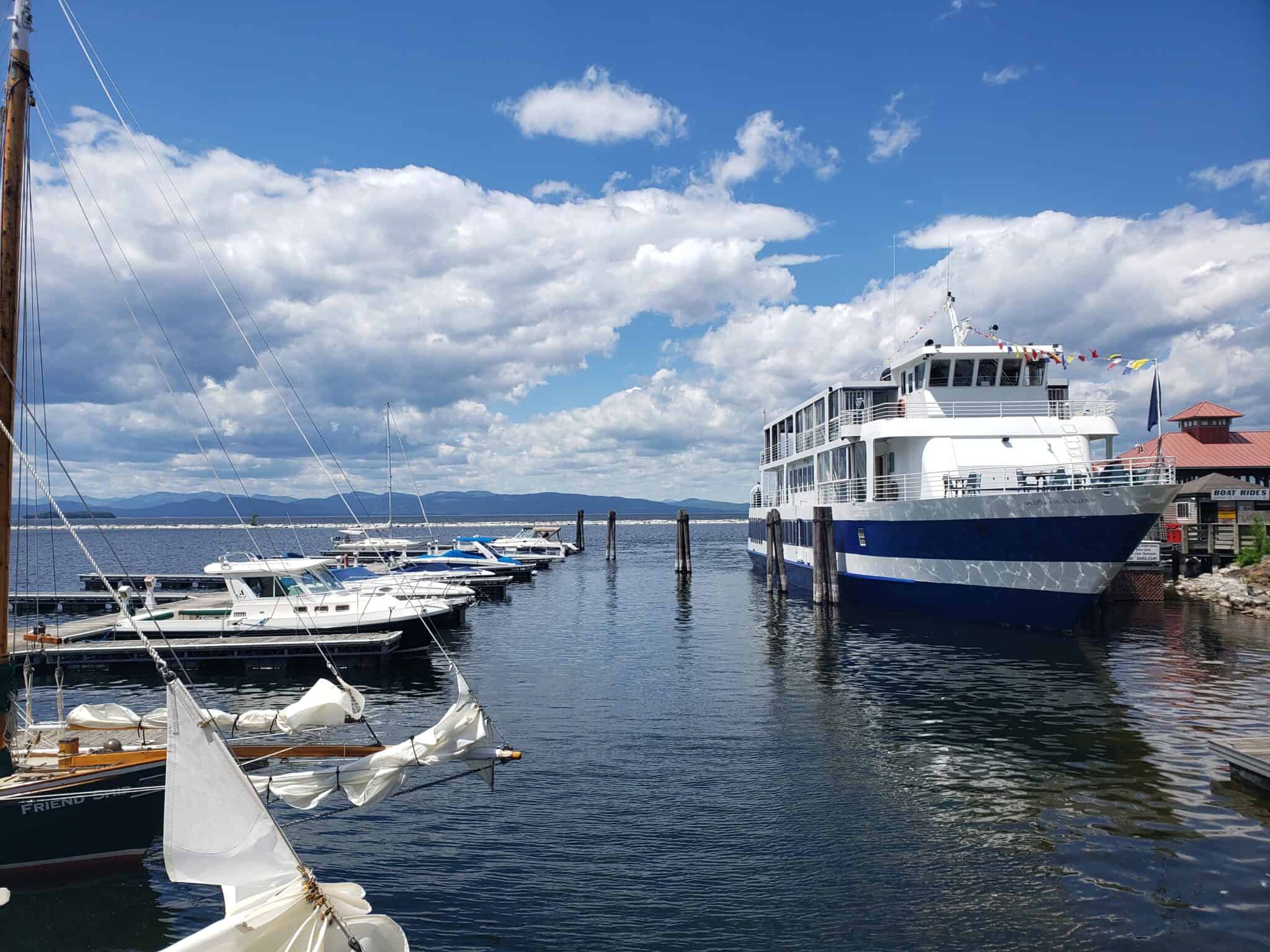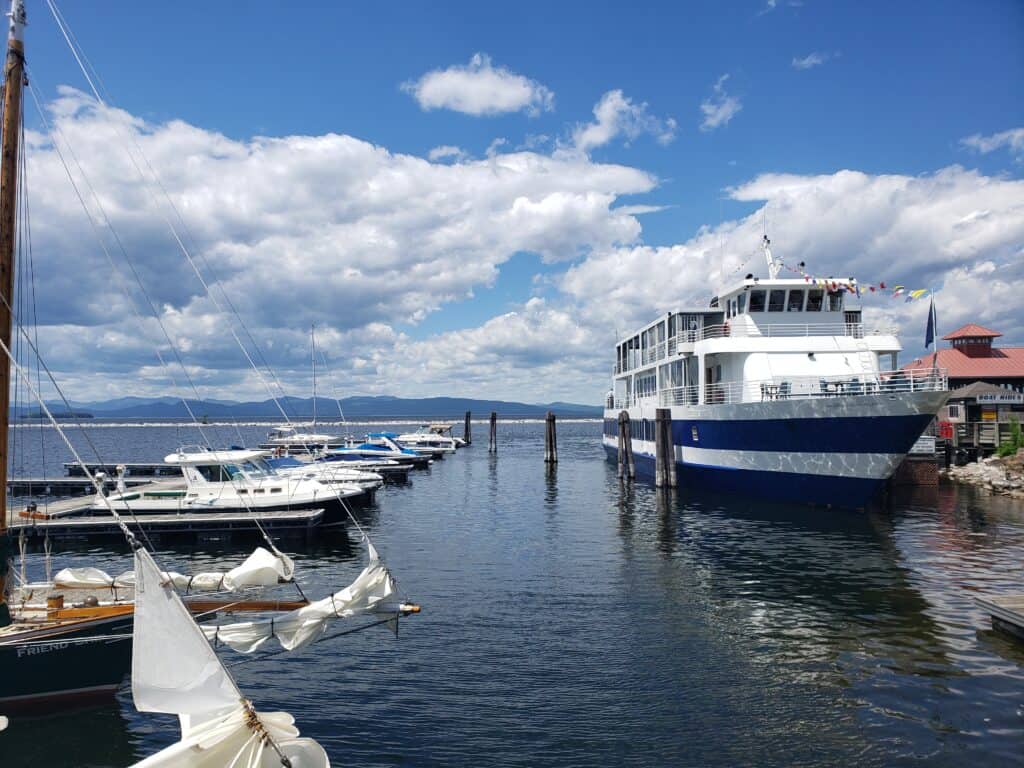 Don't just stand on the shores of Lake Champlain, set sail on it! When I lived in Burlington, Vermont, I loved the proximity of the lake. It's stunning. Stretching between Vermont and New York, this vast lake offers pristine waters and amazing views of the surrounding mountains, and getting out on the water is the best way to experience Champlain. Whether you're an experienced sailor or trying it for the first time, the gentle breezes and scenic vistas make for a perfect day on the water.
Prefer a bigger boat? Go on one of the Lake Champlain cruises on The Spirit of Ethan Allen.
83. Take in a lively summer stock theatre performance
New England is home to fantastic art and culture, and a region where theatre is alive and well. Summertime is a great season when the stages are bustling. As a former musical theatre major (and still a big time theatre nerd), I highly recommend checking out some productions in New England.
Some of the best theatre venues around New England include Shakespeare & Company in Lenox, MA; Goodspeed Opera House in East Haddam, CT; and Weston Theatre Company in Vermont.
84. Fly down a slope on a mountain coaster/alpine slide
Who says ski mountains have to shut down in the summer? Many ski resorts and other outdoor centers have alpine slides just waiting for you. Timber Ripper Mountain Coaster in Okemo is a Vermont favorite.
85. Stand atop the Mohegan Bluffs on Block Island
Off the coast of Rhode Island is gorgeous Block Island. The rocky cliffs known as Mohegan Bluffs are a dramatically beautiful natural attraction in New England. After you've oohed and ahhed at the view from 150 feet above sea level, you can take a set of stairs down to the beach below.
86. Enjoy lazy lakeside summer days at Lake Winnipesaukee
Embrace the quintessential summer at Lake Winnipesaukee in New Hampshire. With its crystal-clear waters and scenic mountain backdrop, the lake is perfect for boating, fishing, or just lounging on the shore. The charming towns around the lake, like Meredith and Wolfeboro, add to the allure with their cozy inns and local eateries. And there are many more gorgeous lakes in this area to explore; unsurprisingly named the Lakes Region.
⛵Read more about fun things to do at Lake Winnipesaukee!
87. Attend a concert at Tanglewood
In Massachusetts' Berkshires region is a famed music venue known as Tanglewood. In the summer, this place comes alive, with top quality concerts that range from the Boston Symphony Orchestra to James Taylor (a regular Tanglewood favorite).
88. Attend a county fair
A county or country fair is a staple of American society, and New England does these fairs right.
With plenty of state fairs and smaller local events in New England, you'll find a perfect spot to eat a funnel cake, ride a ride, sample an award-winning pie, clap for an award-winning cow, and so much more.
89. Pick blueberries in Maine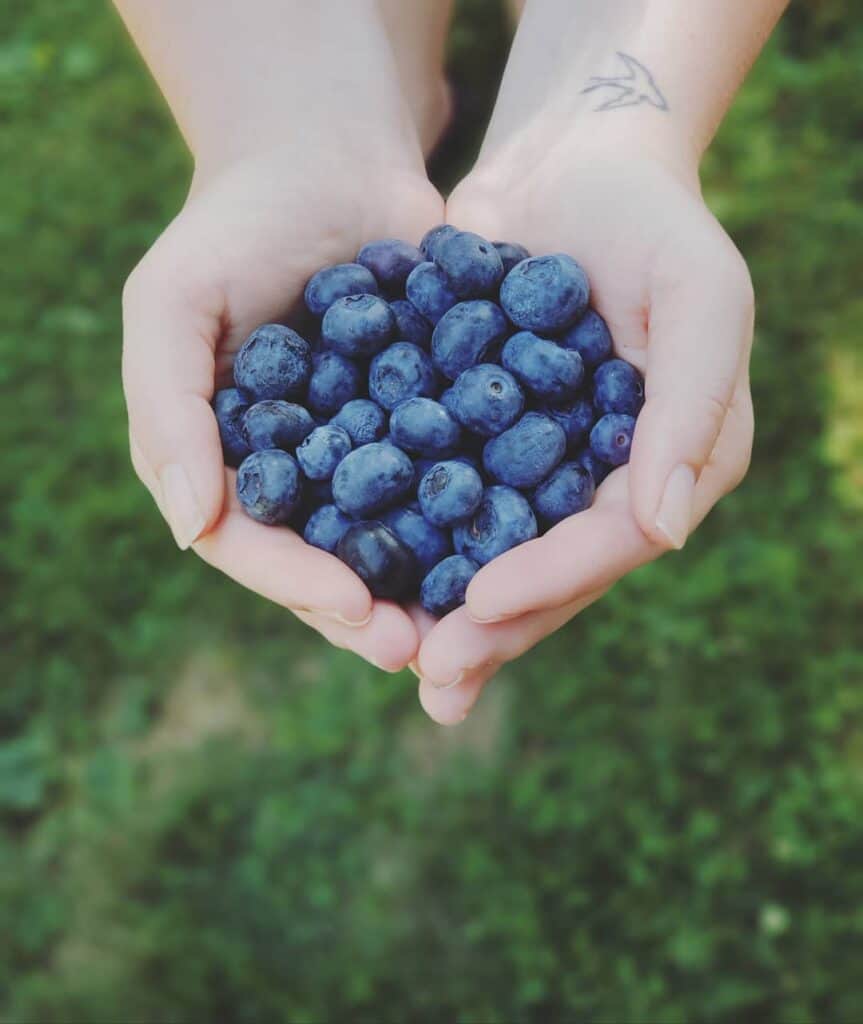 Blueberries are the fruit of summer in New England! Maine is famous for this indigo fruit, and there's even a Blueberry Festival. Indulge in the simple joy of blueberry picking in Maine, the blueberry capital of America.
90. Enjoy a taste o' Scotland at the New Hampshire Highland Games
New Hampshire has an exciting Highland Festival every summer in the mountains. The New Hampshire Highland Games are held at Loon Mountain in Lincoln. You can reunite with your clan, shop for Scottish wares, learn about Scottish culture and history, and watch strong men in kilts throw heavy things. Definitely a fun New England activity!
Scotland holds a special place in my heart, as it's the place where my husband and I first met. The New Hampshire Highland Games absolutely deliver an authentic taste of Scotland. I had a blast attending this festival a few years ago, and getting my fill of haggis.
91. Have a maple creemee in Vermont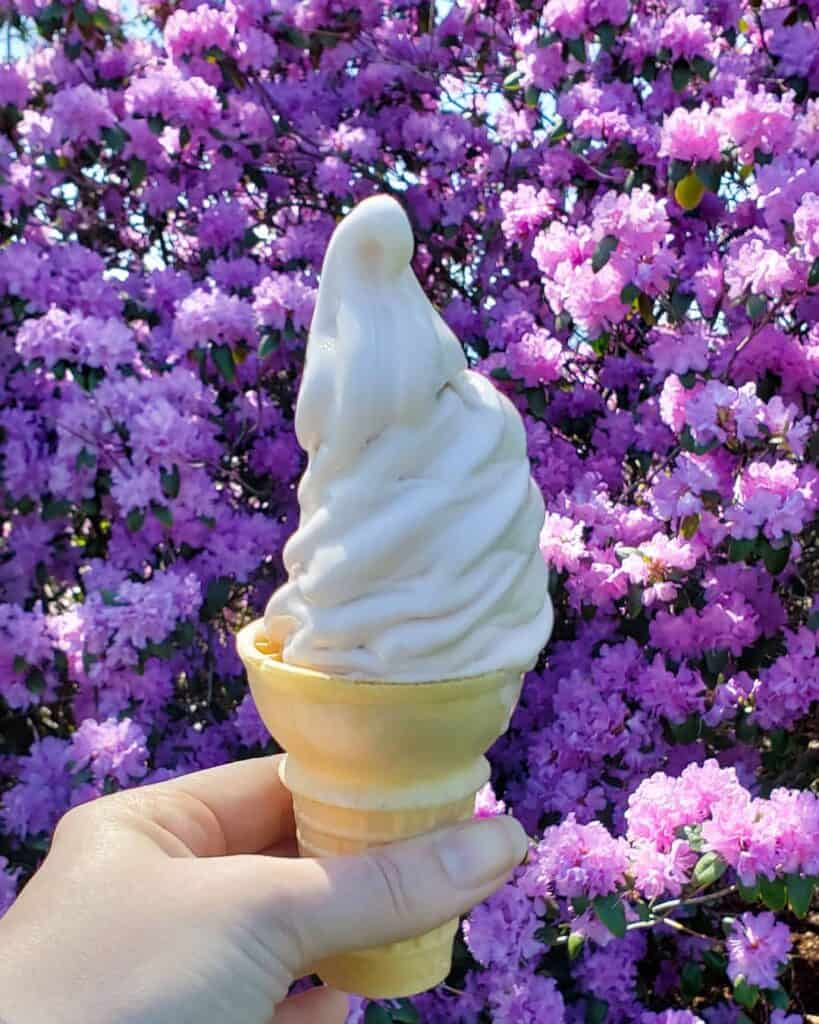 In Vermont, soft serve has the adorable nickname of creemee. These delectable treats are ideal on a summer's afternoon, and you can't go wrong with that iconic maple flavor. Maple and raspberry swirl is even better, in my opinion.
🦞More iconic New England foods to try during your visit
92. Enjoy the beautiful beaches of the Cape Cod National Seashore
Discover the pristine beaches of the Cape Cod National Seashore. Stretching across 40 miles of the Atlantic coast, these beaches offer everything from quiet, sandy retreats to lively surf spots. Whether it's lounging in the sun at Nauset Beach or exploring the dunes of Provincetown, the seashore is a must-visit for beach lovers.
93. Watch the sunrise from the top of Cadillac Mountain
Acadia National Park in Maine is a scenic wonderland. And Cadillac Mountain is the perfect place to experience that wonder.

Witness a spectacular sunrise from the top of Cadillac Mountain As the highest point along the North Atlantic seaboard, it's among the first places in the United States to see the sunrise. So start your day with this magical moment.
You could opt to climb, but at those early hours I suggest driving instead. Make sure to bring a blanket for those chilly Maine mornings, too.
94. Sip strawberry rhubarb wine at Nashoba Valley Winery
When it comes to beverages, New England is not just about beer, but about wine, too! There are an abundance of New England wineries producing exceptional wines. One standout is Nashoba Valley Winery in Massachusetts.
There are many unique and even fruity varietals, but strawberry rhubarb wine may be the most distinctive. And what says summer better than strawberry?
95. Try out a goat yoga class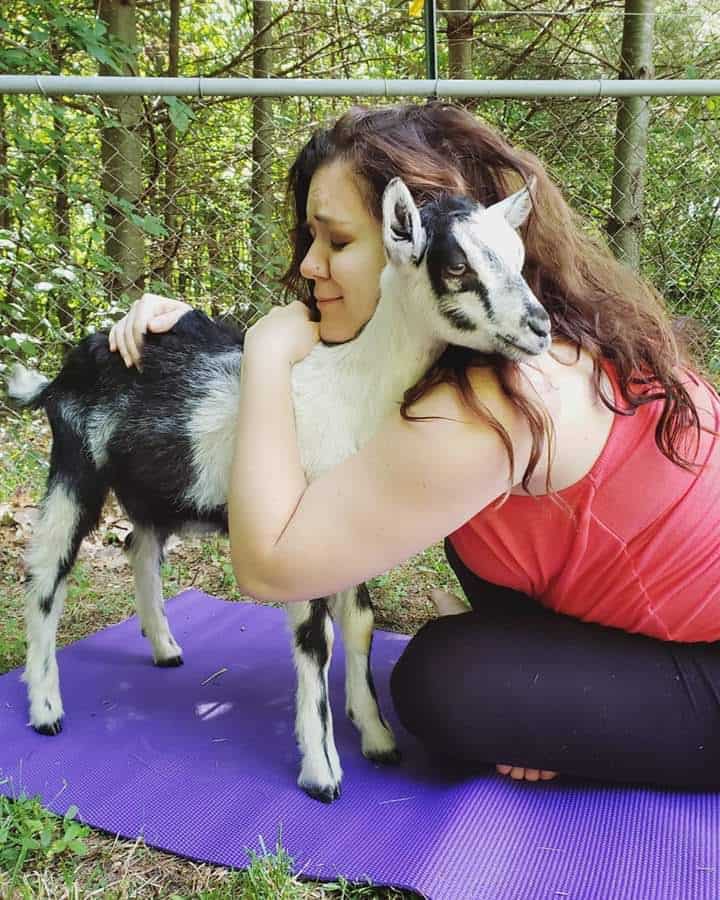 If you're looking for unique things to do in New England, this is a perfect item to add to your bucket list! At many farms throughout New England, you can sign up for a goat yoga class. What a dream to stretch and breathe alongside adorable farm animals!
This is the 3rd or 4th time I've mentioned goats in this post. Can you tell I'm a fan?
I took a goat yoga class at Midnight Goat Farm in Huntington, VT and it was a blast. I got a workout and got to cuddle with some of the cutest goats. What could be better?
Which of these amazing things to do is going on your bucket list for New England?
---
Pin this post to save for later