Littleton may be little—and it is!—but it delivers BIG New England charm, and there are so many great things to do in Littleton, New Hampshire.
With a cute downtown, great shops, restaurants, outdoor space, and more, Littleton is a great place to visit for anyone looking for a dose of that small-town charm!
Are you planning a trip to Littleton? Take a look at all the great things to see and do during your visit to Littleton, NH.
Things to Do in Littleton NH
Riverwalk Covered Bridge
Riverwalk Covered Bridge may be a newer bridge, but it has all of the aesthetic appeal of a classic New England-covered bridge! Not only is it a very convenient way to cross the Ammonoosuc River, but it is a beauty to be photographed, too.
Especially as the autumn leaves begin to change their colors, the Riverwalk Covered Bridge is the perfect place to go for a fabulous fall in New Hampshire photo!
Pollyanna of Littleton
Littleton author Eleanor H. Porter was the creator of Pollyanna, and her contribution has been honored with a bronze Pollyanna sculpture.
Located in downtown Littleton, the statute has a wide smile on her face and arms flung open wide; it's hard not to feel a touch of Pollyanna's sunny disposition when you stand face to face with this beautiful memorial.
Schilling Beer Co.
Self-described as a "progressive European-inspired craft brewery," Shilling Beer Co. has two next-door locations in Littleton: a store and tasting room, and a brewpub in the converted 1798 Littleton Grist Mill.
Visit the tasting room to enjoy a draught on the deck while you take in the river views below, then head next door to the brewpub for some of Schilling's famous wood-fired pizza. Great views, great beer, great pizza, what more could a person want on their vacation?
Littleton Area Historical Museum
The keepers of Littleton's history, Littleton Area Historical Museum has exhibits displaying items of local and regional significance, including a Victorian life exhibit with a variety of everyday items that a person living in the Victorian era would use, including beautifully kept Victorian clothing and toys.
There are many other artifacts to be found at the Littleton Museum (located in the Opera House) that tell the story of Littleton over the years.
Wallace Horse Cemetery
In a glorious nod to the quirkiness of small-town life, Wallace Horse Cemetery is where the remains of three horses were buried, two with all of their accessories: bridles, blankets, harnesses, and feed boxes, much as many people often bury a beloved pet with their favorite toys.
The horses belonged to the wife of Mr. Wallace, and their burial plot has been well-kept now for over a hundred years! It is a sweet site to visit to see how this touching gesture for Mr. Wallace's wife has continued to be maintained by the people of Littleton.
Chutters
Did you know that Chutters is home to the World's Longest Candy Counter? It's true! The Littleton location is the original storefront, and this modern-day Candyland displays a whopping 112 feet of candy along their candy counter, featuring all the most beloved candy options from yesteryear to the present day.
Look for their pink and purple awning; chances are, whatever your favorite candy is, you will find it at Chutters!
The Littleton Opera House
One of Littleton Main Street's bright and shiny gems, The Littleton Opera House is a lovely performing arts space that has been serving Littleton since 1894. Today it hosts a variety of events, including regular shows from The Upstage Players, Littleton's community theatre troupe.
Performances always resound in this cozy space, and the Littleton Opera House's clock tower is a part of what makes Littleton's vibrant downtown such a scenic sight to see!
Little Village Toy & Book Shop
Traveling with kids? Or perhaps you're looking for a Littleton souvenir for kids? Then you're definitely going to need to stop by Little Village Toy & Book Shop.
With a motto like Play, Laugh, and Learn, how could you say no to some of the interesting and educational options that can be found at this cute toy and bookstore?
Littleton Diner
Looking for a bite to eat in Littleton, NH? Littleton Diner is the place to go! This diner has been the go-to place for locals, tourists, and even a slew of presidential candidates and other big names in government over the years.
Voted the Best Breakfast in NH by Food Network, Best Pancakes in New England by Yankee Magazine, and the Best of NH by New Hampshire Magazine, this diner has been providing quality New England diner staples since 1930. It is an absolute must-visit while in Littleton!
Main Street
Winner of the Great American Main Street Award of 2003, Littleton's Main Street is the quintessential New England main street. Not only is Main Street absolutely adorable, but it is also full of great services, shopping opportunities, well-stocked antique shops, and places to eat.
Littleton's Main Street offers the kind of classic small-town charm that makes it one of the cutest small towns in New Hampshire!
Lahout's, America's Oldest Ski Shop
Did you know that Littleton is home to America's Oldest Ski Shop? Lahout's has been around for over a hundred years in some form or another, but has been consistently dedicated to providing goods to those looking to brave the New Hampshire elements to play in the snow!
This is still a powerhouse of a storefront for skiiers and outdoor enthusiasts, so make this a definite must visit if that describes you in any way.
Kilburn Crags
Kilburn Crags is a lovely 1.4-mile hiking trail that takes hikers up about 1,300 feet to the perfect spot to look out over Littleton.
Known locally as The Crags, Kilburn Crags won the best "Locals Only Hiking Trail" award from New Hampshire magazine a few years back, so this best-kept secret is not so secret anymore!
Many are attracted to The Crags for its fairly easy hiking that offers a spectacular payoff at the end with expansive views of Littleton and the surrounding mountain ranges.
Thayers Inn
Thayers Inn is a historic landmark hotel that seamlessly incorporates all the comforts of the modern era with classic New England inn charm!
Plus, its central downtown location is wonderfully convenient. Easy walking distance to places like Littleton Diner? Yes, please!
Click Here to Check Prices & Book!
White Mountain Adventure Sports
One of the bodies of water in the Littleton area is the Moore Reservoir, covering about 3,181 acres. If you'd like to get out on it, White Mountain Adventure Sports is the place to go for stand-up paddleboard rentals.
They also partner with Studium Fitness for their pop-up paddleboard classes, so keep an eye out for a pop-up fitness event if you'd like to do a little yoga out on the lake during your Littleton vacation!
The Dells Nature Trail
The Dells Nature Trail is a nice little foray into nature just a few blocks from downtown Littleton. It only takes about 25 minutes to walk the Dells Nature Trail from start to finish, but the path is easy to follow and takes you along a lovely pond. It is also a favorite spot for local birdwatchers and picnickers.
If you want to take a nice nature walk after eating at one of the great restaurants downtown, The Dells is perfect for that!
ROX Arts Gallery
Home to works from dozens of local Littleton artists, ROX Arts Gallery houses a variety of different art pieces, including sculptures, ceramics, woodworks, jewelry, paintings, photographs, and more.
ROX also offers classes and community events for those who want to come out and join in, so check out their event page to see what they've got coming up next.
Mt Eustis Ski Hill
In the mood to ski? If you're visiting Littleton NH in the winter, there's a ski hill right in town! Ski Mt Eustis in Littleton, or head up the road to nearby Cannon Mountain in Franconia.
Remich Park
One of the best parks in Littleton, New Hampshire, Remich Park is a great place to take the kids to get some energy out! You'll find a new playground, lovely walking paths, and even a pool that you can cool off in the summer.
In the winter, you can ice skate and glide across the water. Remich Park is a great spot to visit during your Littleton trip.
Whether you're traveling to New Hampshire for summer fun, fall leaf peeping, or winter wonderland activities, New Hampshire is full of great places to visit!
Whatever season, Littleton, NH is a lovely spot for your next New Hampshire getaway.
You might also like: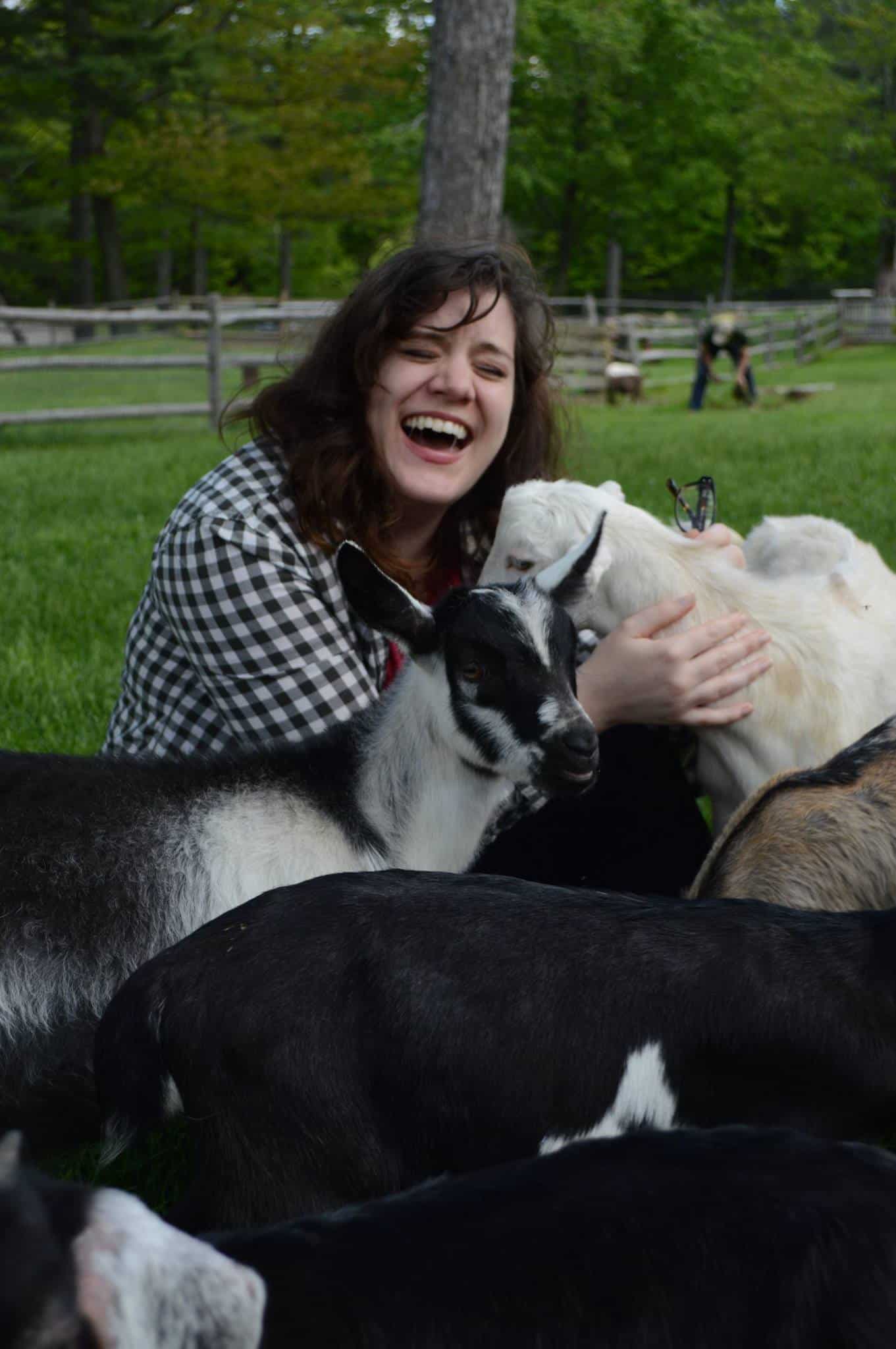 Amy Hartle is the founder and Editor-in-Chief of New England With Love, a comprehensive resource for travel in the New England region. Amy has been exploring New England since 2001. She lived in Vermont for many years and is a graduate of Plymouth State University in New Hampshire. Amy has been writing about travel for over a decade. On this site, Amy aims to share her love of New England and help you to have the best possible adventures!
Amy has been a full time blogger since 2012, and is also the publisher of Two Drifters, where she writes about couples travel and relationships, as well as Let's Adventure Baby, a family travel site. When not traveling the world or creating epic blog content, Amy can be found cuddling with her husband, son, and cats, & drinking a maple latte.