*This site uses affiliate links; if you make a purchase through these, I may receive a small commission at no cost to you.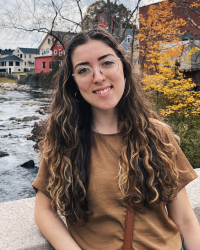 Latest posts by Jessica Vaillancourt
(see all)
When it comes to small town charm, New England is the region to beat. Simply hit the interstate, and almost any exit will lead you directly to a picturesque town.
New Hampshire itself has over 200 towns, many of which have that magical small-town formula: historic colonial architecture, a quaint main street lined with local shops, friendly locals, and a white-steepled church.
From the academic home of Dartmouth College, to the active lake and mountain towns up north, there is no shortage of charm here in small towns in New Hampshire. So if you're looking small towns in NH to explore, I've compiled this list of must-see cute small towns in New Hampshire!
Small Towns in New Hampshire
Hanover
It always surprises me to find out that some people don't realize there's an Ivy League college in New Hampshire! Hanover, located in the Upper Valley near the border of Vermont, is the picture-perfect home of Dartmouth College.
While the town itself isn't large – with only about 9,000 residents (3,000 of which are Dartmouth students) – activities are in full supply. The campus itself, integrated in and around downtown Hanover, is a safe and gorgeous place to explore. My favorite building is the Baker-Berry Library, with its Hogwarts-esque tower room that overlooks the park downtown. In the summer this grassy quad comes to life, with live bands and weekly farmers markets to enjoy.
After exploring campus, stroll down South Main Street and grab breakfast or a cruller at the beloved Lou's Bakery. For coffee, you'll want to stop by the Dirt Cowboy Cafe. For an intimate theater experience, see a movie at the Nugget Theater. There is no shortage of small town NH things to do in Hanover!

And saving the best for last, the Hood Museum of Art is an incredible, newly renovated art museum right in downtown Hanover. The museum exhibits impressive works by the likes of Georgia O'Keeffe and Pablo Picasso, and the entry fee comes to a grand total of $0. Bottom line, just like all the best New England towns, everything worth doing around Hanover is a stone's throw away!
Sugar Hill
Sugar Hill is not just a small town in NH, it is tiny. I'm not joking. The 2018 census counted a whole 577 residents! And though it be but little, it is fierce, to paraphrase the great Will Shakespeare. Located way up in the White Mountains, you might miss it if you blink twice while driving through Franconia to Littleton on I-93. But here's why this teeny tiny New Hampshire town is worth the visit: the Sugar Hill Lupine Festival, and Polly's Pancake Parlor.
This alpine town is surrounded on all sides by natural beauty. Full of wide-open fields, farms, and historical homes, it is a prime location for the town's secret treasure: the Sugar Hill Lupine Festival. Every June for just a few short weeks, the town's fields and gardens full of lupines bloom in beautiful bursts of pinks, purples, and whites.
People from all over flock to the region for the Lupine Festival, which includes tours, an open air market and live performances right on Main Street. And after you've had your fill of flowers, fill up on pancakes at Polly's Pancake Parlor. This rustic, 1830s parlor serves up famous fluffy pancakes, topped off with that real maple syrup this region is known for!
Read this next: 19 New England Flower Fields, Farms, and Gardens You Will Love!
Gorham
One of the cutest small towns in New Hampshire is Gorham, located in the beautiful White Mountains region. You'll find a quaint downtown area and plenty of great small town things to do in this New Hampshire gem, like a day spent at beautiful Moose Brook State Park exploring its gorgeous trails or an evening out at the beautiful Medallion Opera House!
Enjoy some of Gorham's cute restaurants and cafes and if you're looking for a cool place to stay in Gorham New Hampshire, check out Hub North, one of the coolest glamping sites in The Granite State.
Plymouth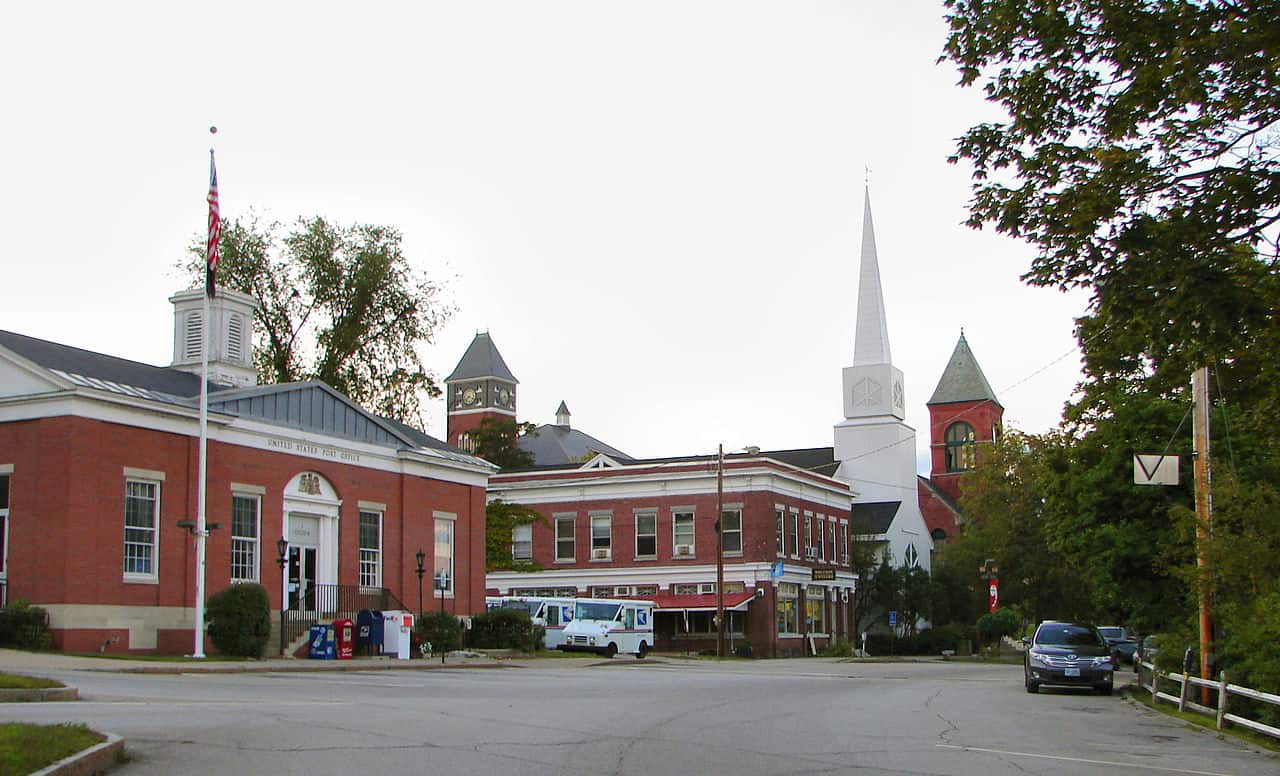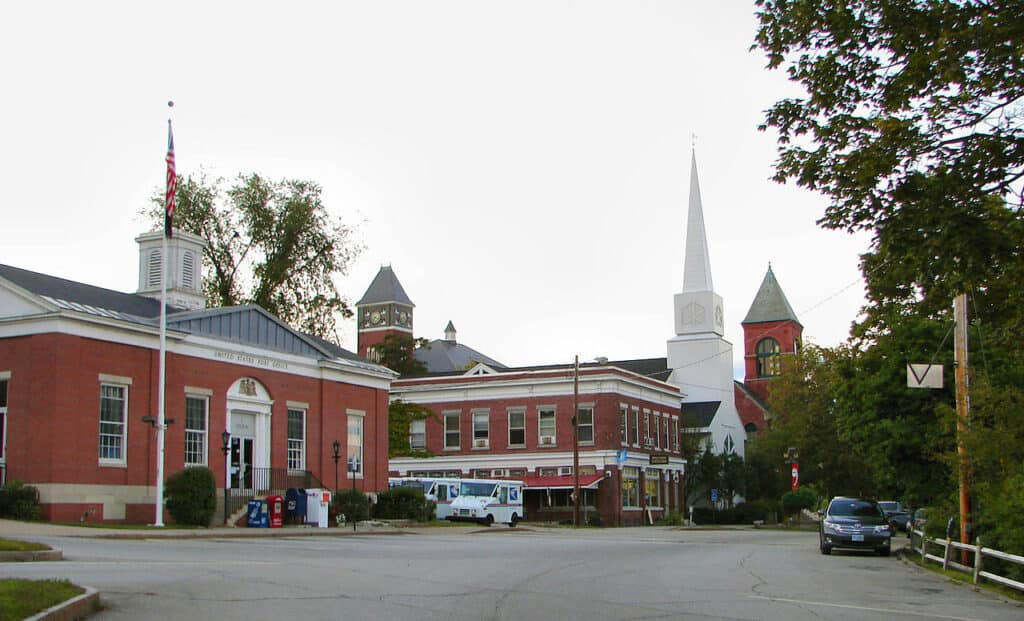 Coming at you with another picturesque college town in New Hampshire: Plymouth is the home of Plymouth State University, a small public university set in the gorgeous White Mountains region. Complete with a covered bridge, white-steepled church, and charming downtown, Plymouth checks off all the cute small town boxes.
From Main Street's locally owned shops like Chase Street Market and Plymouth Ski & Sports, to cafés like Café Monte Alto and eateries like The Main Street Station, you'll have a great time exploring this vibrant, young town. Not to mention Plymouth offers easy access to so many nearby outdoor activities – the Polar Caves, Newfound Lake, Tenney Mountain, and more!
Peterborough
Peterborough, perched right along the Contoocook River in the Monadnock region, is perfect for antiquers, artists and outdoor enthusiasts alike. This historical town really embraces all things repurposed; you can hunt for antiques at a plethora of shops like Twin Elm Farm, Bowerbird & Friends, Grove and Main Antiques, or Murray's Home Again thrifts.
Peterborough is also a local hub of art and culture. Located in this cute NH town is the MacDowell, an artists' colony established back in 1907. For over 100 years, the MacDowell has sponsored artists-in-residence with the mission of contributing excellent art to the world. If you're looking for artsy towns in New Hampshire, this is a good one! Aside from art, there are some great food spots in town. At Post & Beam Brewing, you can sip local beer on the outdoor patio that overlooks downtown. Finish your evening with a delicious dessert from Vicuña Chocolate on Main Street.
Littleton
Located in the White Mountains along the Connecticut and Ammonoosuc rivers, this old mill town frequently ranks on national lists, like 'best small towns' and 'best main streets in America'. With the surrounding mountains, downtown riverwalk, and restored historical buildings, the quaint beauty of Littleton is unbeatable.
To fully appreciate the history of Littleton, visit the Littleton Area Historical Museum located in the Opera House. If you love books, check out Little Village Toy & Book Shop on Main Street. Surprisingly, a couple local shops also hold national and world records! Lahout's Ski Shop is America's Oldest Ski Shop, which has been passed down through four generations. And breaking a world record is Chutters, a magical candy shop with the World's Longest Candy Counter (112 feet long!). That alone should be enough to inspire a tasty trip to cute little NH town of Littleton!
Meredith
As you may have noticed, most towns on this list are found in the White Mountains. That's because the region's charm is undeniable. But there are many notable gems in other parts of NH, and one of them is the lake town of Meredith!
Set right on Lake Winnipesaukee, this ordinarily low-key town buzzes with activity in the warmer months. Since it's right at the heart of the Lakes region, visitors from all over come to this cute little NH town to enjoy water sports, dock fishing, and swimming. Complete with stunning summer homes on private beaches, seafood restaurants along the docks, and an upscale shopping market at the center of town, you'll be surprised by how this posh place can be so down to earth. The sun is shining, the water's fine, and the living's easy in Meredith!
North Conway
If you asked a NH local to recommend just one cute small town in New Hampshire to visit, they'd probably say North Conway. This quaint village is set in, you guessed it, the White Mountains. In North Conway, you'll find locally owned shops, cafes and restaurants, the beautiful Schouler Park, and the New England Ski Museum. Departing from the charming yellow 1874 Station in town, Conway Scenic Railroad offers incredible train ride excursions on vintage steam trains.
Aside from activities right in town, North Conway is one of the most centrally located basecamps for any adventure in White Mountain National Forest. Mount Washington, Cranmore Mountain, Attitash Mountain, Cathedral Ledge, Diana's Baths, and a few dozen other spots are within spitting distance, and plenty of great options for vacation rentals near North Conway, too. Make North Conway your stepping stone, or your destination!
Lincoln
Lincoln, located in the White Mountains, is so many things at once: a nature lover's haven, a resort town, a cultural hub, and an adventure destination. There is no shortage of beauty and fun in this quaint New Hampshire town. There are some pretty great restaurants, too.

Unlike many small towns in New England, Lincoln's tourism picks up in the wintertime. With the popular Loon Mountain Resort directly to the east, and the famous Ice Castles attraction in town, visitors of Lincoln can make the most of the cold. Clark's Bears amusement park is also a blast for people of all ages. If adventure is your thing, go ziplining with Alpine Adventures (one of our favorite things to do in the White Mountains!). Or take the Hobo Railroad for a scenic, historical train ride through White Mountain National Forest.
Speaking of, the nature that surrounds Lincoln can't be beat. A skip and a jump away is Franconia Notch State Park, perhaps NH's best state park. Traverse the boardwalk along the base of Flume Gorge, a breathtaking glacial formation of granite.
Read Next: 13 Super Fun Things to Do in Lincoln NH
Exeter
When it comes to pretty New Hampshire towns, you can't skip over the Seacoast! Some of the cutest, most enjoyable towns in NH are set right by the Atlantic Ocean, and Exeter is the perfect example. What makes Exeter so charming isn't simply the walkable downtown and coastal landscape, but also its fascinating history. Exeter was one of the earliest established New England colonies in the 1600s. The likes of Abraham Lincoln and George Washington graced its streets!
You can explore more of its role in early U.S. history at the American Independence Museum on Water Street. Also located on Water Street are most of the great downtown shops, like the indie Water Street Bookstore, Whirlygigs Toy Shop, and the Chocolatier. Then try catching a live performance at the Exeter bandstand, or browse the Swasey Parkway's farmers market on a warm summer day.
Hampton Beach
Another great Seacoast town in New Hampshire, Hampton Beach is an adorable seaside community that attracts visitors from all around New England. Beautiful beaches, great restaurants, a cool brewery, museums, music venue, and more! Hampton Beach is one of those cute NH small towns with all kinds of fun things to see and do.
Beautiful views abound in Hampton Beach; take a walk on the Hampton Beach Jetty Walk to take in those Seacoast views, and visit the Blue Ocean Discovery Center to get an up close look at marine life!
Keene
I'm wrapping up this list with one final New Hampshire college town: Keene. Home to Keene State College, this cute town is geographically situated at the heart of New England, and bustles with young energy. Keene has a great downtown with a satisfying combo of local 'Mom and Pop' shops, cafés, theatres, and antiques.
Catch a live show or movie at the Colonial Theatre, a historical 1924 landmark on Main Street. Don't miss out on tasting a sweet treat from Life is Sweet Candy Store or Ye Goodie Shop. If you love shopping consignment, you can go antiquing at Puggy's on Emerald Street for furniture. And for a bookstore with charisma, swing by The Toadstool Bookshop also Emerald Street.
Last but not least, in autumn Keene hosts New England's most popular Pumpkin Festival, which has won a world record for the most carved jack-o-lanterns in one place. So if you're interested, time your trip for the spooky season!
There are so many cool little towns in New Hampshire to visit, have fun planning your next New Hampshire getaway!
---
You might also like:
---