If you're planning a trip to New Hampshire, you can't miss out on visiting Plymouth. This quaint small town is in the White Mountains and is filled with charm. Plus, there are so many fun things to do in Plymouth NH. And I should know: it's where I went to college, at Plymouth State University!
We put together this guide about all of Plymouth's best attractions to save you time so that you can enjoy your trip. No matter what type of traveler you are, whether you enjoy being indoors or outdoors, you'll be able to find something fun to enjoy on this list.
Here are all of the top things to do in Plymouth NH.
Things to Do in Plymouth NH
Ski at Tenney Mountain Ski Resort
If you're visiting in the winter months, you can't miss out on skiing at Tenney Mountain Ski Resort.
The resort has been in operation for around fifty years and is a favorite place among locals and even others in New England. You can go skiing or snowboarding at the resort and practice your skills.
According to their site, "the 2022-2023 season represents a major come-back for Tenney. The current owners, the North Country Development Group, have recently invested millions of dollars to revitalize Tenney Ski Mountain from top to bottom."
There are more than forty different trails at Tenney Mountain Ski Resort, so you can truly spend a whole week skiing here, trying out every single one. Many people say it's fairly similar to Gunstock Mountain Resort.
See a Show at The Flying Monkey
The Flying Monkey is the place to go for music, plays, and other live performances in Plymouth! You can find Grammy award winning artists, community events, and so much more on stage at this cool 1920s theater, originally named the New Plymouth Theater.
Check out the events calendar to see what's coming up onstage in Plymouth!
Swim at Newfound Lake
One of the top things to do in Plymouth NH is to go swimming at Newfound Lake. It's in Grafton County in New Hampshire's lake regions and is also near Bridgewater and Bristol. It's reasonably large and is perfect for visiting on a warm summer's day.
Many say that Newfound Lake is one of the cleanest lakes in the world, so it's definitely a must-visit. There are great amenities like an onsite restaurant, pool, waterfront, and internet access. It's also open year-round.
Events are held at Newfound Lake throughout the year, so be sure to check the town's calendar to see if one will be happening during your visit. There are also fantastic hikes around the lake too, some of which are relatively difficult if you're up for a challenge.
Eat at Biederman's
Biederman's is one of the absolute must visit restaurants in Plymouth, New Hampshire, and it's been an iconic pub and sub spot for decades. This is the perfect place to go on a rainy or snowy day in Plymouth to spend an hour or two enjoying delicious eats in the cozy pub meets deli atmosphere. Try the Balboa, you cannot go wrong!
Visit the Sculptured Rocks Natural Area
One of the more unique things to do in Plymouth NH if you love the outdoors, is to pay a visit to the Sculptured Rocks Natural Area. It's technically located in Groton but is a short drive from Plymouth.
The area is pretty large at just shy of 300 acres and is filled with unique rock formations that are sure to take your breath away. It's also very well maintained and taken care of. One of the spots within the rocky area is even a popular place to go swimming when it's warm!
While there are many different rocky spots to explore in the Sculptured Rocks Natural Area, be on the lookout for the place that actually gave this spot its name: the Sculptured Rocks. They're steep and sharp but are breathtaking.
Rent a Bike with Rhino Bike Works
One of the most fun things to do while in the Plymouth area is to head over to Rhino Bike Works and rent a bike to explore the outdoors. They have a wide variety of different bikes available for rent, and a bike is a perfect way to explore all that Plymouth has to offer.
They offer both full-suspension bikes and hardtail mountain bikes in case you'd rather go out on the nearby mountains in Plymouth. Prices change depending on what type of bike you rent but usually don't exceed around $65. Prices are per day.
Each bike rental gives riders everything that they'll need for a successful biking day. There's a repair kit, flat pedals, and a helmet. In addition, bike likes are available upon request if they will be needed during your rental period.
Have a Pint at The Last Chair Restaurant & Brewery
For some relaxation during your time in Plymouth, head to The Last Chair Restaurant & Brewery. This brewpub is super casual inside and is actually one of the top places to visit in Plymouth. The interior is super rustic, with exposed wooden beams everywhere and fun decor on the walls.
There are abundant seats indoors since it's an open floor plan. The entire space is massive, so it can accommodate large groups of people.
On the menu, you can find tons of their exciting beers. They have names like Eclipse Milk Stout, Powder Bear Hazy IPA, and even Cannonball Blonde Stout. If you're not sure which one to try, be sure to ask. They love giving recommendations based on your tastes!
Hike Plymouth Mountain
Plymouth, New Hampshire, is right next to none other than Plymouth Mountain. This giant mountain is filled with different trails of varying difficulty, making it the perfect place to go if you want to get some exercise.
One of the most popular hikes there is the Plymouth Mountain Sutherland Trail. It's an out-and-back trail with 1400 feet of elevation gain. It's just shy of four miles long and is considered moderate. It's perfect for those looking to see wildlife while hiking.
Another hiking trail in the area beloved by my college friends and I was the hike up Rattlesnake. This not-super-difficult hike rewards you with lovely views over Squam Lake.
Stay – and Eat! – at the Common Man Inn
The Common Man Inn is one of the top places to stay in Plymouth NH, with a spa that offers all kinds of cool treatments like a light therapy relaxation room, sauna, and a hot tub with a rock waterfall. But, the real draw of this Plymouth NH inn isn't the onsite spa or even the comfy, cozy rooms, it's the incredible onsite restaurant!
Foster's Boiler Room is one of the best places to eat in Plymouth NH, and it's not just the great menu and delicious meals that draw you in. This used to be the actual boiler room for the paper mill that the inn formerly was, so one of the coolest features of this restaurant is the gorgeous smoke stack fireplace that reminds of its former glory.
Click Here to Check Prices & Book!
Learn at the Museum of the White Mountains
For those who want to learn a bit while in Plymouth, head to the Museum of the White Mountains. It's located at Plymouth State University and is the perfect place to go if you want to learn about the area you're visiting.
Some exhibits will take visitors back in time through Plymouth's history throughout the museum. It also covers the culture and environment of the area. It's not the biggest museum, but it's definitely worth visiting during its limited hours.
Explore Polar Caves Park
If you search for things to do in Plymouth NH, Polar Caves Park is sure to come up. It's technically located in Rumney but is a short drive from Plymouth, so it's worth visiting. These caves were actually glacially formed during the ice age and are still here to see today.
The attraction is very family-friendly. In fact, it's mostly visited by families who are traveling to the area. It's been open to the public since the early 1920s and is relatively large. It's best to spend at least a few hours here if you plan on visiting Polar Caves Park.
Ride a GoKart at Weirs Beach GoKart Track
Near Plymouth is a great place to visit called Weirs Beach! It's also near Meredith, so it's easy to take a short day trip there and have some fun. Weirs Beach is filled with attractions, like its GoKart Track, which is fun for the entire family.
Pricing for the track is per race, and each race is about four minutes. You can also get a shareable ride package to save some money by bundling different races together. Those between four and nine can ride for free with a driver over the age of sixteen.
Note that Weirs Beach GoKart Track does have different hours throughout the year and can be closed on non-holidays occasionally because it is a family-run business.
Have a Meal at The Main Street Station
Located right on Main Street, as the name suggests, is none other than The Main Street Station. This classic diner is a particularly popular place to eat among locals and students from Plymouth State. It's super affordable and is a top place to visit for breakfast or brunch!
The menu includes every type of breakfast food you'd hope to have. There are waffles, pancakes, french toast, eggs, and other classics. There are also more hearty options like chicken and waffles for those who want something a little more filling!
Because The Main Street Station is a popular place to eat, try to get there early in the morning when they open or try to visit on a weekday if you can.
Get Your Adrenaline Pumping with Effortless Adventure
For those who want to get outdoors during their stay, consider booking an activity with Effortless Adventure! It's a great place to book a tour through because they have tons of different excursion types and packages.
Choose between yoga, hiking, rock climbing, swimming, kayaking, canoeing, or even one of their specialty "brewventures." Each one has a different cost but is the perfect way to meet others in the area while getting outside and having some fun.
Drive Through the Smith Covered Bridge
One thing that New England is known for is its incredible covered bridges. Seriously, no matter what state you visit, you'll be able to find at least one covered bridge nearby. One of those beautiful covered bridges just happens to be in Plymouth.
The Smith Covered Bridge is a historic bridge in the area that was built in 1850. It's very rustic and picturesque. Be sure to stop by and either drive through it or take some photos of it from the side.
This post was all about the best things to do in Plymouth. Now you know all the top activities and destinations for your trip. Don't forget to save this post and share it for later!
---
You might also like: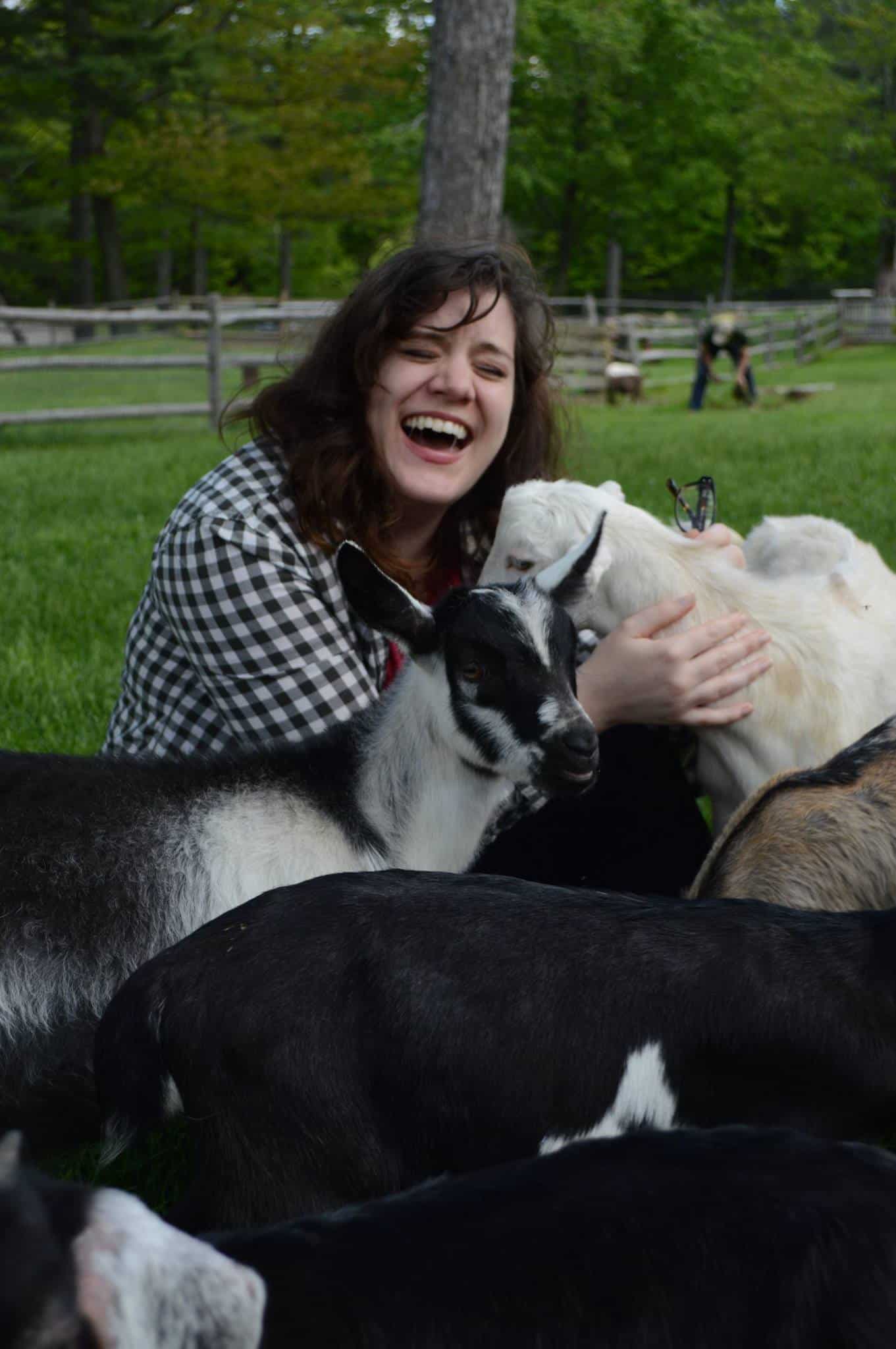 Amy Hartle is the founder and Editor-in-Chief of New England With Love, a comprehensive resource for travel in the New England region. Amy has been exploring New England since 2001. She lived in Vermont for many years and is a graduate of Plymouth State University in New Hampshire. Amy has been writing about travel for over a decade. On this site, Amy aims to share her love of New England and help you to have the best possible adventures!
Amy has been a full time blogger since 2012, and is also the publisher of Two Drifters, where she writes about couples travel and relationships, as well as Let's Adventure Baby, a family travel site. When not traveling the world or creating epic blog content, Amy can be found cuddling with her husband, son, and cats, & drinking a maple latte.