Looking for something fun to do in New Hampshire besides exploring the great outdoors that the state is so well known for? Check out one of the many excellent museums in NH!
From history and art to science and even boats, there's sure to be a museum that interests you. Plus, they are scattered throughout the state, so no matter where in the Granite State you are visiting, you'll be able to find one close by. Read on to discover 11 of the top museums in New Hampshire.
New Hampshire Boat Museum
First up is the New Hampshire Boat Museum located in Wolfeboro. This museum is perfect for travelers and folks that love all things nautical! Throughout this museum, you can learn about boating history in the area.
While the museum itself is super interesting, one of the best ways to enjoy the boats while learning is to go on the Mille B and Miss Lauren. That's right, you can enjoy a boat ride out on the water with a fun guide. They only take the boat out seasonally and reservations should be made in advance.
The museum has a few current and rotating exhibits so that you can learn something new all year long. They have even had exhibits on rowing, which is a sport that's super popular in the northeast states.
Castle in the Clouds
If you're looking for a truly unique museum experience, look no further than Castle in the Clouds in Moultonborough, New Hampshire! This early 1900s estate offers visitors a chance to step back in time and explore an old mansion while learning.
Plus, what makes it even better is that it's set amidst gorgeous mountain scenery. You can tour the waterfalls, trails, and mansion, learn about the history of the property, and even enjoy a meal at the on-site restaurant. This is truly one of those places that you could visit and spend an entire day at if needed, just because of how much there is to explore.
Tickets are sold at the ticket booth on site until 4 p.m. and they are open seasonally throughout the year. Often, they'll be closed in the winter months between November and mid-May, so be sure to check hours before visiting.
Children's Museum of New Hampshire
Another of the greatest museums in NH is the Children's Museum of New Hampshire located in Dover. It's the perfect museum to visit for families visiting the area with younger children and covers culture, art, and everything in between.
The museum is amazing for kids of all ages, and with its interactive exhibits, is truly loads of fun. When you visit, you can explore the different areas and learn about new things that will keep your kids entertained for hours.
Some of the fun exhibits throughout the museum include Cave Explorers, Music Matrix + Sound Watch, Mini Wini Vet Clinic, and even Steam Innovation Lab. Plus, there's even a play post office!
Wright Museum of World War II
Located in Wolfeboro, the Wright Museum of World War II is another great museum to visit. It's on a heavier subject but also focuses on much of what the USA did during this time. Keep in mind this is another of the museums that are only open between spring and fall, and often closes fully in winter.
The museum has been open since the 1990s and was founded by David Wright who aimed to create more education about the Americans' contributions to the war.
The museum does host some rotating exhibits, as well. In 2022, the museum had an exhibit about Anne Frank called "Let Me Be Myself: The Life Story of Anne Frank" which was put together by the Anne Frank House.
Canterbury Shaker Village
One of the more well-known museums is the Canterbury Shaker Village in Canterbury. This historic spot was a 19th-century Shaker community that's fairly still well preserved which is why it's popularly visited today.
The living history museum has around 700 acres of land so there is a lot to explore, plus, they have free guided tours on specific days of the week. The guided tour is the best way to explore because you'll have a guide with you the whole time who knows all about the village while you walk through it.
There are also many great picnic spots throughout where you can enjoy your meal right on the lawn or at one of the picnic tables. There's a store on-site called The Village Store where you can grab smaller bites if needed.
Currier Museum of Art
If you are near Manchester, stop by the Currier Museum of Art. This is one of the most-visited museums in the entire state and has a wide variety of different types of art on display, ranging from photographs to paintings and everything in between.
The collection at the museum is rather impressive and boasts pieces from masters of both European and American arts. There are also many contemporary pieces throughout the museum, and sometimes, special exhibits are also hosted.
One of the fun things about this museum is that they also host lots of different classes so that you can learn and be hands-on, too. They have them for both children and adults. Some past classes include "Science Fiction and Fantasy Drawing," "Beyond the Basics: Acrylics for the More Adventurous with Sandee Nichols," and "Painting Big, Bright, and Lively."
New Hampshire Farm Museum
To learn about rural life in New England, visit the New Hampshire Farm Museum in Milton. It's inside of an old farmhouse and is a lesser-known museum, which makes it even more worth visiting.
One of the things that makes this museum so special is that it is actually still a working farm. So, you can learn about historic farm life while also seeing what it's like today in the 21st century!
Different events are hosted at the museum throughout the year, many of which are very fun for families and children visiting the area. They've hosted pie festivals, events with the New Hampshire Children's Museum, and even Thanksgiving on the farm. Attending these events can be a fun way to get involved with the locals.
Aviation Museum of New Hampshire
One of the more unique museums in NH is the Aviation Museum of New Hampshire in Londonderry. For anyone who loves learning about history and aviation, this is a quirky museum to stop by, and it's popular among families visiting the area. It's not super large, so on average, expect to spend about an hour and a half here.
The inside of the museum features a variety of different exhibits mostly focusing on aviation history and is open for limited hours. It's normally open just Fridays, Saturdays, and Sundays, and children under 5 have free admission.
A fun fact about this museum is that it is actually inside of an old building from the Manchester Airport. There's even a fun simulation where you can pretend that you're flying via a computer.
Strawbery Banke Museum
Another outdoor museum is the Strawberry Banke Museum which is located in Portsmouth. This history museum was opened back in the 1960s and covers around 300 years of history all the way up to the present day.
One of the great things about this museum is that when you get a ticket, it's able to be used for two consecutive days. They also have a wide variety of different public and educational events throughout the year.
During a visit to the museum, guests can explore a variety of exhibits, watch demonstrations, and learn about New Hampshire's history and its early settlers. There are also some hands-on activities throughout the museum.
New England Ski Museum
One thing is for sure: skiing and snowboarding are some of the most fun sports in all of New England. People travel far and wide to experience the beauty of the mountains in the northeast, so why not learn all about the sport at the New England Ski Museum?
The main point of this museum is to educate on skiing history. It's in Franconia right by a gondola and it's small. However, its quirky nature makes it worth visiting, and there are some cool things to see throughout the museum.
They have a variety of permanent and rotating exhibits. The main permanent exhibit is called "From the First Tracks to the Fall Line: eight thousand years of skiing" and gets into the history of it all the way up until 2012, which is when the exhibit was last updated.
Gorham Historical Society & Railroad Museum
Last but not least is the Gorham Historical Society & Railroad Museum located in Gorham, New Hampshire. This museum is a bit on the smaller side but it's perfect for those who are interested in learning more about trains!
The museum is inside an old train depot from the early 1900s, and in total, it takes about thirty minutes to an hour to check out all of the exhibits throughout the museum. It's also completely free to visit, so why not stop by?
We hope you enjoyed this post about the best museums in NH! Don't forget to share this post with other travelers.
---
You might also like: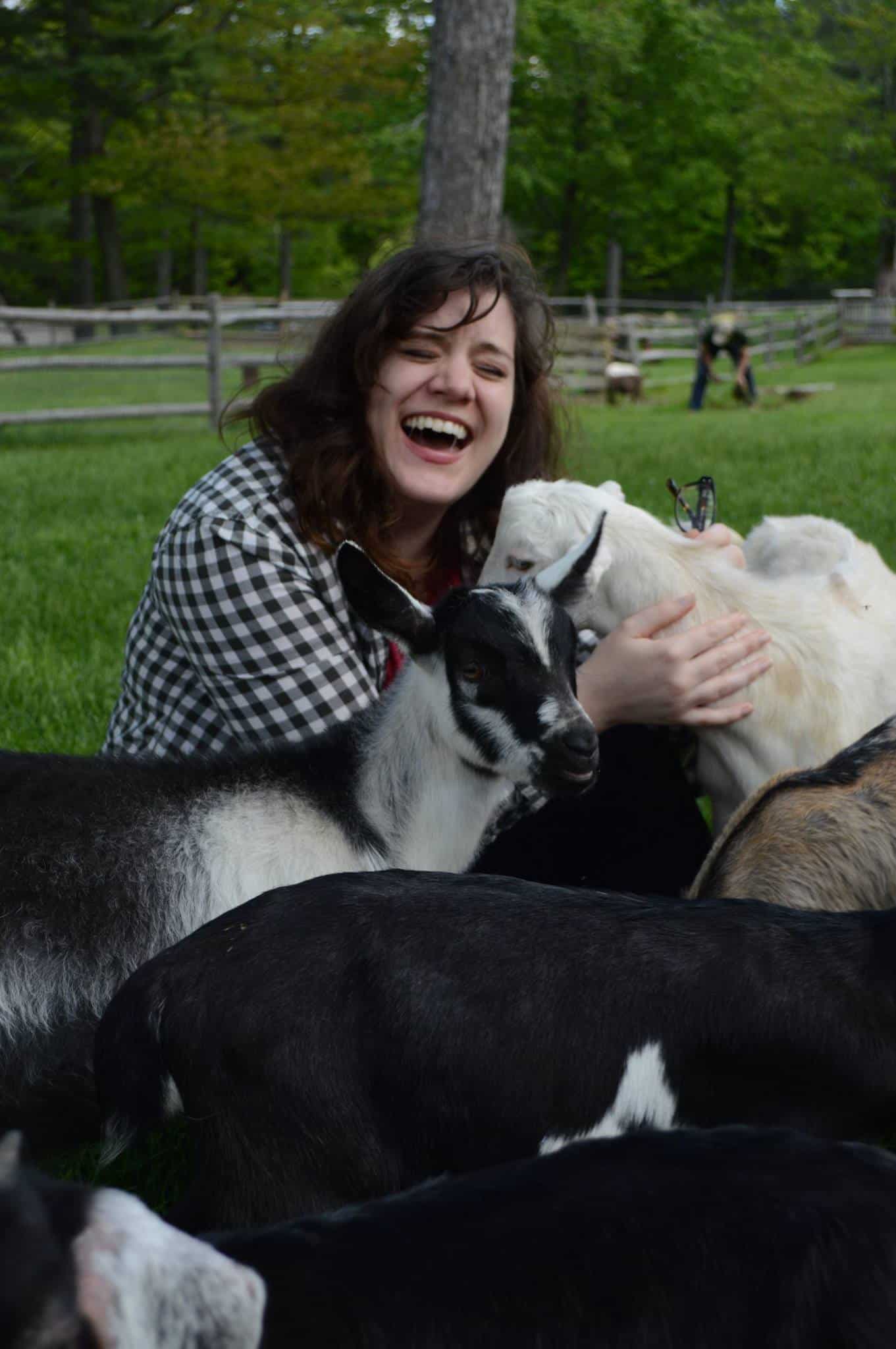 Amy Hartle is the founder and Editor-in-Chief of New England With Love, a comprehensive resource for travel in the New England region. Amy has been exploring New England since 2001. She lived in Vermont for many years and is a graduate of Plymouth State University in New Hampshire. On this site, Amy aims to share her love of New England and help you to have the best possible adventures!
Amy has been writing about travel for over a decade, and is a full time blogger, publishing both Two Drifters and Let's Adventure Baby. When not traveling the world or creating epic blog content, Amy can be found cuddling with her husband, son, and cats, & drinking a maple latte.