If you're looking for white water rafting New Hampshire, you're in the right place! Filled with a few different locations for rafting, New Hampshire is a beautiful must-visit place for those who love outdoor adventures.
No matter what type of interest you have in rafting, there's an excellent place for you to go on this list. Beginner white water rafters and those who are more expert-level will absolutely love the experiences waiting for them in this scenic state.
Keep reading to learn all about the best spots for white water rafting New Hampshire, including companies to book through for each spot!
Rapid River
Known as a class IV, the Rapid River is one of the more remote spots for rafting in New Hampshire. Some people say this is technically in Maine, but it's on the Maine and New Hampshire border, so keep that in mind.
Below is an excellent option for booking a white water rafting tour on the Rapid River.
Though they have paused their rafting trips for summer 2022, Raft NH is expected to be back up and running for 2023. This business offers a variety of different white water rafting New Hampshire options, including one on the Rapid River!
This class IV adventure is only open for those aged 12 and up, and reservations are required. This is one of the trips that Raft NH is pretty well known for and they're one of the only places still offering trips on it because it's in such a remote area.
The trip starts in Errol, New Hampshire, and is a full-day experience that ends up being around seven hours total. It's only held during certain times of the year, and dates are usually super limited on Fridays, Saturdays, and Sundays during the summer. Pricing-wise, guests can expect to spend between $110 to $130 per ticket.
Magalloway River
Located in the northern part of New Hampshire and running into Maine, the Magalloway River is another great option for white water rafting New Hampshire! As one of the tributaries to the Androscoggin River, it eventually flows into the Kennebec River.
Here's an excellent option for white water rafting on the Magalloway River.
To experience the Magalloway River, you'll want to book a tour through Raft NH! Unfortunately, they paused their rafting trips for summer 2022, but they're expected to start back up in 2023's summer season.
This is a mid-level experience with Raft NH that's class III and IV. It occurs during very select weekends throughout the summer and is open for those aged ten and up. Even though it's a family-friendly experience, it is a bit more turbulent than some of their other adventures, so it's recommended for those who really want to experience some fun rapids.
This experience meets in Errol, New Hampshire, and is about four hours long. Lunch is included at the end of the trip once it meets back at the base. With dates only on Saturdays and Sundays, you'll want to book in advance. Expect to pay between $100 to $110 per ticket!
Winnipesaukee River
The Winnipesaukee River may be one of the shorter rivers in New Hampshire at just 10.5 miles long, but it's still a great river to raft on! It connects with Franklin, New Hampshire, and has some beautiful spots along the way.
Here's an excellent option for white water rafting New Hampshire's Winnipesaukee River.
To explore this river, consider booking with Outdoor New England (ONE). They have a great option that's about $76 per person and is for ages 12 and up. The average trip lasts around 2.5 to 3 hours on this class II to IV excursion.
No experience is required, as there is a guide who will be with you every step and will also train you on what to do as things come up. It starts in Franklin, New Hampshire, and they provide all necessary equipment, even if you book for a winter date.
This is a great white water rafting adventure for those visiting the Boston area because it's only about 1.5 hours away from the city. Along the way, enjoy popular places on this river like the Coliseum and the Upside Down.
Saco River
The Saco River is another of the rivers on this list that is in both New Hampshire and Maine. It's fairly long at around 136 miles but is a great option for white water rafting. Of course, rafting trips just cover a portion of this long river!
Below, find an excellent option for rafting on the Saco River.
For an incredible experience on the Saco River, consider booking through Saco Bound. This is one of the most popular trips that they offer, and they offer a lot! It's only a half day but is the perfect amount of time to explore the river's beauty.
What's so great about this tour is that it's also family-friendly. In fact, the minimum age requirement for this excursion is only eight years old, which is a lot lower than other spots to go white river rafting in the area.
There are usually multiple runs of this adventure, and it's through the Errol Rapids. Those who want to have a more adventurous experience can also consider doing the Duckies, which is what they refer to as an inflatable kayak. No matter what you choose, be on the lookout for wildlife along your trip!
Androscoggin River
Easily the most popular river for rafting in the state is the Androscoggin River. It goes through Maine and New Hampshire, is around 180 miles in length and meets up at the Gulf of Maine. It's absolutely breathtaking, with rocky sections, and can be even more beautiful in the fall with foliage.
Below, find a few options for exploring the Androscoggin River on a tour.
For an incredible time, consider booking with North Woods Rafting. They choose a specific part of the river to focus on depending on the season, but in 2022 have focused on the Errol Rapid, a class II whitewater.
The adventure normally runs in both the morning and the afternoon, so you can choose the one that fits best in your schedule. It is usually between two and two and a half hours total, including the time spent on transportation and having safety talk.
They do require reservations for this tour, and they allow children as young as 5, so it is a more family-friendly excursion. Guests can expect to pay between $60 to $80, depending on the age of the person the ticket is booked for.
Another great option is Northern Water Outfitters! It also is with class II rapids, though it can be around a class III when water levels get higher. Even though it's a lower and easier class, it's still a super fun experience with some unexpected spots.
There are four runs down the river, and inflatable kayaks are an option for those who want to try something a bit harder than rafting! Food isn't included, so you'll want to bring lunch, unlike other trips on this list of white water rafting New Hampshire locations.
Pricing starts at $50 for youth tickets and $65 for adults. They have four different time slots throughout the day, so be sure to book the one that fits easiest in your schedule.
Pontook Dam & Reservoir
Last but not least is the Pontook Dam & Reservoir area. There are a few different white water rafting options here! While it's technically part of the Androscoggin River, it deserves its own section in this post.
Below, find a great tour to book a white water rafting trip for the Pontook Dam area.
Mahoosuc Outdoors offers amazing whitewater rafting options! Tickets range between $75 and $105 depending on the age of the person the ticket is booked for. This is another option that's very family-friendly because they allow travelers as young as five years old to be on these adventures.
There are two runs on this trip right by the Pontook Dam. They usually also serve lunch with amazing views of the nearby mountains with every type of lunch you can think of. If you happen to be staying at the nearby Mountain View Grand Resort & Spa, they will even shuttle you to and from your hotel.
These rides are typically only during specific times of the year, usually between Memorial Day and Labor Day. Times are relatively limited, as they're only on the weekends. Sometimes they will also add Friday date options just in July.
For those wanting an even more laidback option, consider booking one of their float trips. These are a few hours long and still include a guide but help you get used to paddling. There are, of course, still some whitewater spots, so you can experience a little bit of thrill!
Prices for this are around $105 or so and take place for the majority of the day, with a return around 3 p.m., and it starts around 9 a.m.
Hopefully, this post has helped you learn all about white water rafting New Hampshire. No matter where you choose to go rafting, you'll have an impeccable time!
---
You might also like: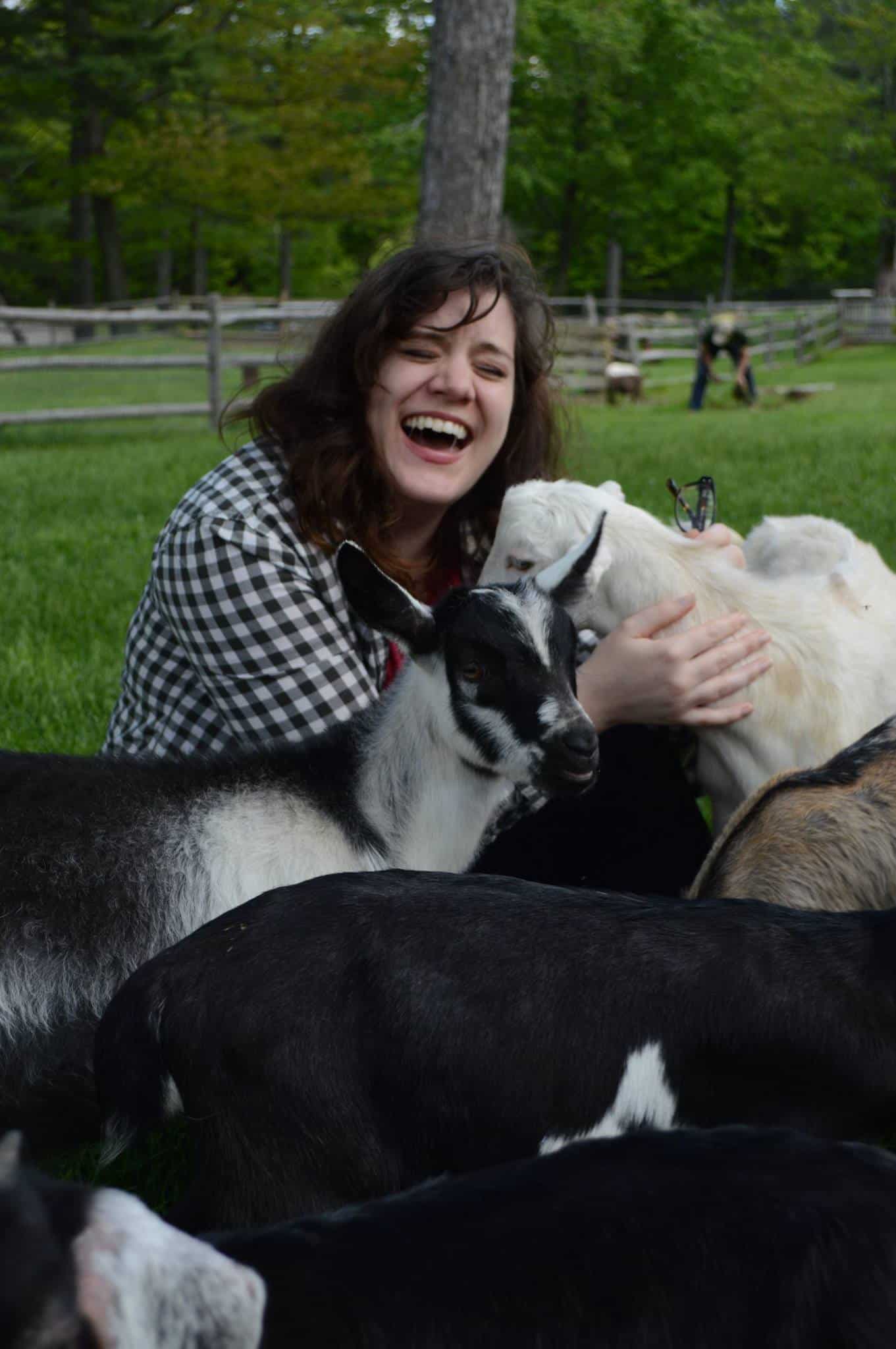 Amy Hartle is the founder and Editor-in-Chief of New England With Love, a comprehensive resource for travel in the New England region. Amy has been exploring New England since 2001. She lived in Vermont for many years and is a graduate of Plymouth State University in New Hampshire. Amy has been writing about travel for over a decade. On this site, Amy aims to share her love of New England and help you to have the best possible adventures!
Amy has been a full time blogger since 2012, and is also the publisher of Two Drifters, where she writes about couples travel and relationships, as well as Let's Adventure Baby, a family travel site. When not traveling the world or creating epic blog content, Amy can be found cuddling with her husband, son, and cats, & drinking a maple latte.