New Hampshire is a beautiful state on the East Coast of the USA. Known for its stunning mountain ranges and picturesque forests, New Hampshire is one of the most popular tourist destinations in all of New England. But what really sets it apart from its neighboring states? What is New Hampshire known for?
Well, throughout this post, we've rounded up the ultimate list of things New Hampshire is known for. Who knows – by the end of this post, you might have learned a thing or two about the USA's 9th state.
What is New Hampshire known for?
Apple Cider Donuts
I know what you're thinking… apple cider donuts!? But yes, this is one of the most popular dishes that you can get in all of New Hampshire. They're most easily found during the fall months when you can enjoy them with a warm glass of apple cider. It's one of the things New Hampshire is famous for.
First Women's Strike in the USA
New Hampshire's own Dover Cotton Factory actually was where the first women's strike in the USA occurred. It was in December 1828, and 800 women who worked at the factory walked out and even set barrels of gunpowder on fire as they life. They felt that they weren't being treated fairly by their bosses.
Lakes
New Hampshire is home to hundreds of lakes, believe it or not. The wilderness here is truly unmatched. You can find them everywhere, from Seacoast region beaches to ones hidden up in the White Mountains.
Alarm Clocks
A little known fact about a common household item, the alarm clock was invented by Levi Hutchins in New Hampshire. It was invented in 1787, and to this day, they're still so common. He actually never patented his design!
Castle in the Clouds
There are a few NH castles, but none are quite as well known and famous as the Castle in the Clouds in Moultonborough, among the Lakes Region. When you visit, you can get a tour of the early 20th-century Lucknow Mansion and even explore the 25+ miles of hiking trails surrounding the area.
White Mountains
Many people refer to New Hampshire as the White Mountain State. That's because of the mountain range that goes directly through the state. In fall, it's even more breathtaking!
US Public Libraries
Believe it or not, but the first ever tax-supported USA library was actually right in New Hampshire's Peterborough. This library was the first where anyone could walk in and rent a book that the estate itself owned. Soon enough, there were also laws passed that allowed them to fundraise more money for the library too.
Skiing
There are so many amazing trails and slopes throughout New Hampshire. While many people may hop over to Vermont in winter, New Hampshire is also just as beautiful, but it'll mostly be locals. Some of New England's highest peaks can be found in New Hampshire.
Manchester
Manchester is one of the top places to visit in New Hampshire, and it also happens to be the most populated. It's filled with museums, beautiful architecture, local shops, and more.
Agriculture
Agriculture is huge in New Hampshire. In fact, they host the Hopkinton State Fair every year, which is one of the state's largest fairs, since 1915. It's changed a lot over the years but started out as an agricultural fundraising event.
Highest Wind Speed in the USA
Weirdly enough, the highest wind speed that's ever been recorded on land in the United States was actually in New Hampshire! It first occurred in April 1934 when speeds reached around 231 miles per hour at the Mount Washington Observatory. It was the world record too, until 1996.
Waterfalls
New Hampshire is home to many beautiful waterfalls, and it's filled with natural beauty. Some of the must-visit ones include Arethusa Falls in Crawford Notch State Park and Glen Ellis Falls.
The First Cog Railway that Can Climb Mountains
The first ever cog railway in the world that can climb mountains is in New Hampshire. It's the Mount Washington Cog Railway, and you can still ride it today!
Their Motto
Most people, when they think of New Hampshire, will immediately think of the state's motto, which is "Live Free or Die." It was actually started by Battle of Bennington's General John Stark in the early 1800s. This is easily one of the top things that comes to mind when wondering what is New Hampshire known for.
The World's First Wind Farm
The first wind farm in the entire world was actually made in New Hampshire. It's right at Crotched Mountain and was installed in the late 20th century. There are more wind farms throughout the state, now!
Being one of the Original 13 Colonies
New Hampshire, as part of New England, is one of the 13th original colonies. It's officially state #9.
Wildlife
Around 80% of the state is completely covered in forest, so it's no shocker that there is an abundance of wildlife throughout New Hampshire. You can find everything from deer to black bears throughout!
Granite
New Hampshire is the Granite State, so it's no surprise that they're known for granite. There are lots of granite quarries throughout the state.
Mount Washington
The highest peak in all of New England is New Hampshire's own Mount Washington. It reaches 6,288 feet high! Weather up on the mountain can get pretty intense, but you can see the mountain from many nearby towns because of its sheer size.
Seat Belts
This may seem like a weird fact, but seat belts are not required in New Hampshire, though if you're under 18, you still have to, according to the law. Many adults don't wear their seat belts, though, supposedly.
Fall Foliage
Let's be honest, all of New England is pretty well known for its fall colors. New Hampshire is no exception! Leaf-peepers come far and wide to visit New Hampshire's small towns to explore the fall colors up close and personal. Check out the Kancamagus Highway for amazing fall foliage during September and October.
Low Taxes
There aren't many states in the USA that have no income tax, but New Hampshire is one of them. Plus, there are no taxes on sales and many other facets of everyday life. Property tax is incredibly high here, though, compared to other states.
Outer Space
The first-ever American in space is actually from New Hampshire. He was the second person in the entire world who went up to space in 1961, named Alan Bartlett Shepard Jr.
Strawbery Banke Museum
There are many museums in CT, but one of the most well-known is the Strawbery Banke Museum in Portsmouth. This famous museum will take you throughout the history of the state.
Maple Syrup
Though most people will think of the neighboring state of Vermont when thinking of maple syrup, it's actually one of the top products from agriculture in New Hampshire, too. You can try local maple syrup at many country stores throughout the state.
Camping
Camping is a super popular activity in Connecticut, especially during the summer months. That could be thanks to its 80% forested areas! You can choose between camping resorts, regular campgrounds, or even state parks.
Independent Government
New Hampshire actually had its own state government that it formed in 1776, making it the first state to do so from the original colonies. It was ahead of the other states!
Franklin Pierce
While there are many famous people in New Hampshire, one of the most well-known is Franklin Pierce, who was president in 1853. To this day, this is the only president from New Hampshire.
Franklin Pierce Manse
Speaking of Franklin Pierce, you can visit the Pierce Manse which was the only place he lived during while he was alive. It's been well preserved and has been turned into a tourist attraction right in Concord New Hampshire. Go on a guided tour to get the most of the experience.
Shortest Ocean Coastline in the USA
A weird thing that New Hampshire is known for is that it actually has the shortest coastline in the entire USA. In fact, it's only 13 miles.
Charming Small Towns
Like the rest of New England, New Hampshire has so many incredible small towns that you won't want to miss out on. Some must-visit ones include Hanover, Plymouth, and Peterborough.
Clam Chowder
While you may think that clam chowder is more popular nearby in Maine and Massachusetts, it's still pretty well known throughout New Hampshire too. This staple can be found at many local-run restaurants.
Hiking
New Hampshire has more than 4,000 miles of hiking trails, so it's easy to see why it's perfect for hiking. The state is well known for many of its trails.
The State Constitution
The state constitution of New Hampshire is actually the second-oldest in the entire United States, having been ratified in 1784.
Franconia Notch State Park
While there are many state parks in NH, the most well-known is Franconia Notch State Park in Lincoln. When visiting, you can't miss out on seeing the Old Man of the Mountain.
Final Thoughts: Things New Hampshire is Known For
New Hampshire is a state full of beauty and history, and it's no surprise that so many people choose it as their vacation destination. With its stunning natural landscape, unique historic sites, and welcoming locals, there's something for everyone in this beautiful state.
We hope you learned something new about New Hampshire while reading this post. Don't forget to share it with others who might want to visit NH!
---
You might also like: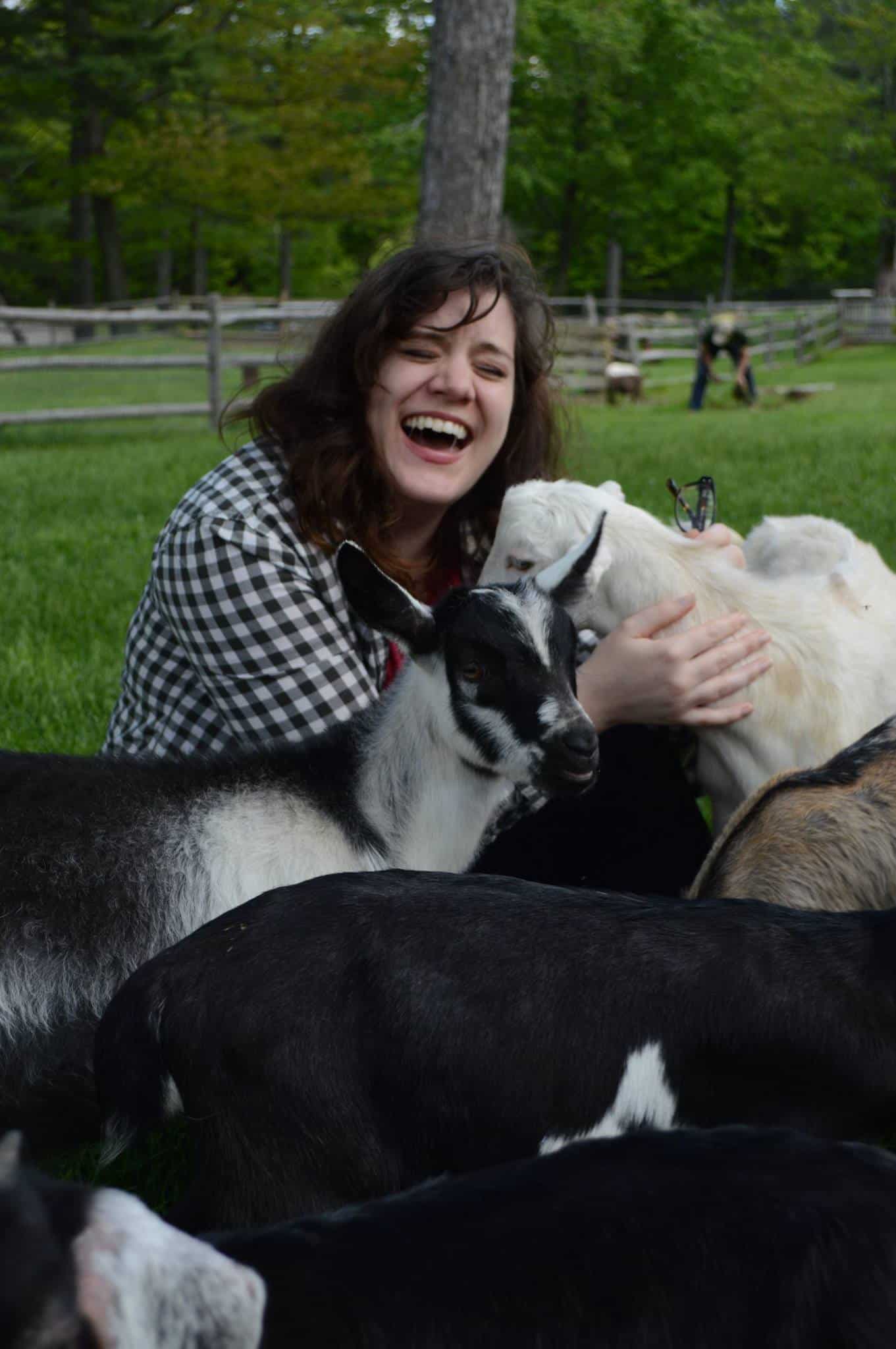 Amy Hartle is the founder and Editor-in-Chief of New England With Love, a comprehensive resource for travel in the New England region. Amy has been exploring New England since 2001. She lived in Vermont for many years and is a graduate of Plymouth State University in New Hampshire. Amy has been writing about travel for over a decade. On this site, Amy aims to share her love of New England and help you to have the best possible adventures!
Amy has been a full time blogger since 2012, and is also the publisher of Two Drifters, where she writes about couples travel and relationships, as well as Let's Adventure Baby, a family travel site. When not traveling the world or creating epic blog content, Amy can be found cuddling with her husband, son, and cats, & drinking a maple latte.