---
*Links in this article may be affiliate links, from which we may earn commission. See our
Privacy Policy
for full details.
---
Meredith, New Hampshire is definitely an underrated place to visit in New England! It's a quaint small town near some of the most beautiful lakes and is also known as a resort spot. There are also so many great things to do in Meredith NH!
Luckily, this post was put together to help introduce you to all of Meredith's great activities. Whether you'd rather spend the night out at a local brewery or hike all day in a New Hampshire state park, this post has got you covered.
Here are all of the best things to do in Meredith NH!
Go Boating at Lake Winnisquam
One of the best lakes near Meredith is Lake Winnisquam in Belknap County. It's relatively large at just over 4000 acres and is one of the biggest lakes in the entire state, so there's tons of room to relax and have fun away from the crowds here.
Boating on Lake Winnisquam is one of the most fun activities. There are places nearby where you can rent boats, but there is also a boat launch in case you decide to bring your own and have to get it out on the water.
Lake Winnisquam's amenities are great, including an onsite restaurant, meeting spaces, and even a pool. It's handicap accessible, and there is internet access if you have to get any work done during your boat day!
Ride the Winnipesaukee Scenic Railroad
If you're visiting the area with kids, one of the fun things to do in Meredith NH is to ride the Winnipesaukee Scenic Railroad! It's located in Meredith near Lake Winnipesaukee and is incredibly scenic throughout the ride.
The train brings visitors from Meredith Station over to Laconia, New Hampshire, and it's about two hours. It's been open since the 1900s and has tons of history, making it a fun excursion for those who are history buffs too.
The train ride is a round trip, so you'll end right where you began. There are treats available on the train as well as apparel and other souvenirs so you can remember them fondly. You can also bring a picnic lunch for your trip if you'd rather!
Relax at Weirs Beach
Yes, there's actually a beach in the middle of New Hampshire, and it's called Weirs Beach! This is the perfect place to relax on a hot summer day, but it can also be incredibly scenic and tranquil in the winter months when there are fewer visitors.
In addition, Weirs Beach is technically an entire neighborhood too. In addition to the water, there is a boardwalk, shopping spots, nightlife, events, and more. Plus, they sometimes even have live music concerts for guests in the area too, which provides an unforgettable experience.
Have a Blast at Funspot
While it's technically located in Laconia, those visiting Meredith should definitely pay a visit to Funspot! It's basically in Weirs Beach and is an amusement center that is sure to keep everyone busy, including children.
There are tons of fun attractions at Funspot. One of the most popular things to do is to go bowling. They have an indoor bowling alley with different weekly specials to save money!
They also have mini-golf, bingo, and a classic game room. Honestly, there is something to do at Funspot no matter the time of year. Whether you're visiting in the middle of a heat wave in summer or there's a winter storm outside in December, you'll be able to have a blast at Funspot.
Grab a Pint at Twin Barns Brewing Company
This list of fun things to do in Meredith NH would not be complete without including at least one brewpub! The top brewpub in Meredith is Twin Barns Brewing Company.
The interior is absolutely immaculate with an open floor plan and industrial style. There are high exposed wooden beams, cafeteria-style seating with an upscale twist and many mood lights.
Twin Barns Brewing Company may be a newer place to visit in Meredith because it opened in 2018, but it's still a top place to go. They have tons of local brews that they make as well as food to pair with it.
If you're hungry, you're in luck because they have all the best places that go perfectly with their drinks. There's buffalo chicken dip, classic bavarian pretzels with gouda cheese sauce, chicken sandwiches, burgers, and more.
Taste Wine at Hermit Woods Winery & Deli
You'll most likely get hungry during your trip to Meredith, so be sure to stop by Hermit Woods Winery & Deli. It's easily the best spot not only to eat but also to have some great wine. It's a popular place to go for a romantic day out!
They serve artisan wines and food. The location also hosts many events throughout the year, including wine and music. These events tend to happen on weekends throughout the year, but there are also some during the week.
Hike at Ahern State Park
To get a bit outdoors while in Meredith, head to Ahern State Park in nearby Laconia. It's just over 100 acres of land, so there's tons of space to escape and explore the great outdoors the area offers. Plus, it's actually open year-round, even in the winter months.
There are tons to do at Ahern State Park, like biking, fishing, and even boating. Of course, there are also some great hikes within the park.
The most popular hike in Meredith's Ahern State Park is the Rusty Bedspring, Upper Jakes, and Yo Benson Loop. It takes less than an hour to do, is moderate, and is just over two miles long. Along the way, you'll be introduced to some beautiful scenery in the park.
Have Dinner at Giuseppe's Pizzeria & Ristorante
If you happen to be in the mood for Italian food during your visit to Meredith, you can't miss out on Giuseppe's Pizzeria & Ristorante. It's super lovely inside and is perfect for a family dinner or even a romantic evening out.
It's located right within The Mill Falls Marketplace, so there are other places to visit in case you have to wait for a table during your stop there. Live music also plays every evening, which adds to the atmosphere.
The menu includes everything you'd expect from a classic Italian restaurant, with mid-range prices. There's salad, bread, pizza, create your own calzones, seafood, veal, steak, chicken, sandwiches, and dessert.
Shop Local at Moulton Farm
Shop local by visiting the gorgeous Moulton Farm in Meredith! They practice sustainable agriculture and have tons of great produce and desserts for sale. This is the perfect place to go if you plan on cooking a meal or just want something fresh.
Their bakery is particularly popular because of how good the food is. They sell everything from fresh bread to muffins and even cookies. No matter what type of baked good you're in the mood for, you'll most likely be able to buy some at Moulton Farm.
They are open every day of the week but have different hours sometimes depending on the day. Be sure to check their website or even call ahead to see if they will be open before you go. A trip here is truly unforgettable, and it's the perfect way to support locals in the area!
Find Your New Favorite Book at Innisfree Bookshop
There are so many incredible New England bookshops, including Innisfree Bookshop right in Meredith! This quaint bookstore is the perfect place to go and is also located in Mills Falls Marketplace, just like Giuseppe's Pizzeria and Ristorante.
It's a local bookstore run by some people in the area and is the perfect spot to go to if you're looking for some reading material during your trip. Plus, even if you aren't actually looking for a book, it's still a fun place to visit and get lost in the shelves!
Throughout the bookshop, you can also find different "staff picks." These books were picked by those who work at the library as favorites! So, if you're unsure of what book to pick up next, consider grabbing one of those. The staff is also super helpful if you know what type of book you want to read but don't know which one actually to pick up. Book people are the best!
This post was all about the best things to do in Meredith NH. Don't forget to pin it for later! No matter what you choose to do from this post, you'll genuinely have a great time.
---
You might also like: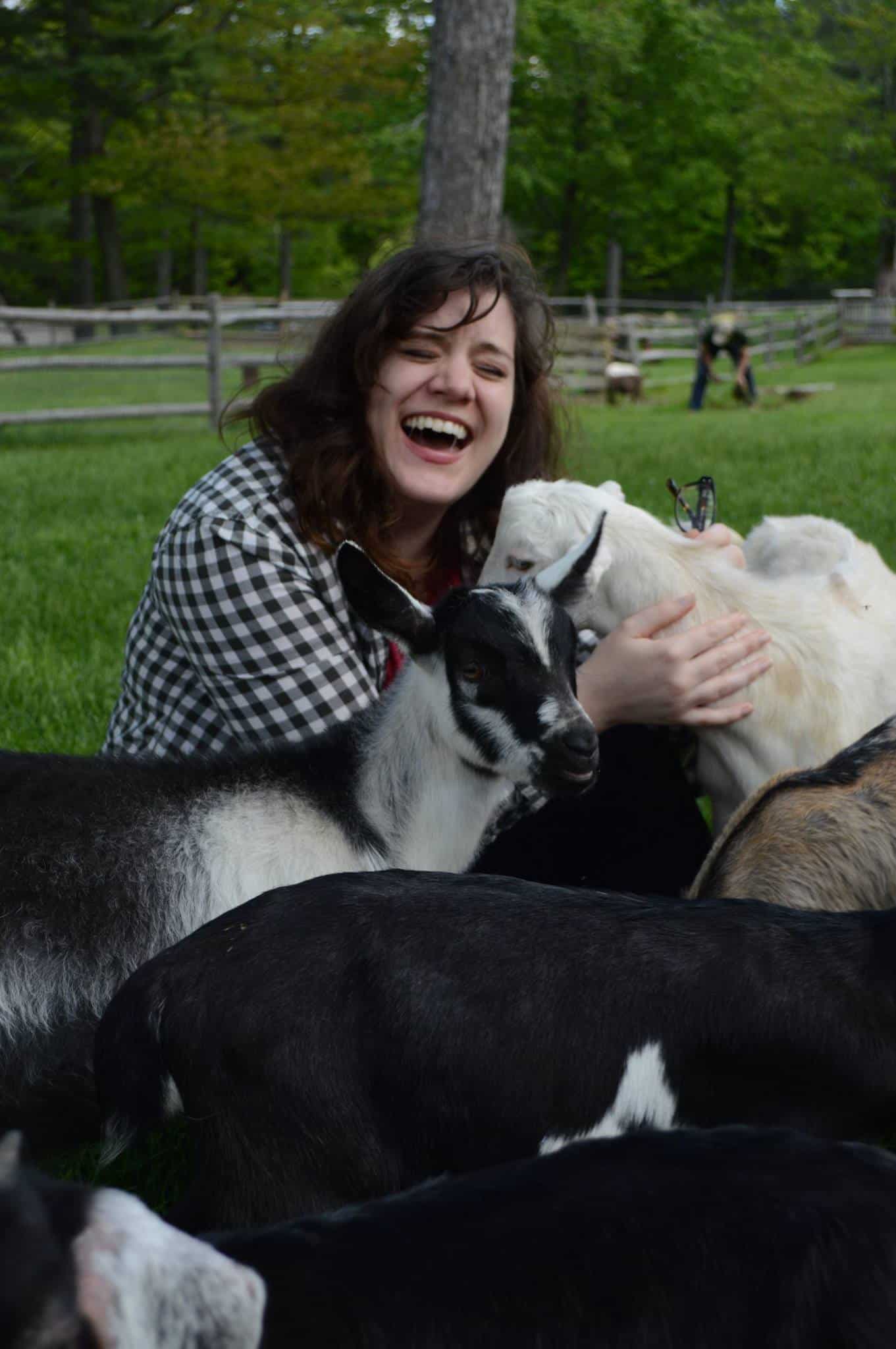 Amy is the founder of New England with love. A proud Vermonter, she hopes to share her love of New England and help you find the best adventures in the region. Amy is also blogger/founder at Two Drifters, where she writes alongside her husband about romantic and couples travel, relationships, honeymoons, and more. When not working on websites, Amy is probably reading, cuddling with her husband, son, and cats, & drinking a maple latte.