*This site uses affiliate links; if you make a purchase through these, I may receive a small commission at no cost to you.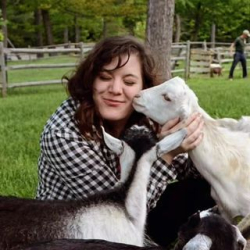 Latest posts by Amy Hartle
(see all)
New Hampshire is known for its spectacular scenery; as summer fades into fall, the scenery only gets better! Fall foliage in New Hampshire is incredible and there are so many fantastic places to go to watch the dramatic color progression take place.
New Hampshire is full of great places to visit and wonderful spots for a fun-filled weekend getaway any time of the year, but fall brings a phenomenal amount of awesome things to see and do in the Granite State!
Some of the cutest small towns in the state show up big with fabulous NH autumn activities like apple-picking, pumpkin-picking, and corn-mazing.
Every fall, New Hampshire's forests begin to cycle from their deep green to the crisp yellows, ruddy oranges, and bright crimsons of autumn before finally releasing from their branches in a swirl of color.
Ready to see the dramatic fall foliage New Hampshire has to offer? Here's what you need to know.
When is the Best Time for New Hampshire Fall Foliage?
Great question! Fall foliage in New Hampshire typically begins in late September at the Northern most tip of the state, but if you're aiming for peak colors, aim for a little later!
"Peak colors" are these hues at their most vivid and this varies from year to year based on natural conditions such as weather, but early to mid-October is generally a safe bet for when to expect to see gorgeous autumn colors in NH.
Color typically begins in the Great North Woods and progresses north to south down the state, starting in higher elevations first, but you can follow a real-time fall foliage tracker here.
As a loose guide for peak colors in NH, you can typically expect timelines like this:
Great North Woods – Late September to early October, typically over by October 5th
White Mountains – Early October, typically over by the second week of October
Dartmouth/Sunapee – Early October, typically over by the second week of October
Lakes Region – Mid October, typically over by the third week of October
Monadnock – Mid to late October, typically over by around October 20th
Merrimack Valley – Late October, typically over by October 25th
Seacoast – Late October and the last spot for NH peak colors, typically over by Halloween
Even outside of peak colors, New Hampshire fall foliage is a stunning visual backdrop for all the awesome things to see and do while visiting the Live Free or Die State!
Fall Foliage New Hampshire: Where to Go & What to Do
Go for a Waterfall Walk
What better way to enjoy the vivid hues of New Hampshire's fall foliage than to see these blazing colors surrounding one of New Hampshire's gorgeous waterfalls?
There are so many beautiful waterfalls across the state, with varying degrees of difficulty to get to, so it just depends on how much effort you want to put forth to get to that waterfall!
Arethusa Falls is a fantastic fall foliage waterfall hike in New Hampshire. In fact, it's not all that difficult to get out to! Located in Crawford Notch State Park, it's less than 3 miles round trip and is an easy to moderate level hike.
The elevation gain is only 800 feet, but you'll be treated to some fantastic fall colors along the way. This is one of the top waterfall hikes in the state, and it should definitely be on your fall hiking bucket list!
If you'd like to have the waterfall experience without the hike, check out Silver Cascade waterfall in Hart's Location. There is a parking lot on the opposite side of the road, so all you have to do is cross the road and look out and over at this incredible waterfall with a dramatic 600-foot drop!
Take a Scenic NH Drive
One of the best parts of visiting New Hampshire in the fall is that just driving from point A to point B is a beautiful experience! One of the best scenic drives in New England is the Kancamagus Scenic Byway, a 34.5-mile route that carries you through some of the best views in the state.
The White Mountains are bursting with color in autumn, and there are plenty of opportunities to pull off to the side of the road and marvel in it if you'd like!
Driving the Kanc will take you from Lincoln to Conway, where you'll find plenty of side trip fun during your scenic drive.
Bonus: North Conway is one of the most charming towns in New England to visit in the fall, and Lincoln and North Conway have great restaurants for you to fuel up before the trip!
PS download this Kancamagus Highway audio guide if you'd like to learn more about this region and it's history as you leaf peep.
Read Next: 10 Terrific Restaurants in Lincoln NH | 12 Best Restaurants in North Conway NH
Visit the Castle in the Clouds
One of New Hampshire's remaining "castles," Castle in the Clouds was built in 1914 as an extravagant, state of the art country estate that encompassed 6,300 acres of beautiful terrain.
Touring the mansion and hiking and exploring the gorgeous grounds and pond are fun to do any time, but come fall, this majestic castle is gloriously situated amid some spectacular fall foliage. Expansive views are found all around the property, and what better way to take in peak colors than to do so from a classic New England castle?
Go on a Fall Foliage Cruise

New Hampshire has some lovely lakes, and taking a lake cruise is a fantastic way to take in the fall foliage views!
Experience Squam offers a great guided lake tour of Squam Lake as autumn colors are taking over the trees that surround it. If you'd prefer a nice meal along with your tour, check out a brunch or dinner tour with Mount Washington. Enjoy the local fare while you take in the stunning fall foliage that surrounds Lake Winnipesaukee, one of the most beautiful places in all of New Hampshire.
Get a Birds-Eye View
Yes, the autumn colors in New Hampshire are absolutely gorgeous from the ground looking up, but how about the view from above? For those looking for a nice adrenaline rush to go along with their fall foliage views, there are activities like hot air ballooning or ziplining.
This ziplining experience in Charlestown offers dramatic views of Morningside Flight Park.
If you're looking for something that puts you high enough to see the tops of the trees without the heart racing heights and speeds, check out a scenic chairlift ride at Cranmore Mountain Resort. They also have a mountain coaster, which is another fabulously fun way to zip through the fantastic fall colors!
Go on a Fall Foliage Hike

Wondering where to hike for fall foliage views in New Hampshire? We can help!
There are so many amazing hikes across New Hampshire, it'd be more difficult to find a hike that doesn't offer a shot at seeing some gorgeous fall color than it would be to find one! There are plenty of hikes that will offer phenomenal views, and Artist's Bluff and Bald Mountain in Franconia Notch do the trick very nicely.
This 1.5-mile loop trail is a relatively easy climb to a stunningly scenic payoff of the densely forested Franconia Notch valley, Echo Lake, and the surrounding mountains. This view of the vivid fall foliage surrounding beautiful Echo Lake is a popular photography spot for fall colors in New Hampshire, so have your camera ready.

Franconia Notch State Park is absolutely gorgeous in fall. If you can only pick one place to see New Hampshire fall foliage this year, Franconia Notch State Park would be a fantastic pick!
Read Next: 13 Amazing Things to Do in Franconia, New Hampshire
Cozy it Up in a Cute Cabin
What could be a better spot for your fall foliage trip in NH than to book a cabin in the woods?
New Hampshire is full of cozy little (and not so little!) vacation rentals that provide a perfect base camp for all your fun fall adventures. There are many absolutely dreamy cabins to choose from, like this awesome two-story treehouse.
Of course, there are many lovely cabins that are perfectly situated for fall foliage views and White Mountains fun, too! This one even has a hot tub, and wouldn't that be perfect after a day hiking through fall foliage in the White Mountains National Forest?

Hitch a Ride on the Train
NH leaf peepin' has never been so easy! Buy your ticket and All Aboard for a ride through the gorgeous scenery of Mount Washington Valley and Crawford Notch on Conway Scenic Railroad.
Even the main train station is a sight to see, as it is a beautifully kept classic Victorian station that is listed on the National Register of Historic Places. The Mountaineer delivers a whopping dose of scenic sights, as it travels high above the highway and offers phenomenal views of Crawford Notch. Time your ride for peak foliage and the experience is *Chef's Kiss!*

Reserve your ticket as soon as you can, this route sells out quick during leaf peeping season! There's also the Cog Railway that will take you a dramatic 6,288-feet up to the summit of Mount Washington, the highest mountain peak in the Northeast. Views are about as dramatic on the Cog Railway as the ride up and down this steep incline is!
There's also the Winnipesaukee Scenic Railroad, if you're looking for fall foliage train rides in the Lakes Region.
Book a Lake House Rental
When you picture a lake in the middle of peak fall colors, what do you see? Most of us immediately see the reflection of those vibrant autumnal colors in the water, and it's always a lovely sight!
Booking a vacation rental on the lake means you can enjoy those kinds of fall color views as you sip your coffee each morning. Plus, some lakeside vacation rentals in NH even offer the use of canoes and kayaks, so you can easily get out and enjoy those fall foliage views from the water!
Read Next: 9 Charming Lake Winnipesaukee Cabin Rentals
Pedal, Paddle, and Hike!
Available through Great American Bike Tours, Pedal, Paddle, & Hike is perfect for those looking for adventure among the NH fall foliage! Exactly as it sounds, this fun fall activity includes pedaling on a bike, paddling in a kayak, and hiking through the woods, all with knowledgeable NH guides.
This package includes glamping, meals, and bike rental, and they pick you up either at the Manchester Regional Airport or the Pemi River Campground, and drop off is where you were picked up.
This isn't your grandma's fall foliage tour, but it could be yours if this sounds like a good way to explore New Hampshire in autumn!
Click Here to Check Prices & Book!
Tour NH Covered Bridges
Is there anything more picturesque than a New England covered bridge? I'd venture to say yes, there is, and it's a covered bridge surrounded by peak fall foliage!
There are so many beautiful covered bridges in New Hampshire, and you can use this guide to set up your fall foliage covered bridge tour!
Stay in Style Surrounded by Fall Foliage Views
Have you ever stayed at Omni Mount Washington Resort? This is a bit of a bucket list hotel in New Hampshire, and it just so happens to have amazing fall foliage views all around the property!
This family friendly luxury resort is one of those places that has something for the whole family! There's an award winning spa for mom and dad, kids club activities for the younger family members, and memorable experiences like zip lining and horseback riding onsite.
If you're looking for a place to stay that has plenty of fall foliage views, Omni Mount Washington Resort in Bretton Woods would be an excellent choice!
Click Here to Check Prices & Book!
Hidden Gem Fall Foliage in NH
Of course, there are the always popular fall foliage destinations like pretty much anywhere in the White Mountains or the Lakes Region, but how about what lies between? That's right, I'm talking about Plymouth, NH, where I went to college and fell in love with New Hampshire in the fall!
You've got views at picturesque Smith Covered Bridge, gorgeous fall foliage hikes up Plymouth Mountain, and all the regular fun of this cute little college town!
I recommend hiking the Rattlesnake Trail if you can because if you can make it to the top, you'll be rewarded with 360 degree views. Whew, it's BEAUTIFUL!
Once you're done taking in those lovely autumnal views? Head to Biederman's for some much deserved sustenance; it's a must visit in Plymouth, trust me!
There are so many ways to get out and enjoy the grandeur of New Hampshire's fall foliage season and as far as New England fall foliage options go, New Hampshire is always a solid bet. Have some great fun leaf peeping, New Hampshire style!
Read these next:
Best Campgrounds for Camping in New Hampshire