New Hampshire is known for a number of things. Its state motto is "Live Free or Die", it has no sales tax, and it's known as the Granite State. New Hampshire is also known for having incredible scenic views of mountains, rivers, and lakes.
The natural beauty of New Hampshire is enhanced by the waterfalls that lie within its borders. If you're planning a trip to the Granite State soon and want to see these natural wonders, here are the top waterfalls in New Hampshire that will make your jaw drop.
Waterfalls in New Hampshire
Arethusa Falls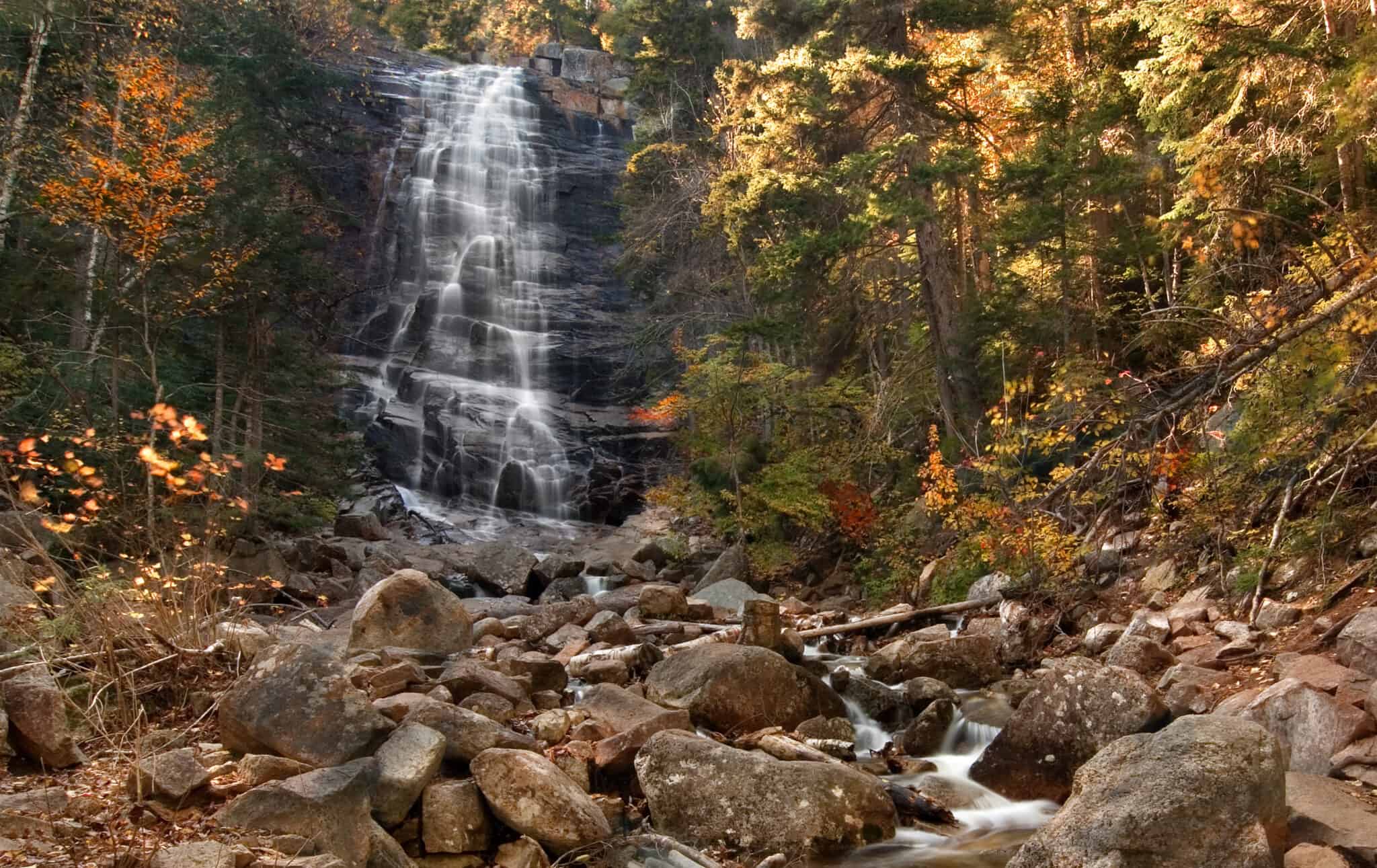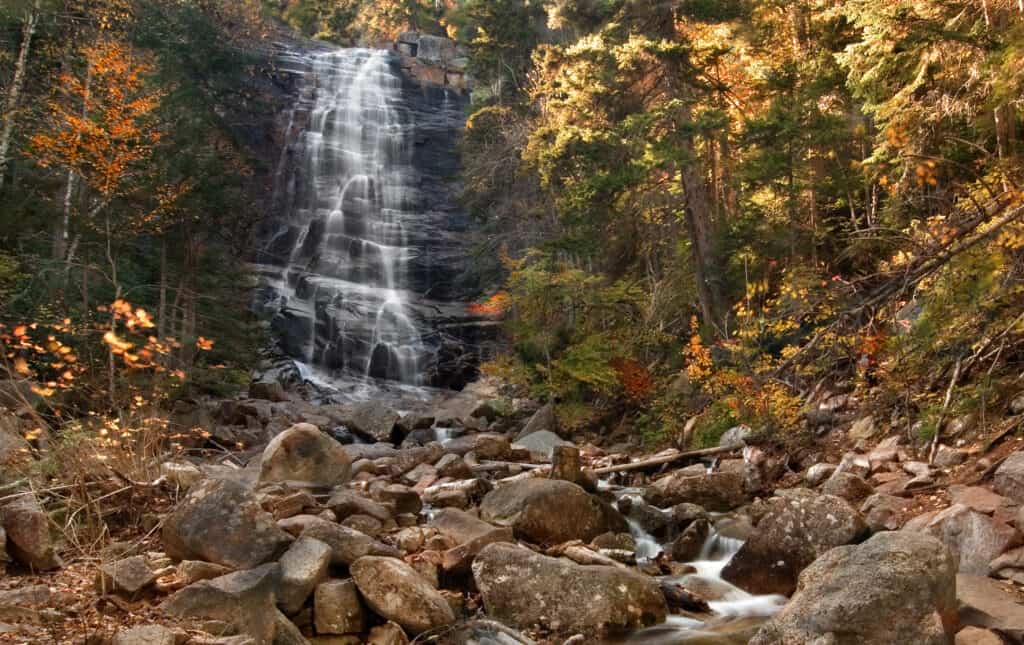 One of the best waterfalls in New Hampshire to visit is the incredible Arethusa Falls. You can find these falls within Crawford Notch State Park in Hart's Location, a tiny town surrounded by the natural beauty of the White Mountains and the White Mountain National Forest.
While it's widely accepted that the falls are 160 feet high, some believe they're more than 200 feet high. You can be the judge when you visit. Either way, it's one of the tallest waterfalls you'll find in New England. You can watch the water from Bemis Brook gush down the cascade after hiking a mile and a half to the site. Heads up, some parts of the hike can be a bit steep.
Once you bask in the beauty of Arethusa Falls, you can visit nearly Bemis Brook Falls and Coliseum Falls. Dogs are allowed to hike in this gorgeous area, but be careful if you bring your pup, especially if you're visiting the falls in the winter. No matter which season you visit the falls, you'll get a breathtaking view that'll stick with you for a long time.
Glen Ellis Falls
The White Mountain National Forest is home to some of the most beautiful waterfalls in New Hampshire, including Glen Ellis Falls. This 64-foot waterfall is located near the Pinkham Notch area of the White Mountains and is pretty easy to get to — all you have to do is hike along a half-mile trail.
This waterfall beautifully and playfully spits water from the Ellis River onto visitors along its base. It's a popular waterfall for locals and tourists to visit, so don't be surprised if you see a small crowd when you visit. Bring your camera to this waterfall — you'll want to capture its wonderful views.
Cloudland Falls
This beautiful NH waterfall is located in Franconia Notch State Park, and is fairly straightforward to get to. It's a part of the Falling Waters Trail – isn't that a lovely name for a New Hampshire waterfall trail?? With a height of 80 feet, hikes and waterfall enthusiasts love the height on this beautiful waterfall trail!
Diana's Baths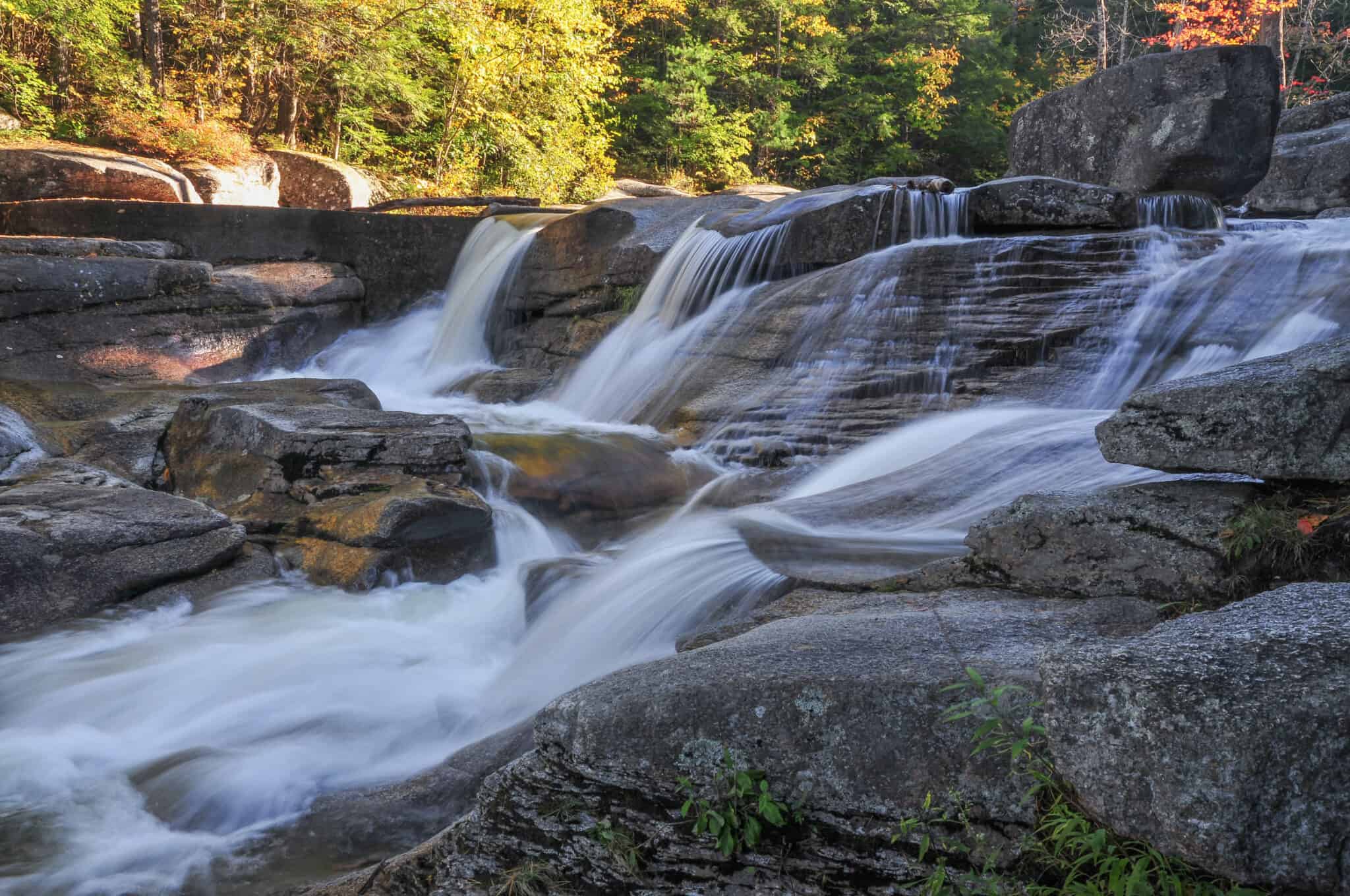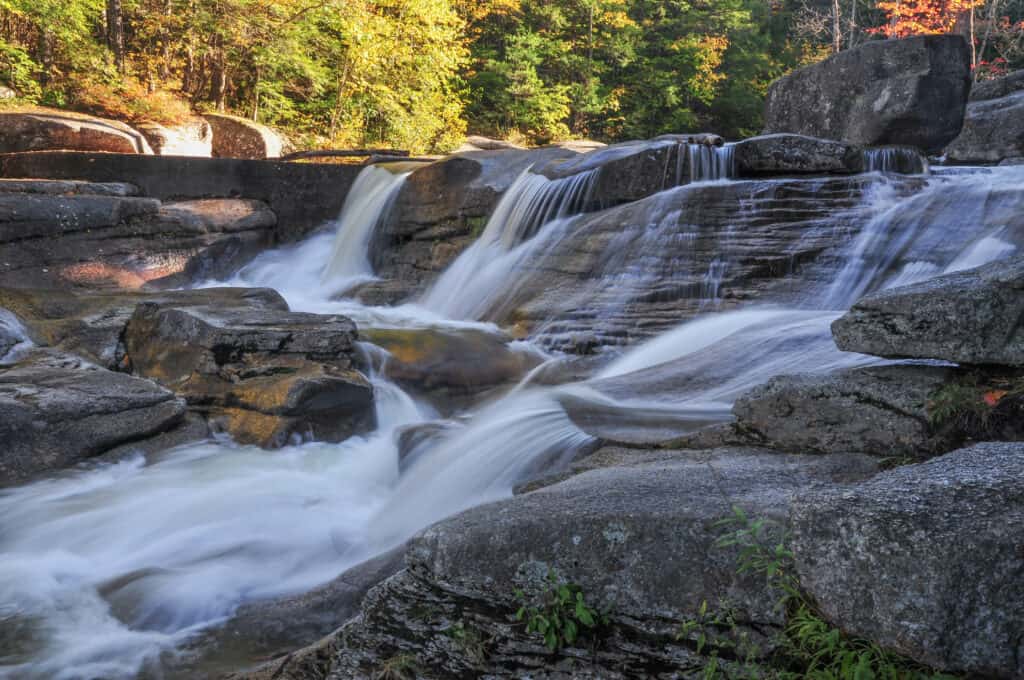 One of the best waterfalls in New Hampshire to swim at is Diana's Baths, located within the White Mountain National Forest. Diana's Baths is a mix of cascades and slides that, in total, are 75 feet high.
Diana's Baths is a great location to hike to with your friends and family. It's barely over a half-mile hike to the waterfall, and the trail is pretty easy to walk along. If you go during a hot summer day, you can cool off in a pool or pothole. Keep in mind that you likely won't be the only person enjoying this beautiful New Hampshire spot. Many families like to take trips up to Diana's Baths during the summer to explore and swim.
While Diana's Baths looks calm and tranquil, pay attention to how fast the water is flowing. The last thing you want to do is have rainwater and water from Lucy Brook to bombard you while you're taking a dip.
Sabbaday Falls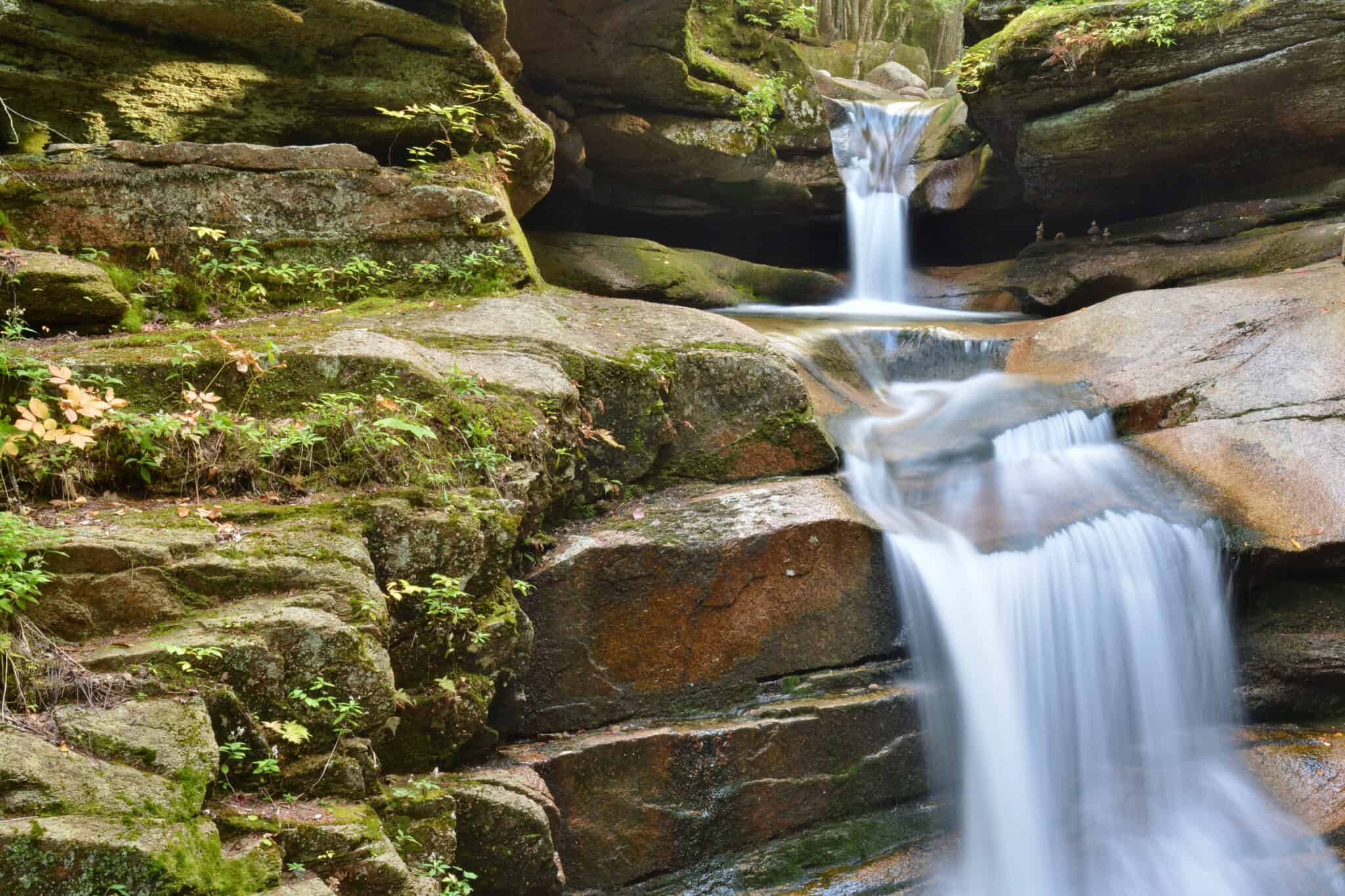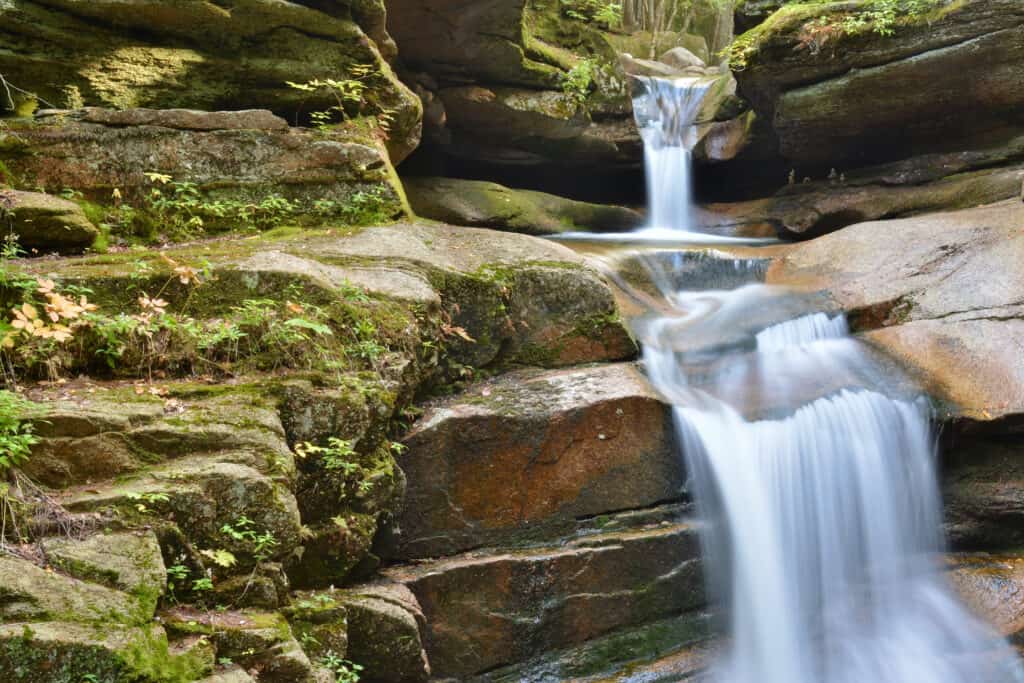 One of the most popular New Hampshire waterfalls is Sabbaday Falls. Like numerous waterfalls on this list, this waterfall is located within the White Mountain National Forest (technically within the town of Waterville Valley). The 35-foot waterfall is fueled by Sabbaday Brook, has multiple tiers, two plunges, and a punchbowl at the top.
If you don't want to hike right to the falls, you can catch a glimpse of them from the road. In fact, Sabbaday Falls is a popular stop along the Kancamagus Highway — a 35-mile stretch of highway that people drive along to see the fall foliage. If you want to see Sabbaday Falls in autumn, you could make a day out of it and drive along the highway to see the vibrant leaves.
Nancy Cascades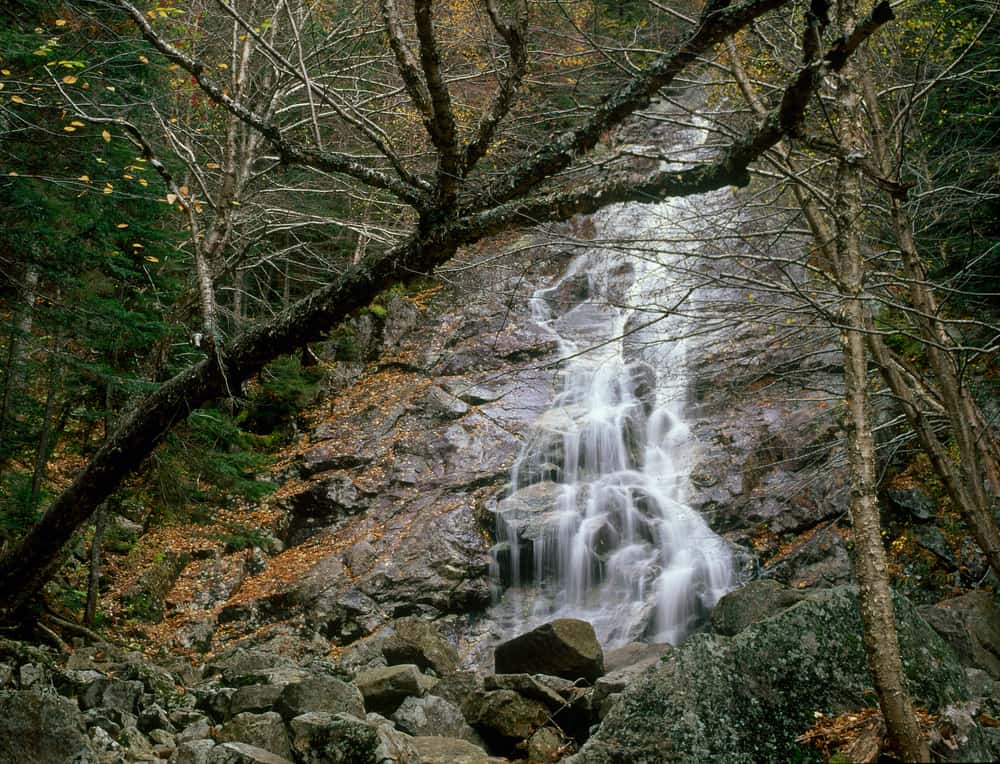 If you want to visit one of the dreamiest falls in New Hampshire, Nancy Cascades is the waterfall to go to. Nancy Cascades is located in the town of Livermore and resides within the White Mountain National Forest. The upper and lower falls have a total height of around 300 feet, making it one of the tallest waterfalls in New England.
If you're a new hiker, it can be a bit challenging to get to the falls. It's a two-and-a-half-mile hike through a moderate trail, but the view of these magnificent falls is worth the hike. Once you get to the lower falls, you can see the water from Nancy Brook flow down marvelous chutes, slides, horsetails, and small plunges. You can take pictures on the rocks at the base of the falls, as long as you're careful and check if there's any risk of slipping.
Ammonoosuc Ravine
Located in the beautiful White Mountain National Park, the trail to get out to Ammonoosuc Ravine is about 4.7 miles out and back, but very worth it to see the beautiful cascades, horsetails, and plunges that this waterfall contains! The Upper Falls are a whopping 100 feet, and the Gem Pool falls are about 35 feet, so this waterfall hike leads to quite the visual reward.
Crystal Cascade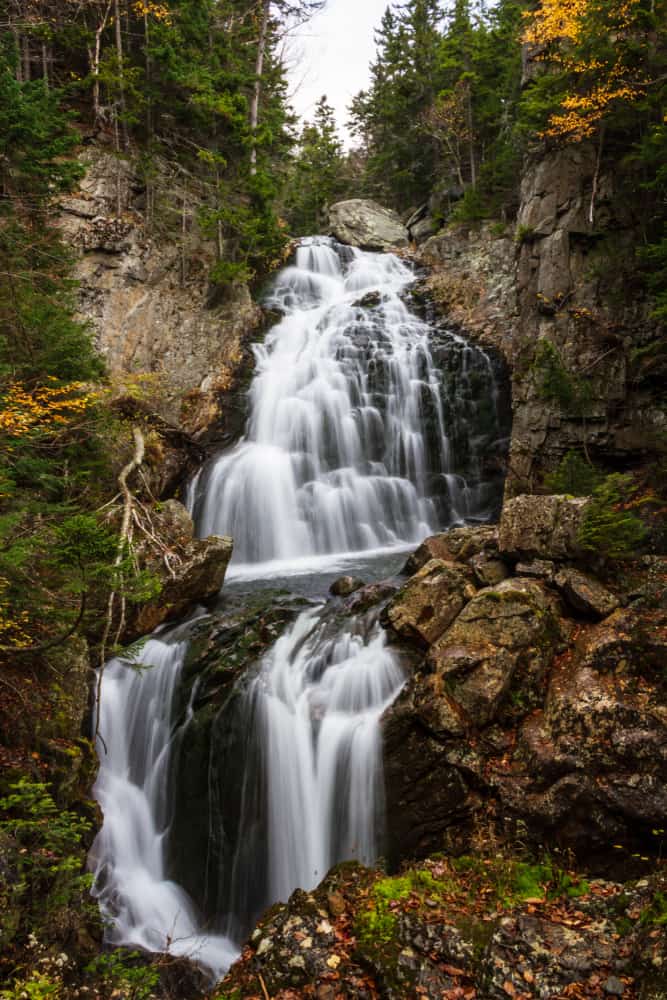 Arguably one of the most underrated NH waterfalls, Crystal Cascade is a spot you must visit at least once in your lifetime. Crystal Cascade is located in the White Mountain National Forest and is a 100-foot beauty. Hikers will be able to access it via a short walk off of one of Mount Washington's most popular routes — Tuckerman Ravine Trail.
Crystal Cascade breaks into two separate segments that differ in height but are equally beautiful. Once you get a good look at this lovely piece of nature, you can get back on the Tuckerman Ravine Trail and continue your hike.
Avalanche Falls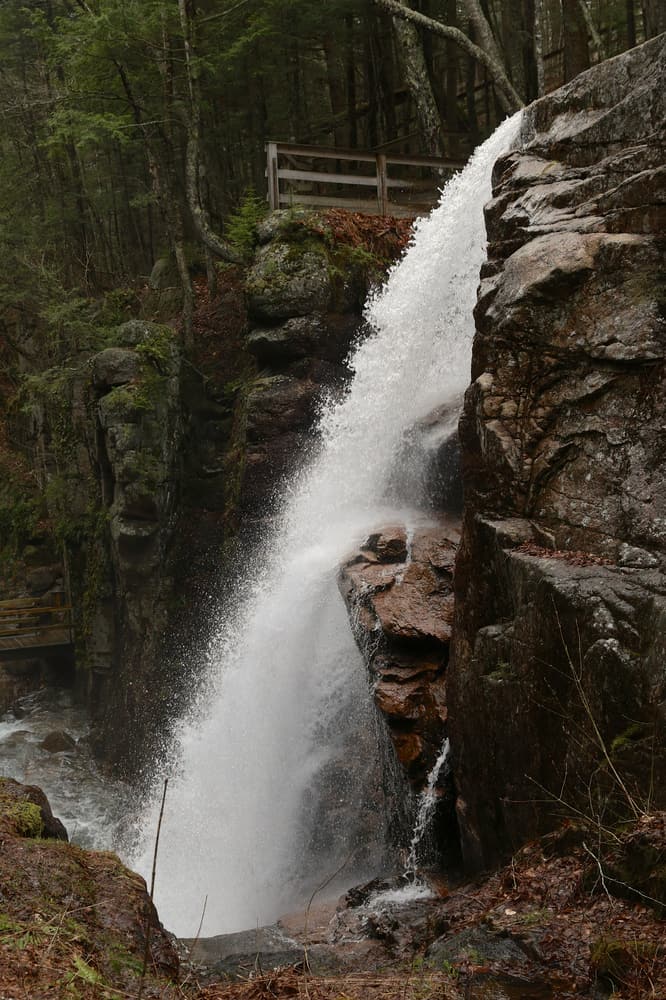 Avalanche Falls is one of the most popular waterfalls in the state, and for plenty of good reasons. This waterfall is located within Franconia Notch State Park in the town of Lincoln. It's 45 feet tall and located along The Flume, a two-mile trail that takes hikers on a gorgeous trip into nature.
Avalanche Falls is the second waterfall you'll encounter on The Flume. Many people like to stop and admire this waterfall due to its size and how the water graciously flows over its walls, so expect the area to be busy when you go. Once you capture pictures of this natural beauty, you can keep walking along the trail and go to The Pool, located in a deep basin of the Pemigewasset River, or turn around and take another look at Table Rock.
Georgiana Falls
One of the easier waterfall hikes, Georgiana Falls hike only has a climb of about 350 feet, so if you're looking for waterfalls to hike to with kids, this could be a great option! Considered a beginners level trail, it's less than 2 miles out and back, and the actual waterfall features 30 feet of rushing waters that kids and their adults will be tickled to see!
Silver Cascade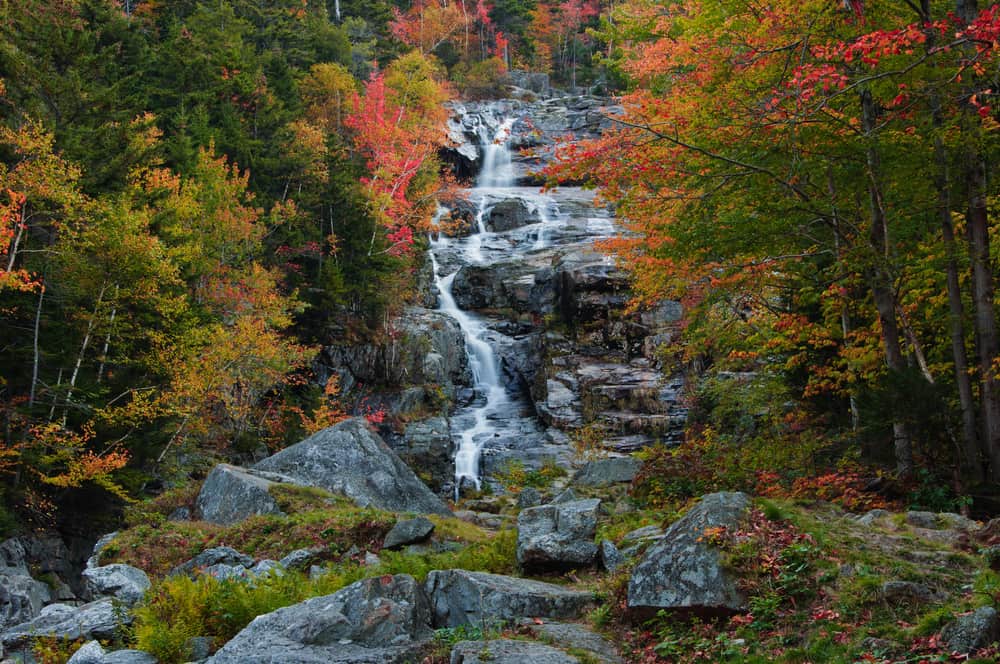 If you don't want to hike to see a waterfall and want to stick to the roads instead, Silver Cascade is the waterfall for you. Silver Cascade is located within Crawford Notch State Park in the town of Harts Location. The waterfall sits along the side of Mount Jackson and eventually converges with the Saco River.
Silver Cascade has a 600-foot total drop over multiple cascades, and there's a 250-foot drop that's visible from Highway 302. Many people like to visit this beautiful giant after a good rainfall or in autumn when the leaves are vibrant and there's a crisp chill in the air.
Jackson Falls
If you're looking for waterfalls in New Hampshire that are very easy to get to, check out Jackson Falls! This lovely waterfall is accessible even from your vehicle. There are parking areas at both the top and the bottom of this waterfall, and with a cascading drop of over 100 feet, there's plenty to see and admire at this beautiful waterfall!
Ripley Falls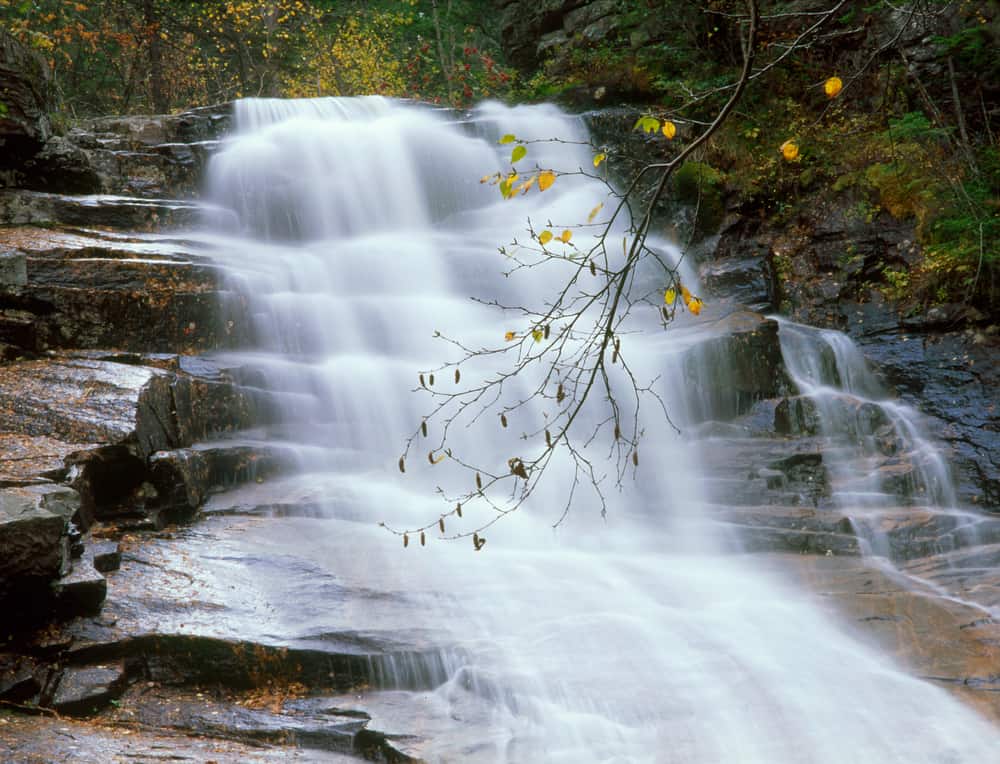 Crawford Notch State Park is home to some of the most breathtaking waterfalls in New Hampshire. One of those waterfalls is Ripley Falls. Ripley Falls is 100 feet high and has water from Avalanche Brook flowing over a smooth rock wall. To get to Ripley Falls, you'll start on Ethan Pond Trail and follow the Arethusa-Ripley Falls Trail.
It's recommended that you visit Ripley Falls between May and October. Once you see this lovely waterfall, you can go to nearby Arethusa Falls and Nancy Cascades.
Profile Falls
Located in Bristol, the path to get out to Profile Falls can be a bit tricky, especially after a lot of rain. If you don't want to hike down to see it, it is visible from the banks above and much simpler, so there are a couple of options for how to see the 30 feet of cascades across the rocks!
Franconia Falls
We're rounding out this list with another waterfall located within the White Mountain National Forest: Franconia Falls. This waterfall is filled with cascades, slides, pools, and small plunges that drop water from Franconia Brook 30 feet down.
Something notable about Franconia Falls is that there's not a lot of elevation gain, which makes it pretty easy to walk along. There are also multiple pools suitable for swimming, but the best and safest one is 400 feet upstream of the main falls. Swimming at the main falls themselves could get extremely dangerous, especially if there's high water.
It's best to visit these falls between May and October, and it's always a good idea to check when it's going to rain in the area. That way, you can have an idea of how roaring the falls will be.
---
If you're itching to visit beautiful waterfalls in New Hampshire, these are the ones to go to. They provide incredible views you'll only find in the Granite State. The best part? It won't take you long to find other scenic views around these waterfalls. New Hampshire has multiple trails and parks to explore, as well as the expansive White Mountain National Forest. You can look at these gorgeous falls and then take the rest of the day to connect with nature. New Hampshire is an incredibly beautiful state, so you'll likely see a wonderful site — even if you stumble upon it.
---
Read these next:
---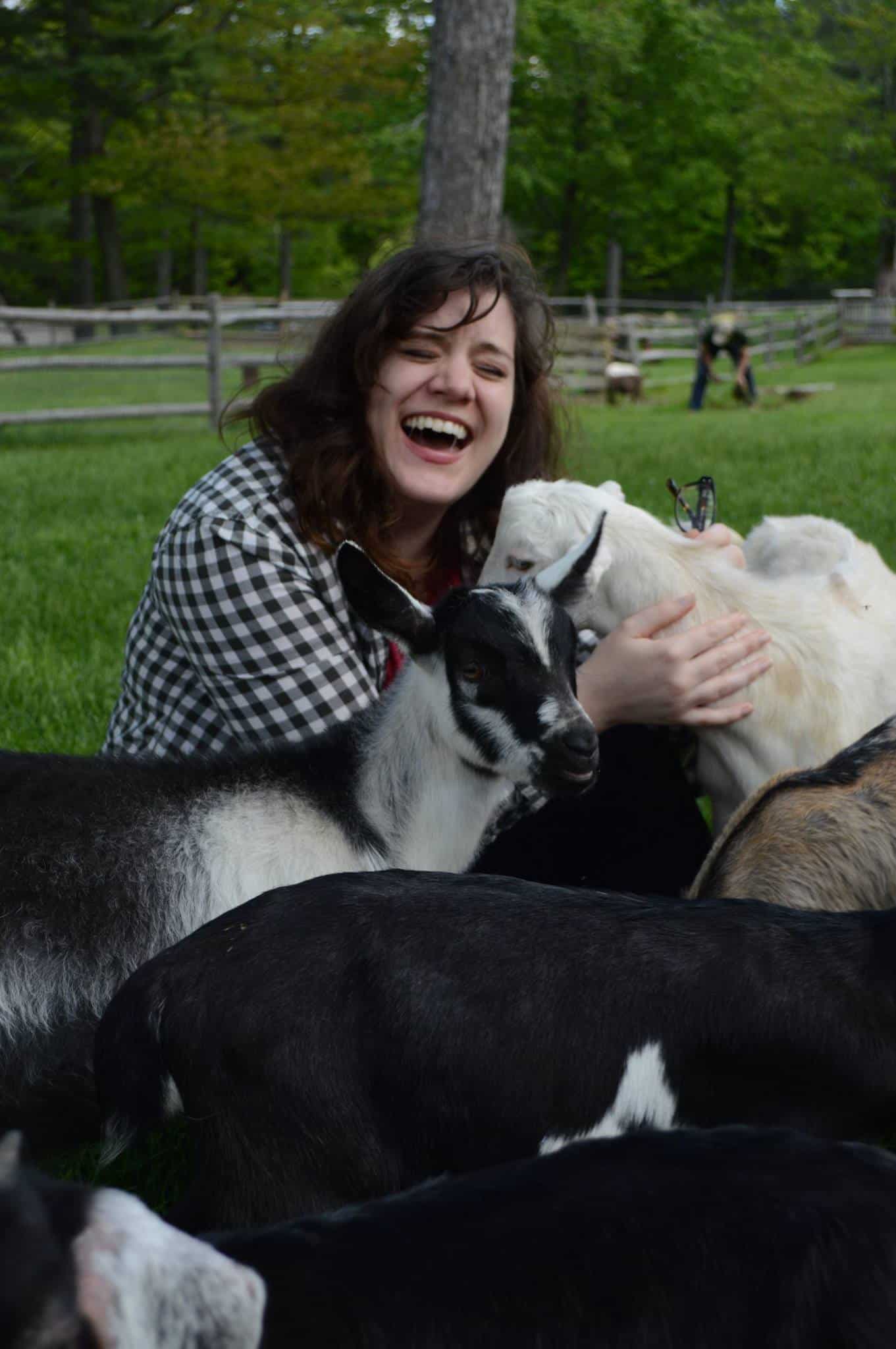 Amy Hartle is the founder and Editor-in-Chief of New England With Love, a comprehensive resource for travel in the New England region. Amy has been exploring New England since 2001. She lived in Vermont for many years and is a graduate of Plymouth State University in New Hampshire. Amy has been writing about travel for over a decade. On this site, Amy aims to share her love of New England and help you to have the best possible adventures!
Amy has been a full time blogger since 2012, and is also the publisher of Two Drifters, where she writes about couples travel and relationships, as well as Let's Adventure Baby, a family travel site. When not traveling the world or creating epic blog content, Amy can be found cuddling with her husband, son, and cats, & drinking a maple latte.