---
*Links in this article may be affiliate links, from which we may earn commission. See our
Privacy Policy
for full details.
---
There is so much to love about New Hampshire. From the quaint towns that ooze New England charm, to the picturesque covered bridges over clean, flowing rivers, to the beaches and lakes, we've got it all. But the natural wonders that steal hearts and draw crowds above all else? The White Mountains of NH.
When you hear "the White Mountains," you might think of the renowned Mount Washington. But there's so much more! White Mountain National Forest encompasses a large region of NH, covering nearly a quarter of the state. Stretching 87 miles across central and northern NH into a small portion of western Maine, the White Mountains encapsulate state parks, unforgettable small towns, scenic parkways, mountain ranges, waterfalls, hiking trails, and so much more.
This region is paradise for anyone who loves being active outside in nature, taking scenic road trips, or delighting in lush landscape views. In the summer, you'll discover purple fields of lupines. In the fall, you'll drive along vistas of bright yellow and red foliage. And in winter, you'll be in awe of the tallest snow-capped peaks in the northeastern U.S.
So if you're ready to discover what makes this corner of the world so special, dive into our list of 10 great things to do in the White Mountains. Let's get to adventuring!

Take a scenic drive on the Kancamagus Highway.
Designated as an American Scenic Byway (and one of our top things to do in NH!), the Kancamagus Highway is a 34.5-mile scenic drive along Route 112 that will leave you speechless. This winding road cuts right through the heart of White Mountain National Forest, and no matter what time of year you drive it, your eyes are in for a feast.
In October, the "Kanc" is often considered one of the best places in the country to view some incredible fall foliage. Every bend in the road will reveal sweeping views of the White Mountains, Swift River, gorges and waterfalls, all decorated with brilliant reds, burnt oranges and golds. Traffic is a bit heavier during peak foliage season, so make sure to factor in at least 3 hours to drive the full length.
Stay in a rustic cabin.
One of the best ways to experience the White Mountains up close is by staying in a rustic, one-of-a-kind cabin. There are some amazing getaways sprinkled throughout the region. Some are deep in the woods at remote locations, where you can be truly immersed in nature. Others are conveniently located in towns like North Conway, Lincoln, and Franconia. But it doesn't matter; regardless of what level of seclusion you pick, the White Mountains are well within reach. Check out our curated list of cabin rentals for some inspiration!
Ride the Alpine Slide at Attitash.
Looking for a little adrenaline rush? The Alpine Slide at Attitash Mountain Resort in Bartlett is great fun! People bold enough to try this can take the chairlift to the top of Attitash Mountain and mount their plastic sled, which is cradled in a chute track. Then ride it like a bobsled all the way down the mountain, controlling your own speed with a lever.
This mountain slide is a blast, and the prime opportunity to see amazing views and unleash some happy screams. Make sure to consider the age restrictions before going – it is relatively safe, but accidents can happen due to the detached sleds.
Take a ride on the Conway Scenic Railroad.
The Conway Scenic Railroad is the best way to enjoy the beauty of the Mount Washington Valley without actually having to hike a mountain. Departing from the charming yellow 1874 Station in North Conway, you'll have a choice between two adventures. Take the Valley Train on a 1.5-hour heritage rail excursion through Conway and Bartlett, or take the Notch Train for an epic 5.5-hour trip to Crawford Notch, complete with vistas, rocky outcrops and open valleys. Neither will disappoint, so check out their website here to book your tickets in advance.
Explore Mount Washington.
Ah, Mount Washington. The pride and joy of New Hampshire! This 6288' mountain is the tallest peak in the Northeast and home to the fastest wind gust ever recorded on earth, at 231 mph. It's also the muse for the famous "This Car Climbed Mt. Washington" bumper sticker.
There are two spectacular ways to explore Mount Washington (besides just hiking it!). Take the historical Mount Washington Cog Railway for an unforgettable train ride to the summit. The Cog has been taking passengers up the mountain for over 150 years now. In less than an hour, this thrilling ride will bring you to the summit, where you can get out and take pictures or just enjoy the sights.
If riding up a steep mountain on a 150-year-old railway isn't your cup of tea, why not drive your own vehicle? The Mount Washington Auto Road is a scenic road that starts at the base and takes you along a winding path up to the summit. This historic drive is a 7.6-mile ascent that takes roughly 30 minutes, and every bend in the road will offer a unique view of the White Mountains. Keep in mind, there is a toll charge at the base of the road.
Go chasing waterfalls.
Would it surprise you to know there are over 100 waterfalls in the White Mountains? That's enough to last you years of exploration!
For an easy trek with a beautiful waterfall, beginner hikers can visit Sabbaday Falls in Conway. Another option is the 3.2-mile hike to Arethusa Falls at Crawford Notch. Or embark on the moderate, 4.7-mile out-and-back hike at Ammonoosuc Ravine Trail in Jefferson, which features the incredible Ammonoosuc Ravine waterfalls.
If none of those interest you, read our list of great waterfalls in NH for more inspiration.
Stay and play at Loon Mountain Resort.
Loon Mountain Resort in Lincoln, open year-round, offers so many spectacular outdoor adventures in the White Mountains. The resort really comes to life in the winter, when people from all over flock to shred its four beautiful peaks. You can take skiing or snowboarding lessons, or turn your visit into a vacation and stay at their lodge. And if you're not big into boarding, there are plenty of other options. The resort has its own zipline, Aerial Forest swing, mountain bike trails, and golf course.
But the most unique activity at Loon is the gondola ride, NH's longest scenic skyride. The 4-person gondola will take you on a 1.3-mile ascent from the base to the summit of Loon Peak. Savor that fresh alpine air at the top!
Read Next: 13 Super Fun Things to Do in Lincoln NH
Zipline through the mountains at Alpine Adventures.
If you're an outdoor adventure seeker, Alpine Adventures in Lincoln is the place for you. This adventure company operates within 300 private acres of pristine nature in White Mountains National Forest. On the longest, highest, and fastest zipline canopy tour in New England, you can climb across obstacle rope courses and zipline through the sky. They also offer off-roading, tower climbing tours, and more. Check out their website to pick the adventure for you.
Hike one of the many loop or summit trails.
There are so many mountain ranges in the White Mountains to explore. The Presidential Range alone, made up of NH's highest peaks, includes 13 mountains to hike! Other notable ranges are the Kinsman Mountain Range and Franconia Mountain Range.
There are also some amazing loop trails in White Mountain National Forest. Diana's Baths out-and-back loop is a beloved, easy hike with refreshing pools to splash around in. Welch-Dickey Loop is a gorgeous, somewhat challenging 4.3-mile trail with constant vista views. And recommended for experienced adventurers is the 8.6-mile Mount Lafayette and Franconia Ridge Trail Loop, which features a lovely waterfall.
Explore Franconia Notch State Park.
Franconia Notch State Park is a world all its own. Directly in the heart of White Mountain National Forest, this park has so much to do.
Franconia Notch is a breathtaking mountain pass that can be traversed by driving down the winding I-93, which extends from Flume Gorge to Echo Lake. The famous 'Old Man of the Mountain' site is located here, as well as the Kinsman and Franconia mountain ranges, Cannon Mountain Resort and aerial tramway, New England Ski Museum, the Recreational Trail for bike riding, Cannon Cliff for climbing, and the Appalachian Trail. Seriously, you'll never want to leave Franconia Notch State Park.
---
Traveling more in NH? You might also like:
---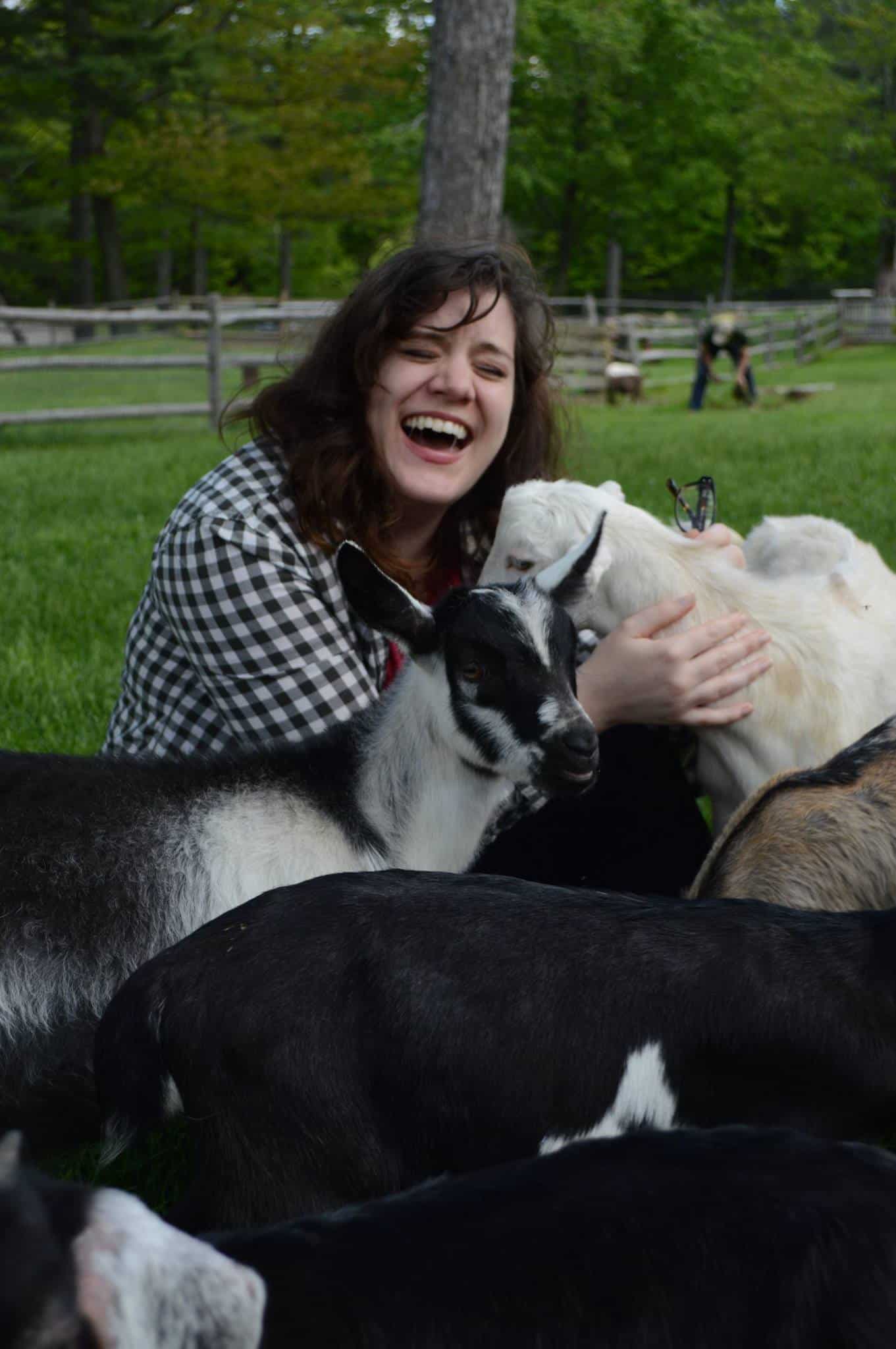 Amy is the founder of New England with love. A proud Vermonter, she hopes to share her love of New England and help you find the best adventures in the region. Amy is also blogger/founder at Two Drifters, where she writes alongside her husband about romantic and couples travel, relationships, honeymoons, and more. When not working on websites, Amy is probably reading, cuddling with her husband, son, and cats, & drinking a maple latte.