Are you looking to cross reaching the top of Mount Washington NH off of your New Hampshire bucket list? Then come along on this guide to Mt Washington NH because there are a few ways to get there!
Commonly referred to as the most dangerous small mountain in the world, Mount Washington is a destination that demands respect. One of the reasons for this is the extreme and sometimes erratic weather that Mt Washington is known for due to its position where three major storm tracks meet, combined with being the highest elevation in the Northeast at 6,288-feet.
In fact, climate and atmosphere research from the data collected at the Mount Washington Observatory is considered essential in learning more about weather, climate, and air quality, and the team at the observatory often collaborates with groups such as NASA, National Weather Service, the Federal Aviation Administration, and more.
The Mount Washington Observatory is also the place to go for the most accurate and reliable weather forecasts for Mt Washington NH, and it is advised to always check summit conditions before you go as the summit is known for its high winds, with a wind gust of 231 mph being the fastest surface wind measured in both the Northern and Western hemispheres in 1934!
Weather conditions can shift dramatically as you go up the mountain, so while shorts and a t-shirt might be the perfect New Hampshire summer outfit at the base, you might find jeans and a heavy jacket more appropriate at the summit while snowflakes swirl and winds howl around you.
All that being said, there are multiple ways to reach the top of Mount Washington! Whether you're looking for a challenging hike with a steep, steep climb to the top or a ride the entire way up, you'll find the perfect way to climb Mount Washington in New Hampshire!
Guide to Hiking Mt Washington NH
Popular West Side Trails to the summit
To start on the west side, follow the signs for the Mount Washington Cog Railway and park at the Ammonoosuc Ravine Trailhead.
Jewell Trail
The Jewell Trail is often considered the "easiest" trail for a day hike to the summit of Mt Washington, but keep in mind that easy is all relative! This hike is still a steady uphill hike, so do be sure you are prepared for that level of physicality. Often considered "easier" because it is less steep than other routes, it is still a heck of a hike for most, taking 5-6 hours to reach the summit on this almost 10-mile round trip route.
Ammonoosuc Ravine Trail
Again, everything is relative, but Ammonoosuc Ravine Trail is another "easy" trail to the summit of Mt Washington, this one begins with a fairly gentle climb before becoming significantly steeper. Ammonoosuc Ravine Trail will lead you to the lovely Lakes of the Clouds Hut at 5,012 feet, where hikers can refuel with meals and a place to bunk for the night summer through fall. Ammonoosuc Ravine Trail is an almost 9-mile round trip hike that takes an average of 5 hours to ascend the Mount.
Popular East Side Trails to the summit
Hikers looking to approach from the east side can park at Pinkham Notch Visitor Center in Gorham. Get there early, this lot is large but fills up fast!
Tuckerman Ravine Trail
Tuckerman Ravine Trail, or Tux, is an 8+ mile round trip trail that is "only" 4.1 miles to get to the summit, but it's a steep climb up! Narrow passes and rock hopping render this trail best reserved for those who are very confident in their skill and fitness level, and most hikers come down Lion Head Trail to avoid having to come back down the same way they went up!
Lion Head Trail
Lion Head Trail meets up with Tux at a few points and is also an 8+ mile round trip, but offers a slightly less stressful way to come back down. Lion Head Trail is best suited for very skilled, experienced hikers.
Huntington Ravine Trail
Considered one of the most dangerous trails on Mount Washington— which is saying A LOT— Huntington Ravine Trail is a 4+ mile one-way trail that requires some rock climbing expertise to handle all the scrambling and bouldering.
Mount Washington does offer a hiker shuttle for one-way rides either up or down the mountain available on a first-come, first-served basis. Heads up, there is no guarantee that the hiker shuttle will be running, so don't depend on this option!
Guide to Driving Up Mount Washington
Driving up Mount Washington is a great option to get to the top of Mt Washington. Plus, driving yourself means you get to earn a "This Car Climbed Mount Washington" bumper sticker! If you'd prefer to leave the driving to someone else (and who can blame you, Auto Road is a steep mountain road with no guardrails!) then sign up for a 2-hour Guided Tour where you are driven up the mountain by a knowledgeable Mount Washington tour guide and then given time at the top to take pictures and enjoy the summit!
Guide to Riding Up Mount Washington
One of the most popular options for getting up Mount Washington, riding The Cog is an incredible experience! Not only can you sit back and relax while someone else does all the heavy lifting (or heavy choo choo-ing?) but the views are absolutely stunning, and upon arrival at the top, you're given about an hour to explore the summit. The Cog runs to the summit spring through October, and then weather permitting, to Waumbek Station at about 4000 feet in elevation throughout the rest of the season.
What to Expect at the Summit of Mount Washington NH
Atop Mount Washington is Mount Washington State Park, where you'll find views that stretch as far as New York, Vermont, Massachusetts, Maine, Canada, and on a very clear day, the Atlantic Ocean!
In the Sherman Adams building, you'll find the visitor center, gift shops, a cafeteria, restrooms, the Mount Washington Observatory, a museum, and even a post office! No matter what way you choose to get up to the summit, there's plenty to do and see at the top. The Sherman Adams building is open daily summer through fall, so poke around the museum, grab a quick snack, maybe even mail off a postcard from the Highest Peak in the Northeast while you're at it!
Be prepared to encounter a line to take a picture with the summit sign, but it is well worth it for most to have that great photo memory! Another popular thing to see at the summit is the historic Tip Top House, built in 1853 as a hotel and living on to this day as a museum/tourist attraction.
When to Visit Mount Washington NH
Expert-level hikers hike Mt Washington throughout the year, but they pay close attention to the daily forecast, pack for success, and have trained for winter hiking. Frostbite can happen quickly on Mount Washington as temperatures drop and winds kick up without warning, so those who do attempt to hike Mt Washington in the winter are prepared by dressing in layers, using full face protection, and having proper hiking gear like ice axes, full crampons, and emergency shelter materials.
Even those who hike Mt Washington throughout the calmer summer months should be prepared with emergency shelter materials and layers they can easily put on and take off as weather shifts unexpectedly on Mount Washington, and the only way to hike safely is to be prepared!
Also note that most summit amenities aren't available winter through spring, so if you'd like to be able to spend some time hanging at Mt Washington State Park, plan your trip for May through October; Auto Road is also closed winter through early spring, so no driving up to the top of Mt Washington either!
Where to Stay at Mount Washington NH
Whether you're looking to climb Mount Washington by car, rail, or on foot, there are so many incredible places to stay in the White Mountains! Stay in a cozy airbnb in North Conway, or any one of these cute cabins in the White Mountains. There are so many fun things to do in the area in little towns like North Conway, Jackson, and Lincoln, too, so you won't go wrong by choosing one of these gems of the White Mountains!
A visit to Mt Washington NH is a great way to spend some time enjoying this lovely area of New Hampshire. Enjoy the climb to the top of the highest peak in the Northeast!
Read these next: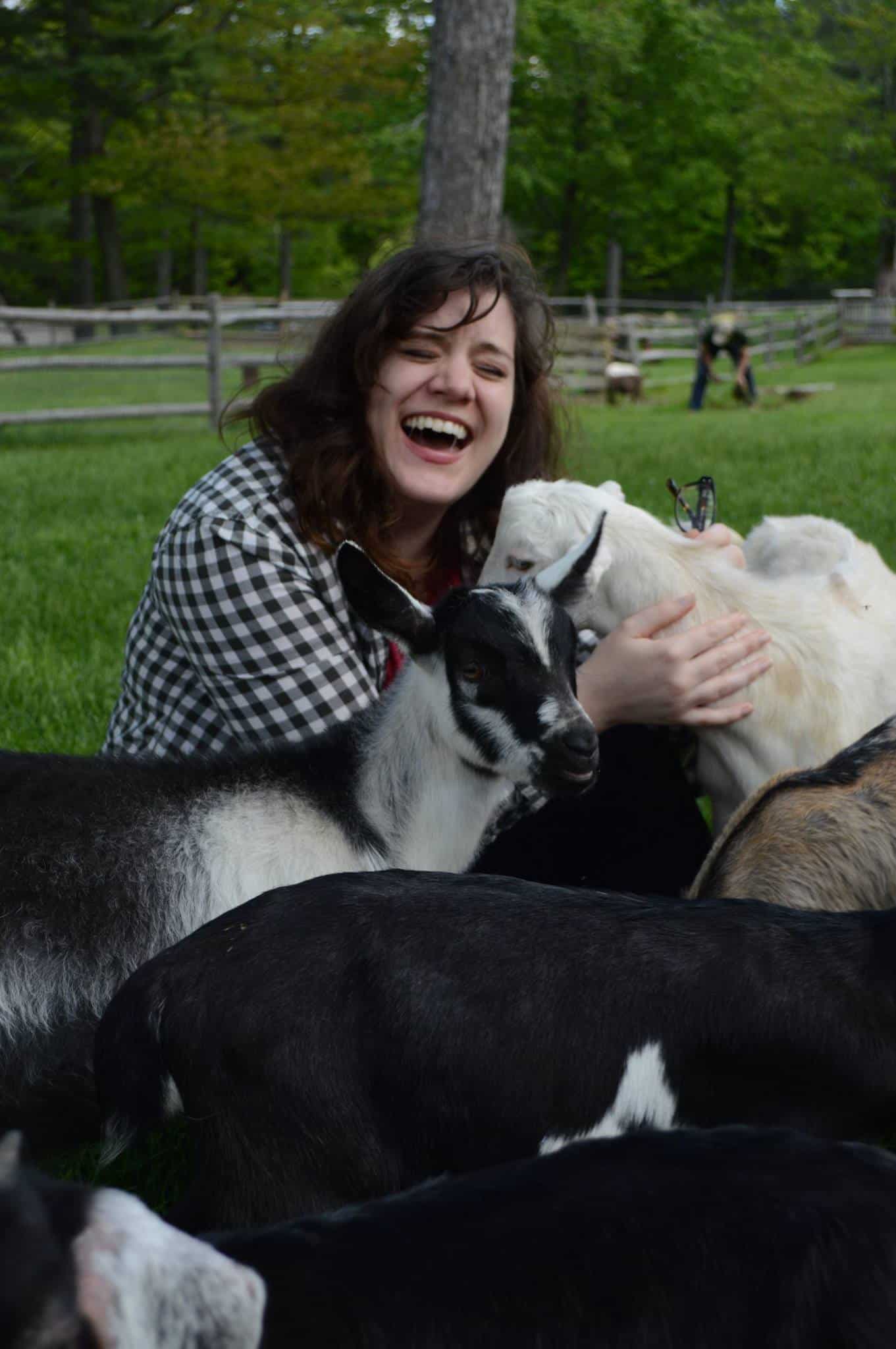 Amy Hartle is the founder and Editor-in-Chief of New England With Love, a comprehensive resource for travel in the New England region. Amy has been exploring New England since 2001. She lived in Vermont for many years and is a graduate of Plymouth State University in New Hampshire. On this site, Amy aims to share her love of New England and help you to have the best possible adventures!
Amy has been writing about travel for over a decade, and is a full time blogger, publishing both Two Drifters and Let's Adventure Baby. When not traveling the world or creating epic blog content, Amy can be found cuddling with her husband, son, and cats, & drinking a maple latte.