While many people head straight to the bigger towns and cities in New Hampshire, most overlook the small town of Franconia. However, it's located in a part of the White Mountain National Forest, is near amazing ski areas, and has tons of great history, despite its small size!
If you can't tell already, there are so many awesome things to do in Franconia, New Hampshire. Plus, the famous poet Robert Frost once called Franconia home, and his house is now a museum that people visit from all over the place.
Whether you're an outdoor enthusiast or you prefer learning about history or visiting art galleries, there's something for you to do in Franconia. This post will help you plan your next trip to New Hampshire!
Best Things to Do in Franconia NH
Visit The Frost Place
First up is visiting The Frost Place, one of the best things to do in Franconia NH. It's a museum that once served as the poet Robert Frost's home. It sits on nine acres of land and is open to the public for those who wish to learn more about him.
It's a fairly small museum but offers a great experience, even for those who have never heard of his work before. There's a lovely trail here too, which isn't super difficult and is a great way to explore some of the nature in the area during your visit to Franconia.
Explore The Flume Gorge
No trip to New Hampshire is complete without seeing The Flume Gorge. Visiting it is one of the best things to do in Franconia. It was founded in the early 1800s and will truly take your breath away. It's essentially a huge gorge that is located right near Mount Liberty.
To get to The Flume Gorge, you have to go on a 1.5-hour hike. Don't worry; it's not that difficult! In fact, it's one of the easier hikes in the area, and is about two miles in length. It can get quite busy in the afternoon, so plan accordingly.
Take a tour at The Rocks Estate & Christmas Tree Farm
Heading to The Rocks Estate, while technically located in Bethlehem, is one of the best things to do in Franconia and the surrounding area. It's about a nine-minute drive from downtown, which isn't too difficult to make.
This estate is situated on around 1,300 acres of land and was used as a summer house. It also goes by its second name, John Jacob Glessner Estate. The home was owned by John Jacob Glessner and his family, who was from Chicago.
The best thing to do here is to go on one of their amazing motorcoach tours. These last anywhere from an hour to an hour and a half depending on the time of year and amount of people on the tour.
Ski or rock climb on Cannon Mountain
Head to Cannon Mountain if you're looking for things to do in Franconia! You can do stuff no matter the time of year at this mountain, including skiing or rock climbing. The mountain is about 4,000 feet high and makes up part of the fantastic New Hampshire White Mountains.
Cannon Mountain Ski Resort is an amazing spot for skiing, with ten lifts and more than 250 ski acres inside Franconia Notch State Park. There are even easy ski trails for those who don't have as many skiing skills.
Spend the day at Franconia Notch State Park
Located right in White Mountain National Forest is none other than Franconia Notch State Park. This beautiful park is one of the top parks in the state and is filled with epic things to do in Franconia, from going on a hike to kayaking in the lake. It's an amazing place to go no matter the time of year.
The park covers about 6,500 acres of land, so it's quite large in size. Head to Cloudland Falls for an amazing view of a waterfall with only a 1.5-mile hike, or spend the day hiking to the top of one of the mountains if you're feeling up to it. The Artist Bluff Trail is an especially scenic option!

Explore the New England Ski Museum
Yes, there is actually a museum dedicated to skiing called the New England Ski Museum! This small museum opened in the 1980s, and it's entirely free to visit, so there's no reason not to stop by!
It's located right near the Cannon Mountain Aerial Tramway, so you can stop by the museum before you take the tram to the top of the mountain. Exhibits change each June, so you can expect everything inside to be recently set up. In the past, they've held many different exhibits, including one all about how ski lifts are made.
Canoe at Profile Lake
If you love getting outdoors, head to Franconia's Profile Lake. It's located right among the White Mountains and is super serene if you visit in the early morning, especially in the summer. It's located right underneath a rock called the Old Man of the Mountain which unfortunately collapsed in the early 2000s.
Grab your canoe (or rent one nearby) to enjoy the beauty of this lake. You could even pack yourself a lunch to have out on the water in the middle of your trip if you want. Kayaking is another option if you'd rather boat solo.
Have breakfast at Polly's Pancake Parlor
With a name like Polly's Pancake Parlor, how could you go wrong? This is another place that is technically located in the Sugar Hill/Bethlehem area, but it's a short drive from Franconia. Therefore it deserves a spot on this list of the best things to do in Franconia.
This place has been open for the past 75 years and counting, and it's quickly become a favorite among tourists and locals. They have tons of different flavors, and each dish is served with fresh New Hampshire maple syrup.
Spend the night at Lafayette Campground
Head to Franconia Notch State Park to camp overnight at Lafayette Campground! It's located right in the middle of the park, too, so you'll truly be in the heart of the beautiful wilderness. This is the perfect place to stay if you are looking for an amazing home base in the park.
You can book campsites online to make sure that you have a reservation for your trip. They have everything from pop-up sites to tent and standard sites, so you can choose whatever one is best for your visit.
Read Next: 7 Best Campgrounds for Camping in New Hampshire
Ride the Cannon Mountain Aerial Tramway
If skiing or rock climbing isn't your thing, don't worry. Instead, take a ride on the Cannon Mountain Aerial Tramway. This cable car sky ride will bring you to the summit point so you can take in the epic views without all the hard work. It's a perfect option if you're traveling with children.
The tram ride doesn't take more than about ten minutes or so, which is great if you aren't the biggest fan of heights. At the top, you'll realize how worth it the ride was.
Just make sure you check the weather before riding the tram. You wouldn't want to waste your ride on a day that it's not super clear in the sky.
Relax at Echo Lake Beach
Echo Lake Beach is a great spot for swimming in Franconia, New Hampshire. It's located right next to Cannon Mountain and is about 40 acres or so! There are lifeguards here in the summer, too, so you can rest assured that you will have someone looking out for your safety during your visit during the warmer months.
This beach has quickly become one of the more popular spots to go when it's hot outside. The area is super family-friendly. There's even a great trail that goes all the way around the water as well as spots to stop and enjoy a picnic.
Eat at Iron Furnace Brewing
If you love checking out local breweries, you have to head to Iron Furnace Brewing. This Franconia brewery is genuinely a bit of a hidden gem. They make all of their beer onsite, so it's a great way to support a local business if you're looking for things to do in Franconia.
In addition to their beer, they also serve food if you're hungry and need something to pair with the drink. You can find tasty brewery foods like sandwiches and pizza on their menu, which is excellent after a few drinks!
Hike the Basin Cascade Trail
Another one of the best things to do in Franconia for nature lovers is hiking the Basin Cascade Trail. At about 2.5 miles long, this trail is moderate level and is located in Franconia Notch State Park. Despite being in the park, the trailhead is closer to Lincoln instead of Franconia.
The best part of this trail is the waterfall, hence the word "cascade" in the name! It's a family-friendly trail, and dogs are welcome to go on the trail. Parking is available on the premises if you are driving your car to the area.
Stay at the Franconia Inn
Perfectly nestled into 65 acres of beautiful White Mountain scenery, the Franconia Inn is a great option for where to stay in Franconia!
In addition to the charming and cozy guestrooms, there are a plethora of great activities onsite, including horseback riding, hiking, fishing, ice skating, and so much more. They even have their own cross country ski trails!
Click Here to Check Prices & Book!
With so many things to do in Franconia, New Hampshire, it can be hard to choose! Hopefully, this post has helped you whittle down exactly what to do during your next trip to Franconia.
Have you been to Franconia before? What would you most like to do from this list?
---
You might also like:
---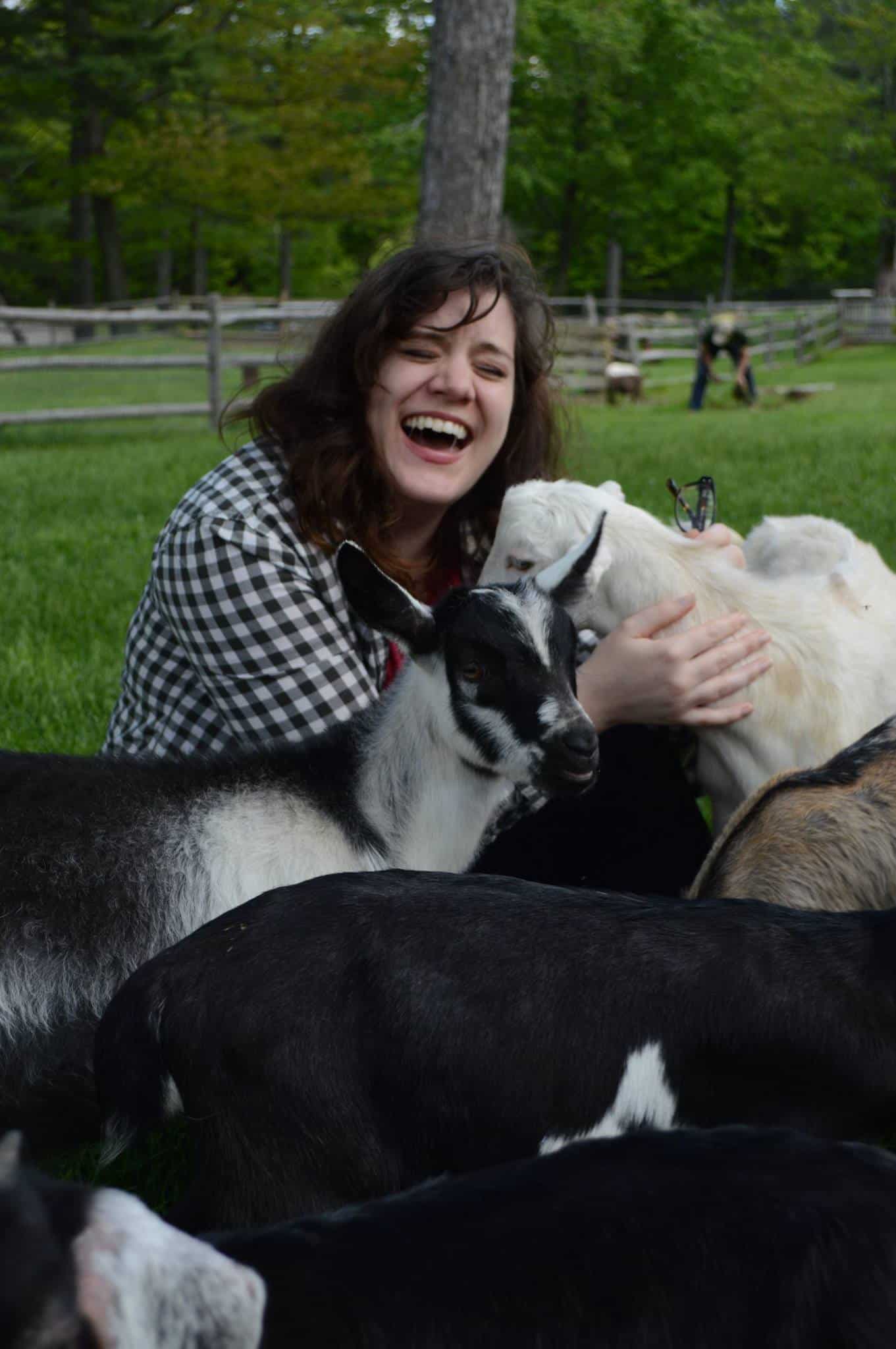 Amy Hartle is the founder and Editor-in-Chief of New England With Love, a comprehensive resource for travel in the New England region. Amy has been exploring New England since 2001. She lived in Vermont for many years and is a graduate of Plymouth State University in New Hampshire. On this site, Amy aims to share her love of New England and help you to have the best possible adventures!
Amy has been writing about travel for over a decade, and is a full time blogger, publishing both Two Drifters and Let's Adventure Baby. When not traveling the world or creating epic blog content, Amy can be found cuddling with her husband, son, and cats, & drinking a maple latte.