---
Traveling in 2021? Please check with each state/destination for its current COVID-19 guidelines, as these are constantly changing and the most accurate, up-to-date information may not be reflected here.

*Links in this article may be affiliate links, from which we may earn commission. See our Privacy Policy for full details.
---
New Hampshire, at least to me, is one of the most underrated states to explore. Within a 2-hour radius you can drive from the city, to the lakes, to the beach, to the stunning White Mountains region.
The White Mountains are a thing to behold. With over 800,000 acres of natural landscape, thriving wildlife, and the highest mountain elevations in the northeast, it's every explorer and nature lover's dream.
Nestled deep within this national forest are some incredible Airbnb cabin rentals, hidden gems that will offer you the perfect rustic stay in nature. Here, the mountains aren't just in your backyard – they're your home! Explore these 14 amazing Airbnb cabins in the White Mountains that are guaranteed to make you fall in love with the region.
Please note: As an Airbnb Associate, I earn when you book through these links.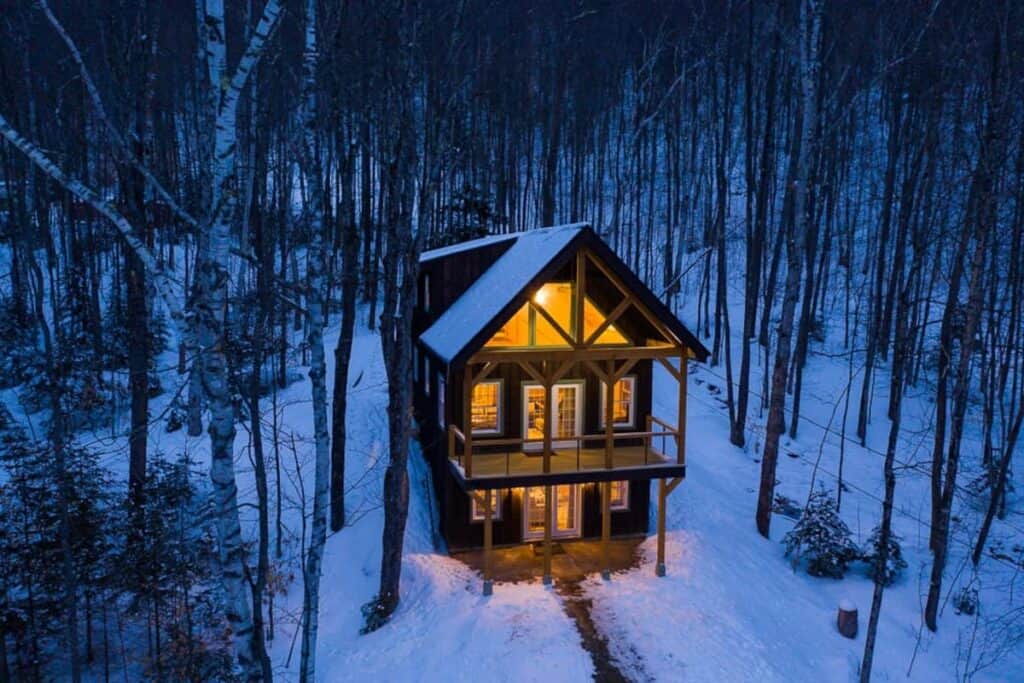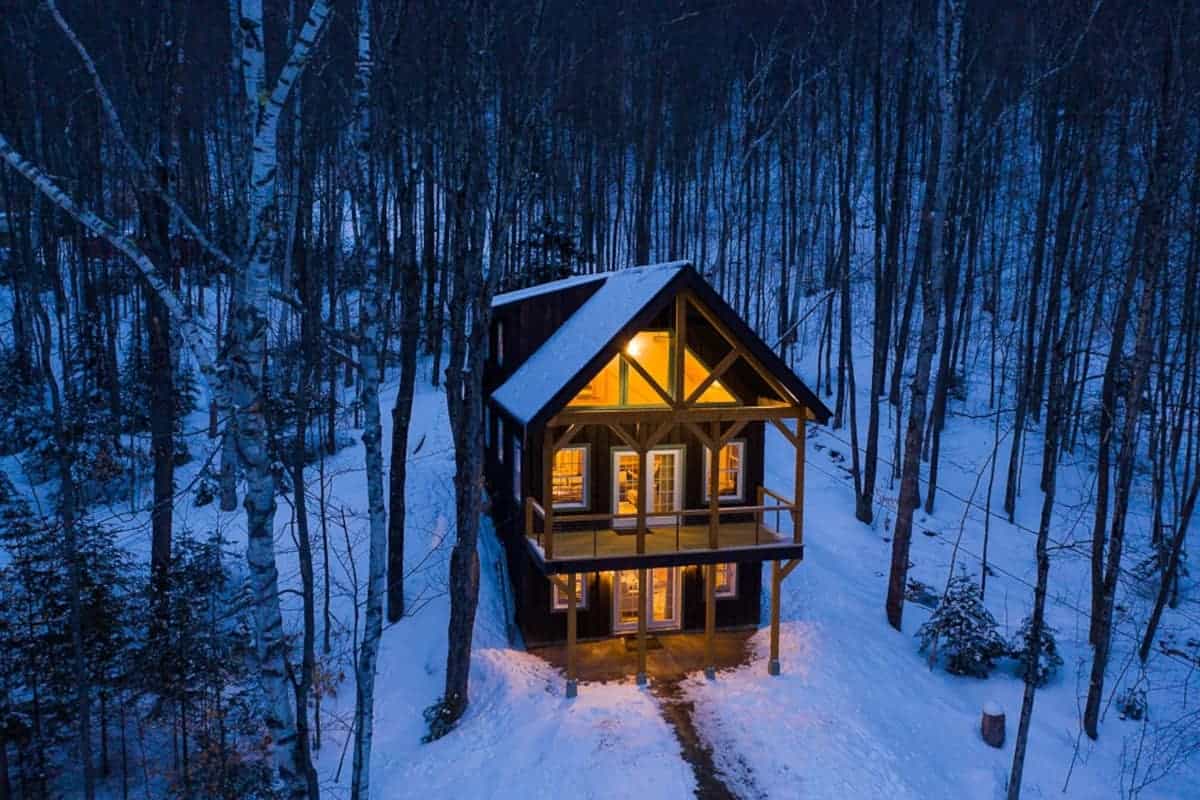 Without a doubt, this is one of the most charming White Mountains Airbnb!
This newly built cabin in the White Mountains is a private, wooded getaway with little distraction from the outside world. You'll also have a spectacular front-row seat to the Presidential Range.
Even though this cabin is rurally located, you certainly won't be missing out on much! In addition to a sweet private hot tub on the back terrace, this Airbnb comes with snowshoes, comfy beds, two gas fireplaces, linens and robes, and access to a peaceful river. It's the perfect blend of creature comforts and unimpeded experience in nature!
---
---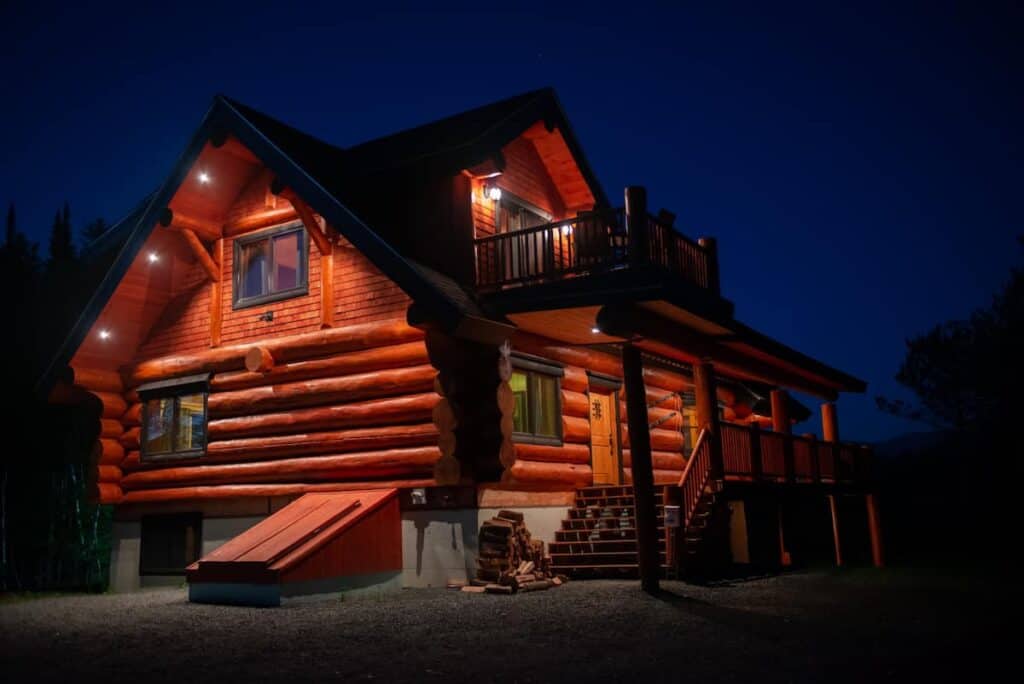 This chalet stay in Bretton Woods will have you feeling like you've transported to the Norweigan wilderness. The ancient Scandinavian architecture of this cabin, designed with giant logs, is one of the highlights – but not the only highlight. The location will place you minutes from the famous Mount Washington Hotel, Twin Mountains, Cannon, and Franconia Notch.
---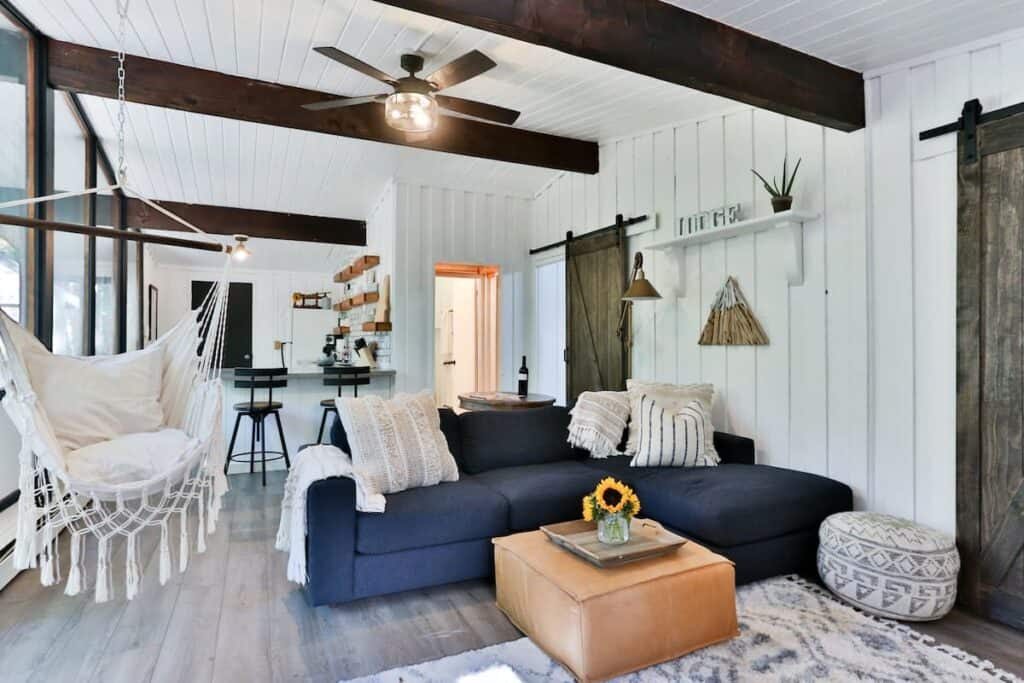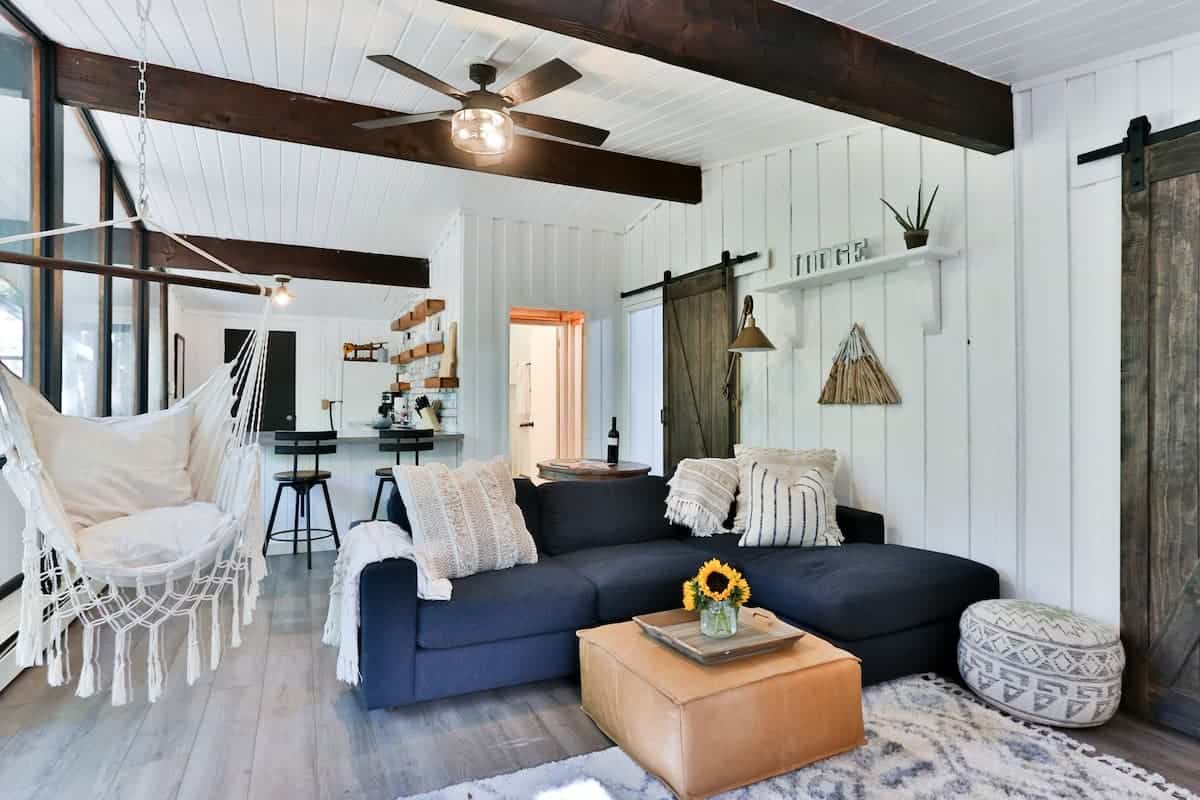 This cabin in North Conway is perfectly situated at the base of Cathedral Ledge, a rock cliff lookout with incredible views of the White Mountains.
For those who aren't exactly looking to rough it, this is your spot. Designed by a local interior designer, this cabin is decked out from floor to ceiling with 'mountain chic' decor. This is definitely one of the coolest cabins in New Hampshire for your getaway.
It's got wall-sized windows, a hammock chair, a full kitchen, and even a Smart TV equipped with Netflix! You might be so comfy you'll forget you're even camping.
Read Next: 14 Top Things to Do in North Conway, NH| 10 Best Airbnbs in North Conway, NH
---
---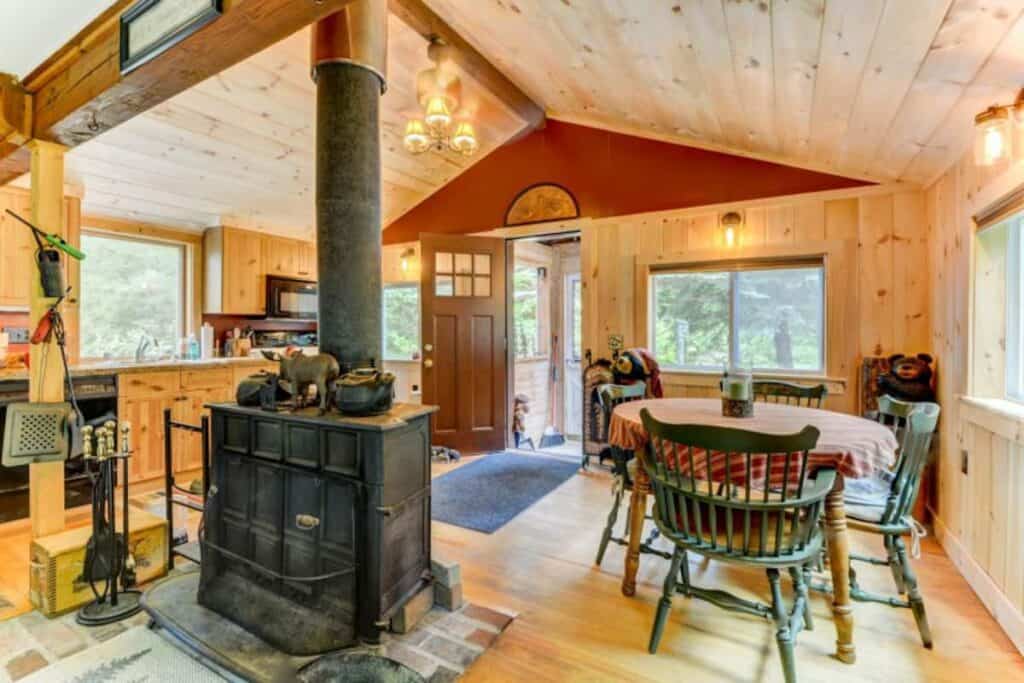 Just a ten-minute drive to North Conway Village and Attitash, this cabin has a cozy open layout and a giant cast iron wood stove as its centerpiece.
Sit by the fire with family or friends and play games, eat, or drink a nice glass of wine. If you're tired of being indoors, you can step outside and utilize this White Mountains Airbnb's outdoor fire pit under the stars.
For those who need to slow down life for a while, this is the perfect option.
---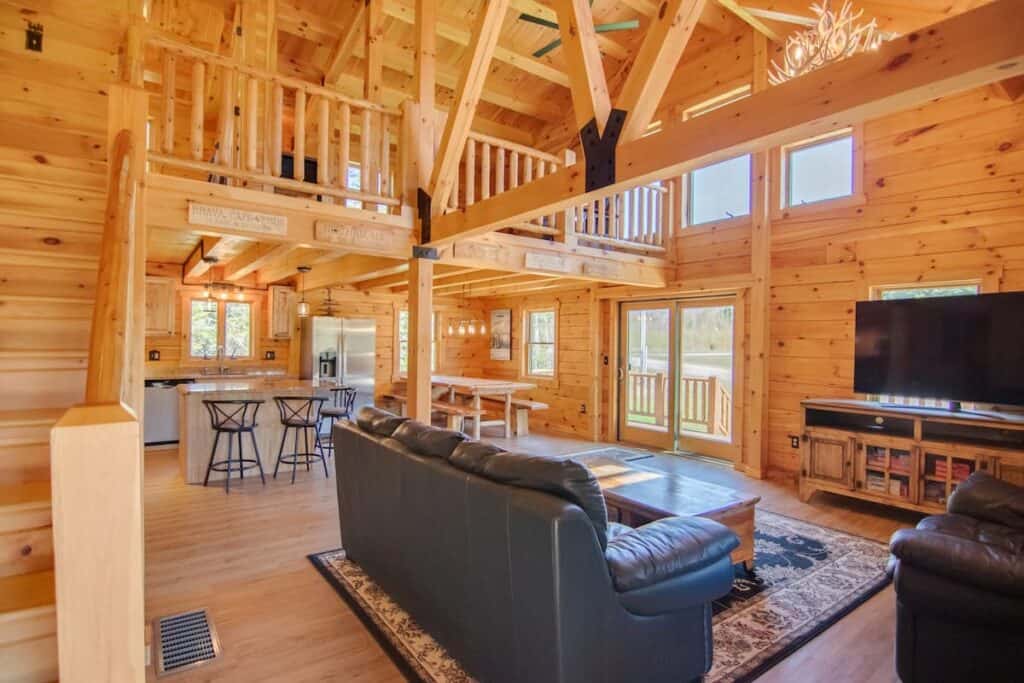 Looking for a large, modern home to rent in the White Mountains? Latitude 44 in Bethlehem is your spot. It's got a really unique floor-to-ceiling pine interior and wraparound deck alongside an expansive yard.
The inside is spacious, with a leather coach and flatscreen in the living room and a fully equipped stainless steel kitchen. But the coolest feature? A cozy workspace loft overlooking the rest of the home.
---
Look up 'rustic' in the dictionary and you might find this log cabin listed. It's got everything that makes cabin camping special: a cozy fireplace, an upstairs loft, homey decor, and a private babbling brook right outside. But this cabin isn't behind on the times either. The Keurig coffee drinkers, Netflix bingers, hot tub loungers, and indoor-plumbing seekers will feel right at home.
---
---
This intimate A-frame cabin nestled among the pines is straight out of a fairytale. As a brick path illuminated by a Victorian lamppost leads you inside, you'll discover a home designed for comfort, easy living, and those with a deep appreciation for the great outdoors. After a long day of outdoor exploring, you'll feel so thankful to return to Little Pine Lodge for a hot shower and a home-cooked meal.
---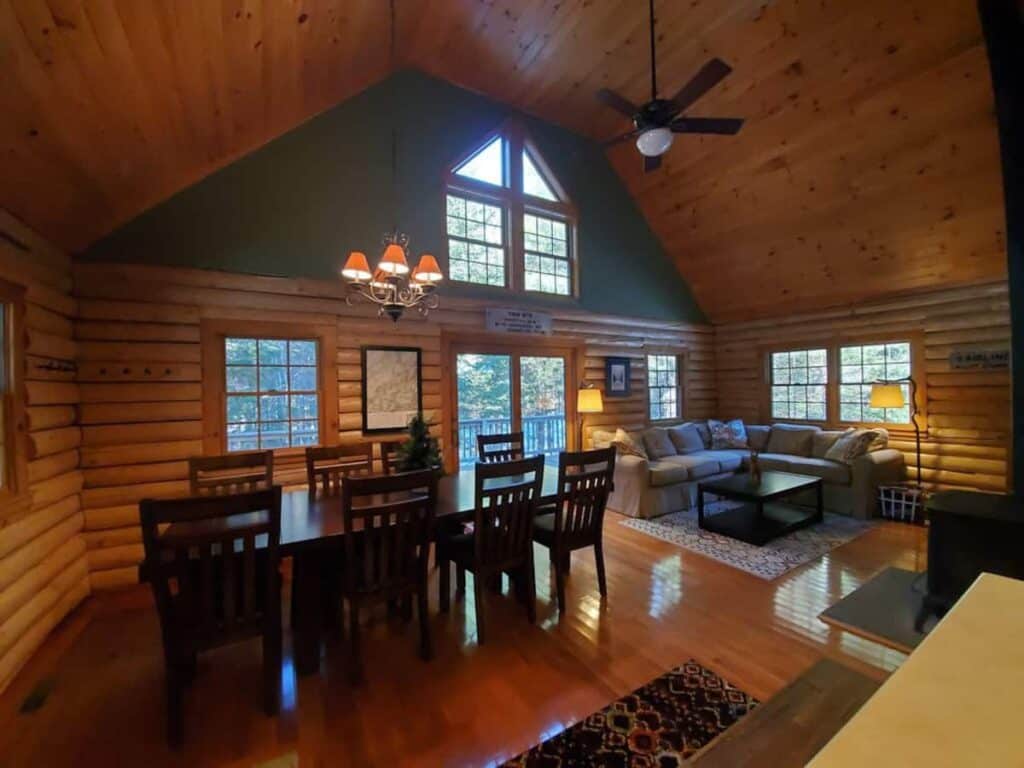 At Modern Mountain, you'll certainly experience modern living within a rural setting. This newly built cabin boasts glossy hardwood floors, an oversized deck for grilling, a backyard firepit, a big kitchen with stainless steel appliances, queen beds, and even a basement gameroom. What more could you want?
---
---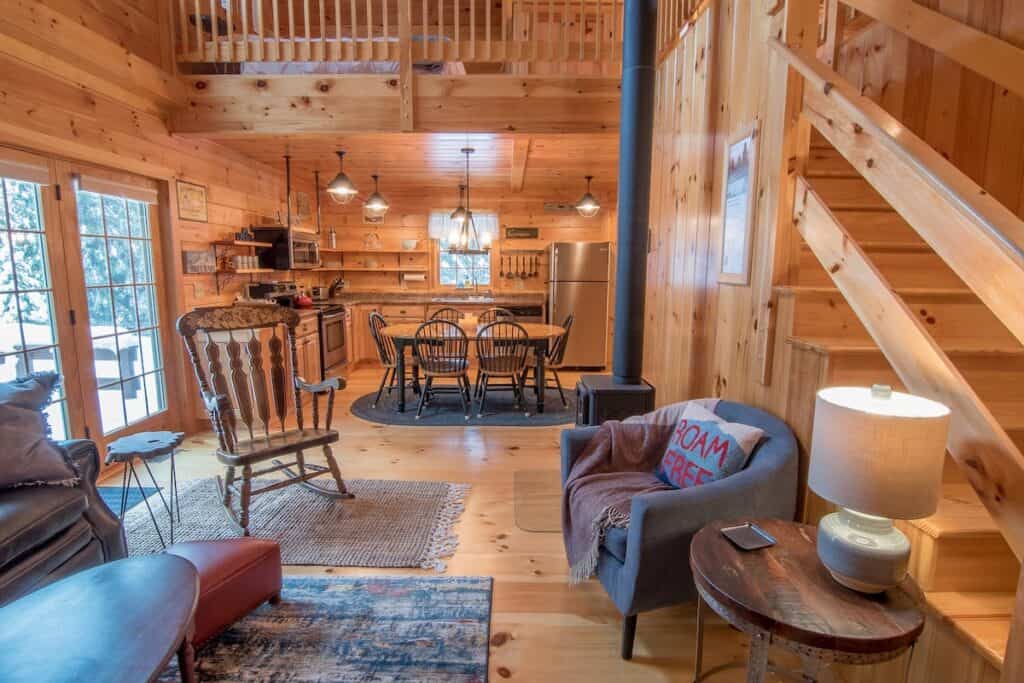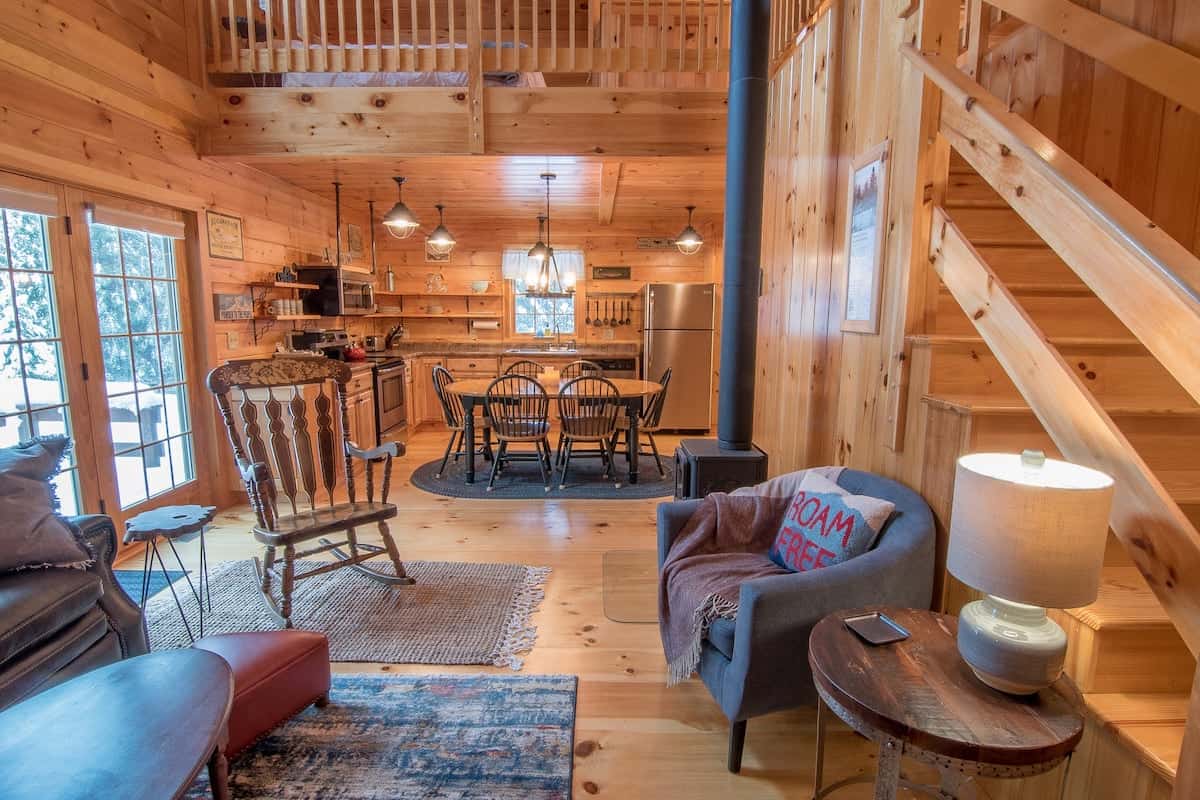 Location, location, location is prime for this White Mountains Airbnb cabin! The Franconia Wilderness Lodge is dreamily situated off a winding dirt road, adjacent to the beautiful Gale River. You'll be based right by Franconia State park and Crawford Notch, and mere minutes from Cannon Mountain. Ski, hike, sip a morning coffee on the back porch, and enjoy a slower pace of life during your stay.
---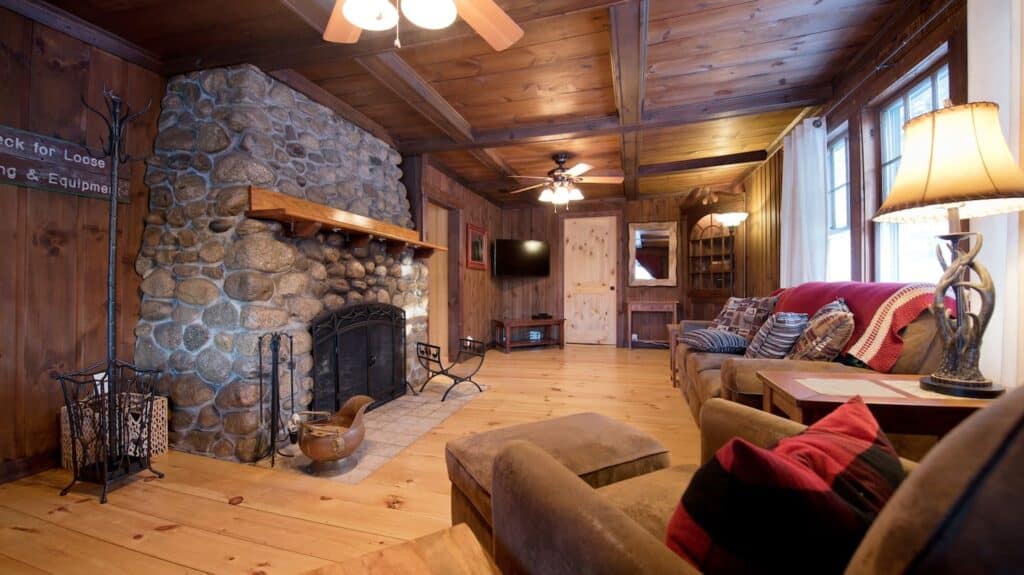 This aptly named adorable red cabin has been touted by previous renters as very clean, primely located near endless winter adventures, and incredibly cozy. A highlight is the south-facing sunroom that heats up on sunny days and provides great views.
---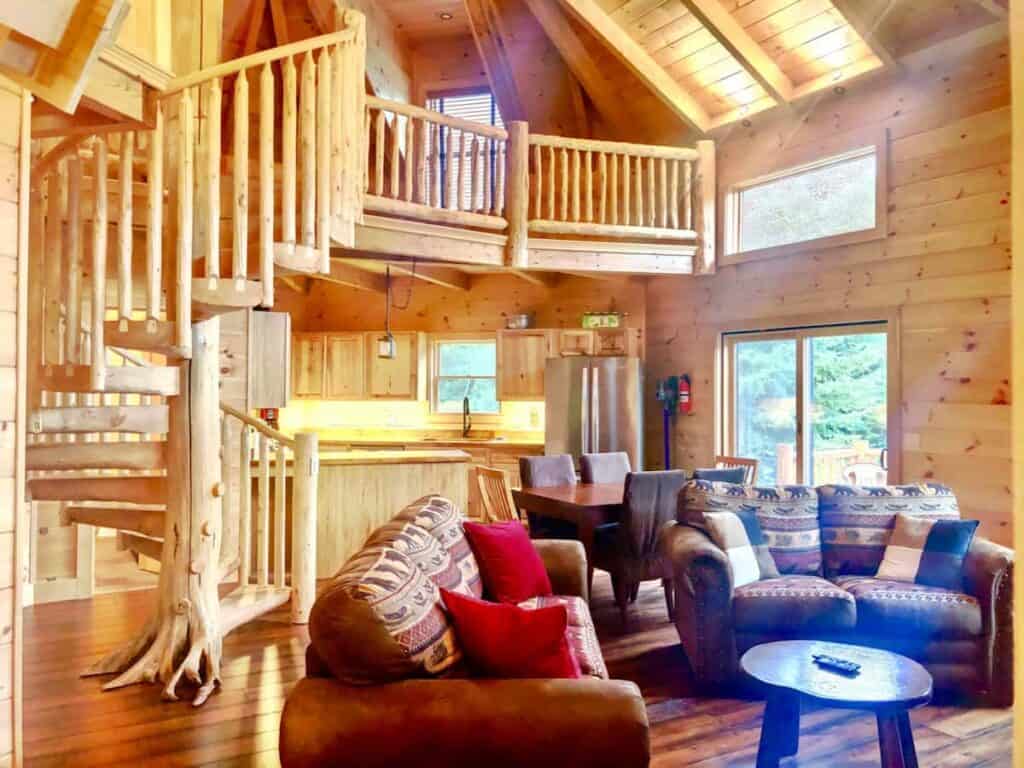 I would rent out this Airbnb in a heartbeat, solely based on its unique yurt design and dreamy pine spiral staircase leading to the upstairs loft. But there's so much more to love. You'll also enjoy a private beach, a crystal-clear river for tubing, and walking trails along ponds and wetlands.
This yurt-inspired cabin is also modern, with an equipped kitchen, Smart TV, and a stone patio with a built-in firepit. You probably won't find anything like it in New England.
---
---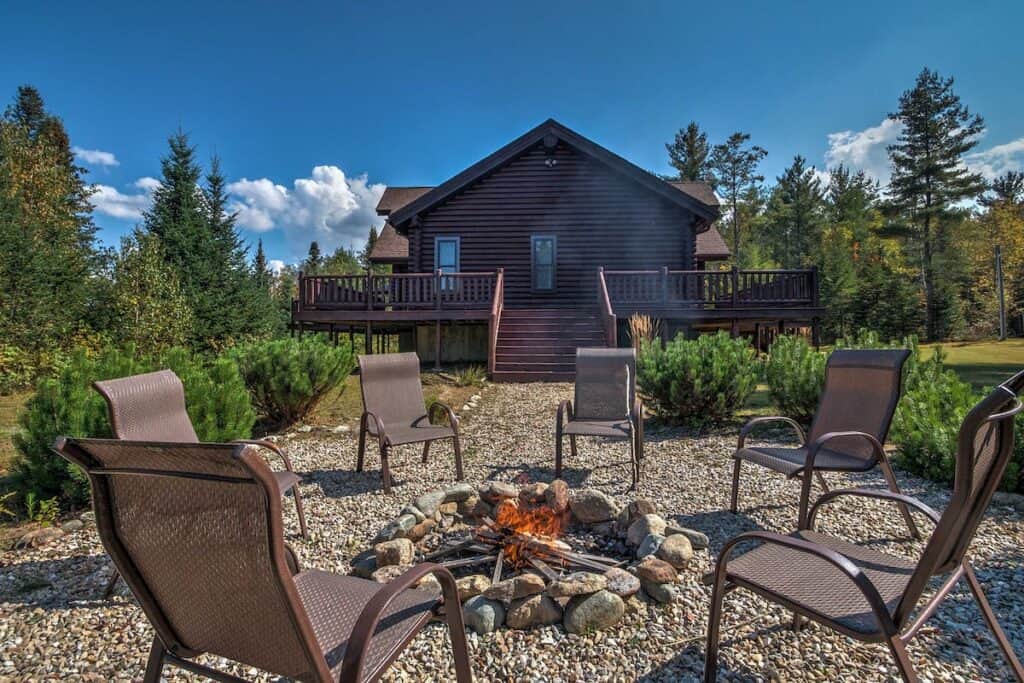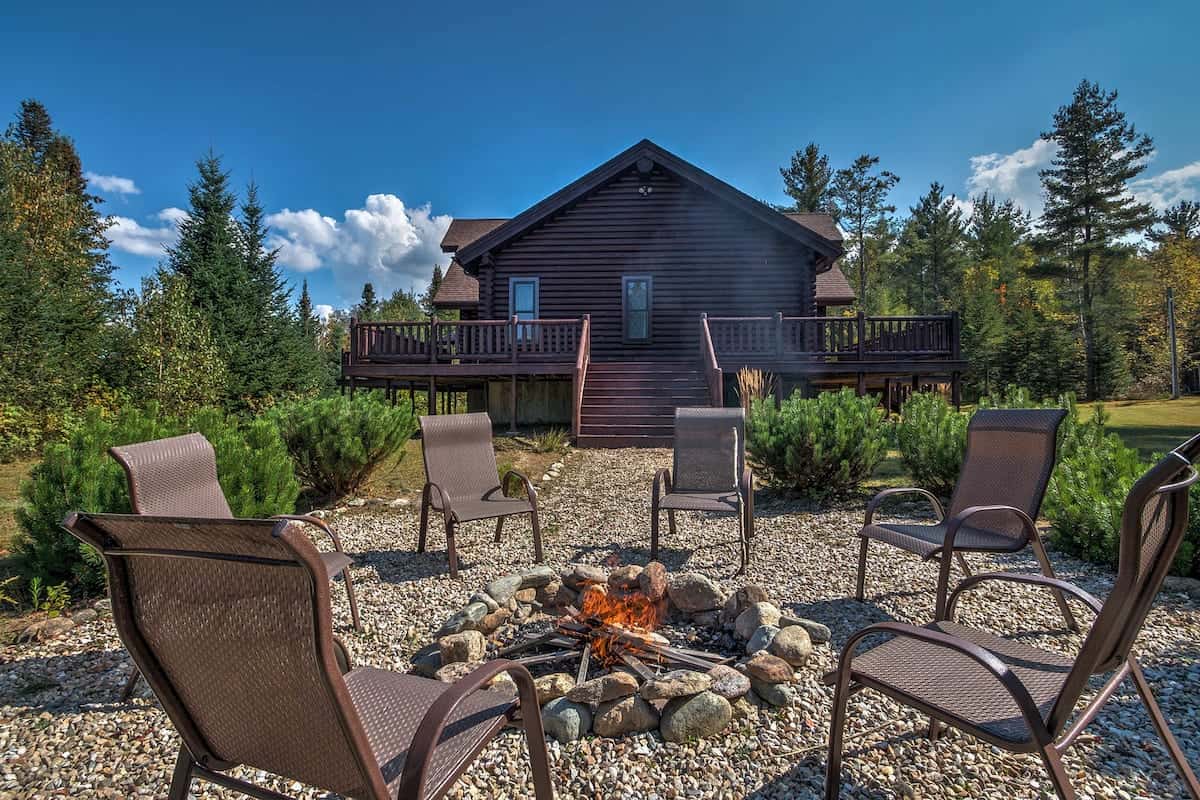 Calling all big groups of outdoor enthusiasts seeking a luxurious rustic getaway! At this 6,538-square-foot house in Twin Mountain, you'll never run out of space or things to do.
Enjoy views of the pond from the large deck, play your family in a game of foosball or pool, catch up on your favorite streaming shows, cook up some burgers on a warm summer night, or treat yourself to a soak in the jacuzzi tub.
---
---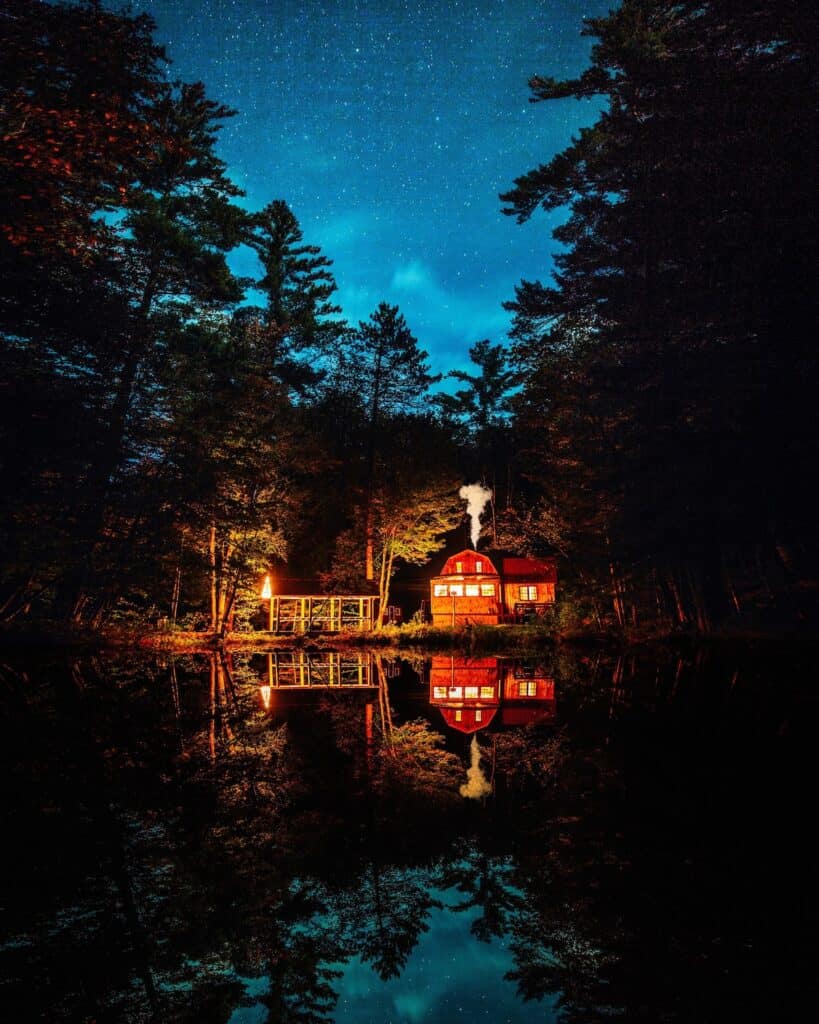 This gorgeous house is situated right on a large pond. If you love lounging by the water, loads of privacy, and backyard access to good hikes, you just might want to stay in this peaceful house. Oh, and it's only 2 minutes from Attitash, one of the best ski resorts in NH!
---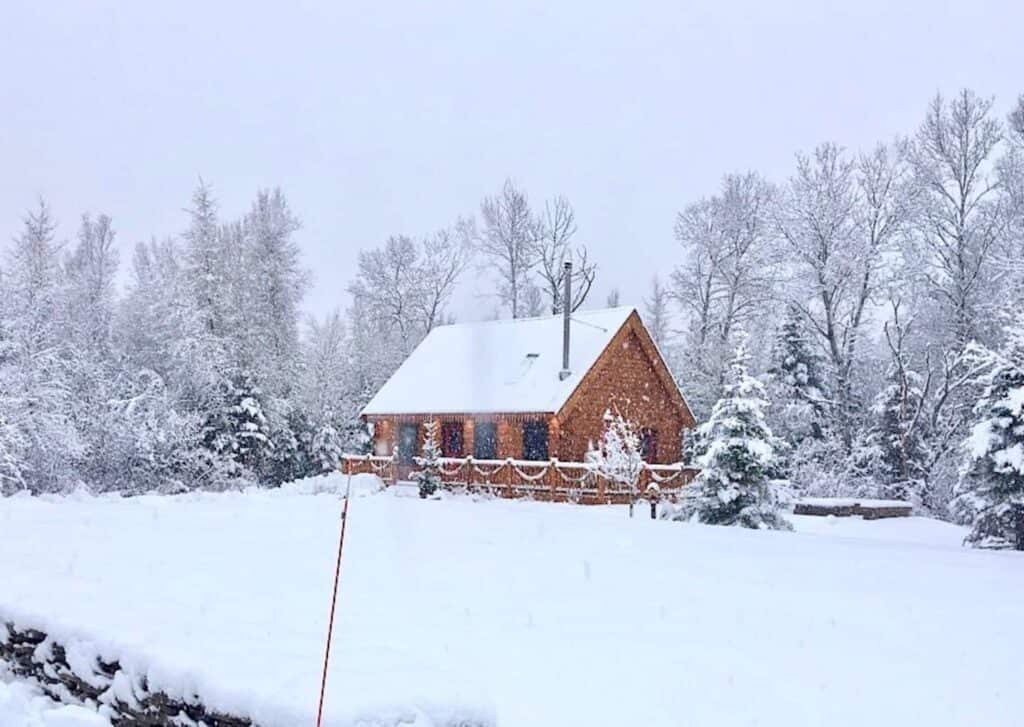 This bear-themed cabin in a park-like setting may look small from the outside, but it accommodates a total of nine guests. With your own beach, a masonry firepit, swimming hole, and newly built patio, this NH Airbnb will make you and your friends want to move to the White Mountains for good.
---
Which of these Airbnbs in the White Mountains is your favorite?
---
---
You might also like:
---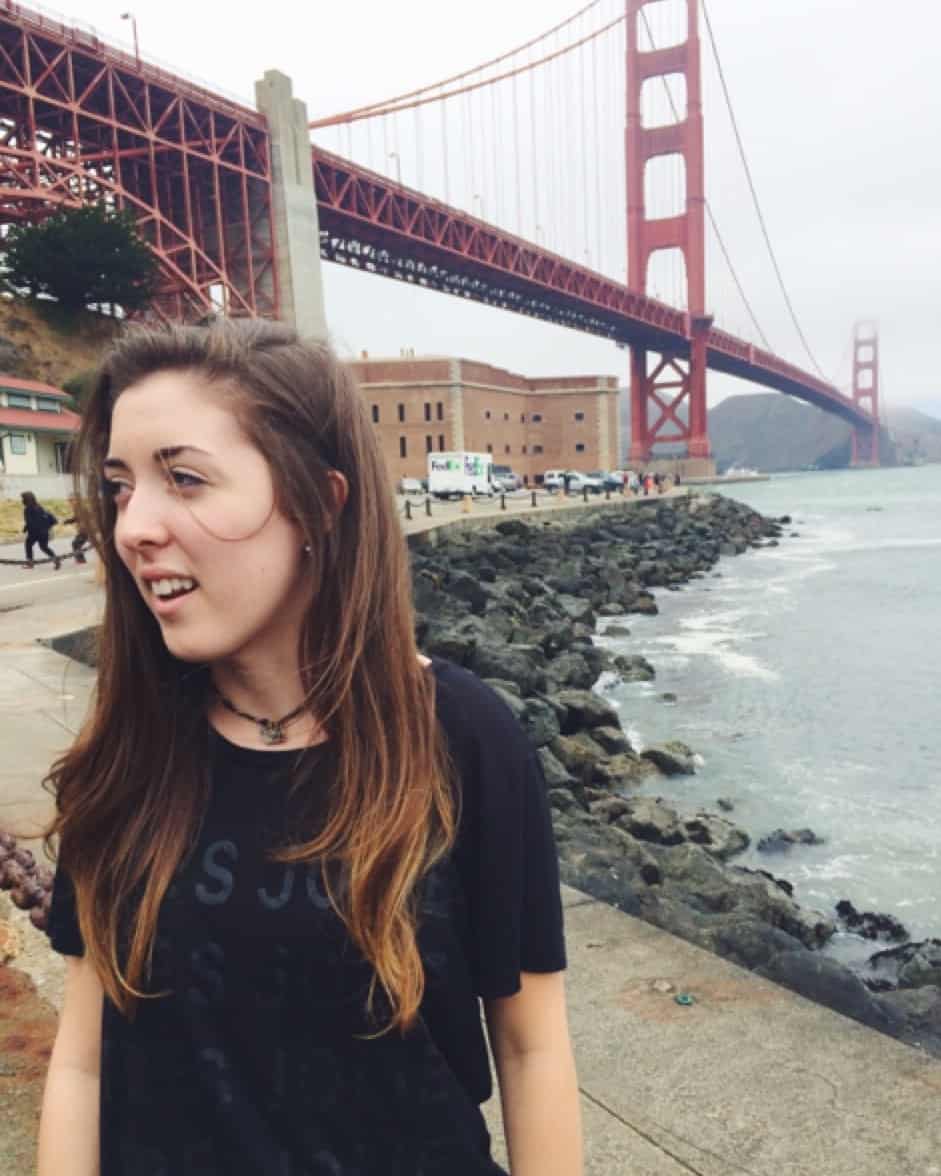 Jessica Vaillancourt is a New Hampshire-based travel writer and freelance editor. An avid traveler, she is the founder of The Simple Nomad, a travel & lifestyle website where she blogs about solo travel, trip planning guides, minimalist living, and more. When Jess is not blogging and wrangling her classroom of high schoolers, she's likely planning her next global adventure, exploring the States in her little blue Volvo, or guzzling coffee in a cafe near you