New Hampshire, at least to me, is one of the most underrated states to explore. Within a 2-hour radius you can drive from the city, to the lakes, to the beach, to the cozy, comfy cabins in the White Mountains where you can rest comfortably after a long day exploring this beautiful region!

The White Mountains are a thing to behold. With over 800,000 acres of natural landscape, thriving wildlife, and the highest mountain elevations in the northeast, it's every explorer and nature lover's dream.
Nestled deep within this national forest are some incredible White Mountain cabin rentals and hidden gems that will offer you the perfect rustic stay in nature. Here, the White Mountains aren't just in your backyard – they're your home! Explore these 15 amazing cabins in the White Mountains that are guaranteed to make you fall in love with the region.
When is the Best Time to Book Cabins in the White Mountains?
Well, that depends entirely on what you're looking for! Are you coming to the White Mountains to get out and hike and mountain bike and chase some waterfalls? Then spring, summer, or fall works! If you're coming to the White Mountains to play in the snow, obviously you're going to want to book your White Mountains cabin for winter! Really, there's fun to be had all year round in the White Mountains, so plan your fun, then hunt for the perfect White Mountains cabin for you.
If you're looking for a White Mountains cabin stay with bookoo amenities, here it is! A part of the Waterville Estates community, you'll find amenities like pools, a gym, a game room, and even a hot tub onsite.
With three levels sleeping up to 14, this cabin is perfect for anyone looking for a great retreat spot for family and friends. It also boasts high connectivity with fast, reliable internet, so if you need a White Mountains cabin where you can still get your work done, this is it!
---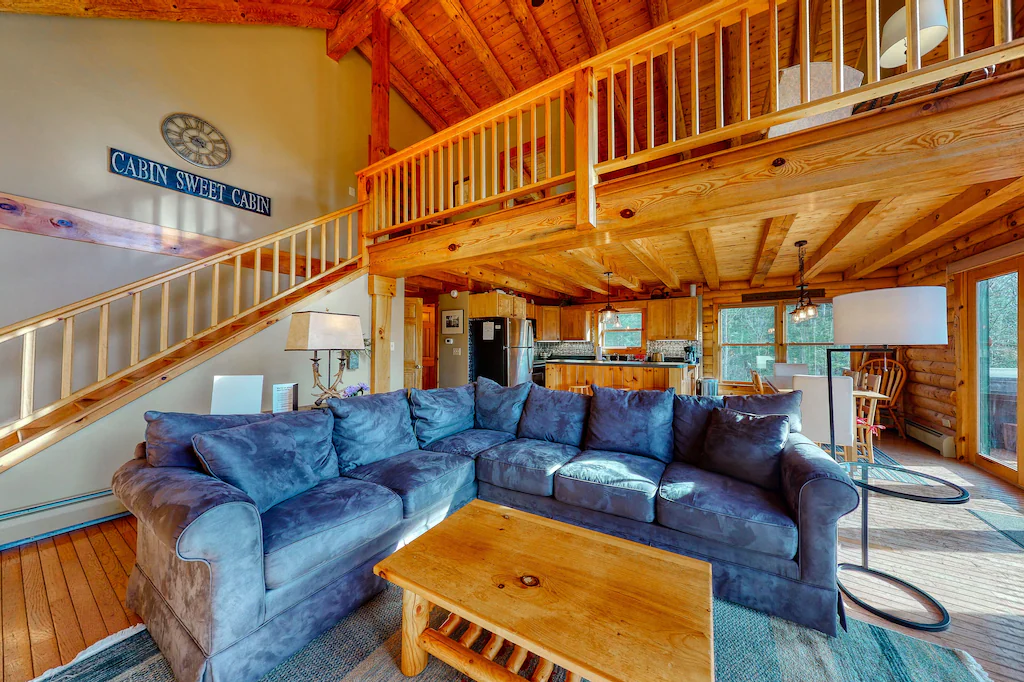 This beautiful log cabin in the mountains of Franconia is an excellent choice for anyone looking for a spacious New Hampshire cabin with a hot tub!

The wood construction of the cabin gives it a rustic yet modern feel. You'll have four bedrooms for sleeping up to nine guests. It features lots of amenities for adults and children. Kids can play downstairs in the designated playroom while you warm up by the wood fireplace. You'll love the forest views from the deck… and the hot tub on the deck!
This vacation rental is perfect for anyone looking for cabins near Franconia Notch State Park and Downtown Franconia.
---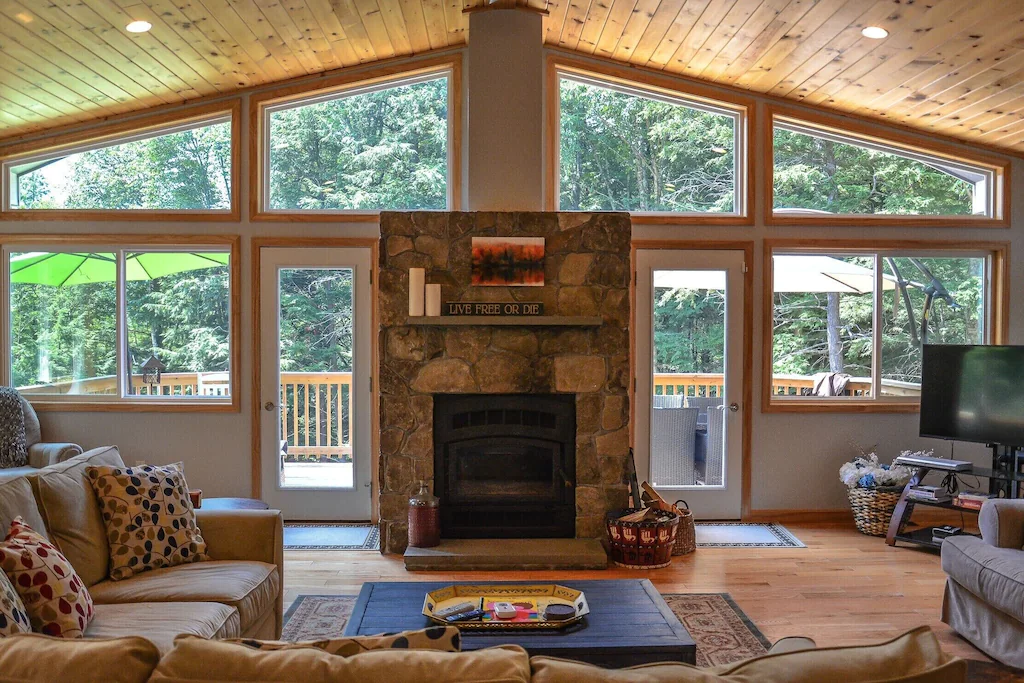 Photo by VRBO.com; this is one of the top White Mountains luxury cabins!
This White Mountains cabin rental is the perfect setting for a family vacation. The two-story residence includes three bedrooms to accommodate eight guests. It has a lot of space inside and outside to enjoy your getaway.
This luxury mountain cabin offers upgraded amenities to give you a modern stay and features a wood fireplace to use on cold nights or cook out on the back deck grill when it's warm outside. It's surrounded by wooded areas to give you privacy.
If you're looking for cabin rentals near Storyland NH, this cozy chalet is only a 5 minute drive!

---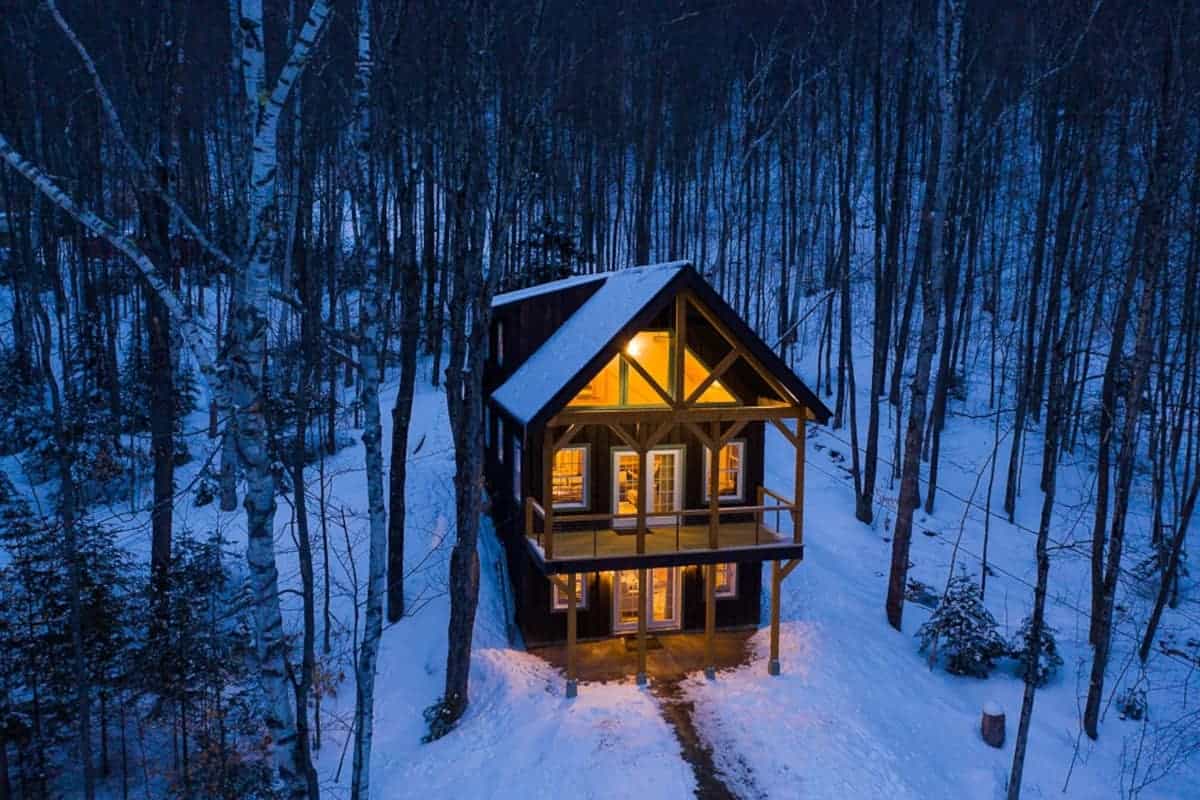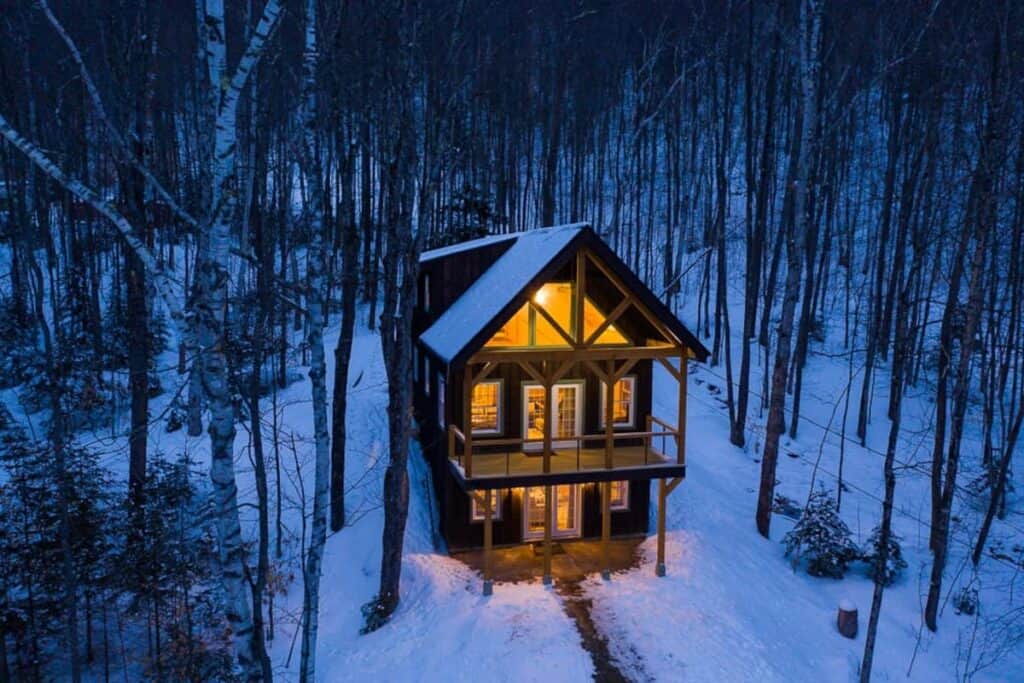 Without a doubt, this is one of the most charming White Mountains Airbnb!
This newly built cabin in the White Mountains Airbnb is a private, wooded getaway with little distraction from the outside world. You'll also have a spectacular front-row seat to the Presidential Range.
Even though this cabin is rural, you certainly won't be missing out on much! In addition to a sweet private hot tub on the back terrace, this White Mountains Airbnb comes with snowshoes, comfy beds, two gas fireplaces, linens and robes, and access to a peaceful river. It's the perfect blend of creature comforts and unimpeded experience in nature!
---
---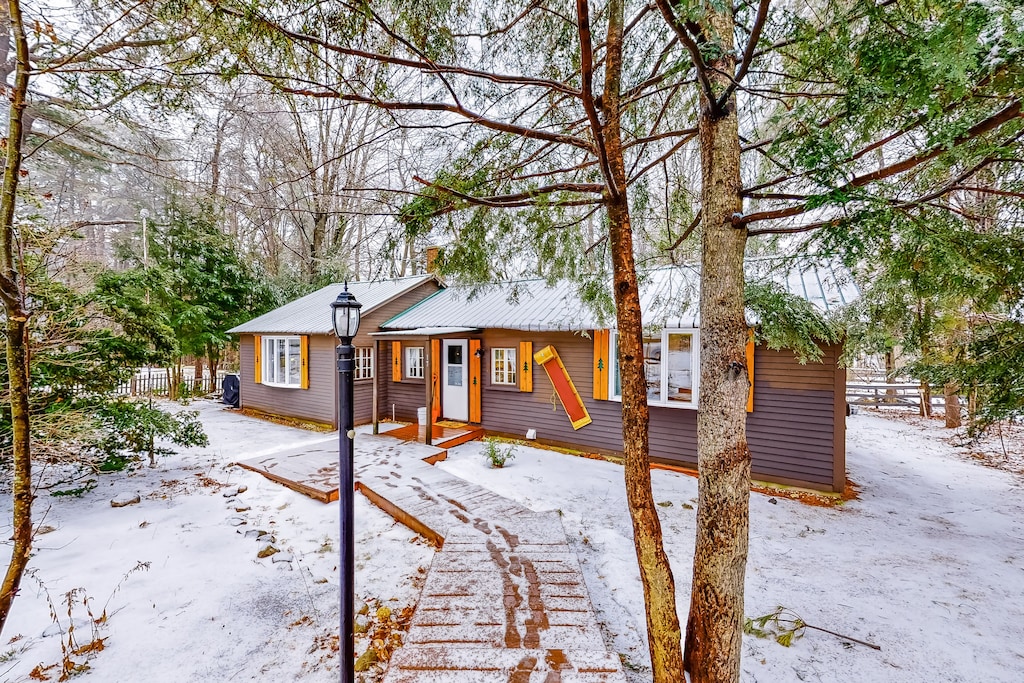 Stay in the heart of New Hampshire's ski country when you reserve this cool North Conway vacation rental!

This VRBO North Conway accommodation only sleeps 4, but if you're looking for places to stay within walking distance of Cranmore, this is an excellent option!
---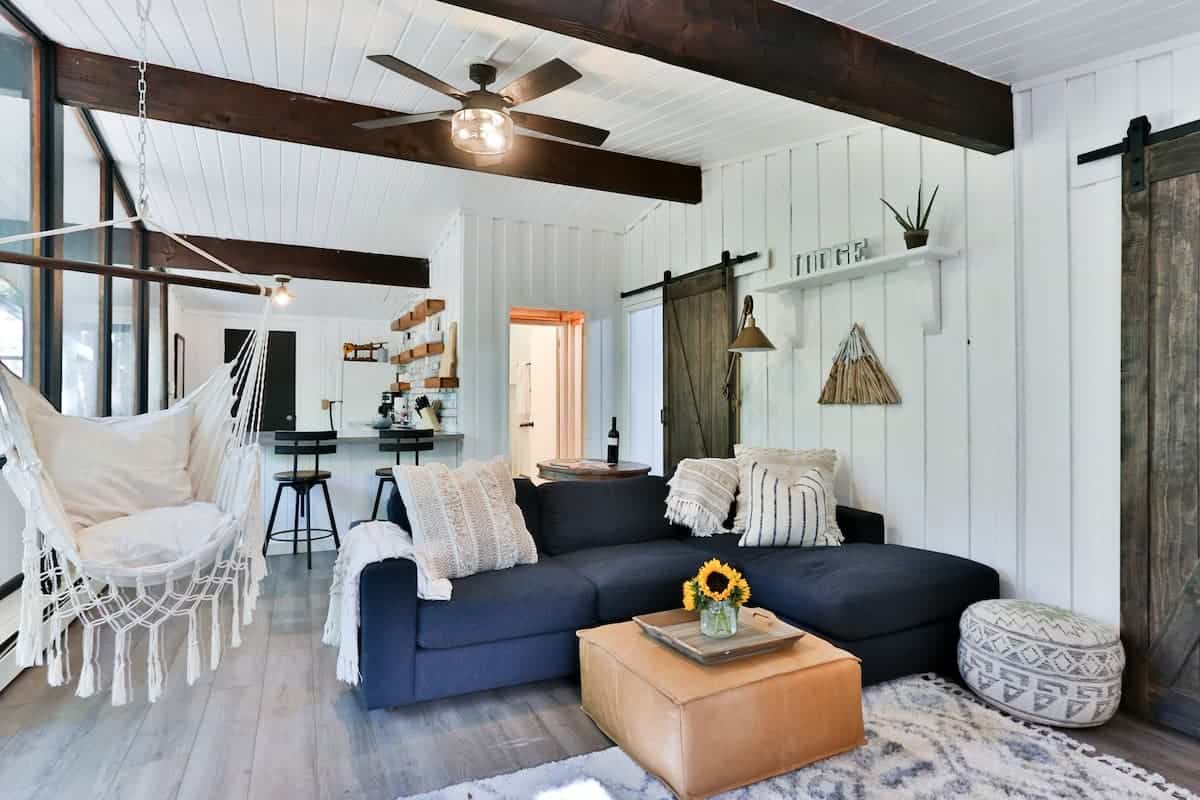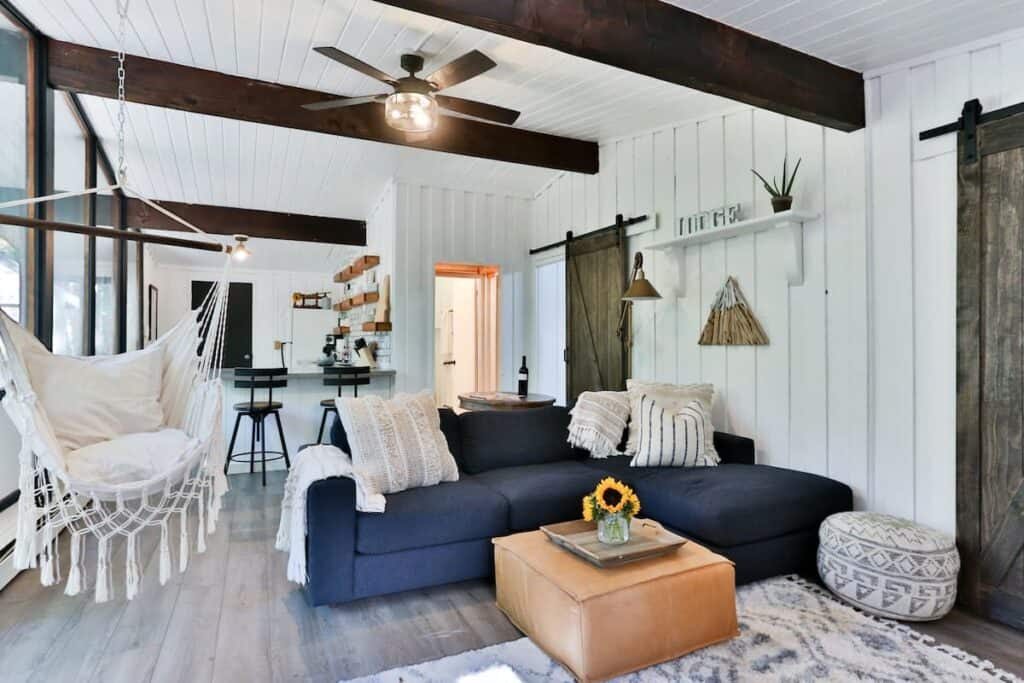 This North Conway cabin rental is perfectly situated at the base of Cathedral Ledge, a rock cliff lookout with incredible views of the White Mountains.
For those who aren't exactly looking to rough it, this is your spot. Designed by a local interior designer, this cabin is decked out from floor to ceiling with 'mountain chic' decor. This is definitely one of the coolest cabins in New Hampshire for your White Mountains getaway.
It's got wall-sized windows, a hammock chair, a full kitchen, and even a Smart TV equipped with Netflix! This is kinda like the glamping version of getting a cabin in the White Mountains!

Read Next: 14 Top Things to Do in North Conway, NH| 10 Best Airbnbs in North Conway, NH
---
---
Stay a few nights in this traditional New Hampshire log home for an authentic experience in Campton Hollow. It has a secluded location tucked inside a peaceful forest surrounded by the White Mountains.
This large luxury log cabin home has two stories with four bedrooms, a family room, a full kitchen, and more. Up to nine guests can sleep comfortably, so it's an excellent option for large groups.
It's the perfect White Mountains cabin to have fun with outdoor recreation. You can go hiking through the forest and discover the abundant wildlife living in the area.
---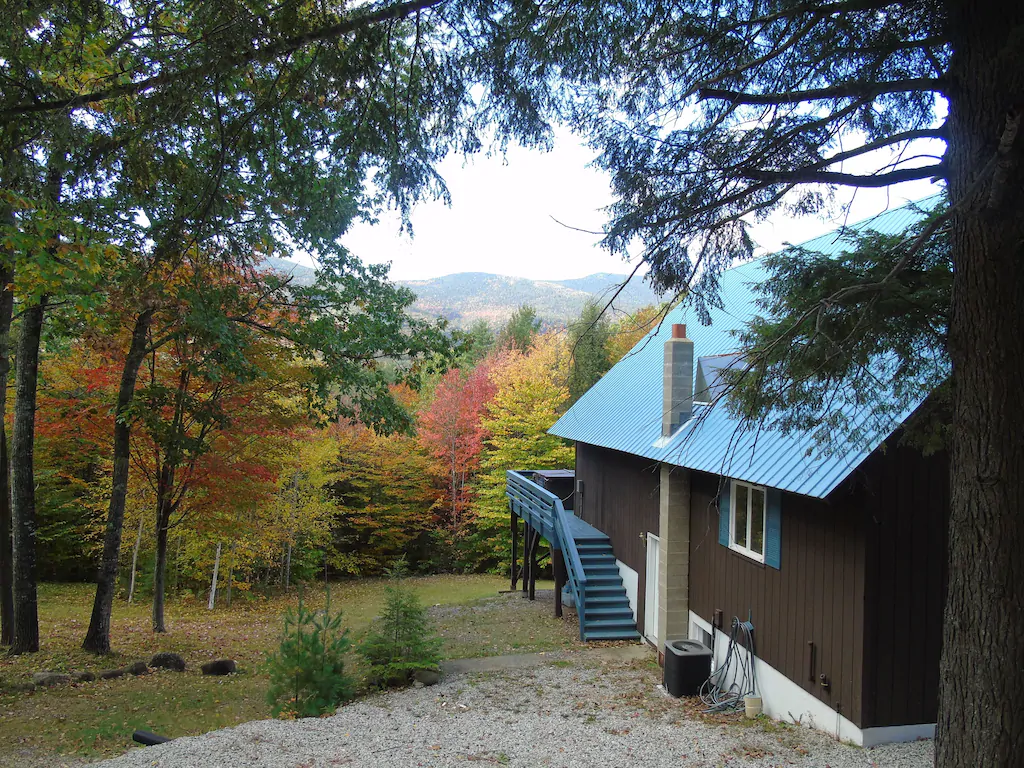 Photo by VRBO.com; if you're looking for White Mountains vacation rentals near North Conway, this is a great option!
This spacious White Mountains cabin is an excellent choice for a North Conway getaway, and large groups of up to 8 guests will have an incredible experience in this lovely vacation rental.
The multi-story chalet has three bedrooms, a dining room, a lounge with games, and more. The floor-to-ceiling windows showcase amazing mountain views while relaxing at home. Step out onto the private deck and soak in the private hot tub.
This is an excellent White Mountains vacation rental for exploring the nearby town of North Conway for shopping or eating out.
---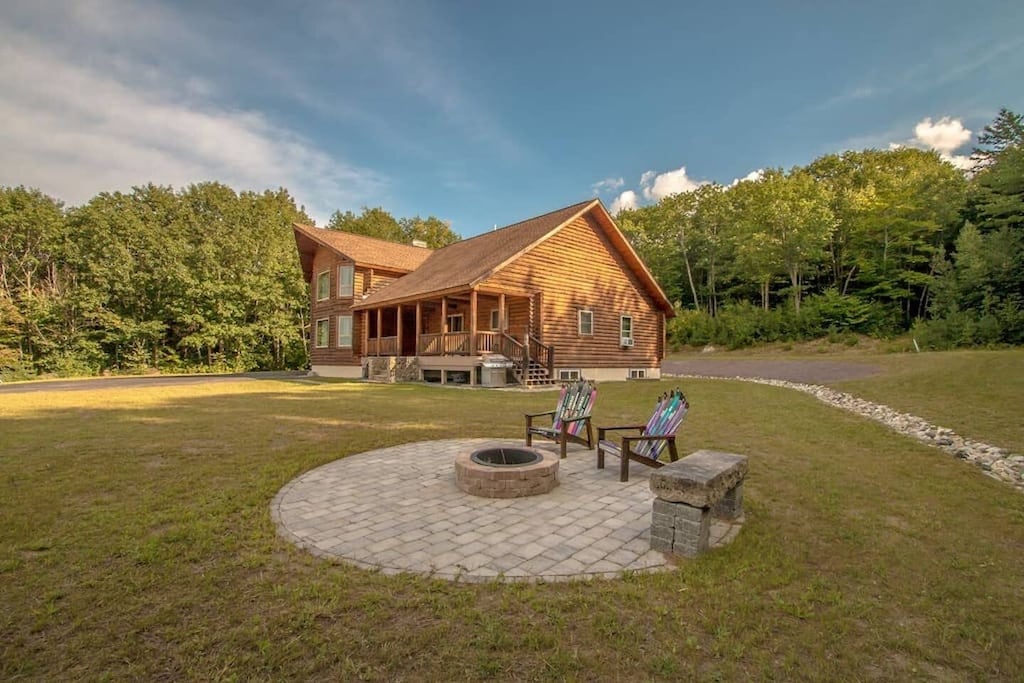 If you're looking for luxury log cabin rentals, you've got to check out this North Conway cabin that was featured on HGTV! With cathedral ceilings, a stone fireplace, and gorgeous picture windows that are perfect for enjoying the lovely lawn and forest around this cabin, you'll love your time here!
But of course, there's also tons to do nearby in this are of the White Mountains, so while this luxury log cabin is a great place to stay in Conway, it's also a great home base for all kinds of fun in the White Mountains!
---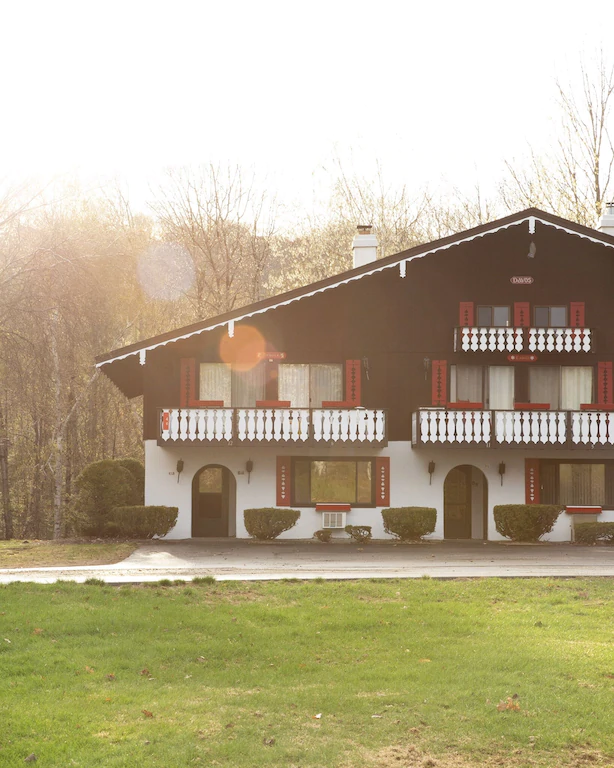 Photo by VRBO.com; when it comes to places to stay near Storyland, this White Mountain vacation condo is a great choice!
Okay, this isn't *exactly* a cabin, but it's cute as a button! We decided to include it on our list of White Mountains cabins because of its great location and amenities.
This luxury White Mountain condo rental is a place that has it all. You'll benefit from all of the community amenities during your stay for lots of recreational fun and a comfortable place for relaxation.
The large condo has beds for up to six guests. It includes innovative technology such as a smart TV and new appliances. You'll have an incredible view of the golf course and mountain backdrop. Parking spaces are included but don't miss out on everything inside the community.
Guests have access to the Linderhof Country Club, golf course, sporting courts, private pool, and more, and it's definitely one of the top Storyland vacation rentals because it's less than a mile away!

---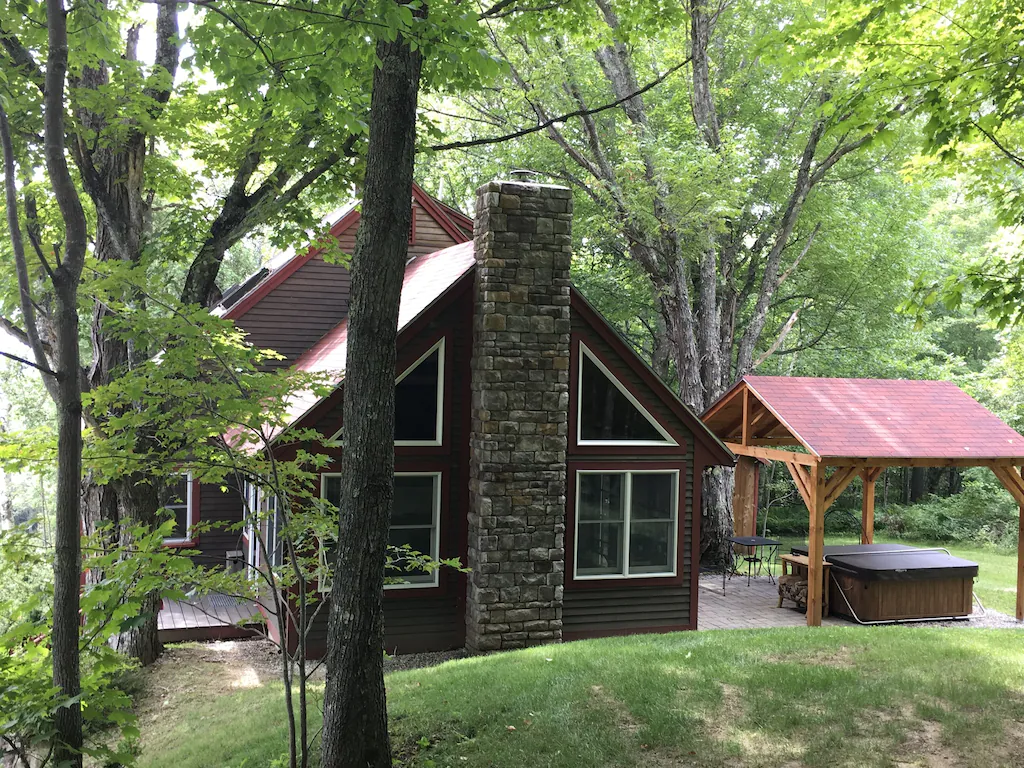 Photo by VRBO.com; this lovely White Mountains vacation home is a charmer, isn't it?
This cozy White Mountains home is a fun getaway to enjoy a quiet vacation and one of the top Jackson New Hampshire vacation rentals. Friends and family can gather with plenty of space to relax or venture outdoors to explore popular landmarks.
The home is tucked inside a quiet forest for a secluded stay. It has well-appointed amenities for everything you need. The three bedrooms sleep up to six guests, and you'll have lots of restful nights.
Stand out on the observation deck for hilltop views in the day and star gazing at night, and take the nearby hiking trails to reach stunning Jackson Falls.
---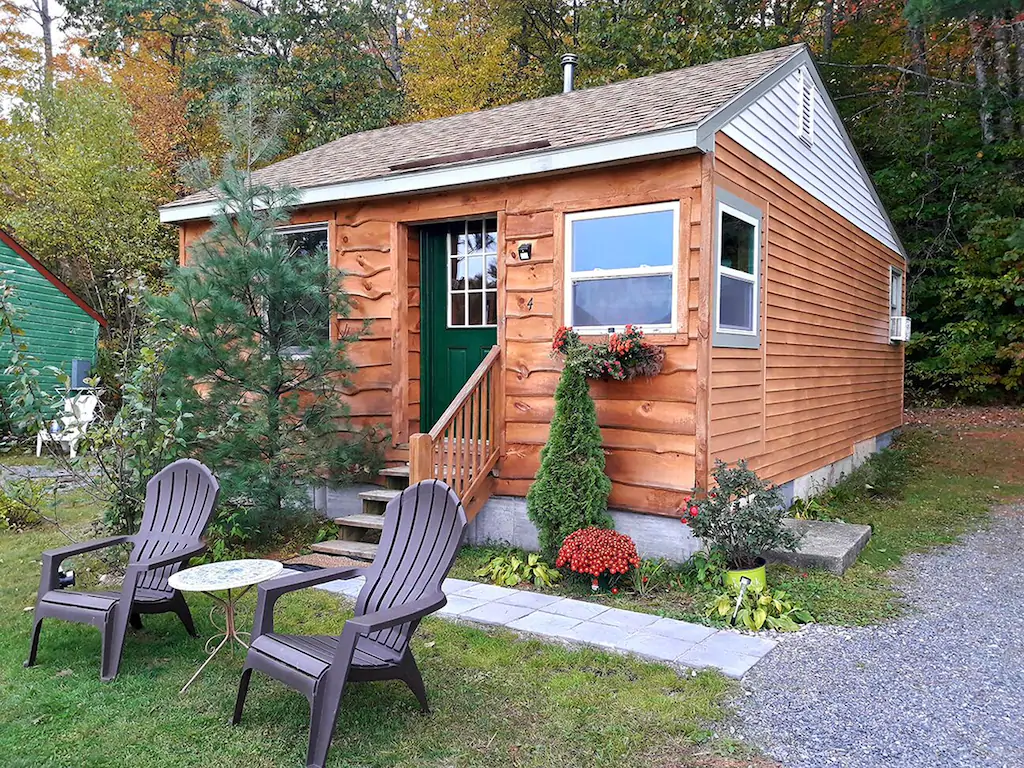 Photo by VRBO.com; this cute little White Mountains cabin looks about as cozy as can be!
For a White Mountains cabin rental that is perfect for a romantic getaway or a friend's weekend, check out this VRBO listing! It has two bedrooms ideal for up to four guests. The intimate space is very cozy and offers lots of amenities.
One of the highlights of staying at this NH cabin is the spectacular view of the White Mountains; what a way to enjoy a mountain getaway. The comfortable rooms are great for relaxing and winding down after a long day.
Guests can make a campfire outside and lounge underneath the stars and there is a seasonal hot tub; if you're looking for romantic cabins with a hot tub in New Hampshire, this listing definitely qualifies! Daily housekeeping is optional.
---
---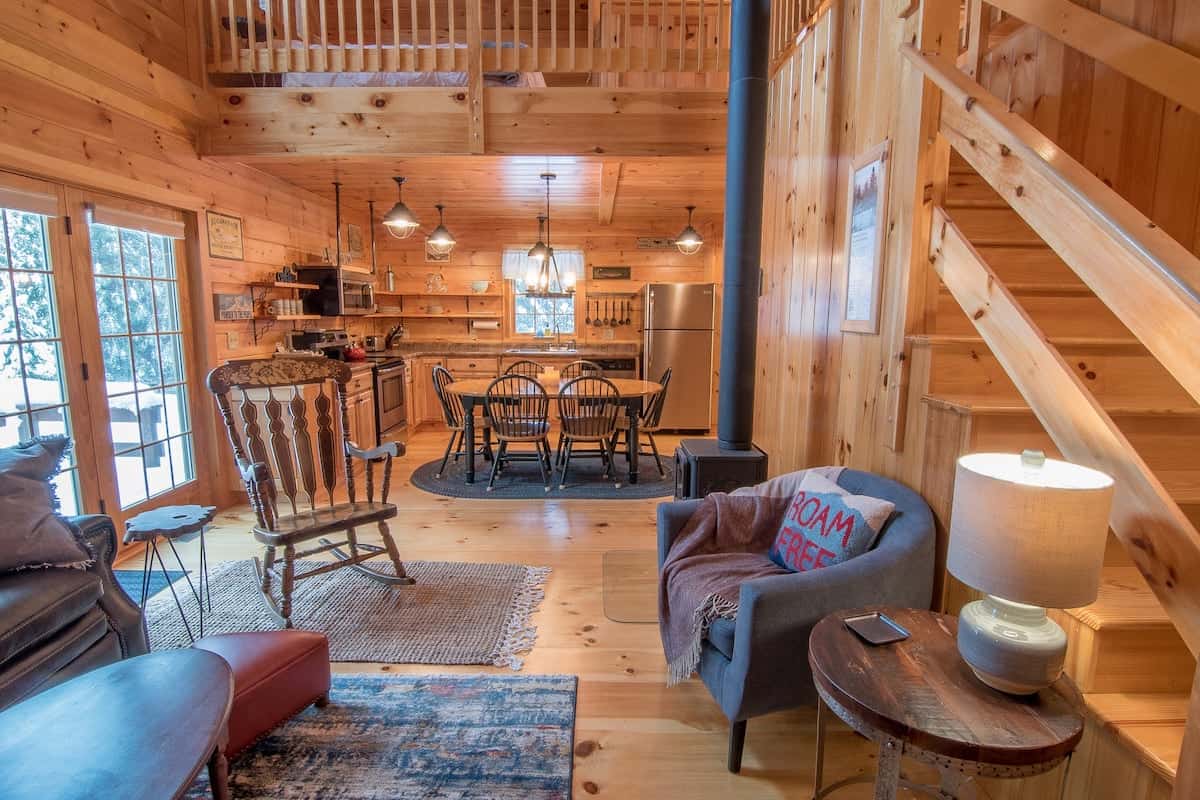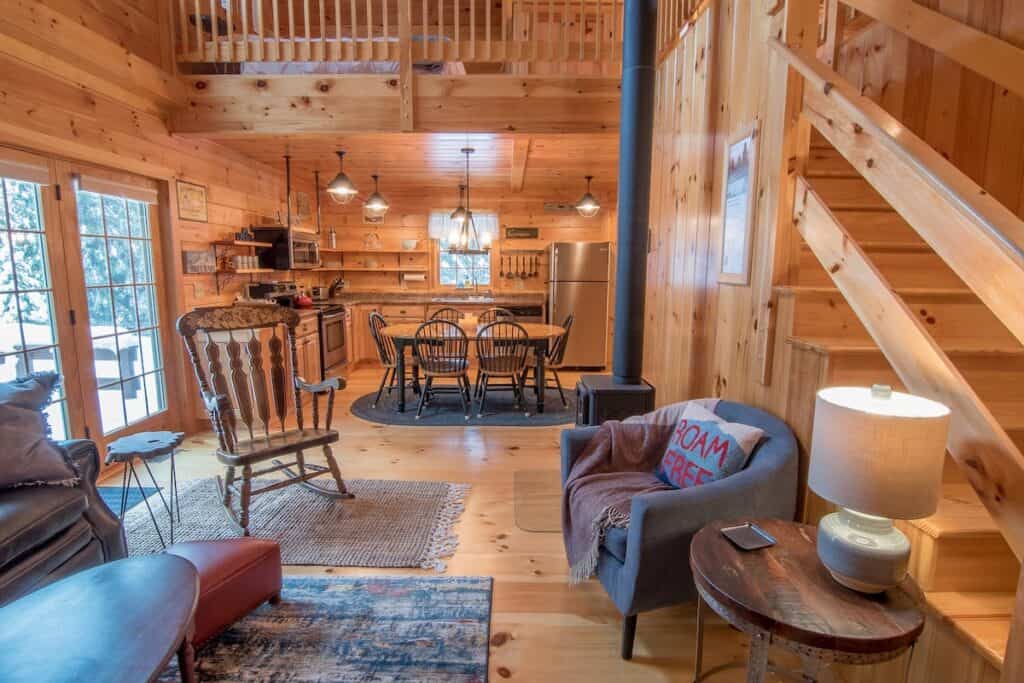 Location, location, location is prime for this White Mountains Airbnb cabin! The Franconia Wilderness Lodge is dreamily situated off a winding dirt road, adjacent to the beautiful Gale River. You'll be based right by Franconia State park and Crawford Notch, and mere minutes from Cannon Mountain. Ski, hike, sip a morning coffee on the back porch, and enjoy a slower pace of life during your stay at this fantastic Franconia NH lodging!

---
---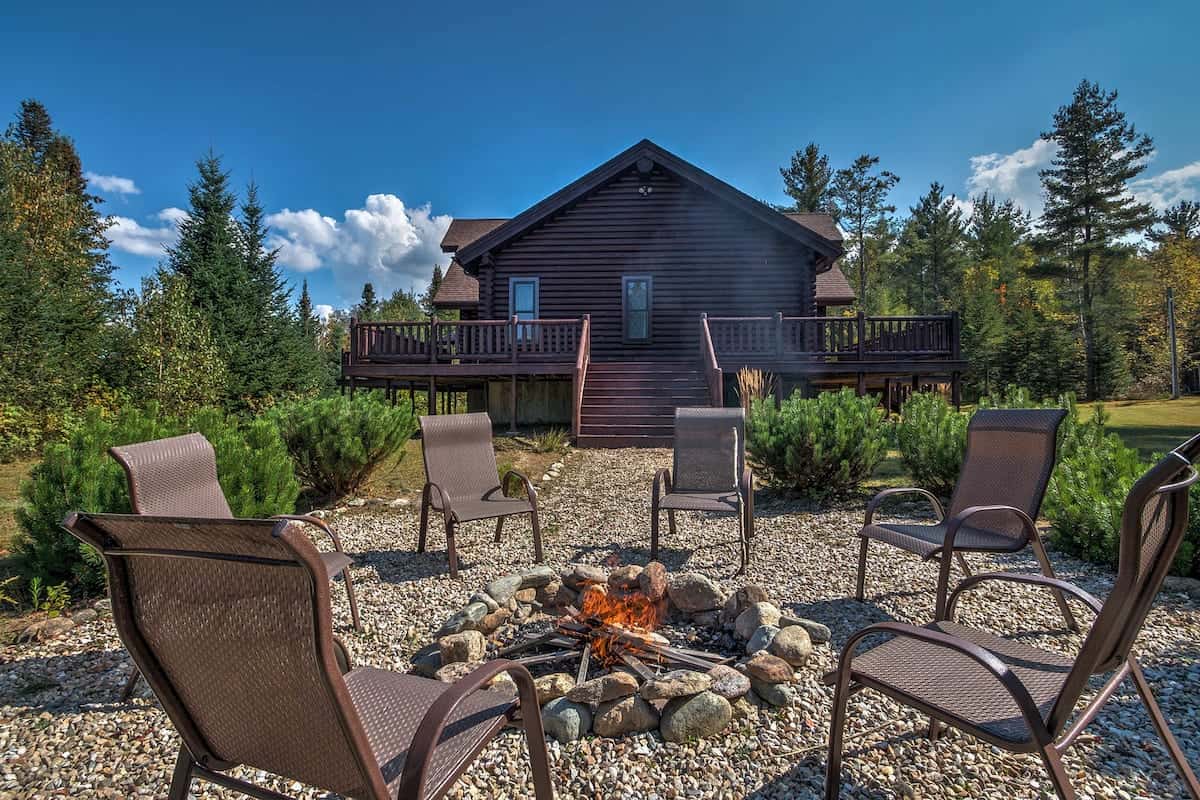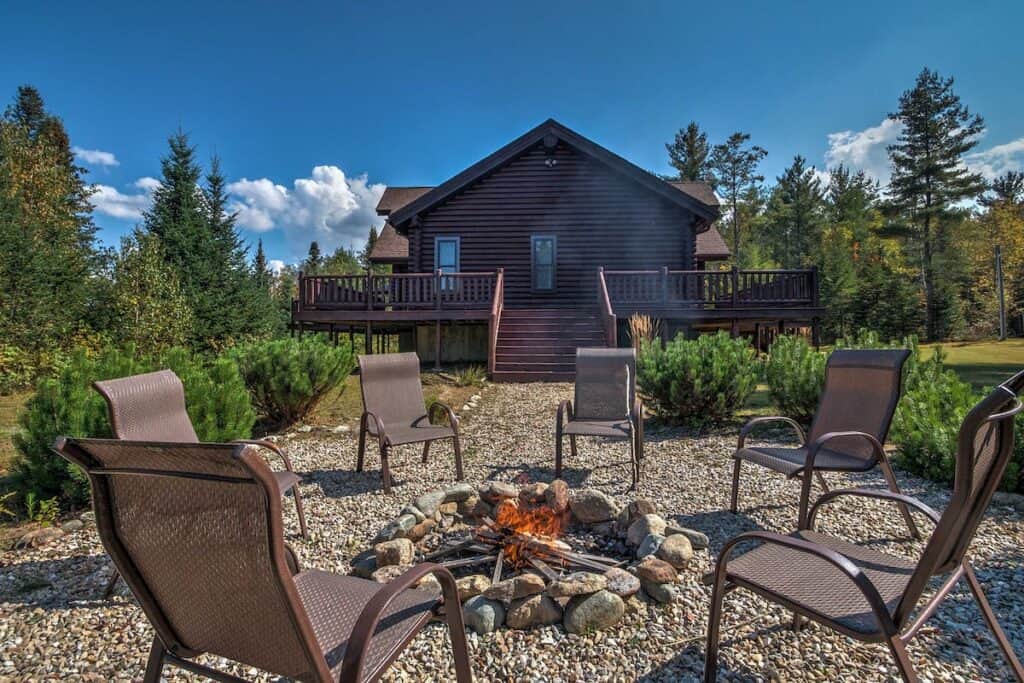 Calling all big families looking for a luxury mountain getaway experience! At this 6,538-square-foot house in Twin Mountain, you'll never run out of space or things to do.
Enjoy views of the pond from the large deck, play your family in a game of foosball or pool, catch up on your favorite streaming shows, cook up some burgers on a warm summer night, or treat yourself to a soak in the jacuzzi tub; this is one of those luxury log cabin rentals that you see in the movies!

Plus, the location is pretty fantastic, too, in this gorgeous White Mountains location near Bretton Woods.
---
---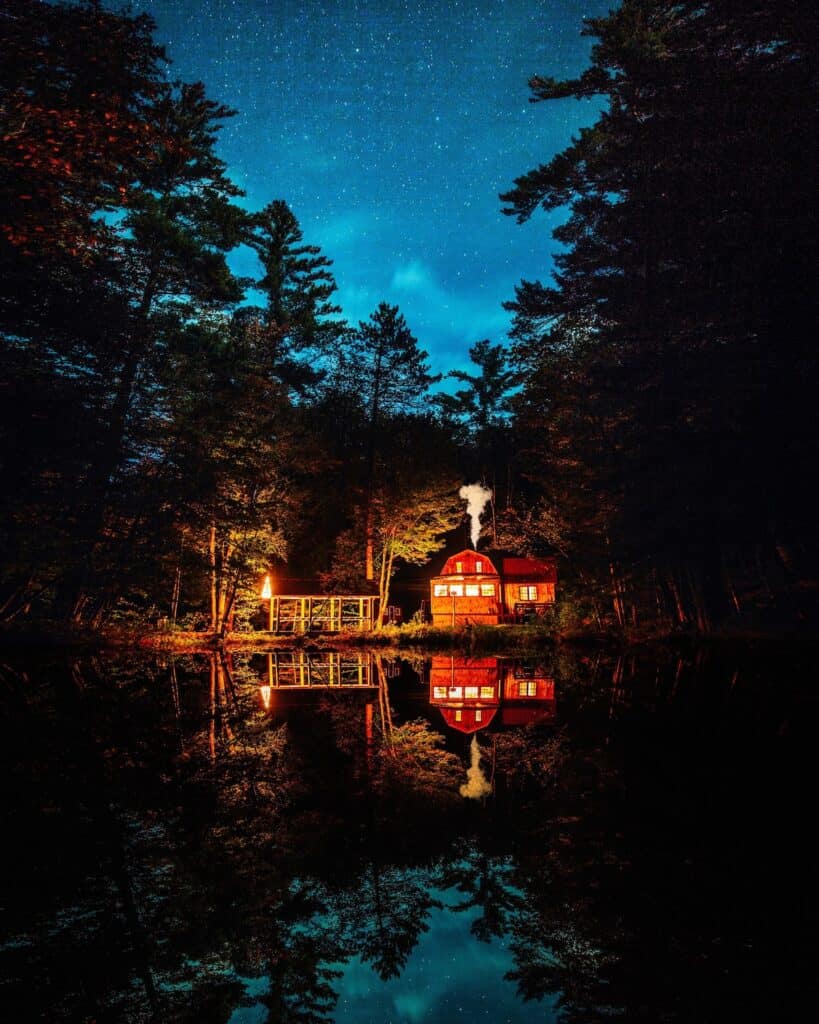 One of the top Attitash vacation rentals, this gorgeous White Mountains Airbnb is situated right on a large pond. If you love lounging by the water, loads of privacy, and backyard access to good hikes, you just might want to stay in this peaceful house. As much as the spectacular scenery of this quaint home really sells this vacation rental, it's only 2 minutes from Attitash, one of the best ski resorts in NH!
---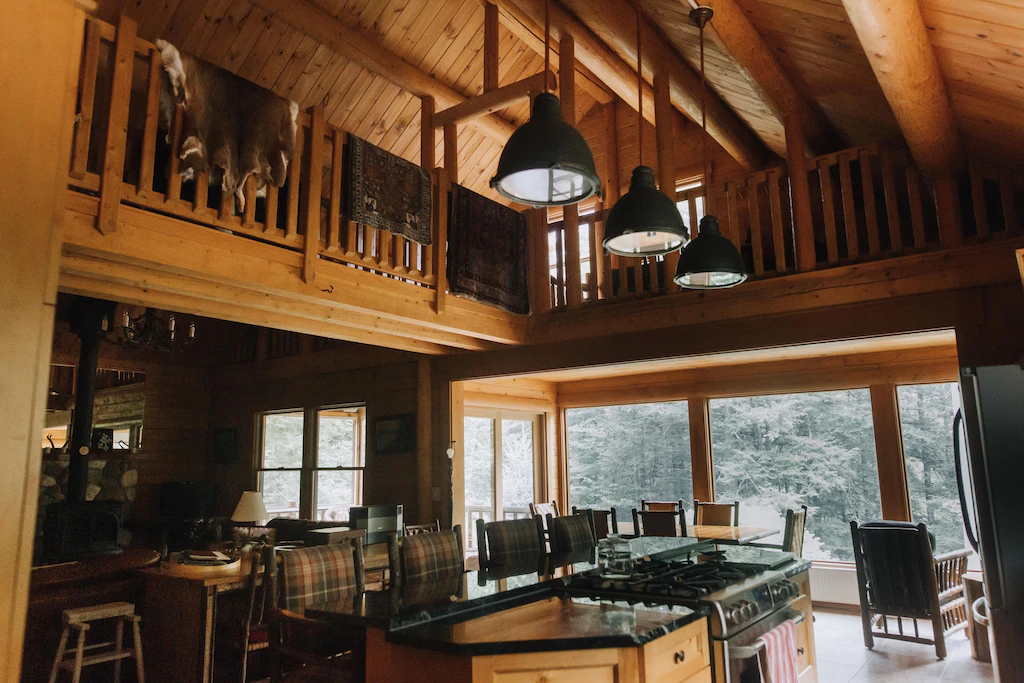 Feel the serene ambiance of the natural setting when you visit this luxury lodge surrounded by the White Mountains. This NH vacation rental seems to flow seamlessly with nature featuring polished wooden interiors and incredible views. It's an excellent destination for a White Mountains getaway.
The three-story lodge includes four bedrooms for sleeping up to eight guests. Prepare meals for the entire family in the large kitchen or relax in the downstairs family room. If you're looking for a White Mountains vacation rental with a hot tub and fireplace, this one checks both those boxes.
Step outside for views of Hubbard Brook or reach the beautiful Mirror Lake just a few steps from your front door.
---
Which of these cabins in the White Mountains is your favorite?
---
---
You might also like:
---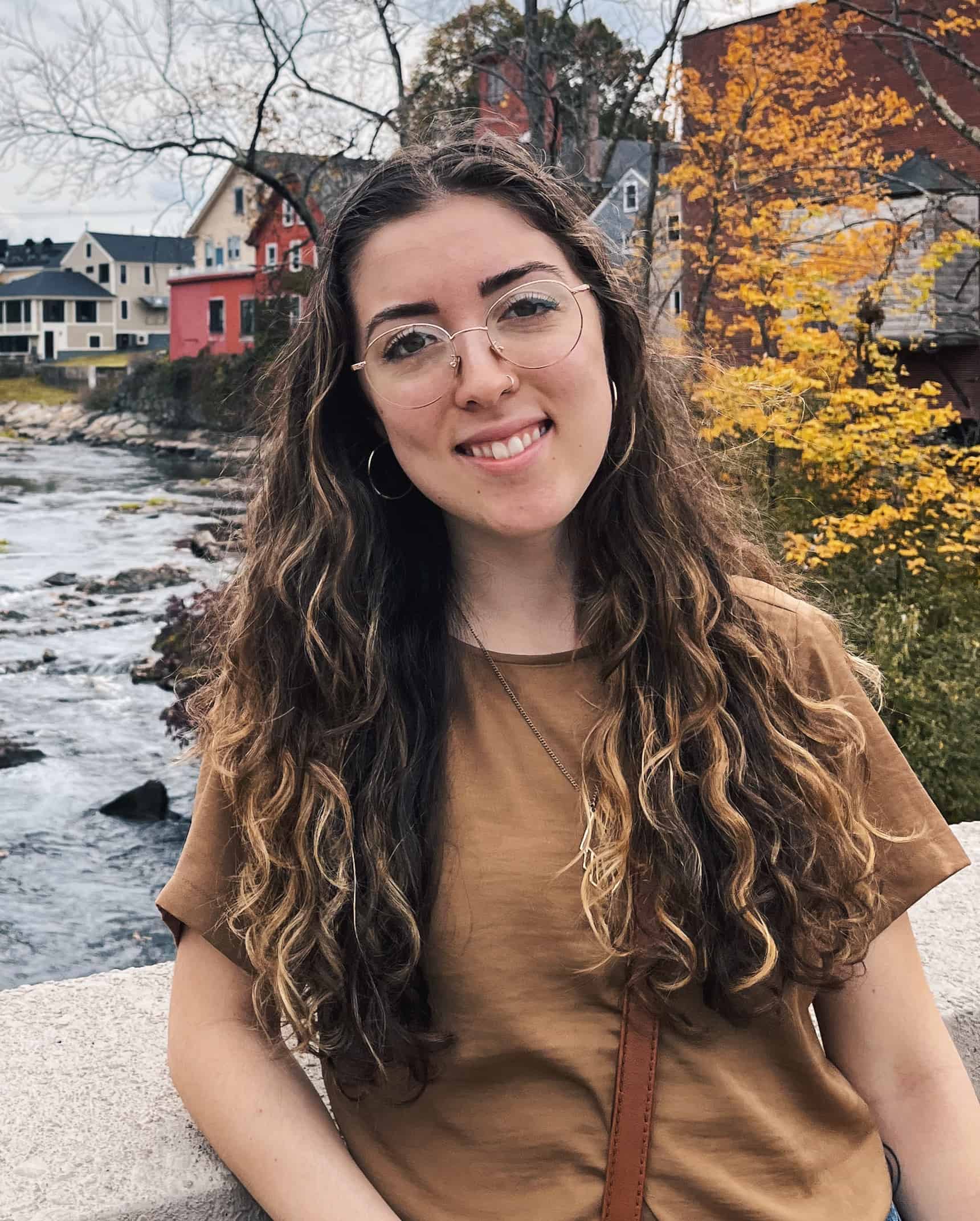 Jessica Vaillancourt is a US-based freelance writer for websites and online businesses, specializing in content related to travel & culture, lifestyle, health, and home. She subsists solely on espresso, notebooks, and dreamy travel plans. Connect with her at JessAnneWriting.com to learn more and discuss your content needs today.