If you're looking for a unique New England winter experience, you have to check out Ice Castles NH! There are ice castles in a few cities around the USA, but the New Hampshire ice castle is the only one located in New England. This is definitely one of the top things to do in New Hampshire!
This award-winning winter attraction is built anew every year and the icicles are hand placed by professional ice artists. How incredibly cool is that? Ice Castles NH offers visitors a chance to see for themselves what a real live ice castle looks like from both inside and out!
There is more to this beautiful winter attraction than just eye candy, too. This is everything you need to know about visiting the New Hampshire ice castles!
When to Visit the NH Ice Castles
Of course, weather is going to play into when the ice castles go up and when they come down, but the New Hampshire ice castles are typically open by mid January and remain accessible to visit late February to early March. You will want to follow along with the website or subscribe to the ice castles newsletter to get up to date information on when the attraction will go up and come down; follow this link and scroll down to the "newsletter" section!
How to Get Ice Castle Tickets
You can take a chance that there will be tickets available at the door, but this is not recommended as tickets often sell out very quickly. Tickets purchased upon arrival are also priced a little higher than tickets purchased in advance, so your best bet is to hop online and buy your tickets ahead of time.
Do be aware that it takes a significant amount of inclement weather to cancel admission to the NH ice castle, but in the case that it does happen, tickets are completely refundable. If you need to change the date or time of your ticket after purchase, there is a way to do this but you'll need to consult the specific Ice Castles NH policy for this here.
Ice Castles NH
Located in North Woodstock just outside Lincoln, you'll find that when you arrive to this winter attraction, the first thing you notice might be the awesome size of this giant ice castle! Typically built to span roughly an acre in size, with some of the ice peaks reaching up to about 25 feet, the visual effect is quite awe-inspiring, especially knowing that ice artists specially design and form each of the icicles that make up this incredible winter ice castle!
Enter the NH ice castle and walk along its paths while twinkling, color-changing lights embedded in the ice light your way and add to the ethereal effect. You'll find many different paths and tunnels throughout the ice castle, as well as little "rooms" and courtyards, with music playing throughout.
In addition to exploring the paths, there are also icy thrones and slides built into the ice castle, some with color-changing lights embedded into the ice slide itself. Fun for kids and adults! This is definitely a unique New Hampshire winter activity.
In addition to the NH ice castle paths and tunnels, you'll also find an area for snow tubing, horse-driven sleigh rides, and a Mystic Forest Light Walk, a lovely little walk through the woods with lights and ice sculptures. There's also a concession stand onsite with snacks and hot drinks like cocoa to warm up with.
Ice Castles NH has day and night hours, but the nighttime experience offers a pretty thrilling visual aesthetic with the LED lights that are literally embedded in the ice itself, as well as the forest walk with the lights along the way. When you buy your tickets, you choose a time slot, and many people suggest buying your tickets for sunset so you get to experience the New Hampshire ice castles at day and night.
There are only portapotties onsite, so come prepared for that, especially if you have little ones!
The fact that this work of art is also an immersive and interactive attraction just adds to the beauty of the experience, and a visit to Ice Castles NH would make for a great family activity, date night, or solo experience!
Once you enter the New Hampshire ice castle attraction, you can stay as long as you want but there is no re entry, so come prepared for the cold New Hampshire winter weather! Wear plenty of warm layers, hats, gloves, and of course, good boots with excellent traction that can keep your feet warm and dry. There's typically a combination of snow, slush, and ice underfoot, so take your footwear seriously before heading out on your ice castle experience.
If you're looking for other things to do in the area, Lincoln NH and the rest of the White Mountains are full of fun winter things to do! Whatever you end up doing during your New Hampshire ice castles trip, be sure to stay warm out there.
You might also like: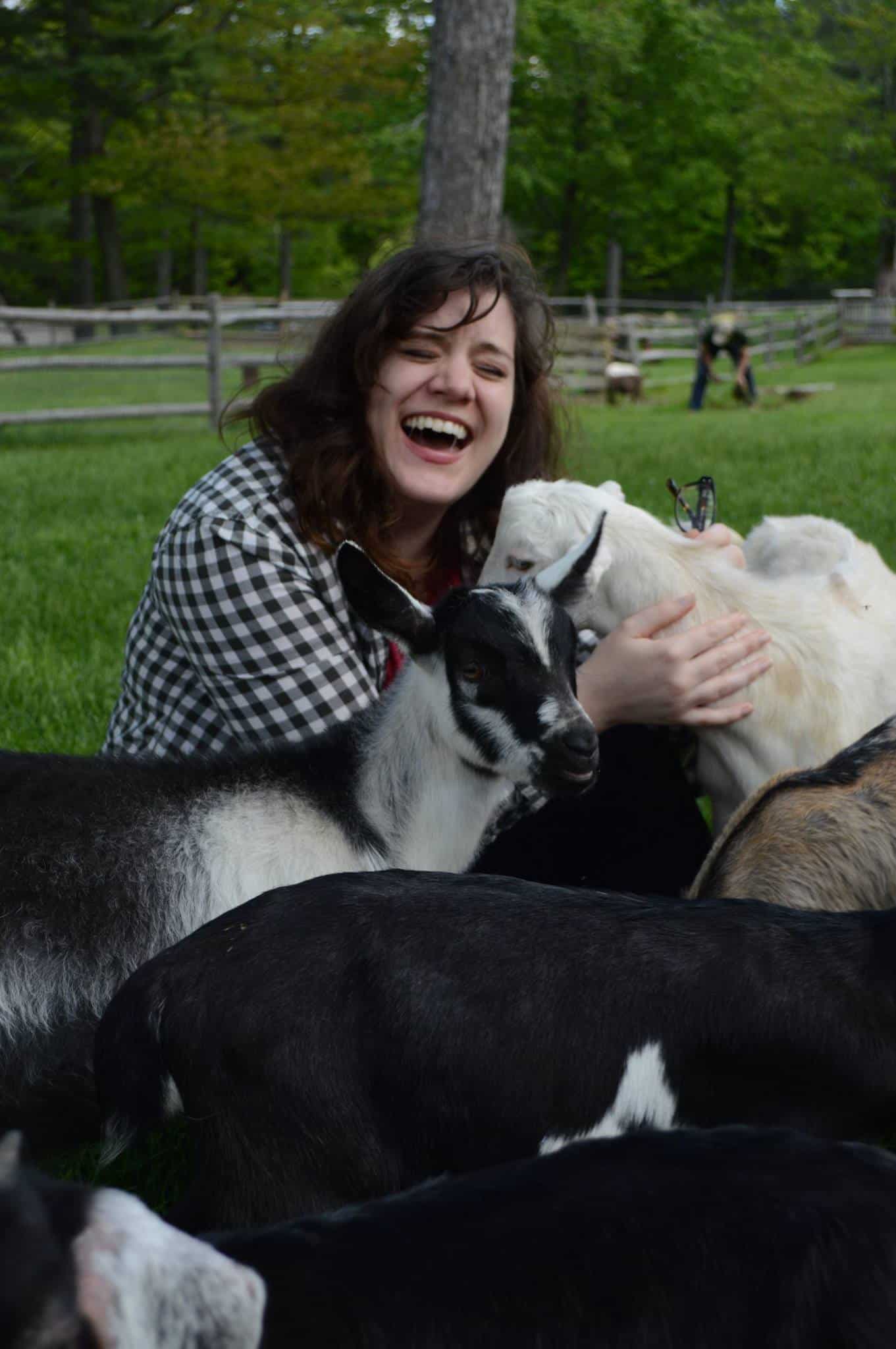 Amy Hartle is the founder and Editor-in-Chief of New England With Love, a comprehensive resource for travel in the New England region. Amy has been exploring New England since 2001. She lived in Vermont for many years and is a graduate of Plymouth State University in New Hampshire. Amy has been writing about travel for over a decade. On this site, Amy aims to share her love of New England and help you to have the best possible adventures!
Amy has been a full time blogger since 2012, and is also the publisher of Two Drifters, where she writes about couples travel and relationships, as well as Let's Adventure Baby, a family travel site. When not traveling the world or creating epic blog content, Amy can be found cuddling with her husband, son, and cats, & drinking a maple latte.