Are you considering a visit to New England? There's something so alluring about these small towns in the Northeast where so much early American history happened, and how so many things in these small towns in New England are still quaintly the way they always were.
Not only can we see covered bridges and historical buildings, but New England is also full of restaurants, shopping, sightseeing, things to do, year-round sports and most of all, spectacular natural beauty everywhere you turn in cottagecore towns that are just as charming as charming can be! Here are 30 must-see small towns in New England, the most charming spots in Vermont, New Hampshire, Maine, Massachusetts, Connecticut, and Rhode Island.
When is the Best Time to Visit New England?
New England makes an excellent four season destination because it has a strong showing in all four seasons! Spring in New England is lovely with flower fields bursting into bloom. Summer in New England means visiting coastal gems and beautiful islands. New England in the fall is like a dream come true with fall foliage blazing across the region in vibrant crimsons, golds, and everything in between! Then there's winter in New England, when cute New England towns transform into something you might see in a Hallmark Christmas movie… including several that actually were in a Hallmark Christmas movie!
There are places in New England that are perfect for each and every season, so don't feel like there's only a certain time of year when New England should be visited! If you're visiting in spring, be ready for rain. If you're visiting in summer, be ready for humidity. If you're visiting in winter, be prepared for snow. But above all, when visiting New England, be prepared for charming small towns like the ones we are highlighting below!
Most Charming Small Towns in New England
Woodstock, Vermont
Speaking of quaint towns, Woodstock, Vermont, located in the east-central area of Vermont, is undoubtedly one of the most charming and picturesque of all the small towns in Vermont. Woodstock is a great place to visit at any time of the year, but visiting Woodstock at Christmas is absolutely magical.
Fall is also a beautiful time to visit Woodstock, and the bright foliage will not disappoint! Woodstock is also named one of the most "beautiful towns in America."
Read Next: 10 Charming Small Towns in Vermont
York, Maine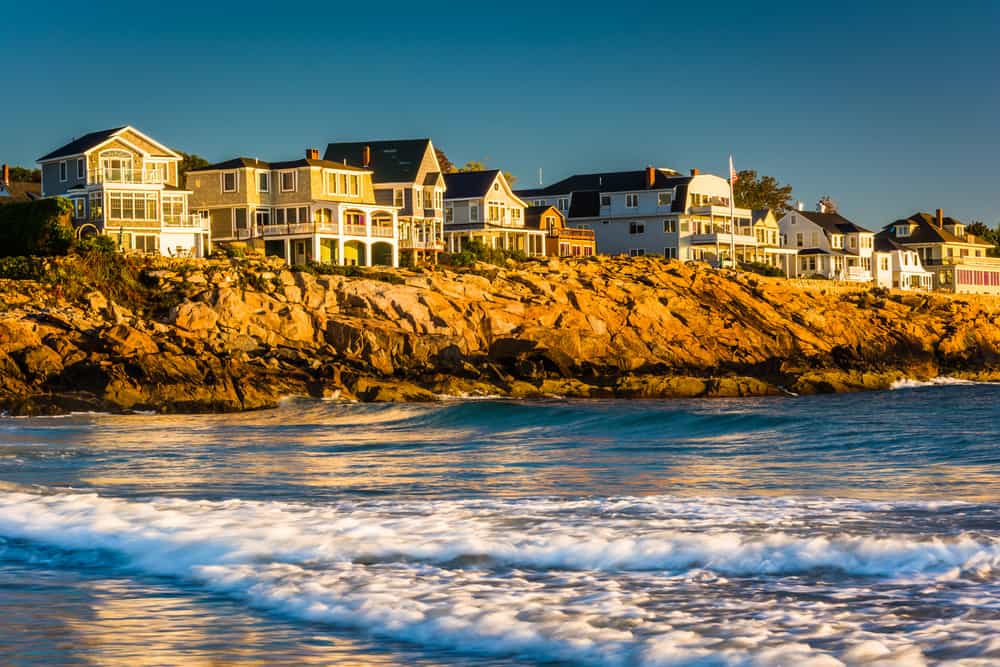 Maine is definitely an amazing New England destination, both for its rugged beauty, and its many activities and sightseeing opportunities available. York, Maine is right on the southern coast and features an awesome, famous lighthouse called "Nubble Lighthouse" that you will not want to miss. York is also known for its beauty, it's shopping and fabulous bed and breakfast inns and fine dining.
Lenox, Massachusetts
Located in the Berkshire Mountains, Lenox is best known for being a charming summer resort town in New England. It is the summer home of the Boston Symphony Orchestra and the Tanglewood Music Festival. In addition to its cultural district, galleries and restaurants, the natural beauty of Lenox also offers itself to many year-round sports. If you'd like to take a step back in time in this beautiful New England town, Lenox is also the home to The Mount (past residence of Edith Warton), the Ventfort Hall Mansion, and the Gilded Age Museum.
Read Next: 10 Most Charming Small Towns in Massachusetts
Jackson, New Hampshire
Jackson is known for being an elegant and quiet resort village in the White Mountains of New Hampshire. While you are there, don't miss the amazing White Mountain National Forest, the 49 ski trails of Wildcat Mountain, and Pinkham Notch Visitor Center, where you will find skiing, hiking, moose watching and camping.
Newport, Rhode Island
The city of Newport is located on Aquidneck Island. Its harbor, filled with gorgeous yachts, hosted the America's Cup, a renowned sailing regatta. Newport is also famous for its many mansions (referred to as "Gilded Age" mansions) lining Bellevue Avenue (some which are now museums). There's also the Cliff Walk, the beaches, and the delicious restaurants to keep you busy in this coastal New England gem.

If you're looking for New England towns that are the absolute embodiment of New England Christmas charm, visit Newport at Christmastime!
West Cornwall, Connecticut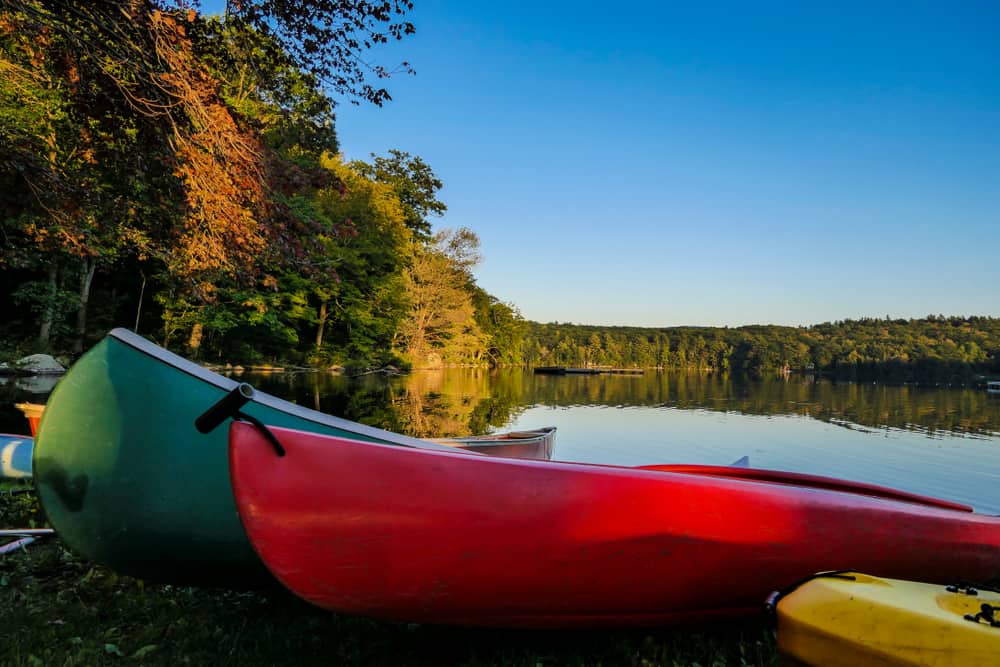 Five villages make up the town of Cornwall in Litchfield County, Connecticut. There is a rustic charm to the town, and you can find activities such as skiing, snowboarding and fly fishing for trout in the breathtaking Housatonic River. The 1841 covered bridge spanning the river in West Cornwall is the unofficial emblem of northwestern Connecticut.
Camden, Maine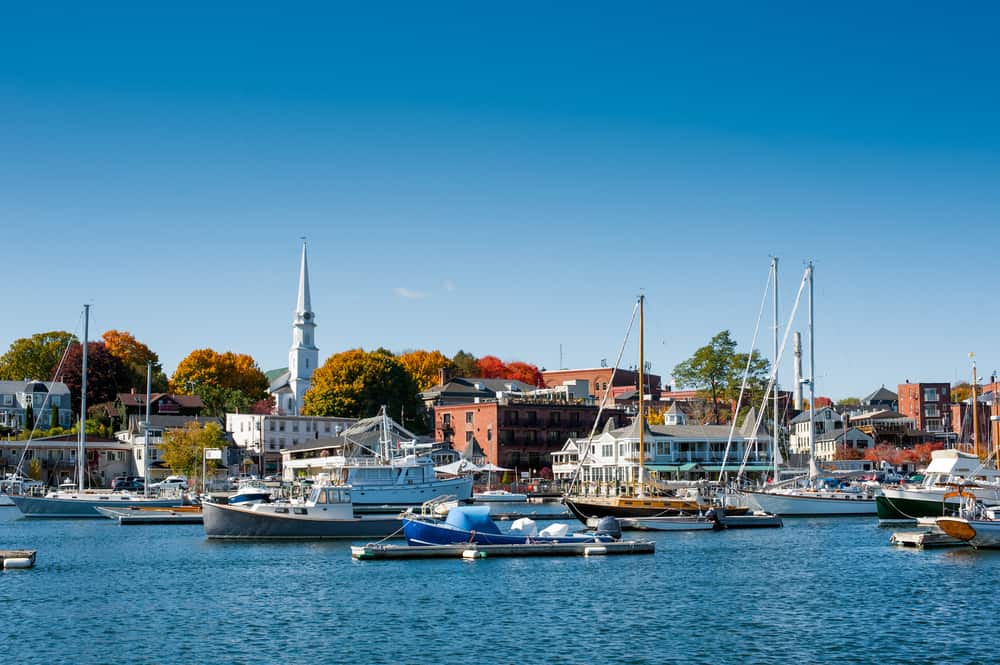 Camden is a town in Maine with views of Camden Harbor and the bay from Mount Battie. Curtis Island, in the harbor, features an 1830s lighthouse. The High Street historic district, which features 19th century homes, is also home to the Camden Public Library, with its landscaped amphitheater. The restored Camden Opera House stages music, films and dance.
Tiverton, Rhode Island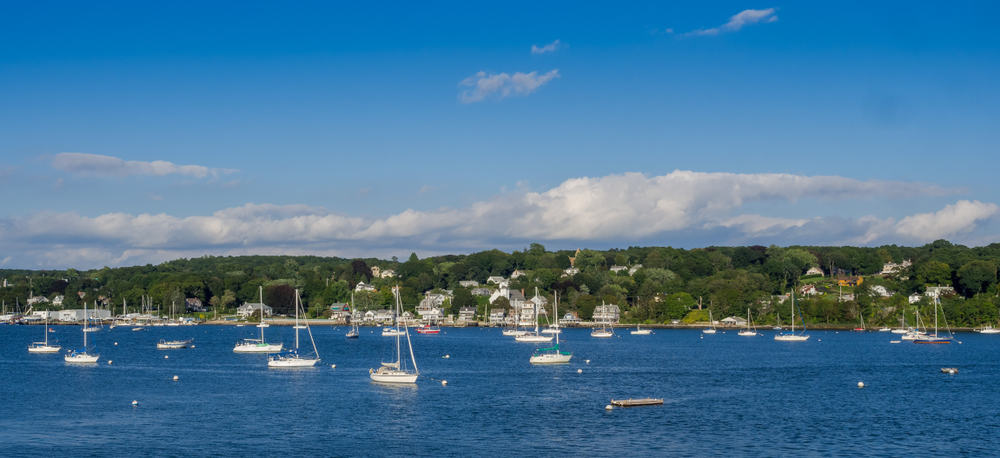 Tiverton, Rhode Island was a very important place before and during the Revolutionary War. It abounds with historical areas and information about the part it played in our history.
These days, many visitors come for its nearby seaside beauty (Sachuest Point National Wildlife Refuge, for example), and Colt State Park. Tiverton also has many family-oriented activities such as Rail Explorers, the Newport Car Museum, Cliff Walk, and Firehouse Theater. Enjoy these and more on your trip to this coastal New England town!
Oak Bluffs, Massachusetts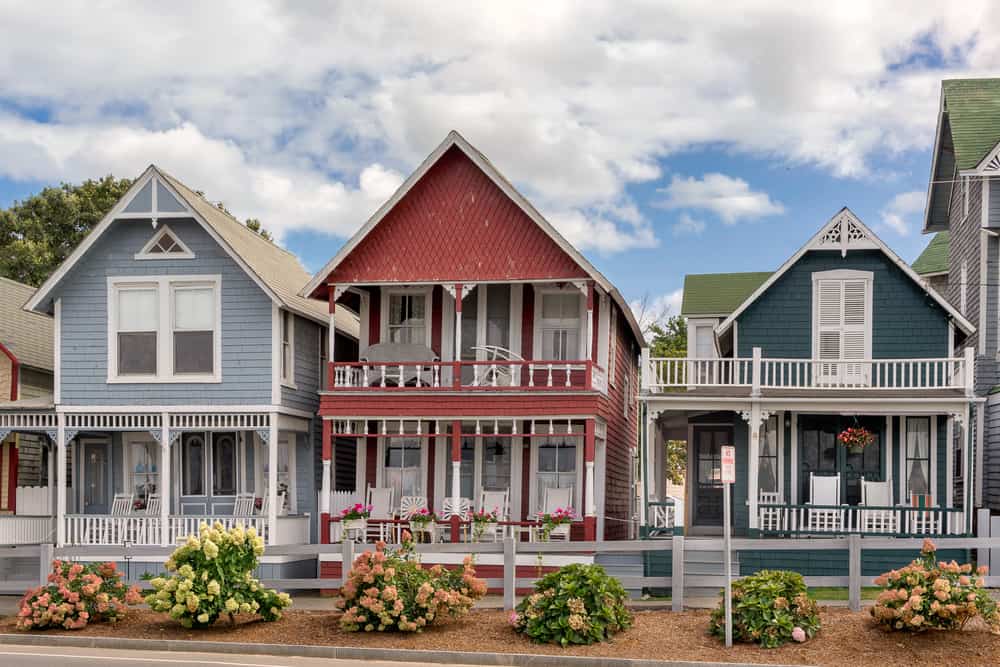 Oak Bluffs, a small Massachusetts town located on the island of Martha's Vineyard, is best known for its beautiful beaches and summer activities.
Things you should definitely do on a trip to this cute New England island town: take a ride on the Flying Horse Carousel; soak up some sun, sand and surf on Joseph Sylvia State Beach; visit the East Chop Lighthouse; stop by Inkwell Beach and Oak Bluffs Town Beach; visit the Martha's Vineyard Museum; and have a great seafood meal at Nancy's Restaurant.
Manchester, Vermont
Manchester is a small town in Southern Vermont known for its cosmopolitan flair while still holding onto that quaint small-town vibe. Right in the middle of the Green Mountains, covered bridges and history are not far away.
Here you will be able to enjoy the beauty of Vermont's 4 seasons and sports. Enjoy skiing, snowboarding, ice skating, swimming, camping, and hiking, while still having dinner at a 4 star restaurant in a 4 star hotel and spending some time doing some 4 star shopping. Many cultural opportunities exist in this area also known as the "Northshire," so there is literally something for everyone in this gorgeous area of New England, including fantastic breakfast spots!

Peterborough, New Hampshire
Peterborough is a quintessential small town in New Hampshire that seems to have stepped back in time. It was even the model for the play Our Town! Filled with activities and events for families, there is the Snow Ball in January, Children and the Arts Day in May, The Thing in the Spring Music festival in June, and a summer festival as well as farm, energy and nature celebrations annually. On a historical note, the Moses Cheney House in Peterborough served as a stop on the Underground Railroad in the mid 1900s.
Peterborough is a great stop if you're traveling between Keene and Concord/Manchester, NH.
Jamestown, Rhode Island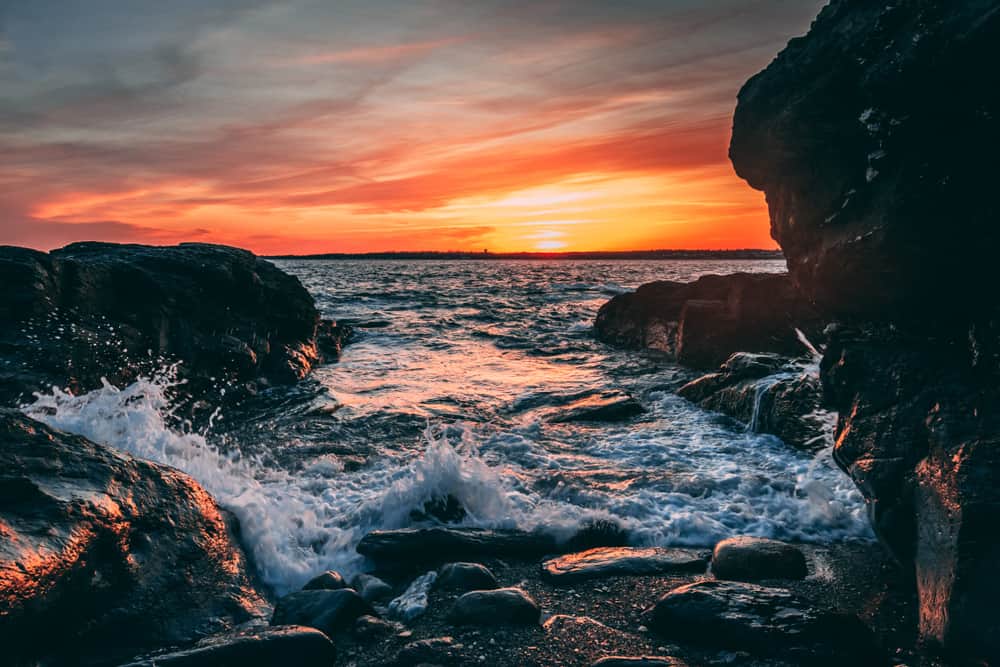 Situated on Conanicut Island, it is no wonder that there is a plethora of beaches and lighthouses to visit in darling Jamestown. Begin with Fort Adams State Park, where you will find beautiful views as well as summer concerts and sailing. Then on to Brenton Point State Park for your oceanside picnic with time for a bit of fishing.
Then you're ready for your hike up the trails at Beavertrail State Park. Don't forget to make a stop at the Rose Island and Castle Hill Lighthouses. The next day or 2 could be spent browsing at the Naval War College Museum, the historic New England Watson Farm, or a visit to another of the many beaches and lighthouses! You won't run out of things to do in Jamestown, that's for sure.
Rockport, Massachusetts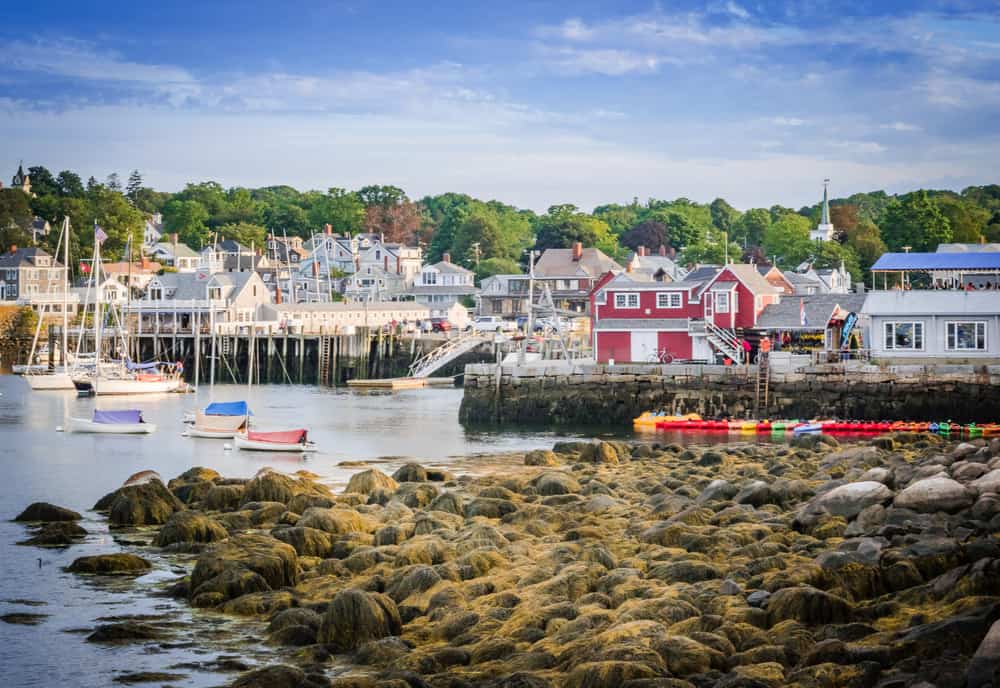 Rockport is a seaside town about 40 miles north of Boston. It borders Gloucester on its west, and is surrounded by the Atlantic Ocean in all other directions. There are so many things to do in Rockport and the surrounding area. Top tips include whale watching out of Gloucester, where you can also see and take a picture with the famous "Old Man and the Sea" statue. You might recognize the name Gloucester as the setting for the book and film The Perfect Storm, based on true events.
In a beach mood? Pebble Beach is one of many beautiful beaches to investigate, and there are many nearby lakes, coves, islands, bays, and Parks. There are also great choices for where to stay in Rockport, but a stay at The Emerson Inn is just about as quintessential New England as you can get!

Meredith, New Hampshire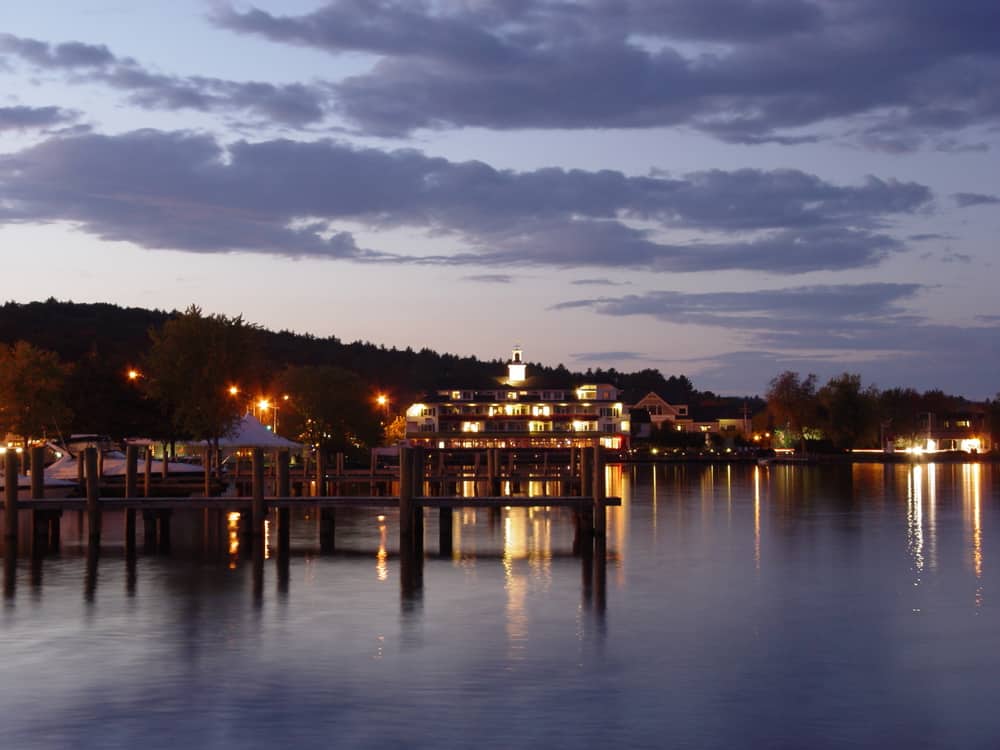 Meredith is a major resort town located in the Lakes Region of New Hampshire. Along with numerous lakes and beaches (such as Lake Winnisquam, Lake Waukewan and Weirs Beach to name just a few) you will find state parks, historic sites and the Winnipesaukee Scenic Railroad. And of course, Lake Winnipesaukee is the biggest and most well known lake in this beautiful region of New England.
This destination is not only for summer fun; in the fall hop aboard the Fall Foliage Train Ride for some gorgeous views. Don't miss the American Classic Arcade Museum for something different.
Mystic, Connecticut
The quaint seaside village of Mystic is rich with New England maritime history. In the 1700s Mystic was a significant Connecticut seaport with more than 600 ships. Today you can explore that history at the Mystic Seaport Museum.
The museum has everything from a planetarium to a re-created 19th century seafaring town and shipyard. Climb aboard the Charles W. Morgan (the world's last wooden whaleship), before heading out to explore the Mystic Aquarium. The aquarium has some great interactive shows, such as Shark Encounters, the Ray Touch (stingray) pool, and Scales & Tails, where you'll get to pet a baby alligator. And last but not least, don't miss the California Sea Lion Show at the Foxwoods Marine Theater!
Bar Harbor, Maine
Bar Harbor is a small New England town on Mount Desert Island along Maine's Frenchman's Bay. It is considered the gateway to the mountains of Acadia National Park. The Park and surrounding area is full of gorgeous beaches, cliffs and hiking trails. Noteworthy places to add to your Bar Harbor itinerary include Cadillac Mountain, Sand Beach, Frenchman Bay, Thunder Hole, Bald Porcupine Island and Precipice Trail. There are also Lighthouses to explore, and a ride on the Downeast Windjammer Cruise Lines would certainly be my cup of tea.
Read Next: 10 Cutest Small Towns in Maine
Stonington, Maine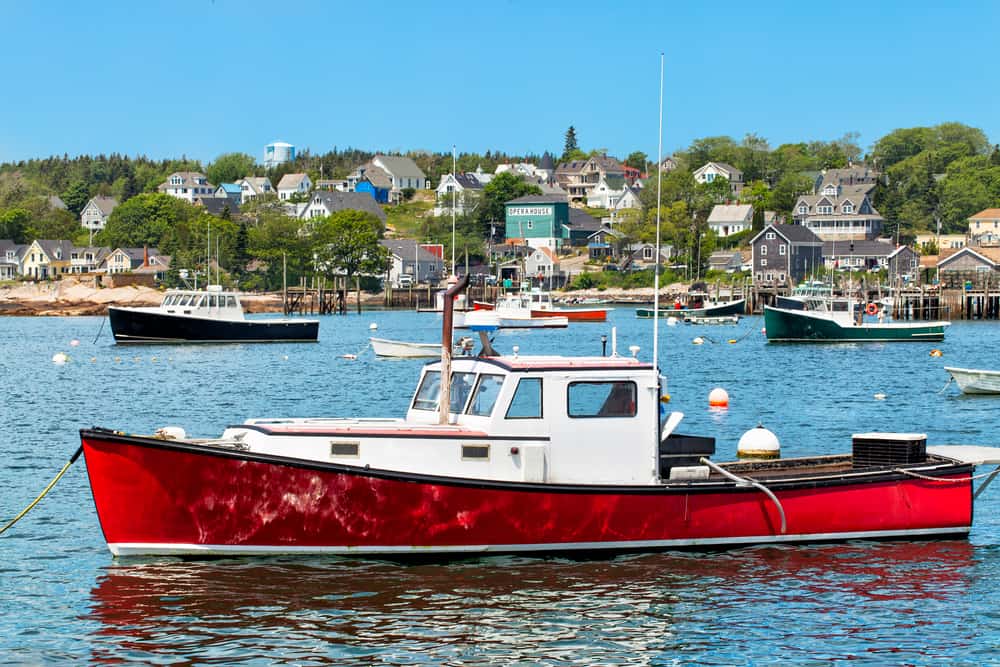 Stonington, named for it's granite quarries, is the perfect place to visit if you would like to explore a classic Maine fishing village. In Stonington, the United States' lobster capital, the town dock holds a fleet of more than 300 lobster boats, and roughly 1 in 5 residents holds a lobster license.
The residents there are proud of and fiercely protective of their slow-paced way of life. If you would like to step back in time and visit a quaint, still-functioning New England fishing village, you might not want to miss a ride on one of the boat tour, where you can hear lighthouse lore, and maybe even spot a harbor seal or two.
Williston, Vermont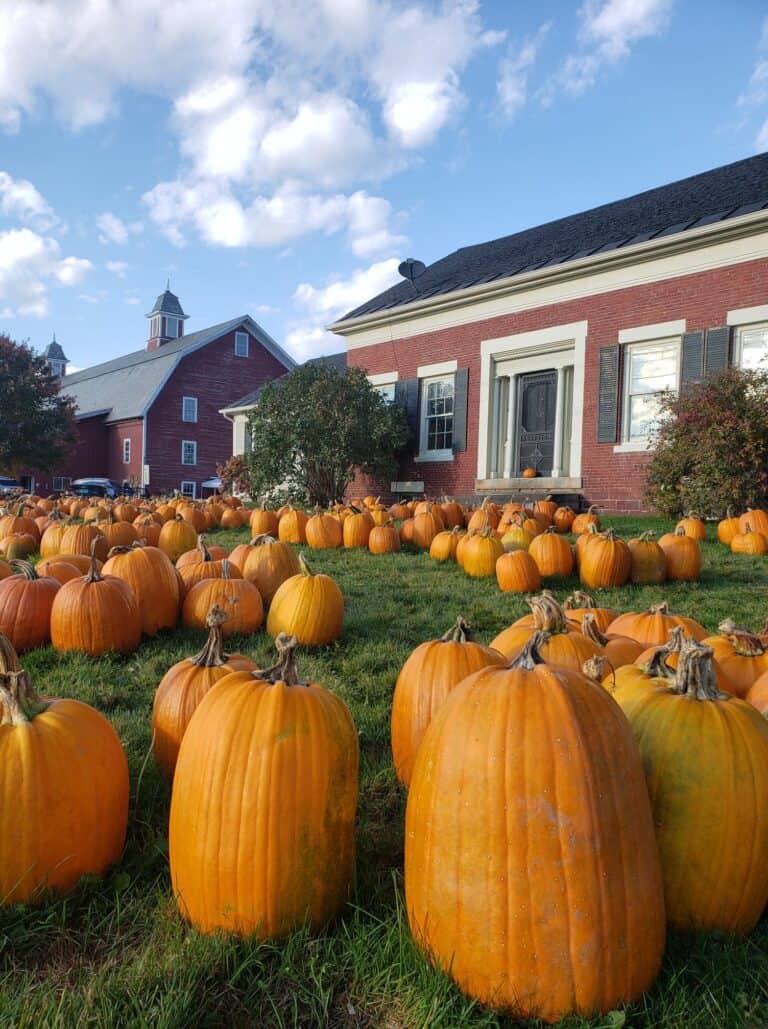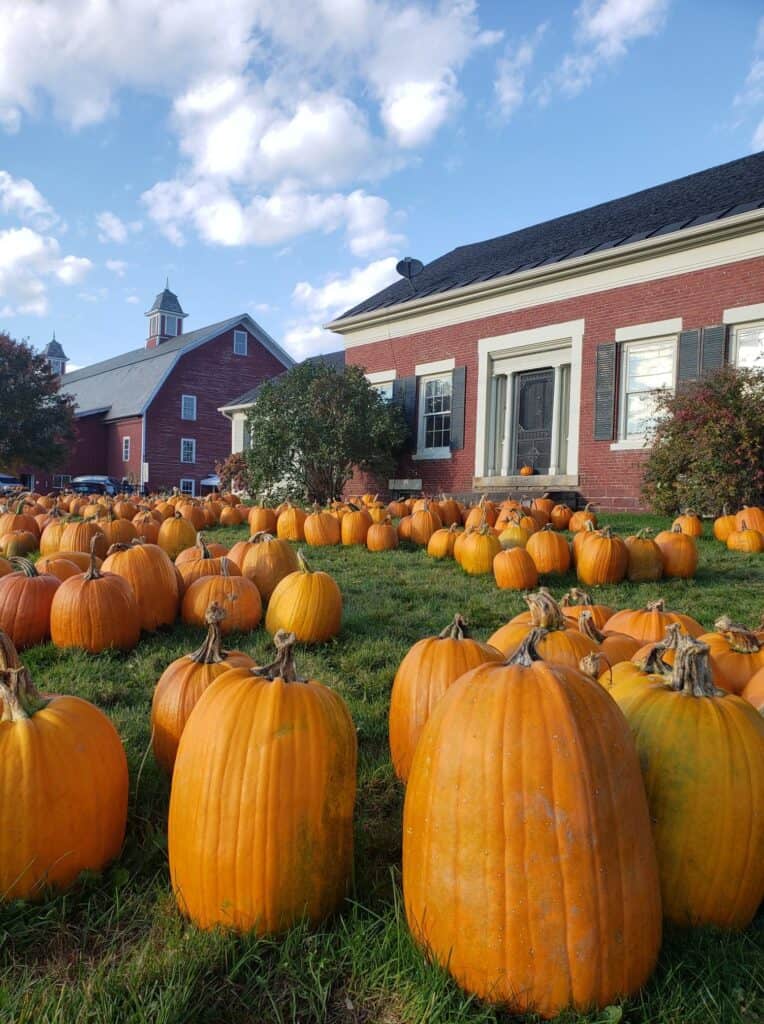 Once covered in farmland, over the last few decades, Williston has developed into one of the fastest growing and most desirable suburb in the state. One reason is its easy access and proximity to I-89 and nearby Burlington (the largest city in Vermont). Williston has also become the home of many major retailers, as well as numerous restaurants. Despite its many box stores, the town still has a ton of charm and a quaint New England downtown you could blink and miss.
A favorite must-visit is the small but delicious popular Chef's Corner. Williston is also very scenic, surrounded by the Green Mountains and close to the famous Lake Champlain. Nearby activities in Williston include snowshoeing, hiking, skiing, swimming, boating, and of course, shopping.
Bristol, Rhode Island
Located only 20 minutes from Providence, Bristol, RI is the perfect specimen of a quaint small New England town. A deep-water seaport, as well as the historic county seat, it is known as the "most patriotic town in America." It' patriotism can be seen in the American flags abundantly displayed, as well as a red, white and blue median strip in the center of town.
In Bristol you'll find beautiful Colonial homes, historic inns, and the home of the oldest Fourth of July celebration in America. In between downtown shopping, stop in for lunch at one of the scenic waterfront restaurants. Then stroll along one of the many walkways leading to peaceful views of the Bay, and be sure to visit the fabulous Independence Park, where you can take a bike ride, or just relax and watch the boats pass by.
Concord, Massachusetts
Concord is a town only 25 miles from Boston, and best known for its history during the Revolutionary War. Take a trip back in time starting with the wooden bridge that spans the Concord River, a replica of the spot where the War of Independence against the British began. It is here that the first shot was fired and history was made with "the shot heard around the world," as Ralph Waldo Emerson famously called it in his Concord Hymn.
There are also numerous literary sites in this historical New England town, including Walden Pond, made famous by Henry David Thoreau; the Ralph Waldo Emerson House, built in 1828 by the Coolidge family; and Sleepy Hollow Cemetery, the final resting place of numerous famous American writers such as Nathaniel Hawthorne, Louisa May Alcott, and Henry David Thoreau.
Kent, Connecticut
Kent is only two hours away from New York City, but its natural beauty make it a popular spot for a weekend getaway. You can find many outdoor activities such as camping, hiking, fishing, as well as numerous boutiques, restaurants and art galleries. Notable sites to visit include Kent Falls State Park, which features a gorgeous cascading waterfall; Bull's Bridge, which is one of only 3 remaining covered bridges in the state; and Macedonia Brook State Park, where you can experience hiking, fishing, cross-country skiing and camping.
Wiscasset, Maine
Located in the state's MidCoast region, the historic town of Wiscasset is said to be the prettiest village in Maine. Originally a Native American settlement, Wiscasset was first settled by European immigrants in 1663.
This seaport town in New England remains quaint and full of historical charm, with famous architectural landmarks such as the Nickels-Sortwell House, which boasts federal-style architectural design such as an elliptical stairway and an oval skylight.
Downtown you will find restaurants, shops and more historical attractions, such as the 1812 Jail, the Wiscasset General Store, and the Musical Wonder House.
Wiscasset may also be the perfect place to sample lobster in Maine. It is home of Red's Eats, one of Maine's best lobster shacks.
Stowe, Vermont
Stowe is a picturesque town in Northern Vermont, overlooked by Mount Mansfield (the tallest mountain peak in Vermont). Stowe is also home to Smuggler's Notch State Park, which draws visitors year round for its many outdoor activities such as downhill skiing, snowboarding, hiking, and a water park!
Stowe is THE quintessential Vermont town, with a lot of luxury as well! The downtown area features numerous delightful restaurants and shops, plus a classic New England white steepled church, of course!
Make sure you don't miss taking quick ride to the Von Trapp Lodge; stay at the incredible lodge overnight or just go for the day. Visit the restaurant, take a look at all the Von Trapp family memorabilia, and be sure to take a sleigh ride on the grounds in the wintertime.
Hanover, New Hampshire
Hanover is a town located on the Connecticut River, and home to Dartmouth College and hospital. Tops sights include the hands-on Montshire Museum of Science (great for kids!); Mascoma Lake (beautiful for summer recreation); Moose Mountain, (which features an 8 mile-long ridge); Briggs Opera House, (also a community art center); and Occom Pond, where you can spend a fun-filled day ice skating in this beautiful New England city.

Greenwich, Connecticut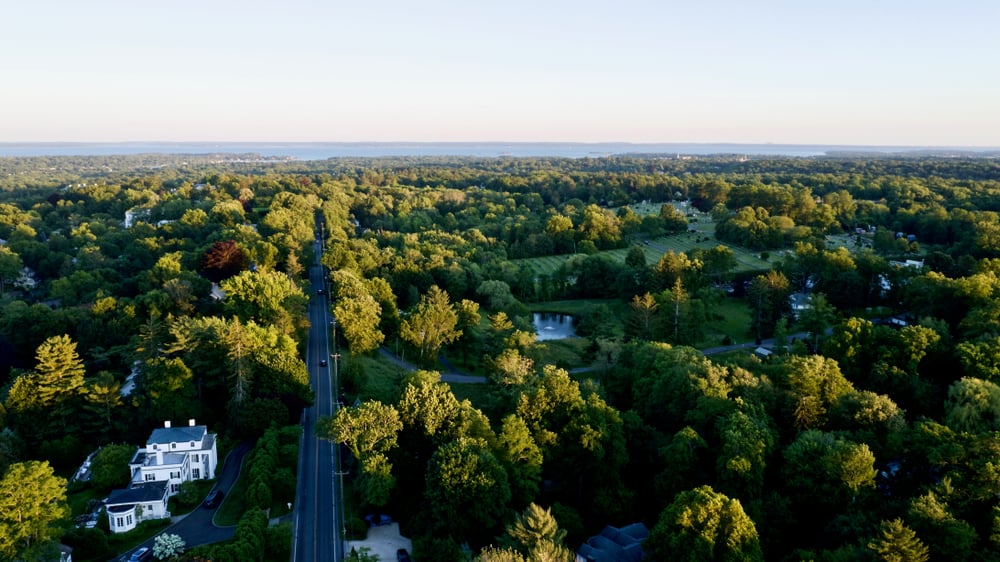 Greenwich is the largest town and wealthiest enclave on Connecticut's Gold Coast. It is also one of the oldest towns in Connecticut, and has become home to veteran hedge fund managers and financial services executives. Only a 50 minute train ride from New York City, it features large, stately million-dollar homes, as a wave of wealthy New York residents have flocked to the town, seeking tranquility and security. Greenwich is known for its proximity to exciting city life, as well as its charming New England vibe. Notable attractions include Greenwich Botanical Center, Great Captain's Island, and Delamar Greenwich Harbor Marina.
Stockbridge, Massachusetts
Stockbridge is a town in the famous Berkshires in western Massachusetts. It is home to the Norman Rockwell Museum, Berkshire Botanical Garden, and the National Shrine of Divine Mercy. The Berkshires are best known for their outdoor activities such as hiking and water sports, as well as cultural activities and performance centers.
Visiting in winter? Stockbridge becomes one of those magical New England Christmas towns, recreating/reenacting one of Norman Rockwell's famous paintings of the village.
Wickford Village, North Kingstown, Rhode Island
Wickford Village is just about 20 minutes from Newport, within the borders of North Kingstown, Rhode Island. It is a tiny village named after Wickford in Essex, England. It is located on the west side of Narragansett Bay, and built around one of the most well-protected natural harbors on the east coast. This cute New England village is comprised of one of the most vast collections of 18th-century buildings anywhere in the northeastern USA, and hosts an incredible Christmas celebration, too.

One of the most fascinating of the tourist attractions in North Kingstown is the mysterious Narragansett rune. It has been studied extensively for several years, and many believe it was inscribed by Icelanders over 600 years ago. Learn about it's incredible history and view this amazing artifact on your trip to Wickford and the surrounding area.
Essex, Connecticut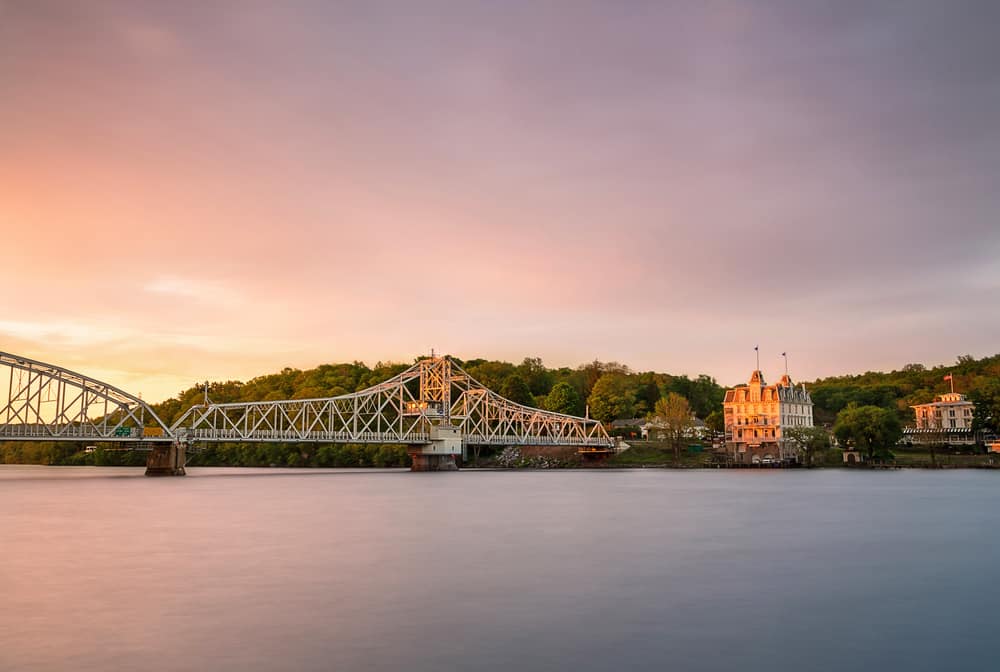 Essex has been called the "Perfect Small American Town" in the book 1,000 Places to See Before You Die, so it definitely belongs on this list! This claim to fame is due to the blend of history, beauty, culture, and so many things to do in this historic New England town.
Surrounded on 3 sides by water, all roads lead to the Town Dock at the edge of the Connecticut River Museum. Main Street is comprised of a mixture of early Colonial and Federal-style homes. Many restaurants will tempt you as you stroll the 14 miles of sidewalks in Essex. The first thing that caught my attention was the unique Essex Clipper Dinner Train. What an awesome idea for a restaurant, fun for adults and kids alike!
Historical spots will fascinate you, such as the harbor, where the British burned 27 ships during the War of 1812. Each May, the town has a parade led by residents dressed as a fife and drum corps in period costumes. They march through the streets and end the parade at the museum, where everyone gathers for a day of festivities. Another famous and fun event in Essex is the popular Holiday Train Show at the Connecticut River Museum. There is a lot to see and do in this quaint, historical and perfect Connecticut small town.
Sugar Hill, New Hampshire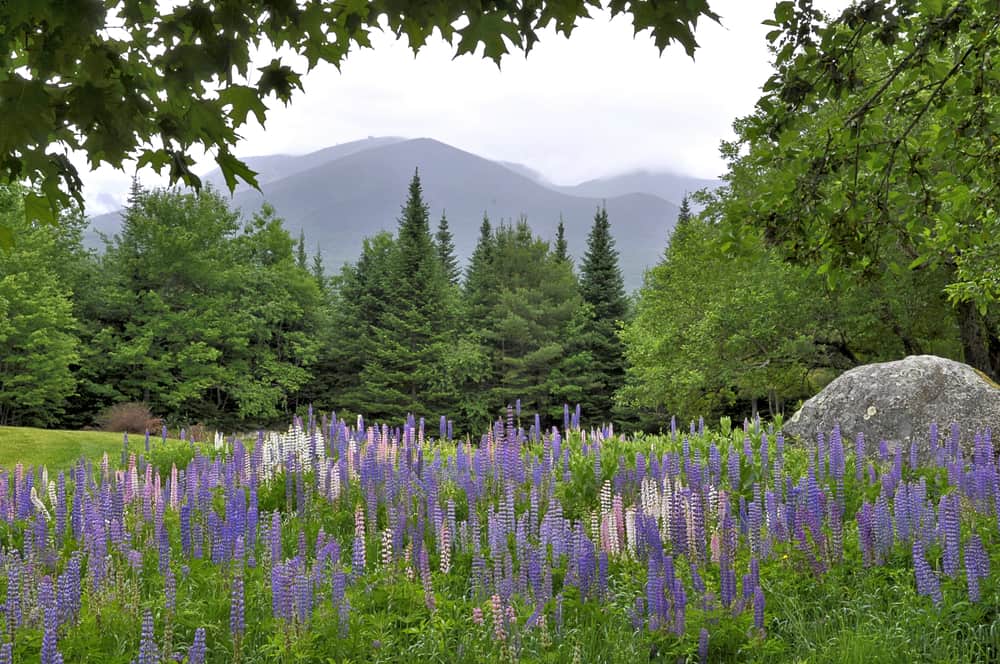 Sugar Hill is a tiny New England town that overlooks the White Mountain National Forest. New Hampshire's newest town, Sugar Hill was formerly part of the the nearby town of Lisbon, but became their own small town in 1962. During the 19th century, Sugar Hill was a popular Victorian resort destination.
Holding festivals all year long, Sugar Hill is still a place filled with events and activities that draw tourists from all over. In June, the population more than triples with visitors coming to see the colorful lupines that cover the hillsides and gardens. In the Fall, the White Mountains are famous for their colorful fall leaves and scenic views.
In September, visit the Autumn Celebration, an open air market of arts and crafts. During any season of the year stop by and see how quintessential New England is alive and well in Sugar Hill, New Hampshire.
Warren, Vermont
Warren, Vermont is a beautiful New England town centered between two mountain ranges of the beautiful Green Mountains. Also located in the Mad River Valley, Warren is the home of the famous Sugarbush Ski Resort. Once extremely popular with the rich and famous, including the Kennedy family and many Hollywood actors, Sugarbush has since expanded, and boasts 111 ski runs and 16 lifts. Guests to this town stay in the cozy collection of charming inns and romantic B & Bs. While primarily a ski town, if weather permits, don't miss a visit to Warren Falls.
---
You might also like:
---