As you plan your visit, you'll need to decide where to stay in Rockport MA. We hope that our article on things to do in Rockport has inspired your visit (if not, go check it out!).
We've been to Rockport numerous times, and so have put together a list of the best Rockport MA hotels for your stay.
The Sally Webster Inn
Want to be at the heart of it all? Check out this Rockport MA bed and breakfast called The Sally Webster Inn. This cozy B&B is an easy walk downtown, which makes it a choice spot. You won't have to battle for parking on busy summer evenings! (Click here to read reviews on TripAdvisor)
During our stay, the host, Sawsan, made sure we had everything we needed and served us a perfect breakfast in the morning. We chatted with the other guests over pastries and steaming cups of tea. Not surprisingly, the other guests were all from states far away. Rockport really does draw guests from across the globe.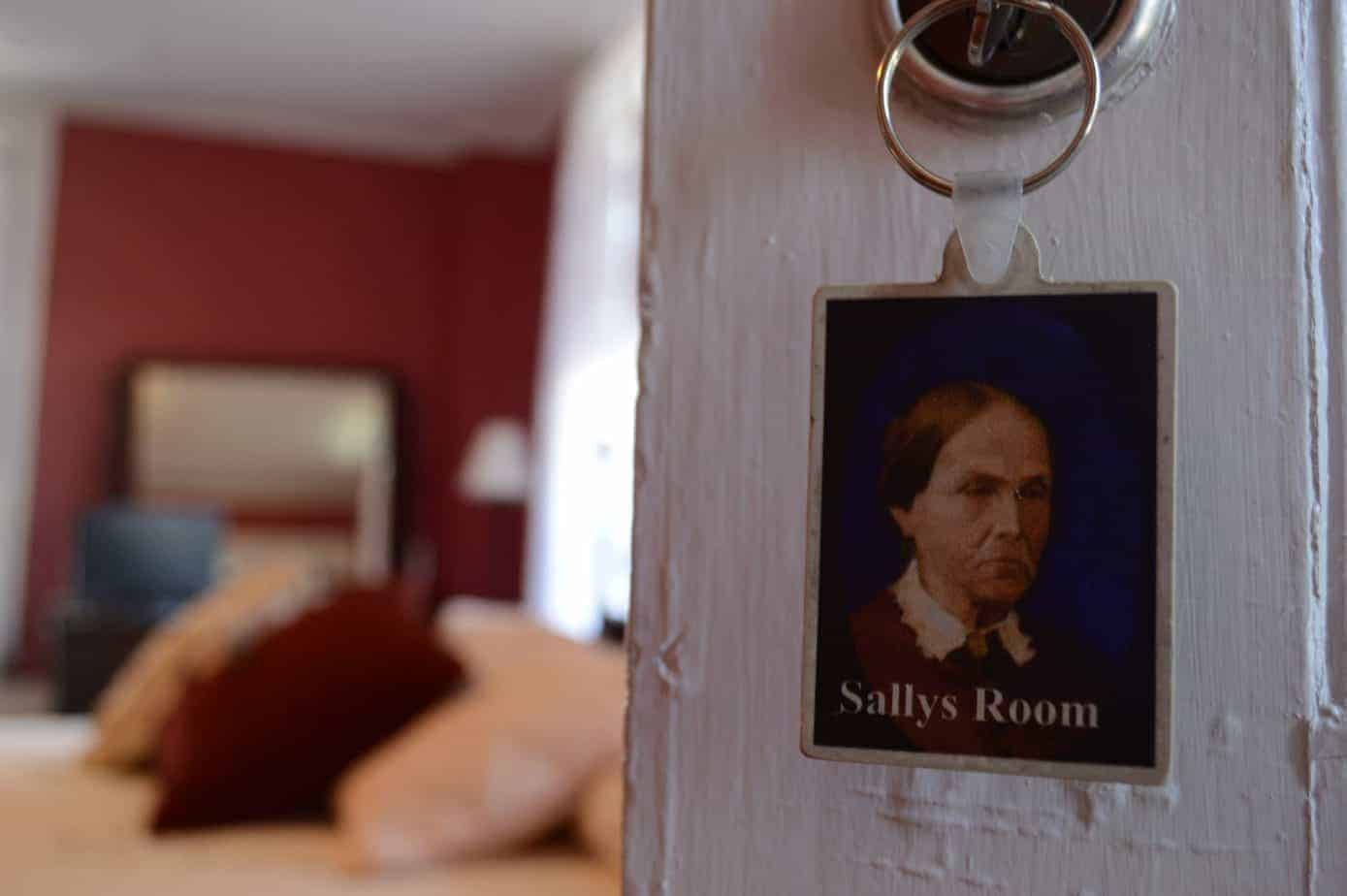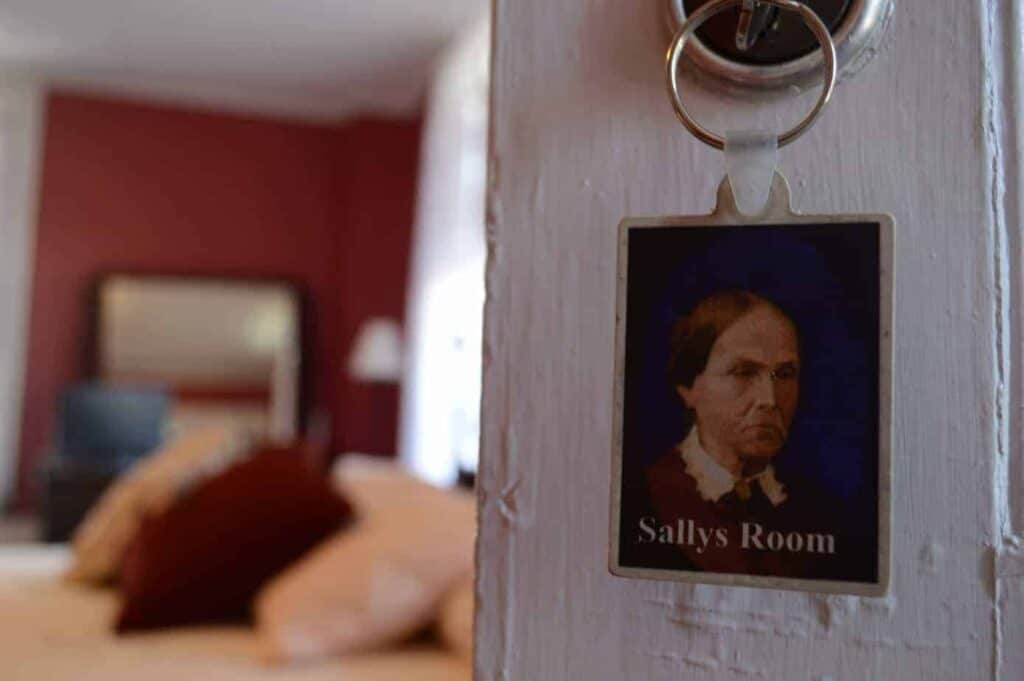 We stayed downstairs in "Sally's Room." (She wasn't much of a smiler, was she?) It was spacious, and the bed was massive and sooo comfortable. Really amazing sheets too–we kept remarking upon the thread count! This room would be extra sweet in the wintertime as there's a stove in the fireplace area.
For Rockport MA lodging in a convenient location, we'd absolutely recommend the Sally Webster Inn, especially for a romantic weekend getaway. Click here to check rates & book!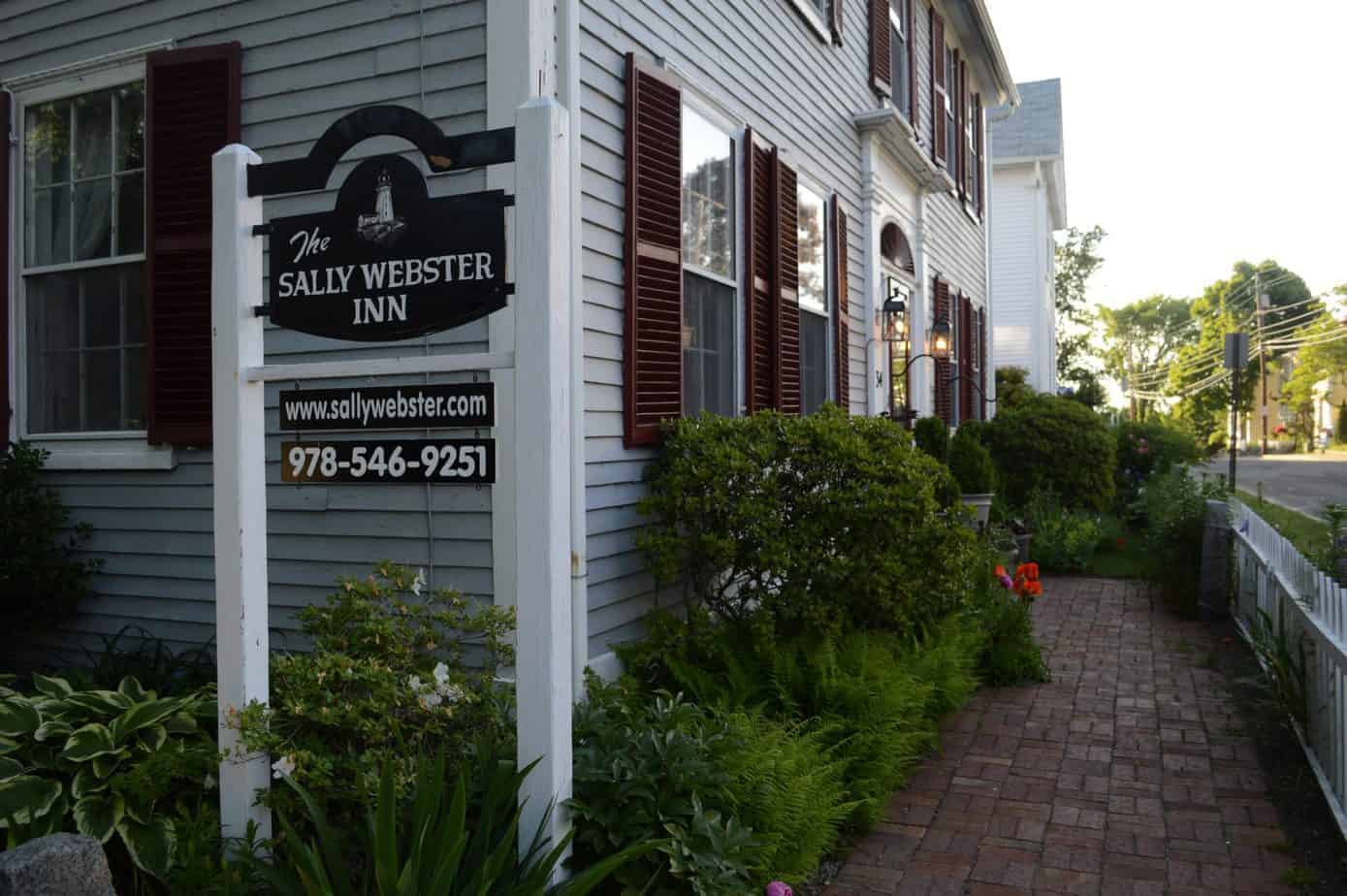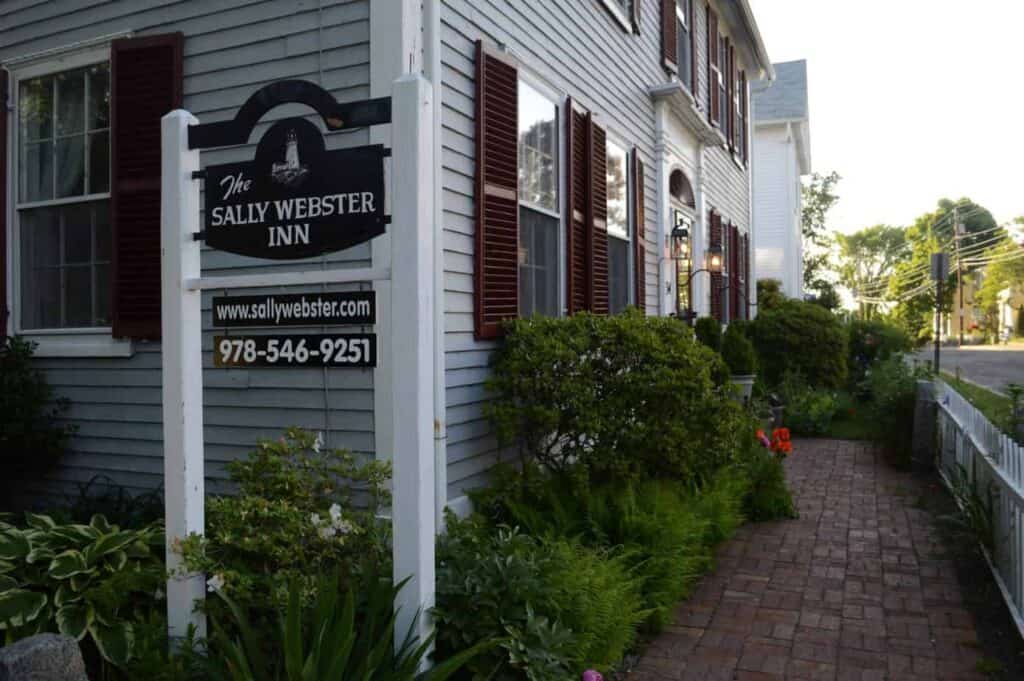 The Emerson Inn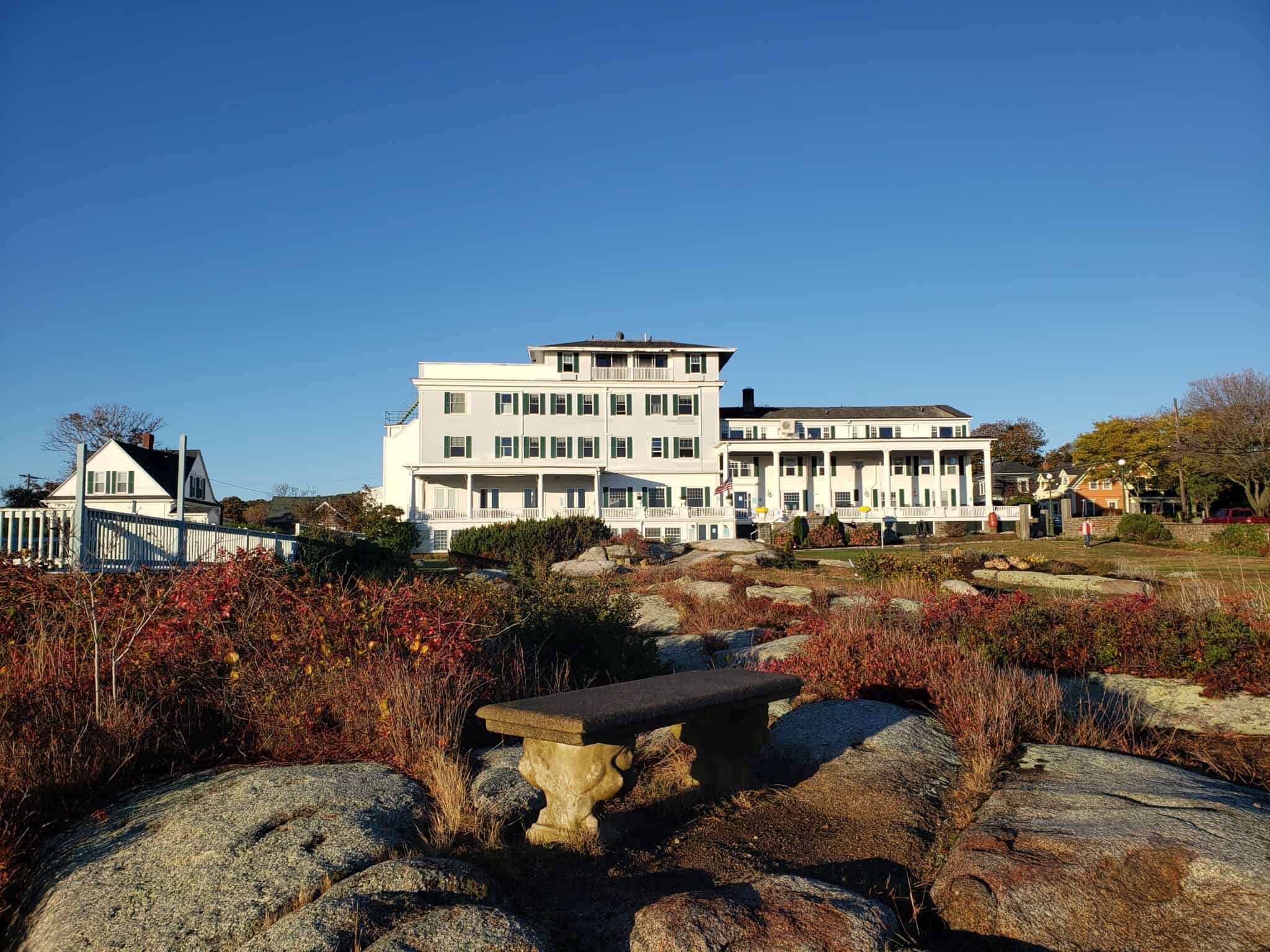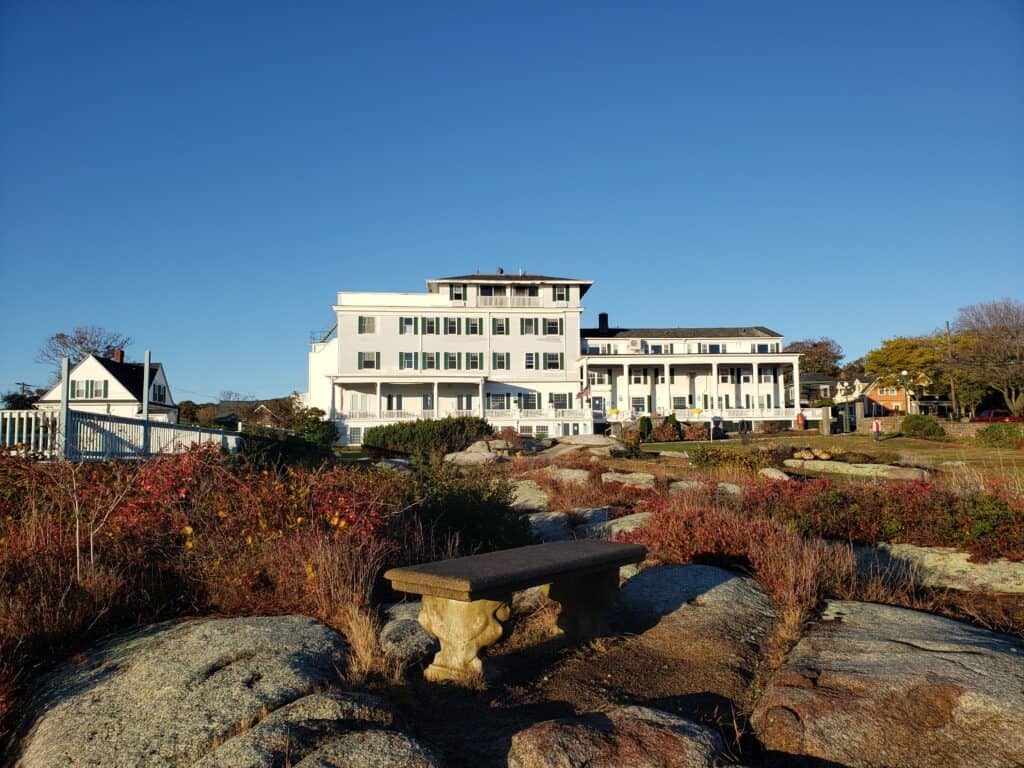 The Emerson Inn is a quiet historic inn north of downtown Rockport. You'll love the peace and serenity you will experience here, and best of all, it's a waterfront Rockport MA hotel. The views from the inn's front porch afford colorful sunsets and spectacular sunrises, and are best enjoyed will dining on New England dinner fare or a hearty breakfast.
Ralph Waldo Emerson, the inn's namesake, was once a frequent visitor here, and you can stay in his room! There are also 35 other unique guest rooms to welcome you.
You'll love this spot out of the main busy area of Rockport. PS: Be sure to check out our full review of the Emerson Inn.
Click here to check rates and book!
Periwinkle Cottage #2 Vacation Rental
You could also opt to stay not at one of the many hotels in Rockport, but instead in a vacation rental. We did this on one visit. As fans of AirBnbs and similar properties, this was a good opportunity to check out a different type of Rockport accommodation. And it was very nice!
This was Periwinkle Cottage, located on a small residential street a five-minute walk from downtown Rockport. I'll admit that the Sally Webster location felt a bit closer to the "action," but were we traveling for a longer period, the Periwinkle Cottage would be the best choice. We stayed in Unit #2, which was chic and well-appointed, with a kitchen, bedroom, full bath, and even a laundry room. All the amenities, plus the extra space, would make the cottage an ideal lodging for a week's trip.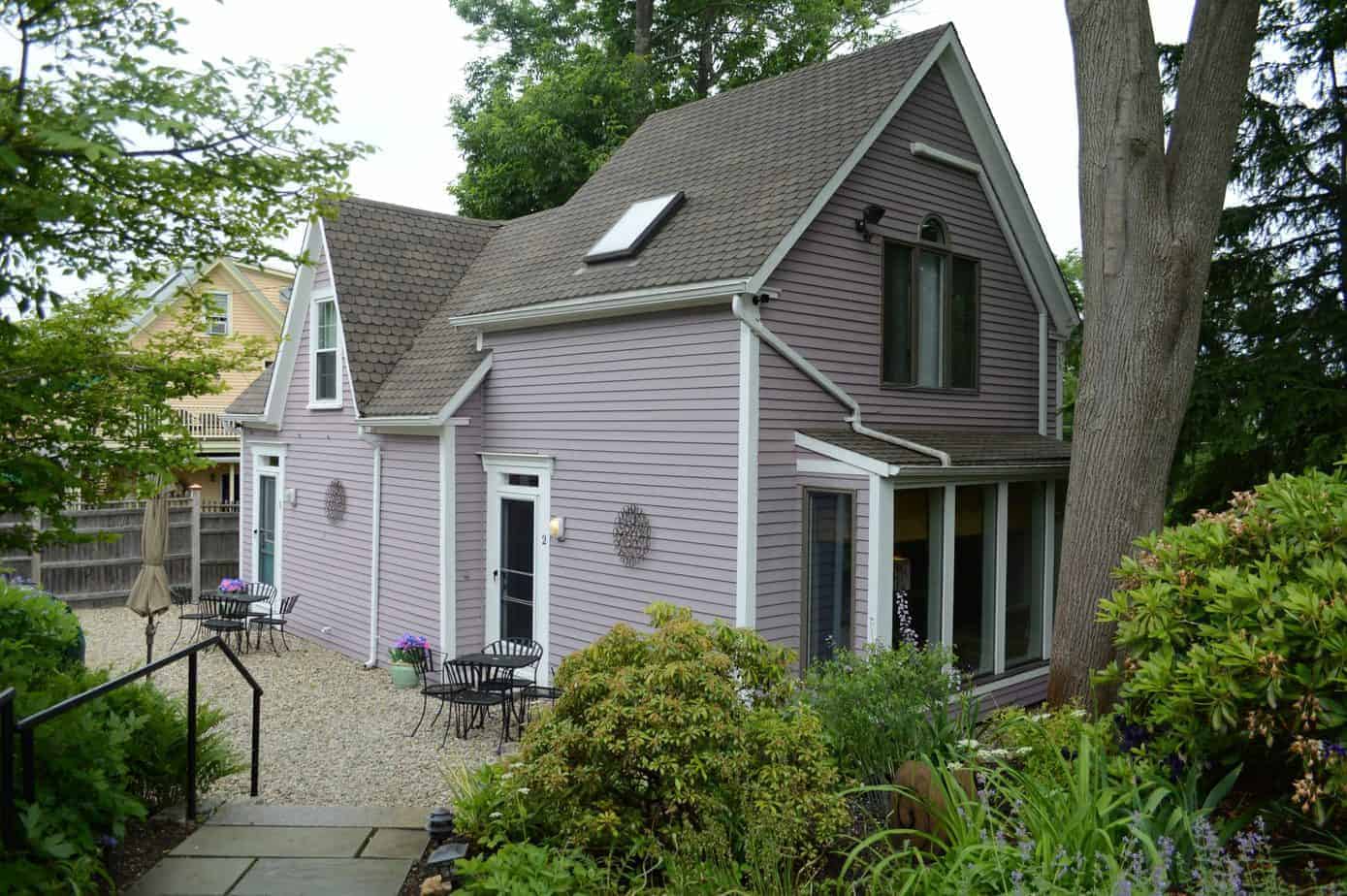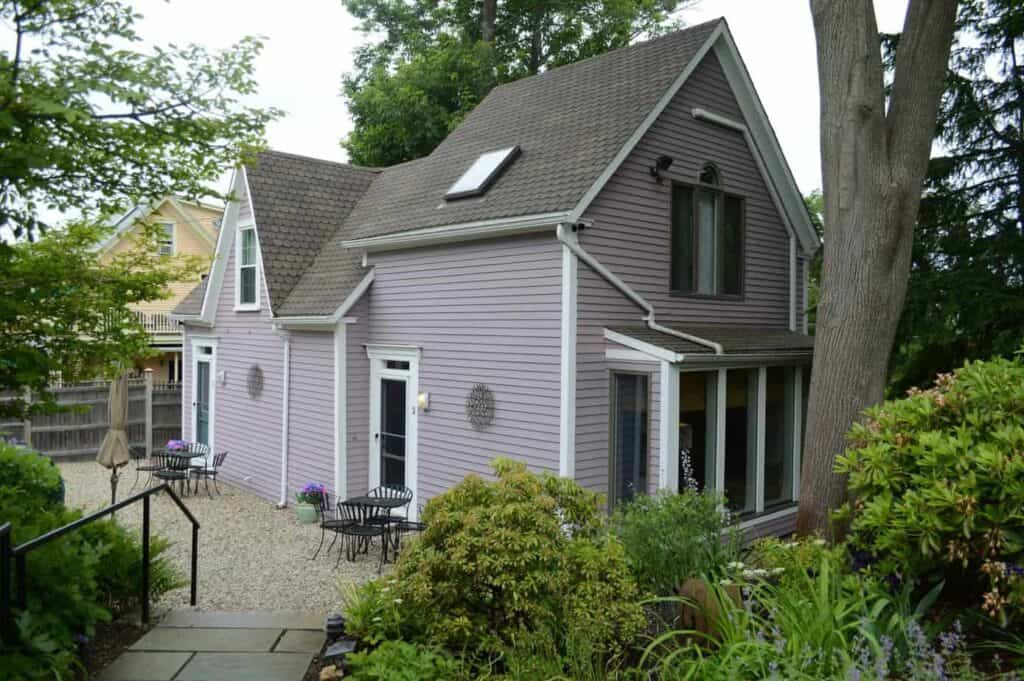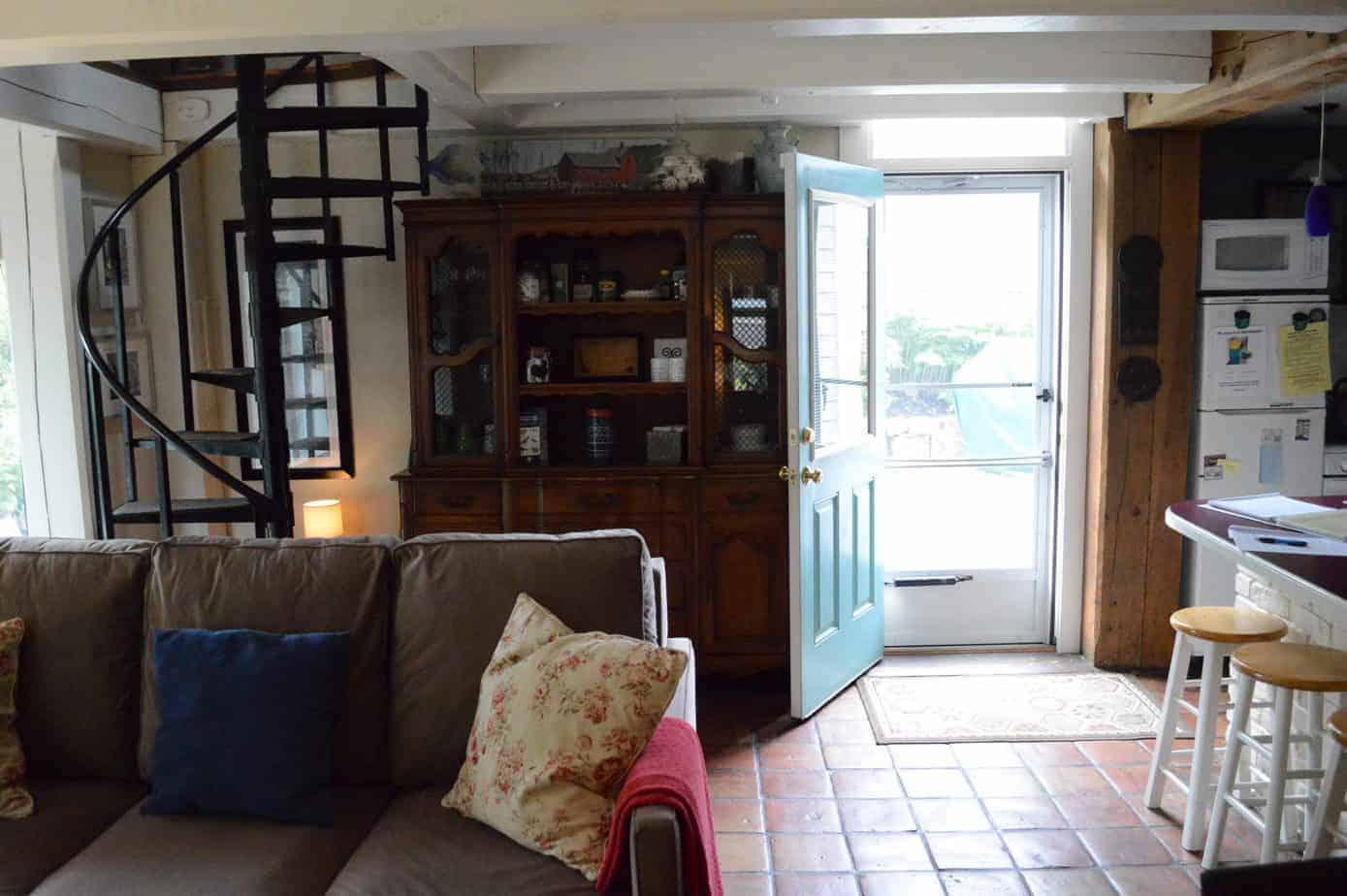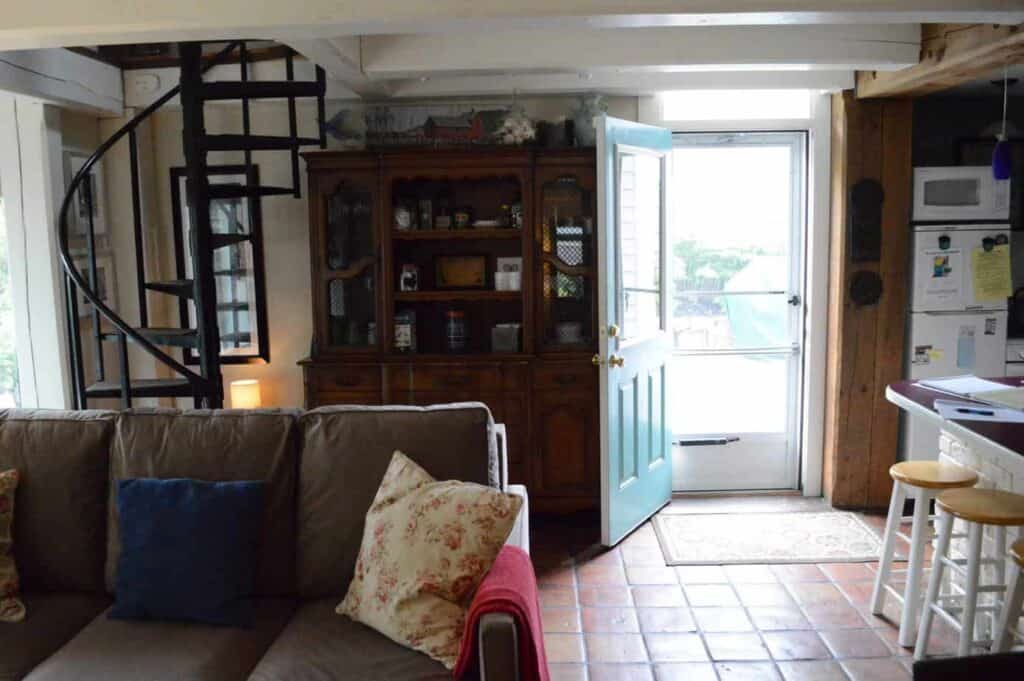 If vacationing with family, you could also rent out Unit #1 (right next door) to have the run of a whole house. The property is super cute, with spots to lounge outdoors. Got stuck with a rainy day? Board games and books line the shelves to keep you entertained. And if you're still looking for things to do near Rockport MA, there are lots of brochures hanging around in the cottage to give you inspiration.
Click here to book Periwinkle Cottage #2.
These two choices are aces for Rockport Mass hotels, but there are numerous others in the vicinity to choose from. Here are a few great options:
Rockport Inn & Suites
If you're looking for affordable Rockport MA lodging that is slightly away from the hustle and bustle, the Rockport Inn & Suites could be an ideal choice. This hotel is set around a mile away from Bearskin Neck and "downtown" Rockport, and 0.6 miles to Front Beach. This is not too far, but it takes you off the main drag for a bit more serenity.
What makes this one of the best hotels near Rockport MA:
This inn has pet-friendly rooms, an enticing indoor pool, and complimentary continental breakfast. Definitely a great choice for families. There is also a conference center for those seeking that amenity.
Read reviews: TripAdvisor | Check rates & book: Booking.com
Seven South Street Inn B&B
With its 9 gorgeous rooms, the Seven South Street Inn is absolutely lovely. Each guest room is unique and comfortable, and fireplaces are found in most of them.
Why this is such a fabulous Rockport inn:
The Seven South Street Inn B&B offers tons of amenities including a four-course gourmet breakfast that looks out of this world. Another nice touch, the inn parking passes to nearby Cape Hedge and Long Beaches.
Read reviews: TripAdvisor | Check rates & book: Booking.com
Beach & King Street Inn
Want to be near the water? Then Beach & King Street Inn is an excellent choice for Rockport beach hotels. The property is rated as a great value on Booking.com, and couples, in particular, seem to favor this inn. You don't have to walk far to be in the heart of things, either. Bearskin Neck is just 2,100 feet away!
Why this is one of the top Cape Ann hotels:
You'll love the ocean views from this accommodation, and its proximity to the beach and everything else in Rockport. Guests can also book the inn in its entirety. With 6 rooms and a capacity of 7-14 guests, this can be a great home for a family stay.
Read reviews: TripAdvisor | Check rates & book: Booking.com
Seafarer Inn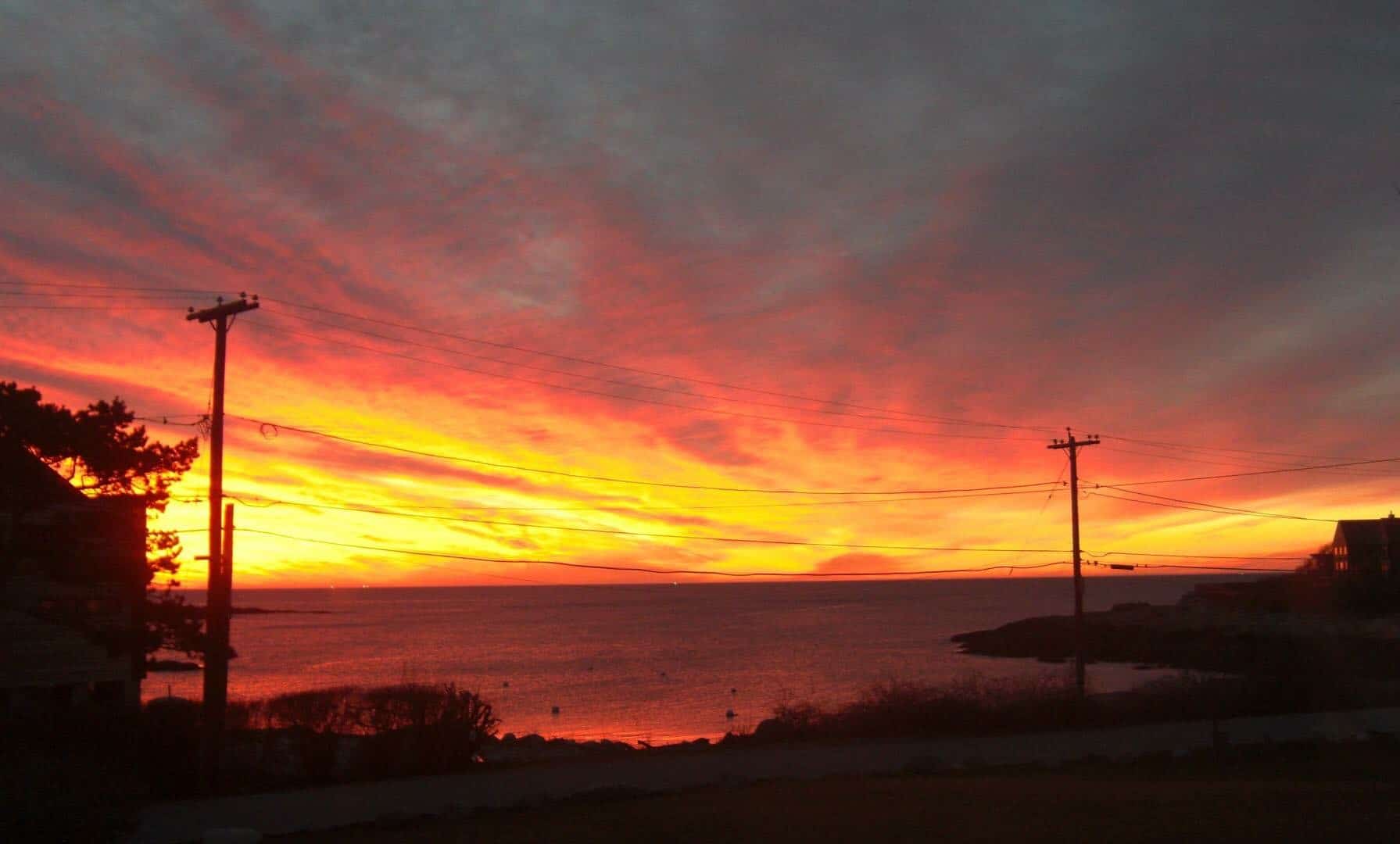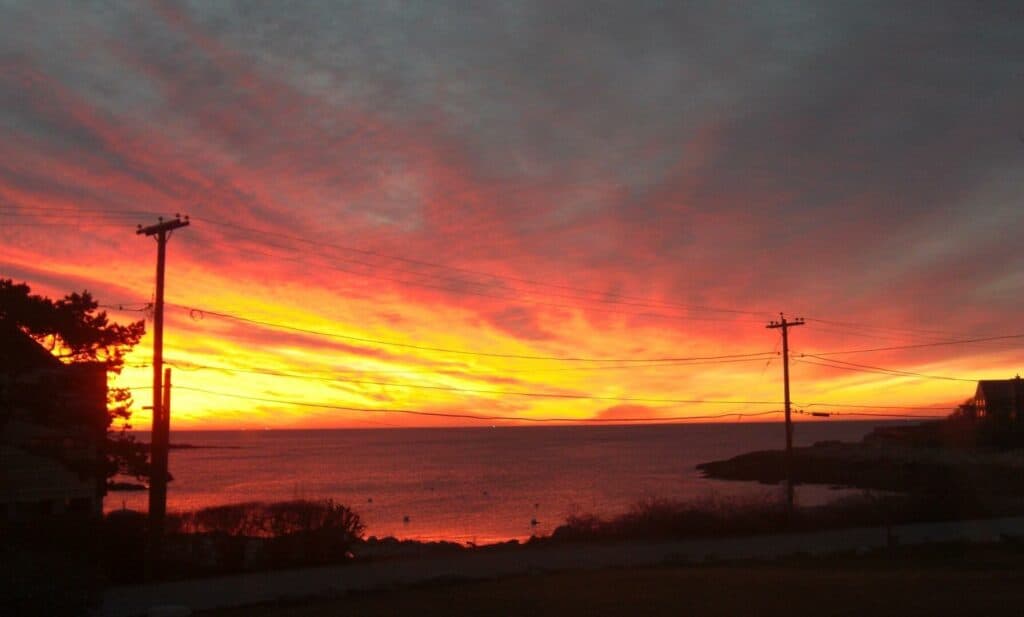 Want a delicious breakfast and a great location? That's what guests of the Seafarer Inn rave about.
Why this is may be one of the best places to stay in Rockport, MA:
The Seafarer Inn is a great option for cozy Rockport accommodation. Sea views are a real bonus at this inn, and the continental breakfast is said to be delicious. You are just a short distance from the main Rockport attractions when staying here, and on-site parking is free.
Read reviews: TripAdvisor | Check rates & book: Booking.com
---
Planning a trip to the Cape Ann region or greater Boston? Check out these other helpful resources:
---
Pin this post to save for later!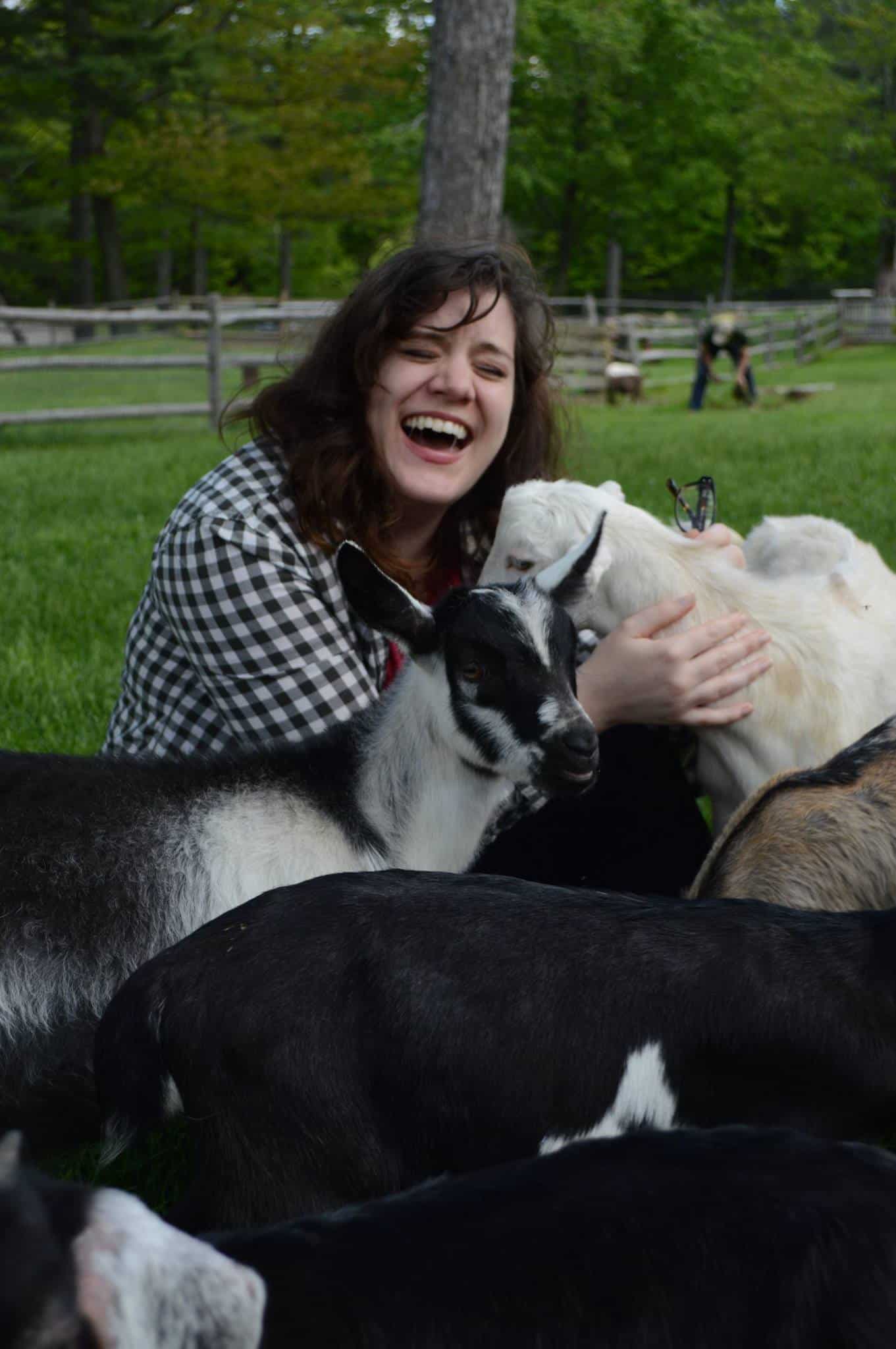 Amy Hartle is the founder and Editor-in-Chief of New England With Love, a comprehensive resource for travel in the New England region. Amy has been exploring New England since 2001. She lived in Vermont for many years and is a graduate of Plymouth State University in New Hampshire. Amy has been writing about travel for over a decade. On this site, Amy aims to share her love of New England and help you to have the best possible adventures!
Amy has been a full time blogger since 2012, and is also the publisher of Two Drifters, where she writes about couples travel and relationships, as well as Let's Adventure Baby, a family travel site. When not traveling the world or creating epic blog content, Amy can be found cuddling with her husband, son, and cats, & drinking a maple latte.