A lovely, cozy, classic New England inn. That is how I would describe the Emerson Inn located in Rockport, Massachusetts.
Please note: I was hosted by the Emerson Inn during my stay in October 2020. All opinions included in this article remain my own true, unbiased opinion.
A Historic Seaside Inn
New England's coast is undeniably attractive, drawing visitors from near and far to sit by its shores and relax to the sound of its gentle waves against the rocky coast. When visiting a coastal destination such as Rockport, most travelers are looking to be as close to the water as possible.
The Emerson Inn is a great choice for that, set directly overlooking the water and offering beautiful views toward the east. Hint: expect glorious sunrises.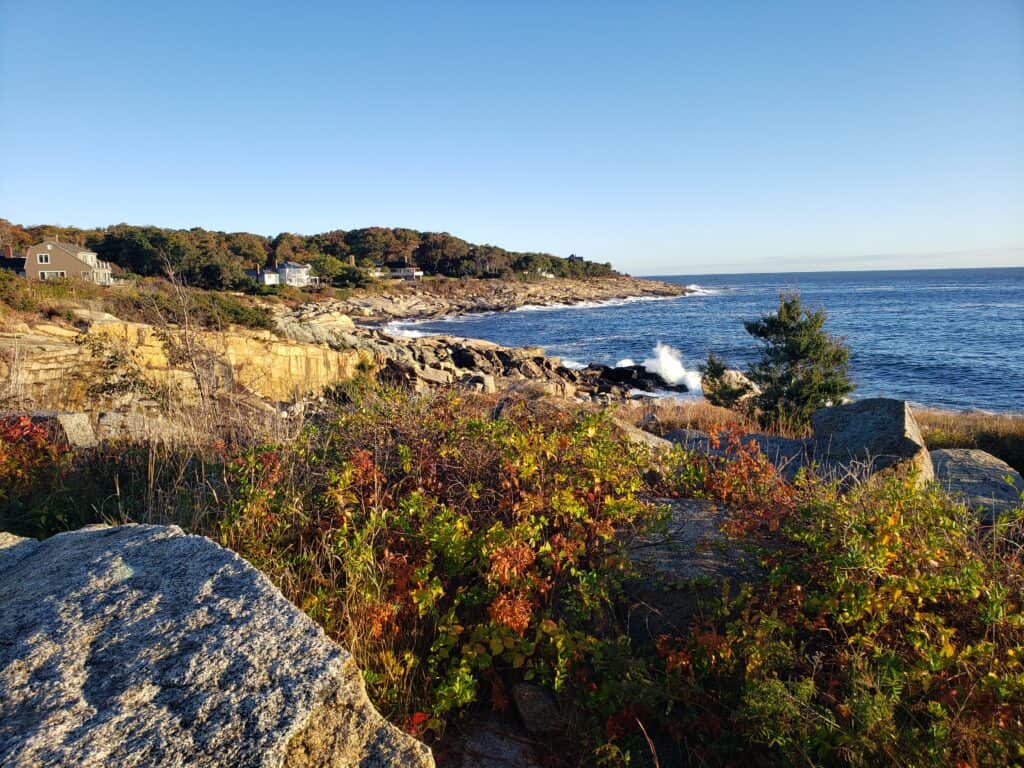 The history of the inn is quite interesting. Way back in the 1850s, the inn served as a drinking establishment, until 1856 when temperance advocate Hannah Jumper famously launched a raid that destroyed all alcoholic spirits in Rockport (in my opinion, a great tragedy).
This raid put the owner of the building out of business. Yet the building found new life as the Pigeon Cove House, opening up to serve visitors to the area, who were just beginning to recognize the beauty of Rockport as a getaway destination. Thus, it became one of the area's first hotels, and was frequented by guests such as Ralph Waldo Emerson and Henry David Thoreau.
You'll be glad to know that alcohol is again permitted in Rockport, so you can sit on the Emerson Inn's beautiful deck overlooking the sea with a cocktail or glass of wine in hand!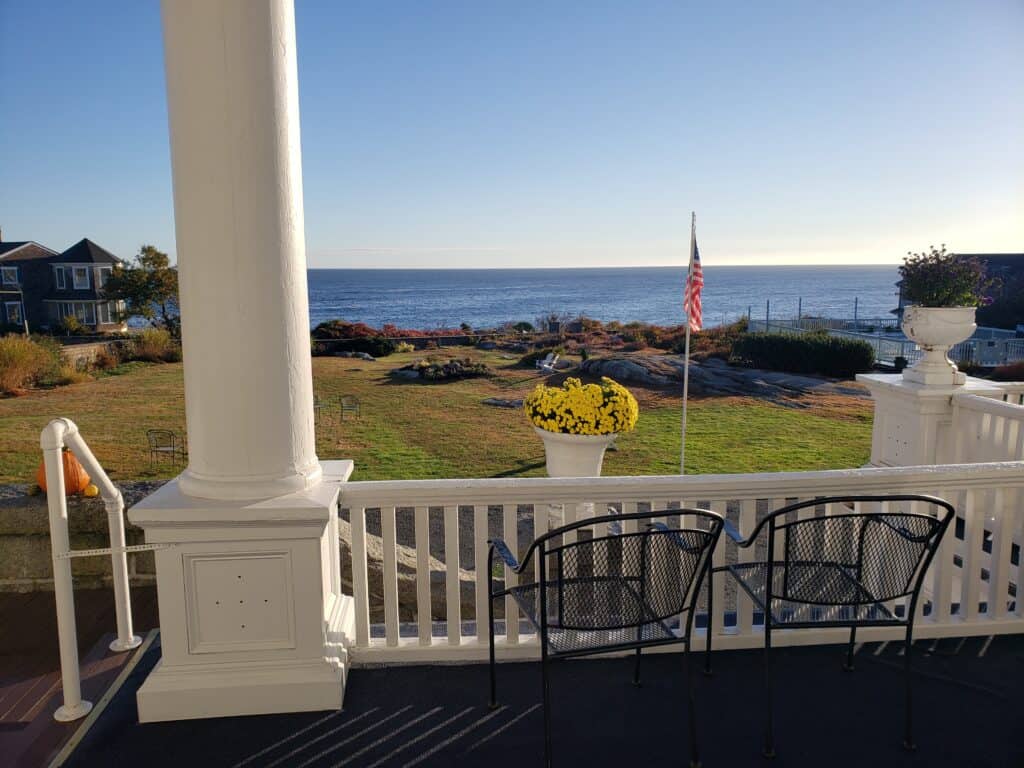 Cozy Rooms
The Emerson Inn is home to 36 distinctive guest rooms. During my stay with my sister and niece, we stayed in two of the Pigeon Cove Rooms on the third floor. These ocean-facing rooms were lovely, with a unique historic feel and plenty of space.
Let's talk about the beds. Incredibly comfortable, topped with the perfect number of soft pillows, and so spacious. Stretching out in that California King was bliss, especially when you add the bonus of falling asleep to the sounds of the sea.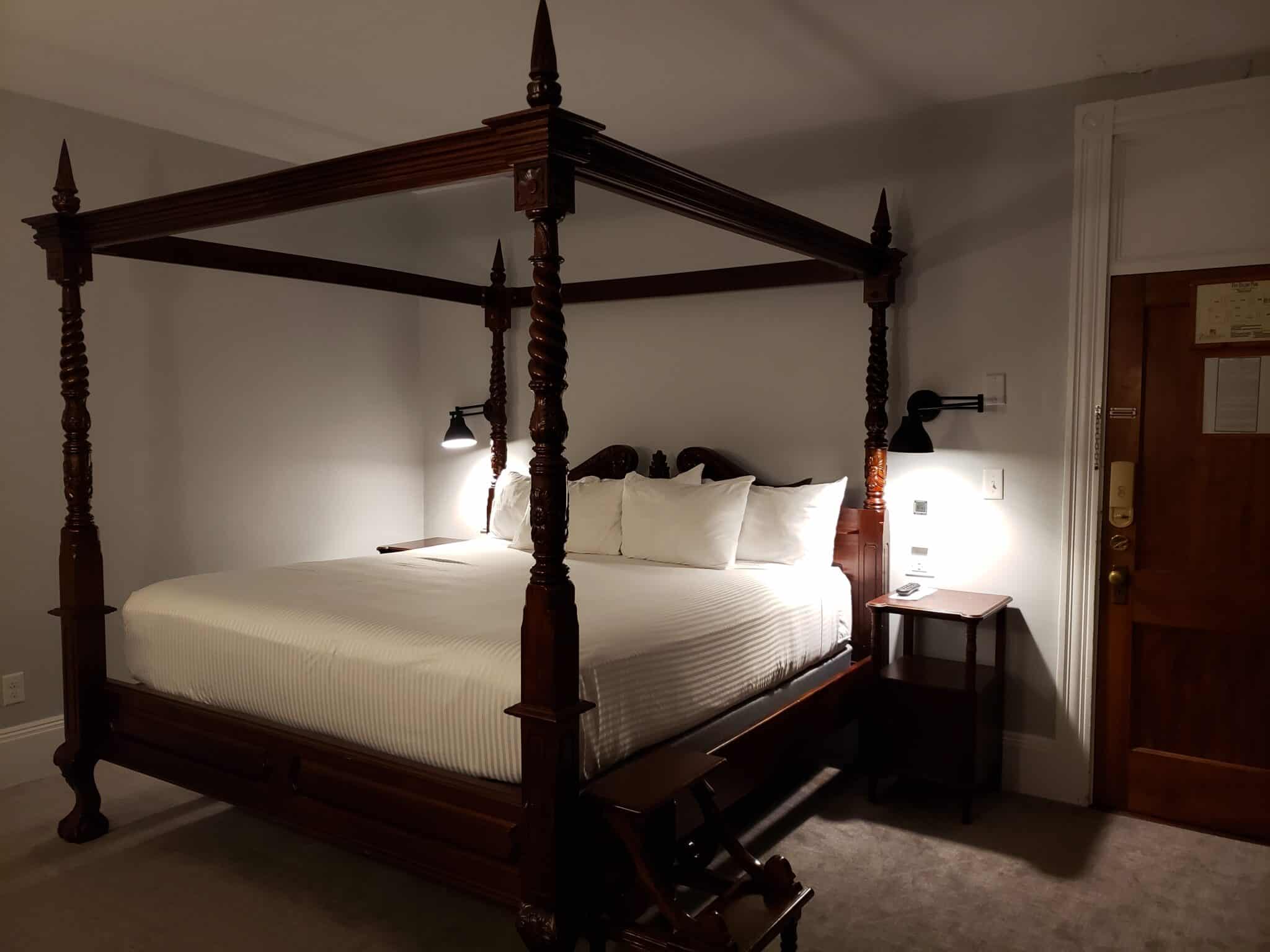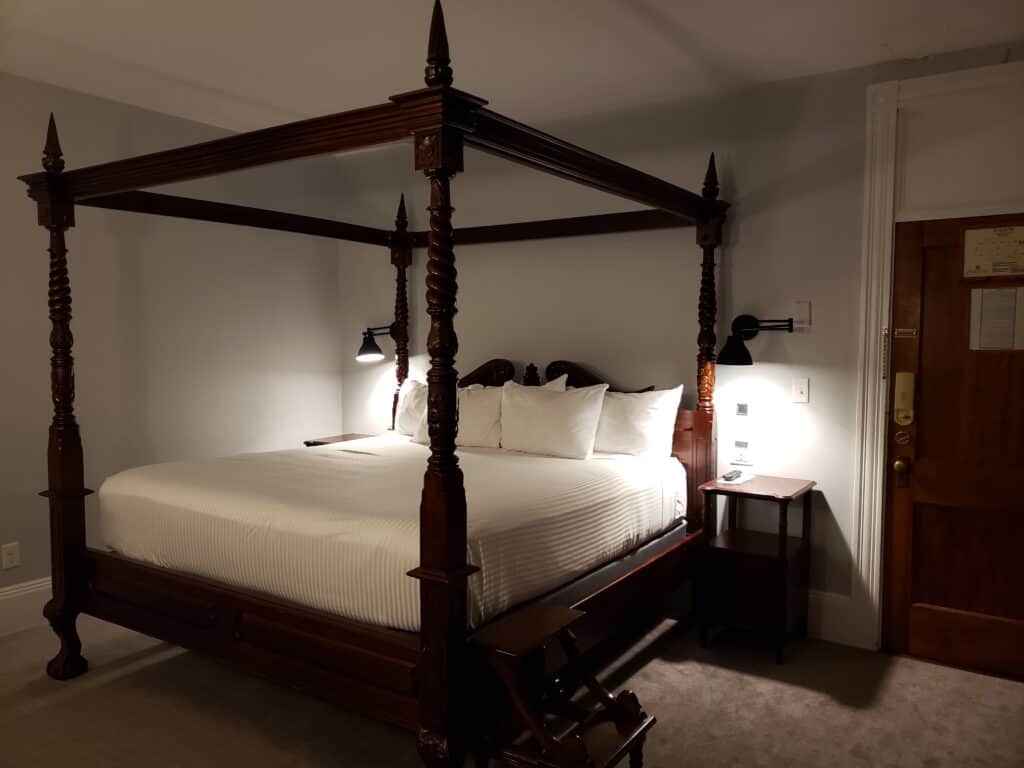 These rooms also had spa tubs, which are a nice extra. All in all, the rooms are extremely clean, well-appointed, and comfortable.
Each of the rooms is unique in its size and amenities, owing to this being a historic inn. It's also good to remember this IS a historic inn, so there are some creaky floors, antique-features, and other elements you'd expect in an old building. It's expertly-renovated for sure, but still retains the charm and character of a building from the 1850s.
There are many different rooms you could choose from here, including the historic Emerson Room which was Ralph Waldo's favored guest room when he stayed here.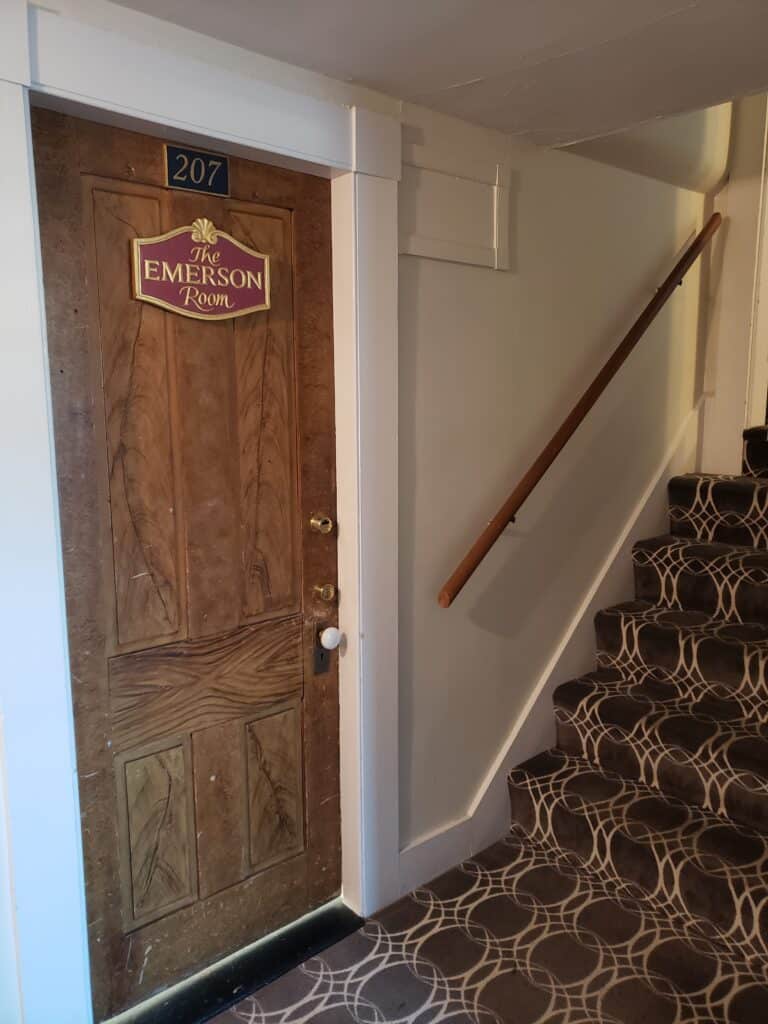 When you're not in your room, you can relax downstairs in the common areas, what feels like your own historic, luxurious living room. Seriously, I was ready to move in. The whole sitting space (aka the parlor) is welcoming and warm; the perfect place to relax with a book or chat with your fellow guests.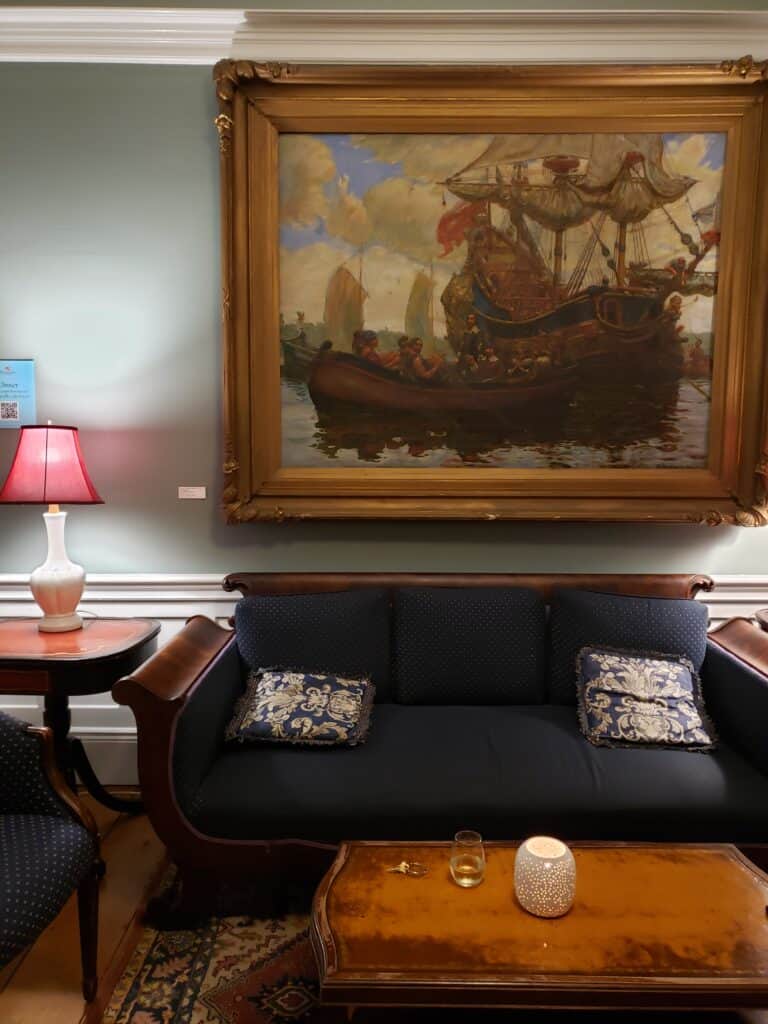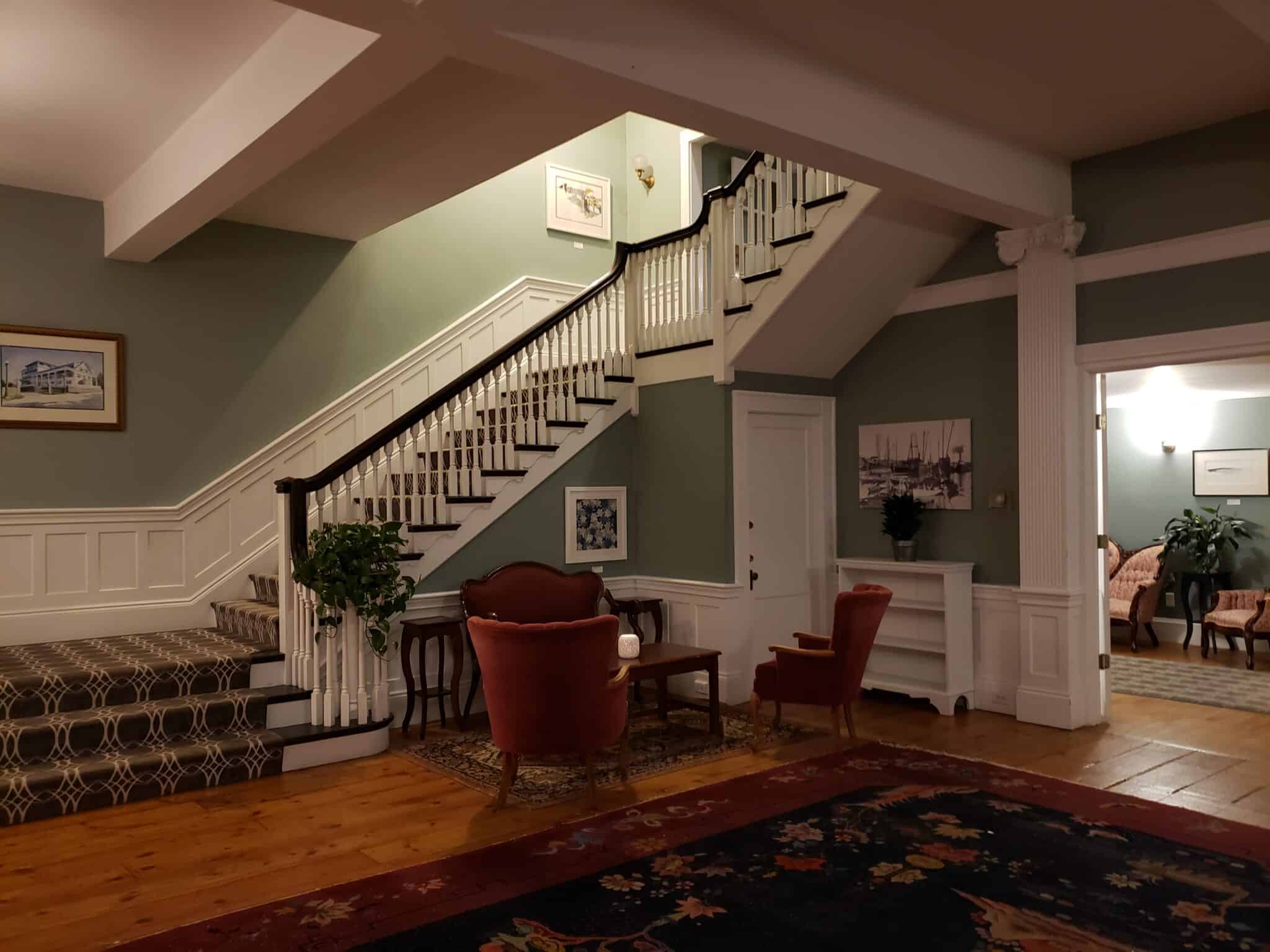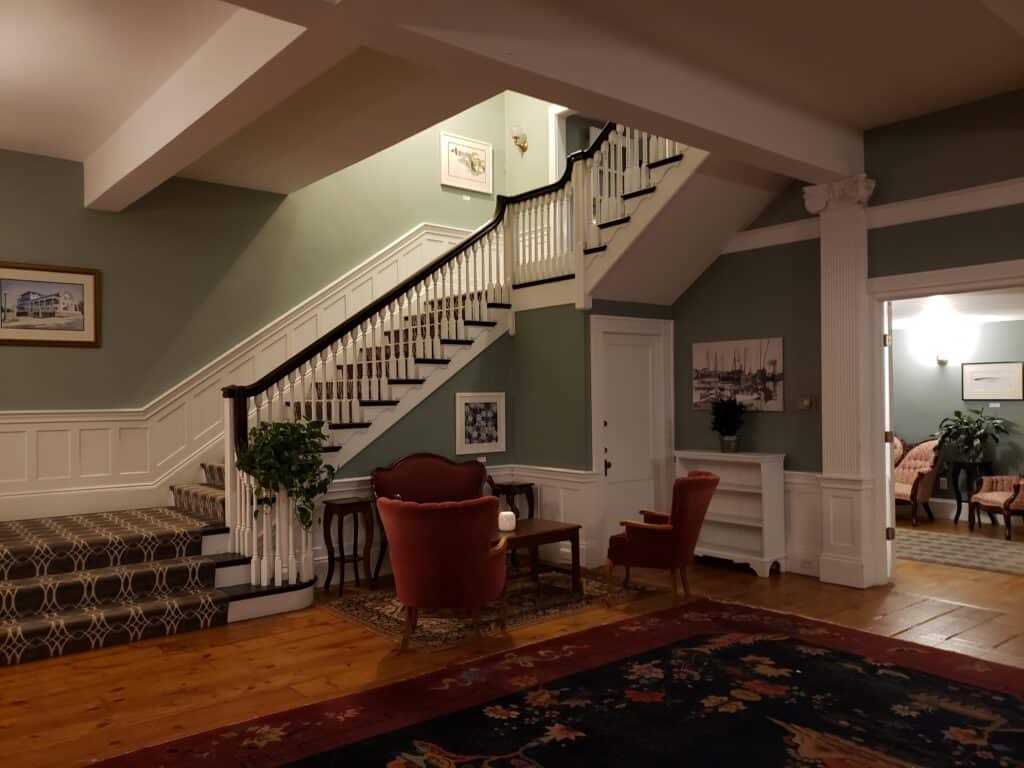 And as is befitting a seaside New England inn, there are nautical elements in abundance. The dining room has dozens of paintings of ships to remind you of New England's seafaring past. I tried to capture a few photos of my favorite of these artworks and elements.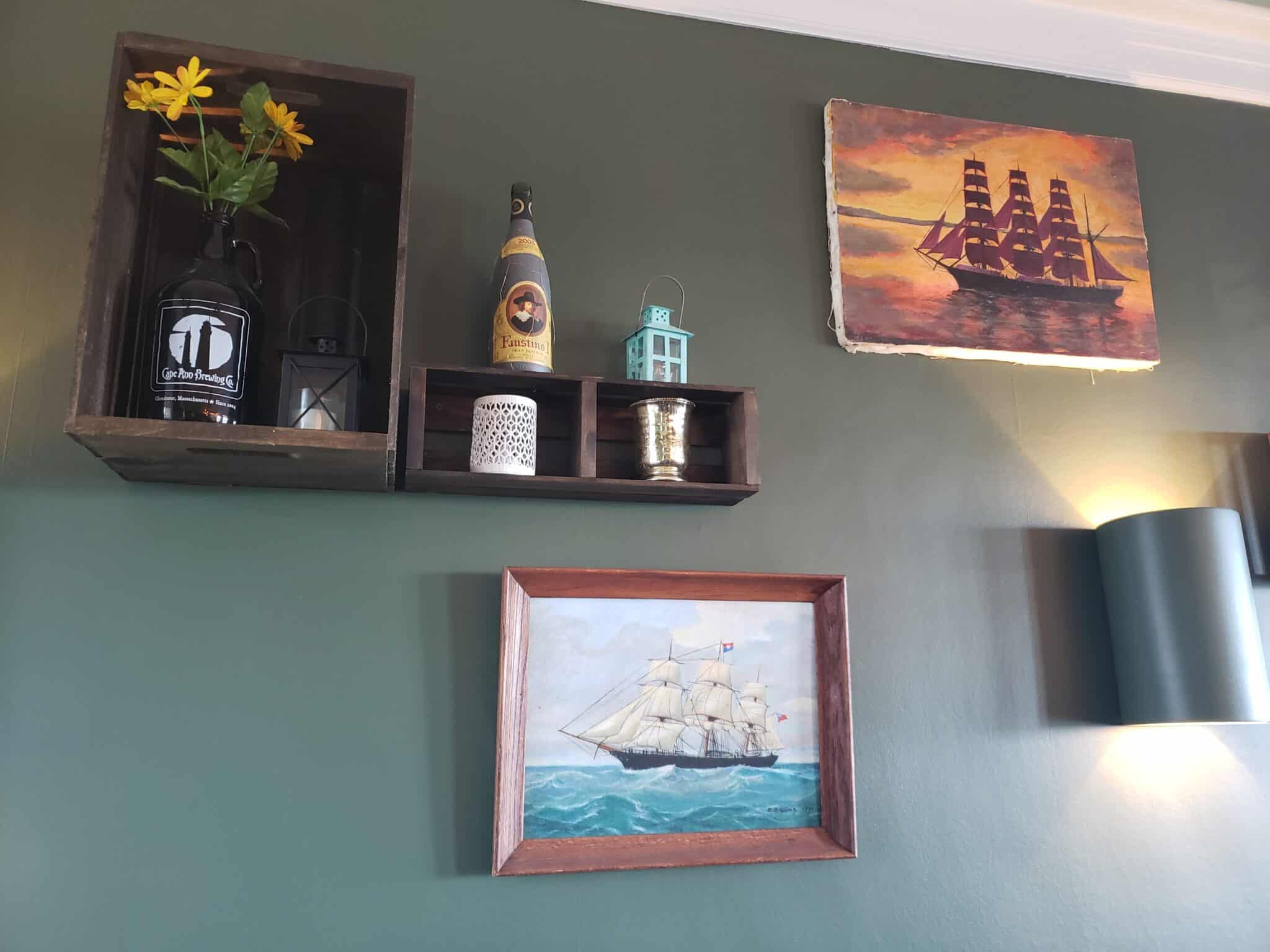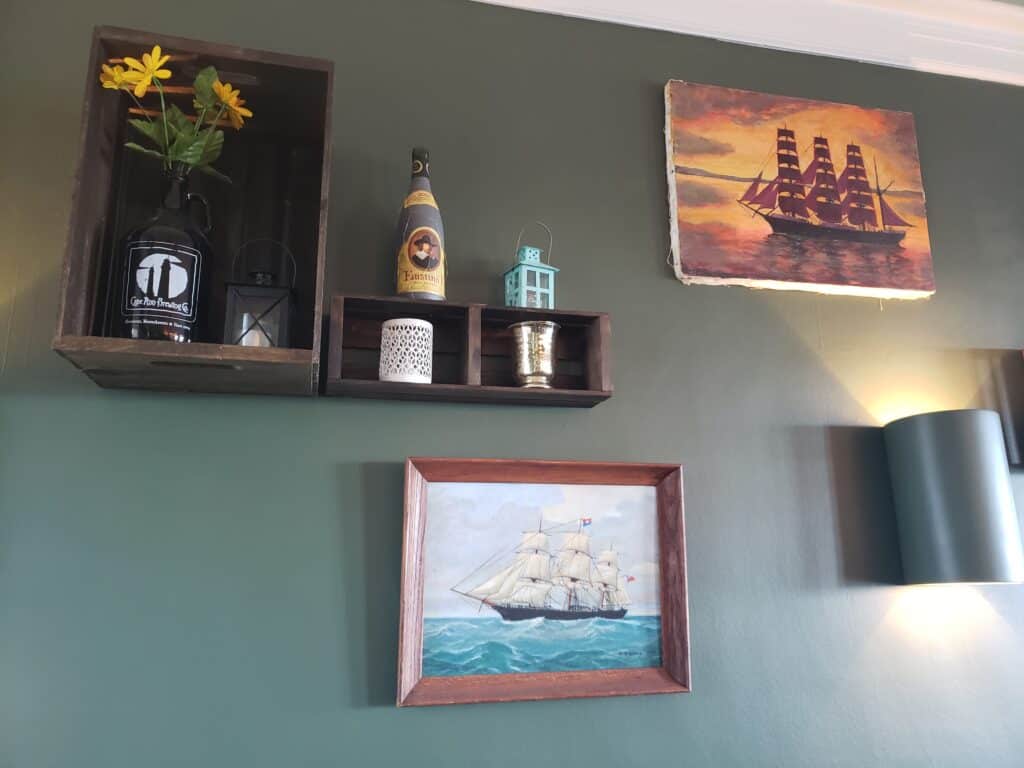 In the autumn months, the inn is decorated with hints of fall; pumpkins and mums abound!
If the weather is nice during your stay, you will probably want to be on the porch, with its inviting rocking chairs. Sit here and gaze out at the Atlantic Ocean. On the other side of the front porch is the outdoor dining area, so you can also enjoy a meal with these same views.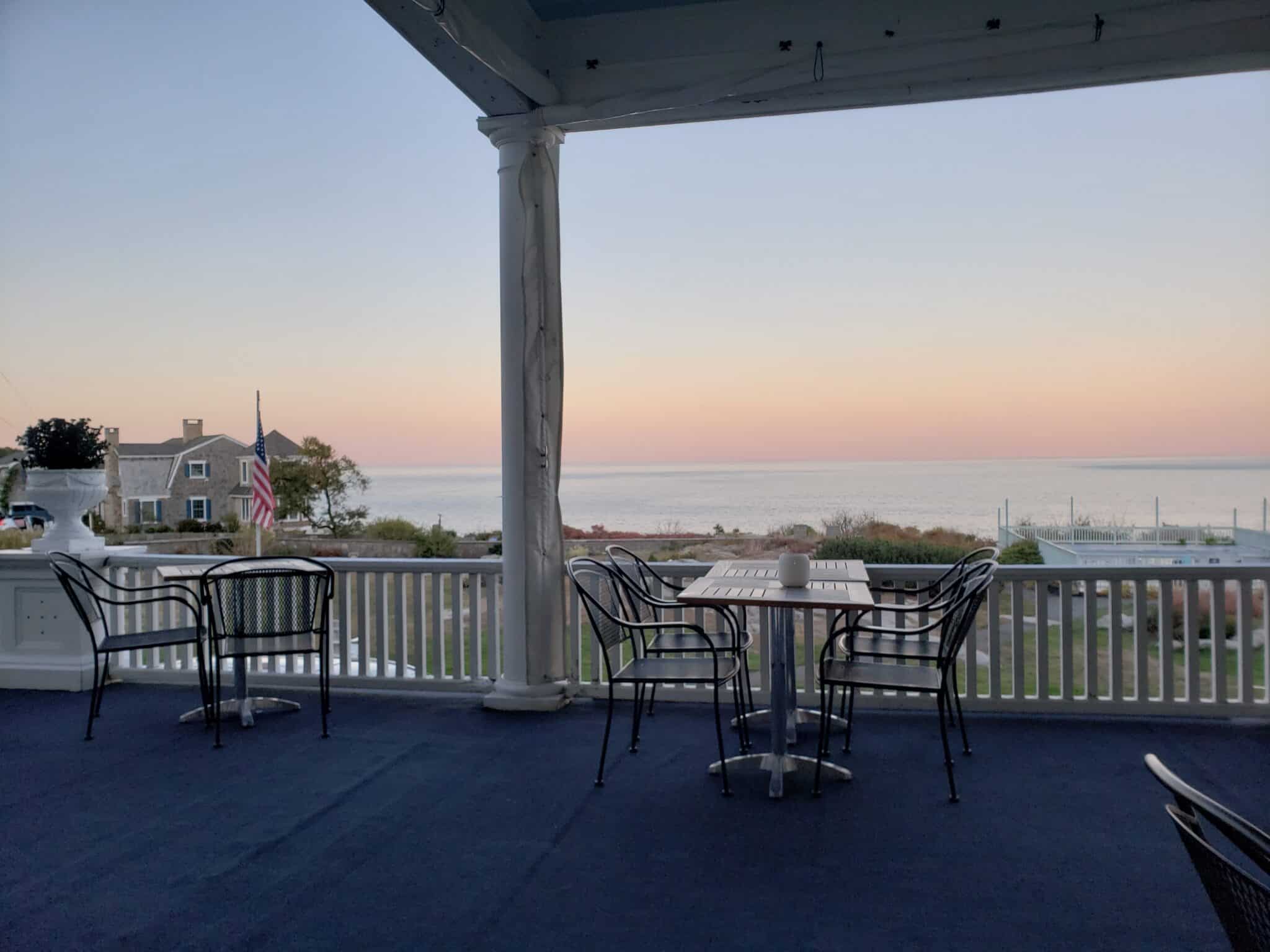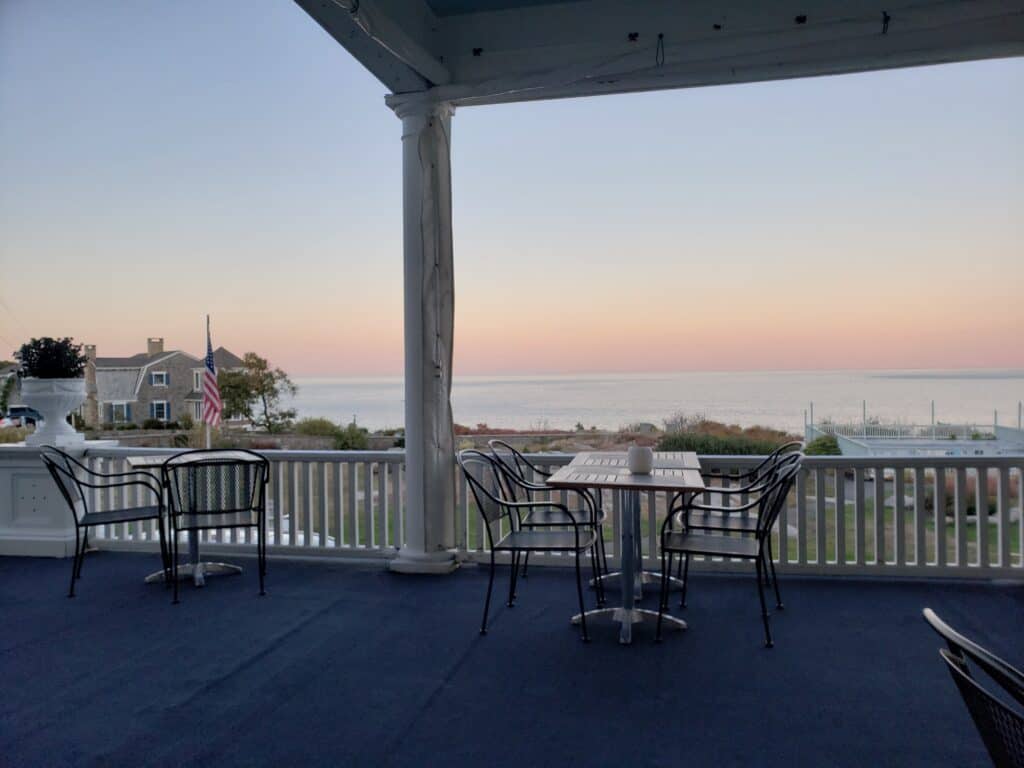 Dining at The Emerson Inn
Speaking of dining, you should know that you will eat VERY well while staying here. The onsite restaurant, Pigeon Cove Tavern, maintains a "commitment to quintessential New England fare done right" and they fulfill this promise. We enjoyed delicious fried haddock, hearty chowder, a simple yet elegant cheese board, excellent wine, and more.
Note: We were visiting during the COVID-19 pandemic, so the restaurant's menu was limited. I would love to return when their full menu is available as I'm sure there are many incredible options.
Breakfast is also included with your stay (be sure to book direct to take advantage of this amenity) and that, too, was a great experience. The menu changed slightly each morning of our stay, but the quality was consistent and the home fries particularly noteworthy!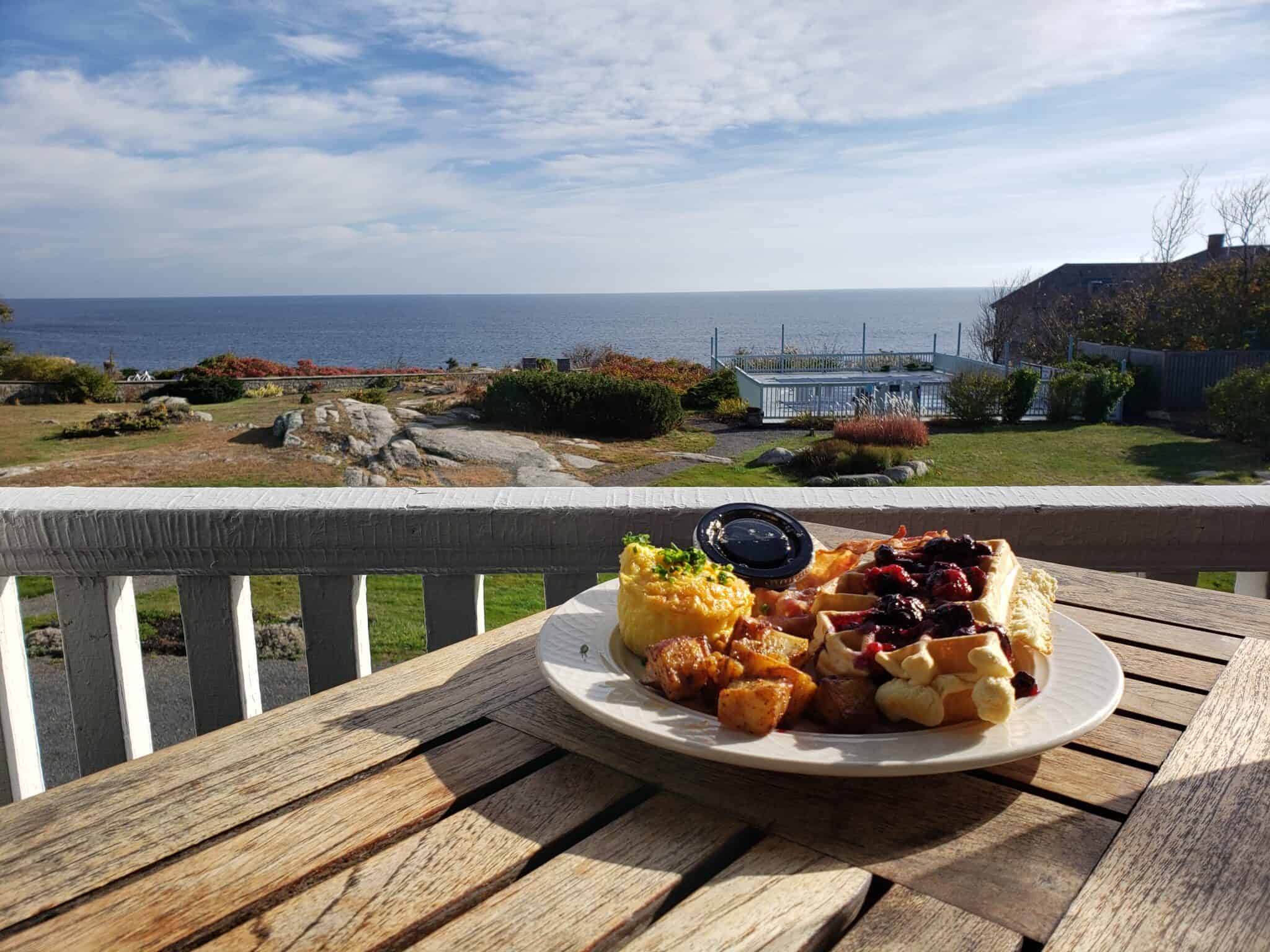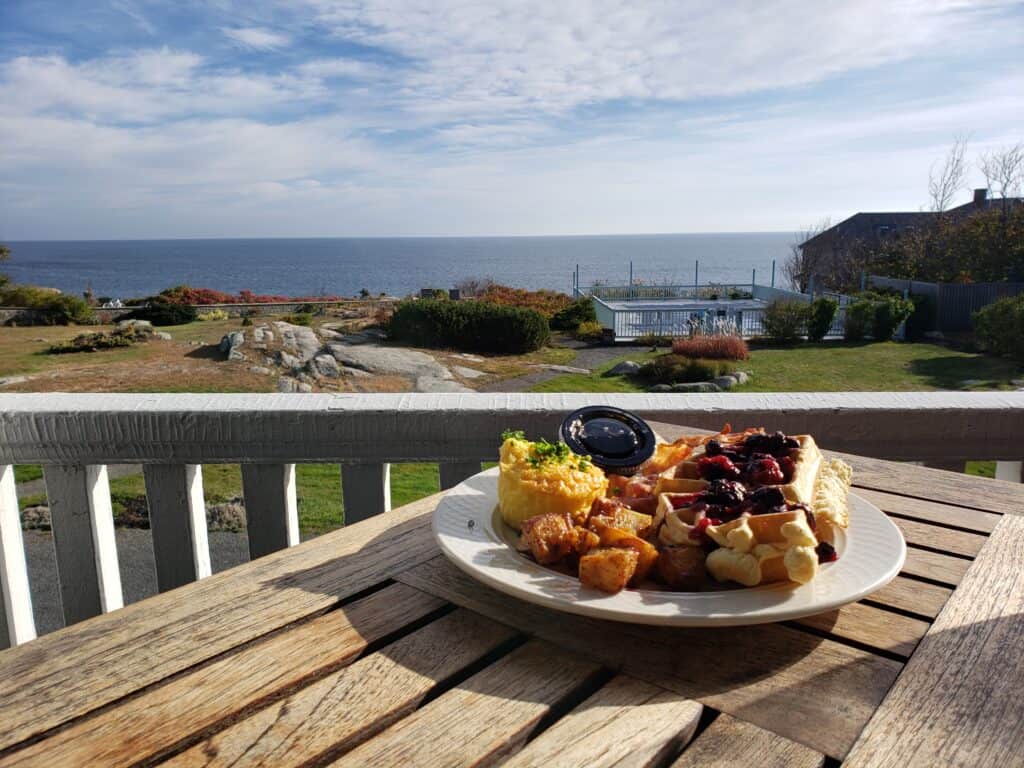 What Else to Know
What else to tell you about our stay?
Who is this inn for: If you're visiting Rockport and in search of a quiet spot for your accommodation, this is a prime choice. The Emerson Inn is located just north of downtown Rockport along the coast of Cape Ann, so you're far enough away from the busy-ness of downtown. This would especially be a plus in the busy summer months. The downtown area is just a few minutes' drive away, or you could walk or ride bikes if you chose to.
This inn would be ideal for couples seeking a romantic getaway or small family groups.
Other amenities: Summer is really the ideal time to come to make the most of the region. From June through Labor Day, the inn's outdoor heated pool is open. Imagine splashing in the temperate water while looking out at the nearby sea? So pretty.
There are many other amenities to make your stay extra special, including daily coffee and tea in the lobby, yard games,
The staff: What a friendly and helpful group of people we encountered! Everyone was so kind and went above and beyond for our stay. We also really appreciated the staff's commitment to keeping the inn spotless and well-sanitized during COVID. Truly, their cleanliness was so impressive (and my sister would tell you if it wasn't!)
Thinking of staying here? We definitely recommend it as a great place to stay in Rockport. They'll be opening again for the 2021 season, so start dreaming and planning for a New England summer getaway !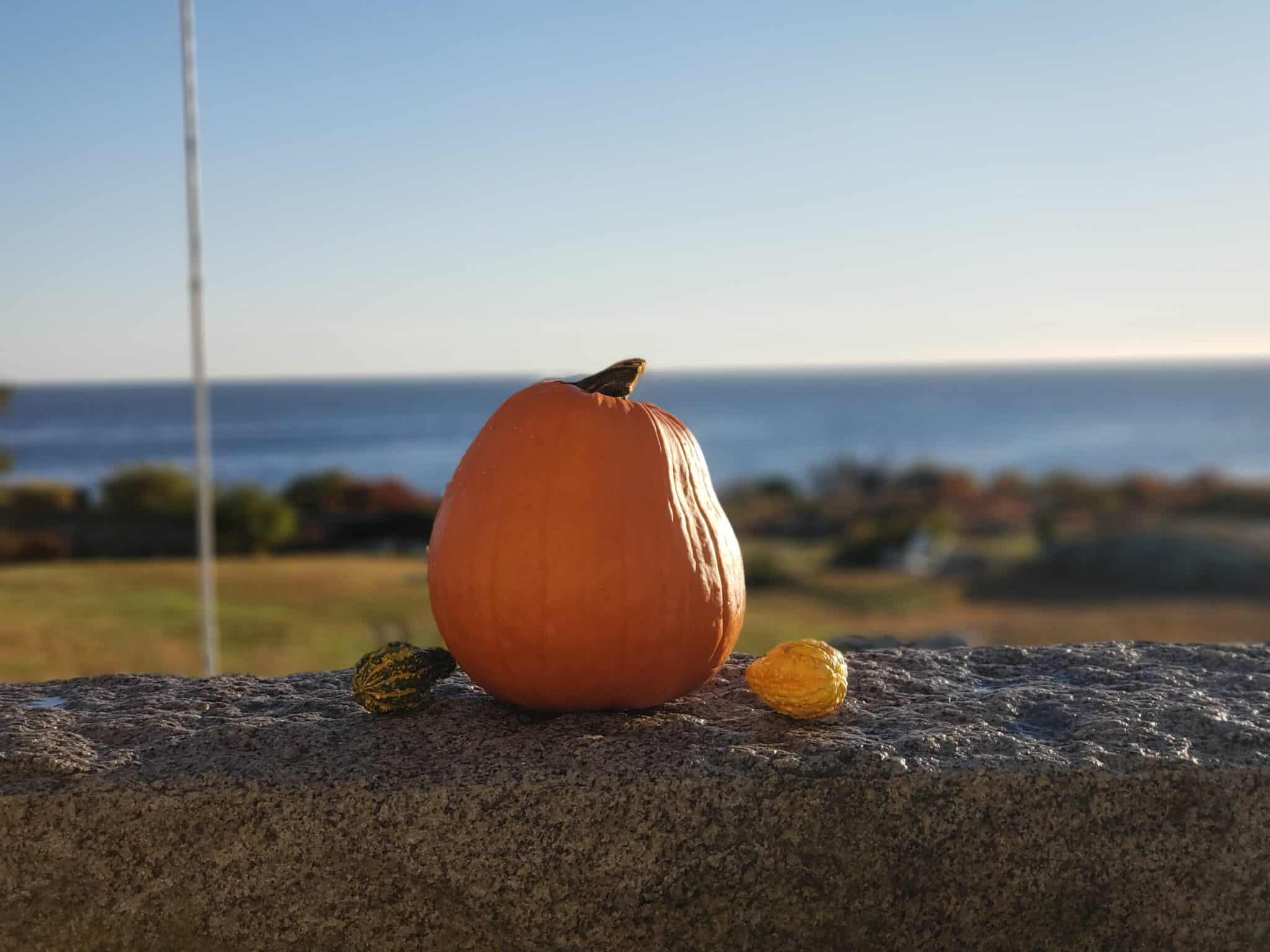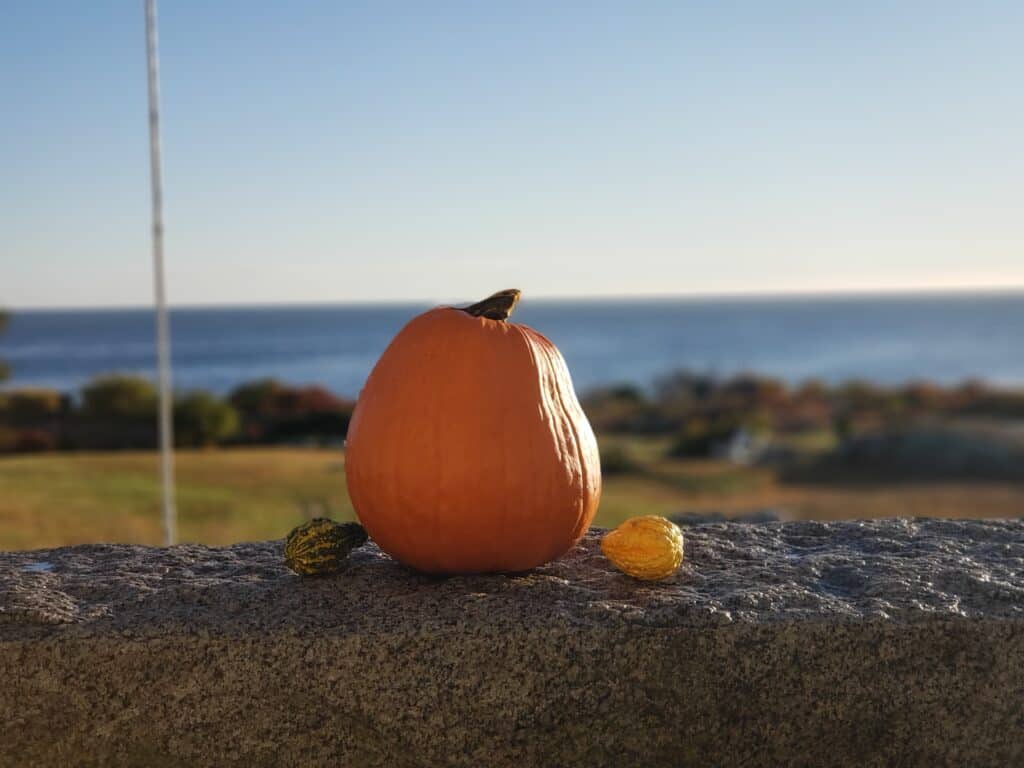 ---
More information for Rockport and the region:
---
Pin this to save for future travel planning!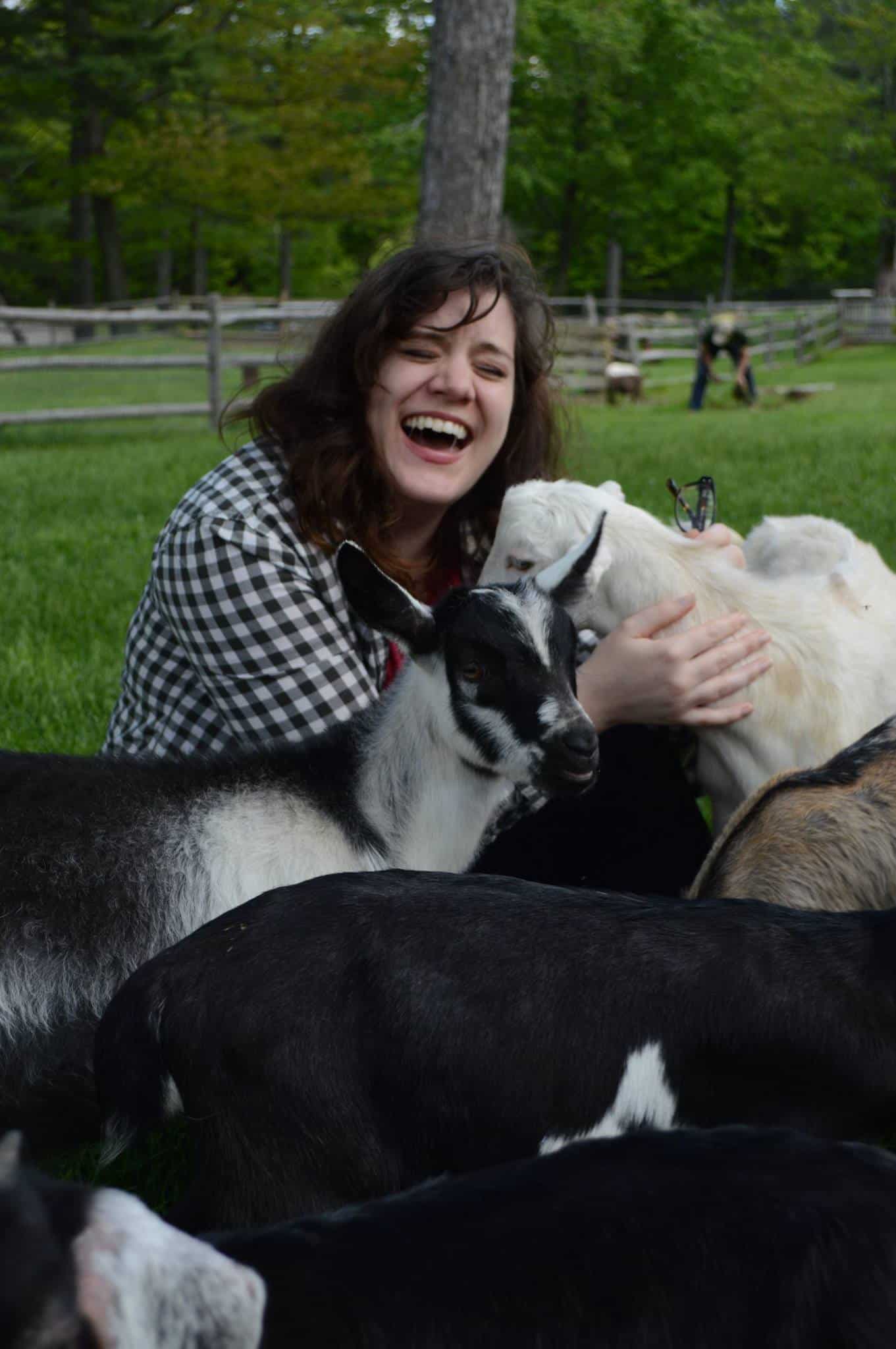 Amy Hartle is the founder and Editor-in-Chief of New England With Love, a comprehensive resource for travel in the New England region. Amy has been exploring New England since 2001. She lived in Vermont for many years and is a graduate of Plymouth State University in New Hampshire. Amy has been writing about travel for over a decade. On this site, Amy aims to share her love of New England and help you to have the best possible adventures!
Amy has been a full time blogger since 2012, and is also the publisher of Two Drifters, where she writes about couples travel and relationships, as well as Let's Adventure Baby, a family travel site. When not traveling the world or creating epic blog content, Amy can be found cuddling with her husband, son, and cats, & drinking a maple latte.