New England is a region that is full of excellent summer vacation destinations. Truly, if you're looking for summer in New England vacation ideas, you have so many choices!
There are numerous lakes to splash around in, hikes that bring you so close to the waterfall's edge that you can feel the cool mist on your face, boat tours that get you out on the sparkling ocean, award-winning wineries where you can sip the flavors of the region, incredible vacation rentals, hotels, and beautiful windswept beaches where you can lounge back and listen to the waves crash on the shore!
The hardest part will be deciding which New England vacation destination sounds the best to you, but if you're looking for a classically cool, quintessential summer in New England getaway, you've come to the right place. Whether you're planning a family vacation or a romantic getaway, we've got some ideas for things to do in summer in New England!

Summer in New England Vacation Ideas
Get Outside in Bar Harbor, Maine
Maine has so many beautiful places to visit any time of the year, but summer in Maine is a sight to see! Maine is full of charming small towns, but one, in particular, stands out as a fantastic summer vacation destination: Bar Harbor.
Often referred to as the "gateway to Acadia National Park," you'll find no shortage of awesome things to do in Bar Harbor and Acadia, like visiting Thunder Hole, the natural attraction that boasts impressive splashes and sprays up to 40-feet high, and amazing hiking that will take you all around this gorgeous scenic area!
You can even follow our detailed 3-day itinerary if you'd like to leave the planning to us. As for where to stay in Bar Harbor, you have plenty of choices between charming inns and hotels, well-kept campgrounds, and unique Airbnbs, but as long as you're staying on this lovely New England island, you're going to have a fabulous summer stay!
Road Trip around Scenic Vermont
The Green Mountain State gets a lot of press for its fabulous fall foliage, but Vermont is full of awesome things to do and is a great vacation destination any time of the year! Summer in Vermont is especially attractive with gorgeous summer weather to take advantage of, and plenty of spectacular outdoor sights to see, like breathtaking waterfalls and incredible hikes that wind through and around the breathtaking greenery that this state boasts so much of.
You can follow our detailed Vermont Road Trip Itinerary or create one of your own, but with that small-town charm all around the state and scenic roads that are both the journey and the destination, you'll enjoy your road trip either way!
If you're creating your own road trip, look into adding the following must-visit spots in Vermont to your list: Montpelier, Stowe, Burlington, Rutland, Bennington, Manchester, and Woodstock. Vermont has some cool places to stay, too; whether you're looking for a romantic getaway or a unique Airbnb experience, Vermont is full of interesting options for where to lay your head each night!
Experience Arts and Culture in the Berkshires
If you're looking for a summer vacation that is full of arts, culture, and quintessential New England charm, look no further than the Berkshires. The Berkshires is a gorgeous region to stay in any time of the year, with plenty to do and see, but a summer getaway lets you enjoy all the interesting entertainment in ideal weather; just wait until you catch one of those summer sunsets!
Looking for live music? Visit Tanglewood in Lenox, the summer home of the Boston Symphony Orchestra and host to popular artists that come from far and wide to perform in this lovely natural setting that doubles as a music venue. Interested in art? Check out the Norman Rockwell Museum in sweet Stockbridge or MASS MoCA in North Adams.
If you're looking to get a little bit closer to the history of the area, look into touring the Upper Housatonic Valley African American Heritage Trail or the historic estate of Edith Wharton in Lenox. We know fall in Massachusetts gets a whole lotta press, but the Berkshires in the summer is the perfect way to experience the arts, culture, and bucolic beauty of this region.
Take a Coastal Road Trip
Coastal New England road trip, anyone? New England's coast is the perfect place to head to for summer vacation, and there are so many great options for where to go and what to see. Maybe you'd like to start your trip in Boston and make your way through adorable small towns in coastal Massachusetts, New Hampshire, and Maine, landing in a charming locale like Portland, Maine or Acadia National Park.
Or perhaps you'd like to meander your way slowly up the coast to some of the more hidden gems of coastal Maine?
Whatever your pace or your goal, coastal New England has lots of great options! We've got some ready made road trip itineraries for you here:
Boston to Portland, Maine: A Road Trip Itinerary
Ultimate Boston to Acadia National Park Road Trip (2+ Day Itinerary)
The Ultimate Maine Coast Road Trip: Kittery to Bar Harbor
Oh, and if you're looking to rent a car, you can find some great deals on rental cars in New England here.
Splash around the Lake at Lake Winnipesaukee, NH
In the Lakes Region of New Hampshire, Lake Winnipesaukee is one of the absolute best places to visit in the Live Free or Die state! With over 40 communities surrounding the lake, you can find just about anything you could possibly need for an ideal New England lake vacation.
There is no shortage of boat rentals and supplies for watersports, beach access all around the lake for those who are looking to cool off in the bracing water, and the little towns that surround the lake are full of that summer fun vibe, too!
There's Meredith, hands-down one of the cutest small towns in New Hampshire, where you can find great lake-side dining at Town Docks Restaurant and shopping at The Marketplace at Mill Falls.
On the other side of the lake is Wolfeboro, full of fun things to do like the Wolfeboro Art Walk that takes place the last Saturday of the month throughout the summer months, and gorgeous scenery, to boot. Need more convincing? Read why Vogue considers Lake Winnipesaukee a prime vacation destination for those in search of a rejuvenating summer retreat!
Summer in New Hampshire is an absolute treat!
Go Whale Watching
Going on a whale watch is a quintessential summer activity that should be on everyone's New England bucket list! Cape Cod, coastal Massachusetts, and Maine are all known for their great whale watching opportunities, with the whale watch season typically running from late spring through mid fall.
Not only are whale watch tours a great way to experience the beautiful sea, but they're also highly educational, with naturalists and wildlife experts often narrating the tours. Whale watches are the perfect way to get an up close and personal view of the impressive marine wildlife that is found along the region's coast, and a fantastic memory making experience.
The Best Whale Watching in Cape Cod + Seal Tours!
Best Whale Watching in Massachusetts: 12 Highly-Rated Tours
Where to Find the Best Whale Watching in Maine
Keep Cool in Coastal Connecticut
If you're looking for a quaint, idyllic way to keep cool on your summer vacation, head to coastal Connecticut to the sweet little community of Old Saybrook. One of the best places to visit in all of Connecticut, Old Saybrook is the perfect landing spot for those looking to slow down and unwind during their summer vacay!
Firstly, there's an adorable mini-golf course where you can "Putt A Round By the Sound," then you can hit Harvey's Beach, one of the best beaches in Connecticut and an excellent spot to splash around in the cool waters of the Long Island Sound.
Once you've had your fill of sun and surf, you can head out to do a little antiquing in Old Saybrook's well-stocked antique stores before visiting the Katharine Hepburn Cultural Arts Center to see performances of all kinds.
If you're looking for an ideal setting to relax and unwind, there's no better option than a stay at Saybrook Point Resort & Marina, where laid-back elegance meets coastal comfort with stunning shoreline views. In fact, if you can score the Lighthouse Suite, you'll have crystal clear views everywhere you turn; this is perfect for a romantic summer getaway.
Old Saybrook is an ideal spot for a relaxing summer retreat because you can also travel a bit further along the coast and visit the waterfront town of Mystic and spend a day there exploring another Connecticut gem! What better way to keep cool in a Connecticut summer than to enjoy the lovely coast?
Have a Classic Rhode Island Summer on Block Island
Summertime is the perfect time for "Island Time!" Just a 30-minute ferry ride from Point Judith, Block Island is in its own little world out off the southern coast of Rhode Island, and the perfect New England summer vacation destination!
There's just about everything you could possibly ask for in a summer spot: lovely lighthouses, beautiful beaches (some of the best in all of Rhode Island!), views that are absolutely breathtaking (check out the Mohegan Bluffs for one of the best views in all of New England), and phenomenal food choices!
Block Island is one of the best places to visit in Rhode Island and is on every self-respecting Rhode Island Travel Guide's list of must-see places in the state, but one of the coolest things about the island is the great selection of art galleries and unique, one-of-a-kind independent shops, so you're sure to find some interesting mementos to take home with you!
There are plenty of great options for where to stay while on the island, but The Atlantic Inn is the perfect choice for anyone looking to incorporate a little extra romance into their summer getaway, offering stunning views, an award-winning fine-dining restaurant, and rooms that comfortably embody the Victorian charm of inn, a stay here will give you a little taste of New England summers passed.
No one wants to rush through their RI summer vacation, right? "Island Time" will ensure you get to slow down and enjoy every single moment of your New England summer getaway!
Sail Away on a Windjammer Cruise in Maine
If you're looking for quintessential New England experiences for your summer vacation, look no further than a Windjammer Cruise! What could be more Summer-in-New England than a week spent out in the coastal waters of Maine, experiencing for yourself some of the maritime culture that most of New England so proudly embodies?
You can read about my experience here, but the first thing you have to realize is that sailing on a Windjammer Cruise is an immersive experience that you simply will not find if you keep both feet firmly planted on the shore!
You'll likely sail out of an adorable sea-side town like Rockland or Camden, where you'll have a chance to "get your feet wet" in a sweet little coastal community before you set your first foot aboard a sailing vessel, and then once you climb aboard, that's when the real magic takes place!
What better way to take in the beauty of the coast than to view it from the water? You'll see lighthouses, marine life, adorable coastal communities, cool islands, and some of the most spectacular sunrises and sunsets you'll likely ever come across in your life, all with the fresh scent of the sea air filling your lungs and your spirit!
Summer in Maine is phenomenal regardless of where you decide to go, but sailing the sea is a summer vacation adventure that you will carry with you for all of your life.
Visit a Water Park
Finally, here's a classic summer activity: having a blast at a local water park! We've got a guide featuring 10 of the best water parks in New England with both indoor and outdoor options. With a water park in almost every state, you'll definitely find a place to splash with the fam this summer.
Whatever you choose to do on your New England summer vacation, have a blast and Happy Travels!
---
You might also like:
---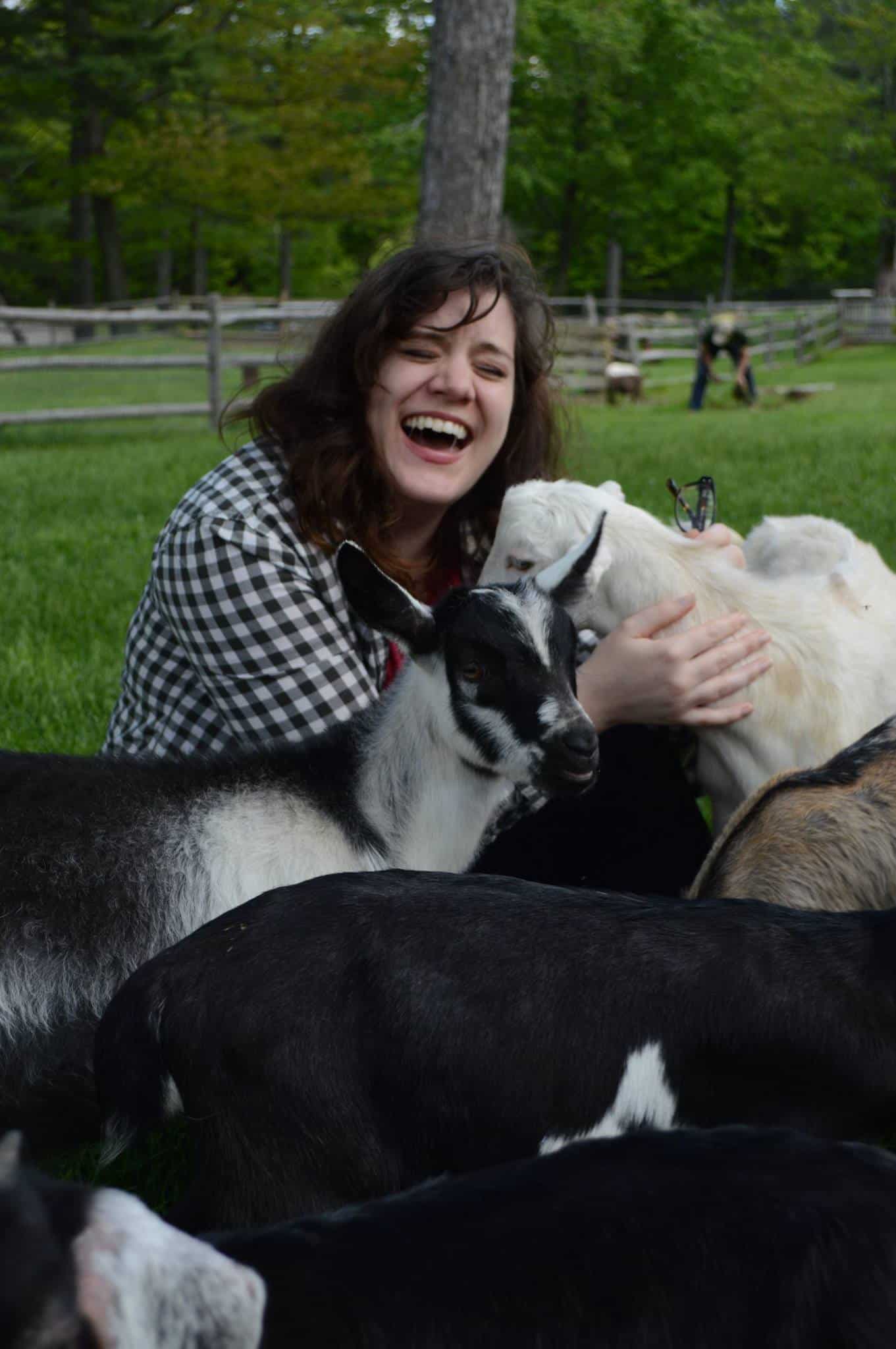 Amy Hartle is the founder and Editor-in-Chief of New England With Love, a comprehensive resource for travel in the New England region. Amy has been exploring New England since 2001. She lived in Vermont for many years and is a graduate of Plymouth State University in New Hampshire. Amy has been writing about travel for over a decade. On this site, Amy aims to share her love of New England and help you to have the best possible adventures!
Amy has been a full time blogger since 2012, and is also the publisher of Two Drifters, where she writes about couples travel and relationships, as well as Let's Adventure Baby, a family travel site. When not traveling the world or creating epic blog content, Amy can be found cuddling with her husband, son, and cats, & drinking a maple latte.