---
*Links in this article may be affiliate links, from which we may earn commission. See our
Privacy Policy
for full details.
---
As the warmer weather rolls in, remember that the Nutmeg State's green rolling hills, beautiful beaches, and quaint towns are chock-full of Connecticut charm, providing the perfect backdrop for your next summer in Connecticut.
Whether your favorite summer adventures include hiking trails, waterfalls, beaches, or air conditioning, you can find the perfect activities for an awesome summer in Connecticut!
Spend a Week in Waterfront Mystic
Mystic is a waterfront town that is one of the best places to visit in CT any time of the year, but in summer it is an awesome summer playground! There's plenty to do in Mystic regardless of the weather, but when the sun is shining and the water is warm, the best thing to do is head out on the water. Head over to The Sandbar for paddleboard and kayak rentals so you can feel the soft summer breeze out on the scenic Mystic River. If you'd rather let someone else take the lead, check out your charter sailboat options at Poet's Lounge Sailing Charters, LLC. A Sunset Cruise on the Sound with your favorite bottle of wine could be the perfect end to a perfect summer's day!
Mystic has some very unique and interesting shopping options so you can pick up the perfect souvenir to remember your summer getaway with, like a nautical-themed bracelet from Mystic Knotwork, a perfect New England memento. You'll also find lots of awesome places to go for meals and drinks, but Mystic Pizza—of Julia Robert's Mystic Pizza fame—is a must-visit while in town!
Check in with Mystic's events calendar regularly, but if you can plan your summer getaway for the end of June, you just might be in town for the River Jam Festival in the Mystic Shipyard, where you can boogie down to some great music in support of two great charities. Now all you have to do is pick a place to stay while you're in town, and you're in luck because Mystic has a wonderful selection of great hotels and vacation rentals to choose from. Enjoy your waterfront summer in Connecticut!
Retreat to the Lake at Interlaken Inn & Resort
Located in lovely Lakeville, Interlaken Inn & Resort lands you in Litchfield Hills, an excellent vacation destination any time of the year. Interlaken consists of 30-acres of spectacular Connecticut scenery tucked in between two gorgeous fresh-water lakes. There are several room options to choose from, offering varying views and details (including pet-friendly options!), with all featuring comfort and amenities galore. Once you've landed on where to stay, start planning what you'll do while at this laid-back lake resort!
Of course, there is ample opportunity to get out on the lake, including swimming and complimentary use of canoes and kayaks through the end of September. There are also several fabulous hiking trails on the property, as well as a golf course, tennis courts, outdoor heated pool, game room, health and fitness center, basketball half-court, and volleyball net, so you'll have no shortage of ways to stay active at the Interlaken! Plus, Litchfield Hills has plenty of awesome things to do outside of the resort, too.
If you're looking for a little extra pampering while at the lake, check out Interlaken's Ellora Spa for your massage needs before you grab a bite at Morgan's, the restaurant at the inn that serves up local favorites like the Berkshire Burger, dressed with balsamic onions and red dragon cheddar cheese on a butter grilled potato bun. If that doesn't sound like *Chef's Kiss* then we don't know what does! Interlaken Inn & Resort is a cute summer in Connecticut getaway.
Let the Connecticut River Valley Take You Away
When your summer getaway needs to really help you get away from the day-to-day, plan a trip to Connecticut River Valley! Consider checking into the Inn at Middletown, where you'll find high-count thread sheets to maximize your sweet summer slumber; splurge for the extra comfort and the convenience of the Inn's fabulous downtown location because there is plenty to see and do in downtown Middletown!
Then there's Soulshine Salt Cavern in nearby Durham for some salt therapy; Soulshine is an immersive relaxation experience that leaves participants feeling rejuvenated after their soothing session in the gorgeous salt cavern. Once you've reached Soulshine Salt Cavern level of relaxation, go out to one of the many nearby restaurants to cap your evening; Esca Restaurant & Wine Bar is a local favorite, with authentic Italian cuisine and a robust wine selection served in a lovely bistro setting. Plus, Esca is just a short walk from the Inn!
The top-rated Body of Needs Spa is also just a quick stroll from the Inn, so schedule a massage or body treatment before upping the relaxation ante at your next stop: you know how you can light a few lavender-scented candles and it helps you relax? Go way above and beyond that by visiting 25-acre Lavender Pond Farm in Killingworth between June and August, when lavender flowers are in full bloom! With a tranquil pond and a cute little covered bridge, Lavender Pond Farm was named one of the Top 5 Flower Farms in New England and is full of those idyllic, peaceful vibes. Purchase a few hand-crafted lavender goodies to take a little lavender Zen home with you, too.
Then you can ride that lavender calm on over to beautiful Arrigoni Winery just over the river in Portland, where you will find live music, food trucks, and other fun happenings on the events schedule throughout the summer months. Add in visits to gorgeous outdoor areas like Wadsworth Falls State Park and Gillette Castle State Park and you'll be wondering if you've just stumbled upon the Connecticut River Valley's greatest secret!
Have a Go at Hartford!
It's always somewhat surprising to hear when people don't have Hartford on their radar as a vacation destination, because it absolutely should be! As a capital city, it has tons of fun and interesting things to see and do. To begin, one of the most gorgeous green spaces in the state is at Elizabeth Park, included on the national register of historic places and featuring some of the most spectacular rose blooms in the state that bloom from June until the first frost. A summer concert series and Movies under Moonlight also happen throughout the summer months, so check in with their events calendar for details. The city of Hartford also puts on several awesome summer events and festivals, including the Greater Hartford Festival of Jazz, the Riverfront Food Truck Festival, the Black-Eyed and Blues Fest, and the Hartbeat Music Festival, just to name a few! Keep an eye on their summer calendar for more info.
This capital city has plenty to do in the air conditioning on a hot summer's day, too! Art lovers have to see the Wadsworth Atheneum Museum of Art, and if you're more science-minded, there's the Connecticut Science Center for interactive hands-on exploration. The Mark Twain House & Museum and the Harriet Beecher Stowe Center are both incredible historical attractions for these two famous authors who once called Hartford home. Hartford is also an up-and-coming foodie destination, so bring your comfiest pants in case you need a little extra give on the trip back home!
When it comes to where to stay, you've got plenty of options, but right in the "heart of Hartford" is The Goodwin, the historic boutique hotel where the rooms are little bastions of luxury and indulgence while still being an affordable stay for those of us who don't exist in the very tippy-top tax bracket, too! This capital city is a cool summer destination with a little something for everyone.
Explore the Connecticut Wine Trail
Situated in Southern New England, Connecticut has a climate that allows for the cultivation of traditional grape wine varieties while opening the door for lots of great experimentation and unique blends! The Connecticut Wine Trail is one of the fastest-growing wine regions in the US and features dozens of vineyards and wineries. You can take a self-led tour or book a limousine-led winery tour if you'd rather ride in style as you sample the goods from each winery, and really, in a state as small as Connecticut, how long that takes is up to you! Lindsey Limousine and LimoABC both offer Connecticut Wine Trail tours that can be booked as is or adjusted to your specifications.
Many of Connecticut's wineries have summer music series and fun annual festivals, so click around on the events calendars for the Connecticut Wine Trail wineries that look the most enticing to you! Some of our favorites are the Summer Concert Series at Stonington Vineyards, live music weekends at Maugle Sierra Vineyards (one of our favorite New England wineries), and the many festivals and art exhibitions at White Silo Farm & Winery.
Most wineries are located in picturesque settings and you're more than likely to find a beautiful B&B very close by, but Hopkins Vineyard is literally right across the street from Hopkins Inn, the quaint little inn that sits above gorgeous Lake Waramaug, with several rooms offering lovely lake views. Connecticut is full of sweet little B&Bs to choose from, and most are within a stone's throw of each stop on the Connecticut Wine Trail!
Amuse Yourself at the Amusement Park!
If you like your summer vacations to be more action than relaxation, then an amusement park getaway in Connecticut could be the perfect option for you! There's Lake Compounce in Bristol, the oldest continuously operating amusement park in North America, with an origin story that begins way back in 1846. There are dozens of rides, including the Boulder Dash, voted the World's #1 Wooden Coaster five different times.
Lake Compounce is also Connecticut's largest water park, so it's easy to stay cool and beat the summer heat. There are plenty of places to stay nearby and onsite campgrounds have one and two-bedroom cabin options, tipis, cub huts, RV spots, and tent sites if you'd like to stay just a few steps away from the action!
If you're looking for something that keeps you in the water all day, check out Brownstone Exploration & Discovery Park in Portland, just a short drive from New Haven, and a perfect way to spend a hot summer's day! This area of the lake has been converted to a water action park, with ziplines, rope swings, wakeboarding, kayaking and paddleboarding, inflatables and water obstacles, and a cliff jump; Brownstone is the perfect play place for anyone who loves the water!
You have plenty of great lodging options in the area, too, including camping options at nearby River Highlands State Park in Cromwell. Connecticut is also home to several adventure parks, too, so you'll have no problems getting your blood pumping and your heart racing on your Connecticut vacation as you make magical summer memories!
Cultivate some Calm in Connecticut's Quiet Corner
Sometimes you need a vacation where you get to step into a world where everything slows down and you can slow down too; Connecticut's "Quiet Corner" can give you exactly that, with several sweet little inns and B&Bs that offer idyllic respite amidst the green rolling hills, like Feather Hill Inn in Pomfret.
Consider staying in the little town of Woodstock, the perfect spot to slow down and take it easy. The Inn at Woodstock Hill is a particularly gorgeous option, with all the modern amenities a person could want in a perfectly picturesque setting. Book a therapeutic massage session with Soothing Elements LLC to really lean into the experience!
During your Woodstock stay, be sure to visit Roseland Cottage, the lovely historic 19th century home that is a favorite tourist attraction for the region; both the architectural intricacies of the home and the immaculately manicured grounds are a sight to see. If you'd rather take in some live performance art, visit the Loos Center for the Arts for great performances and the area's most extensive collection of art.
Woodstock is also home to the Taylor Brooke Winery and the Taylor Brooke Brewery (literally right across the road from each other), where you can find delightful vino blends like their "Woodstock Hill White" and carefully-crafted brews like "Quiet Corner" so you can sample some of the flavors of the region while you kick back and relax! If a restful summer getaway sounds like just what you need, look into a visit to Connecticut's Quiet Corner.
Enjoy a Beautiful Beach Vacation
Sometimes you just need a little Vitamin Sea, and luckily for you, Connecticut has no shortage of beautiful beaches to choose from to fulfill that need during your next summer in Connecticut!
Consistently rated one of the top beaches in Connecticut, Ocean Beach Park is known for its soft, white sand that is absolutely ideal for wriggling your toes into. The waters here are calm and the soft sand extends out beyond the shore so you can swim here without worrying about a rocky coastline below you like you often do while swimming off of Connecticut's coast. Ocean Beach Park also has a boardwalk that offers a bit of fun outside of the water, too, with a mini-golf course, arcade, rides, food vendors, gift shops, and even an Olympic-sized pool if you'd like a break from the saltwater.
Of course, you will find ample places to stay and things to do if you stay in the New London area (including trying your luck at the Mohegan Sun casino), but there's something extra special about New London's location… it is also the spot where you can board the Block Island Ferry! While there are certainly plenty of beaches nearby to keep you more than satisfied, you can hop on the ferry to explore some of Rhode Island's most beautiful beaches and one of New England's favorite island destinations. Block Island has so much to see and do, don't feel guilty about crossing state lines while in New London; we won't tell if you won't tell!
Connecticut is full of beautiful places to explore, whether you're looking for a tour of some of the best state parks Connecticut has to offer or you'd rather choose the dreamiest B&B you can find and springboard from there. Killer vacation rentals, adorable cabins, wherever you decide to stay, we're sure you'll have a blast on your Connecticut summer getaway!
---
You might also like:
---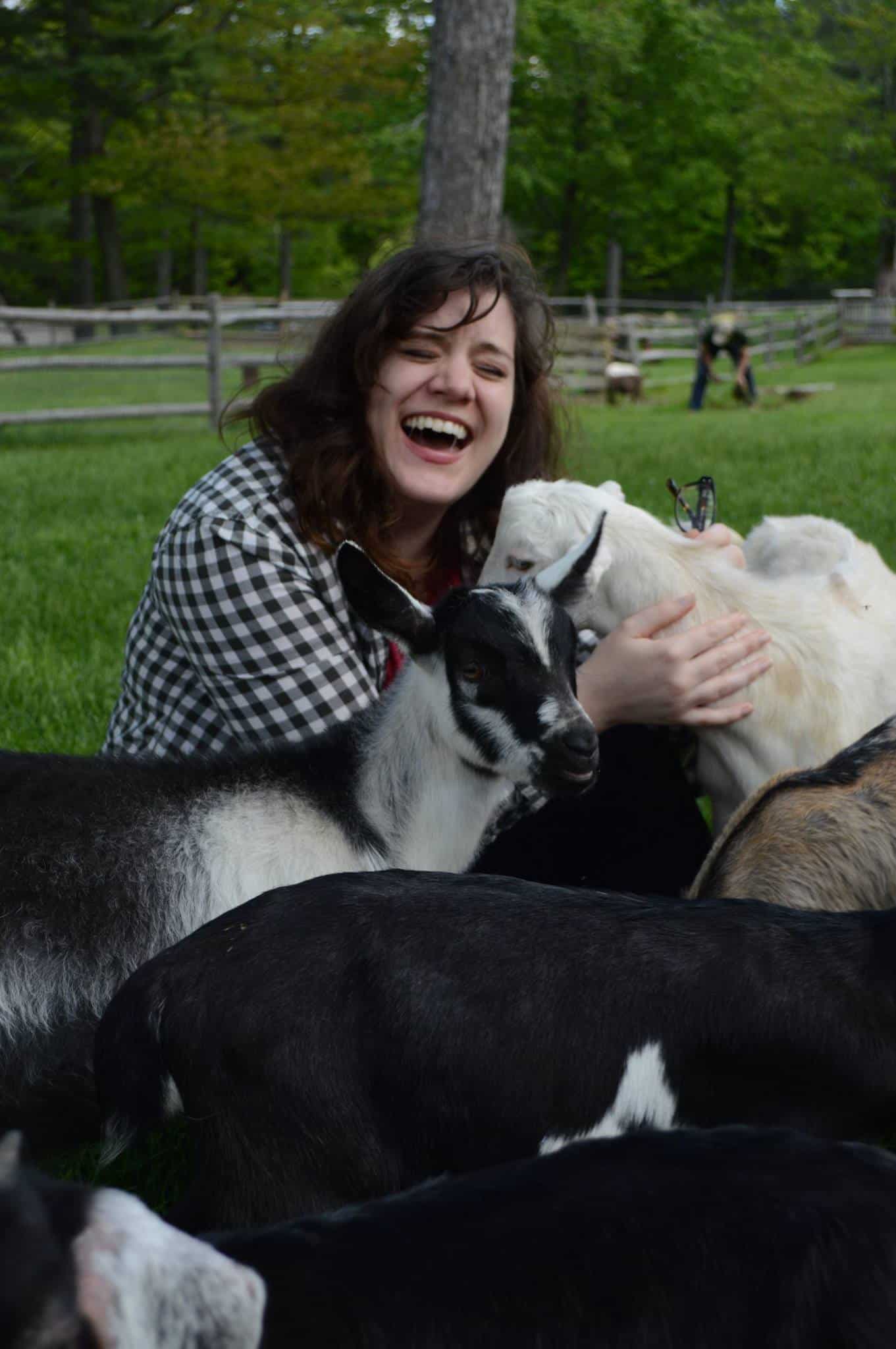 Amy is the founder of New England with love. A proud Vermonter, she hopes to share her love of New England and help you find the best adventures in the region. Amy is also blogger/founder at Two Drifters, where she writes alongside her husband about romantic and couples travel, relationships, honeymoons, and more. When not working on websites, Amy is probably reading, cuddling with her husband, son, and cats, & drinking a maple latte.