---
*Links in this article may be affiliate links, from which we may earn commission. See our
Privacy Policy
for full details.
---
There are so many fun, free things to do in Hartford CT! Whether you're visiting for the first time or you're a local to Connecticut, you'll genuinely enjoy everything this destination has to offer.
Hartford is most well-known for being the capital of Connecticut, so it has many unique attractions that can be enjoyed even on a budget. The city has buildings dating back to the 19th century and is filled with history, unique architecture, and beautiful outdoor green spaces that are worth exploring.
Below, find all of the best free things to do in Hartford CT!
Visit the Hartford Public Library
One of the top free things to do in Hartford CT, though it may seem obvious, is to visit Hartford Public Library. Whether you're a book nerd or not, you'll truly enjoy visiting this building, as it's a unique piece of architecture, and it's fun getting lost inside.
Throughout the library, you can peruse the shelves and even get comfortable and read a book if you want to. There are many spots throughout the library where you can get comfortable or even work if you're going to bring your laptop.
What's so great about the library is that they offer multiple different programs and exhibits throughout the year as well so that visitors can learn more about various topics. If you want to learn more about these programs, be sure to visit their website.
See the Trinity College Campus
Trinity College has an absolutely beautiful campus right in Hartford. It's a more historic college, as it was opened back in 1823. In fact, it's one of the oldest colleges that can be found in Connecticut.
If you're looking for free things to do in Hartford CT, consider visiting Trinity College's campus and exploring it. Walk around the public spaces and just take in the beauty. The buildings here are truly historical and are classically New England, so they're absolutely beautiful.
Tour the Connecticut State Capitol
It's near impossible to miss the Connecticut State Capitol when visiting Hartford because of its size and its large golden dome! This piece of history is located right near Bushnell Park and was built in the 1870s in the gothic architectural style.
When visiting Hartford, consider going on a tour of the Connecticut State Capitol. There are tours Monday through Friday available. The best part? These tours are absolutely free whether you do a guided tour or even a self-guided tour.
There are many interesting spots within the Connecticut State Capitol that you can look out for during your visit. There's the Hall of Flags, the Legislative Office Building, and even the Connecticut Hall of Fame.
Find the Sculptures & Fountains Around the City
Throughout Harford, there are many different sculptures that you can find. Consider doing a search throughout the city, almost like a scavenger hunt, and see how many of them you can find. You might even find some hidden gems!
Some of the sculptures that Hartford has had include the Calder Stegosaurus (one of the more well-known ones), and the Lincoln Meets Stowe Statue. There are also some fountains throughout the city, like Corning Fountain.
Walk Around Riverside Park
Riverside Park is exactly what it sounds like; a beautiful park near the river filled with green space. This is a peaceful place in the city to visit, especially if you want a place that feels a little more green compared to the rest of Hartford.
With its location by the Connecticut River, there are many great spots along the water where you can stop and take in the view. There are also trails where you can walk or run and green spaces perfect for relaxing or having a picnic.
Jog in the Mortensen Riverfront Plaza
Another of the green spaces in the city that's one of the free things to do in Hartford CT is the Mortensen Riverfront Plaza. It's another one of the waterfront locations that commonly hosts different events, and it's right by the Marriott.
However, even though it's commonly an event space, it's also just a beautiful place to take in the view of the water. In the early morning, this spot is incredibly peaceful. There are spots throughout the park, too, where you can sit and relax.
Learn at the Museum of Connecticut History
Do you want to do some learning during your trip to Hartford? Well, you're in luck because one of the best things to do in Hartford CT is to head to the Museum of Connecticut History. The museum is closed on the weekends and is open for limited hours when it is open, so be sure to check their website before you go to double-check their hours.
Throughout the museum, many different exhibits will educate you on the history of the state. The exhibits are heavily based on the military and government. Sometimes they also have different programs and other limited-time exhibits throughout the year, so there may be something unique set up during your trip too!
Attend the Greater Hartford Festival of Jazz
Believe it or not, but one of the best free things to do in Hartford CT is to go to a jazz festival! The Greater Hartford Festival of Jazz is a free-to-attend festival that's heavily centered around jazz and has been going on yearly since 1991.
This festival does only happen once a year and is normally during the summer months, so try to plan your trip around then if you truly want to attend during your trip. It's usually over a full weekend, from Friday through Sunday.
In addition to listening to great music, there are tons of fun vendors throughout the festival. These are vendors of all types, including local small businesses from soap making to henna and, of course, food!
Explore the Elizabeth Park Conservancy
Connecticut has many great gardens, but one of the best is completely free to visit and is located in Hartford. So, look no further than the Elizabeth Park Conservancy for a fun, free place to visit in Hartford!
While there is no admission fee to enter, they do accept donations, so if you are able to, be sure to leave a donation of some type during your visit in support of the park. The park has spots for picnicking and has its own cafe with take-out food.
The best part of the park is actually the rose garden. This is one of the most photographed parts of the entire park! It's most beautiful in the spring and the summer. Photoshoots can also happen in the park, but a permit is needed.
Relax in Bushnell Park
Bushnell Park is one of the main spaces in Hartford because of its central downtown location. It's even where the jazz festival is held! One of the top free attractions is this park, because of its true beauty.
Throughout the park, there are green spaces, historic arches, and even some water. There are also many different sculptures throughout the park to be on the lookout for. Don't worry, the park has signs throughout, which will introduce you to what you're looking at.
The best time to visit the park is earlier in the morning because it can start to get a bit busier throughout the day. Keep in mind too that it's very possible that there's an event going on during your visit. Events are commonly held here!
Walk Around the Cedar Hill Cemetery
This may seem a bit odd, but visiting Cedar Hill Cemetery is a must for old Hollywood movie fans. That's because Katharine Hepburn, the Hollywood star who was known for being a leading lady, is actually buried there.
She was born in Hartford in 1907 and passed away in 2003 in Old Saybrook. One thing many people do when visiting Hartford is they visit this cemetery to see if they can find Katharine's grave.
Because this is a graveyard, be sure to be kind and respectful during your visit there. There are some other interesting gravestones throughout the cemetery as well.
Tour the City on the Hartford Dash Shuttle
One of the best ways to get around downtown Hartford (besides walking, of course) is to ride the Hartford Dash Shuttle. This is completely free to use and goes around the downtown area from the Connecticut Convention Center.
It has many different stops along the way. Some spots include Bushnell Park, the Old State House, Riverfront Plaza, and even the Hartford Public Library. That's right! You can literally use free transportation to then get to other free places to explore in the city.
In addition, the Hartford Dash Shuttle has stops at quite a few hotel spots throughout the city too. This is perfect if you happen to be staying at any of those hotels. Some of the ones it stops at include the Hilton Hotel, Residence Inn, and Hartford Marriott.
There are so many fun, free things to do in Hartford CT! Enjoy your trip to Hartford; it truly is a magnificent city to visit in New England.
---
You might also like: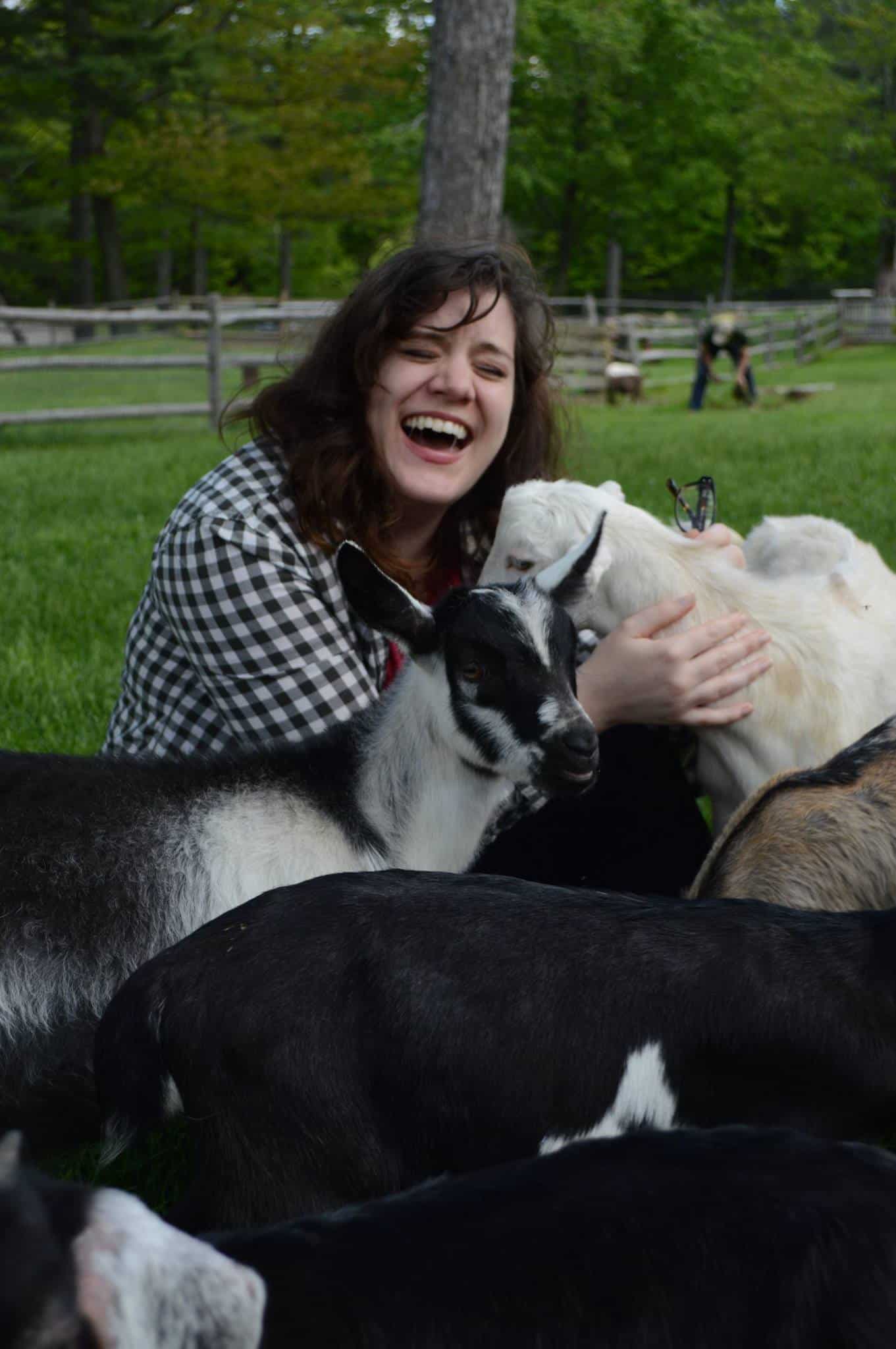 Amy Hartle is the owner and editor of New England With Love, a comprehensive resource for travel in the New England region. Amy lived in Vermont for 15 years, attended Plymouth State University in New Hampshire, and continues to travel regularly around the entire New England region. On this site, Amy aims to share her love of New England and help you to have the best possible adventures!
Amy has been a full time blogger since 2012, and is also the publisher of Two Drifters, where she writes about couples travel and relationships, as well as Let's Adventure Baby, a family travel site. When not traveling the world or creating epic blog content, Amy can be found cuddling with her husband, son, and cats, & drinking a maple latte.