Donuts are delicious, and luckily, donut shops in Connecticut can deliver!
The possibilities are endless: donut holes, regular donuts, cake donuts, plain donuts, fancy donuts. Gone are the days when we rely on Dunkin' for our donut fix; specialty CT donut shops are popping up everywhere. With this comes creatively decorated donuts with crazy toppings and fun themes.
Some are undoubtedly going to be better than others. There is nothing more disappointing than spending way too much money on a dressed-up donut just to find that you paid for appearance and not taste. So which are worth their salt? Here are ten can't-miss donut shops in Connecticut.
Donut Shops in Connecticut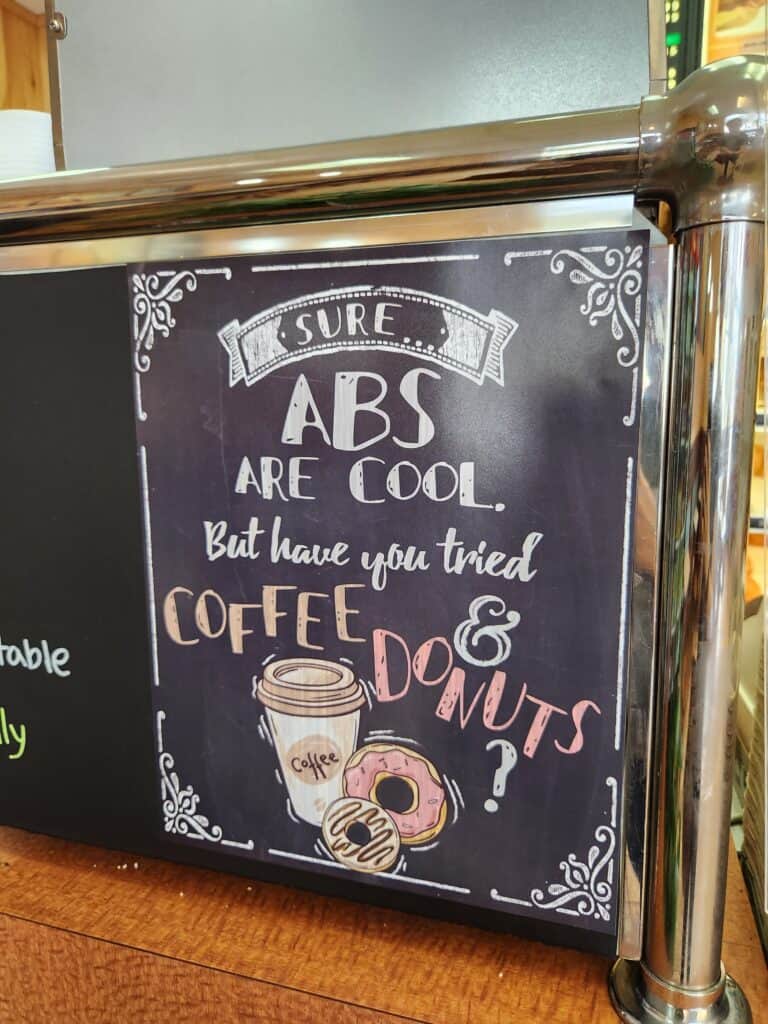 Blazing Fresh Donuts – Guilford
One of the lesser-known, Blazing Fresh Donuts is also one of the best Connecticut donut shops. Be prepared to wait a few minutes for your donut because they have to make it. That's right. The donuts are made to order and will only be minutes old when you pop this delectable donut into your mouth. Located off Main Street, it's an easy walk if you're parked anywhere in the downtown area. It's small, cute, and a little whimsical; everything a donut shop should be.
Deviant Donuts – Mystic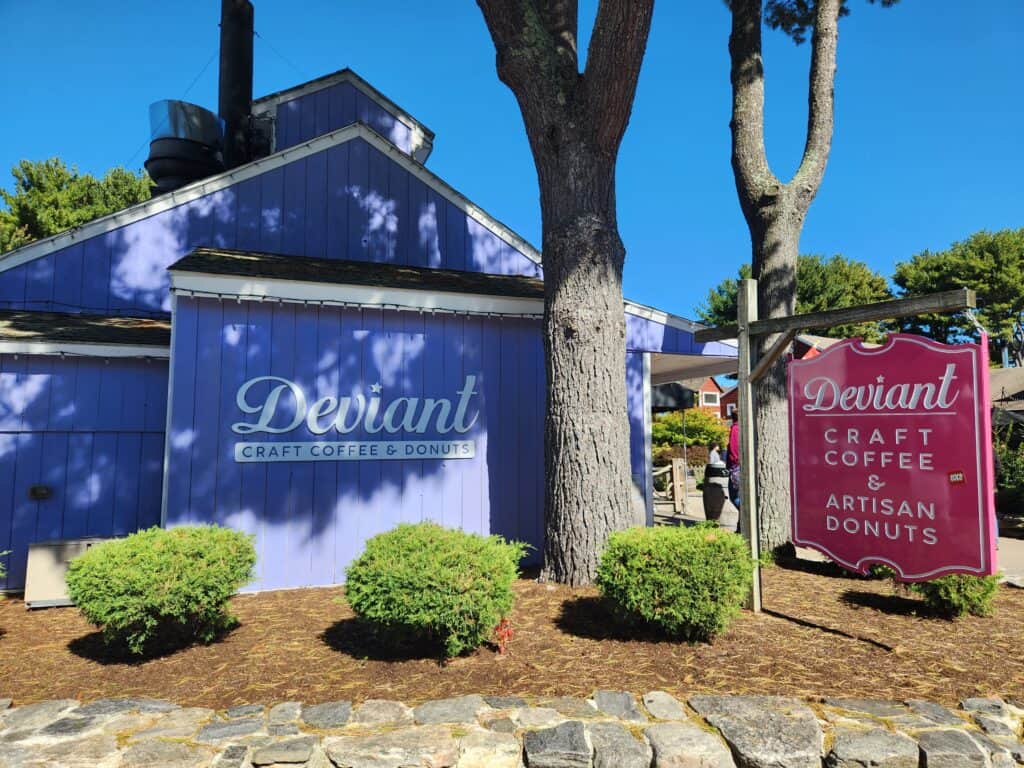 Deviant Donuts in Olde Mistick Village has been a Mystic spot since 2017. It started as a coffee shop and its gourmet donuts became so popular it grew into its own shop. They craft incredibly creative and sometimes a little outrageous donuts and are known for doing fun series of themed donuts. Themes can range from anything from "Forever Fall" to "Harry Potter."
Deviant Donuts isn't just about looks. All the toppings, fillings, glazes, and garnishes are all made by hand and the donuts taste just as good as they look. They give a pre-order option on their website but must be done at least a day in advance.
Young Buns Doughnuts – Mystic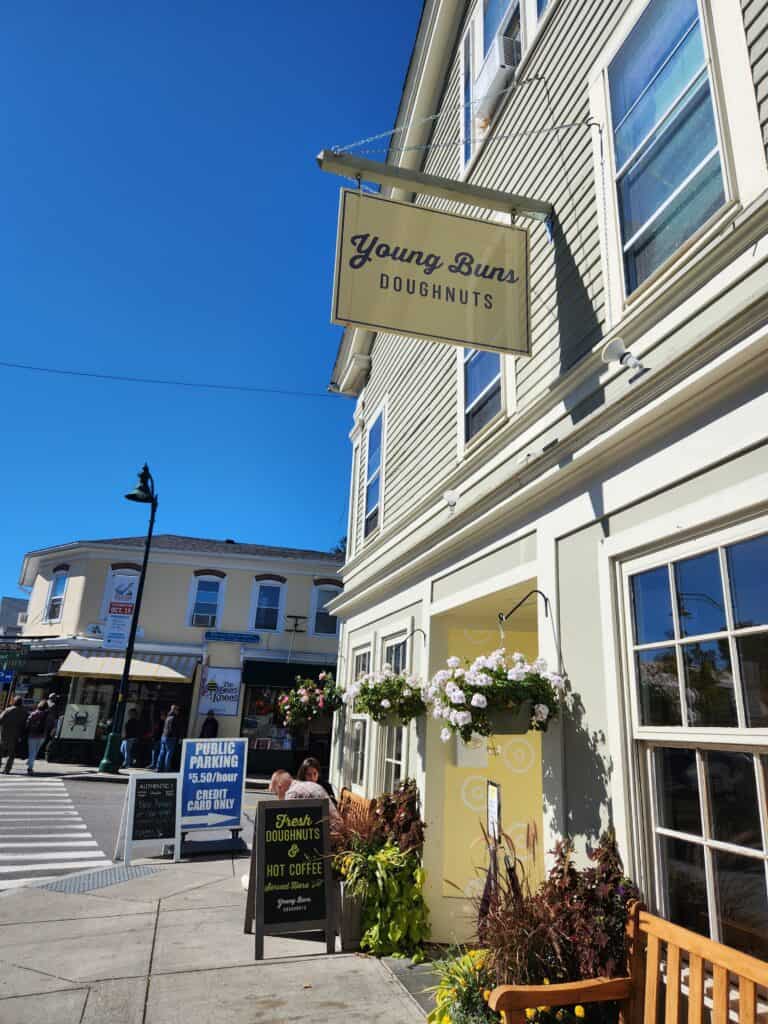 Also in Mystic, Young Buns Doughnuts has opened in downtown, showing the established Deviant Donuts some competition. If you're in downtown Mystic with no plans to go to the village you'll be just fine at Young Buns Doughnuts, and vice versa, with both doughnut shops being more than capable of making a good doughnut.
Young Buns Doughnuts skew more towards the cake-like doughnuts with their signature Young Bun Doughnut, a buttercrunch style doughnut, a definite can't-miss on the Connecticut doughnuts scene.
Grounds Donut House – Danbury
Grounds Donut House in Danbury, just a few miles from the New York border, is their second location with their first being in the Bronx. In typical New York style, incapable of doing anything halfway, Grounds is hip, trendy, fun, and absolutely delicious. They have a handful of staple donuts that are always available and then four rotating flavors that change weekly.
Grounds is one of those Connecticut donut shops that has it all: looks, taste, and atmosphere. They're so popular it's advised to order ahead of time if you have a larger order or are aiming for their seasonal specialties. Extra bonus? They have amazing specialty coffee as well.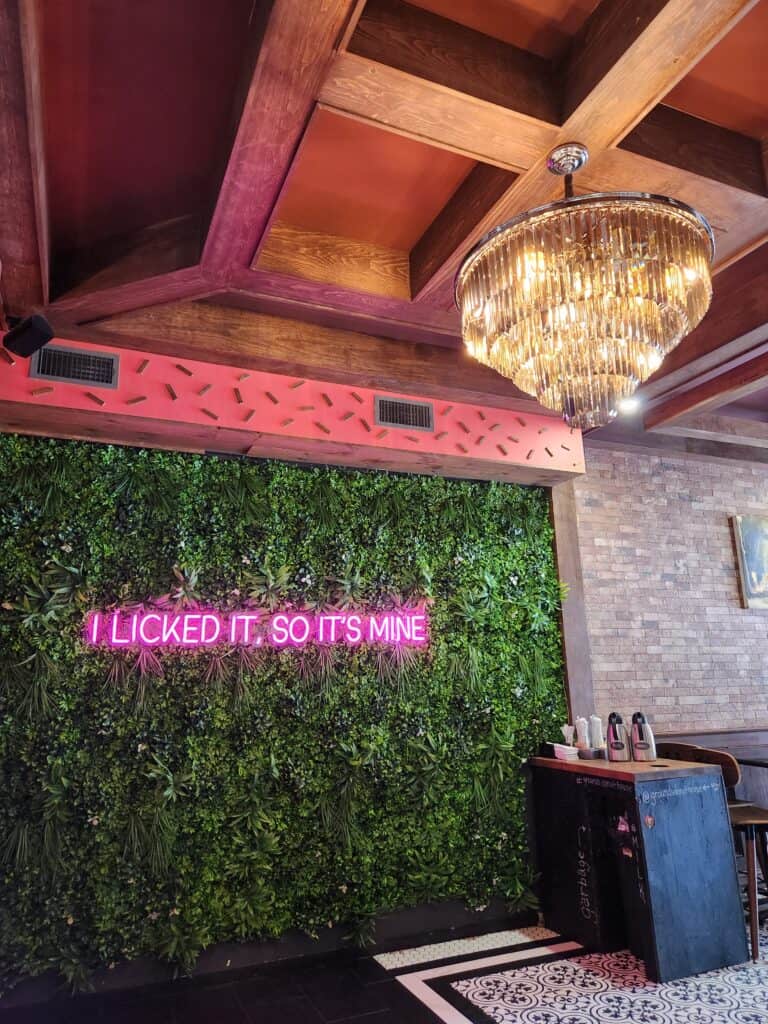 Doughnut Inn – Stratford
The Doughnut Inn in Stratford is a hidden gem CT donut shop. Literally. Though right on Main Street and part of a plaza, it's still hidden. The plaza sign itself does not list The Doughnut Inn nor is there any sign over any establishment door indicating anything bakery related. There was a sign once but it wasn't replaced. On the side of the building there is an, "Always fresh… Always friendly," sign and that, in addition to the steady flow of people walking in and out of an unmarked door with pastry bags in their hands, will be your only indication of where to go. Even the inside looks a little run-down and is an odd-shaped room with piled boxes in the back.
Once you're inside though you can expect friendly service, delicious donuts, and cheap prices. As specialty doughnut shops in Connecticut rise in popularity so do the prices, but The Doughnut Inn's prices are still blessedly inexpensive.
Swiches – Berlin
Swiches doesn't have an extensive selection like some of the other CT donut shops on this list, but what they have is delicious. There are no over-the-top donuts or specialty coffee. Regular coffee only and simple, delicious donuts to match. That doesn't mean they don't experiment with flavors however; Swiches offers fun variations of favorites, such as a Cherry Cake in addition to the common Blueberry Cake, and every donut at this CT donut shop is a win.
Flanders Donut & Bake Shop – East Lyme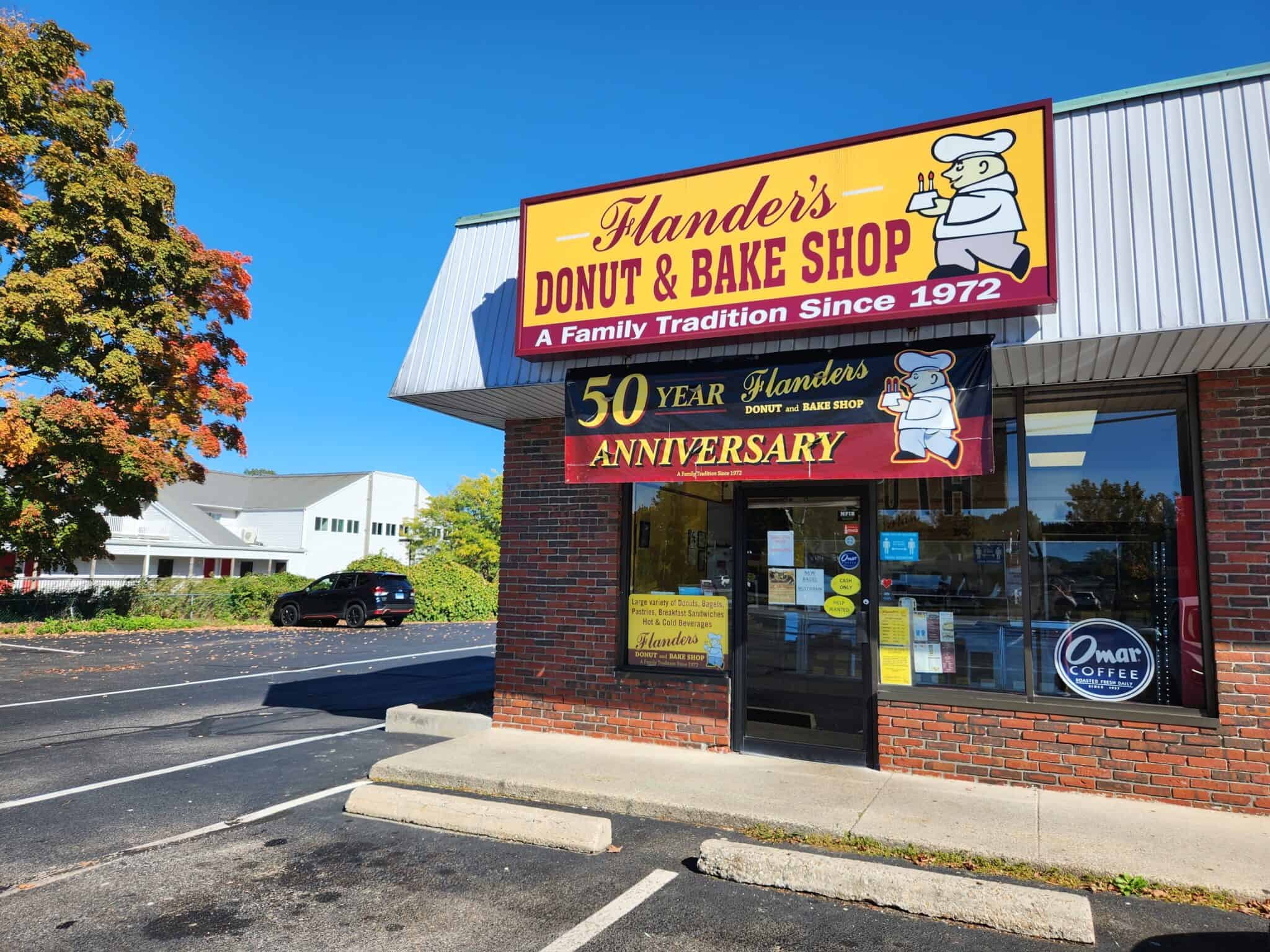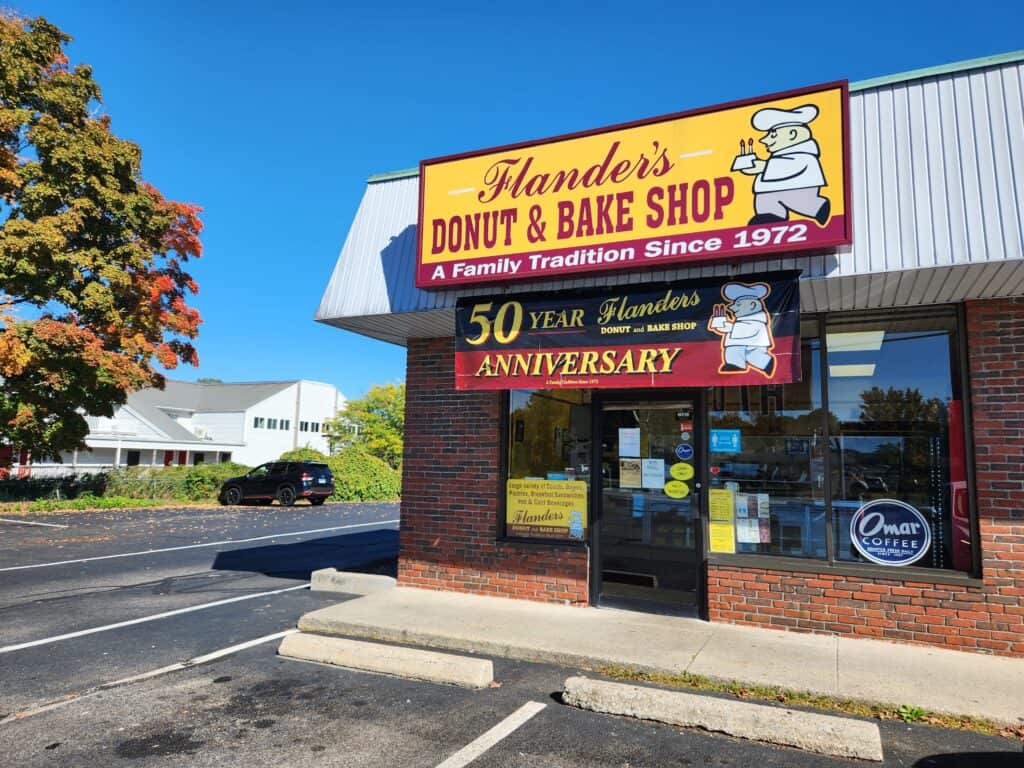 Flanders Donut & Bake Shop is one of the oldest donut shops in CT, having just celebrated 50 years in business. They are the epitome of the no-frills donut shop. They're a simple shop with a simple sign that you could easily accidentally drive by. The donuts are just as simple. They will run a seasonal donut but don't expect weird toppings or crazy decorations. Flanders isn't about how the donuts look but how they taste… and they taste great! Their standard glazed might be their most sought-after donut so get there early; they will sell out.
Gerry's Donuts – Ellington
Gerry's Donuts in Ellington is a local favorite. After an unfortunate incident that caused them to shut down for a bit a few years back, they re-opened and have been going strong ever since. Even the customers that swore they'd never go back have forgiven them; this Connecticut donut shop is just too good to stay away!
Tastease – Hartford
One of the best parts about Tastease is their size: small. Small shop and small donuts. Ever go into a donut shop and just have no idea what you want? No worries here. Tastease makes miniature donuts so you can sample multiple flavors without going overboard. The small size doesn't compromise the taste either. While donut holes can get dried out, the small donuts at this CT doughnut shop are still moist and delicious.
Neil's Donuts – Wallingford and Middletown
You can't bring up donuts in Connecticut without talking about Neil's Donuts. They have two locations, Wallingford and Middletown, and have been in business for over 20 years. They have a massive selection of donuts with a few dozen possibilities. In addition to donuts, they have crullers, coffee rolls, muffins, bagels, and breakfast sandwiches. The possible kingpin of Connecticut donut shops, Neil's is an absolute can't-miss donut stop.
Connecticut has some excellent restaurants, coffee shops, ice cream shops, and more, but sometimes the only thing you need is a fresh baked donut! Any of these Connecticut donut shops would be a tasty treat, so hopefully you get a chance to try a few soon.
You might also like: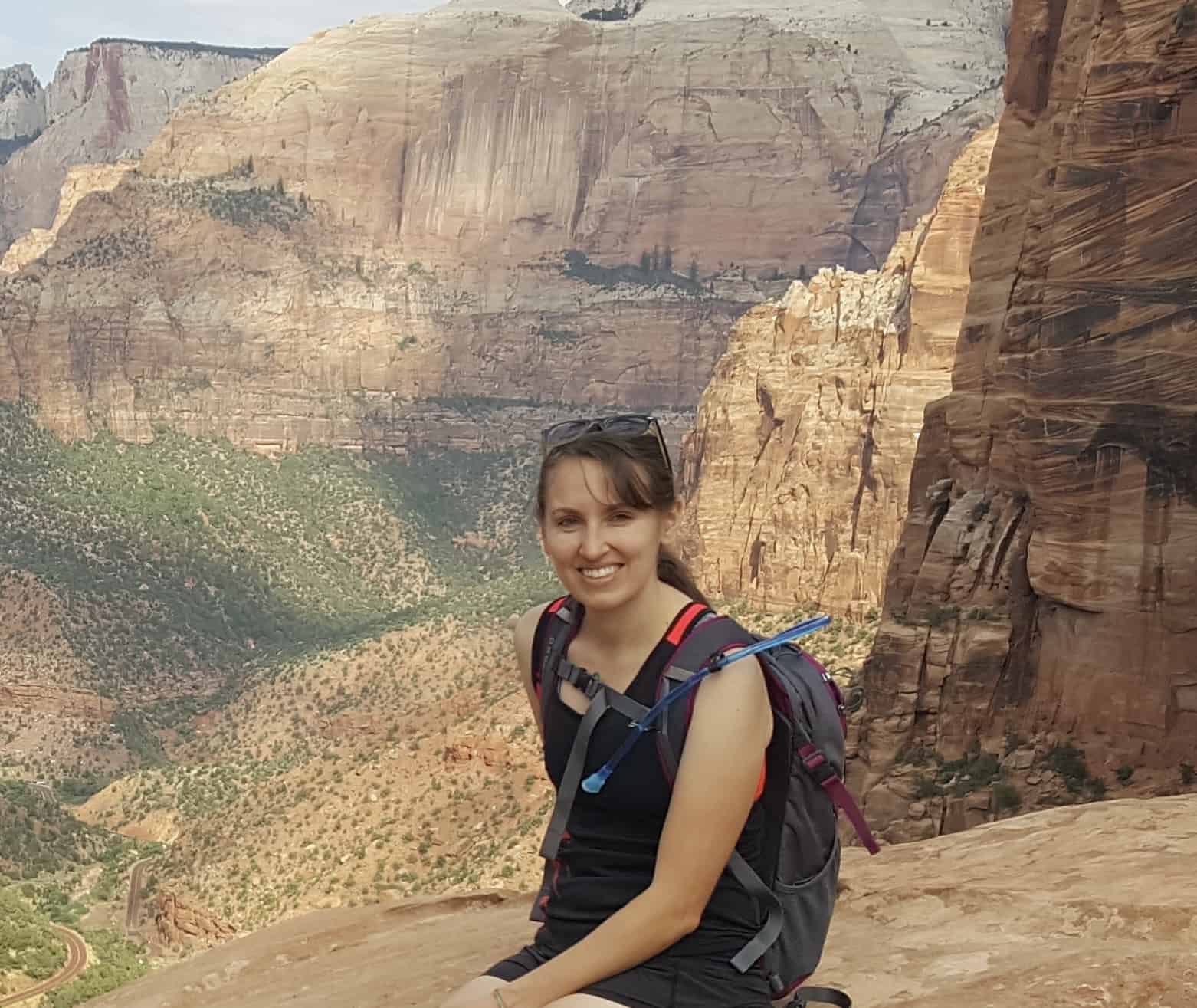 I am a backpacker, day-hiker, and 2019 Appalachian Trail thru-hiker based out of Connecticut. I love to travel domestically and abroad to explore new places and trails and then write about it for either online publications or my personal travel blog: Sidewinder Explores