*This site uses affiliate links; if you make a purchase through these, I may receive a small commission at no cost to you.
Latest posts by Kristen Fiedler
(see all)
Craft beer isn't new but, in the last decade, has seen a surge in popularity. Craft breweries are popping up all over the place and Connecticut is no exception. Here are some of the best breweries in Connecticut worth visiting.
Breweries in Connecticut
Counter Weight Brewing Company – Cheshire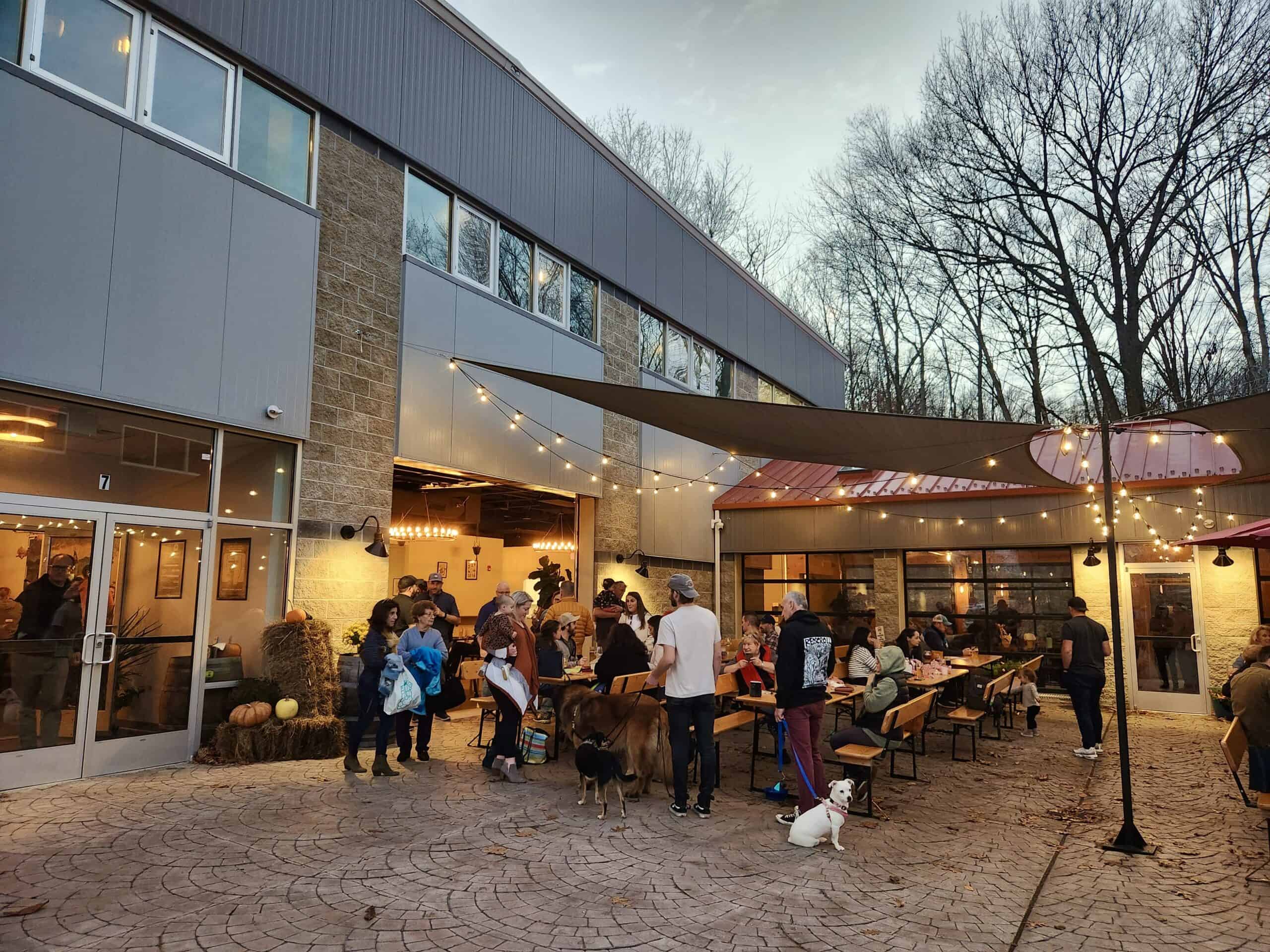 Counter Weight is a staple craft brewery that most Connecticut beer drinkers have at least heard of. Their most well-known beer, the Headway IPA, is one of the most popular IPA's in the state. Originally out of Hamden, this CT brewery was so successful that they had to move to a new, larger location. Now out of Cheshire, they have a huge space with two floors, ample outdoor seating, and are able to host private events. They have a large draft selection and always offer a local hard cider and a couple of wine options for those non-beer drinkers. Moving forward, their next move is adding a flight option.
Five Churches Brewing – New Britain
Also in rising New Britain, Five Churches Brewing is like the hometown football star that everybody loves. It has a much lower profile than Alvarium and, instead, is a local favorite. This low-key brewery however, is not to be missed. It may not be as well-known but it's certainly worth traveling to.
The spacious tap room is located on the second floor of a building in downtown with plentiful windows offering both a ton of natural light and street views. The beer is all-around good and they offer a whole series of gluten-friendly beer as well. With a wood-fired pizza oven there is always a small food menu available. The staff is so genuinely friendly that they emanate the feeling that they care about what they do and, as a patron, you feel instantly comfortable and welcome. In short, it has it all and well deserves a spot on the best Connecticut breweries list.
New Park Brewing – West Hartford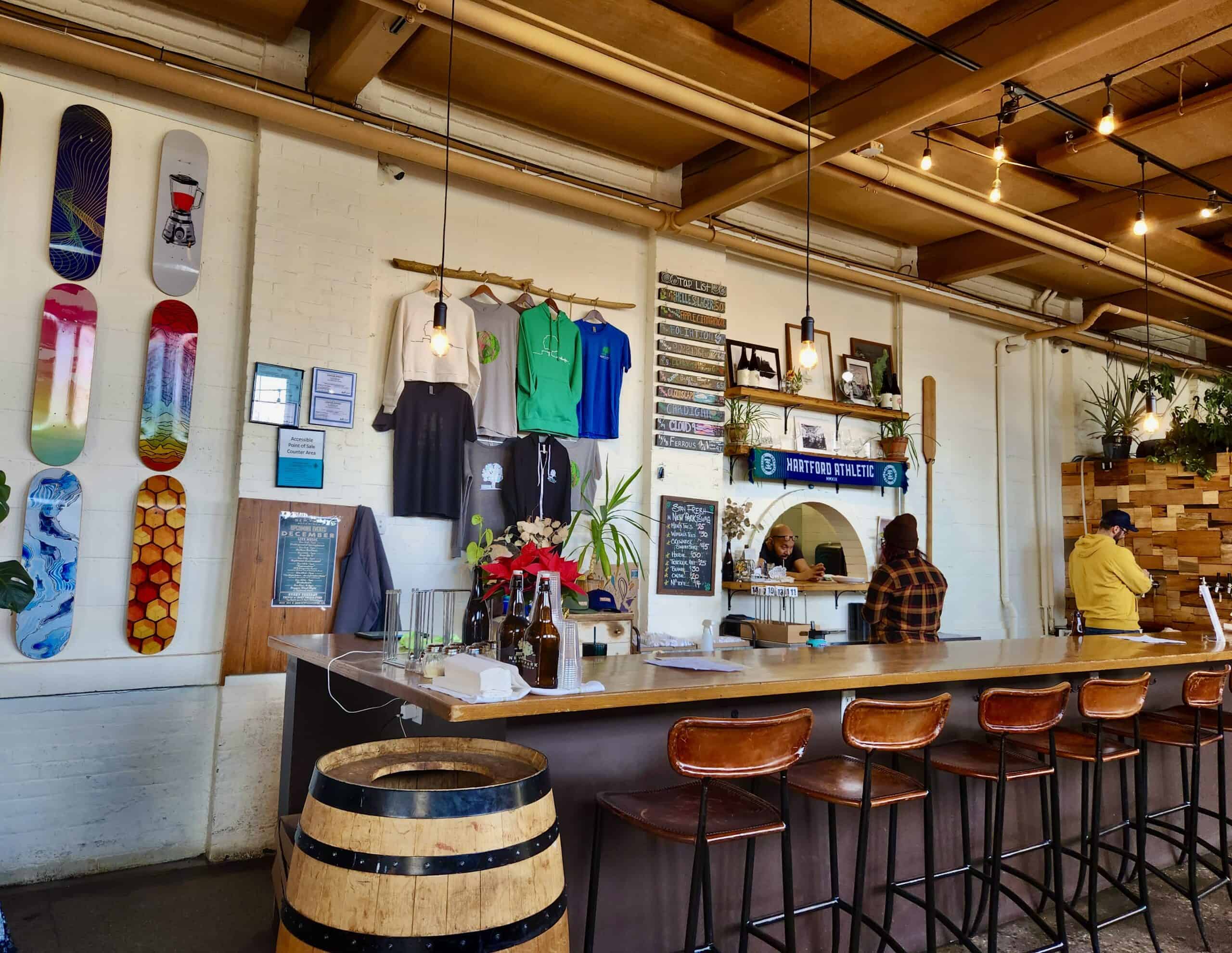 New Park Brewing is about as no frills as one might expect for brewers of beer. Instead, they let the beer speak for itself. New Park came on the scene with a simple space, a, unoriginal name (named for the street it's on), and the only sign is the one right outside the door which practically blends into the building and you can only see coming from one direction.
And, after their first year, they were nominated by USA Today's National 'Best New Brewery' award for 2018. When they started releasing their beer in cans there was guaranteed to be a line of cars wrapped all the way around the building.
They have a staple IPA for the IPA drinkers and have a popular fruit beer series called 'Blender' with changing flavors. You can find two New Park beers in liquor stores and restaurants but, for the most part, if you want to try this beer, an actual visit to the brewery is required.
Two Roads Brewing Company – Stratford
One of the earlier Connecticut craft breweries on the scene, Two Roads Brewing has been around for over ten years and has solidified itself as a Connecticut favorite. The staple beers can be found all over the state and, in the fall, you'll be hard-pressed to find a Connecticut bar not serving Two Roads, Roadsmary's Baby Pumpkin Beer.
However, to get their full selection, you'll have to go to the brewery itself. Two Roads' sister company, Area Two Experimental Brewing, is right next door with a walking path to connect the two. Area Two is exactly what it sounds like: an experimental hub that results in more interesting selections.
Overall, Two Roads has excelled at adapting with the changing beer scene; as trends change, Two Roads changes along with it. They offered up a stand-out session IPA when sessions became popular and, now, a whole series of sour beers with sour beer popularity on the rise. As other earlier craft breweries start to wane, Two Roads has proved itself to be able to keep up with the new breweries on the scene.
Thimble Island Brewing Company – Branford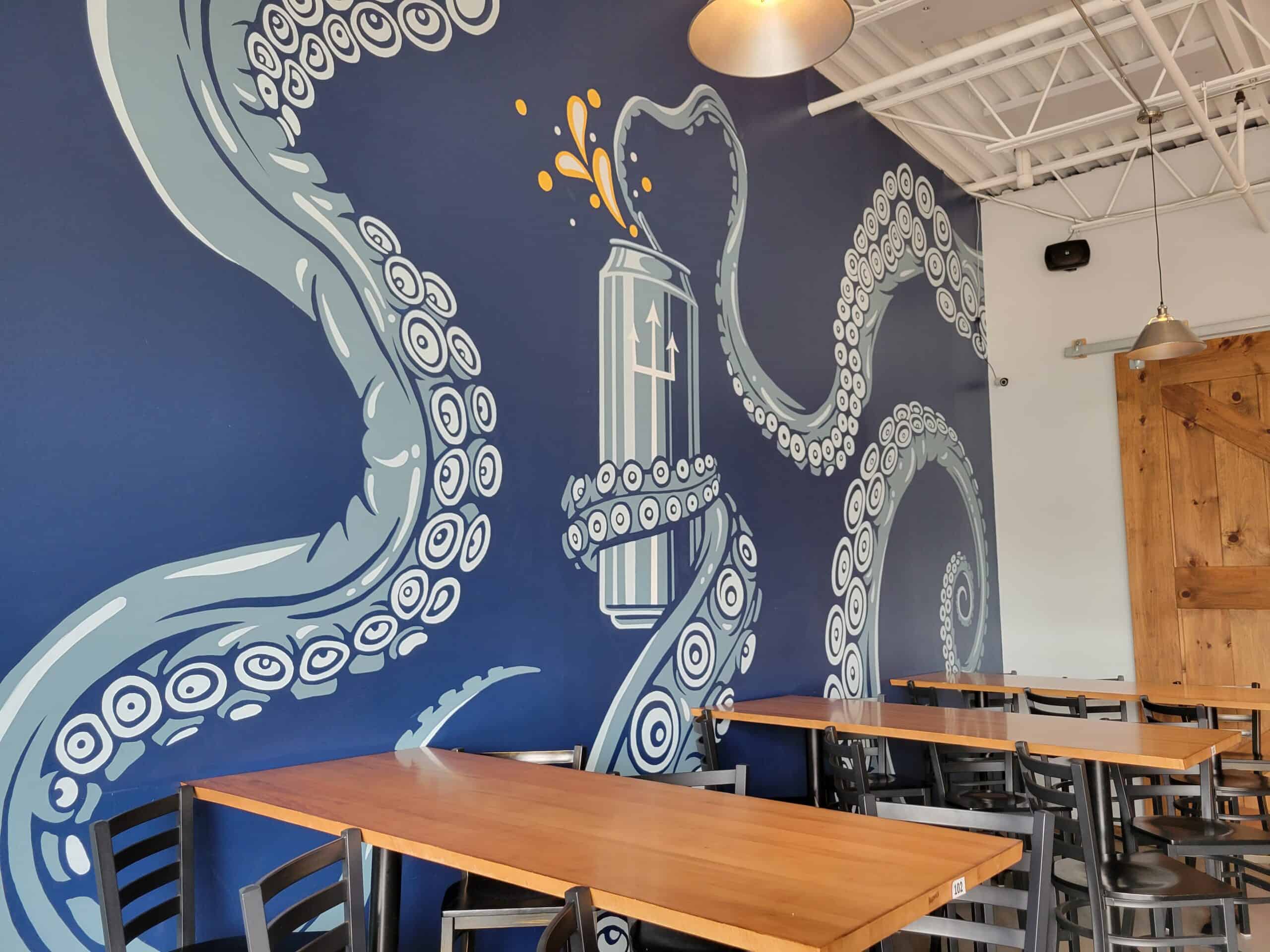 Thimble Island Brewing was established in 2010 but it doesn't seem it; it feels young, new, and hip. They call themselves "risk-takers," and it's appropriate. They are innovative and always keeping things fresh and fun and have a newly expanded taproom and full-service restaurant.
The food is good and the beer is better. They have 30 draft lines and offer a variety of flight options such as an all sour beer flight. They also have three non-alcoholic beers and a handful of beers that are released in the brewery only. The brewery itself is bright and open with large paintings and one wall dedicated to a hand-painted mural. In short, it has it all: good beer, good food, and good atmosphere.
Twelve Percent Beer Project – North Haven
Twelve Percent Beer Project is the hidden gem of the state. Largely unheard of, ask someone if they want a Twelve Percent beer and they are likely to say 'no' because they're assuming you mean ABV.
What sets this brewery apart is, they not only brew their own beers, but they brew and sell for other craft breweries as well, including Skygazer and Fat Orange Cat. With 20 beers on tap, only a few of them will actually be by Twelve Percent. This offers a wider variety and frequent new beers.
The brewery itself is modern and relaxed. Dogs are allowed, food trucks are there every Wednesday through Sunday, and they even have a coffee cart with specialty coffees and a few baked goods available into mid-afternoon.
Fox Farm Brewery – Salem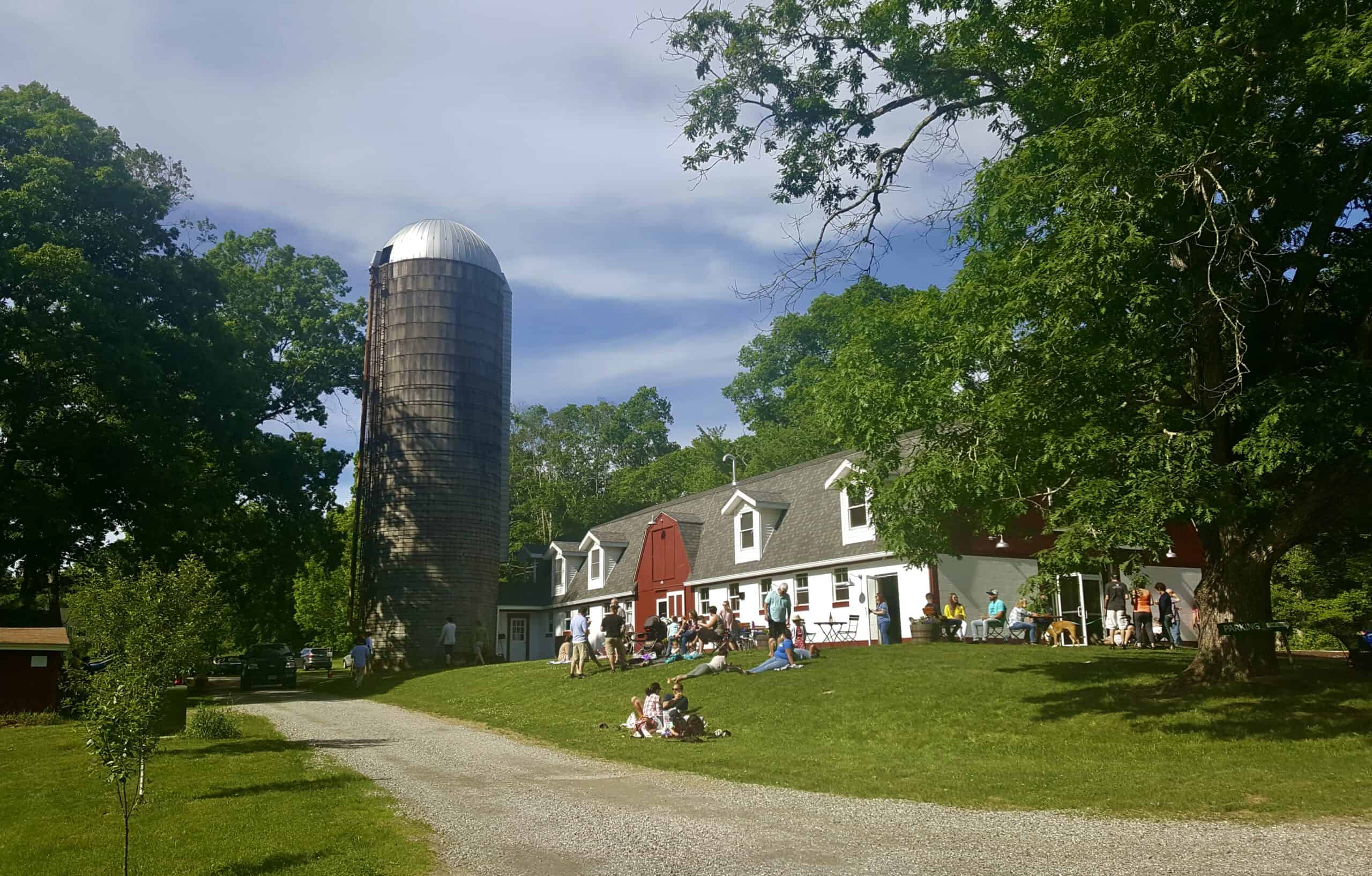 Salem, Connecticut is a small town with one school covering K-8, no high school with kids being sent to surrounding towns instead, and a town population that recently cracked 4,000. In the past, if you said you were going to Salem, the likely assumption was that you were taking a drive up to Massachusetts.
Now, Fox Farm Brewery has almost single-handedly put this small, unknown town on the map. With a large space out of an old, renovated barn, Fox Farm embraces the farm-town feel with farm style décor, several farmhouse ales, and pitchfork handles as draft handles. Fox Farm is different, interesting, and fun with a large outdoor space to relax or for kids to run around. They've got the beer to back it up and is well worth the drive to this little Connecticut town.
Clocktown Brewing Company – Thomaston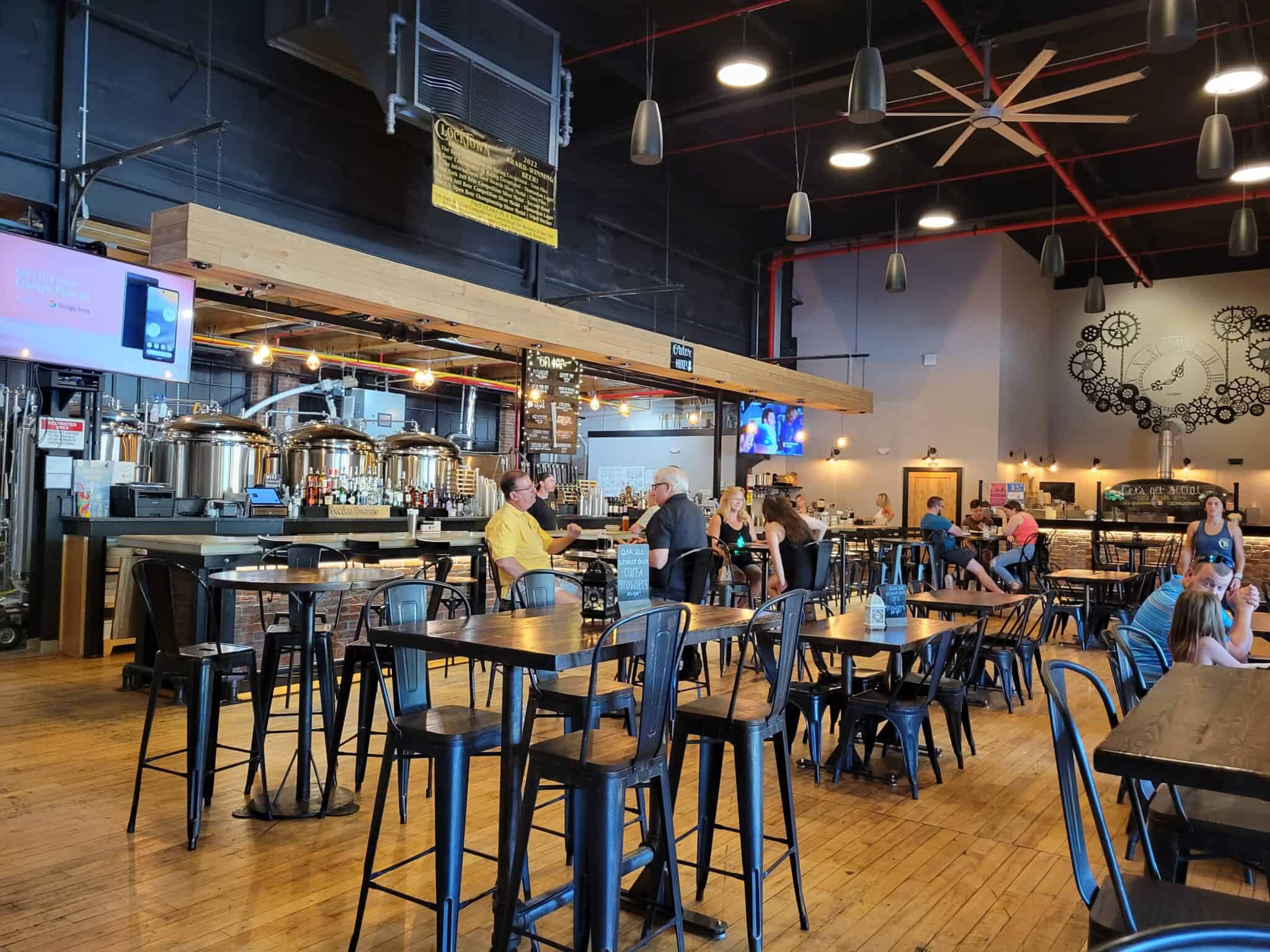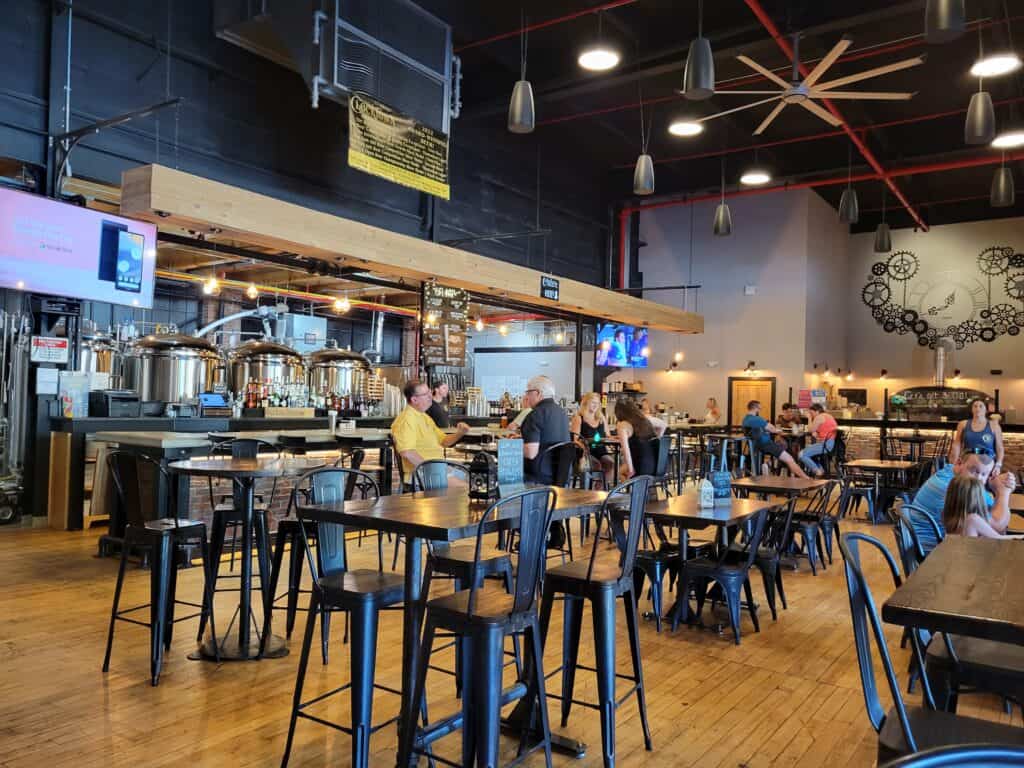 Another brewery embracing its small-town origins, Clocktown Brewing in Thomaston, known for its history in making clocks, is a modern and fun, must-hit spot for beer drinkers and non-beer drinkers alike. They run more like a restaurant than a brewery offering a full menu, table service, and cocktails. The well-roundedness and atmosphere of this Connecticut brewery make it a great spot for both family dining and after-work, adult happy hours.
Alvarium Beer Company – New Britain
One of the most successful micro-breweries in Connecticut, Alvarium has skyrocketed to the top of the craft brew scene hard and fast. One day there was rumblings of a new, noteworthy brewery on the
scene and then, suddenly, it was everywhere – for good reason. The beer is consistently
good and, while they have their staple favorites, it doesn't stop them from continually rotating
their beers and making new ones.
Alvarium is Latin for beehive and the theme is present in everything they do. The complexities
and community of a working beehive represent the complexities of brewing beer and the
community they strive for. New Britain is a struggling city but has a lot to offer and is fighting to
be a city to go to instead of one to avoid. Alvarium fits right in with the community the city is
trying to achieve and it's not uncommon for the brewery to have mini markets with local
vendors selling their goods.
They also play up the bee theme with bee merchandise and fun beer names such as Honey Shot. Their tap room is relaxed and comfortable and open to the brewing area offering the complete brewery feel. Their biggest downside is the lack of food options with one food truck available that isn't always operating. The upside to this is that, without food regulations to comply by, dogs are allowed inside this cool Connecticut brewery.
Stony Creek Brewery – Branford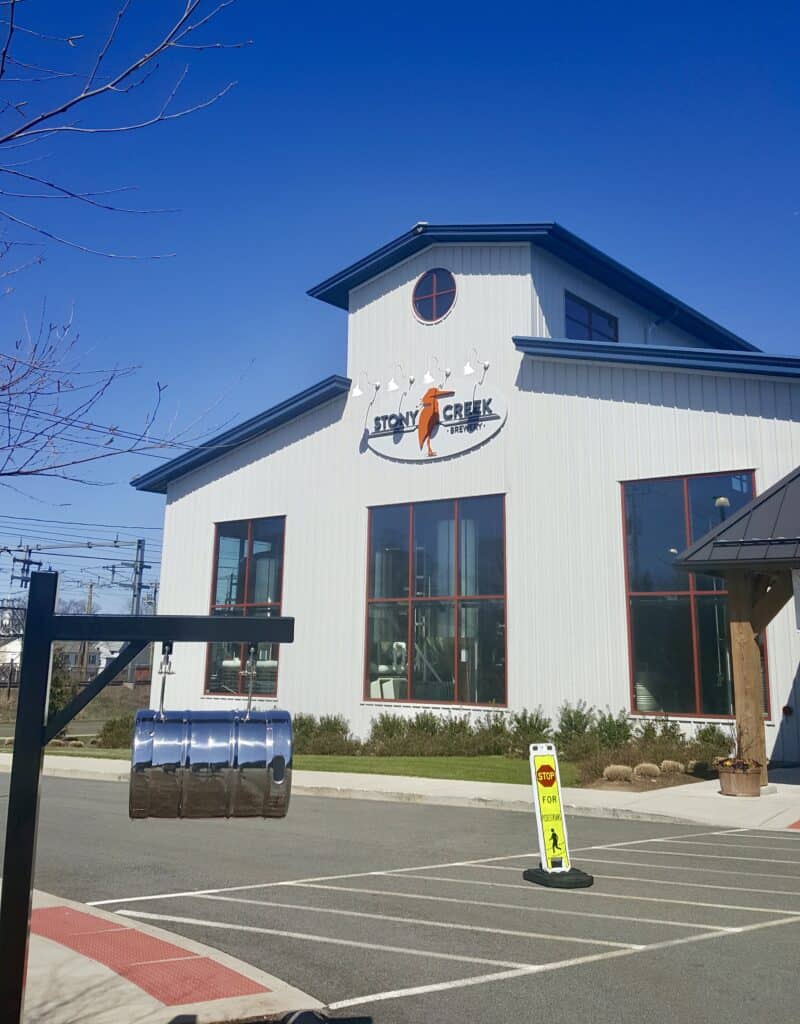 Stony Creek Brewery has a prime location right on the Branford River, with a large, beautiful outdoor space. They could offer sub-par beer and it would still be a worthwhile spot to hang out. As it happens, however, the beer is also good. The indoor area is spacious as well and they have an upstairs available for private events.
There's a wood-fire pizza food truck there seven days a week and, additionally, you can bring your own food (just as long as it's not pizza). Stony Creek is a beautiful spot all year-round, but sitting outside in the warm months is the experience to have.
Connecticut Valley Brewing Company – South Windsor
Connecticut Valley Brewing doesn't do anything half-way. The space is massive, the beer list is extensive, and, just in case that wasn't enough, they also have a wide selection of flavored hard-seltzers and CBD sparkling waters. They offer weekly trivia night, occasional themed parties, a monthly book club meeting called Books & Brews, and a whole array of random events ranging from painting pottery, to a visiting psychic, to a gingerbread house building contest.
But they still don't stop there. They also have a different kind of brew: coffee. Birdhouse Coffee was added in late 2019. The coffee shop has the coffee and baked goods one would expect from a specialty coffee shop and, in addition, offers a small lunch and dinner menu and remains open as late as the brewery. Birdhouse would be worth a visit on its own and the combination of the two makes this one of the top breweries in Connecticut.
You might also like:
7 Must-Visit Breweries in Portsmouth NH
9 Awesome Breweries in Portland Maine
10 Best Breweries in Boston You Can't Miss