*This site uses affiliate links; if you make a purchase through these, I may receive a small commission at no cost to you.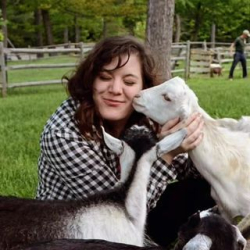 Latest posts by Amy Hartle
(see all)
Are you looking for the perfect weekend getaway? There are some great options for weekend getaways in Connecticut!
Whether you're looking for the perfect spot for some good old-fashioned family fun or you'd like a pampered resort-style stay, the Nutmeg State is the perfect mini-vacation destination! There are so many fun things to do in Connecticut, and you can enjoy all of them on these 7 weekend getaways.
Avon Old Farms Hotel in Avon
If you'd like a touch of luxury in your Connecticut weekend getaway coupled with a whole lot of fun, check out a stay at Avon Old Farms Hotel! This lovely old-school, upscale hotel sits on 10-acres of scenic Talcott Mountain and serves as the perfect place to stay for all kinds of Nutmeg State fun! Onsite amenities include a continental breakfast, an outdoor pool, and an award-winning restaurant, but the real fun is just a few miles away!
Only 2 miles from Talcott Mountain State Park, the 574-acre state park that is a favorite among CT leaf-peepers for Hublein Tower, the 165-foot tall tower that sits at its highest point, providing gorgeously expansive views of the fall foliage as far as the eye can see! If hiking to spectacular natural vistas isn't your thing, consider heading to Lake Compounce in Bristol, the oldest continuously operating amusement park in North America! It's also home to one of New England's best water parks, so if you're planning a summer weekend getaway, this might be the perfect spot for some good old-fashioned family fun!
Click Here to Check Prices & Book!
The Whaler's Inn in Mystic
If you're looking for a quintessential coastal Connecticut weekend getaway, check out The Whaler's Inn in Mystic! Beautifully situated just next to Mystic River and the Bascule Drawbridge, this boutique inn offers fantastic amenities like freshly-baked cookies in the afternoon and discounted tickets to local attractions; considering Mystic is full of fun things to do, this is a great deal!
In addition to all the great restaurants in the Mystic area (don't forget to at least swing by Mystic Pizza of the Julia Roberts' movie of the same name fame!), The Whaler's Inn also has their own restaurant, The Shipwright's Daughter. You're going to work up an appetite while exploring all this waterfront town has to offer, for sure… don't forget to check out the Mystic Aquarium and Olde Mistick Village!
Click Here to Check Prices & Book!
The Goodwin in Hartford
If your idea of perfect weekend getaways in Connecticut involve stays in historic towns with great museums and gorgeous parks, then book yourself a room at The Goodwin in Hartford, because it checks aaaaall those boxes! This grand boutique hotel boasts it sits in "the heart of Hartford," and it really is! Enjoy the lush accommodations, but stepping outside the door will be the best part!
Not only is Hartford full of fun things to do, but many of those things are within walking distance of The Goodwin! Walk on over to beautiful Bushnell Park and grab a selfie or two with the intricately designed historic Bushnell Carousel. It still works, too! Also within easy walking distance is TheaterWorks Hartford, The Connecticut Science Center, The Wadsworth Atheneum Museum of Art, and so much more! Hartford has a fantastic restaurant and brewery scene, too, so in between the museum hopping, stop to sample a little more of the flavor of Connecticut's capital city! Plus, there's many budget-friendly things to do in the city.
Click Here to Check Prices & Book!
The Inn at Harbor Hill Marina in Niantic
For a lovely beach weekend getaway in Connecticut, consider a stay at The Inn at Harbor Hill Marina. Whether you're looking for a romantic retreat for you and your partner or the perfect spot for the whole family to stay, this gorgeous waterfront B&B does it all. Just a quick walk to fun local favorites like the Niantic Bay Boardwalk, the Niantic Children's Museum, and Hole-in-the-Wall Beach, this convenient location is just one more thing to love about this inn in addition to its generously appointed rooms and complimentary hot breakfast!
Not only is there plenty to do in lovely Niantic, but New London is just a few minutes up the road, so if it's a little Vitamin Sea you're after, head to Ocean Beach Park, consistently rated one of the best beaches in New England! Soft white sand, a beautiful stretch of boardwalk, an arcade, rides, restaurants, an Olympic-sized swimming pool… what more could you possibly need? One of the most beautiful beach towns in Connecticut awaits you!
Click Here to Check Prices & Book!
Interlaken Resort in Lakeville
If you're looking for a charming country resort experience tucked away in the lovely Litchfield Hills, then Interlaken Resort is the perfect host for your weekend getaway in Connecticut! Fun activities abound at Interlaken, whether you're looking for active outdoor fun like kayaking, swimming, hiking, golfing, etc, or you're more into being pampered with full body treatments at the onsite spa, there's something for everyone at this gorgeous resort.
With so much to do and see onsite here at Interlaken, there's really no need to go offsite during your getaway weekend. Breakfast is included, and be sure to eat at Morgan's, the onsite restaurant that specializes in fantastic farm to table dining; try the Berkshire Burger, featuring balsamic onions and red dragon cheddar cheese piled high on a butter grilled potato bun… yum!
Click Here to Check Prices & Book!
Water's Edge Resort and Spa in Westbrook
For a weekend getaway in Connecticut that features a private white sand beach, a full service spa, onsite shopping and dining options, and rooms that are generously appointed and beautifully decorated, Water's Edge Resort and Spa is it! Obviously, there's more than enough to keep the whole family happy on the resort grounds, but its Westbrook location means its also got all kinds of fun things to do nearby, too!
Just a few miles up the road in one direction is Madison, one of the cutest little beach towns in Connecticut. If you get tired of exploring Madison's beautiful Hammonasset Beach State Park, then just head up the road a few miles in the other direction to lovely little Old Saybrook, where you'll find all kinds of small town fun to be had, like playing mini golf or taking in a show at the beloved Kate.
Click Here to Check Prices & Book!
Chatfield Hollow Inn in Killingworth
Are you hoping for a CT weekend getaway that is somehow both rustic and refined, removed from the hustle and bustle of the big city, yet still close to great things to do? Consider booking a stay at Chatfield Hollow Inn, where rooms are stunning yet simple and the ambiance is one of laidback calm all throughout this gorgeous property!
After enjoying the complimentary onsite breakfast, head out to enjoy this beautiful section of the Connecticut River Valley. Spend an hour or two breathing in the calm of the nearby 25-acre Lavender Pond Farm or head to Chatfield Hollow State Park for some great hiking and exploring the caves and rocky ledges of the area. If you're more into winding down at a winery, head to family-friendly Arrigoni Winery to sample their house blends while listening to live music and feasting at the food trucks that visit during the warm weather months… how's that sound for a wonderful weekend getaway in Connecticut?
Click Here to Check Prices & Book!
Connecticut has a lot to offer, whether you're planning your visit for summer, fall, or winter! When planning a weekend getaway, everyone has their things they're looking for. Luckily for you, if you're looking for weekend getaways in Connecticut, chances are you'll find it here!
Read these next:
7 Best Weekend Getaways in New Hampshire
7 Weekend Getaways in Massachusetts for Bay State Fun!