While Mystic, Connecticut is known for being a great vacation destination in New England, it's also home to many local eateries that foodies will love.
With so many great restaurants in the city, it can be hard deciphering what the best restaurants in Mystic CT are, so we are going to introduce you to some of the ones you won't want to miss.
Mystic's food scene is pretty eclectic, with restaurants focusing on everything from fresh caught seafood to authentic Italian. No matter which one you opt to eat at during your stay, you really can't go wrong at any one of these excellent restaurants in Mystic Connecticut!
Must Visit Restaurants in Mystic CT
Anthony J's Bistro
6 Holmes Street, Mystic, CT 06355
For an intimate, authentic Italian experience, look no further than Anthony J's Bistro. With a rustic Italian-inspired decor, the menu features traditional Italian dishes expertly paired with wine.
The bistro features two distinct sections: the bar and the restaurant. The bar is the perfect spot for a quick, cozy bite to eat, but you can't go wrong while sampling the goods at Anthony J's Bistro.
Oh, and save room for dessert: we hear the tiramisu is divine!
S&P Oyster Restaurant and Bar
1 Holmes Street, Mystic, CT 06355
S&P Oyster Restaurant and Bar is a great option for upscale seafood while visiting Mystic and is located on the water with ample outdoor seating.

Opened by Ecuadorian Chef Cobena, S&P Oyster Restaurant and Bar expertly infuses classic New England fare with flavors of South America. You'll find inventive flavor combinations like Surf & Turf with chimichurri sauce, and a bone in ribeye with flavorful patatas bravas.

Order a signature S&P Bloody Mary with your meal. It's made with arbikie chili vodka or organic cucumber vodka… delish!
Mystic Diner & Restaurant
253 Greenmanville Ave. Mystic, CT 06355
Wondering if there are classic diners in Mystic, Connecticut? Well, there are, and Mystic Diner & Restaurant is a must visit if you're in the mood for a classic diner experience, including everyone's favorite: breakfast served all day!
You'll find lots of classic diner staples like omelets and hot sandwiches, with coastal twists to remind you that you are in a waterfront town, like crab cake benedict: yum!
Oh, and wait until you see their donuts – Swoon worthy both to see and to taste!
Taquerio
30 Broadway Ave, Mystic, CT 06355
Many say the best Mexican food in all of Mystic can be found at Taquerio. They're known for serving hot tacos and cold margaritas, with a great selection of both!

Traditional and non-traditional options abound at Taquerio, just depends on how adventurous you're feeling during your visit.

Housed in a reclaimed vintage gas station, the vibe at Taquerio is one of the reasons this is one of the most popular restaurants in Mystic CT!
The Shipwright's Daughter
20 E Main St, Mystic, CT 06355
One of the best brunch restaurants in Mystic, hands down, is The Shipwright's Daughter. It is the onsite restaurant for Whaler's Inn, and opens for breakfast at 7:30. With popular offerings like Lobster Benedict, it's hard to go wrong!
With a score of accolades and awards from numerous places, including winning the prestigious Wine Spectator Award of Excellence, The Shipwright's Daughter is always set to impress!
Whether you're having a nice downtown Mystic breakfast, or you're planning a lovely dinner out, this is a great option always.
Johnny's Peking Tokyo
12 Coogan Blvd, Mystic, CT 06355
Johnny's Peking Tokyo is a sushi restaurant in Mystic that serves up great Asian fusion with Japanese and Chinese meals, featuring great local nods like the Mystic Roll and the Rainbow Caviar Roll.

This restaurant has an excellent comfortable atmosphere with ample seating, and food usually comes out pretty quick. If you're looking for sushi in Mystic, this is the local favorite!

Noble Smokehouse
4 Roosevelt Avenue, Mystic, CT 06355, United States
If you're looking for the best BBQ in Mystic, Connecticut, look no further than the Noble Smokehouse.
This BBQ restaurant is a local favorite with a variety of regionally inspired barbecue sauces like their Eastern North Carolina made with apple cider vinegar and black pepper, and their Maple Bourbon that features maple, bourbon, and root beer!

The menu at this Mystic favorite has traditional and unique features, with items like poblano corn chowder and chopped brisket melts. Don't forget to order some southern slaw or traditional mac salad to pair with it!
Oyster Club
13 Water Street, Mystic, CT, 06355
The Oyster Club isn't just one of the best restaurants in Mystic, it's one of the best in the state! You'll find fresh, locally sourced oysters at this popular place to eat, as well as several other New England seafood staples, but there's even more to love at The Oyster Club.
There is a fantastic seasonal outdoor seating space called The Treehouse, and the soft lighting and the elevated views offer the perfect accompaniment to the delicious seafood being prepared by the Chef who is a James Beard Chef nominee for 2023!
Red 36
2 Washington St, Mystic, CT 06355
Red 36 is a traditional American restaurant in Mystic with a heavy focus on seafood dishes. It's located right on the waterfront at the Seaport Marine and has tons of indoor and outdoor seating. The decor is distinctly nautical.

Pricing at Red 36 is mid-range, so eating there won't break the bank. The menu is relatively large and features a raw bar, appetizers, flatbread pizzas, salads, burgers, sandwiches, and entrees. Whether you're looking for a casual lunch or a nicer dinner, there's something for everyone!
Sift Bake Shop
5 Water St, Mystic, CT 06355
Sift Bake Shop is one of the best Mystic bakeries to visit when you're in need of a sweet treat! This French focused family bakery has more than meets the eye at first glance, too.
Downstairs is the delicious Sift Bake Shop bakery full of sweet treats, but upstairs is Mix, their rooftop restaurant and bar!
During the day, Mix isn't typically open, but bakery customers are welcome to enjoy their goodies from the rooftop space.
Captain Daniel Packer Inne
32 Water St, Mystic, CT 06355
Sometimes the only thing that will fill your belly… and your soul… is some great pub food! If that's the case, look no further than Captain Daniel Packer Inne.

This historic inn on the Mystic River has been in the same spot for over 250 years, and the pub has an excellent selection that includes seafood staples like fried calamari and must-have pub foods like french onion soup.
When it comes to hearty and wholesome in a historic inn, Captain Daniel Packer Inne is it!
Engine Room
14 Holmes St, Mystic, CT 06355
Engine Room in Mystic is a chic and fun New American eatery that you won't want to miss! Located inside an old engine building that offers sweeping views of the Mystic River, the aesthetics are sure to please.
The menu is extensive and features a wide selection, including a wide selection of handcrafted sandwiches, burgers, and more. Plus, their bar menu is pretty hooked up with a great selection of local craft beers and local distillery favorites, too!
Mystic Drawbridge Ice Cream
2 W Main St, Mystic, CT 06355
Visiting in the summer and looking for the perfect hot weather treat? Mystic Drawbridge Ice Cream is one of the cutest ice cream shops in Mystic, and it's a definite must visit!
As you might be able to tell from the name of this ice cream shop, you can find it at the iconic Mystic Drawbridge, and it's got an insta-perfect location!
Oh, and spectacular ice cream, of course! Some of their featured "Drawbridge Originals" include their Mystic Mud Ice Cream and their Seaport Salty Swirl Ice Cream. You'll just have to swing by to check it out for yourself!
The Mariner
21 W Main St, Mystic, CT 06355
One of the most highly rated seafood restaurants in Mystic is The Mariner, located on W Main Street in Mystic. The entire restaurant has a classic nautical theme that greets you from the moment you set eyes on the restaurant until you find your way to your table.

The Mariner serves up delicious seafood dishes like spicy clam fritters, local sea scallops, and of course, hot lobster rolls from local anglers. For non-seafood lovers, you've got plenty of great options there, too!
Mystic Pizza

56 West Main St. Mystic, CT 06355
Last but certainly not least is Mystic Pizza, yes, the same Mystic Pizza of the 80s rom-com of the same name! No visit to Mystic could be complete without tasting "A Slice of Heaven," right?
Today, you'll find more than just the classics on the menu, with a great selection of appetizers, grinders, calzones, and more! Even if you just swing by for a quick slice and a photo op, it's kind of a must on the things to do while visiting Mystic list.
There are many great restaurants in Mystic Connecticut just waiting to be explored during your next visit. Have fun eating your way around the town!

Read these next: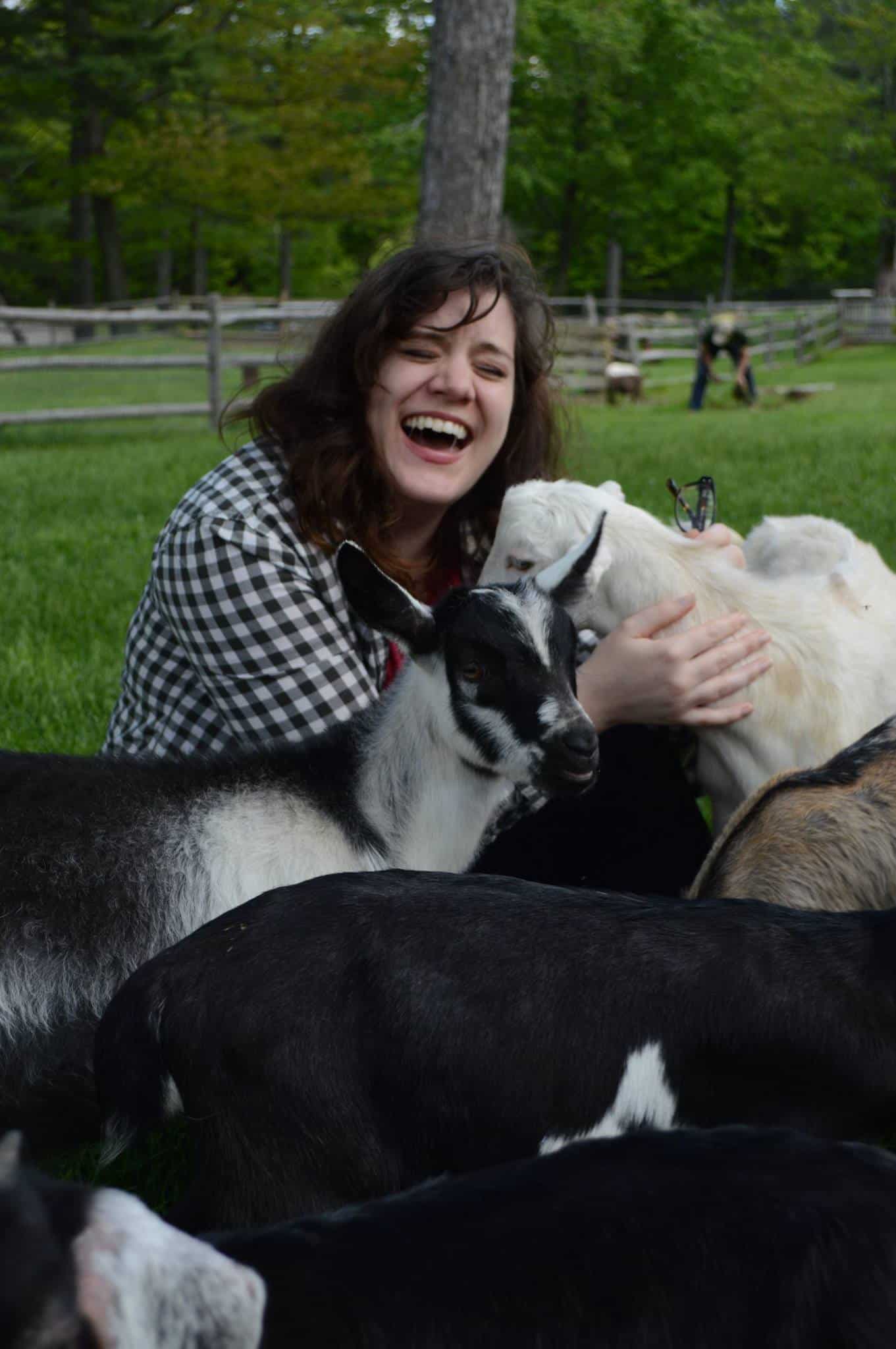 Amy Hartle is the founder and Editor-in-Chief of New England With Love, a comprehensive resource for travel in the New England region. Amy has been exploring New England since 2001. She lived in Vermont for many years and is a graduate of Plymouth State University in New Hampshire. Amy has been writing about travel for over a decade. On this site, Amy aims to share her love of New England and help you to have the best possible adventures!
Amy has been a full time blogger since 2012, and is also the publisher of Two Drifters, where she writes about couples travel and relationships, as well as Let's Adventure Baby, a family travel site. When not traveling the world or creating epic blog content, Amy can be found cuddling with her husband, son, and cats, & drinking a maple latte.