---
*Links in this article may be affiliate links, from which we may earn commission. See our
Privacy Policy
for full details.
---
Beautiful costs, delicious food, and epic history are all awaiting you in Mystic, Connecticut! This is one of the top-rated destinations in New England for a reason. In the summer, it's an excellent warm beachy destination, and in the winter, it's the perfect coastal getaway.
If you're planning a trip to Mystic, finding the best place to stay can be challenging. Luckily, this post includes all of the best hotels in Mystic, Connecticut!
The Inn at Mystic
First up is The Inn at Mystic, a hotel that sits on top of fourteen acres of land with incredibly epic views of the water. It's only a mile from the seaport, making it an ideal location when trying to stay somewhere in Mystic.
The Inn first opened in the 1980s and has been a classic accommodation and event space ever since. They host tons of weddings in the area at Haley Mansion but also serve as a unique hotel. The rooms range in size, so no matter what you're looking for, you'll be able to find a great place to stay here.
If you get hungry during your stay, don't worry. There's an on-site dining option called Rocks 21 Restaurant and Bar that has a huge outdoor patio with seating.
Steamboat Inn
The Steamboat Inn is another one of the great hotels in Mystic. It's a three-star hotel on the wharf, so it overlooks the Mystic River. It looks like a tiny hotel from the outside, but it has a local charm and is a short distance from the Mystic Aquarium and the Mystic Museum of Art.
One of the things that makes this a great place to stay is that they have a unique way of giving wine to their visitors. They have automatic wine dispensers, so you don't even have to talk to someone to get a glass!
Rooms vary in size, and some offer seafront views while others look out into the town. Choose whichever one you like most!
Spicer Mansion
With a name like Spicer Mansion, how could you go wrong? This is an upper mid-range hotel as far as pricing goes, and it's a 3-star hotel. The hotel is inside of an old 19th-century Victorian mansion near the Mystic train station and also the town's library.
Historically, this mansion used to belong to a man named Captain Elihu Spicer. It served as his summer home and was restored significantly to be a mansion.
There are so many additions that make the Spicer Mansion one of the best hotels in Mystic. There's a complimentary welcome toast, free wifi, an in-town chauffeur that will bring guests to the Mystic train station, and luxury Duxiana mattresses.
Stonecroft Country Inn
For another genuinely historic accommodation, consider staying at the Stonecroft Country Inn. It's located on Pumpkin Hill Road and is technically slightly outside of Mystic, but it's still a short drive to get downtown. Because it's somewhat out of the central area, it's a bit more affordable as far as accommodations go.
This is a bed and breakfast in Ledyard that is situated on six acres of beautiful land. It's also on the National Registry of Historic Places! They have a wide variety of room options and specialty suites. If you're looking for a romantic getaway, consider booking The Shubel Master Suite!
Hampton Inn & Suites Mystic
In Mystic, one of the more affordable places to stay is the Hampton Inn & Suites Mystic. Even though this is a popular hotel chain across the United States, it's still a great place to consider staying while traveling.
It's a 3-star hotel that's only a mile from Mystic Seaport. It's also just a short drive to Olde Mistick Village, one of the top destinations in Mystic, Connecticut. Rooms have desks, coffee machines, and televisions. There are different types of rooms ranging from suites to single rooms.
The Whaler's Inn
The Whaler's Inn in Mystic, Connecticut, is another excellent three-star hotel. It's an exciting hotel concept because it's inside five different buildings dating back to the Victorian era, making it yet another one of the historic hotels in Mystic!
Closely located to the Mystic Seaport Maritime Museum, The Whaler's Inn is a great place to consider staying. Amenities are abundant here, including a $15 food voucher that guests can use at the inn's restaurant, access to Roku in hotel rooms, concierge services, and complimentary Poland Springs water, among others.
The House of 1833
For one of the more unique historic hotels in Mystic, consider staying at The House of 1833. It's located on a few acres of land that are open for exploring. It's also a bed and breakfast, so you know that it has a homey and local feel inside.
It's only a few miles from The House of 1833 to the Mystic Aquarium as well as the Mystic Seaport Museum, so it's a great place to use as your home base when visiting the area.
The bed and breakfast is located inside of an early nineteenth-century mansion that was built by a banker named Elias Brown. Brown's relative still owns the place today. One of the most amazing things about staying here is that guests will enjoy beautiful breakfasts that are served by candlelight with traditional New England foods!
The Inn at Stonington
A great four-star hotel experience near Mystic is The Inn at Stonington. It's another accommodation that isn't necessarily right in Mystic, but it's in Stonington and is only five miles from downtown Mystic.
This is a smaller inn with only eighteen rooms in total, so if you're interested in staying here, you'll want to book as soon as you can. It's located right near the waterfront, so the sunsets (and sunrises if you can get up that early) are truly breathtaking.
Stonington itself is also a great place to explore if you stay here, and it dates back to the seventeenth century.
Holiday Inn Express Mystic
While you may be shocked to find the Holiday Inn Express on this list of hotels in Mystic, it serves as one of the top places to stay in the area if you're on a budget and want a no-fuss accommodation.
Plus, it's actually in a fantastic location. From the Holiday Inn Express Mystic, you only have to walk about three minutes to get to Olde Mistick Village. That's without a car! How crazy is that?
Rooms are pretty traditional to what you'd expect to get from a chain hotel branch. There's complimentary breakfast, suites with living rooms, pull-out sofas for extra guests, a pool, and coffeemakers.
Orchard Street Inn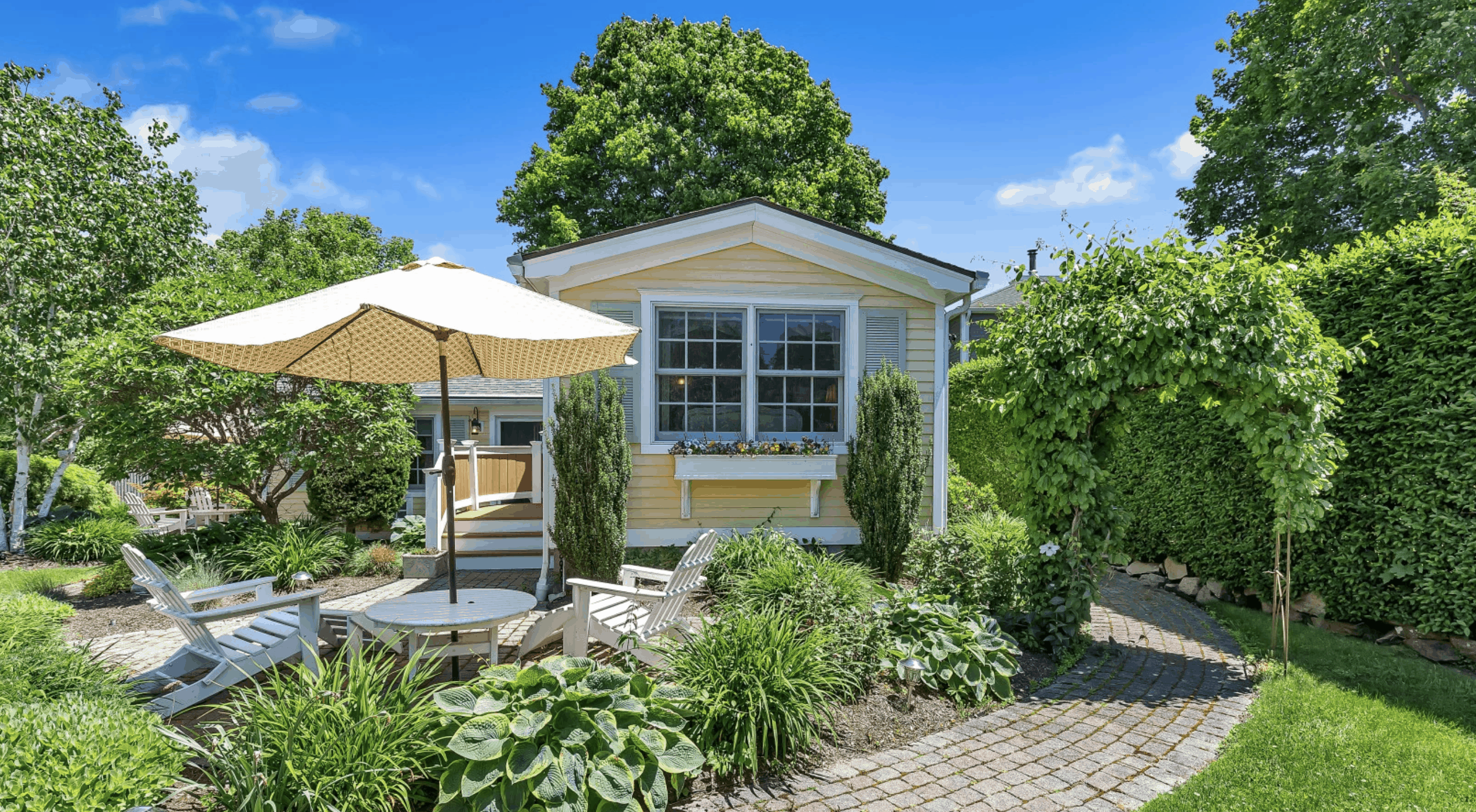 The Orchard Street Inn is also located in Stonington, like the Inn at Stonington, so it's not that far from downtown Mystic. This is a pretty unassuming accommodation, but it's a great bed and breakfast run by locals in the area.
Amenities in each room at the Orchard Street Inn include television, DVD players, fridges, and more. Some of the rooms also have living rooms and even private patios. If one of those features are ones that you want in your room, be sure to make a special request because they aren't as common.
This is a quiet place to stay because the Orchard Street Inn is located on a residential street. If you're looking for hospitality, this is it!
Watch Hill Inn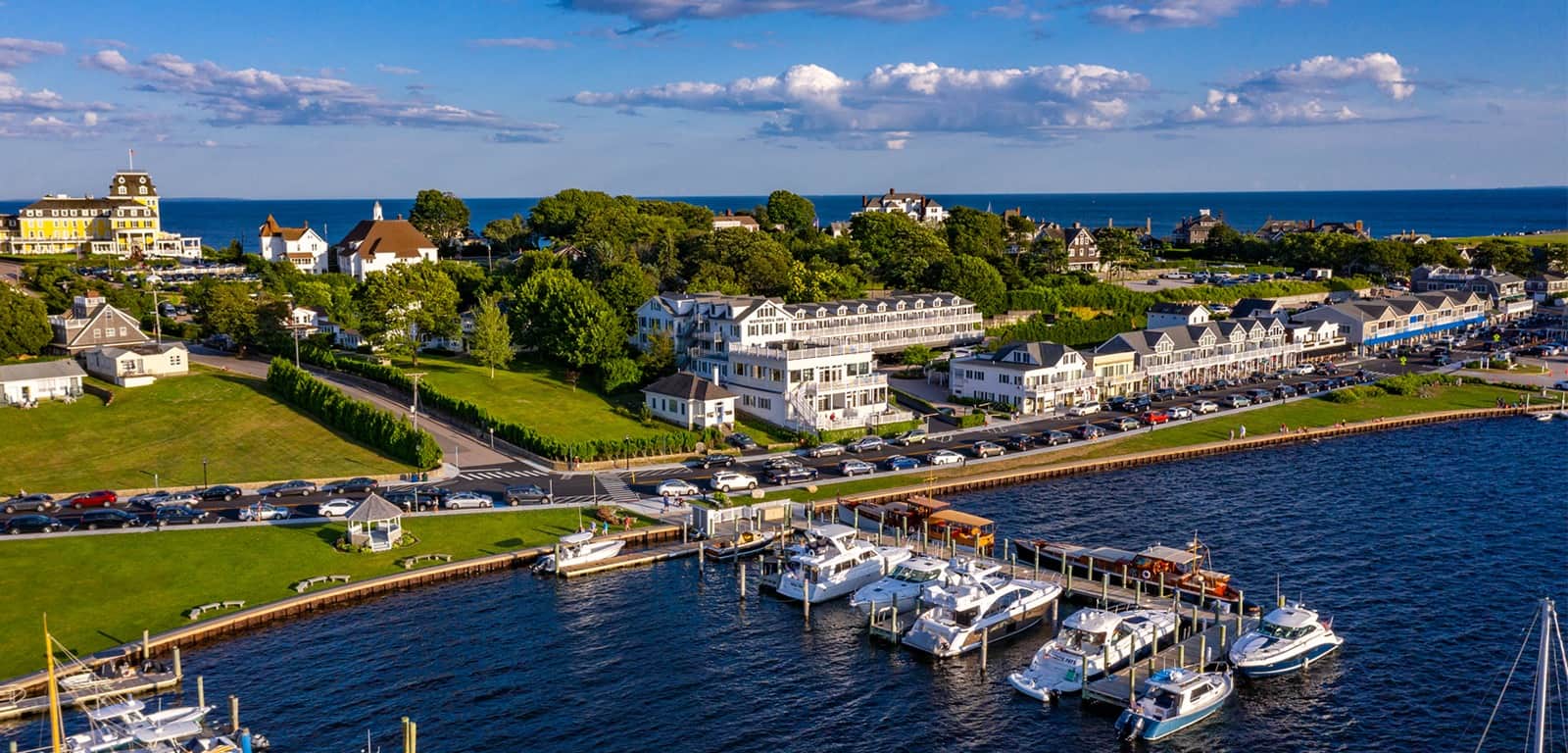 For another suburban accommodation, consider staying at Watch Hill Inn. Like the name of the accommodation suggests, it's located in Watch Hill, which is on the side of Mystic opposite Stonington.
This is a four-star hotel that is inside of nineteenth-century hotels. It's also less than ten minutes to walk to the beach in the area. If you want to experience a great beach in Connecticut, this is where you should stay!
As you might expect, there are pretty great amenities here. There's continental breakfast, Nespresso machines, smart TVs with access to Netflix, and even a SONOS sound bar.
Rodeway Inn Mystic
The most affordable place to stay on this list of best hotels in Mystic is the Rodeway Inn Mystic. It's very unfussy but gives you precisely what you need after a day of exploring: a comfortable place to rest your head.
From the Rodeway Inn Mystic, it's a very short drive to get to the Mystic Aquarium as well as the Stonington Vineyards.
Rooms here include basics, like coffee machines, fridges, free wifi, and more. There's also a Friendly's right near the inn, so if you have to grab a quick dinner and don't feel like going far from your hotel, you easily can.
The Mermaid Inn of Mystic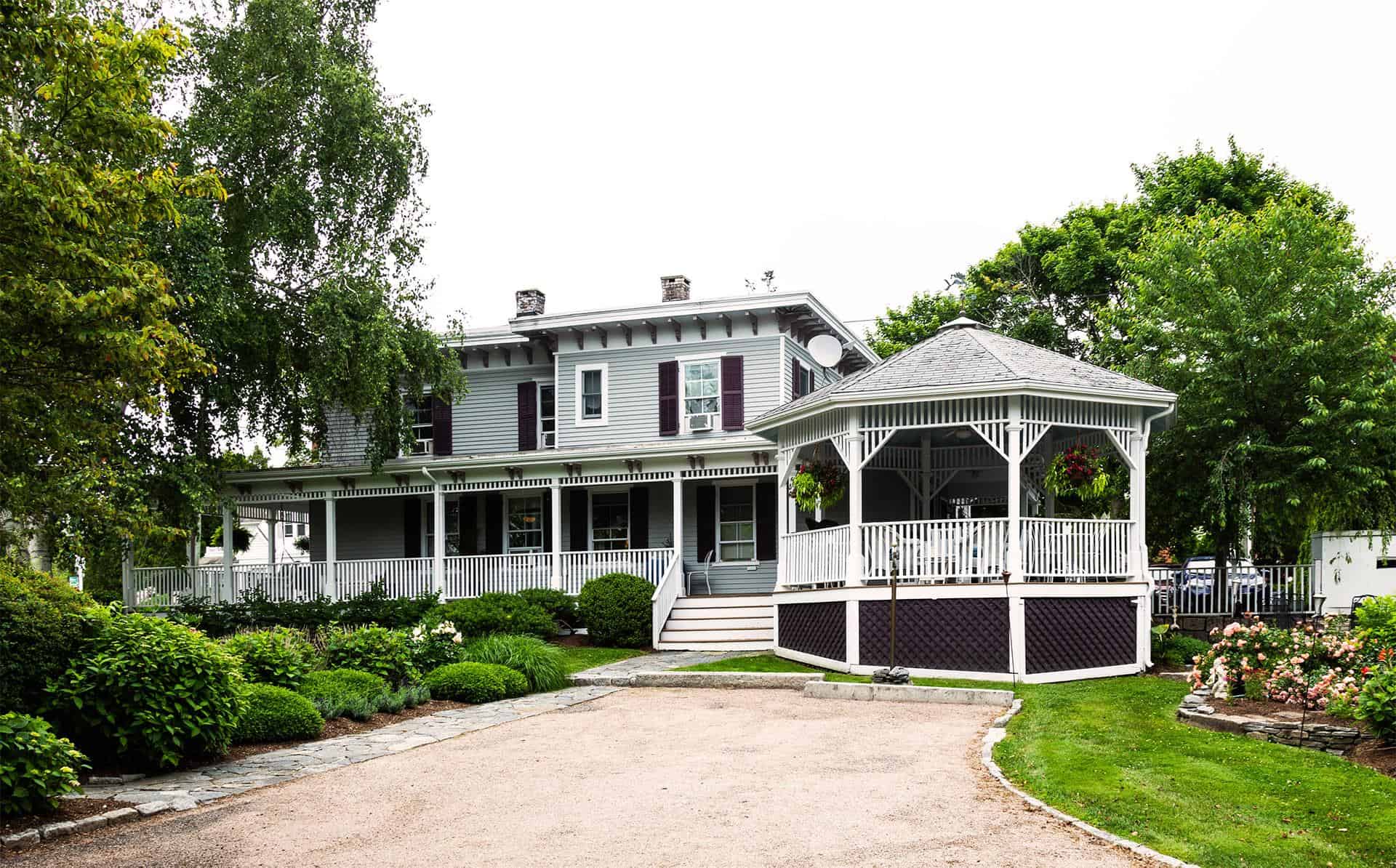 Last but certainly not least is one of Mystic's charms: The Mermaid Inn of Mystic. It's set inside a house that's inspired by Italy that was built in the nineteenth century. You only have to walk for less than ten minutes from the inn to either the Mystic train station or Mystic Seaport, two popular landmarks in the area.
There are many different rooms here, and each is about the same price, give or take twenty bucks. Each room has its own theme, like the Blue Room or the Rose Room. Choose which one piques your interest most!
If you're planning a huge family event, you can even book the entire place. This is great for weddings if you want your whole wedding party to stay in one area.
—
Mystic is filled with great places to stay! No matter your budget or reasons for traveling to Mystic, hopefully, you found an accommodation on this list.
---
You might also like: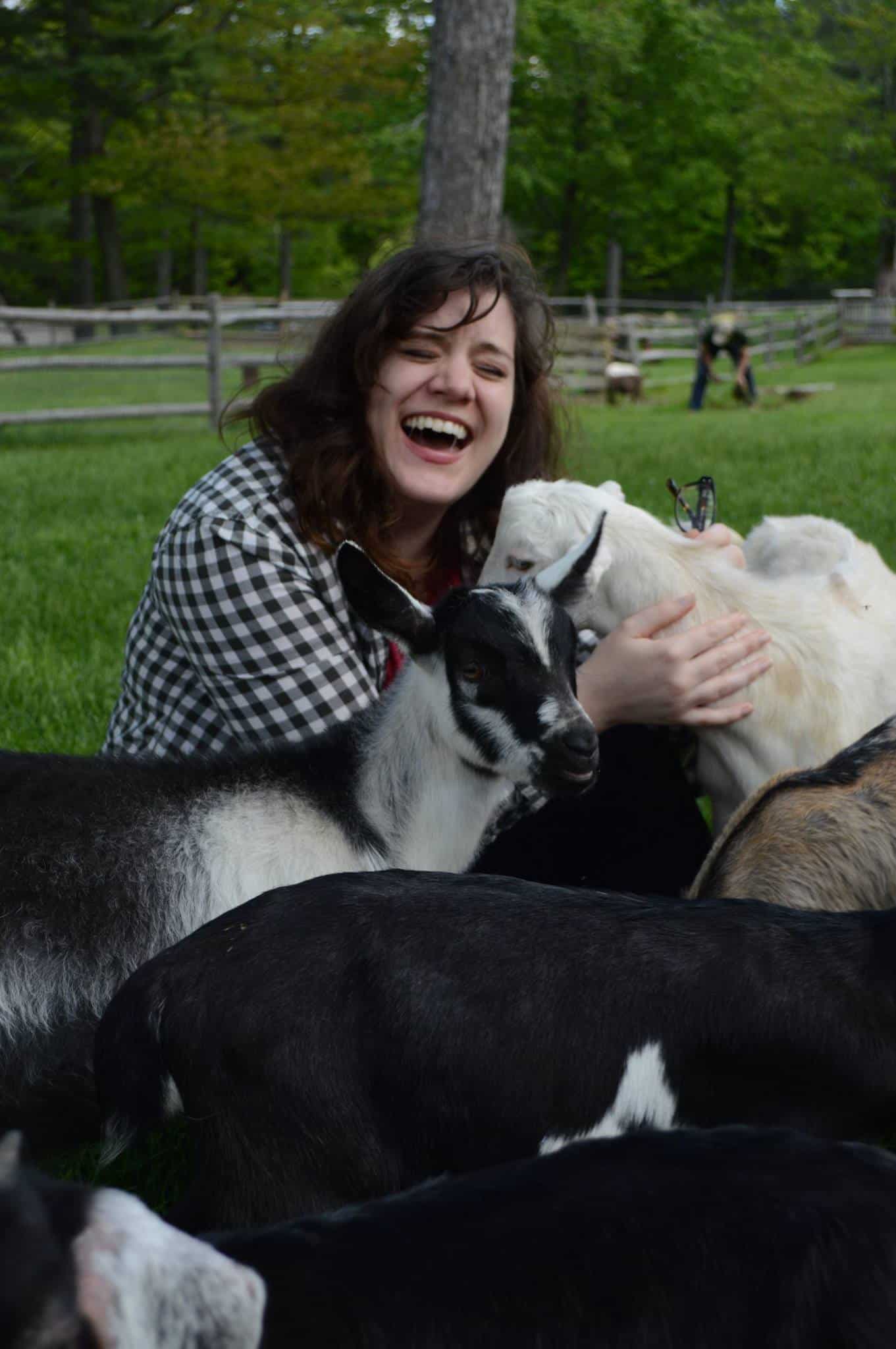 Amy Hartle is the owner and editor of New England With Love, a comprehensive resource for travel in the New England region. Amy lived in Vermont for 15 years, attended Plymouth State University in New Hampshire, and continues to travel regularly around the entire New England region. On this site, Amy aims to share her love of New England and help you to have the best possible adventures!
Amy has been a full time blogger since 2012, and is also the publisher of Two Drifters, where she writes about couples travel and relationships, as well as Let's Adventure Baby, a family travel site. When not traveling the world or creating epic blog content, Amy can be found cuddling with her husband, son, and cats, & drinking a maple latte.