Are you planning a trip to Connecticut? Then you'll need to know where to find the best restaurants in CT, and that's where we can help!
Connecticut restaurants have all those great New England staples that you expect to find while visiting the region, and its long shoreline means lots of great fresh caught seafood!
Whether you're looking for CT restaurants that are perfect for dressing up for a date night or Connecticut restaurants that will keep the whole family happy, there are plenty of options for where to eat in the Nutmeg State! Maybe you'll find your new favorite in this list of the best restaurants in CT!
Best Restaurants in CT
Shell and Bones Oyster Bar & Grill, New Haven CT
In true CT fashion and right off the bat, one of the best restaurants in Connecticut is New Haven's Shell and Bones Oyster Bar & Grill! This waterfront restaurant has phenomenal views from pretty much everywhere in the restaurant, so if you're looking for a CT restaurant with a view, this is a great choice.
You'll find fresh caught seafood, cooked to perfection steaks, and an award-winning raw bar just waiting for you to enjoy at this New Haven restaurant. Food & Wine even named it the Most Romantic Restaurant in CT, so if you're looking for an impressive date night spot with a waterfront view, Shell and Bones fits the bill! Their list of accolades goes on and on, too.
Millwright's Restaurant, Simsbury CT
One of the best restaurants in CT can be found in Simsbury at Milwright's Restaurant. This place is a true aesthetic experience everywhere on the grounds! The most formal place to eat is the Main Dining Room, which is elegant and sophisticated yet never stuffy. The most casual place to eat is the Tavern, with its gorgeous stone walls and cozy fireplace, and seating is also available in the heated Covered Bridge space which overlooks the mill waterfall!
As gorgeous as this CT restaurant is, it's not the only thing that draws guests in. The menu at Milwright's features delicious offerings like Roasted Honeynut Squash and a Roasted Half Chicken, and if you decide to sit in The Tavern, you'll find additional offerings like their award-winning burgers! With a great wine and cocktail list and local brews on tap, Millwright's Restaurant is one of the top date night restaurants in CT.
Elm Street Diner, Stamford CT
One of the best diners in Connecticut, Elm Street Diner is one of those spots where you should always expect to have a decent wait time… it's just that popular! Hours vary throughout the week, but this cute little down home diner serves breakfast, brunch, lunch, and dinner.
There are many impressive items on the Elm Street Diner menu, but they are known for their incredible milkshakes and waffle towers! When you order a milkshake, it doesn't just come poured in a glass, no it comes with an incredible engineering tower of deliciousness on top! Check out Elm Street Diner Instagram for some drool-worthy pics!
Arethusa al tavolo, Bantam CT
For a truly inventive restaurant experience in CT, Litchfield Hills Arethusa al tavolo is it! Located in what was once the town general store, there is a quaint, bucolic feel to this award-winning restaurant. It is located right next to the Arethusa dairy, and of course, all butter and cheese are made with what they refer to as a blend of art and science, and whatever you call it, the dairy is truly a gourmet experience!
Menu items include creative entrees like Pekin Duck Breast Glazed with Orange Blossom Honey and Braised Beef Short Ribs with Melted Celery Root, but you absolutely must save room for dessert, specifically the always popular Arethusa Farm Dairy Ice Cream! There's also a cocktail menu with cute offerings like the Bantam Menace with La Gritona Reposado, Nuestro Soledad Mezcal, Firewater Tincture, pink grapefruit, lemon, agave, and pink salt – yum!
PS, Arethusa Farm Dairy & Cafe is one of the best ice cream shops in CT!
Holiday Diner, Danbury CT
If you're looking for classic diners in Connecticut, Danbury's Holiday Diner must be at the top of your list! This diner has a comforting, old-school roadside feel, and it manages to ride the line between throwback and contemporary beauty.
On the menu at Holiday Diner are all of the breakfast, lunch, and dinner diner classics, including some fun extras like their extra creamy specialty milkshakes. These aren't plain Jane milkshakes, Holiday Diner presents their specialty milkshakes with a little extra flair, so you might need to snap a pic or two before digging in!
Feng Chophouse, Hartford CT
If you're looking for an upscale, fine dining experience, Feng Chophouse in Hartford delivers. This is one of the best restaurants in Connecticut for celebrating special occasions like anniversaries and engagements as everything from the ambiance to the service to the quality of the food is top notch.
The menu is Asian fusion, with influences primarily from Southeast Asia, and offering the best of the best with options like A5 Miyazaki Waygu Beef and hand-rolled
Oyster Club, Mystic CT
One of the top seafood restaurants in Connecticut, Oyster Club is the place to go for seafood in Mystic and beyond. The main building of the Oyster Club feels like a comfortable fine dining venue, while the Treehouse section is more relaxed and is a favorite for their Happy Hour deals during the warm weather months. The Treehouse also has gorgeous views of the Mystic River.
The Oyster Club menu has some of the freshest finds from the waters of coastal Connecticut, including halibut, mussels, and of course, oysters! The raw bar is always a popular choice at Oyster Club, and this seafood restaurant is a favorite for both date nights and group outings. If it's delicious seafood in CT you're looking for, Oyster Club in Mystic has it!
Staropolska, New Britain CT
Staropolska has a stellar reputation as being some of the finest Polish food you can find outside Poland! This quaint and cozy hometown restaurant is located in New Britain's Little Poland, and their Polish motto translated to English means "Here, we eat like at Mom's House."
Their menu is full of Polish food staples like stuffed cabbage, potato pancakes, Hunter's Stew, kielbasa, and of course, pierogi. Polish food is comfort food at its finest, and the meals at Staropolska are expertly prepared to deliver that feeling of warmth and fullness that are reminiscent of dinner at mom's house!
Louis' Lunch, New Haven CT
Ever wondered where the first hamburger originated? Well, according to the folks at Louis' Lunch, it was right there in 1900! Technically, they are in a different building today, but the history of Louis' Lunch is something they proudly adhere to, and they're still today known as one of the best burger places in Connecticut and beyond!
Menu items include fresh ground burgers simply dressed so as to elevate the flavor of the meat, and elevate the flavor of the meat, it does! Travel Channel once called it "The tastiest place to chow down in America," so if you'd like to see for yourself, swing by this historic burger restaurant in New Haven to see for yourself!
Viron Rondo Osteria, Cheshire CT
One of the top Italian restaurants in Connecticut, Viron Rondo Osteria is a lovely Italian eatery in Cheshire, with an open, airy, new meets Old World feel. The dramatic chandelier that sits over the bar offers an immediate impression of grandeur that is only verified once the meals start rolling out.
Expertly prepared menu items like the Calamari Fritti and the Orecchiette e Salsiccia remain crowd favorites at this lovely Italian restaurant in Cheshire, and the extensive wine and cocktail menu complement the dishes and the experience of eating out at this Connecticut restaurant. Viron Rondo Osteria is a great place to meet up with friends or to have a romantic night out with your partner.
Hoodoo Brown BBQ, Ridgefield CT
One of the top barbecue restaurants in Connecticut, Hoodoo Brown BBQ in Ridgefield might have you questioning if you've somehow been transplanted a little further south to the land of barbecue! The decor and atmosphere at this CT restaurant is exactly what you'd expect from a quality BBQ spot: focus on the food, not the window treatments!
The menu at Hoodoo Brown BBQ features all the great barbecue staples like briskets, spare ribs, pulled pork, and more, but there are two exceptional menu items intended to be enjoyed with friends: The Holy Texas Trinity and the Table Breaker, serving 4-6 and 8-10, respectively! This is one of those restaurants in Connecticut that's received its fair share of accolades and awards over the years, so be sure to check out their Press Page on their website.
Salute, Hartford CT
One of the top restaurants in Connecticut can be found in its capital city of Hartford. Salute is a trendy, modern meets classic Italian restaurant located in downtown Hartford, making it the perfect place for a CT dinner date! The service is exemplary, whether you sit at the swanky bar or out in the dining room.
Salute offers a lunch and dinner menu, with offerings that include Jumbo Lump Crabcake, Pasta ala Vodka, and a Shrimp fra Diablo, if you like things with a lot of heat! In addition to the fantastic Italian dishes, you'll also find a wonderful wine list and cocktail menu. Salute could make for the perfect spot for your next romantic night out in Harford.
There are so many great restaurants in Connecticut that this list is just grazing the surface, but it's a solid place to start! Maybe you'll find your next favorite CT restaurant today.
You might also like: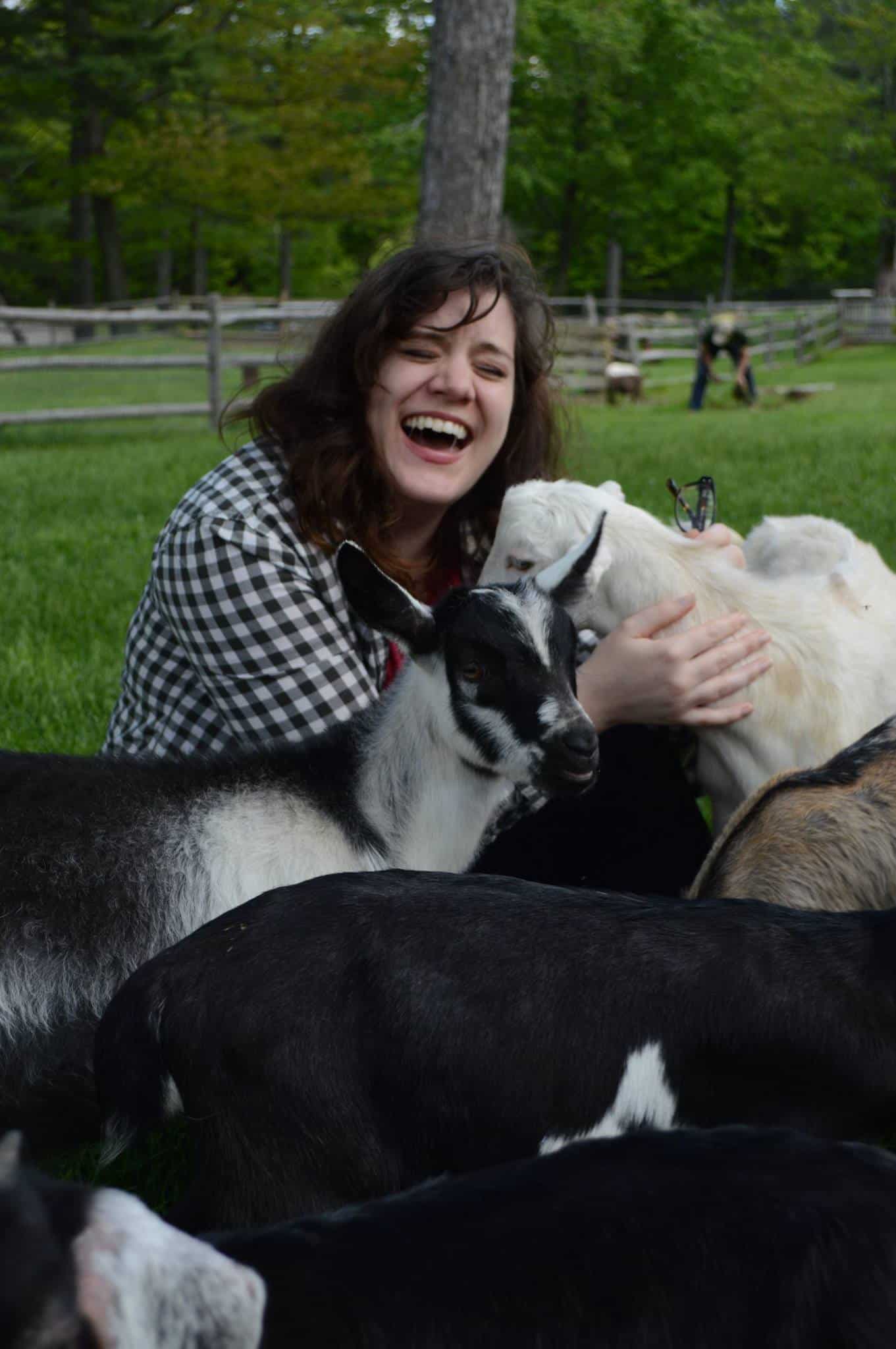 Amy Hartle is the founder and Editor-in-Chief of New England With Love, a comprehensive resource for travel in the New England region. Amy has been exploring New England since 2001. She lived in Vermont for many years and is a graduate of Plymouth State University in New Hampshire. Amy has been writing about travel for over a decade. On this site, Amy aims to share her love of New England and help you to have the best possible adventures!
Amy has been a full time blogger since 2012, and is also the publisher of Two Drifters, where she writes about couples travel and relationships, as well as Let's Adventure Baby, a family travel site. When not traveling the world or creating epic blog content, Amy can be found cuddling with her husband, son, and cats, & drinking a maple latte.