---
*Links in this article may be affiliate links, from which we may earn commission. See our
Privacy Policy
for full details.
---
Is there anything more quintessentially New England than Connecticut at Christmas? The Nutmeg State has more than its fair share of charm all year round, but Christmas in Connecticut is about as charming as a holiday getaway can get!
Are you looking for ideas for where to go and what to do during your Connecticut at Christmas getaway? Here are some fun and festive things to see and do during your next Christmas in Connecticut.
Before Visiting Connecticut at Christmas
Winters in Connecticut can get pretty cold and there is a pretty decent chance you will run into some snow, especially in the Northern part of the state. It's always best to be prepared by dressing in warm layers and wearing appropriate footwear. Don't want to be walking through snow and slush with canvas shoes on, the combo of wet feet and cold weather do not a fun time make!
Connecticut at Christmas Things to Do
Head to Hartford for the Holidays
Hartford has a great selection of fun and festive holiday happenings that will have you feeling all the Christmas cheer, like Holiday Light Fantasia, the annual drive-through Christmas lights display that sees 200+ acre Goodwin Park transform into a winter wonderland of lights and whimsy from Thanksgiving until January.
Catch holiday shows and entertainment like The Nutcracker Ballet and Rudolph, the Red-Nosed Reindeer at the Bushnell Center for the Performing Arts, and do some Christmas shopping in lovely downtown Hartford. If Pratt Street downtown reminds you of the kind of holiday street you'd see in a Lifetime movie, perhaps that could be because you've seen it in one! "Rediscovering Christmas" was shot there in 2019.
There are lots of great options for where to stay during your holiday in Hartford; The Goodwin is a boutique hotel that keeps you right in the "Heart of Hartford," but if you travel a couple of minutes up the road, you can stay in the historic Silas W. Robbins House, the gorgeous B&B featured in Hallmark's "Christmas on Honeysuckle Lane." Let Hartford provide the setting for your own picture-perfect holiday experience!
Click Here to Check Prices & Book: The Goodwin | Silas W. Robbins House
Experience a Cultured New Haven Christmas
The lovely town of New Haven is the home of Yale, but it is also the home of the decades-old annual Fantasy of Lights event, held at Lighthouse Point Park in New Haven. This drive-through lights show has become a staple holiday event for New Haven and is a must-visit.
New Haven also has many great opportunities for holiday art shows, theatre, music, and museum exhibits, so when it comes to entertainment, New Haven does not miss the mark! New Haven also has some fantastic boutique and craft market shopping opportunities that will make whittling down your Christmas shopping an absolute pleasure.
There are many great places to stay in New Haven, but for a true boutique experience that is all class and culture, check out The Blake. Beautifully situated downtown, The Blake is an excellent Christmas in Connecticut hotel option!
Click Here to Check Prices & Book!
Enjoy Christmas in Lovely Litchfield Hills
The Litchfield Hills region of Connecticut is a picturesque area any time of year, but once Christmas arrives, Litchfield Hills takes small-town charm to a whole other level! With so many adorable little towns dressing up their Main Streets in fresh garlands and twinkle lights, just driving around the region is a fabulous feast for the eyes.
Litchfield Hills is considered one of the best places to visit in New England, and it's not hard to see why! There are so many great things to see and do as well as places to eat all year, but during the holidays there are storybook Christmas sights like the Christmas Village in Torrington, where Santa and Elves will greet you with a cup of hot chocolate.
You can even go to the little town of Bethlehem for their Christmas Town Festival, held on the first weekend of December, to enjoy the hayrides, train rides, and live entertainment with Santa and his elves! Litchfield Hills is a lovely Connecticut at Christmas destination.
Greet Santa's Reindeer in Greenwich
Greenwich CT is an awesome Connecticut vacation destination with its gorgeous coastal scenery and its easy proximity to New York, then Christmas time comes along and Greenwich goes all-in on the holly, the jolly, and the Merry & Bright! A favorite annual tradition is the Greenwich Reindeer Festival, featuring Santa and his real, live reindeer greeting kids from one to ninety-two.
The Greenwich Historical Society goes out of their way to play up the Christmas cheer, with festive community events like a Festival of Trees, Winter Market, Holiday Festival, and Candlelight Tours at the historic Bush-Holley House. Greenwich's downtown shopping district is full of fabulous places to round out your holiday shopping at, and of course, the streets are awash in the warm glow of twinkle lights to light your way!
Greenwich has many amazing places to stay while in town, most on the same level of luxury as the rest of the town. One of the best hotels in New England, The Delamar, is the ultimate in elegance and sophistication, so if you're looking for a luxurious Greenwich Connecticut Christmas getaway, the Delamar might just be the perfect spot for you!
Click Here to Check Prices & Book!
Experience a Winsome Woodstock Christmas
The quaint town of Woodstock is a perfect setting for your Christmas in Connecticut, and was also a perfect setting for "One Royal Holiday," Hallmark's sweet Christmas film that came out in late 2020! The main filming site was The Inn at Woodstock Hill, and it is the perfect Christmas vacation destination.
This beautiful B&B is a great place to stay any time of year, but once the gorgeous greenery and twinkle lights go up, this historic inn becomes an even comfier and cozier getaway option! With fireplaces in many of the gorgeous guest rooms, what better place could there be to settle in for a long winter's nap?
While in Woodstock, be sure to pick up a bottle or two of Taylor Brooke Winery's fabulous blends to enjoy by the fire at The Inn, and pay a visit to Roseland Cottage for their Victorian Christmas where you'll find costumed tours of the Victorian décor that makes this beautiful, historic mansion even more of a visual delight! Don't forget to swing by The Christmas Barn, the holiday-themed gift shop that sells goods almost as cute and quaint as the shop itself is! Woodstock is a wonderful place to enjoy Connecticut at Christmas time.
Make your Christmas Mystic
Mystic is an adorable seaside vacation spot any time of year, but Christmas in Mystic is on another level! Not only is there plenty of fun to be had in Mystic outside of the holiday season, but Mystic celebrates Christmas with Santa arriving by tugboat during Mystic's Lighted Boat Parade, an absolutely dazzling sight to see as all the lighted boats move through the water, reflecting light all around.
With wholesome holiday events like the Community Carol Sing-A-Long, Ghosts of Christmas Past Strolls, and the Festival of Lights at historic Olde Mistick Village, Mystic is an awesome Christmas in Connecticut spot!
There are amazing places to stay during your Mystic Christmas getaway, so you will be sure to find the perfect spot for you and yours. Mystic has also had a couple of Hallmark Christmas movies filmed there, so keep your eyes peeled to see if you recognize anything from "Holiday for Heroes" and "A Very Nutty Christmas."
Hit the Slopes for the Holidays
Connecticut has four main ski areas for skiing and snowboarding, making a Connecticut Christmas ski vacation a fabulous idea! Mohawk Mountain in Cornwall is one of the most popular with 112 skiable acres and 99% snowmaking coverage, so there's always plenty of space and plenty of snow.
Cornwall is also the home to one of the loveliest covered bridges in the region, West Cornwall Bridge. It's a sweet sight to see all year round, but once the ground around is covered in white and the Christmas wreath is affixed to the entrance, it becomes a picture-perfect Christmas image.
If you end up choosing Mohawk Mountain, there are also several great places to stay nearby. Sweet Cornwall Inn is the closest to the mountain and offers great Ski & Stay packages, so be sure to check these out while looking for your base camp. Cornwall Inn is also just around the corner from Suzie's Sweets, Cornwall's go-to spot for fresh baked sweets and savories; sounds like a pretty sweet option, doesn't it?
Click Here to Check Prices & Book!
Take it Easy in Old Saybrook
If you're looking for a nice respite from big-city hustle and bustle, look no further than Old Saybrook! This lovely little town is a nice coastal respite, and Christmas in Old Saybrook is just as sweet as sweet can be with holiday activities like the Saybrook Starlight Festival on the first Saturday of December with a Meet & Greet with Santa at the Town Green, an ornament decorating workshop, a Craft's Market, Lighting of the Tree, and more.
Other small-town festivities include the Old Saybrook Torchlight Parade, with marching musicians dressed in period costumes honoring the historic military presence of coastal Connecticut, and holiday shows at the beloved Kate, the performing arts center named after Katharine Hepburn. Old Saybrook's downtown is full of great boutique holiday shopping opportunities, too!
When it comes to where to stay in Old Saybrook, consider a stay at Saybrook Point Resort & Marina, where comfortable luxury awaits! The onsite spa is perfect for a little holiday pampering, and the in-room fireplaces ensure there is plenty of comfy, cozy snuggling during your holiday stay. Is there anything more Christmas in coastal Connecticut than to stay on the water with a roaring fireplace lit at your feet?
Click Here to Check Prices & Book!
Visit a Connecticut Christmas Tree Farm
No, you don't have to buy a Christmas tree yourself to have fun at a Connecticut Christmas tree farm! Is there anything that feels more hometown Christmas than the scent of fresh spruce and fir trees? If you're not sure, head to the nearest Connecticut Christmas Tree Farm and you'll find out!
More than just Christmas trees, you'll also typically find other great freshly-cut and crafted evergreen wreaths and centerpieces, so picking up a gorgeous (and easy to travel with) centerpiece might be the perfect thing to make your Christmas holiday over the top perfect! Many Christmas tree farms also have great Christmas shops with handcrafted ornaments, Christmas décor, and unique gifts like the ones you'll find at Angevine Farm in Warren.
Many also offer delightful Christmas treats like hot chocolate, cider, and fresh-baked cookies, like the Harvest Kitchen at Jones Family Farm in Shelton, where warm mulled cider and the Jones' family's famous oatmeal-cranberry-chocolate chip cookies are sold. When it comes to quintessential Connecticut Christmas experiences, it's hard to top visiting a Christmas tree farm!
Create a New Holiday Tradition in New London
Beautiful New London has lots of great things to do any time of year, but during the holidays, this vibrant waterfront town hosts a Holiday Celebration that might just become a new favorite holiday tradition for you and yours. Their multi-day, multi-cultural holiday celebration includes holiday music concerts, holiday movies in the park, themed Christmas trees, and Kwanzaa and Three Kings Celebration events.
Not only is lovely downtown New London decked out in twinkle lights, garland, and all that is sparkly, fun, and festive, but Garside's Holiday Lighthouse is a light show that is synchronized to music (tune your car radio to 88.5 FM) and with over 10,000 lights and holiday pieces, it is well worth a visit if you're looking for some great holiday decorations.
Another fun day of holiday festivities comes during the Holiday Shop By the Sea event the first weekend of December at Ocean Beach Park, one of the most beautiful beaches in Connecticut. There's music, family-friendly activities, Santa, and of course, lots of great shopping to finish off your Christmas shopping list. When it comes to coastal fun and Christmas cheer, New London has it all!
Christmas in Connecticut is the epitome of quintessentially New England Christmas charm, so any one of these 10 ideas for your next Connecticut Christmas getaway will have you feeling all the Season's Greetings for yourself!
---
You might also like:
---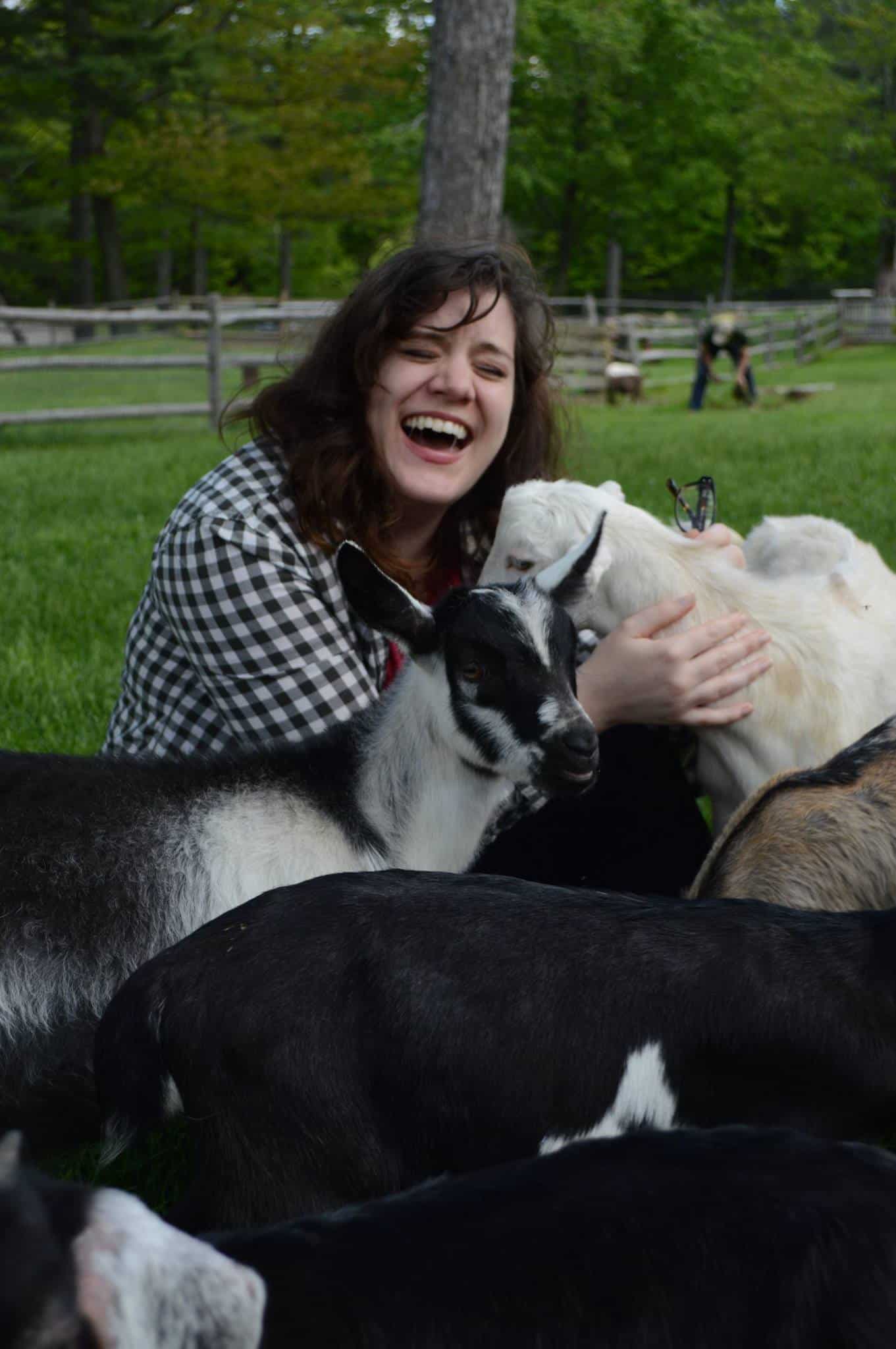 Amy Hartle is the owner and editor of New England With Love, a comprehensive resource for travel in the New England region. Amy lived in Vermont for 15 years, attended Plymouth State University in New Hampshire, and continues to travel regularly around the entire New England region. On this site, Amy aims to share her love of New England and help you to have the best possible adventures!
Amy has been a full time blogger since 2012, and is also the publisher of Two Drifters, where she writes about couples travel and relationships, as well as Let's Adventure Baby, a family travel site. When not traveling the world or creating epic blog content, Amy can be found cuddling with her husband, son, and cats, & drinking a maple latte.