Christmas tree farms in Connecticut, what is a better example of Christmas charm than that?
Tiny hamlets and sprawling urban centers alike dress up their main streets in the finest frippery of the season; brightly colored bows are tied to street lamps, twinkle lights are hung around shop windows, fresh Christmas greenery is used indoors, outdoors, and all around as garland, wreaths, centerpieces, and of course, Christmas trees!
Nothing quite speaks to the holiday season the way a real, living Christmas tree can. The fresh and fragrant scent of its evergreen needles: the outside brought indoors. The reminder that despite the shorter, darker days and the colder, longer nights of the season, the world is still vibrant and alive around us, with reasons worth celebrating galore!
It's that time of year again, so head out to one of the best Christmas tree farms in Connecticut to find the perfect Christmas tree for you and yours!
Christmas Tree Farms in Connecticut
Joseph's Tree Farm, Hamden CT
In beautiful Hamden, Joseph's Tree Farm has been in the business of Christmas for over 25 years! This lovely little Christmas tree farm has a great variety of well-cared for spruce and fir trees, and offers cut-your-own or pre-cut trees, depending on how much of the leg work you want to do yourself for your Christmas tree.
Once you've picked out the perfect Christmas tree, head to the gift barn for some complimentary hot chocolate while you look through the selection of handcrafted wreaths, garlands, swags, and Christmas gifts. Warm up by the wood-burning stove and relax as you breathe in that magical Christmas smell of freshly-cut Christmas greenery. For all your yule log needs, Joseph's Tree Farm also offers seasoned firewood bundles!
Cedar Ledge Tree Farm, Mansfield CT
Cedar Ledge Tree Farm in Mansfield is one of those quiet and quaint Connecticut Christmas tree farms that cater to the family Christmas experience. Providing complimentary hot chocolate, tractor rides, and coloring books to the kiddos who come out to visit, Cedar Ledge Tree Farm serves a warm welcome for families who come searching for their perfect Christmas tree.
With over 10,000 spruce, fir, and pine trees to choose from, you can cut your own Christmas tree or buy from their selection of pre-cut. After choosing your tree, check out the heated Christmas shop and their selection of handmade wreaths, centerpieces, ornaments, and Christmas décor. Cedar Ledge Tree Farm will have everyone in the family smiling on their way home.
Maple Row Farm, Easton CT
One of the top Christmas tree farms in Connecticut, Maple Row Farm in Easton offers more than just Christmas trees for sale, they offer the whole Christmas charm experience. Choose between pre cut trees or cut your own, and enjoy the weekend hayrides provided on this cute CT Christmas tree farm.
There's also tailgating, hot cocoa and snacks, and a great selection of addition Christmas decor like wreaths, ornaments, and boughs. This is a great CT Christmas tree farm for a fun family outing!
Yetter Road Tree Farm, Mystic CT
This darling Connecticut Christmas tree farm is not just about the great Christmas trees you can harvest, but also the great spirit of community you'll find onsite. Featuring local businesses, Yetter Road Tree Farm also hosts a Silver Fest in early December where you can get a jump on your Christmas shopping by shopping local! Food trucks come out on the weekends and the Christmas shop has everything you might need to help make your holidays Merry and Bright!
Lewis Christmas Tree Farm, Woodbury CT
Lewis Christmas Tree Farm in Woodbury is a cute family-owned Christmas tree farm has been in operation for half a century, and they've got plenty of experience in offering families a great Connecticut Christmas tree shopping experience. If you're looking for pre-cuts, they offer Douglas Fir, Concolor Fir, and Fraser Fir, and if you'd rather do the traditional tree hunt and harvest, Concolor Fir, Balsam Fir, White Spruce, and Blue Spruce of all sizes.
Don't forget to visit the Christmas shop at the farm for handmade wreaths, handcrafted, locally made gifts, and plenty of great Christmas decor!
Jones Family Farms, Shelton CT
This beautiful family farm has a pretty impressive claim to fame: Two of the famous Rockefeller Center trees over the last 15 years have come from Jones Family Farms! Offering a wide variety of spruce, fir, and pine trees, you can cut your own or choose from a selection of pre-cut trees, but either way, you can count on your tree being healthy, hardy, and heavenly!
Once your tree has been selected, the Barnyard Shops has to be your next stop! You'll find gorgeous, handmade garlands, bows, and wreaths in the Wreath Barn, and the Holiday Gatherings Gift Shop will help you get a head start on your Christmas shopping with their spectacular selection of hand-made crafts, unique gifts, and intricate ornaments. When you need refreshment, stop by the Harvest Kitchen for a cup of warm mulled cider and Jones Family Farms' famous oatmeal-cranberry-chocolate chip cookies. Last but not least, is the Jones Winery Tasting Room, where you can sample some of the delectable wine offerings of this family farm/winery before you buy a bottle (or 3!) to take home!
Olsen's Christmas Tree Farm, Voluntown CT
Olsen's Christmas Tree Farm in Voluntown offers a great selection of cut your own Christmas trees, including Fraser Fir, Concolor Fir, Canaan Fir, Blue Spruce, White Spruce, Norway Spruce, and White Pine. Help is available if needed in chopping down your tree, and the darling little Christmas shop at this Connecticut Christmas tree farm has handcrafted wreaths, tree stands, decor, and gift items available along with complimentary hot cocoa. Yum!
Maple Hollow Tree Farm, New Hartford CT
Maple Hollow Tree Farm has been providing residents of New Hartford and surrounding communities CT Christmas trees and other Christmas goodies since 1976. Growing a great selection of fir, spruce, and pine trees, Maple Hollow Tree Farm lets you cut your own or choose from their pre-cut Christmas tree selection.
After you've picked your tree, come to the Christmas Shed to warm up with a cup of complimentary hot cocoa and check out their generous offering of holiday décor. Wreaths and hanging baskets are artistically crafted with winterberry bunches and other freshly harvested ingredients to create unique arrangements, and there is a wide variety of ornaments and other decorations that range in style from classic to quirky to help you deck your tree and your halls!
Hansen Family Tree Farm, Woodstock Valley CT
Located in picturesque Woodstock Valley, Hansen Family Tree Farm is a great CT Christmas tree farm with a fantastic offer for families with kids: when a family purchases one full size tree, a kid sized tree is offered at a huge discounted rate! How cool is that?
Angevine Farm,Warren CT
With over 35 acres of Christmas trees, Angevine Farm in Warren offers Christmas charm and choice for your Connecticut Christmas tree shopping. In the Angevine family since 1868, they are grateful stewards of the land and all that grows there, including their diverse selection of spruce, fir, and pine trees. Cut your own or choose one of their pre-cut options, but either way, you know you will be getting a tree that has been well-tended all of its life.
Once you've picked out your tree, check out the Christmas Barn Gift Shop to get a nice jump on your Christmas shopping. You'll find local art, artisan-made soaps, candles, ornaments, and more. For all your seasonal décor needs, The Wreath Factory has beautifully handcrafted wreaths and garlands that will help fill your home with that fresh fir scent. While you're there, check out the refurbished antique pipe organ and the Sterling player piano, favorite attractions of visitors to the farm!
Connecticut Christmas tree farms offer a chance to experience some holiday magic and decorate your home with the spirit of the season. Most Christmas tree farms in Connecticut open around Thanksgiving, so don't wait too long before you head out in your search for that perfect Christmas tree. Merry Christmas and Happy Tree Hunting!
---
You might also like:
---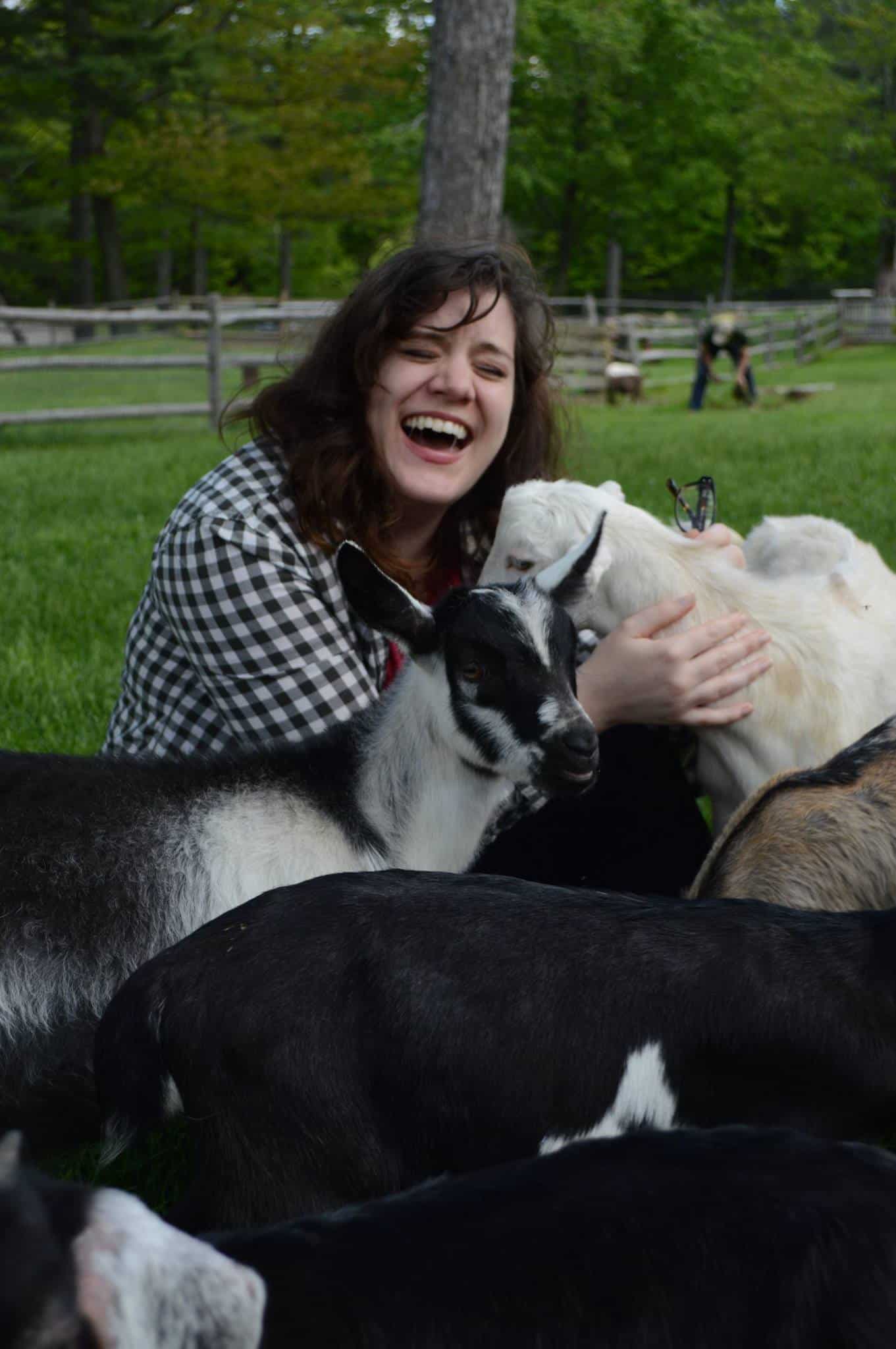 Amy Hartle is the founder and Editor-in-Chief of New England With Love, a comprehensive resource for travel in the New England region. Amy has been exploring New England since 2001. She lived in Vermont for many years and is a graduate of Plymouth State University in New Hampshire. On this site, Amy aims to share her love of New England and help you to have the best possible adventures!
Amy has been writing about travel for over a decade, and is a full time blogger, publishing both Two Drifters and Let's Adventure Baby. When not traveling the world or creating epic blog content, Amy can be found cuddling with her husband, son, and cats, & drinking a maple latte.