Are you in search of the best things to do in Mystic CT? Let me be your guide!

Mystic is a beautiful waterfront village nestled on Connecticut's Mystic River that is rich in nautical history and abundant in charm!
Only 3 hours from New York City and less than an hour and a half from Boston, it is a perfect weekend escape.

I've been traveling around New England for more than 20 years, and I've visited Mystic many times. It's one of my favorite small towns to explore in the region, and I discover something new on every single visit.

Now I'm here to share my picks for 30 fun things to do in Mystic, Connecticut.

Whether you are a nature lover, nautical enthusiast, or seafood fan, Mystic has something for everyone!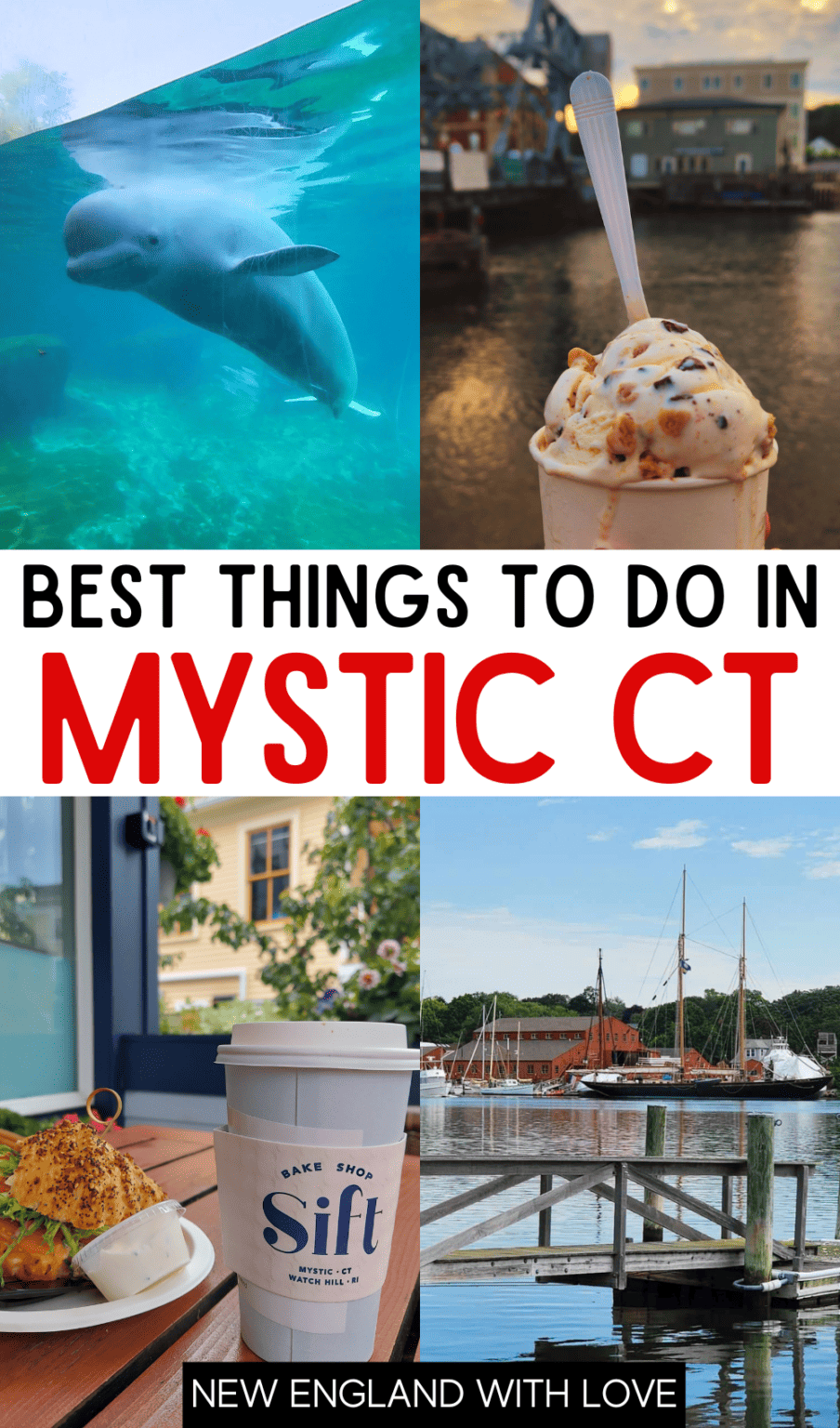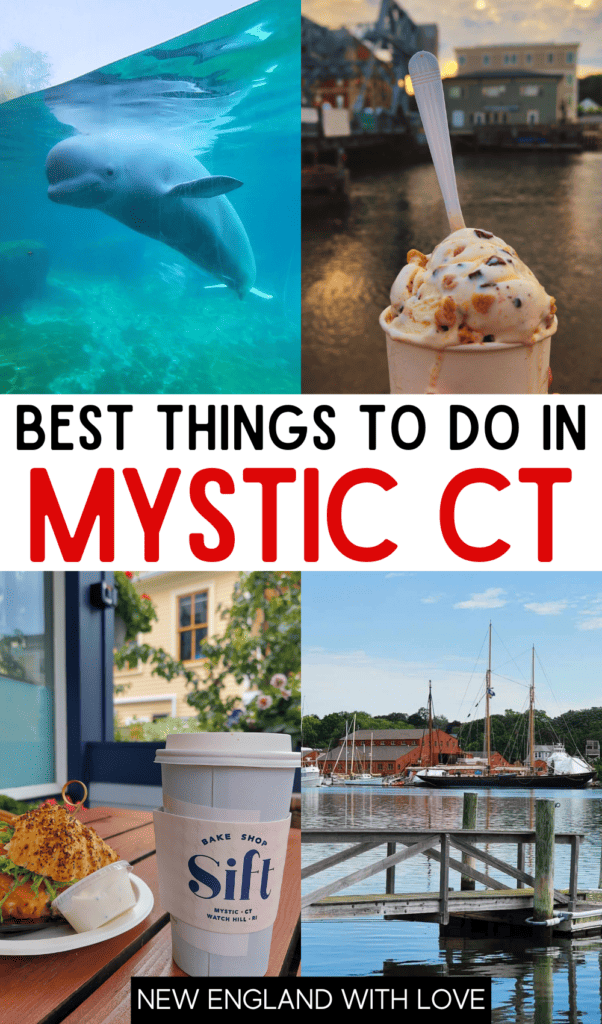 Top Things to Do in Mystic CT
With its coastal location, Mystic is one of the best places to experience a New England summer.

While you can absolutely visit the area in other seasons of the year, Mystic is largely a summer destination. Most of the activities I've suggested below for your Mystic itinerary are summer-focused.

However, I also mention a few things to do in the fall in Mystic, plus some winter and even spring ideas. It's a great place year-round!

Still, June through September are probably the ideal time of year to take advantage of all that Mystic has to offer.

Without further ado, here are the Mystic Connecticut attractions, shops, and sites worth visiting!
Visit the Mystic Seaport Museum & Village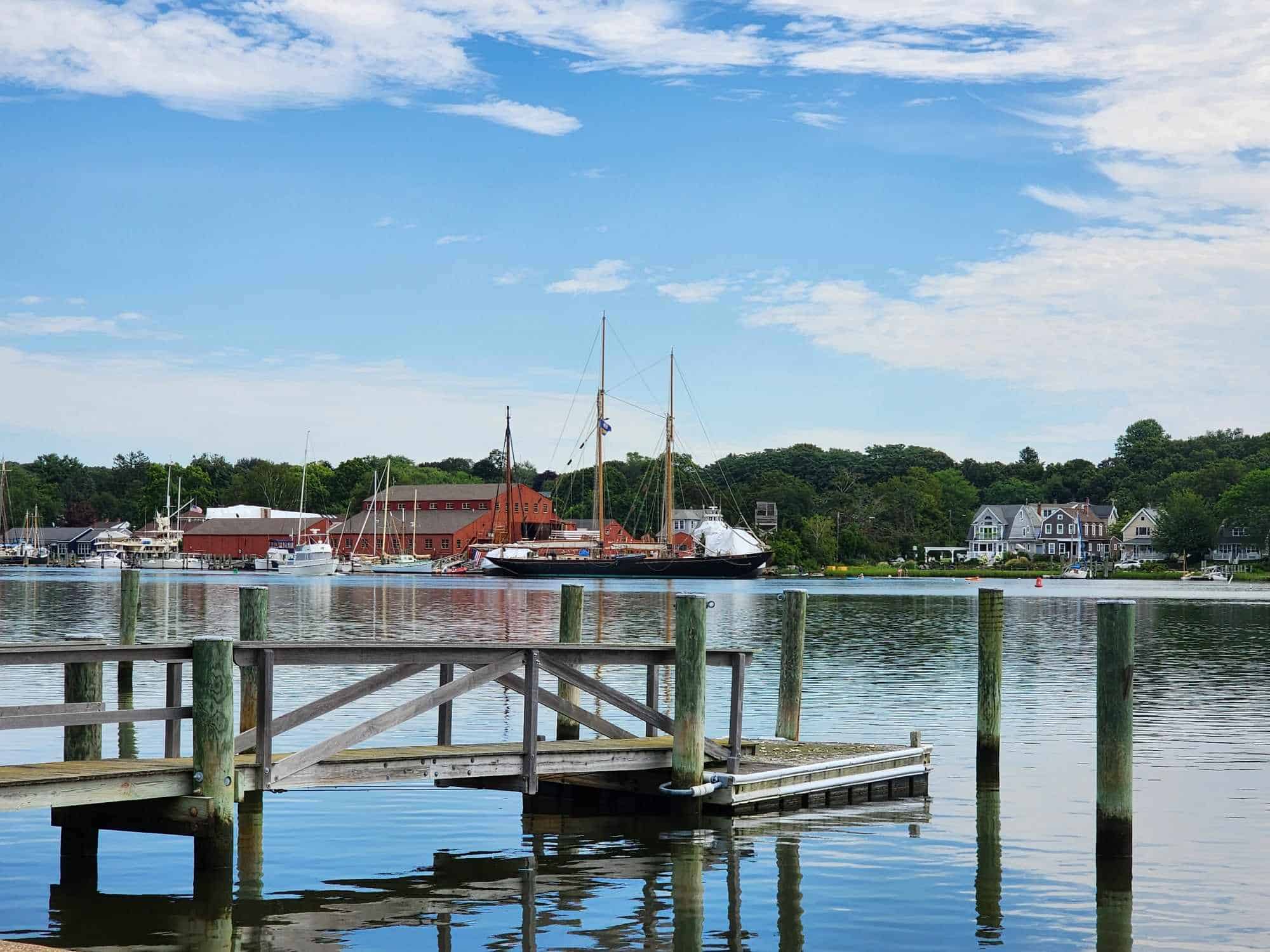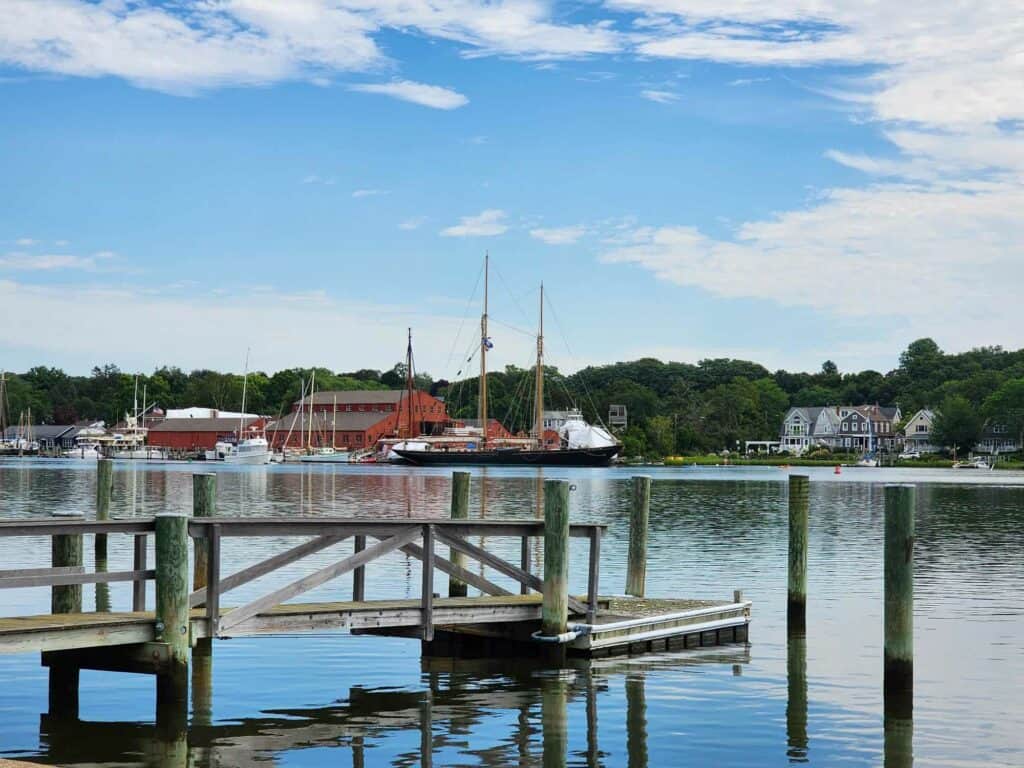 If you have ever wondered how America's maritime past has shaped the lives of craftsmen today, you won't want to miss Mystic Seaport.
Covering 19 acres along the Mystic River, the museum is touted as the largest maritime museum in the US, and one of the leaders in the arena.

It features four National Historic Landmark vessels, including America's oldest commercial ship and the last wooden whaleship in the world (the Charles W. Morgan) a working shipyard, and world-class exhibits.

In addition to all of this, Mystic Seaport also contains a recreated 19th-century maritime village.
This true seafaring village is comprised of dozens of original New England buildings from the 1800s that have been transported to the museum.
As you wander the village, you can encounter a variety of nautical specialists, including shipsmiths, coopers, riggers, and woodcarvers, who all bring the town's seafaring past to life.
Can you walk around Mystic Seaport for free?
Unfortunately, the Seaport is not free to explore, and tickets are required for admission for adults and kids over the age of 4.
⛵Don't want to miss one of the most essential Mystic CT things to do? Get your tickets to Mystic Seaport in advance!
Watch the Mystic River Bascule Bridge Raise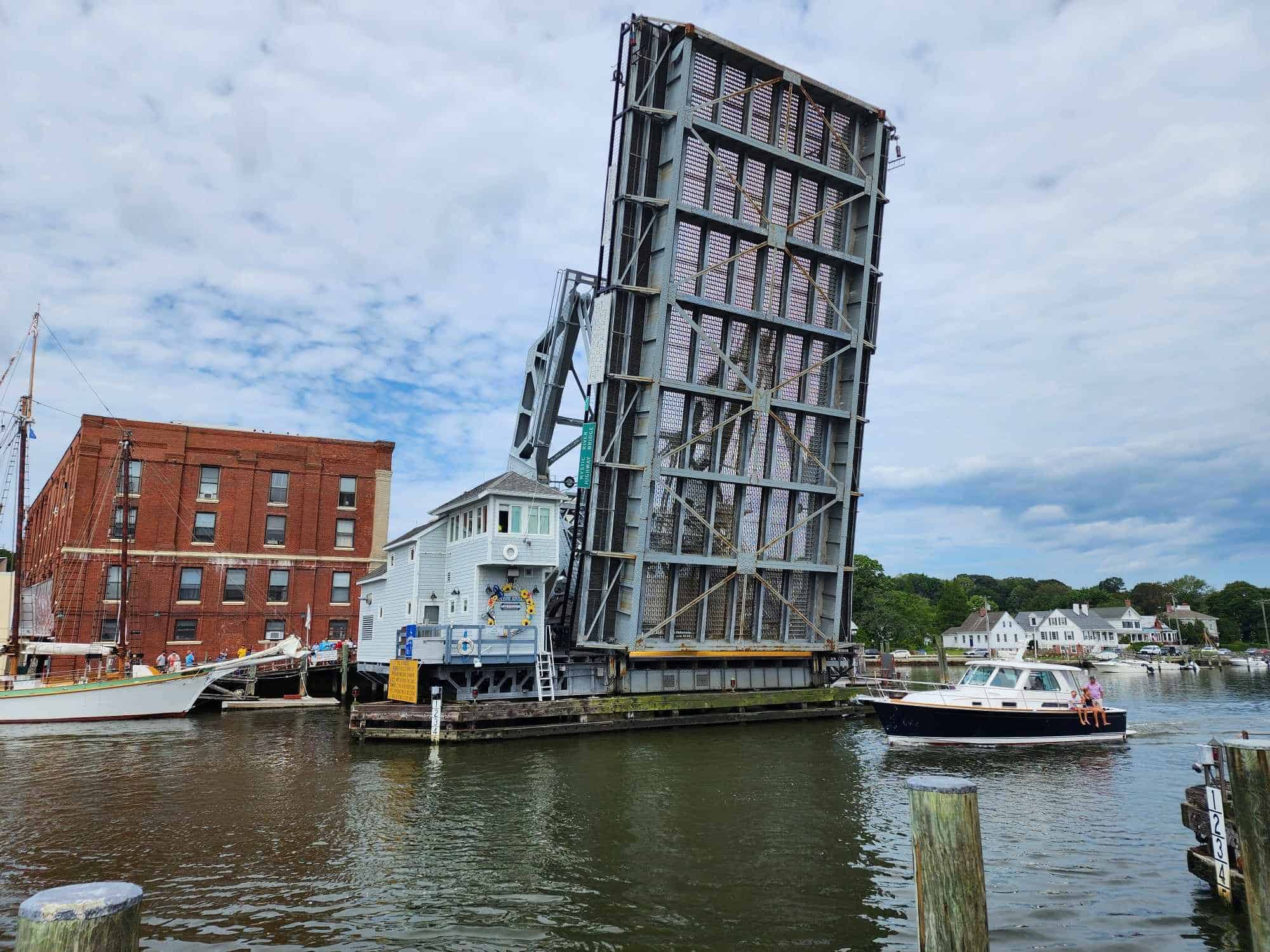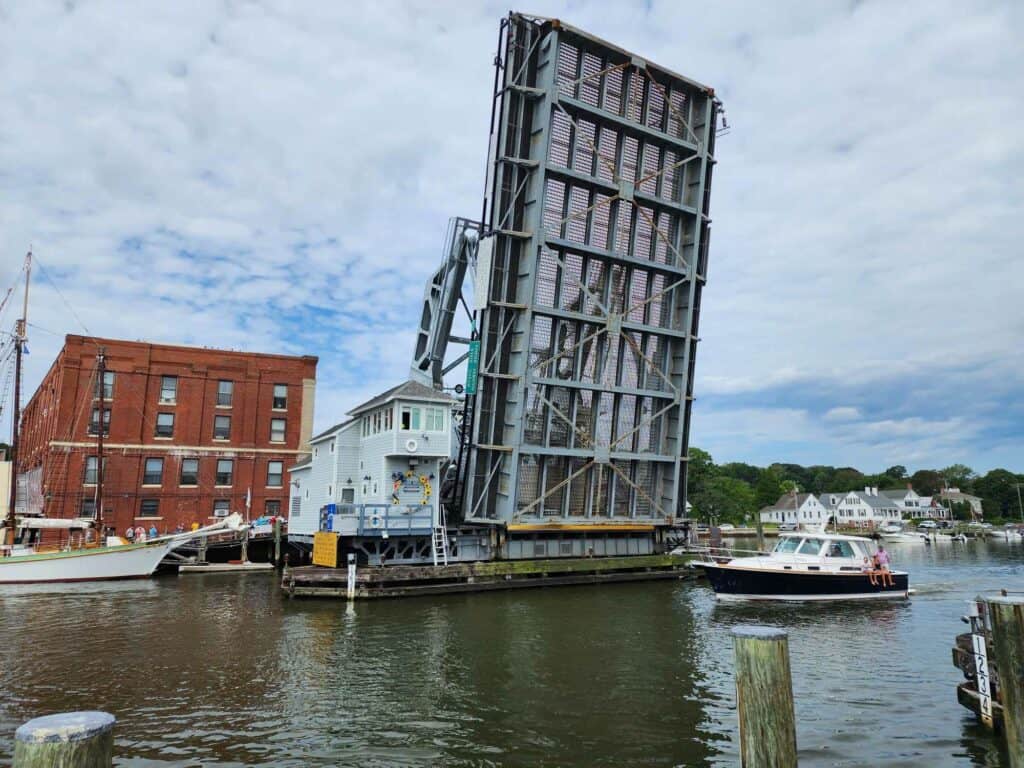 You might be surprised to hear that Mystic, Connecticut is not a town. In fact, it is a village that is split between the towns of Groton and Stonington. This bridge is what separates the two sides!
Built in 1922, the iconic Mystic River Bascule Bridge opens every hour at 40 minutes past the hour between 8:40 am and 6:40 pm to allow tall vessels to pass through.
A bascule bridge is raised and lowered using a system of counterweights, and the mechanisms of the Mystic River Bridge are fully exposed, so you can see all the moving parts hard at work.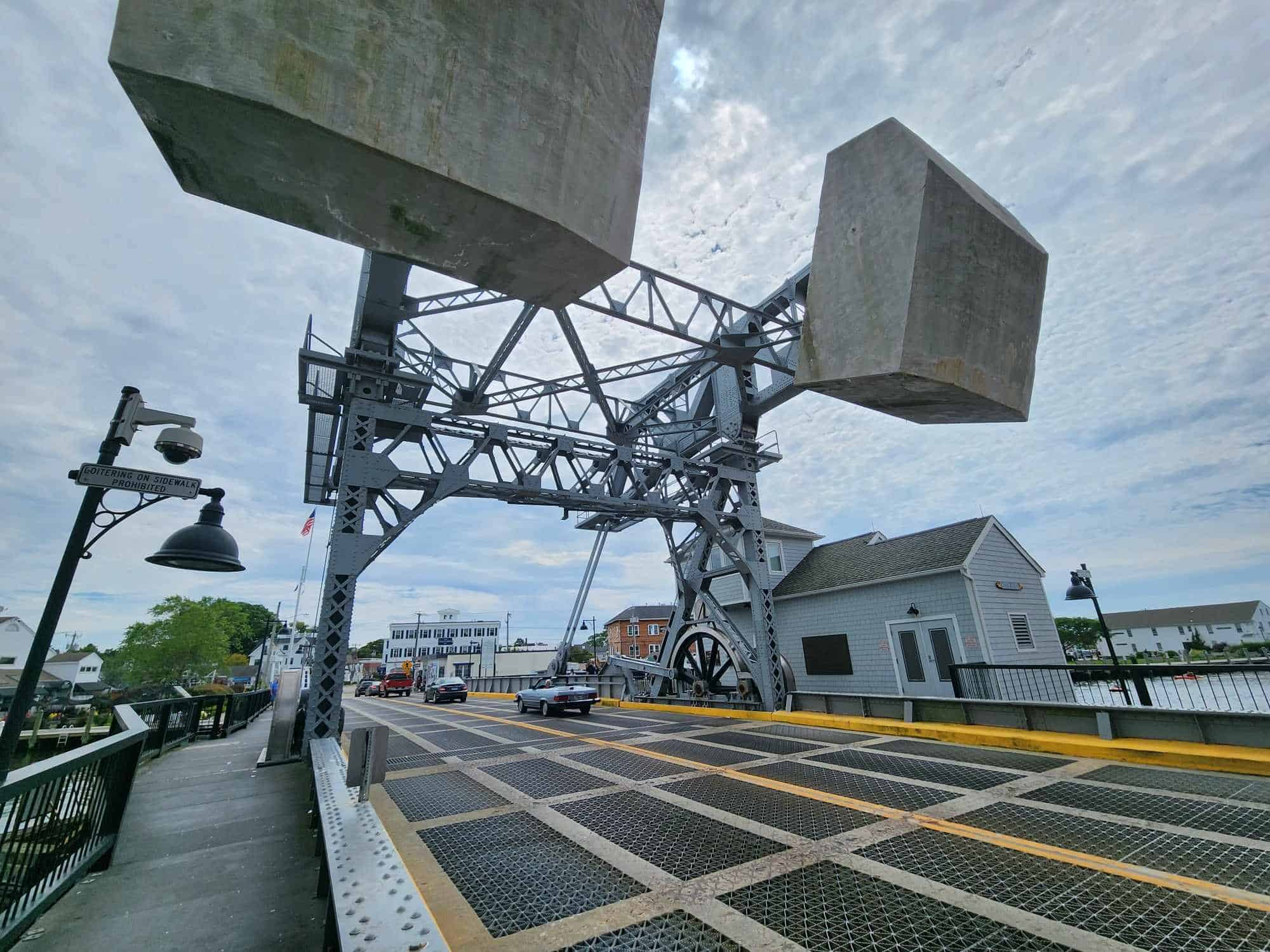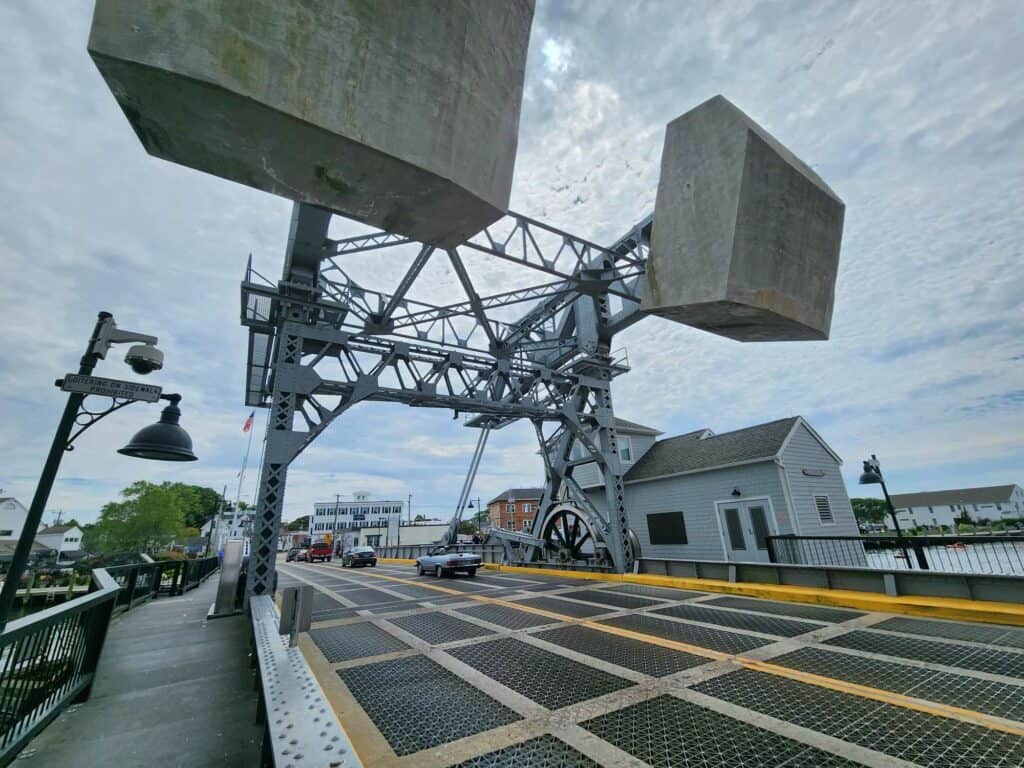 It's fun to join the crowds of onlookers who gather along the riverside to watch the bridge rise. Kids will love the short horn blast that sounds to announce that the bridge is going up!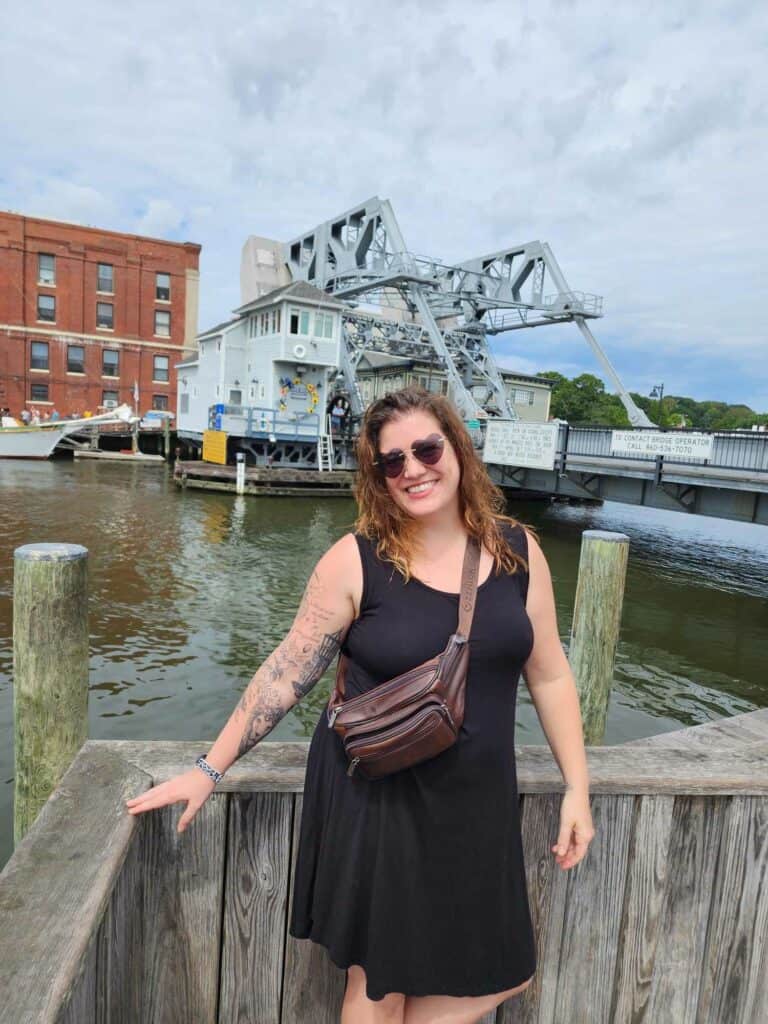 Pro tip for Visiting Mystic: Keep the bridge schedule in mind when exploring downtown, as the process takes several minutes to complete. Don't get stuck on one side of the bridge when you need to be on the other!
Fuel Up at Mystic Depot Roasters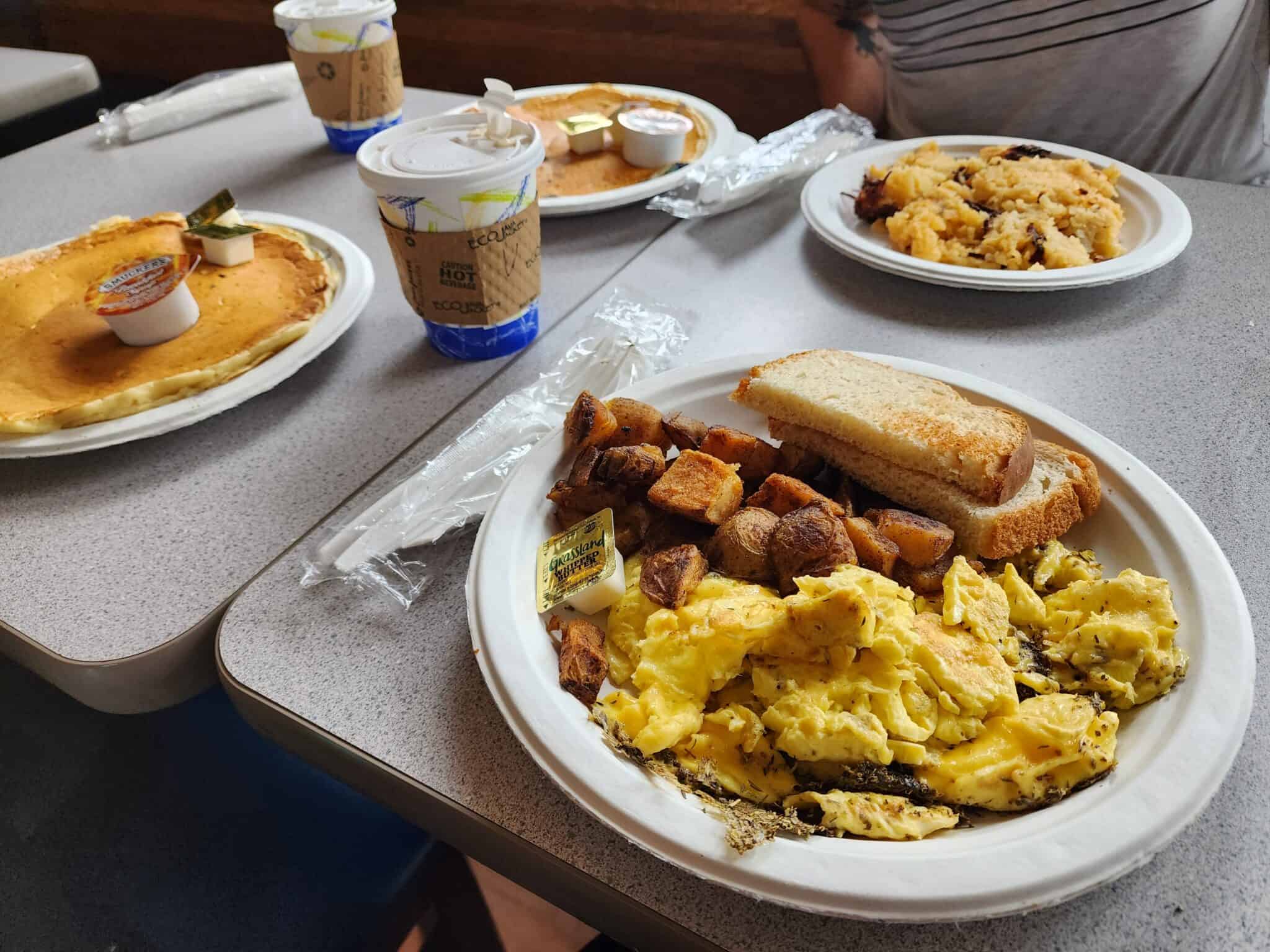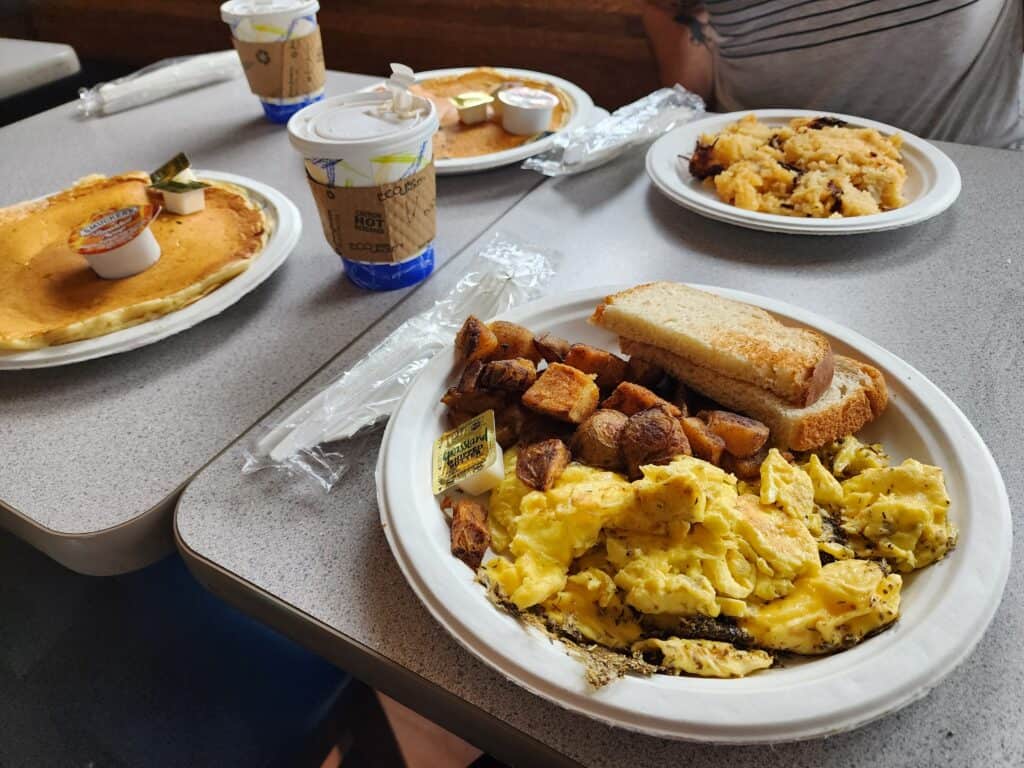 If you're planning a full Mystic, Connecticut itinerary, you're going to need to know where to go to fuel up—especially in the mornings!
Mystic Depot Roasters is one of those coffee shops that gets it all right: you've got a solid selection of food at good prices, a comfortable and interesting atmosphere both inside and out, and of course, spectacular fresh roast coffee!

It's not fancy, but it is delicious! My scrambled eggs with herbs were *chef's kiss*.
Mystic Depot Roasters is located at the historic Mystic Train Station, and you'll see that it has embraced this in an absolutely lovely way.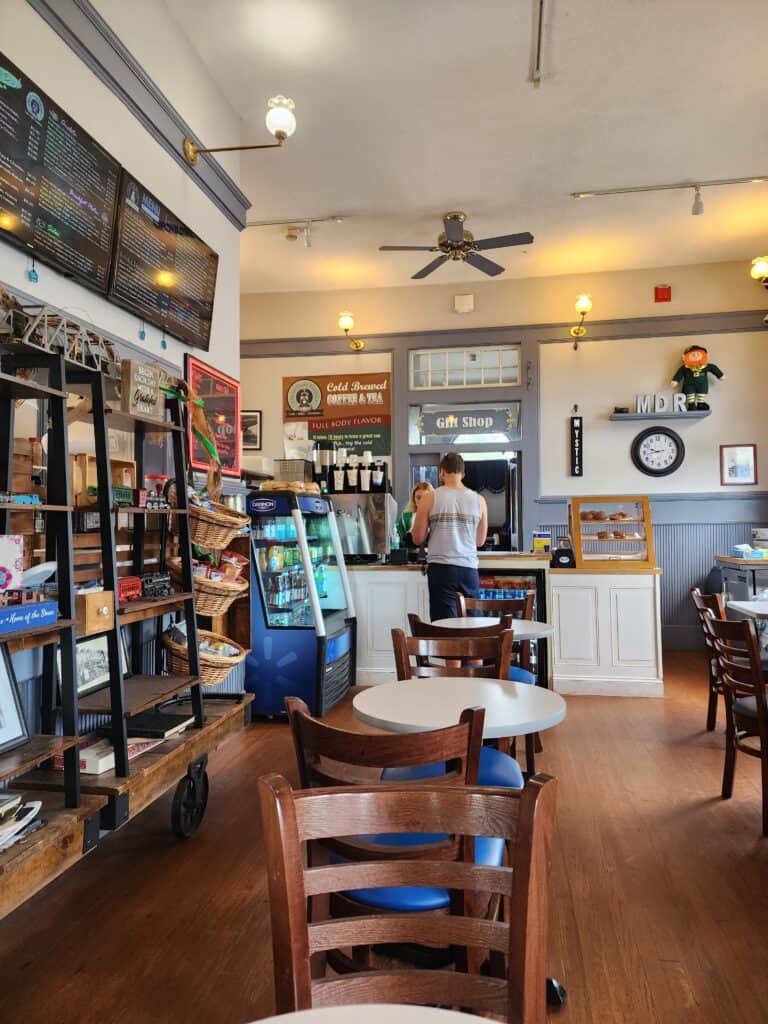 PS: Just looking for coffee? You can also grab some caffeine at some of Mystic's other top coffeeshops, including Lamplighter Trading Company and Sift, or even get coffee at Mystic Drawbridge Ice Cream (I had a fantastic iced vanilla latte there that really hit the spot on an early afternoon).
Stroll along Main Street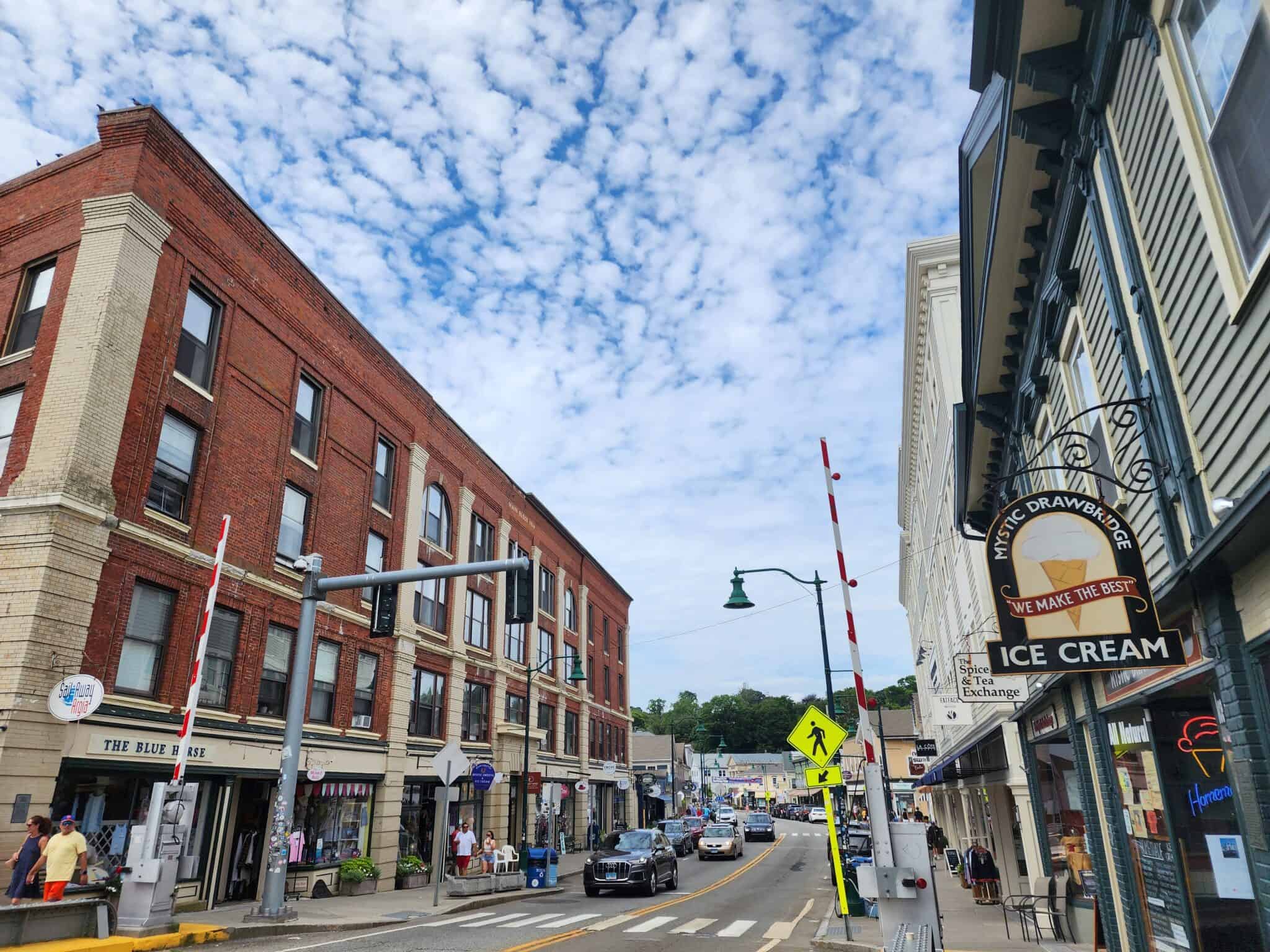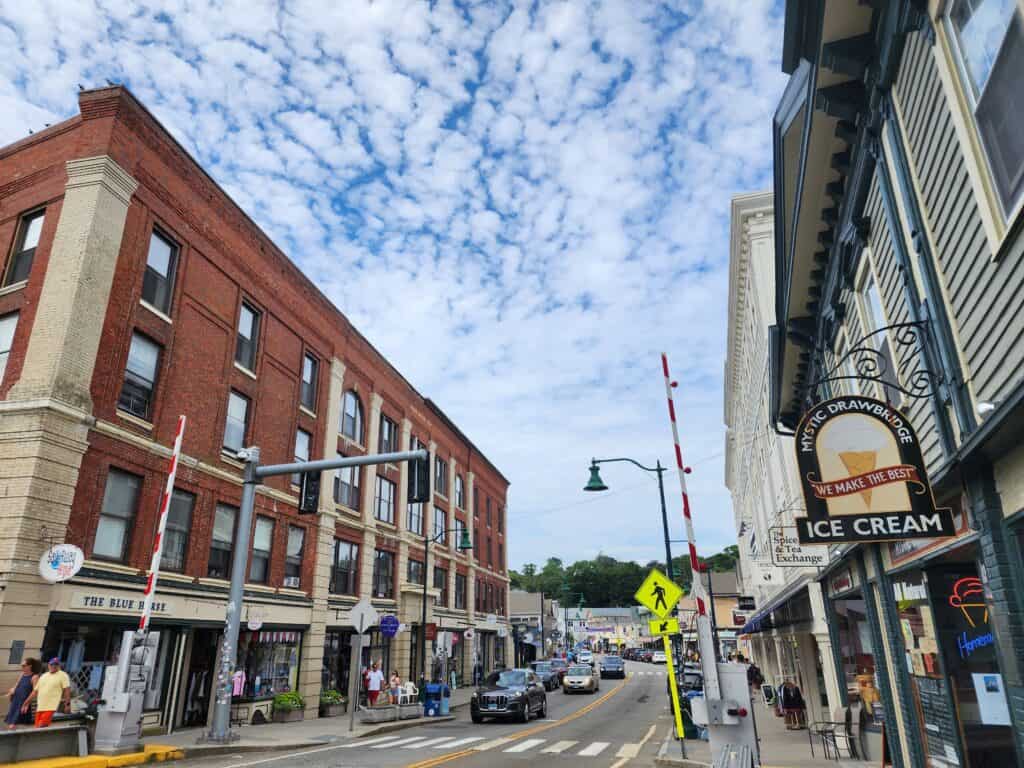 One of Mystic's main attractions, guests love to explore the picturesque riverfront downtown area of Mystic which is centered around the Bridge.
Wander through a variety of unique boutiques, galleries, jewelry shops, toy stores, shops, and restaurants in this very walkable downtown area.

For nautical inspired garb to commemorate your seafaring adventure, check out Mystic Knotwork which is the first and oldest knot shop in the US.

Other downtown Mystic shops worth visiting: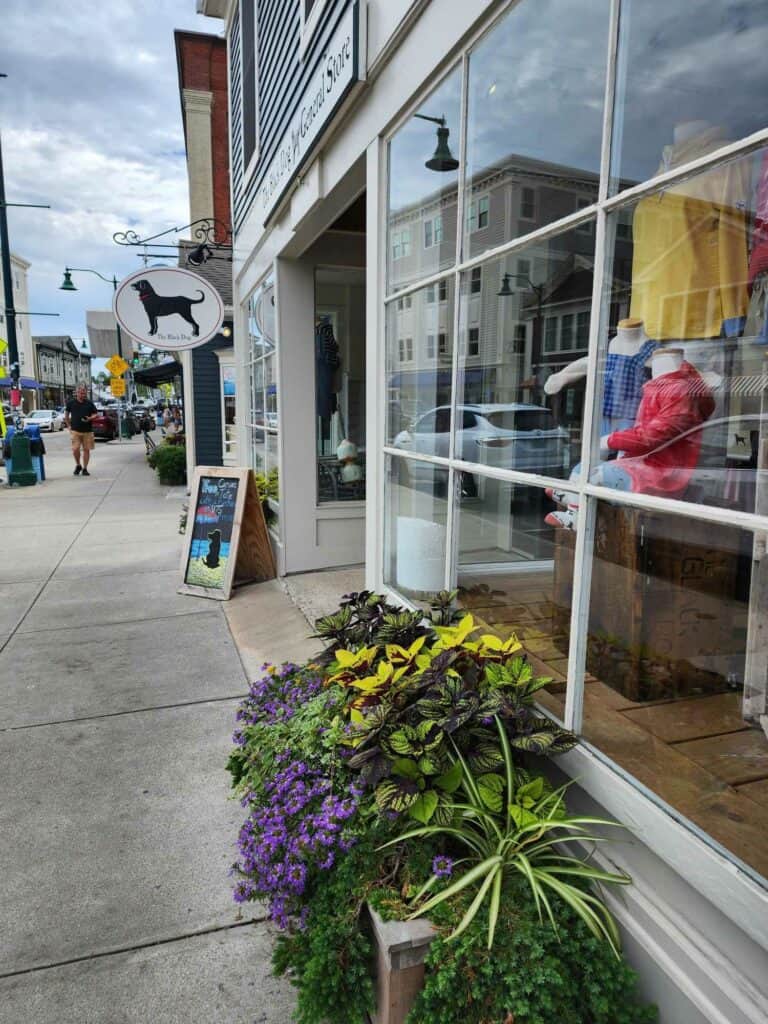 Shop at Olde Mistick Village
Without a doubt, there's some really great (and unique) shopping in Mystic, Connecticut.

How about shopping in a recreated 18th-century New England Village?

Olde Mistick Village offers that very thing, mirroring the shopping experience one would have had in the time before malls and online shopping.

In the village, browse more than 60 small and unique shops as you stroll along cobblestone streets.
From a store dedicated to unique olive oil blends, a mystical Christmas store, Connecticut's largest retail chocolate manufacturer, and so many more, visitors can spend hours wandering the variety of stores clustered throughout the village.
On a recent visit to Mystic, I discovered 3 fantastic shops that you absolutely have to check out on your next trip to Mystic! I am not certain, but given the incredible attention to detail and creativity in these shops, I believe they are all owned by the same person or persons.
Alice's Little Haunted Bookshop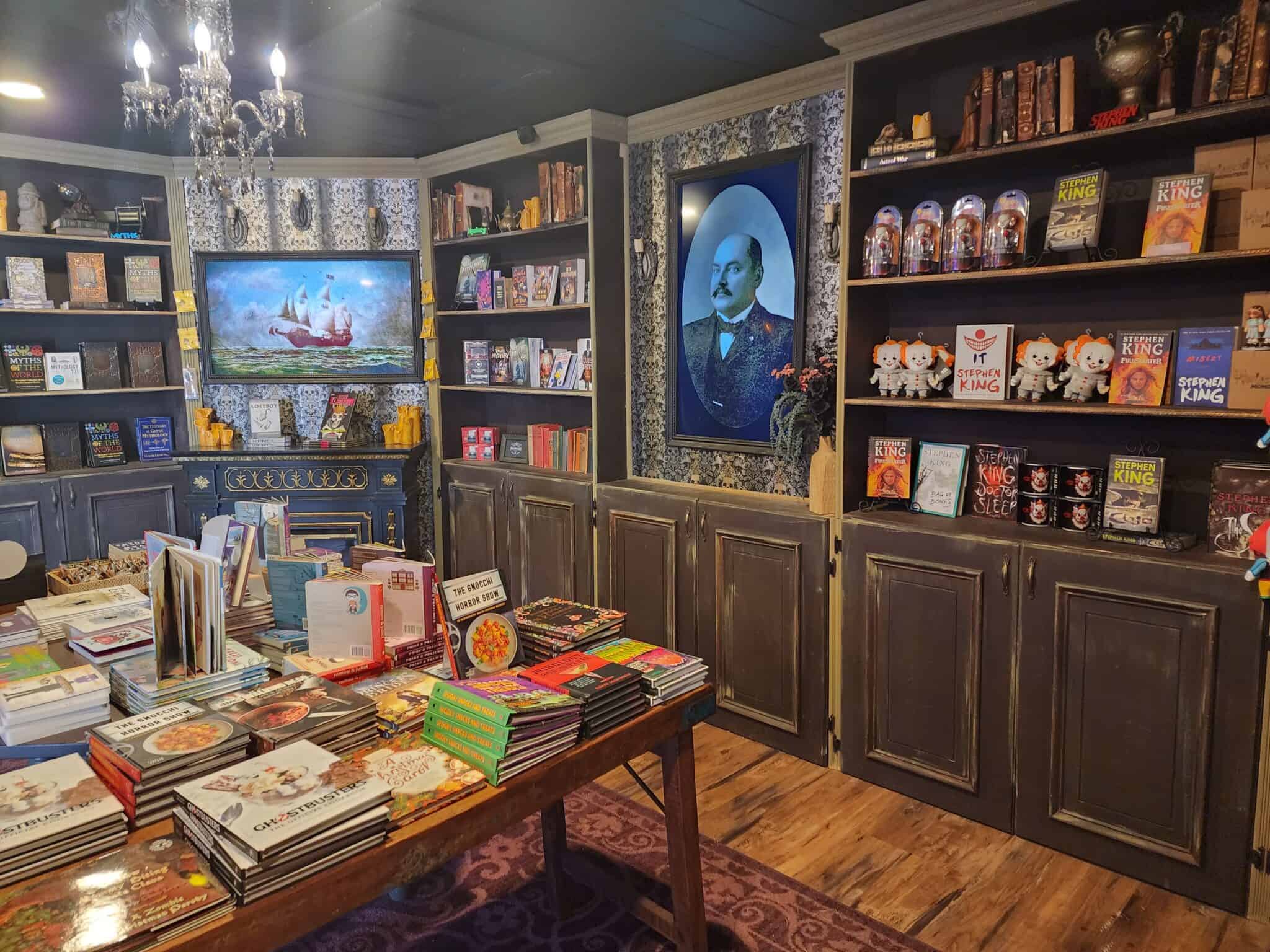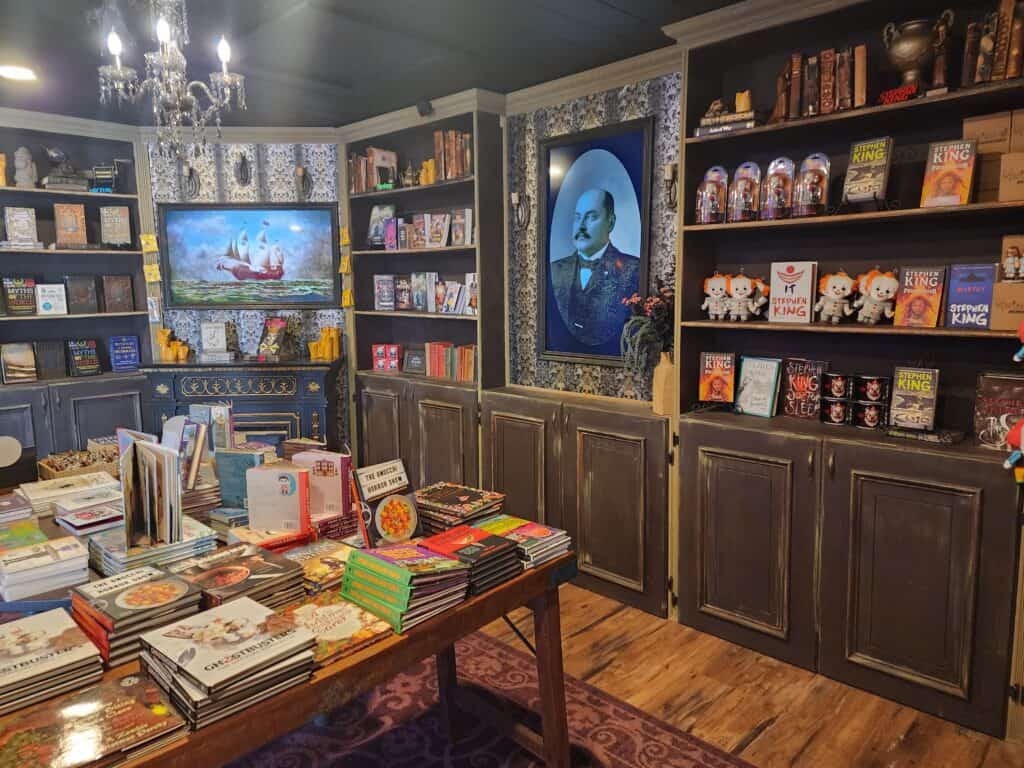 This is a spooky little bookshop inspired by the 18th century Victorian library of Lewis Carroll, author of Alice in Wonderland.
Lovers of horror, fantasy, and everything in between will find what they're looking for on these shelves. And perhaps what they didn't know they were looking for…
Alice in the Village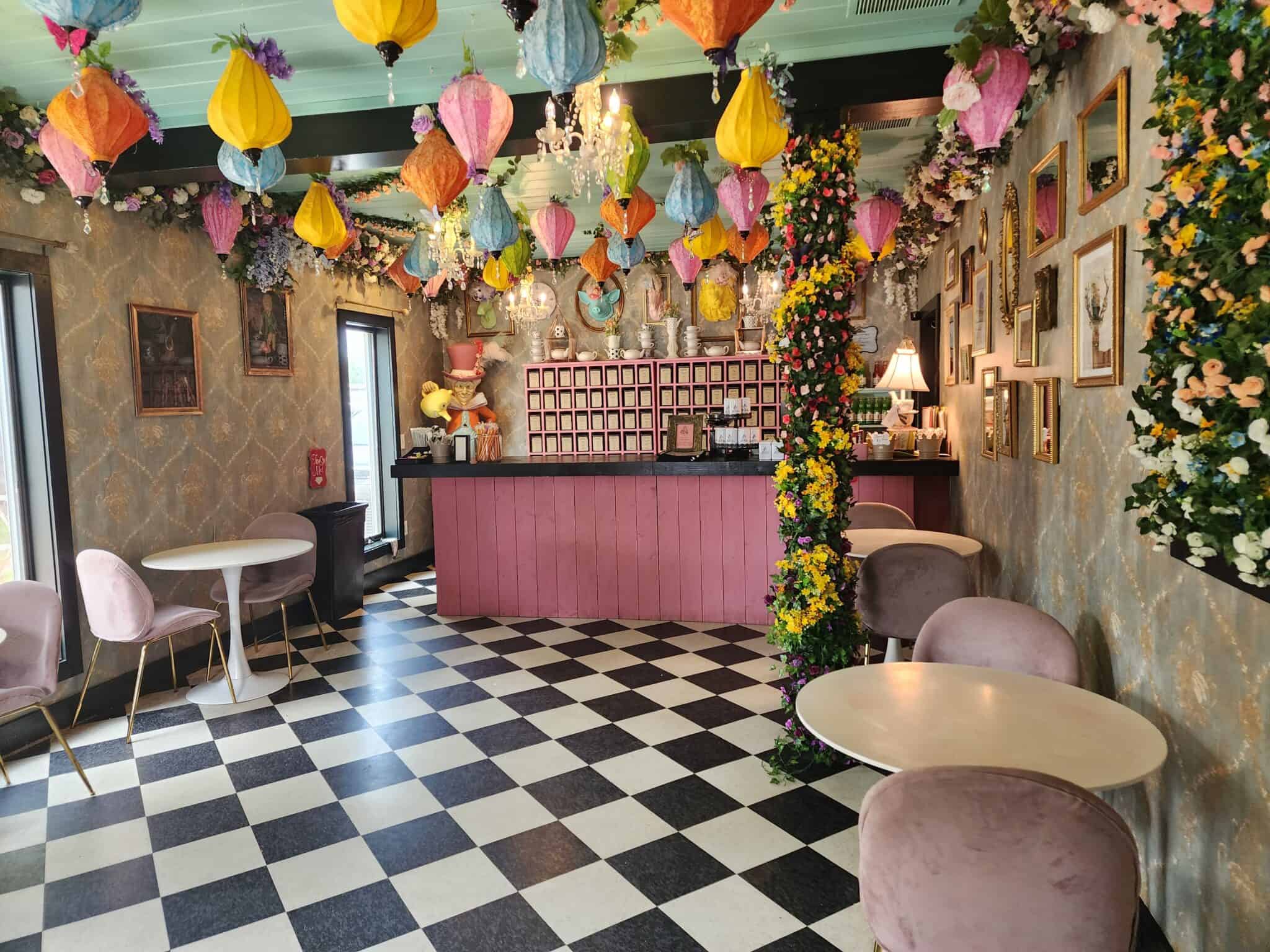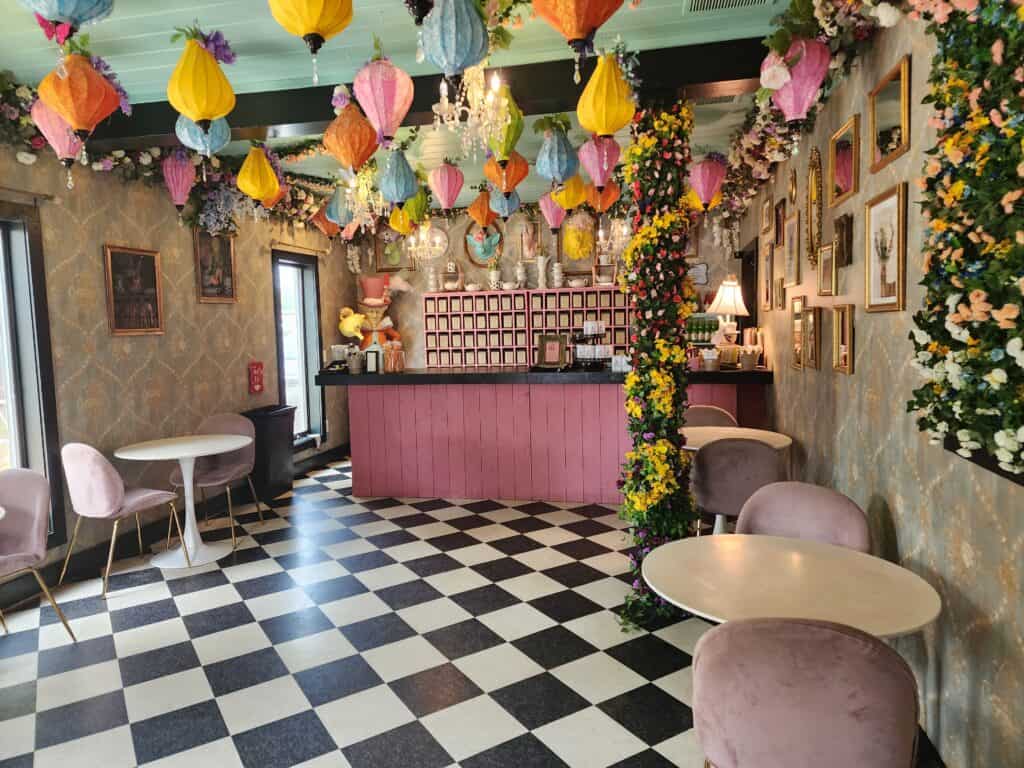 Directly next door to the Victorian bookshop with all its gothic vibes is Alice in the Village, a pink explosion of flowers, colors, and tea!
Oh, the tea! This shop serves all kinds of teas, many of which are whimsical and even beautiful! Bubble teas, matcha, hot and iced tea, and special Wonderland drinks can all be ordered.
Cloak and Wand
If you've ever waited patiently for your Hogwarts acceptance letter, this is the store for you! You'll find it on the other side of Olde Mistick Village, but you definitely can't miss it—there's a dragon out front!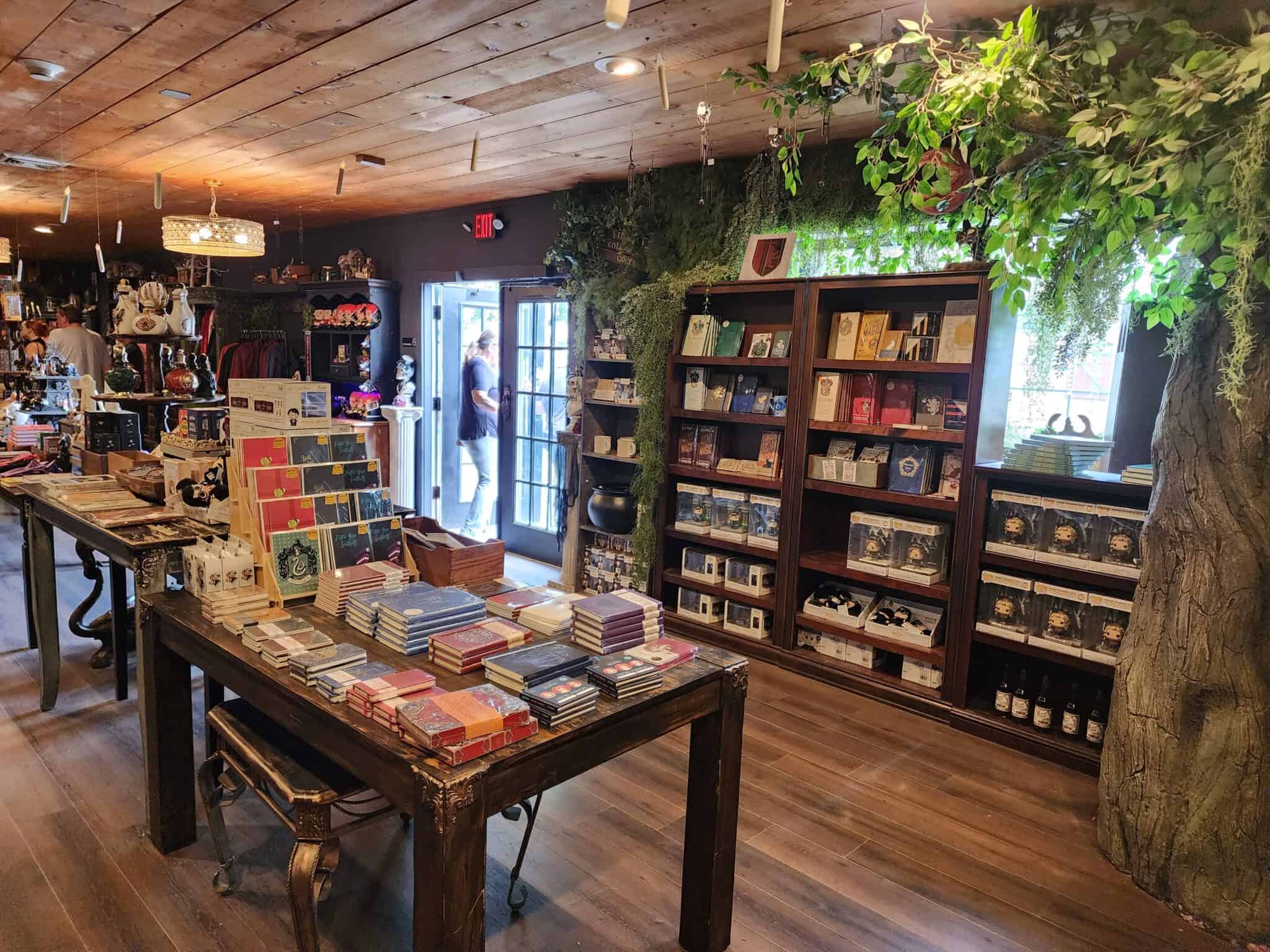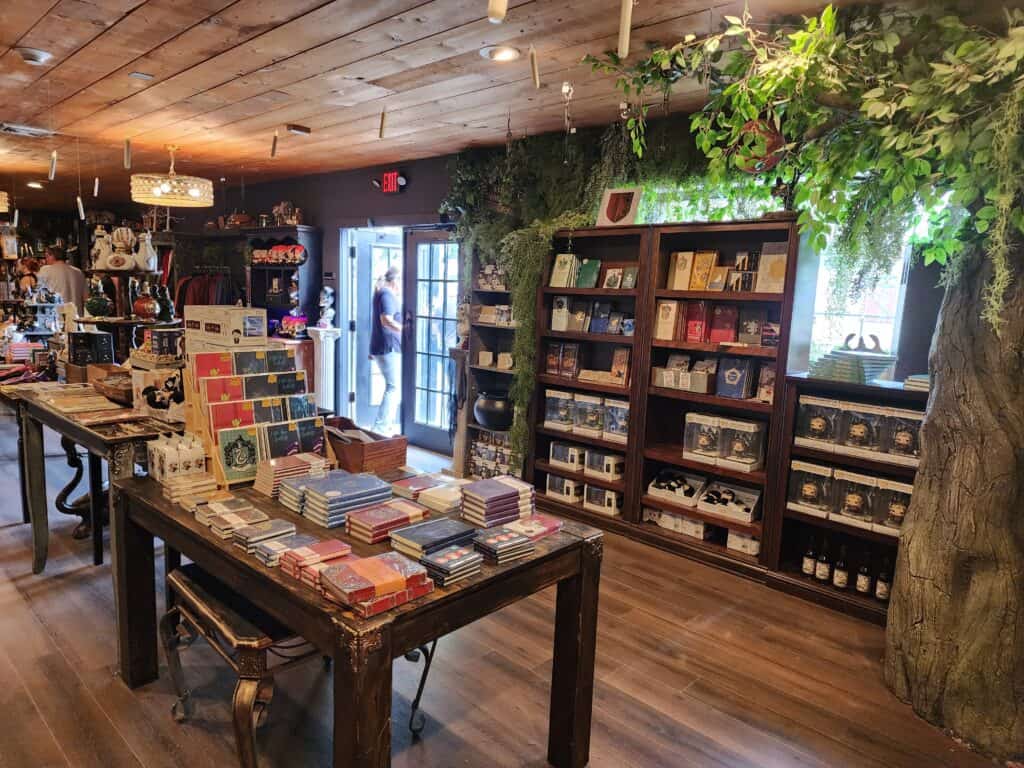 Cloak and Wand is not just filled with goods you'll want to buy, but there's a Potion Bar in-store, so you can create a custom soda or hot chocolate "potion" using more than 64 different flavors.
Set Sail with Argia Ship Cruises
To really feel a part of Mystic's seafaring ways, take a sunset or day sail on the 81' classic wooden Two-Masted Gaff Topsail Schooner, Argia, and explore the scenic coastline and surrounding islands. This is definitely one of the best things to do in Mystic, Connecticut!
The schooner can accommodate up to 49 guests who can spend their time relaxing and taking in the scenery or getting their sea legs by helping the crew hoist and trim the sails.
Denison Pequotsepos Nature Center
Those looking to get closer to nature in Mystic Connecticut can't miss Denison Pequotsepos Nature Center, a 350-acre sanctuary with over 10 miles of hiking trails.
With a mission to inspire an understanding of the natural world and how individuals are a part of it, visitors can spend their day birding, identifying wild plants, and enjoying the various wetlands, woodlands, and meadow habitats.
The sanctuary features a rehabilitation center where caretakers work with birds and other animals to get them healthy enough to be released back into the wild. For those who can't be, you can find them in outdoor flight enclosures throughout the sanctuary.
The Center also features a Nature Center, a working farm, a Nature Preschool & drop-in homeschooling classes, gardening classes and other various special events.
Elevate your Taste Buds at S&P Oyster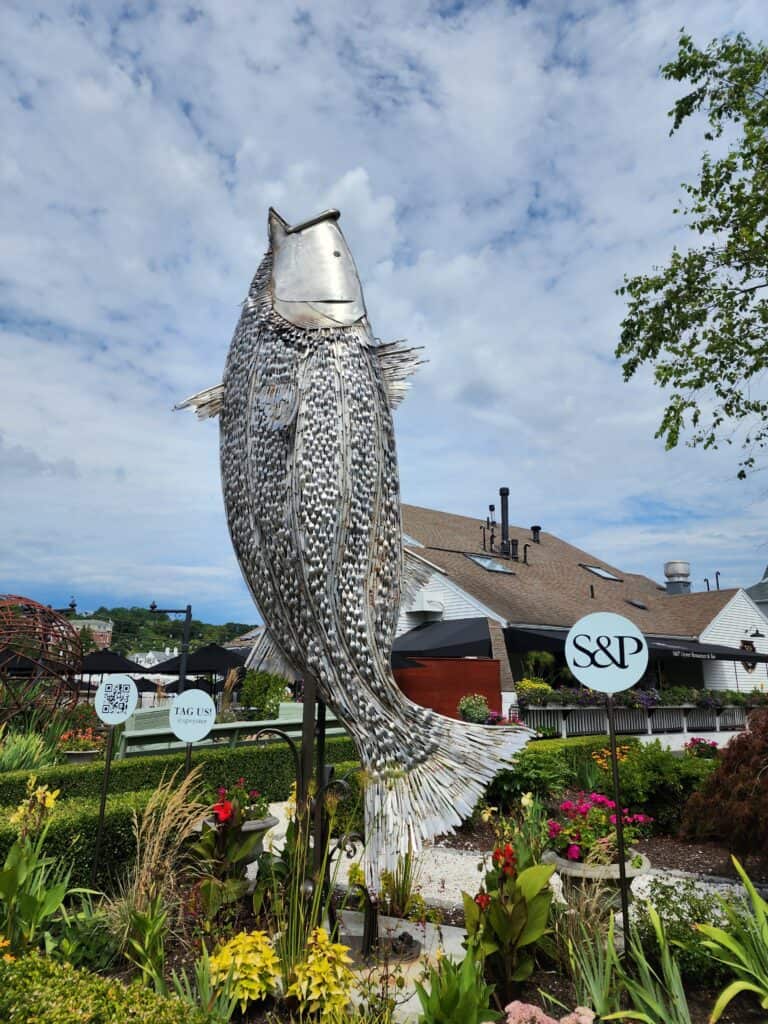 One of the most popular restaurants in Mystic, S&P Oyster offers fresh caught seafood in a comfortable yet upscale atmosphere.

Beautifully positioned right along the water, a seat on the patio offers views of the Mystic River Bascule Bridge. You can watch the bridge raise as you enjoy spectacularly prepared seafood!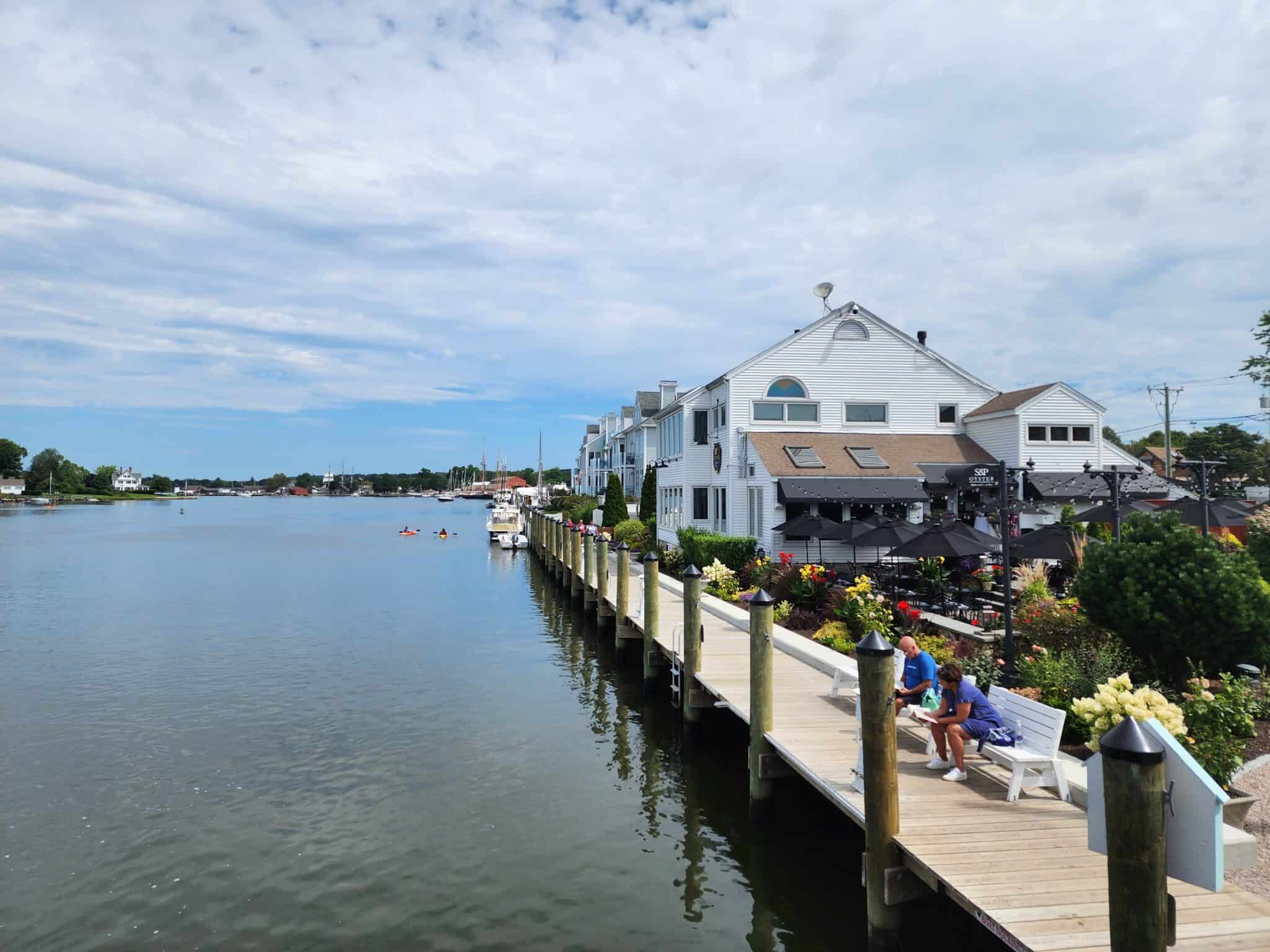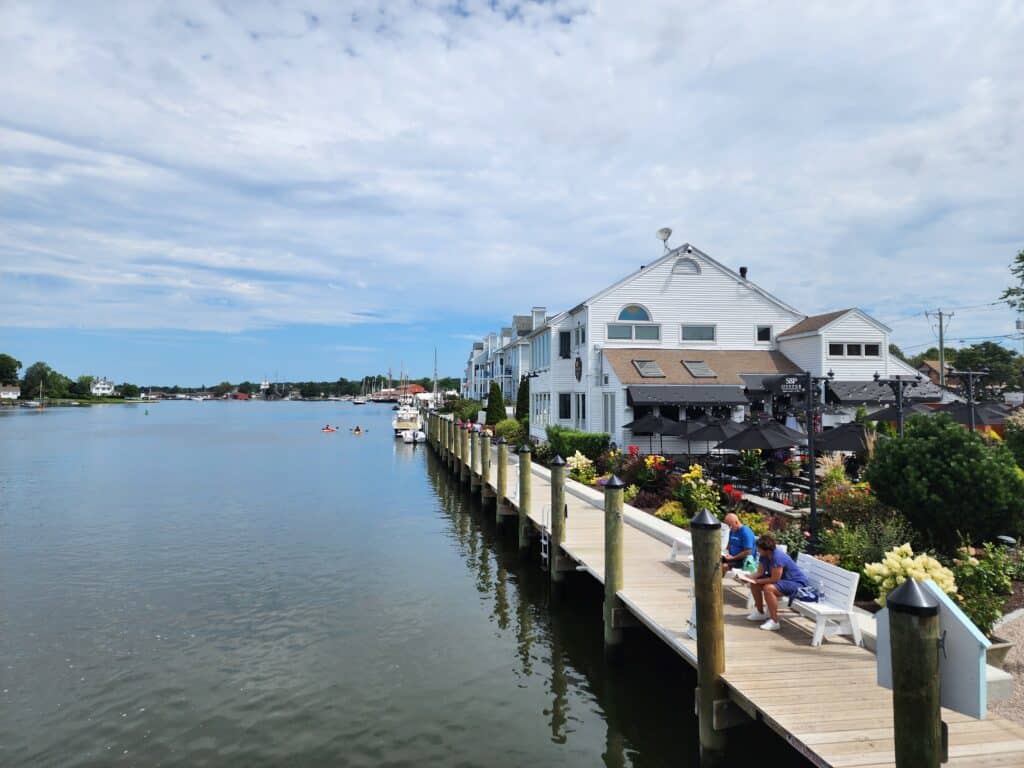 Be sure to make a reservation, this is a very popular place to eat in Mystic.
Wander Through the Mystic Museum of Art
Looking for some art and culture in Mystic? Visit Mystic Museum of Art! You'll find rotating exhibitions and galleries that focus on bringing art into the community that can provide a window into another world.
Fisher's Island is a 7-mile long island that protects the sound from the open ocean's often unpredictable wind and waves. This location has solidified the island as one of the East Coast's most popular sailing destinations.
For guests without their own sailboats, Poet's Lounge Sailing Charters offers visitors an ultimate private day on the water, completely catered to their interests. Guests can relax and take in the scenery, stop for a swim, go snorkeling or embark on an ocean sail during their adventure.
Aboard a 40-ft racing boat, Captain Darin Keech sails up to 6 guests through Fisher's Island Sound for 2 – 6 hour trips. Guests can bring their own food and beverages and may be lucky enough to hear the Captain play his guitar.
Grab a Pint at Bank & Bridge Brewing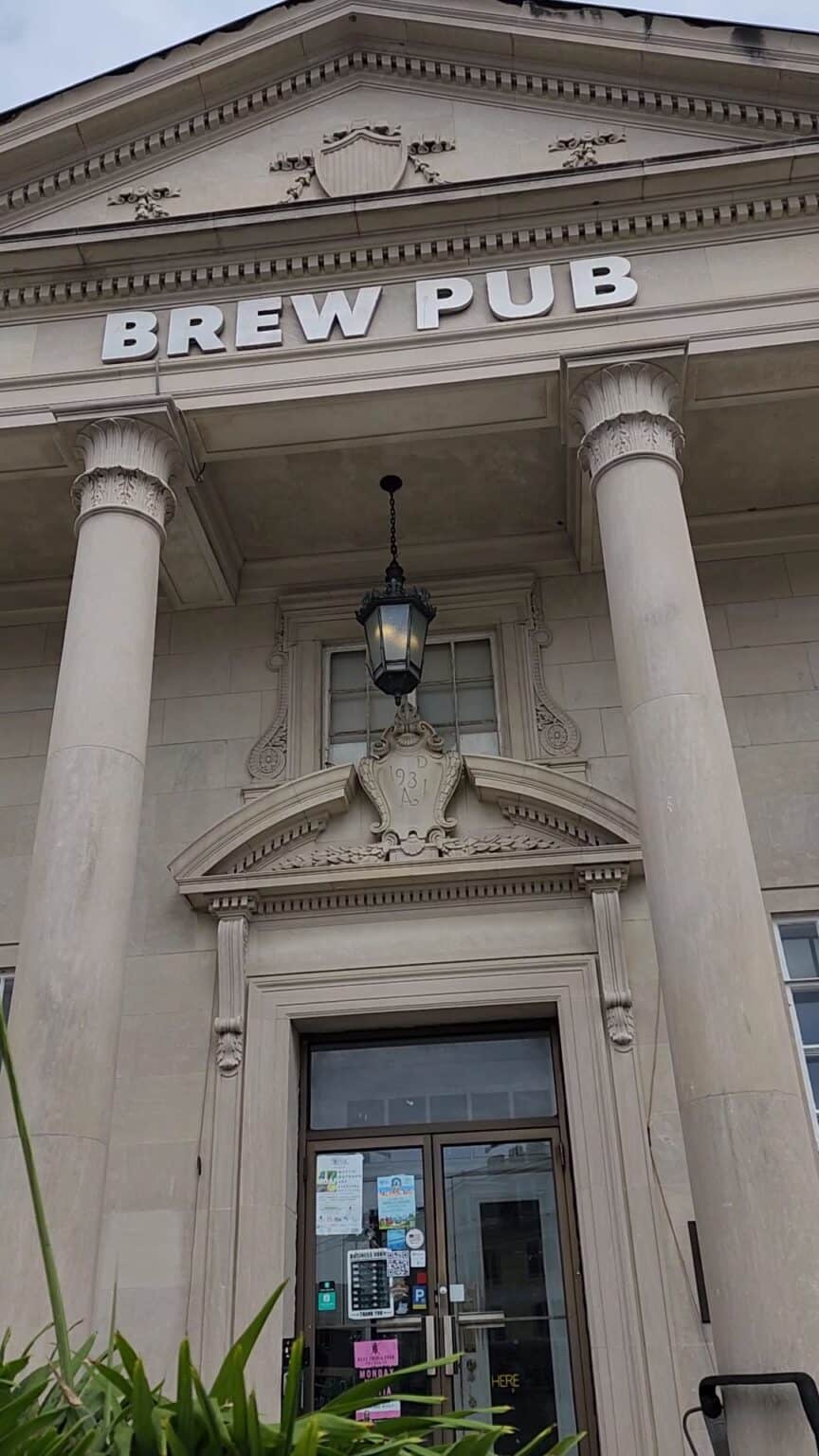 Located in an old bank building, Bank & Bridge Brewing is one of the newest brewpubs in the area!
Downtown is the place to be for many reasons, but this Mystic brewery has made quite the splash with its culinary forward kitchen and its inventive craft beer selection.
Explore Denison Homestead Museum

The Denison Homestead is a privately owned 160-acre property that is home to 1717 House Museum, the Denison Pequotsepos Nature Center and a farmers' market. Open Friday – Monday from June – October, visitors step back in time to explore a 300-year-old preserved family manor.
In 1930, after 6 generations of Denisons called the manor home, it was turned into a memorial honoring the Denison family. Each of the 5 rooms was restored to echo different time periods and the family members that lived in them.
Today, guests can visit the museum, enjoy hiking over 8 miles of trails across the property and pick up locally grown and manufactured goods while listening to live music at their Farmer's Market every Sunday.
Meet the Residents of Mystic Aquarium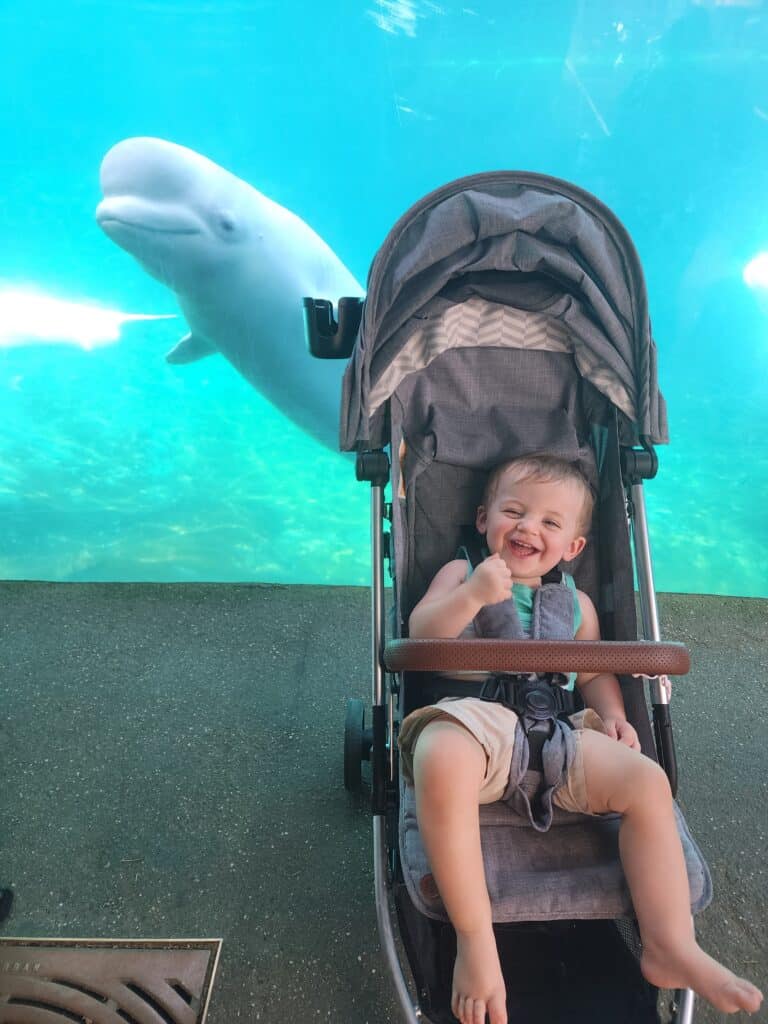 Animal lovers don't want to miss the Mystic Aquarium. The stars of the show are the beluga whales that can be viewed from Mystic Aquarium's Arctic Coast, a 750,000-gallon outdoor beluga whale habitat. The Aquarium is a leader in beluga research, care and behaviors.
Visitors can also learn the difference between seals and sea lions, watch the African penguins, see the handlers feed the sharks and rays, and even experience of one of the many interactive exhibits.
Don't forget to catch the 4D Deep Sea movie presentation which rotates sea and arctic-inspired films.

The Mystic Aquarium is certainly fun for kids of all ages, but adults will be surprised at how much they love it, too.
Check out our Guide to Mystic Aquarium for more info!
Run the Mystic Half Marathon
Running a race may not be the most typical way to explore a city, but the Mystic Half Marathon is truly unique.
Wind your way through 13.1 miles along one of New England's most scenic shorelines, past historic ships, and through lovely downtown Mystic with a finish line in front of the Mystic Aquarium.
At the very least, it is a guarantee you'll burn enough calories to counteract all the delicious food you'll eat later!
Enjoy a Sweet Treat from Mystic Drawbridge Ice Cream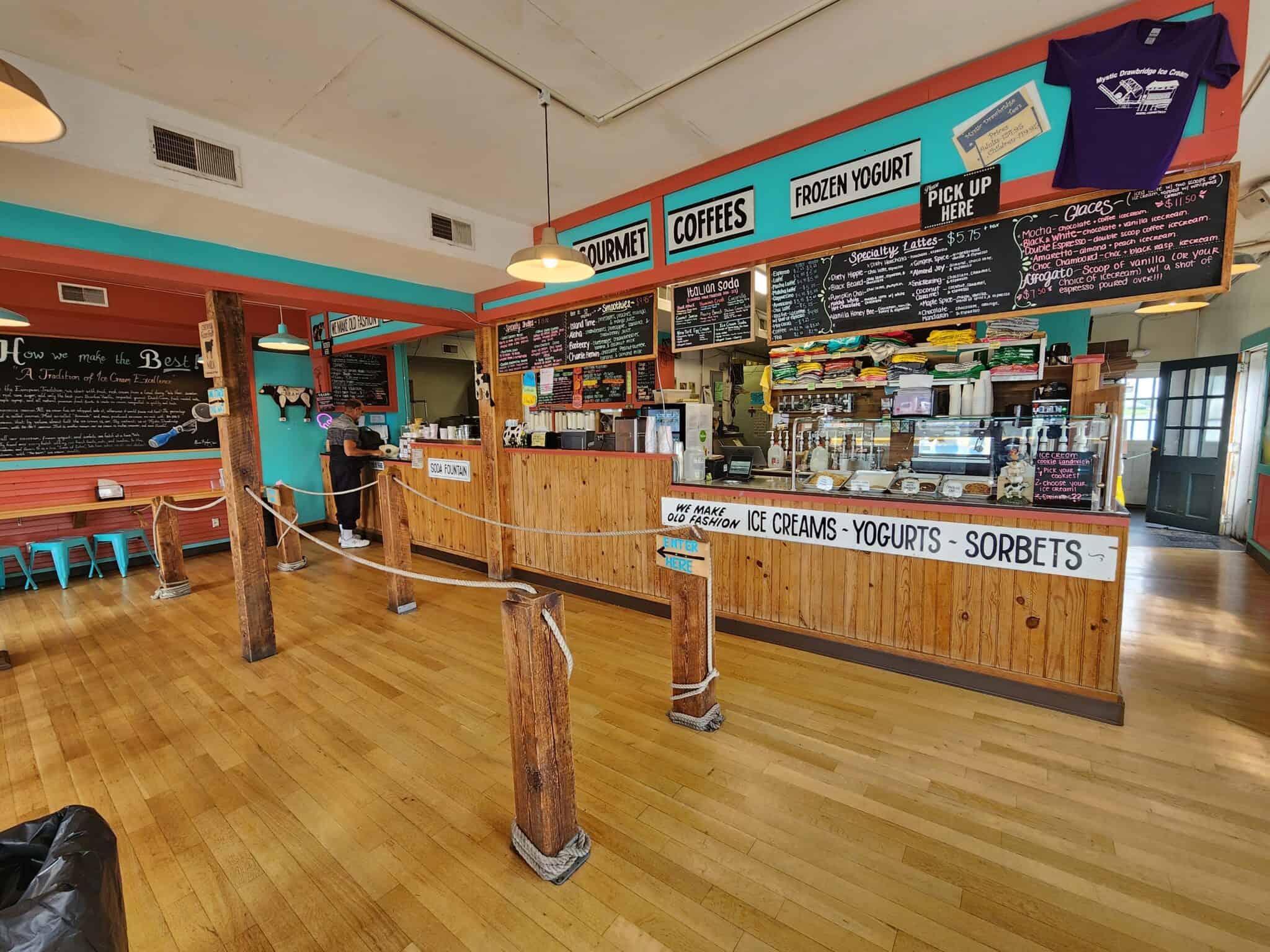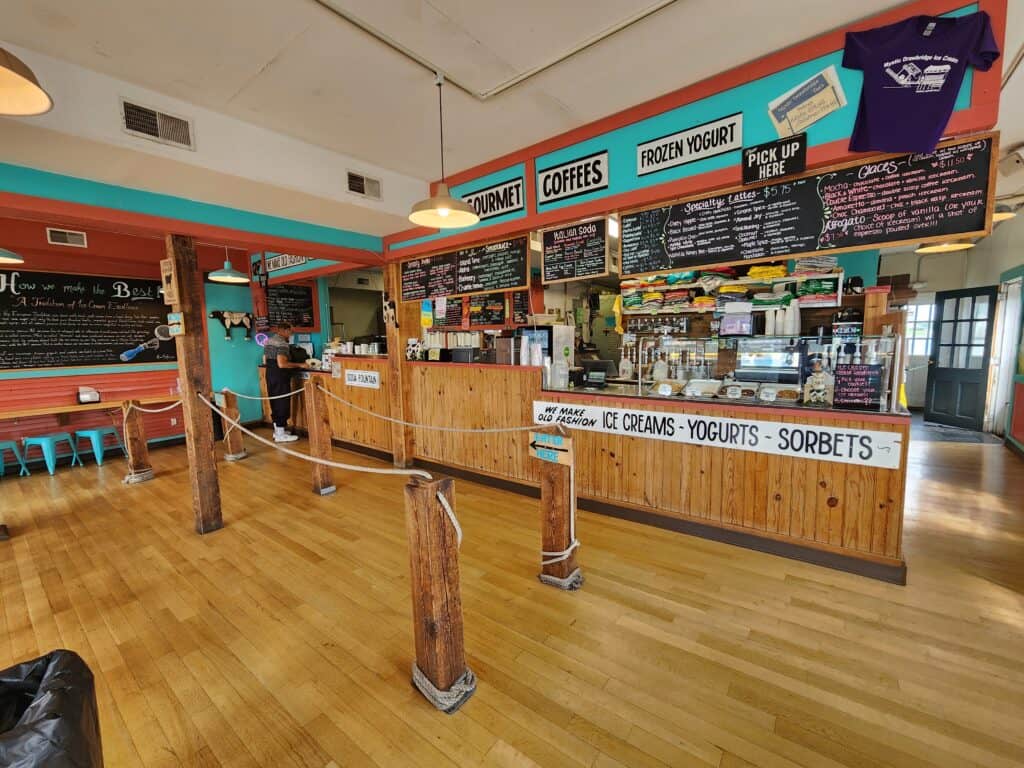 Did you know that ice cream has been hand scooped from this site since the 1800s? It's true!

Mystic Drawbridge Ice Cream uses only the finest ingredients to continue what they call the "Tradition of Ice Cream Excellence" that has lived on to this day.

And my husband, son, and I can all confirm that their ice cream is extremely delicious!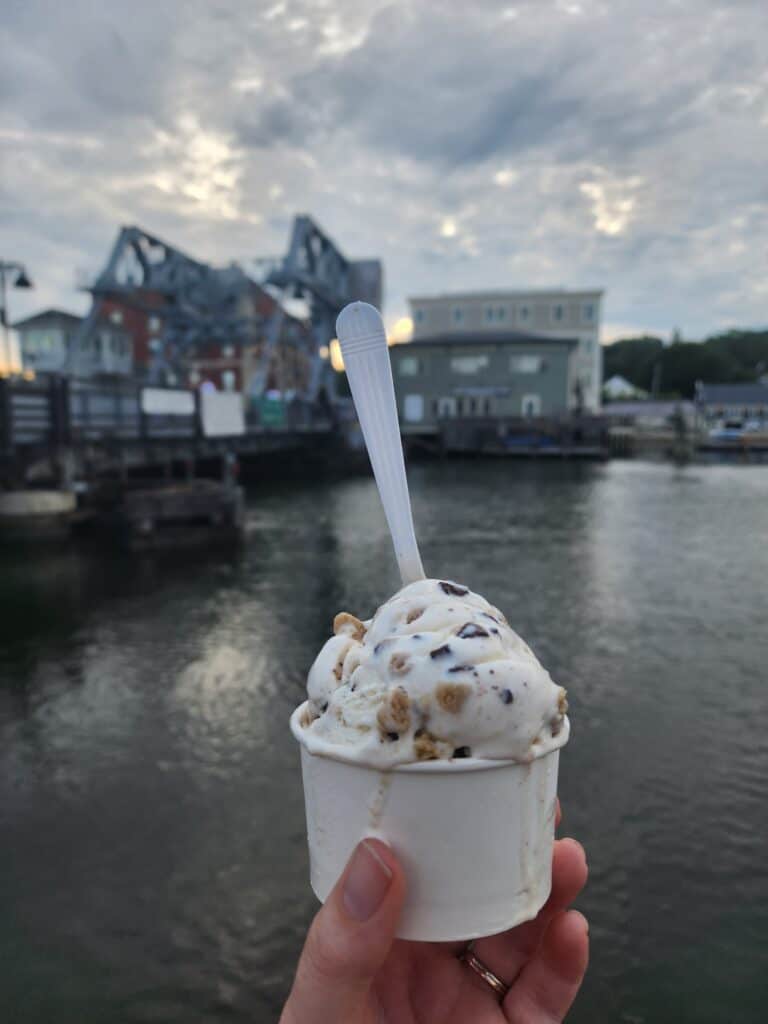 You'll find dreamy ice cream flavors on the menu like the Vermont Maple Nut, Wild Maine Blueberry, Mystic Mud, and even vegan options like Grandma's Oatmeal Cookie.

If you're visiting Mystic in summer time, add this to your list of places to go!
Experience the Blue Monday Summer Concert Series
Blue Monday is a free summer concert series in July that offers a great way to enjoy a summer night out at Mystic River Park. Oh, and did we mention it's free? Live music in Mystic sounds like a perfect way to spend a summer evening.
Splash Around at Williams Beach Park
The only public beach in Mystic, Williams Beach Park is located at the local YMCA. While this little beach park may not be mighty, it works if you're looking for a place to take a quick dip in the Long Island Sound! There's also a nice little playground for the kiddos.
Craving a bigger beach? Some of the closest beaches to Mystic CT include Misquamicut State Beach, just over the line in Westerly, Rhode Island, and Bluff Point State Park in Groton.
B.F. Clyde's Cider Mill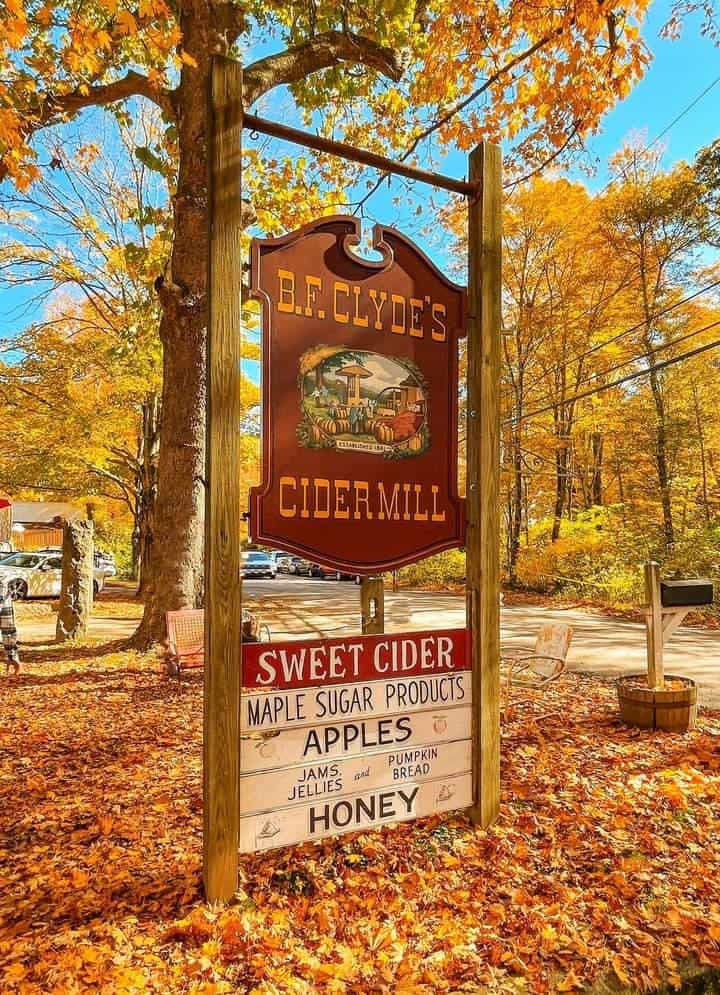 If you're in search of things to do in Mystic in the fall, you'll want to add this to the itinerary!

B.F. Clyde's Cider Mill is the oldest steam powered cider mill in the US, and it is a National Historic Landmark that produces some of the tastiest apple cider around!

In fact, you can even get hard cider from B.F. Clyde's Cider Mill, so be sure to get some tasty souvenirs to take home a taste of Mystic.
Listen to the Eastern Connecticut Symphony Orchestra
Founded in 1946, the mission of the Eastern Connecticut Symphony Orchestra is to inspire, educate, and connect their community through live orchestral music.
They do this each year through a series of six subscription concerts with noteworthy solo features, free lectures and performances with the Eastern Connecticut Ballet in presentations of The Nutcracker.
Taste Wines at Saltwater Farm Vineyard
Saltwater Farm Vineyard is on the Connecticut Wine Trail, one of the fastest-growing wine regions in the United States. The area boasts a variety of wine styles that you can sample alongside a stunning backdrop located just outside of Mystic. This could be a fun idea for a romantic couples trip in Mystic!

The winery offers a Passport to Connecticut Winery Farms where participants can collect stamps from all the Connecticut based wineries they visit. Collect enough stamps and you are entered to win the grand prize and other prize packages.
Go on a Sabino Steamboat tour
Take a ride on the oldest wooden, coal-fired steamboat in regular operation in the US as it glides along the Mystic River in 30-minute, 90-minute, and 2-hour cruises.
Operating for over 110 years, Sabino is a 57' steamboat that came to Mystic in 1973 from Maine and was declared a National Historic Landmark in 1992. Tours leave from the Mystic Shipyard.
Enjoy a Taste of Mystic
Every June, the Taste of Mystic sets up shop in Olde Mistick Village, and festival goers can sample popular local restaurants all in one spot! Of course, there's live music and other activities as well, but if you're looking for a great way to get a little taste of the area, this is it!
Take a Seaside Shadows Ghost Tour
Speaking of fall things to do in Mystic, this downtown Mystic ghost tour is a highly rated foray into some of the more supernatural history of the area.

Operated by Seaside Shadows Haunted History Tours, you'll have a chance to learn about local legends, lore, and some of the possibly paranormal activity that surrounds this historic seaport town!
Stay at the Inn at Mystic
There are several lovely hotels in Mystic to choose from, including some sweet bed and breakfasts that are among the dreamiest in the state, but the Inn at Mystic checks a whole lot of boxes!
It's right on the water and in the heart of historic Mystic, easily walkable to all kinds of Mystic things to see and do, and the rooms are exceptionally cozy, and generously appointed.
The hotel features some fantastic amenities, like a seasonal outdoor pool, an onsite restaurant, walking trails, and fantastic views.
Fun fact: Humphrey Bogart and Lauren Bacall honeymooned here!
Click Here to Check Prices & Book!
Grab a Slice of Movie Nostalgia at Mystic Pizza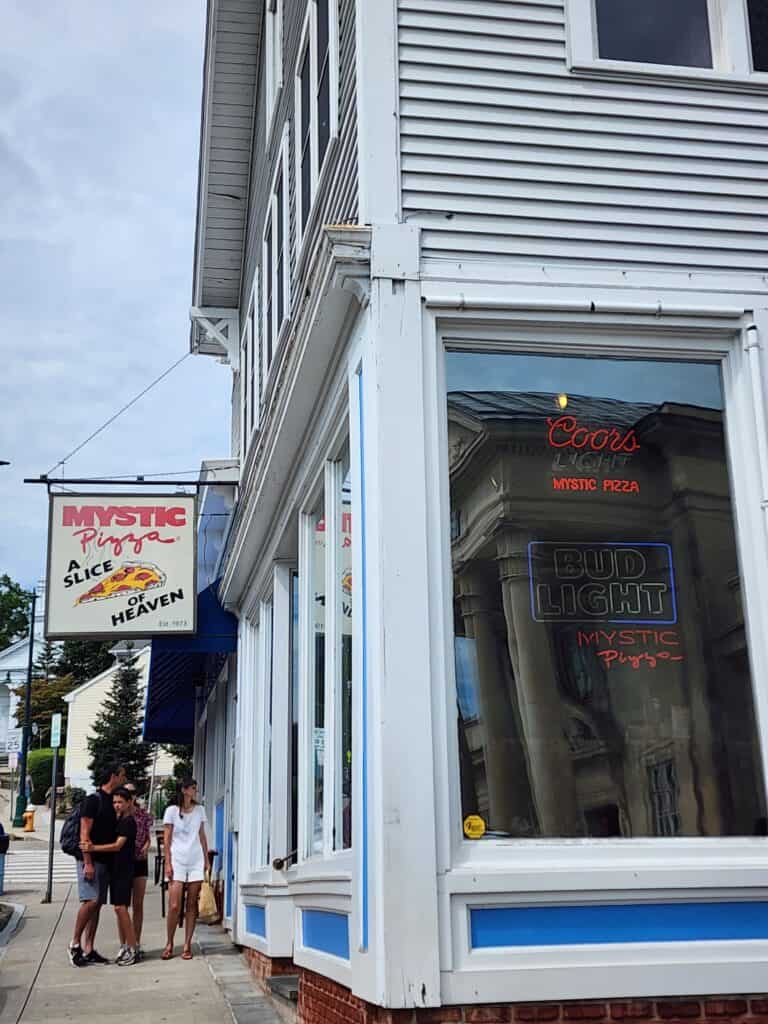 Refuel by grabbing a slice at Mystic Pizza, a memorabilia-filled pizza joint that inspired the 1988 film of the same name! Today you can find all kinds of interesting pizza toppings on the menu, including the Moussaka Pizza, a Seafood Delight Pizza, and more. Hey, if it was good enough for Julia Roberts…
Take to the Sea with Mystic Boat Adventures
For guided power boat tours in Mystic, Mystic Boat Adventures offers some fantastic options.
Not only do you get to drive your own mini power boat, but your guide will be in another boat to help show you some of the top local sights on Fisher's Island Sound, and some of the surrounding waterways in CT, NY, and RI!
Get in the Holiday Spirit
If you're planning a trip to Mystic at Christmas time, you're in for a treat. This lovely seaside town becomes one of those Hallmark Christmas movie type of towns, and has one of the best holiday celebrations in all of New England.
You'll find a Holiday Lighted Boat Parade, a Festival of Lights, and Santa arrives by tugboat, for crying out loud!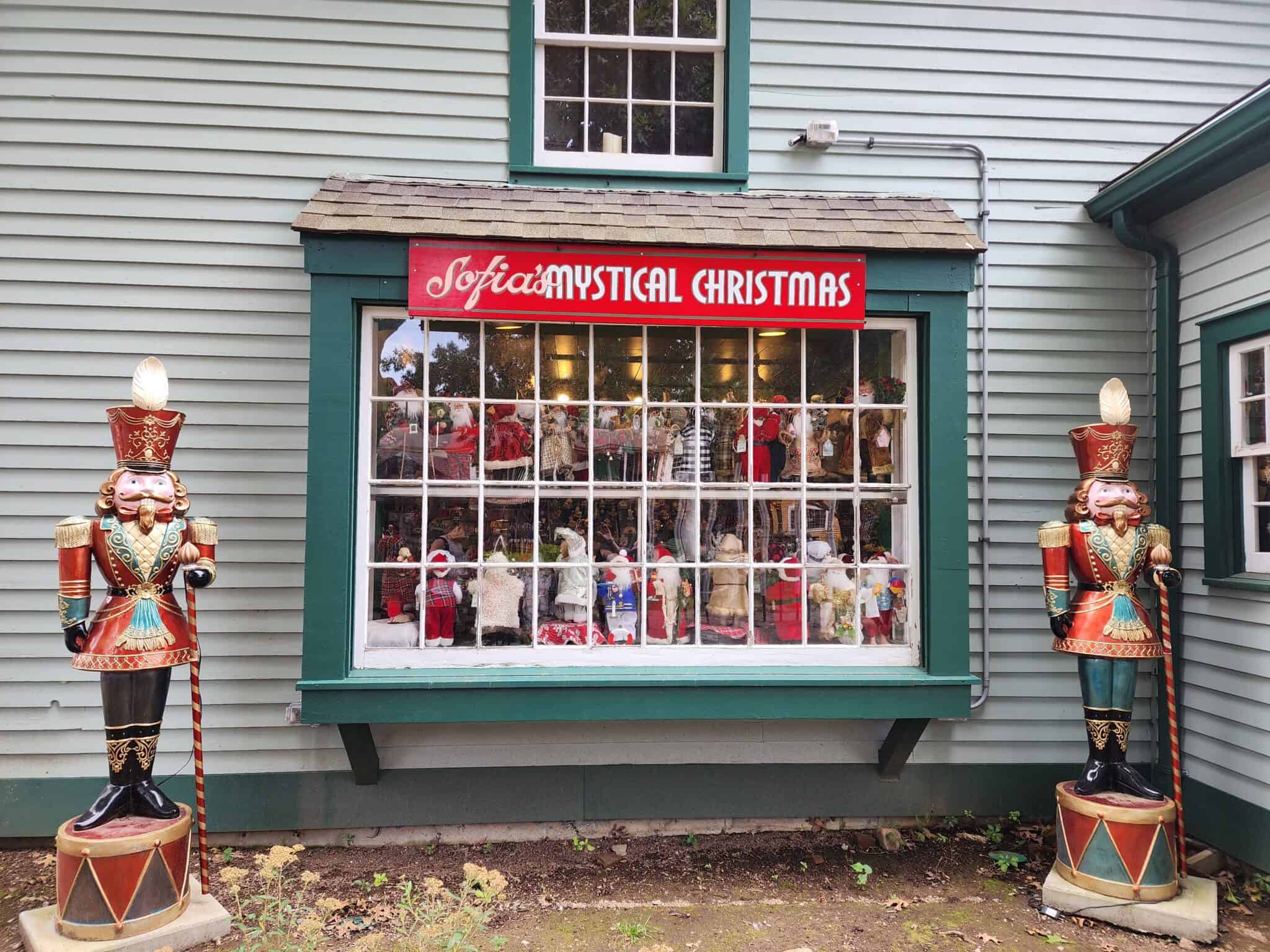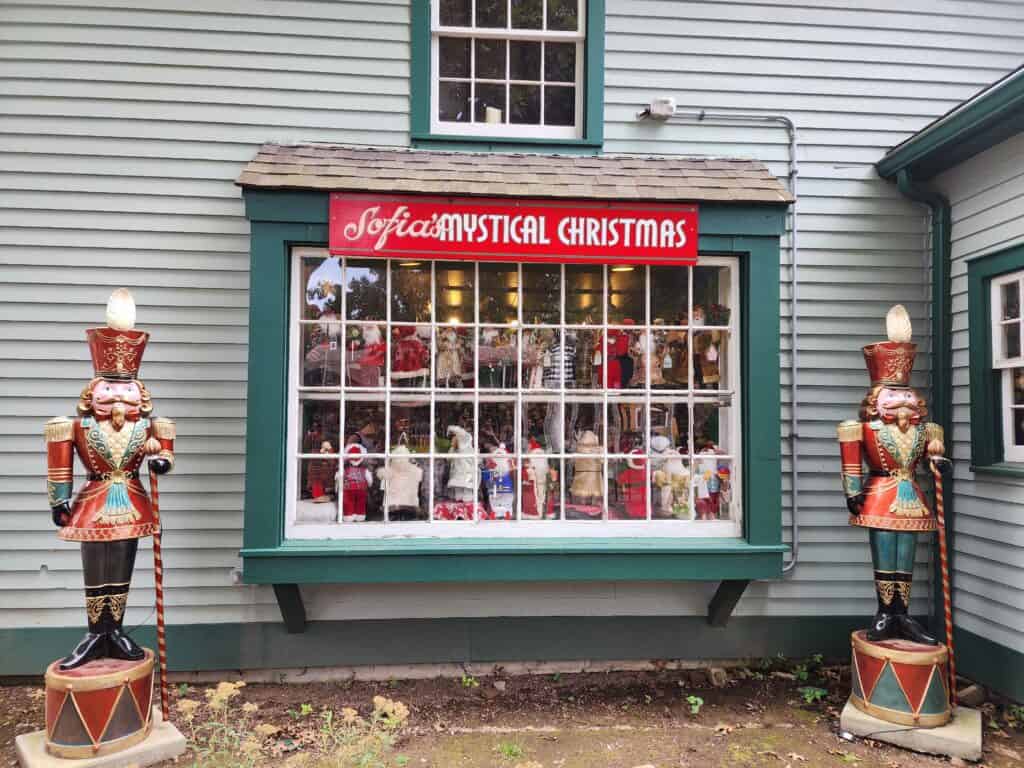 Not in Mystic during Christmas? You can still experience the holiday spirit by dropping by this adorable Christmas shop in Olde Mistick Village.
Find Serenity at Peace Nature Sanctuary
Once used as a gathering place for over 10,000 people to attend annual outdoor peace meetings, today's Peace Nature Sanctuary offers visitors a different kind of peaceful experience.
Located along River Road the sanctuary features 45-acres of river views, well-maintained walking paths and a host of native plants to uncover at this lovely Mystic place.
Each May more than 400 pink lady slippers bloom simultaneously creating quite a sight for visitors. The Sanctuary is now maintained by the Denison Pequotsepos Nature Center.
Grab a Bite at Sift Bake Shop
Sift Bake Shop is a French focused family bakery in Mystic with a bit of a spin: downstairs is a delicious bakery full of sweet treats, upstairs is Mix, their rooftop restaurant and bar!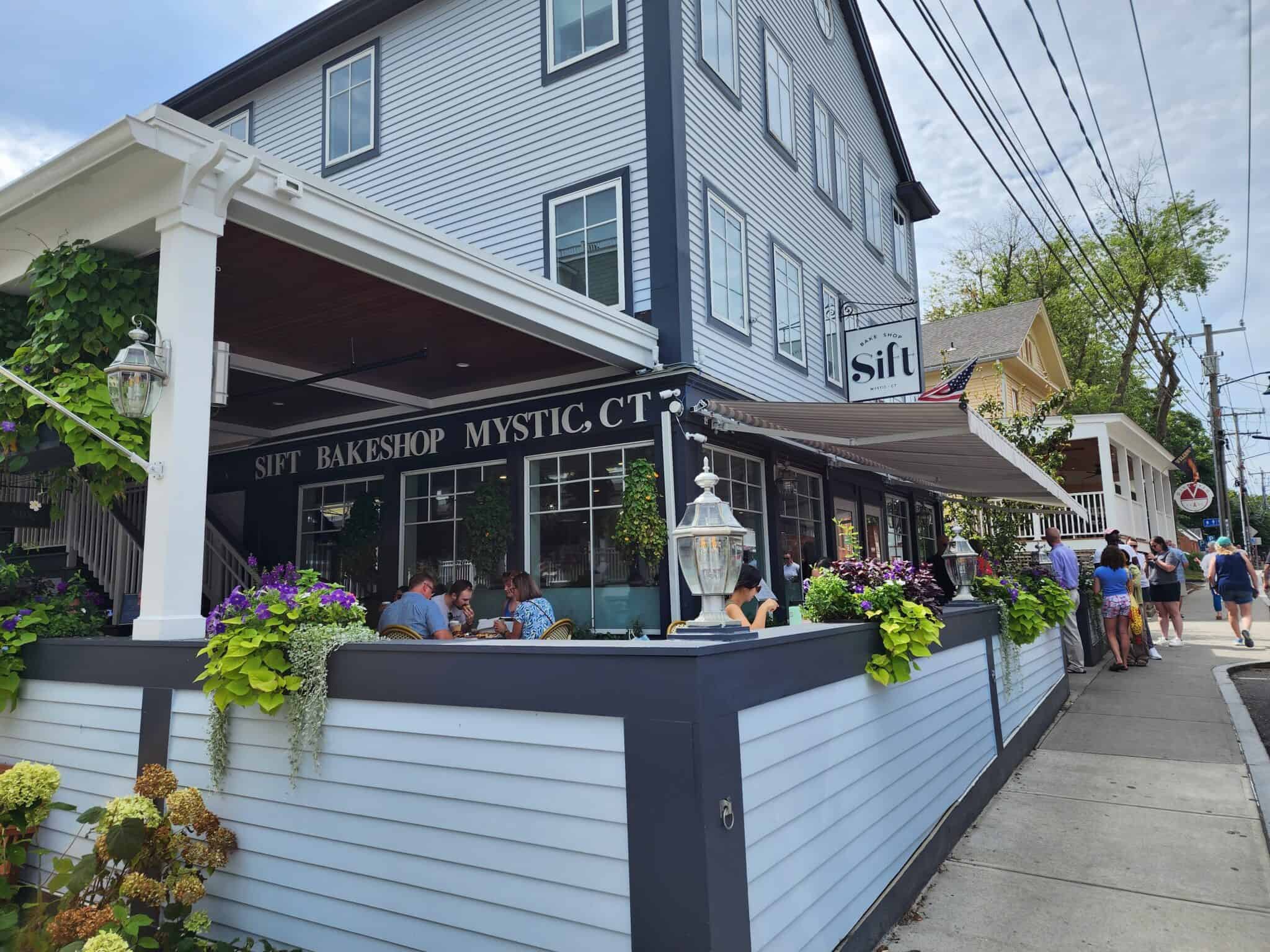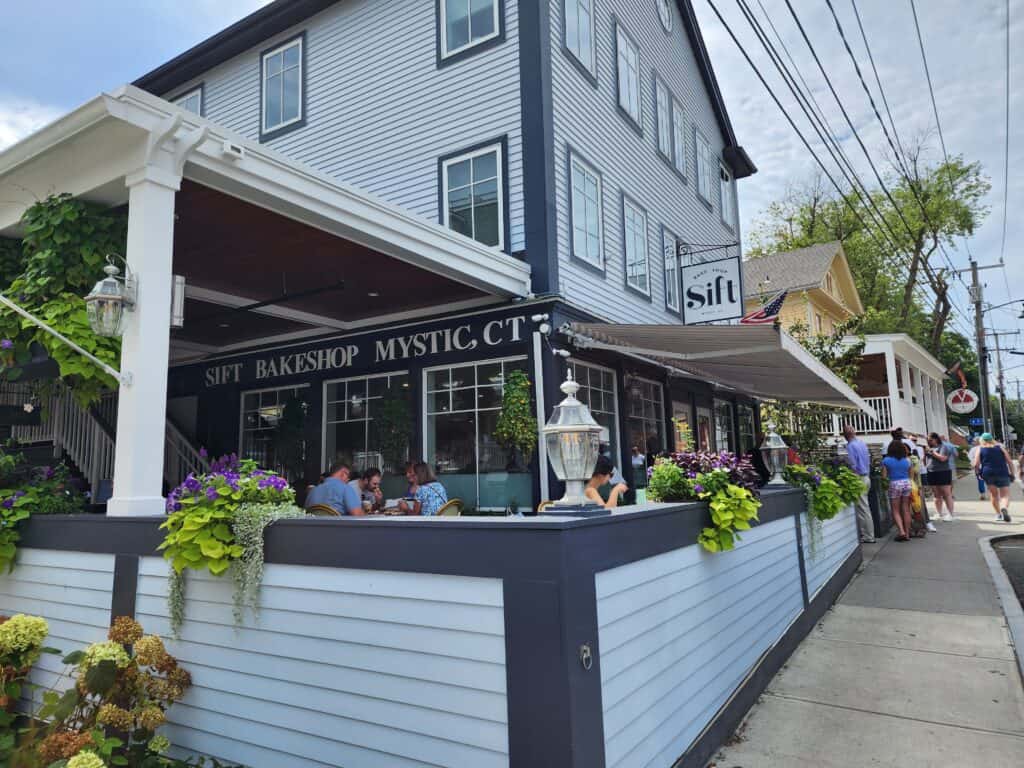 During the day, the restaurant isn't open, but bakery customers are welcome to enjoy their goodies from the rooftop space.
Sift has gotten super popular in the last couple of years; you might be able to see a lunchtime line forming at their door in this photo above.
But it is tremendously delicious and worth the wait.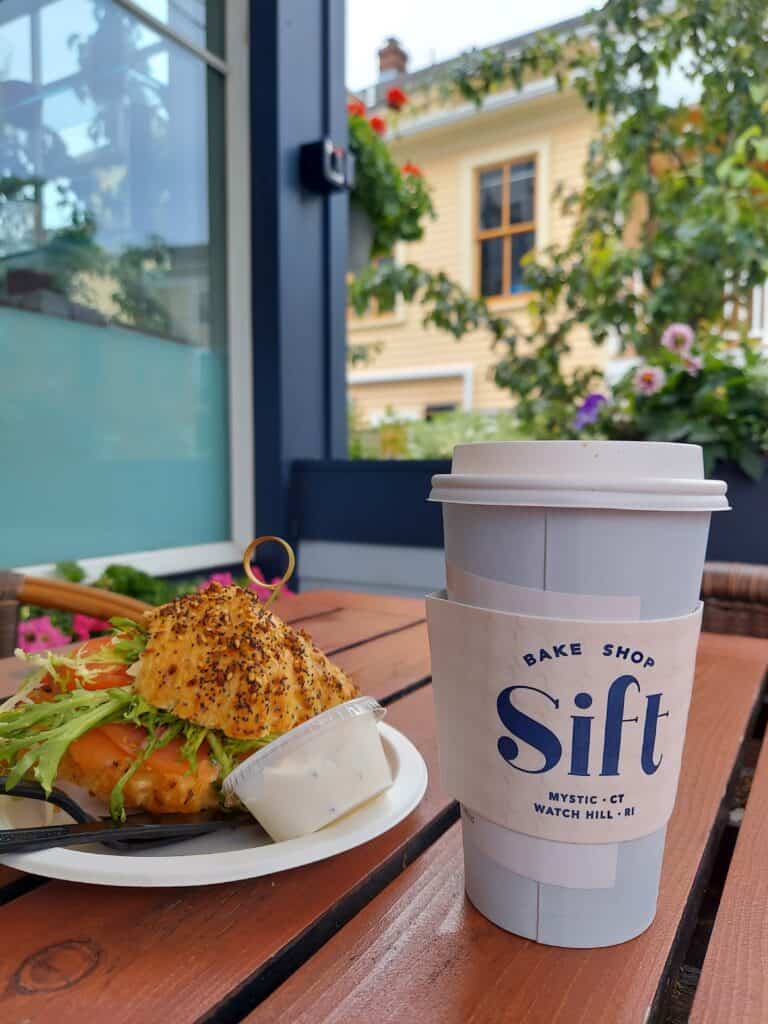 Get Down at Mystic River Jam Festival
Mystic River Jam Festival is an annual three day music festival that takes place each year in the Mystic Shipyard, and if you're planning a June vacation, you should definitely try to time it to coincide with this event!
You'll find a wide variety of musical genres on stage and plenty of tasty food and drinks for purchase, with the proceeds from the festival going to charity.
Take a Day Trip from Mystic
There are tons of things to do near Mystic, CT as well as within its limits!
One awesome thing about Connecticut is that it is incredibly compact, which means you can explore lots of its towns on one trip. There are some fantastic spots all over Connecticut to visit, but a few that are closest to Mystic and would make excellent day trips include:
⚓Essex, Connecticut: a gorgeous little town set further inland on the Mystic River.
⚓Stonington Borough: Since Mystic is technically part of Stonington, you don't have to go very far for this day trip. Stonington Borough is another must-see charming Connecticut village.

⚓Madison, Connecticut: this artsy town is to the west along Long Island Sound, and boasts a great beach (Hammonassett Beach State Park).

⚓ Chester, Connecticut: a stone's throw from Essex, Chester has a tiny, somewhat woodsy downtown that is picture perfect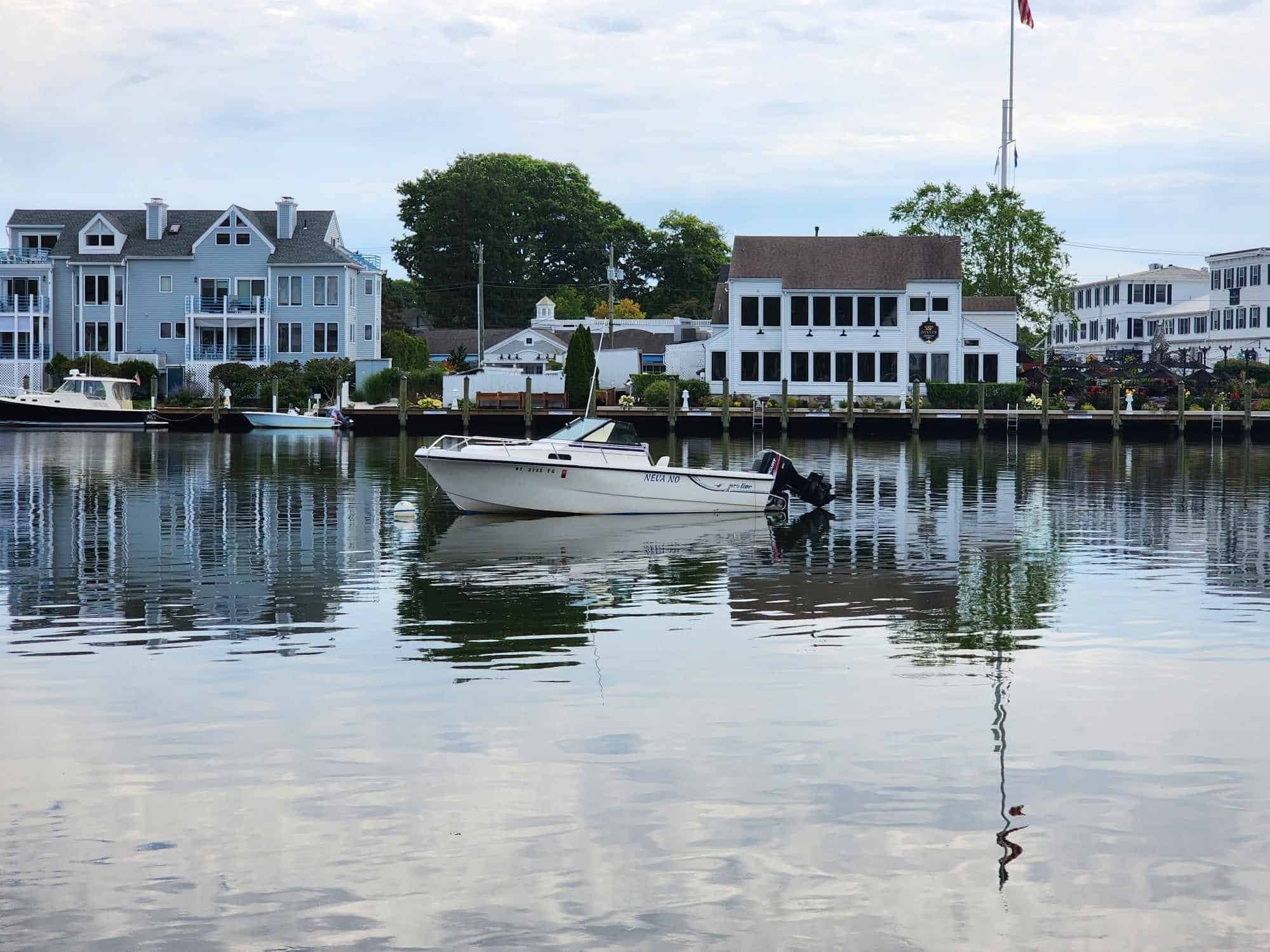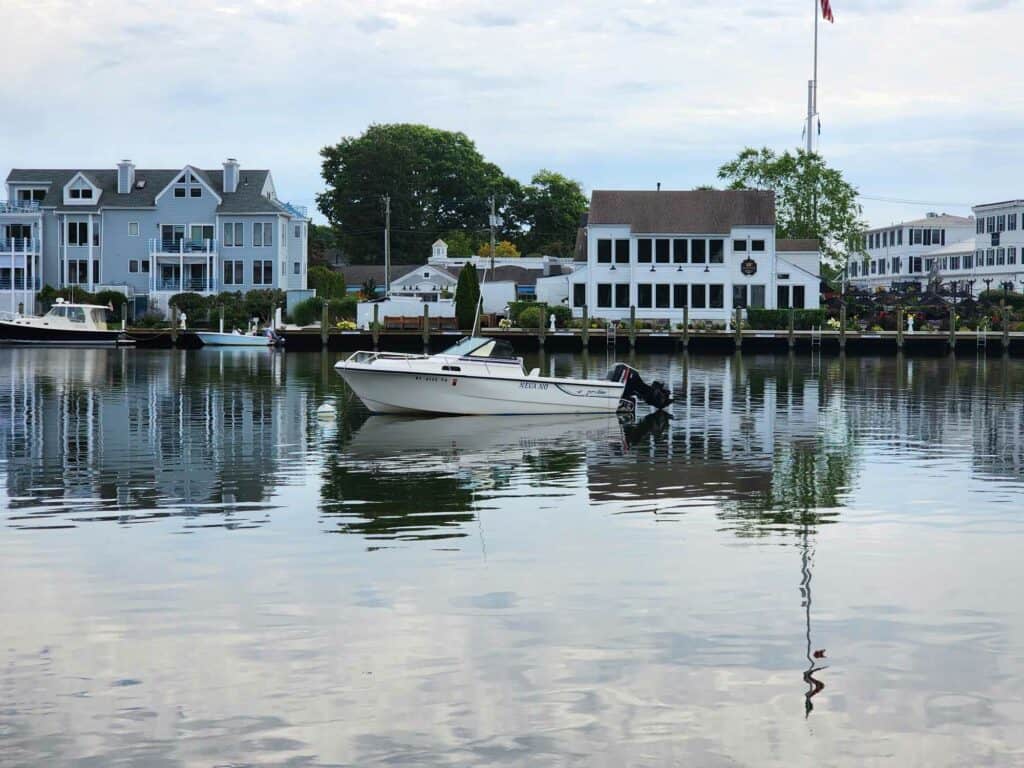 Ready for Your Trip to Mystic?
I hope this article has helped you discover all that Mystic Connecticut has to offer. Whether you're planning a romantic Mystic CT getaway or you're flying solo or with family, you'll find plenty of fun things to do in the area.
Oh, and if you're looking for things to do in Mystic CT this weekend or what to do in Mystic today, check out this local events calendar to see what's happening.
FAQ About Mystic, Connecticut
Is Mystic, CT worth seeing?
I would answer with a resounding YES. There are clearly so many things to do in Mystic, and there's always new shops and restaurants popping up.
What is Mystic CT known for?
Mystic is known as a historic seaport, where hundreds of ships were built beginning in 1784. Today, Mystic is one of the most popular coastal destinations in New England. In addition to visiting its iconic seaport, travelers can visit the charming town and other famous attractions such as Mystic Aquarium.`
---
Read these next:
---
Pin this post to save for later!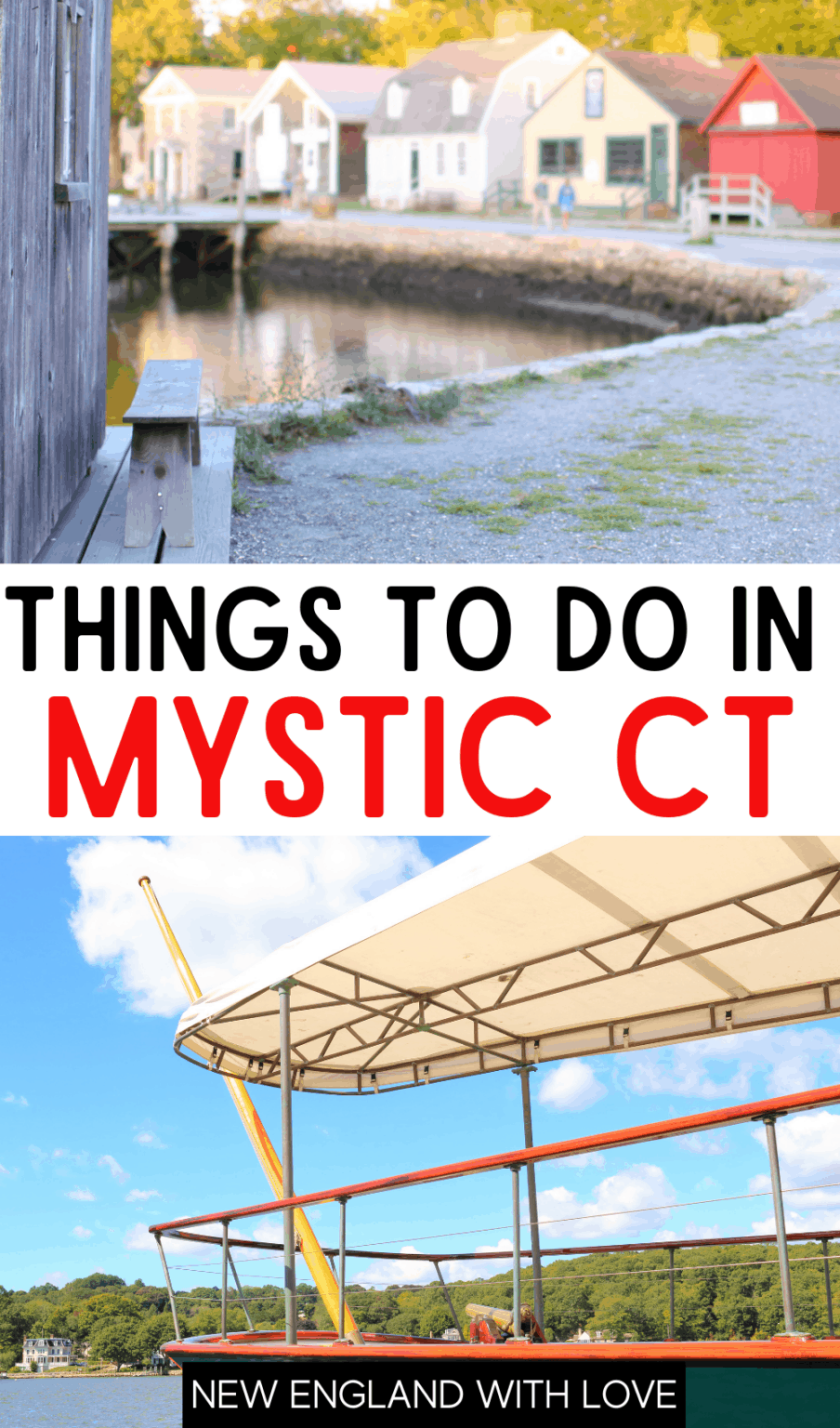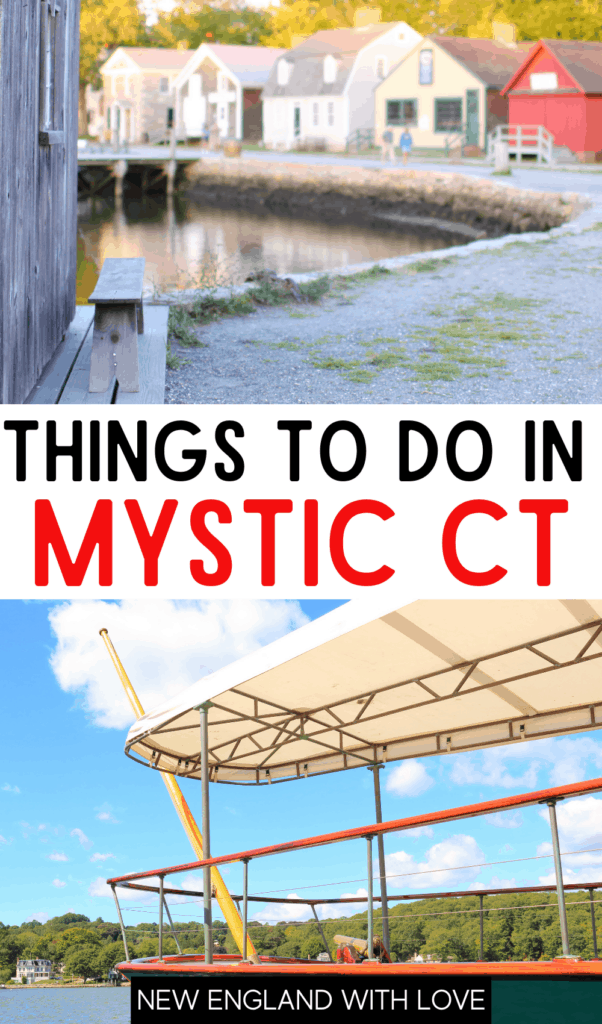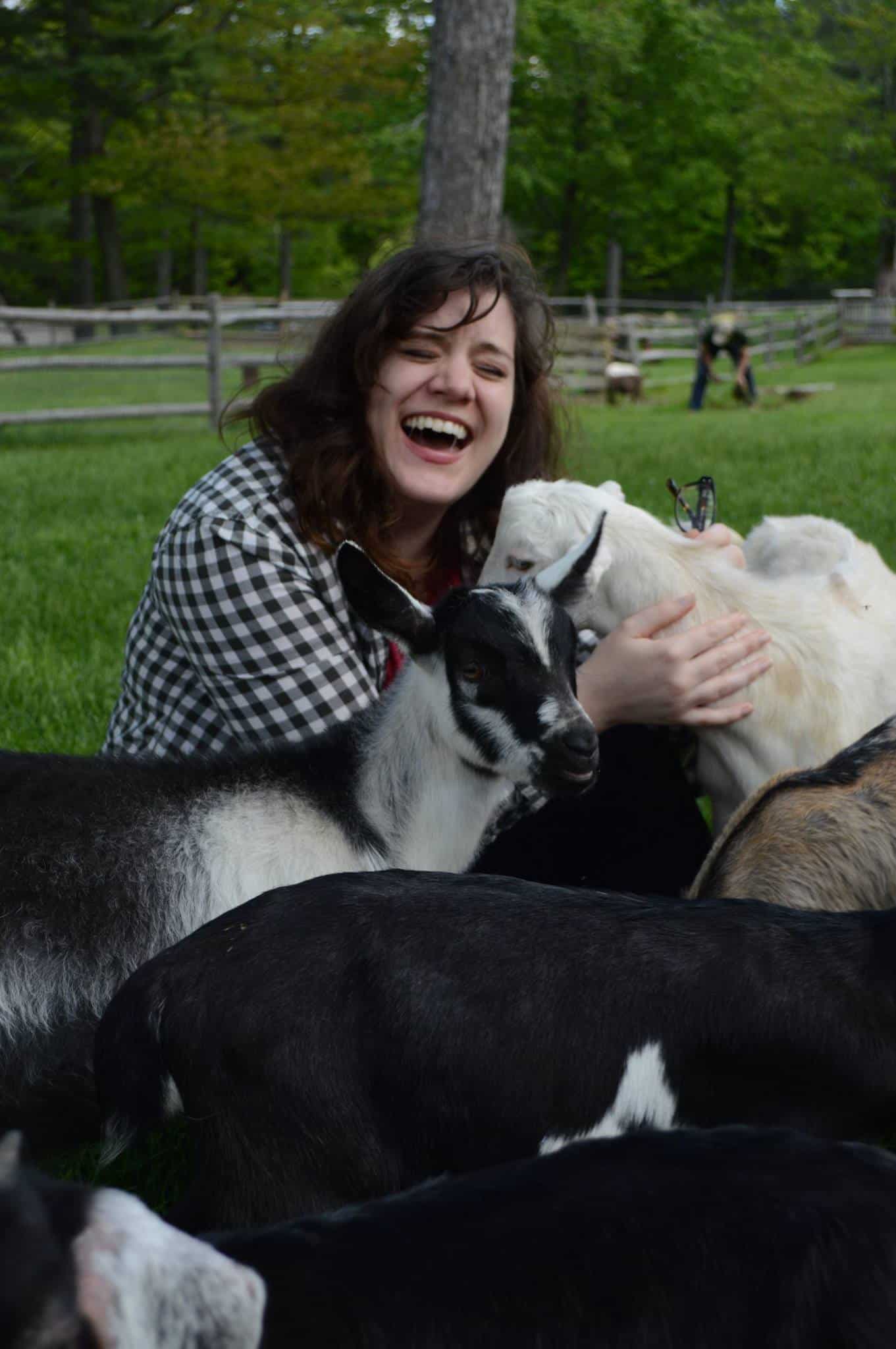 Amy Hartle is the founder and Editor-in-Chief of New England With Love, a comprehensive resource for travel in the New England region. Amy has been exploring New England since 2001. She lived in Vermont for many years and is a graduate of Plymouth State University in New Hampshire. Amy has been writing about travel for over a decade. On this site, Amy aims to share her love of New England and help you to have the best possible adventures!
Amy has been a full time blogger since 2012, and is also the publisher of Two Drifters, where she writes about couples travel and relationships, as well as Let's Adventure Baby, a family travel site. When not traveling the world or creating epic blog content, Amy can be found cuddling with her husband, son, and cats, & drinking a maple latte.