---
*Links in this article may be affiliate links, from which we may earn commission. See our
Privacy Policy
for full details.
---
Are you looking for fun things to do in Essex CT for all ages? You're in the right place!
Essex is a small town in New England that has some of the best outdoor landscapes that you can see in all of Connecticut. It is also filled with history, incredible restaurants, and kind locals that you can meet during your visit.
With that, keep reading to learn all about the most fun things to do in Essex CT, in no particular order!
Explore Gillette Castle State Park
There are so many state parks in Connecticut, and one of the best ones just happens to be right by Essex! It's Gillette Castle State Park, a park that features one of the coolest castles that you can visit in New England.
The castle at this park was built back in 1914 by William Hooker Gillette. He was fairly well known for playing Sherlock Holmes and built this place as a spot to retire. When you visit the place in person, you'll realize why! The area is beautiful.
Inside the mansion, there are more than 24 rooms and tons of great spots that will take your breath away. Plus, the views from the castle are breathtaking. While there, be sure to also explore the rest of the park with hikes or walks and also go on a castle tour.
Ride the Essex Steam Train & Riverboat
If you love locomotives, then you'll want to check out the Essex Steam Train and Riverboat. This railroad dates back to the 20th century, while the actual tracks date back even further than that. To explore more of the area, take a ride on this train!
There are a variety of different types of train rides throughout the year depending on the season. They also sometimes have fun lunch trains or other themes, so be sure to check their fare schedule to see what may be coming up!
For a romantic evening out, consider riding the Essex Clipper Dinner Train. You can enjoy a 4-course meal on a 2.5-hour train ride with a great view out of your window. The views are breathtaking, and the food is just as good if not better.
Play a Round at the Essex Indoor Golf Center
One of the more fun unique things to do in Essex CT is to head over to Essex Indoor Golf Center and play some virtual golf! It's kind of like real golf, but you play in front of a giant screen that will transport you to other places as you play. You still swing the golf club and everything!
At this location, there are more than 70 different golf courses that you can choose from, so you really have your choice when it comes to a golf simulation. You can even mess with the green and wind conditions if you really want a challenge.
Rates change throughout the year, and it's a lower rate per hour in the summer than in the winter. It's also lower in general on weekdays versus weekends.
Learn at the Connecticut River Museum
Step back in time and learn all about the Connecticut River at the Connecticut River Museum in Essex. There are always different exhibits at the museum, some of which are permanent like On The Great River and The River That Connects Us.
Throughout the year, the museum also hosts many different public events. In the past, they've even held fun cruises on the river and partnered with other local boat companies. Sometimes they even host live music events!
On average, most people only spend an hour or two at this museum, and it is a great place to go if it happens to be raining in Essex during your trip. This is a fun museum for all ages, including kids!
Dine at Scotch Plains Tavern
There are many great places to eat in Essex, but one of the best is the Scotch Plains Tavern. The atmosphere of the restaurant is very relaxing, and the interior is bright and cheerful, with fun lighting hanging from the ceiling.
On the menu, there are many different types of classic American dishes. Find crab cakes, French onion soup, burgers, salad bowls, and more. They also have dishes like nachos, spicy fried cauliflower bites, and even chicken dumplings.
For a real fun time, try to attend during one of their SPT Cruise Days. During a fun day like this (which is normally on a Sunday), you can check out vintage classic cars while dining on tasty burgers or seafood. They even have a fun kids menu on days like this so you can bring the whole family.
Camp at Selden Neck State Park
A short way away from Essex is another great state park, Selden Neck State Park. It's located on an island and can be reached by boat. There are tons of fun things to do in the park like biking, hiking, and fishing, but one of the most fun activities is to go camping.
Four camping spots can be found in the park, but some of them can only be reached by kayaking or canoeing, so it's perfect for those up for an adventure. Many of the sites are also primitive, meaning you do live completely off the land. That's part of the fun of it though!
After you're done camping, be sure also to enjoy many of the other great activities in the park. There's even great bird watching which can be fun for all ages. Don't forget your best binoculars!
Walk Around Downtown Essex
One of the most fun things to do when you visit any town, especially for the first time, is just to enjoy the downtown area. That's why one of the best things to do in Essex CT is to walk around downtown Essex!
This is the heart of the town, and it feels like a quaint village with charming shops. Throughout the downtown area, you can find restaurants, the dinner train, local-run art galleries and stores, and more. Just spend an afternoon walking around, mingling with locals, and visiting all of these charming stores.
For some real fun, be sure to try to stop by Essex Paint and Sip. At this place, you can enjoy a craft beer while testing your painting abilities as you learn how to paint from other local artists. It's a really fun date night idea or even a night out with your friends.
Hike the Ingham Hill Road Loop
Want to do some hiking during your trip to Essex? You're in luck; there are many trails in Essex and the surrounding area where you can enjoy the great outdoors. One of the most popular hikes in Essex is an easy one called the Ingham Hill Road Loop.
This loop is around 4.5 miles long and has around 300 feet of elevation gain, so it's a fairly flat trail overall. Think of it almost more like a walk instead of going straight uphill the entire time. It's kid-friendly and mostly goes through the forest where you'll see wildlife and wildflowers along the way.
For the most part, only locals go on this trail. It takes around an hour and a half to complete. Even though a lot of it is through the forest, be sure to also pack the correct hiking gear, like hiking boots (or at least comfortable shoes that will protect your feet and ankles), water, snacks, and sunscreen.
Another shorter but still easy trail in the area is the Turtle Creek Wildlife Area trail. This is also a loop but has around 80 feet of elevation gain and is just under two miles long. In total, this one only takes around 40 minutes to walk, and it's near the water, so it's breathtaking.
Dogs are allowed on this trail with a leash, there's great bird watching, and it's kid friendly. You may also see some wildlife along the way.
Overall, these are both fairly pleasant walks that you can get some beautiful photos on. No matter when you do these hikes, you'll have a great time taking in the incredible views.
Cool Off with Ice Cream at Sweet P's
Last but not least, if you're attending during the summer, then be sure to head over to Sweet P's. This family-run ice cream shop is the perfect local place to cool off and have some of the tastiest ice creams around.
They have 24 different flavors on their menu along with a variety of seasonal specials, sugar-free, vegan, and dairy-free options too. There are also smoothies, sundaes, soda floats, and milkshakes on the menu.
They have regular classic flavors like chocolate chocolate chip, mint chip, peanut butter Reeses, etc. but also have fun unique flavors like coconut raspberry swirl or lemon graham. No matter what you try at Sweet P's, you're sure to love it!
This post was all about the best things to do in Essex CT! Enjoy your trip to Connecticut; it's truly a beautiful state.
---
You might also like: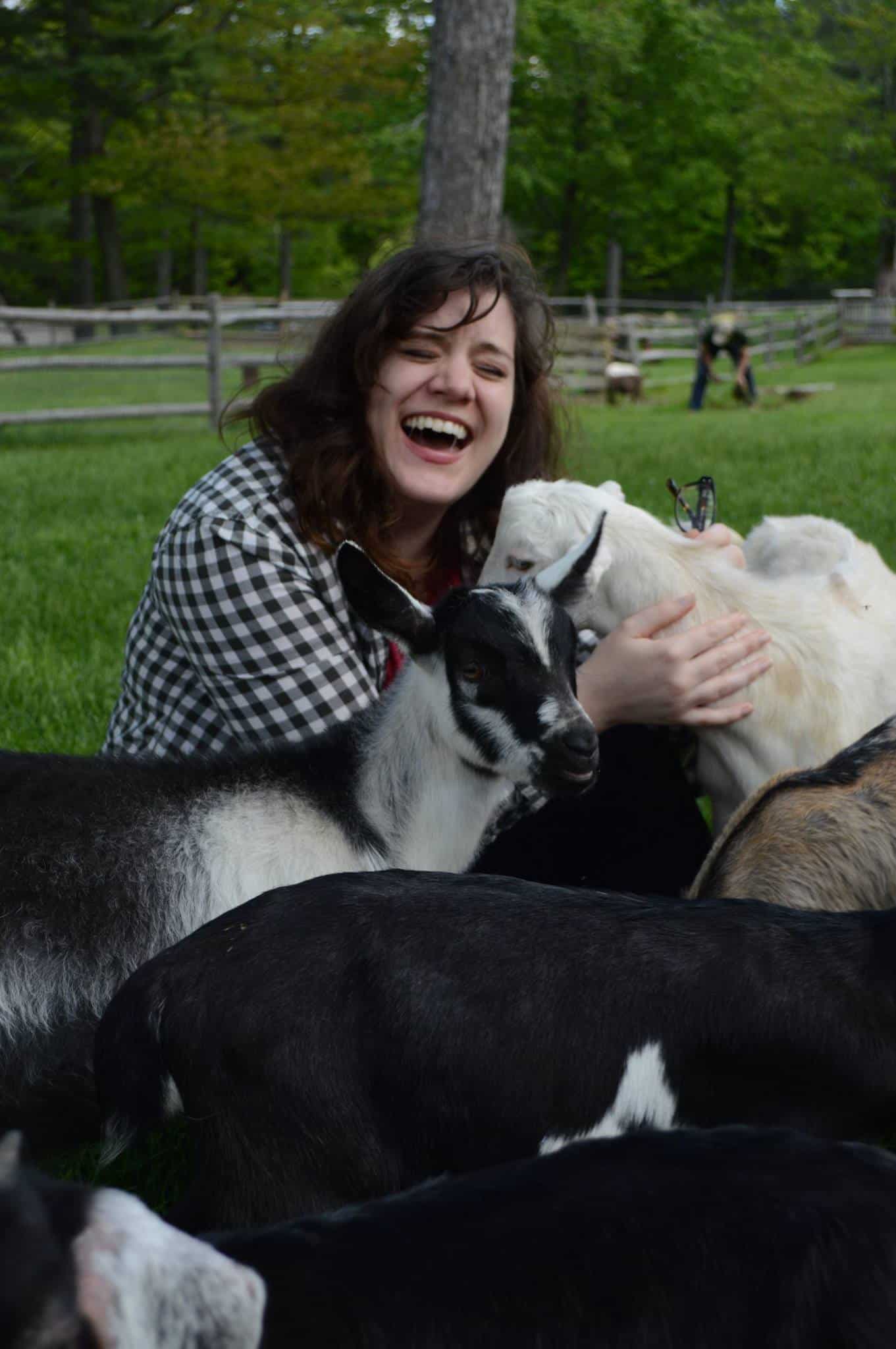 Amy Hartle is the owner and editor of New England With Love, a comprehensive resource for travel in the New England region. Amy lived in Vermont for 15 years, attended Plymouth State University in New Hampshire, and continues to travel regularly around the entire New England region. On this site, Amy aims to share her love of New England and help you to have the best possible adventures!
Amy has been a full time blogger since 2012, and is also the publisher of Two Drifters, where she writes about couples travel and relationships, as well as Let's Adventure Baby, a family travel site. When not traveling the world or creating epic blog content, Amy can be found cuddling with her husband, son, and cats, & drinking a maple latte.