*This site uses affiliate links; if you make a purchase through these, I may receive a small commission at no cost to you.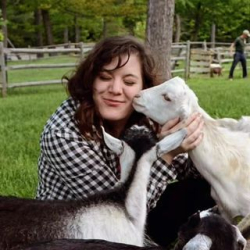 Latest posts by Amy Hartle
(see all)
What makes a bed and breakfast cross the line from "cute" to "dreamy?" For us, it's quaint and quiet lodgings in a picturesque setting, with generous, thoughtful hosts that ride the line between presence and privacy perfectly.
And of course, can't forget one of the most essential aspects of the whole Connecticut B&B experience… the delicious included breakfast!
If you're looking for great B&B destinations in Connecticut, you're in luck because the whole state is full of sweet little (and not so little!) bed and breakfasts in lovely settings.
Whether you're looking for a B&B near your favorite city or one that's a little tucked away from the rest of civilization, you'll find it here on our list of the dreamiest Connecticut bed and breakfasts!
Connecticut Bed and Breakfasts
Blackberry River Inn, Norfolk
Originally built in 1763, the Blackberry River Inn is a historic bed and breakfast that sits on 27 acres in the lovely Litchfield Hills region, offering a lovely escape from the hustle and bustle of big-city stress! Blackberry River Inn keeps the cozy and quaint traditions of B&B lifestyle with a 5 o'clock tea that is served in the cherry-paneled library every afternoon, and a complimentary home-cooked breakfast every morning.
Private bathrooms and amenities are available in each room and the décor is traditional B&B meets modern inn; several rooms even have wood-burning fireplaces and there's even an outdoor pool to lounge around in during the warm summer months!
Norfolk is a picturesque town that is one of the best places to enjoy Connecticut's fantastic fall foliage, so if you happen to land at Blackberry River Inn during the fall, you'll get to experience why first-hand. Litchfield Hills has plenty to see and do, but returning to Blackberry River Inn at the end of the day is a return to restful relaxation in a spectacularly scenic setting.
What could be better than some great R&R at a beautiful Connecticut bed and breakfast?

Click Here to Check Prices & Book!
Westbrook Inn Bed and Breakfast, Westbrook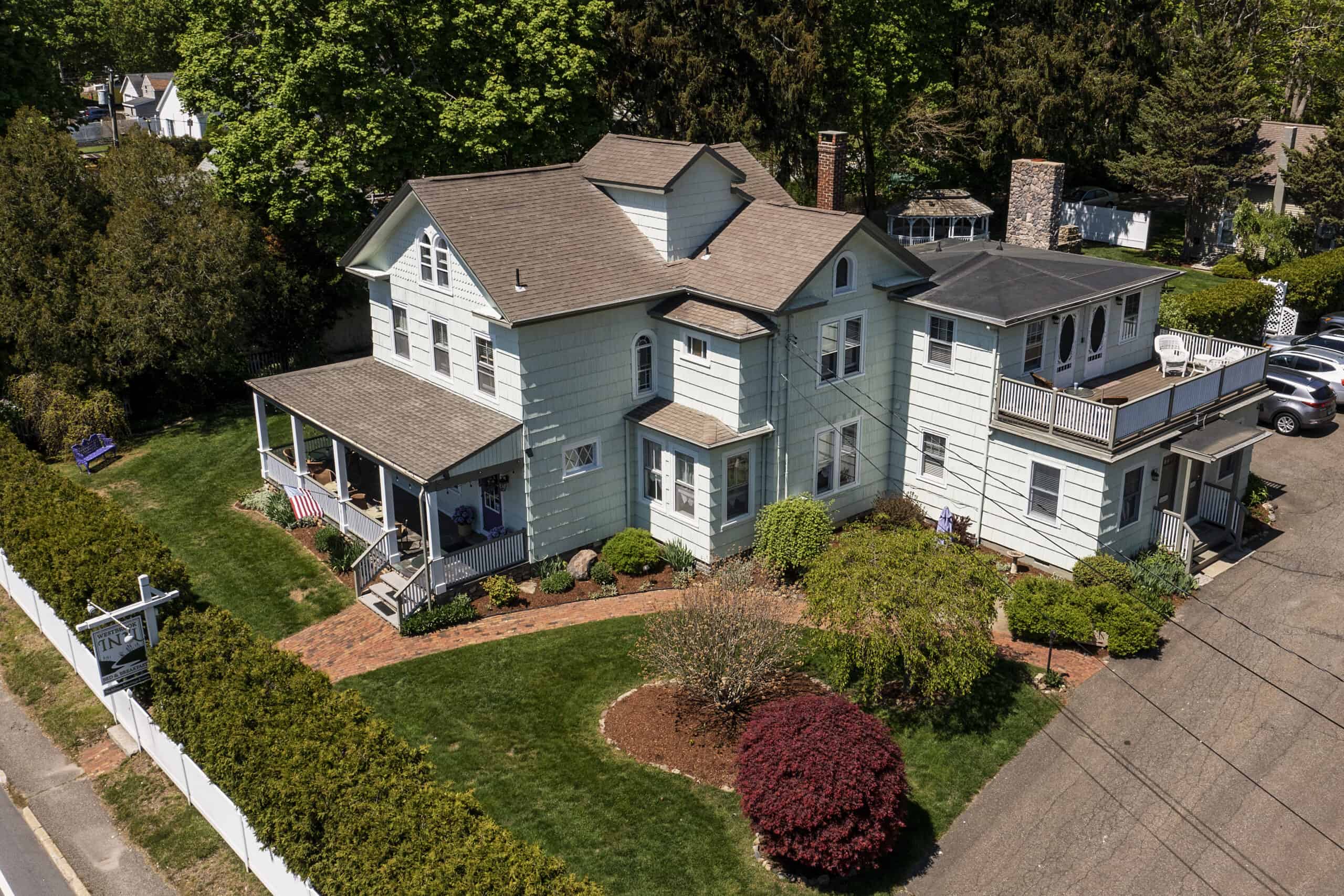 The historic Westbrook Inn Bed and Breakfast was built by a sea captain in 1876 and has been providing restful accommodations for travelers ever since!
Located in the seaside town of Westbrook, home of not just one, but TWO of the best beaches in Connecticut, Westbrook Inn Bed and Breakfast puts you within easy walking distance of sea and sand.
The stewards of this coastal Connecticut BnB have artfully updated the interior and décor to reflect what they call a "fresher vintage experience" for their guests, putting a clever twist on traditional BnB décor.
Private bathrooms and thoughtful amenities are available in each room, and several have working fireplaces and balcony access. Homemade breakfast and complimentary access to bikes, kayaks, and other beach must-haves are also included in a stay at this beach B&B!
Westbrook is a cute coastal community that has more than just the lovely shoreline of the Long Island Sound going for it! In addition to the cute shops and restaurants in town, Westbrook is in a great location, less than 10 minutes by car from Old Saybrook, one of the best places to visit in Connecticut.
If even just a short 10-minute drive is further than you're interested in going during your stay, no problem: visit the Spa at Water's Edge in Westbrook for a luxurious day spa experience that will pamper and relax you almost as much as Westbrook Inn B&Bs luxury rooms and generous amenities will!
Click Here to Check Prices & Book!
Silas W. Robbins House, Old Wethersfield
Listed on the National Register of Historic Places, the Silas W. Robbins House is the place to go if you're looking for a little elegance and grandeur in your B&B stay!
Located in the heart of historic Old Wethersfield, this B&B has been restored to its original glory and is decorated in an elegant and tasteful fashion that is in keeping with the intricate and ornate details of the Victorian era.
The rooms are all generously appointed with luxury amenities, and the surrounding grounds and well-manicured gardens complement the sophisticated yet welcoming vibe of this spectacular bed and breakfast.
And of course, the three-course breakfast included in the morning is simply the icing on the proverbial cake here at Silas W. Robbins House!
In addition to the Silas W. Robbins House being a one-of-a-kind bed and breakfast stay just for the gorgeous accommodations, its location is phenomenal.
Not only is Old Wethersfield a fabulous Connecticut destination with lots of opportunities to explore this historic district, but it's also just a few miles up the road from Hartford, where you'll find tons of great things to do, including awesome museums to explore, unique shopping options, great breweries, and fantastic restaurants to try.
With the luxurious amenities and excellent location, the Silas W. Robbins House is about as dreamy of a B&B destination as you can possibly find in the Nutmeg State!
Click Here to Check Prices & Book!
Scranton Seahorse Inn, Madison
Another Connecticut coastline charmer, Scranton Seahorse Inn offers a vibe that is cool, calming, and comfortable. Rooms are tastefully decorated in a clean, coastal style, with private bathrooms and other great amenities, and a few even have jacuzzi tubs and fireplaces for a little extra indulgence.
The in-room massage services are a fabulous touch, but the gourmet breakfasts provided by the innkeeper/gourmet pastry chef are what really puts Scranton Seahorse Inn a head above the rest!
With a location that puts you within walking distance to both beaches and the Madison town center, you'll find there's plenty to see and do while staying at this lovely B&B! If you're interested in taking a quick drive up the road, you can also explore New Haven, the home of Yale University.
There's lots to see and do in New Haven, but you can always opt to spend your days lounging around Scranton Seahorse Inn and the beaches of Madison… you won't regret that, either!
Click Here to Check Prices & Book!
Manor House Inn, Norfolk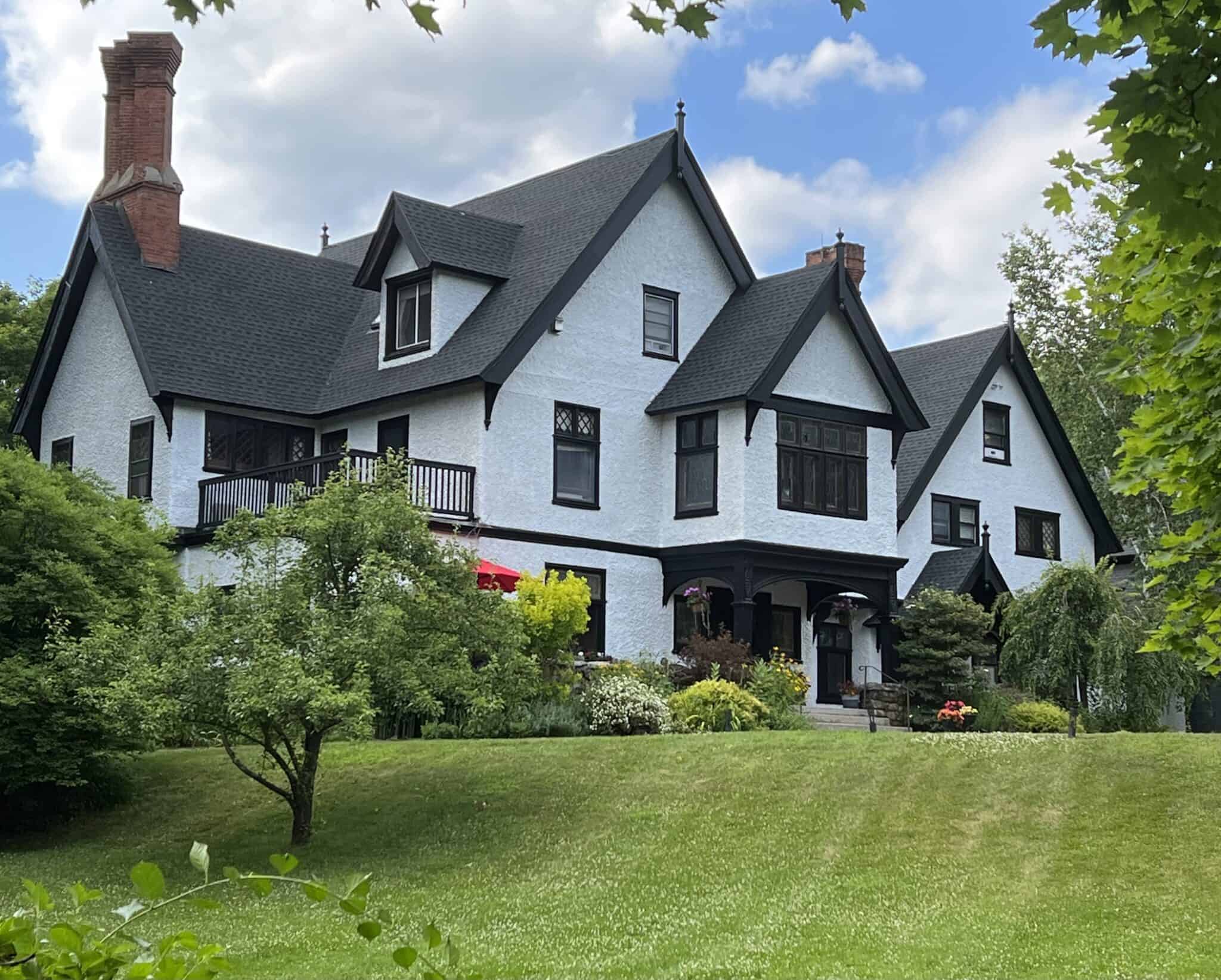 Another notable Norfolk B&B, Manor House Inn is located on 5 gorgeous acres of unspoiled Connecticut beauty. This Gilded Age stunner was built in 1898 and features impressive architectural details like a grand staircase, intricately hand-carved woodwork, and magnificent stained-glass windows.
It has also been recently renovated and refreshed!
The rooms at Manor House Inn are elegantly arranged with high-quality pieces, yet are still warm and welcoming. The entire home is modern meets traditional, with sophisticated décor that complements the superior architecture wonderfully.
Breakfast is served at three different times each morning, with the Orange French Toast being a Manor House Inn favorite!
The Manor House Inn is well-situated as a landing spot for some of the best things to do in the area, including exploring Norfolk gems like Infinity Music Hall, the historic music venue that was built in 1883.
If you'd rather get outside, there are multiple state parks to explore in this corner of Litchfield County, and for those that'd rather explore the tastes of the region, there are several craft breweries and wineries nearby also!
Manor House Inn is a stately dreamboat of a B&B, with a location that never fails to disappoint. Follow the Manor House Inn on FB to see what's going on at the inn before your next visit.

Click Here to Check Prices & Book!
Stonecroft Country Inn, Ledyard
Stonecroft Country Inn was built in 1807 on 6.5 acres of beautifully manicured gardens that are nestled in between 200-year-old walls of stone, creating a serene and secluded respite while still being "right in the thick of it."
This Connecticut bed and breakfast is listed on the National Registry of Historic Places and has been wonderfully kept up as a favorite place to stay on the CT coast.
Private baths are included in each room and suite and the overall theme of Stonecroft Country Inn is "old-world elegance meets modern comfort," with thoughtful amenities offered throughout.
Breakfast is a lovely experience with light jazz and flickering candles adding to the ambiance as you enjoy homemade culinary delights prepared with local, in-season ingredients.
Stonecroft Country Inn is conveniently located just 5 miles north of Mystic CT, too!

Mystic is full of fun things to do. A visit to Mystic Aquarium will cross this quintessential item off your Ultimate New England Bucket List, and then you can check out some of the great shopping and restaurant options in the area.
A stay at dreamy Stonecroft Country Inn puts you right in the middle of everything… while still letting you feel oh, so far away!
Click Here to Check Prices & Book!
The Evergreen Inn, Southbury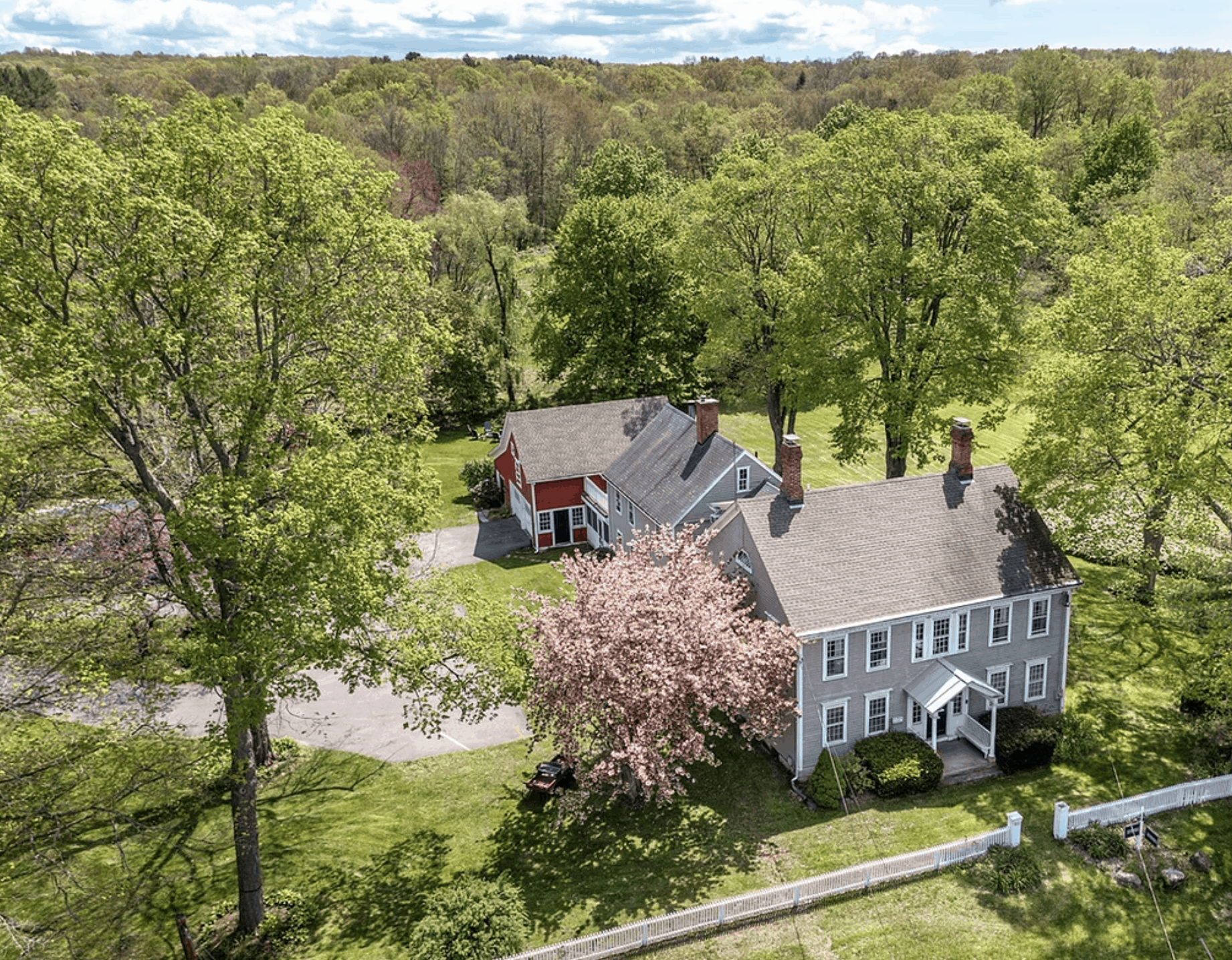 A historical gem in Southbury, The Evergreen Inn was built in 1818 and remains to this day as a lovely example of quintessential New England charm.
The exterior of this bed and breakfast invites you in with an impressive, yet unassuming landscape with beautiful gardens, a pond, a fire pit, and a pool. The interior has been updated to a clean, modern twist on classic B&B décor, feeling fresh and comfortable in every room of the house.
Bedrooms include private baths and luxury bedding, and some even feature fireplaces and private balconies. After a refreshing night of restorative slumber, The Evergreen Inn then indulges its guests further with a multi-course gourmet breakfast that showcases local ingredients.
The Evergreen Inn's Southbury location places it as a prime jumping-off spot for lots of fun local things to do, like a visit to nearby Kettletown State Park, where you can hike and explore miles of trails that lead to impressive views of Lake Zoar before returning back to eat in one of Southbury's favorite restaurants.
If it's a visit to a vineyard that is more your speed, there are several of Connecticut Wine Trail's favorites nearby; bring a bottle of your favorite back to The Evergreen Inn and relax back and sip in the gardens beside the fire pit for a dreamy nightcap at this CT B&B!
Click Here to Check Prices & Book!
Woodstock Sustainable Farms, Woodstock
Located in Connecticut's Quiet Corner, Woodstock Sustainable Farms is a historic bed and breakfast that offers a peek into what they call the "tranquility of rural Old World New England."
This 200-acre farm is immaculately kept, creating a picturesque setting for your stay. Rooms are beautifully updated (with private baths!) while still retaining their historic feel, with two of the antique rooms featuring original floorboards, hardware, and moldings.
Breakfast is served with homemade bread that comes fresh out of the beehive oven, complementing pasture-raised eggs and other sustainable goodies.
Woodstock is a rather whimsical little town, with attractions like Roseland Cottage, the elegantly ornate 19th century home that serves as a stunning example of gothic revival architecture, and Woodstock Orchards, the PYO farm where you can PYO apples and sample some of their famous apple cider donuts.
If you're looking to unwind and relax (and feel great about your carbon footprint!), Woodstock Sustainable Farms is the destination for you!
Click Here to Check Prices & Book!
Riverwind Inn, Deep River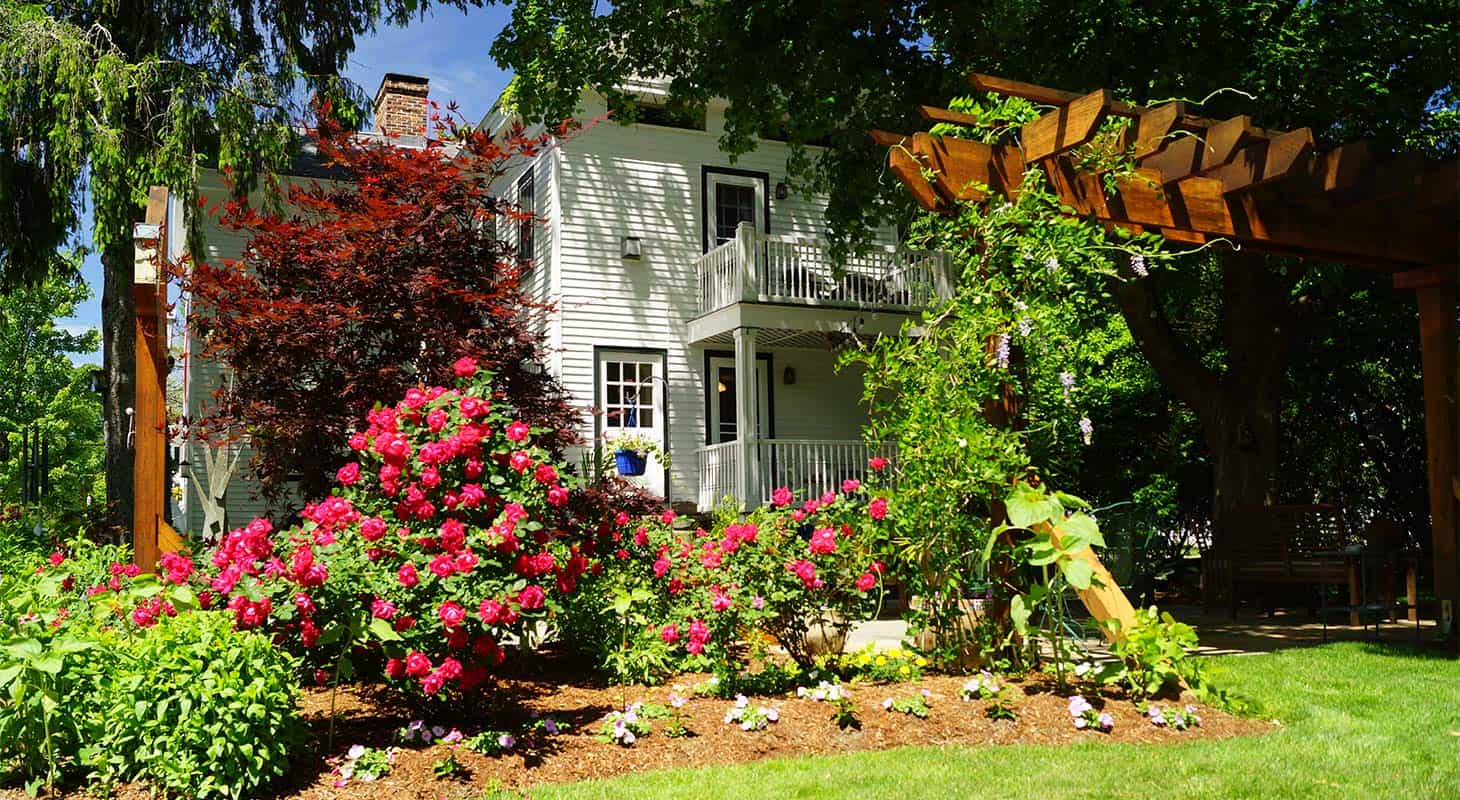 Riverwind Inn is a bed and breakfast that will sweep you off your feet from the moment you step foot onto the gorgeous wraparound porch!
It's the small touches that Riverwind Inn puts forth that really set it apart. You'll find complimentary coffee, tea, hot chocolate, and sherry upon arrival.
Enjoy a beverage and kick back in a rocker on the front porch, enjoy the lovely landscaping of the stone terrace and fire pit, or just snuggle up next to the beautiful fireplace inside.
Rooms are well-appointed with private baths and a casual elegance that will leave you feeling relaxed and pampered. Some rooms feature fireplaces, and breakfast is a full, locally-sourced country breakfast that will send you off for your day wanting for nothing!
There is much to see and do in this area of southern Connecticut, and your hosts at Riverwind Inn are happy to offer their own personal advice for what to do while in the area.
There are many museums, theaters, beaches, and parks within easy driving distance, and plenty of shopping and restaurant options as well. Riverwind Inn's favorites are included here in their blog, but you won't go wrong as long as you're out and about, exploring southern Connecticut's sweet, scenic sights!
Click Here to Check Prices & Book!
The Bevin House, East Hampton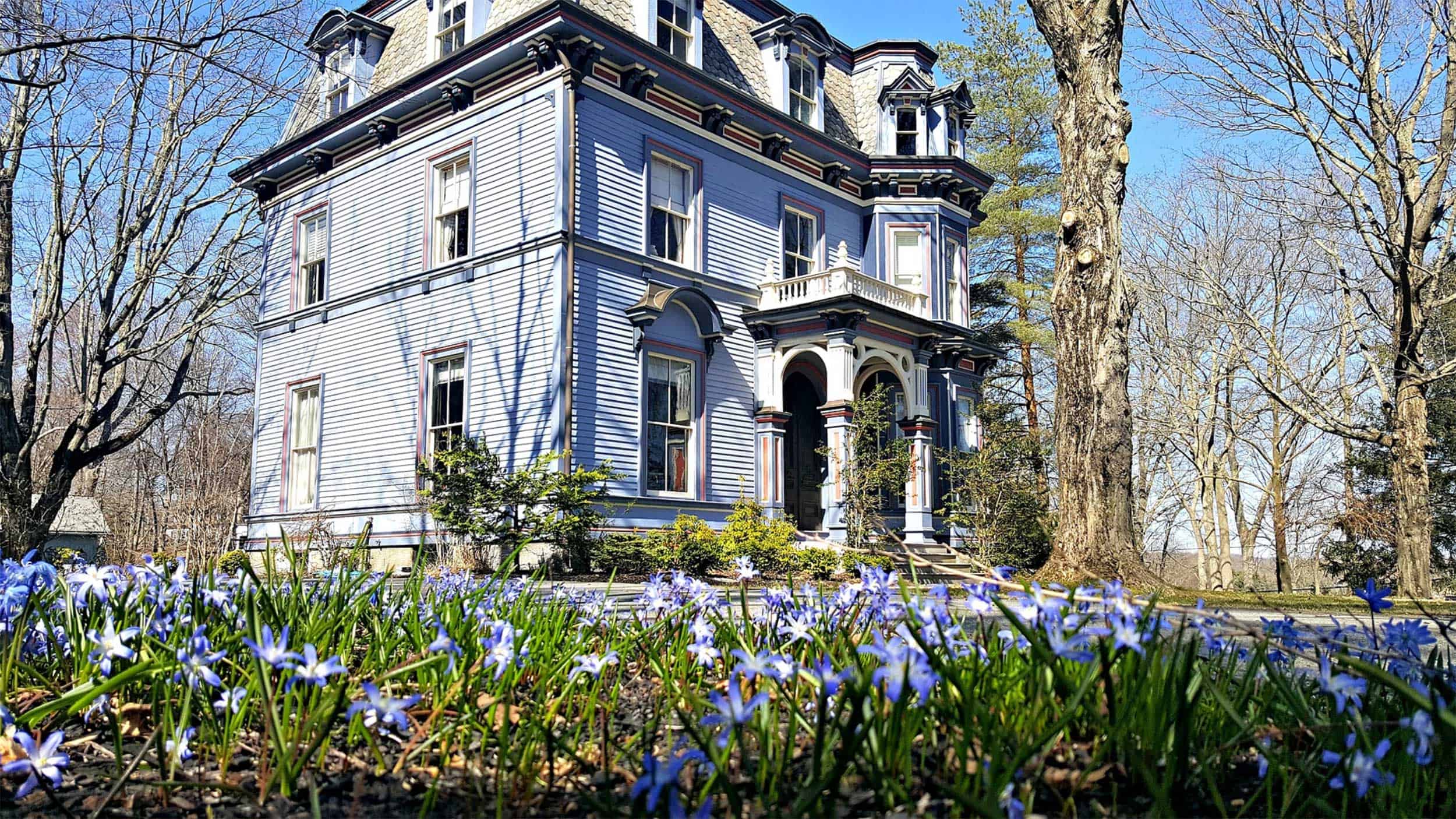 A Victorian mansion built in 1872, The Bevin House is a CT bed and breakfast that embraces the traditional bed and breakfast aesthetic.
The grand staircase and beautifully kept library and parlor are examples of the historical splendor that this B&B offers. Rooms are tastefully decorated with furniture and décor that beautifully integrate the history and modern uses of this three-story mansion, and some offer private baths.
The Bevin House takes breakfast seriously, and the full-service breakfast includes stuffed French Toast served with fresh-made maple syrup from the trees on the property.
East Hampton is home to Lake Pocotopaug, one of Connecticut's largest lakes. You can take a dip in the lake or just enjoy a nice stroll while you watch the sun shimmer across the lake's surface. Sounds like a lovely Day Date idea to me!
East Hampton is also just a short drive away from Dinosaur State Park in Rocky Hill, a very unique state park experience and one of the best state parks in Connecticut!
Whether you go explore where the dinosaurs once roamed or not, you'll enjoy your stay at the lovely Bevin House bed and breakfast.
PS did you know that the Bevin House B&B has an interesting claim to fame? In It's a Wonderful Life with Jimmy Stewart, it is the Bevin Mansion bell that rings then the angel gets his wings!
Connecticut is a cool state to visit, where you can explore beautiful waterfalls and seek out great hiking trails.
If you're not in the B&B mood, Connecticut has some super cute cabins and neat vacation rentals, too. Wherever you stay and whatever you do, you're sure to have an awesome time exploring the Nutmeg State!
Read these next:
---